April, 9, 2013
4/09/13
12:06
AM ET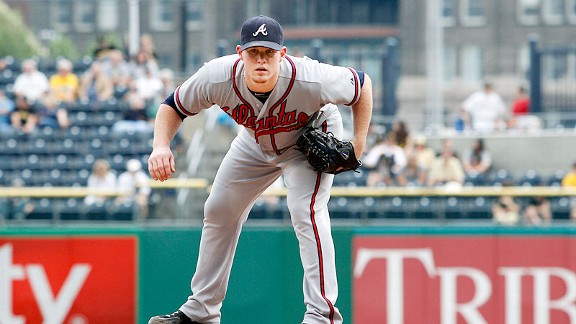 Justin K. Aller/Getty ImagesCraig Kimbrel led the NL in saves last season and is considered the most dominant closer in baseball.
The Tigers need one. The Brewers thought they had one. The Cubs already have a new one. Some teams probably wish they had a different one. Closers are already melting down in rapid fashion.
On Monday afternoon, with closer
Jason Motte
sidelined with a sore elbow (he'll get a new MRI on Tuesday), the Cardinals' bullpen imploded in a
13-4 loss
to the Reds, led by
Mitchell Boggs
giving up seven runs in the ninth inning. Now they might have closer issues as well. Rookie
Trevor Rosenthal
blew a 4-3 lead in the eighth, his second blown "save" of the young season, so he's not necessarily the answer if manager Mike Matheny has lost faith in Boggs.
The Tigers will apparently give
Joaquin Benoit
their next save opportunity, but many think they need to make a trade for a Proven Closer (tm). The problem ... well, there aren't really that many Proven Closers out there. And the truth is, most closers weren't preordained to be closers anyway, many arriving at the role only after failing as starters or finally getting the opportunity in their late 20s. Let's rank all 30 closers and you'll see what I mean.
Proven Closers
These are guys who have done the job for more than one season, thus earning the coveted title of Proven Closer.
1. Craig Kimbrel, Braves
The best ninth-inning guy in the business, coming off maybe the most dominant relief season ever -- he fanned over half the batters he faced -- in the modern era, or what Goose Gossage likes to refer to as "After I retired."
Before becoming a closer:
Groomed as a closer, he's never started a game in pro ball and became Atlanta's closer as a rookie in 2011.
2. Aroldis Chapman, Reds
I'm actually breaking my own rule here since Chapman has only been a closer for less than one season. But unless his control suddenly abandons him, he's obviously the real deal after striking out 122 in 71.2 innings last season.
Before becoming a closer:
Lacked the secondary pitches and stamina to make it as a starter.
3. Mariano Rivera, Yankees
He's old, he basically has one pitch and he's coming off a torn anterior cruciate ligament. Anyone want to bet against him?
Before becoming a closer:
Failed starting pitcher prospect.
4. Jonathan Papelbon, Phillies
Starting his eighth year as a closer, which is entering elevated territory. (Hall of Famer Bruce Sutter, for example, only had seven dominant seasons as a closer.) Papelbon had some not-so-clutch moments last season, however, finishing with four blown saves and six losses.
Before becoming a closer:
Forty-eight of his 58 appearances in the minors and his first three major league appearances came as a starter, but Red Sox converted him to relief.
5. Joe Nathan, Rangers
Not quite the Rivera-like force he was during his Twins days, but still pretty good. Picked up his 300th career save Monday, becoming the 23rd reliever to hit that mark.
Before becoming a closer:
Had a 4.70 ERA in two seasons as a part-time starter for the Giants in 1999-2000, had a 7.29 ERA in the minors in 2001 (5.60 in 2002), made it back, traded to the Twins, then became a closer at age 29.
6. Rafael Soriano, Nationals
Has three seasons as a closer with three different teams, so this will be his fourth year as a closer with his fourth different teams, making him the best example of Proven Closer, Will Travel.
Before becoming a closer:
Spent parts of seven seasons in the majors (starting as a rookie with Seattle), many parts of which were spent on the disabled list.
7. Huston Street, Padres
Now entering his ninth season as a closer, Street has recorded 30-plus saves just twice, as he's often hurt and hasn't pitched 60 innings since 2009.
Before becoming a closer:
Groomed as a closer since Oakland made him the 40th pick in the 2004 draft out of Texas.
8. Chris Perez, Indians
Now entering his fourth season as Cleveland's closer, he's been an All-Star the past two seasons despite a less-than-awe-inspiring 3.45 ERA and 4-11 record.
Before becoming a closer:
Mediocre middle reliever with St. Louis and Cleveland for two years. Fell into the closer role in 2010 because
Kerry Wood
was injured at the start of the season.
9. J.J. Putz, Diamondbacks
He's had four seasons of 30-plus saves, although he spent three years in between closer jobs. He's another guy who isn't the most durable pitcher around and hasn't pitched 60 innings since 2007.
Before becoming a closer:
Started for three years in the minors for Seattle, moved to the bullpen, spent two years as a mediocre middle guy, but learned the splitter and became a closer at age 29 after Proven Closer
Eddie Guardado
imploded early in 2006.
10. Joel Hanrahan, Red Sox
All-Star closer with the Pirates the past two seasons, but he walked 36 and allowed eight home runs in 59.2 innings last year. Could easily lose the job to former Proven Closer
Andrew Bailey
.
Before becoming a closer:
Didn't make it as a starter with the Dodgers, traded to the Nationals and then to the Pirates. Spent three years as a middle reliever.
One-year wonders
These guys became closers last year, and several of them had dominant seasons. But beware the
John Axford
lesson: One season does not make you a Proven Closer. Do it again and we'll start believing.
11. Fernando Rodney, Rays
After years as basically a bad reliever (22-38 career record., 4.29 ERA), he signed with Tampa Bay and lucked into getting a save in the season's second game as the fourth reliever of the ninth inning in a game against the Yankees. Went on to have one of the greatest relief seasons ever, with a 0.60 ERA and five earned runs allowed. He's already allowed three earned runs in 2013. Was last year a fluke?
Before becoming a closer:
See above. Did save 37 games (with a 4.40 ERA) for the Tigers in 2009.
[+] Enlarge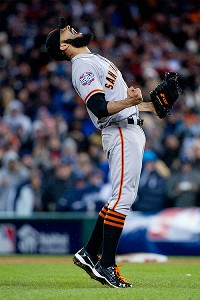 Ron Vesely/MLB Photos/Getty Images)After many seasons as a middle reliever, Sergio Romo finally got the chance to close and got the last out in the 2012 World Series.
12. Sergio Romo, Giants
The slider specialist replaced
Santiago Casilla
, who had replaced the injured
Brian Wilson
. Saved 14 games and then allowed one run in 10.2 postseason innings.
Before becoming a closer:
Not much of a prospect as a 28th-round pick who didn't throw hard, but Romo was an excellent middle guy for four seasons.
13. Ernesto Frieri, Angels
The hard-throwing righty came over after an early-season trade with the Padres, got the closer job after
Jordan Walden
struggled and had a terrific season. Might lose his job anyway if former Journeyman Made Good
Ryan Madson
gets healthy.
Before becoming a closer:
Moved to the bullpen after posting a 3.59 ERA in Double-A in 2009.
14. Jason Motte, Cardinals
Took over the closer role late in 2011 and helped the Cards win the World Series. Saved 42 games with 2.75 ERA last year. Currently injured.
Before becoming a closer:
Spent first three pro seasons as a catcher.
15. Jim Johnson, Orioles
In his first full year as closer he saved 51 games. Rare among closers, he's a ground ball specialist who doesn't register many whiffs (41 in 68.2 innings in 2012).
Before becoming a closer:
A not-very-good minor league starter.
16. Tom Wilhelmsen, Mariners
In his first full year in the majors, he replaced a struggling
Brandon League
. Did just fine with his mid-90s fastball and hammer curve.
Before becoming a closer:
Was bartending.
No, seriously
.
17. Addison Reed, White Sox
Saved 29 games as a rookie, although his 4.75 ERA wasn't exactly Rivera-ish.
Before becoming a closer:
Drafted in the third round out of San Diego State in 2010, he had a dominant relief season in the minors in 2011 (1.26 ERA) that pushed him quickly to the majors.
18. Greg Holland, Royals
Had 16 saves last season, but his job could be in jeopardy after four walks in his first two innings of 2013. Aaron Crow saved Monday's win for the Royals.
Before becoming a closer:
Came out of nowhere to post a 1.80 ERA with the Royals in 2011.
19. Steve Cishek, Marlins
Saved 15 games after expensive Proven Closer
Heath Bell
gakked up several memorable save opportunities.
Before becoming a closer:
The sidearmer was never on prospect radar lists because sidearmers are never on prospect radar lists.
20. Brandon League, Dodgers
Saved 37 games for Seattle in 2011, but lost his job early last season due to general lack of impressiveness. Throws a hard sinker so he gets ground balls but not many K's. Pitched better in 27 innings for the Dodgers last season so they gave him a bunch of money. Control was fine in 2011, not so fine last year.
Before becoming a closer:
Didn't make it as a starter in the minors despite high-90s fastball.
Journeymen Made Good
These guys became closers essentially because their teams didn't have anyone else. Perseverance pays off!
21. Grant Balfour, A's
Hard-throwing Aussie became a closer last year for the first time at age 34.
Before becoming a closer:
Played Australian rules football. OK, not really. Went from Twins to Reds to Brewers before finally having some good years with Tampa Bay.
22. Glen Perkins, Twins
The rare lefty closer had 16 saves a year ago.
Before becoming a closer:
Career 5.06 ERA as a starter in 44 games before moving to the bullpen.
23. Rafael Betancourt, Rockies
At 37 years old, he became a closer for the first time and saved 31 games for Rockies in 2012.
Before becoming a closer:
Has a career 3.13 ERA, so he'd been a good reliever for a lot of years.
24. Jason Grilli, Pirates
The veteran reliever had a career year last year at age 35 with 90 K's in 58.2 innings and took over the closer role when Hanrahan was traded.
Before becoming a closer:
Played for five major league teams before Pittsburgh.
25. Casey Janssen, Blue Jays
Another late bloomer, he got the ninth-inning job after
Sergio Santos
was injured last year.
Before becoming a closer:
The former starter didn't really have a wipeout pitch so he got pushed to the pen.
26. Bobby Parnell, Mets
He's long been heralded as a closer candidate due to his high-octane fastball. Now he'll finally get the opportunity.
Before becoming a closer:
One-time minor league starter has spent past four seasons in the Mets' bullpen.
The Import
27. Kyuji Fujikawa, Cubs
The new Cubs' closer could be good, bad or something in-between. I think he'll be pretty good.
Looking for help
28. Tigers.
The problem with
Phil Coke
as a closer is that Phil Coke just isn't a very good reliever.
Al Alburquerque
and
Brayan Villarreal
have better stuff but not much experience.
29. Brewers.
Axford was signed out of independent ball and had a monster 46-save season for the Brewers in 2011. He's allowed four home runs in 2.2 innings this season and the Brewers may sign Rollie Fingers.
Might not get a save opportunity until May
30. Jose Veras, Astros.
Now 32, he's pitched for the Yankees, Indians, Marlins, Pirates and Brewers and has five career saves.
Before becoming a closer:
The Brewers had the worst bullpen in the majors last year and even they didn't want him back.
March, 9, 2013
3/09/13
12:42
AM ET
Justin Verlander
,
Prince Fielder
,
Clayton Kershaw
and
Mike Trout
aren't on the United States roster, and their absence means a lot of fans don't care about the World Baseball Classic -- certainly not enough to spend a Friday evening in early March watching a baseball game between a largely no-name Mexico team and a still-star-laden U.S. team.
But this tournament isn't for fans who so willingly dismiss it. It's not even so much for fans in the United States, who are more focused on their professional teams or the impending NCAA basketball tournament. Earlier in the day, MLB reported that one-third of all television sets in Japan had watched the first-round games involving the Japanese team. I'm sure its dramatic comeback win over Taiwan on Friday morning rated even higher. Fans in Puerto Rico cheered on their team to a victory over Spain. Fans in Venezuela and the Dominican Republic care intensely about how their teams fare.
And Chase Field in Phoenix was nearly full for Friday's Mexico-U.S. game -- with maybe half that crowd rooting for Mexico.
Those
fans certainly cared that Mexico pulled off the huge
5-2
upset victory, essentially avoiding elimination after Thursday's heartbreaking ninth-inning loss to Italy. The players on the Mexican team certainly cared.
The Mexico lineup is pretty weak outside of Dodgers first baseman
Adrian Gonzalez
.
Jorge Cantu
hit fifth and he spent all of last year in Triple-A.
Karim Garcia
is still around and he hasn't played in the majors since 2004. But
R.A. Dickey
's knuckleball wasn't effective, a leadoff bloop single led to two runs in the first inning and Gonzalez torched a 73 mph knuckler to center field for a two-run homer in the third.
Other thoughts:
Pool D is really interesting now. It could all come down to run differential to see which two teams advance to the second round. If we assume the U.S. beats Italy on Saturday, and the U.S. and Mexico both beat Canada, then Italy, the U.S. and Mexico all finish 2-1. But Italy mercy-ruled Canada in a 14-4 victory, putting pressure on the U.S. lineup to do some damage in its next two games. The eighth inning could prove a key for the U.S., as Tim Collins and Steve Cishek worked out of a second-and-third, nobody-out jam.
After Dickey's performance, fans will be crying that Verlander or Kershaw or David Price aren't here. First off, Dickey wanted to be here and those guys didn't. Second, Dickey earned his invite as much as those guys would have, coming off his National League Cy Young Award. He just didn't have a good night. That's what happens in a tournament, not much different than what happens in the postseason: Anything can happen.
Joe Torre's lineup left a little to be desired. He hit Jimmy Rollins and Brandon Phillips 1-2, because they're fast and they hit at the top of the order for their regular teams. He hit Eric Hosmer sixth, pushing Giancarlo Stanton -- who only led the NL in slugging percentage -- all the way down to seventh, and Adam Jones, he of the 32 home runs last year, batting eighth. Stanton and Jones are better hitters than Rollins, Phillips and Hosmer. Torre might have been playing the hot hand with Hosmer, who had hit .391 in spring training with the Royals, and maybe he wanted to spread out his three left-handed hitters (switch-hitter Rollins, Joe Mauer and Hosmer). Still, a little more creativity would have had something like David Wright, Mauer, Ryan Braun, Stanton, Jones, Rollins, Phillips, Hosmer and catcher J.P. Arencibia.
Dodgers third baseman Luis Cruz had two key at-bats for Mexico. In the first inning, he delivered a sacrifice fly that was also deep enough to move Ramiro Pena to third, and Pena scored on Gonzalez's sac fly. In the fifth, after Eduardo Arredondo slapped an Ichiro-like double down the left-field line off Twins closer Glen Perkins and was bunted to third, Cruz delivered another sac fly.
Pitchers are allowed a maximum of 65 pitches in first-round games, but Yovani Gallardo was on a 50-pitch limit for Mexico. He looked sharp, allowing two hits and striking out four in 3.1 innings, but that meant Mexico had to rely on its bullpen, a day after using four relievers in that 6-5 loss to Italy. Royals righty Luis Mendoza escaped a jam in the fifth after walking the first two batters, striking out Arencibia on a nice 0-2 slider and then retiring Rollins and Phillips on ground balls. Oliver Perez got a key out in the sixth and Oscar Villareal pitched a scoreless seventh. The U.S. scored once off Cardinals reliever Fernando Salas in the eighth, and Giants closer Sergio Romo closed it out.
The Giants were undoubtedly nervous seeing Romo come in. They had apparently requested that Romo not appear in consecutive games, and manager Bruce Bochy has always been very cautious with his use of Romo. He threw 26 pitches Thursday, but this was a must-win game for Mexico. Saving him for Saturday's game against Canada doesn't make any sense if you lose this game. A reliever can't appear three consecutive days, so Romo is unavailable now for Canada.
Ryan Vogelsong starts for the U.S. against Italy, and while the Italian team is mostly comprised of U.S.-born players -- including several major leaguers -- they will start an actual pitcher from Italy: Luca Panerati, a left-hander who was in the Reds' system from 2008-11, never advancing past Class A. Last year, he pitched in the Italian Baseball League. Now he gets to face a team of the best players in the world. This is what the World Baseball Classic is all about.
January, 14, 2013
1/14/13
1:16
PM ET
The World Baseball Classic provisional rosters will be announced later this week and news is starting to slip out on who Joe Torre will be naming to the roster.
Giancarlo Stanton
has committed to playing for Team USA, but
Mike Trout
will not
, instead sticking to a full spring training with the Angels. That's certainly understandable in Trout's case, since he battled an illness last spring that caused him to lose 20 pounds and begin the season in Triple-A.
Other players who have committed
include
R.A. Dickey
,
Andy Pettitte
,
Craig Kimbrel
,
Jimmy Rollins
,
Shane Victorino
and
Mark Teixeira
.
In a perfect world where every player wants to play, who should be on the Team USA roster? Since the World Baseball Classic is to a large degree a marketing vehicle for the sport, you want a mix of the best players in the game and young stars. In the cases of Trout and Stanton, they would be easy inclusions: They're young and already among the game's elite players.
Here's my 30-man roster:
Catcher -- Buster Posey, Matt Wieters, Joe Mauer
Pretty easy choices here, especially with
Brian McCann
coming off a bad year and offseason shoulder surgery. One of the interesting story lines for 2013: Does Wieters have any offensive growth left in his game? After back-to-back years hitting .262 and .249 with 22 and 23 home runs, he may have maxed out his power, but if he can learn to hit for a little more average against right-handed pitchers (.223 in 2012) and improve his batting line to something like .280/.360/.500, then he's one of the most valuable players in the game, not just one of the most valuable catchers.
First Base -- Prince Fielder, Anthony Rizzo
Is first base the weakest position in the majors right now?
Joey Votto
missed 50 games and was still easily the most valuable first baseman in the majors. Prince is the obvious No. 1 choice but with guys like
Adrian Gonzalez
and Teixeira having down years, let's promote and up-and-coming star like Rizzo. Plus, it gives us a Cub.
Second Base -- Ben Zobrist, Dustin Pedroia
The switch-hitting, slick-fielding Zobrist would be the starter with Pedroia coming off the bench or playing against a left-hander. You can make cases for
Aaron Hill
(terrific season for Arizona) or the always reliable
Brandon Phillips
.
Third Base -- David Wright, Chase Headley
There's a lot of depth at third base in the majors right now, but not all of it is U.S.-born players. Wright and Headley were the two best in the majors in 2012 -- yes, arguably better than Miguel Cabera. On the road, Headley had more home runs and a higher OPS than Cabrera.
Shortstop -- Ian Desmond, Jimmy Rollins
With
Troy Tulowitzki
and
Derek Jeter
returning from injuries, it's an easy call to give our roster slots to Desmond and Rollins, who ranked 1-2 in FanGraphs WAR among all shortstops in 2012 (not counting Zobrist, who started there the last month and a half, but will move back to second with the acquisition of
Yunel Escobar
). Desmond will have to prove his power burst is for real -- from eight home runs to 25 -- but I'm a believer.
Outfield: Ryan Braun, Mike Trout, Giancarlo Stanton, Andrew McCutchen, Bryce Harper, Jason Heyward, Austin Jackson
A good mix of MVP candidates (Braun, Trout, McCutchen) and future MVP candidates. The tough choice for Torre: Who do you start? An outfield of Braun in left, Trout in center and Stanton in right gives you three right-handed batters, so maybe you mix in Harper or Heyward against a right-hander.
Starting Pitchers: Justin Verlander, Clayton Kershaw, David Price, R.A. Dickey, Matt Cain
You don't see many starting pitchers on the World Baseball Classic rosters, in part since they're limited by pitch counts and there aren't that many games to play anyway. But we'll pick five. Verlander and Kershaw are clearly the top two pitchers in baseball right now, as both could have easily picked up their second consecutive Cy Young Awards in 2012. Price and Dickey are the reigning Cy Young champions and are the type of players you want to expose in this kind of event. There are many defensible choices for the fifth spot but Cain gets my nod as the leader of the staff for the World Series champs and the kind of guy you want starting a big game.
Relief Pitchers: Craig Kimbrel, Jonathan Papelbon, Sergio Romo, David Hernandez, Kris Medlen, Jake McGee, Sean Marshall, Charlie Furbush
For the bullpen, we're not too worried about just looking at the saves leaders. We want dominant arms in the pen but also the ability to match up late in games if needed. Kimbrel is obviously our closer -- and hopefully Torre will use him for more than three outs if needed, especially with a one-run lead! Papelbon had a couple big blown saves for the Phillies but had a dominant 92/18 strikeout/walk ratio. I'm not sure he's our top setup guy, however. That role may fall to Romo and his death-to-righties slider and the underrated Hernandez, who fanned 98 in 68.1 innings for the Diamondbacks.
Medlen has to be on our team after his dominant transition to the rotation last year -- 0.97 ERA in 12 games as a starter. Are you kidding? With his experience pitching in relief he can be our long guy. And then I went with three left-handers. Tampa Bay's McGee finally had the season long expected of him with his power arsenal. He had a 73/11 SO/BB ratio in 55.1 innings, but he's not just lefty killer as right-handers hit a .098 against him. Marshall has long been one of the best against lefties and Furbush is the new Marshall; with his fastball/slider combo, lefties hit just .147 off him, with just three doubles and no home runs in 75 at-bats.
That's my team. Who would be on yours?
October, 29, 2012
10/29/12
12:30
AM ET
DETROIT -- Maybe this is the new new thing in baseball: Build a starting rotation so good you can put your two-time Cy Young winner in the bullpen in the World Series, draft a future MVP to build your lineup around, piece together a bunch of hitters who take pitches and put the ball in play, be willing to spend some money for some veteran additions at the trade deadline, catch everything hit your way and a few that aren't … and, of course, catch a few breaks along the way to postseason glory.
The
San Francisco Giants
are the World Series champions of 2012. Maybe that wasn't a wild prediction back in spring training, or at the start of the playoffs, but things certainly looked bleak when they lost the first two games at home to the Reds in the Division Series, or when they fell behind in the NLCS against the Cardinals. Both times they had to win three in a row.
In the World Series, it was a little easier -- a four-game sweep of the
Detroit Tigers
, including the first back-to-back shutouts since 1966.
[+] Enlarge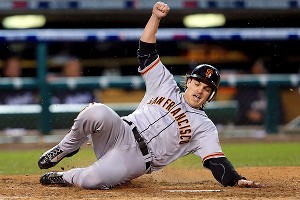 Doug Pensinger/Getty ImagesRyan Theriot, who had been relegated to a bench role, started Game 4 as the DH and scored the winning run.
Sunday night's Game 4 at Comerica Park was a more difficult win, a tense, exciting extra-inning affair that merely prolonged the agony of the cold and wet Tigers fans. With two outs in the top of the 10th inning,
Marco Scutaro
lined a 3-1 fastball from
Phil Coke
in front of center fielder
Austin Jackson
and
Ryan Theriot
tore around third base with the go-ahead run, the World Series-winning run in the Giants' 4-3 victory.
In the bottom of the inning,
Sergio Romo
mowed down Jackson and then pinch-hitter
Don Kelly
and only had to retire Triple Crown winner
Miguel Cabrera
to clinch the seventh World Series championship in franchise history and their second in three years. Romo threw five consecutive sliders -- that lethal slider that Romo learned in junior college in Colorado, a pitch that hitters just can't seem to pick up -- to get the count to two balls and two strikes.
Surely, another one was coming. Instead, the sixth pitch was an 89 mph fastball down the middle. Cabrera couldn't pull the trigger and the celebration was on.
That final inning summed up the magic of the 2012 Giants. Theriot, who started the inning with a bloop single to right, was making his first start of the postseason. Scutaro was one of general manager Brian Sabean's midseason fortifications. Romo, the closer, was the third pitcher to assume that role for the Giants this season. It was a team effort, symbolic of the Giants' strengths in this series compared to the Tigers: A deeper roster, timely hitting, the ability of bench players to step into bigger roles and deliver big hits and big outs.
Every World Series champion has stars, of course, and the Giants' two biggest stars of 2012 --
Buster Posey
and
Matt Cain
-- both came up big in Game 4. But as much as any recent World Series champion, this feels like a team effort, a title won by players one through 25, with a little help from manager Bruce Bochy's magic touch.
A sweep certainly wouldn't have been expected a few days ago. "I never would have thought we'd sweep the
New York Yankees
and I never would have thought we'd get swept," losing manager Jim Leyland said. "It's a freaky game, but it happens."
* * * *
Both managers faced interesting decisions in the eighth inning, when the score was tied 3-3. After
Octavio Dotel
walked Scutaro on four pitches, Leyland could have brought in Coke to turn
Pablo Sandoval
around to his weaker side -- all six of his home runs in the postseason had come from the left side. And while Coke had held righties to a 2-for-14 mark in the postseason, they hit .396 off him in the regular season. Add in that Posey absolutely destroyed left-handers this season, and Leyland made the right move to leave in Dotel, a move that paid off when Dotel induced a 3-6-1 double play.
[+] Enlarge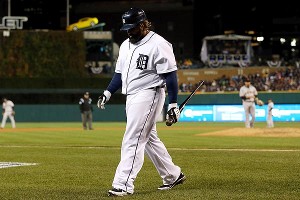 Ezra Shaw/Getty ImagesPrince Fielder had only one hit in 14 at-bats during the World Series.
With Cain done after seven innings and 102 pitches, Bochy had the option of lefty
Jeremy Affeldt
to face
Quintin Berry
(or likely pinch-hitter
Avisail Garcia
), Cabrera and
Prince Fielder
, or right-hander
Santiago Casilla
. He chose Affeldt, who had thrown 8 2/3 scoreless innings in the postseason, meaning he'd take his chances against Cabrera. When Garcia walked on a 3-2 fastball, that meant Affeldt had to go right after Cabrera and he struck him out on three pitches. He threw a nasty 1-1 big-breaking ball to Fielder for a called strike and then got Fielder swinging on a 92 mph fastball. Affeldt got the side when he fanned
Delmon Young
on a 2-2 slider.
In the end, it wasn't a World Series that revolved around managerial decisions like last season's. Leyland made the right moves, Bochy made the right moves. Bochy's players just came through.
* * * *
Once again, the Giants' defense made some crucial plays, the highlight being
Brandon Crawford
's bare-handed pickup and throw to gun down Berry after Berry's grounder deflected off Cain's glove. The play ended the fifth and left Cabrera leading off the sixth instead of batting with two runners on. Sandoval also made a nice play on Berry's bunt in the third, with
Brandon Belt
scooping Sandoval's low throw. Cabrera followed that play with his home run -- a two-run shot, instead of what could have been a three-run shot, the jet stream carried over the fence in right.
* * * *
Posey had gone 10 games without an extra-base hit since hitting the big grand slam off the Reds'
Mat Latos
in Game 5 of the Division Series. But the likely NL MVP had the game's most important hit, a two-run homer off a
Max Scherzer
changeup in the sixth inning, lined just fair down the left-field line.
While Posey came through, the Tigers' big stars didn't. Cabrera hit the two-run homer but struck out three times, something he had done just once in the regular season. Fielder went 0-for-4 with two strikeouts and the two sluggers finished just 4-for-27 in the series.
The Tigers had to ride their stars. The Giants rode an entire team.
October, 28, 2012
10/28/12
12:06
AM ET
DETROIT -- We can go silly overanalyzing three baseball games, so let's keep it simple: The
Detroit Tigers
are a stars-and-scrubs team. If the stars aren't delivering, it's going to be an uphill climb. And now that climb is Mount Everest.
In Game 1,
Justin Verlander
didn't deliver. In Game 2,
Prince Fielder
grounded into a crucial double play with the score 0-0 in the seventh inning. In Game 3 on Saturday night at Comerica Park, Fielder and
Miguel Cabrera
both had their chances. With two on in the first, Fielder grounded into a 4-6-3 double play, with Giants shortstop
Brandon Crawford
nicely turning two as Cabrera barreled down on him. In the fifth, Cabrera batted with the bases loaded, two out and the Tigers down two runs, but
Ryan Vogelsong
induced Cabrera to pop out to shortstop.
When that ball fell harmlessly into Crawford's glove, the air was sucked out of Comerica. You had the feeling the game -- and perhaps the World Series -- ended there, with the best hitter in baseball unable to knock in runs the Tigers desperately needed. Oh, Comerica tried to come to life a couple times after that -- when
Anibal Sanchez
struck out
Angel Pagan
to end the top of the seventh and when Cabrera led off the bottom of the eighth -- but the fans were muted by the cold air and wind and the big, fat zero on the scoreboard.
The final score:
Giants 2, Tigers 0
, the Giants now 27 outs from a World Series sweep after becoming the first team with consecutive shutouts in the World Series since the 1966 Orioles.
Cabrera and Fielder are now 3-for-19 in the series, without an extra-base hit and with one RBI that came in Game 1, trailing by six runs. (
Austin Jackson
has a .500 OBP in the series, so it's not like they've been hitting with the bases empty every time.)
"I wouldn't say it's pressing," Fielder said after the game. "That's just a word you use when you're not playing well."
I happen to agree with Fielder. There will be a lot of opinions out there tomorrow or if the Tigers go down in Game 4 that Cabrera and Fielder pressed or choked or whatever label you wish to apply. Teams struggle for short stretches like this all the time in the regular season, of course; such stretches are unremarkable in the midst of 162 games. The difference is in the regular season there's a next day. For Fielder and Cabrera, there's only one more tomorrow to snap out of their mini-slumps.
* * * *
Vogelsong wasn't near as dominant in this start as in his two in the National League Championship Series against the Cardinals, when he allowed just eight hits and three walks in 14 innings, but he scuffled through 104 pitches in 5.2 innings and got the big outs when he needed them -- the Fielder double play in the first, a
Quintin Berry
double play in the third, the Cabrera popup. He gave up five hits, walked four and struck out three. Here's how rare his outing was: Since 1990, a starting pitcher has had four walks and three strikeouts in a postseason game 25 times; each time the starter allowed at least one run and the average was 3.2 runs allowed.
[+] Enlarge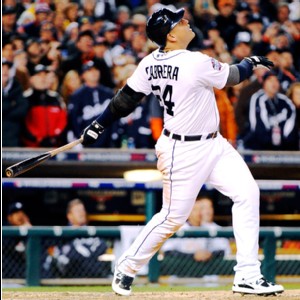 H. Darr Beiser/USA TODAY Sports Triple Crown winner Miguel Cabrera, popping out to end the fifth, is 2-for-9 in the World Series.
So give props to Vogelsong for making pitches when he had to, but the Tigers also missed their opportunities. This gets a little to the stars-and-scrubs description of the Tigers: Once you get past Jackson, Cabrera and Fielder, there just isn't much to fear in the Detroit lineup. This is best exemplified by the Nos. 2 and 5 hitters, Berry and
Delmon Young
.
I've written enough about Young, so I'll skip him other than to mention he had a .279 OBP against right-handed pitchers in the regular season. Berry, back in the lineup with a right-handed pitcher starting, was a nice story this year: Essentially an organizational player, signed last November as a minor league free agent, he'd been let go by the Phillies, Mets and Reds in his career. Called up in late May after an injury, he had a hot few weeks and Jim Leyland and the Tigers kind of fell in love with him. He can run (21-for-21 in stolen bases) and his glove was a big improvement over the likes of Young and
Brennan Boesch
in the outfield.
But Berry has no business batting second in a World Series game. Since July 1, he hit .224/.285/.312 (BA/OBP/SLG), which is probably a fair assessment of his abilities. OK, he can run and none of other Tigers except Jackson and
Omar Infante
can. But he killed the Tigers in Game 3: the double play, striking out with the bases loaded and one out ahead of Cabrera's popup, and then striking out feebly against a
Tim Lincecum
changeup in the seventh (OK, a lot of hitters have done that through the years).
Look, Berry is the kind of underdog you root for, but he was exposed in this game.
* * * *
Give credit to Sanchez for a strong performance. Unfortunately, he had one bad inning -- the second, when he seemed to lose his fastball command. He walked
Hunter Pence
on four straight pitches to start the frame, which isn't easy to do. That began a laborious 31-pitch inning, with the key hit being
Gregor Blanco
's one-out triple to deep right-center on a 3-2 slider. With two outs, Sanchez fell behind Crawford with a first-pitch changeup and Crawford then lined a 1-1 fastball just in front of Jackson for the Giants' second run.
* * * *
Speaking of Crawford, he turned two nice double plays and made a diving stop and throw to take a hit away from Cabrera to begin the eighth. He did make an error later that inning, but he's played an outstanding shortstop throughout the playoffs. Looks like a kid who will be winning some Gold Gloves in the future.
* * * *
Finally, kudos to the Giants' new secret weapon: relief pitcher Lincecum, who threw 2.1 hitless innings with three strikeouts. His dominant performance allowed Bochy to easily bridge the gap to closer
Sergio Romo
with just one middle reliever. It certainly makes managing a little easier when you can minimize the use of your bullpen (you never know which guy may not have it that night) and not worry about LOOGYs and ROOGYs. Old school, baby.
* * * *
There isn't much to analyze now. Blanked in two consecutive games, the Tigers now have to face Giants ace
Matt Cain
. Before Game 1, I thought the key decision looming over the series was Bochy's decision to start the struggling
Madison Bumgarner
in Game 2, which meant Cain would be lined up for just one start. Well, now Cain has a chance to pitch the clinching game of a World Series. The Giants have won six in a row and their starters have a 0.47 ERA over that span.
The Tigers turn to
Max Scherzer
, who is certainly capable of a big game. He's allowed just two runs in his two playoff starts, although he was pulled in the sixth inning both games with his pitch counts in the 90s. Even if he shuts down the Giants, Leyland will likely need some length from his bullpen. It's certainly possible and a win means Verlander in Game 5 and then Tigers fans can start dreaming of the impossible ...
October, 24, 2012
10/24/12
1:17
AM ET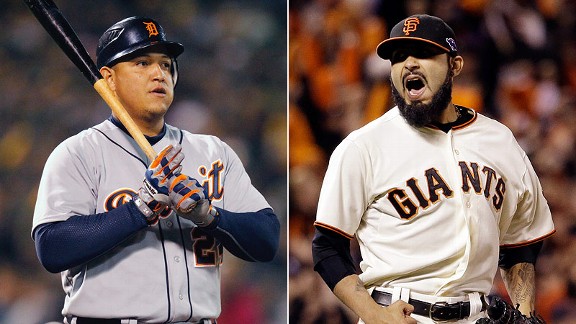 AP PhotosHow closer Sergio Romo, right, and the Giants staff deal with Miguel Cabrera could be a Series key.
It has been a long season. Remember when the Oakland A's and Seattle Mariners began in Japan way back in March? OK, you probably don't. But you've made it this far. Don't quit now. We have at least four more games left and hopefully seven. Here's why I'm watching what should be an exciting World Series between two of the game's storied franchises -- and even though this is the San Francisco Giants' 19th World Series trip and the Detroit Tigers' 11th, they've never met before.
1. Miguel Cabrera.
The best hitter on the planet on the game's biggest stage: Yeah, that's a pretty good place to start. I can't wait to see how the Giants attack him. He has been kept under wraps for the most part this postseason, hitting .278 with one home run in nine games, so he has to be careful not to press if the Giants don't give him much to hit. But I have the feeling Cabrera may show us why he won the Triple Crown.
2. Justin Verlander.
He might not win the AL Cy Young Award this season, but Verlander is the game's best starting pitcher with the game's most dominating stuff. After mediocre results in his first two postseasons in 2006 (his rookie season) and 2011, he has been lights-out so far, with three wins in three starts. No starting pitcher has ever won five games in a single postseason, but because he'll start Game 1, he could have the opportunity to start twice. One thing to watch: The A's led the league in strikeouts; the Yankees were clearly in an offensive slump of historic proportions. The Giants are a contact team against whom the strikeouts won't come quite so easily. That means more balls in play and more pressure on the Detroit's suspect defense. We'll see how Verlander responds to this tougher assignment.
3. Jim Leyland's and Bruce Bochy's place in history.
It's amazing to realize that when Leyland won the World Series with the Marlins in 1997 he was only 52 years old. Wasn't he kind of portrayed as the slightly cranky baseball lifer even then? He's now 67 and trying to win another title. He and Bochy are two of the best managers of the past quarter-century and both are going for their second championship. Neither has managed in the major media markets of New York, Chicago, Los Angeles or Boston, although Leyland has certainly received more media attention through the years than Bochy. The winner of this series may have something bigger at stake than media attention, however: a place in the Hall of Fame. Not every manager with two titles is in (Cito Gaston, Tom Kelly to name two), but Leyland is 15th on the all-time win list and Bochy is 23rd. This Series could cement their legacy.
4. Marco Scutaro.
One of the best things about the postseason is how a player like Scutaro -- a good player, although certainly more role player than star -- can become the most important guy for a team for a couple weeks. It doesn't have to be a team's No. 3 or 4 hitter who does all the damage, and Scutaro enters on a roll after knocking out 14 hits in the National League Championship Series. The Giants had an obvious parallel two years ago in
Cody Ross
, another late-season acquisition who came up big in October. Admire Scutaro for his old-school approach at the plate: He puts the ball in play with his superior contact skills, a trait lost amid this generation's incessant desire for power.
5. Matt Cain, Tim Lincecum and Madison Bumgarner.
They may not all get a World Series start -- Bumgarner's velocity and stuff have been down in recent starts -- but this trio has the chance to make its mark with a second World Series title. Think how difficult that is: Not even the Greg Maddux-Tom Glavine-John Smoltz trio was able to do that. Lincecum, of course, didn't have a good season, but that doesn't matter now. All the Giants need from him is one -- or maybe two -- good starts.
6. Intentional walks and sacrifice bunts.
Remember last year's World Series when Ron Washington and Tony La Russa went crazy with ill-advised free passes and odd bunts? It was a second-guesser's dream. I don't expect to see the same slew of erratic decisions from Leyland and Bochy, but the World Series can turn even the most level-headed of managers into chemists with a room full of potions. In the National League Championship Series, we saw how Mike Matheny's free pass to No. 8 hitter
Brandon Crawford
in Game 6 led to a big inning. Last year, Washington's intentional walk to
Albert Pujols
in Game 6 was a key decision in the Rangers' eventual defeat. In a tight series, managerial decisions can be a decisive factor.
7. Prince Fielder.
Many in the industry were not pleased when the Tigers coughed up $214 million to sign Fielder. Hey, imagine that: Tigers owner Mike Ilitch is 83 years old and wants to win a World Series. OK, so Fielder isn't riding the exercise bike after games. Despite his girth, Fielder is actually one of the most gifted hitters in the game. He seemed a little overanxious at times in the first two rounds, hitting .211 with two unintentional walks, but maybe he'll be more relaxed as he plays in his first World Series.
8. Sergio Romo.
Who says you need a closer who throws 98 mph? Romo is a guy who barely cracks 90 but has a deadly slider that hitters have trouble picking up. He's another great story, a guy the Giants never seemed to fully believe in until they were forced to use him as the closer after
Brian Wilson
was injured and
Santiago Casilla
struggled. Bochy had primarily used Romo as a right-handed relief specialist in recent seasons (last year he pitched just 48 innings in 65 appearances), but now he has earned Bochy's confidence to face all swingers -- as he should, after holding lefties to a .167 average this season. At some point, he'll probably need to protect a one-run lead against two guys named Cabrera and Fielder and that's going to be some kind of wonderful.
9. Cold weather.
Because it's always fun watch players wearing layers, ear muffs and hand warmers. Oh, wait, no it's not. The weather in Detroit this weekend may dip into the high 30s, so cold that Leyland might be given special dispensation to smoke in the dugout. But the dark, not-so-secret aspect of cold weather is the realization that the season's most important games can be played in weather more suitable for creating ice sculptures than baseball art. Let's hope foul weather isn't a factor.
10. Who will have Darrell Evans throw out the first pitch?
Yes, I've termed this the Darrell Evans World Series. You know, like if it had been the Reds versus the Tigers, we would have had the Sparky Anderson World Series. Or the Cardinals-Tigers would have been the Rematch of 1968 World Series, with highlight reels of Bob Gibson and Mickey Lolich. Instead, we get the Darrell Evans World Series, the underrated star of the '70s and '80s who played for both franchises (he was part of Detroit's 1984 World Series champs). Make it happen! We need a Darrell Evans sighting.
October, 9, 2012
10/09/12
9:54
PM ET
That was one of the more entertaining games of the postseason, a classic pitching duel of sorts, with some interesting strategic decisions and some missed opportunities. The
Cincinnati Reds
will be kicking themselves for not taking advantage of one of the best-pitched games in Reds postseason history and the
San Francisco Giants
will be wondering how they're still alive in a game where they got three hits in 10 innings and struck out 16 times. For the rest of us, we'll get more baseball!
Some thoughts on the Giants'
2-1 victory
:
As dominant as Aroldis Chapman was in the ninth inning, getting two strikeouts while throwing just 15 pitches, I was a little surprised he didn't come back out for the 10th inning. Chapman pitched more than one inning eight times this season, but only twice after becoming the closer, a 1.2-inning save May 27 and a four-out save Aug. 10. Factoring in the shoulder fatigue that sidelined Chapman for 11 days in September, maybe Reds manager Dusty Baker is wary about using Chapman for more than an inning. The trouble is it's a big drop-off from Chapman to Jonathan Broxton. Of course, it's a big drop from Chapman to just about any reliever not named Craig Kimbrel.

As is, despite giving up two singles to start the inning, Broxton would have escaped the 10th if not for shoddy Reds defense. After he struck out Brandon Belt and Xavier Nady, Ryan Hanigan's passed ball allowed the runners to move up and then Scott Rolen mishandled Joaquin Arias' chopper to third base. The sloppy defense in this postseason continues. Giants manager Bruce Bochy made a couple interesting choices that inning: He let Belt swing away with two on and no out. I would say most managers would have bunted there about 99 percent of the time. I didn't mind the call. Belt has never had a sacrifice bunt in his brief career and he was the Giants' best chance to deliver a hit. Bochy then let pitcher Sergio Romo hit with runners at first and second. Again, I liked the call. Romo is the Giants' best reliever; Bochy had used the other relievers you might want to use. Plus, Bochy had used up his bench; only backup catcher Hector Sanchez was left.

Xavier Nady and Xavier Paul. Discuss. Or not. Man, these two benches are horrible.

Keith Law and Eric Karabell talked about an interesting point on the Baseball Today podcast today, wondering if the Yankees aren't better off moving up Robinson Cano in the order. He hit cleanup on Monday, and was left in the on-deck circle as Alex Rodriguez made the final out. Keith's point is that batting lineups don't matter all that much, but one obvious benefit of stacking your best hitters at the top is you may get them one more plate appearance. That's the problem with the Reds batting Zack Cozart and his .288 OBP second. He made the final out, leaving Joey Votto on deck.

Not to bury Homer Bailey's awesome start. You can see why he pitched a no-hitter two starts ago as he took a no-hitter to two outs in the sixth (although the Giants had scored on a hit-by-pitch, walk and two sacrifices). The walk to No. 8 Brandon Crawford proved especially painful and kudos to pitcher Ryan Vogelsong for a good bunt and Angel Pagan for delivering the sac fly. Considering Bailey had thrown just 88 pitches, you can argue that Baker took him out too early. I can't fault Baker for handing the game to the best bullpen in baseball, but the Giants couldn't touch Bailey on this night.

Bailey's game score of 80 was the fourth highest in Reds postseason history, behind Hod Eller's 89 in Game 5 of the 1919 World Series against a team that wasn't trying to win (9 IP, 3 H, 0 R, 1 BB, 9 SO) and Ross Grimsley's 84 in Game 4 of the 1972 NLCS (9 IP, 2 H, 1 R, 1 BB, 5 SO). Jose Rijo's win to clinch the sweep of the A's in the 1990 World Series (8.1 IP, 2 H, 1 R, 3 BB, 9 SO) scores a 91. And, yes, this was just an excuse to mention Hod Eller.

Brandon Phillips' hustle effort in the first inning when he got thrown out at third base is one of those plays described as a "baserunning error" if you don't make it but "heads-up baseball" if you do. The argument against trying to get the extra base is that with zero outs there is a little reward if you do make it (you're already in scoring position) but a huge penalty if you get caught. As it turned out, Vogelsong labored through a 30-pitch inning and Phillips' hustle cost the Reds a potential big inning.

Vogelsong did a nice job of settling down after that inning. He walked Votto and Ryan Ludwick in the third, but got Jay Bruce on a fly to left. Bruce swung at the first pitch, which isn't necessarily the worst idea if he thinks a pitcher is going to groove something after two walks. Bochy hit for Vogelsong leading off the sixth, again not a bad idea considering the circumstances. Vogelsong had thrown 95 pitches, the Reds had Votto and Bruce due up the next inning and the Giants were still hitless at the time. It was the one opportunity Bochy knew he could use Aubrey Huff against a right-hander, without the possibility of the Reds bringing in Sean Marshall or Chapman. Huff just isn't a big weapon right now.

As I write this, the Reds haven't announced their Game 4 starter. It could be Johnny Cueto, but that seems unlikely. It could be Mat Latos, three days after throwing 57 pitches in Game 1. It could be Mike Leake, but to activate him they'd have to replace Cueto, which would make him ineligible for the National League Championship Series, should the Reds advance. If they go with Latos, that would likely mean starting Bronson Arroyo on three days' rest in a potential Game 5. No easy calls here, but I'd probably go Latos and Arroyo, and rely on the deepest bullpen in the league. The Giants counter with Barry Zito -- and you know Bochy will have a quick hook. The Reds had a .770 OPS against left-handers compared to .710 versus righties, so if Zito struggles early don't be surprised to see Tim Lincecum again in relief. Should be a good chess match yet again.
October, 4, 2012
10/04/12
9:07
PM ET
With help from the blog network writers, here are reasons each team can win the World Series.
St. Louis Cardinals

1. A potent, balanced lineup. The Cardinals had the best on-base percentage in baseball, including four starters --
Matt Holliday
,
Jon Jay
,
David Freese
and
Yadier Molina
-- with a .370 OBP or better, and that doesn't even include two of their most dangerous sluggers,
Carlos Beltran
and
Allen Craig
.
2. Deep and solid starting rotation. Cardinals starters featured the second-best fielding-independent pitching in the majors, and
Chris Carpenter
has rejoined the staff just in time for the playoffs.
3. Playoff experience. If there's an advantage to be gained from experience, the Cardinals have it, with nearly three-quarters of their championship team returning to the tournament.
4. "The postseason is a crapshoot." As a wild-card team, the Cardinals proved this last year by beating a dominant regular-season team in the Phillies in a short series, then the powerful Rangers in the World Series.
5. They're saving their best ball for last -- again. As with the 2011 squad, the Cardinals are coming together at the right time. They won their last two series of the season against potential playoff foes Washington and Cincinnati and their regulars are generally healthy.
--Matt Philip, Fungoes.net
Atlanta Braves

The biggest thing the Braves need to do this postseason is hit left-handed pitching. For the year, they have an 85 wRC+ compared to the league average of 100 against left-handed pitching, the lowest of any of the playoff teams. If they win the play-in game against the Cardinals on Friday, they could face three left-handed starting pitchers in the first round in
Gio Gonzalez
,
Ross Detwiler
and
John Lannan
.
On the pitching front,
Kris Medlen
has taken the ace role of the staff, but the Braves will specifically need
Mike Minor
and
Tim Hudson
to perform at a high level to compete with the other National League teams. Defensively the Braves have been stellar, so the key for all of their starters will be to avoid free passes and long balls. They do not have an overpowering or star-filled staff as other rotations do, meaning their starters will need to rely on command and pitch sequencing to perform well against upper-tier offenses.
If the Braves get solid pitching performances from Medlen and Minor, and manage to scrape enough runs across against left-handed starters and relievers, they should be able to advance through the playoffs and potentially win their first World Series since 1995.
--Ben Duronio, Capitol Avenue Club
Cincinnati Reds

Here are five reasons that there will be a celebration in Fountain Square the first weekend in November:
1. The bullpen. This is the Reds' most obvious advantage. Their bullpen ERA ranks first in baseball at 2.65. How deep is this bullpen? One of these pitchers probably isn't going to make the postseason roster:
Logan Ondrusek
(3.46 ERA),
Alfredo Simon
(2.66) or
J.J. Hoover
(2.05).
2.
Jay Bruce
. The Reds' right fielder is one of the streakiest hitters in the game. If he gets hot, the Reds will be tough to beat. Bruce was twice named National League Player of the Week this year. In those two weeks, Bruce hit .488 AVG/.542 OBP/1.186 SLG (1.728 OPS). If Bruce gets on a hot streak like that, he could carry the Reds to the 11 wins they need.
3. The defense. Defensive metrics are flaky, but when you look at all of them, you start to learn something. The Reds rank near the top of almost every leaderboard. Seven of their eight starters are plus defenders, and three-quarters of the infielders have Gold Gloves on their shelves.
4.
Ryan Hanigan
. One of the things I'm most excited about this postseason is the broader baseball world discovering Ryan Hanigan. He does a lot well. His .365 OBP is better than any Red but
Joey Votto
. He walked more than he struck out. He threw out 48.5 percent of would-be base stealers -- the best in baseball -- and his handling of the pitching staff has the Reds' coaching staff speaking about him in hushed tones.
5. Luck, or something like it. The Reds outperformed their Pythagorean W-L by 7 games. Since Sept. 1, they have an 8-3 record in one-run games. This could mean they're due for a reversion to the mean. I like to think it means they're destined to win the Series.
--Chris Garber, Redleg Nation
Washington Nationals

1. The one-two punch of Gio Gonzalez and
Jordan Zimmermann
. Few teams could lose a starter like
Stephen Strasburg
and still claim that starting pitching is a strength, but the Nats can. Cy Young candidate Gonzalez leads the NL in strikeouts per 9 innings and is second in hits per 9. Zimmermann rarely allows a walk, and has an ERA under 3.00. I'd match Gonzalez and him up with any team's one-two.
2. The infield defense. Each position is manned by someone you could argue is one of the majors' top 10 fielders at his spot. The staff throws a lot of ground balls. Put them together and you get a lot of outs.
3. The re-emergence of
Drew Storen
.
Tyler Clippard
had been manning the closer role effectively but has recently looked very shaky. No matter. Storen returned to the 'pen and has been dominant, allowing just one run in his past 16 appearances. He'll be closing games going forward.
4. The offense with no holes. While there is no individual superstar, six of the Nats' eight regulars had an OPS+ between 112 and 128 for the season. A seventh,
Danny Espinosa
, would have been right there as well if not for a hideous April. The weak link is
Kurt Suzuki
-- and he hit over .300 in September.
5. Davey Johnson. Outside of
Jayson Werth
, this team has little postseason experience, but this is the fourth team Davey has led to the playoffs, and he's won five postseason series. You have to expect that he can guide this team through the highs and lows of October baseball.
--Harper Gordek, Nats Baseball
San Francisco Giants

1.
Buster Posey
. His second half was off-the-charts awesome, hitting .385/.456/.646. He was the best hitter in the majors after the All-Star break -- even better than
Miguel Cabrera
.
2. The rest of the Giants' offense. Even though they ranked last in the NL in home runs in the second half, they still managed to rank second in runs per game.
Marco Scutaro
proved to be a huge acquisition, hitting .362 with the Giants.
3.
Matt Cain
. Remember his dominant postseason performance in 2010? In three starts, he allowed just one unearned run. This time around he's the Giants' No. 1 guy.
4.
Sergio Romo
. The Giants rode
Brian Wilson
a lot in 2010, but this time they'll have Romo, who could be just as dominant closing games. He allowed just 37 hits and 10 walks in 55.1 innings while striking out 63. He was equally crushing against lefties (.491 OPS allowed) and righties (.537).
5. Bruce Bochy. He's considered by many to be the best manager in the game. If a series comes down to in-game tactics, most evaluators would rate Bochy superior to Dusty Baker, Fredi Gonzalez and Mike Matheny.
--David Schoenfield
Baltimore Orioles

1. No. 1 -- and, you could certainly argue Nos. 2-5 as well -- is the bullpen. The O's went 73-0 when leading after the seventh inning. As relievers,
Tommy Hunter
is touching 100 mph and
Brian Matusz
has struck out 19 batters in 13 innings. Then there's
Troy Patton
(2.43 ERA),
Pedro Strop
(2.44),
Darren O'Day
(2.28) and
Jim Johnson
(2.49, 51 saves) to finish things out. While it might not be the best bullpen ever -- or even the best bullpen in the league this year -- it may have been the most "effective" 'pen in history, as noted by its record-setting (record-obliterating, really) +14 win probability added. Maybe 16 consecutive extra-inning wins and a 29-9 record in one-run games (the best since the 1800s) is partially a fluke, but having a quality bullpen certainly doesn't hurt in keeping that going.
2. Buck Showalter. Aside from bullpen management that's been so effective, Buck seems to just make all the right moves, putting guys in positions to succeed and making in-game decisions that seem to work even when they probably shouldn't. Sac bunt? You get the run you need. Hit and run? Batted ball goes right to where the second baseman was. Bring in
Chris Davis
to pitch? Two shutout innings, a pair of strikeouts (including
Adrian Gonzalez
!), and a win. Judging managers is tricky, but it would be mighty hard to argue that Buck isn't a net plus.
3. A surging offense. Overall, the O's were a little below average, but since the beginning of September they've actually been one of the league's better hitting teams (with an AL-best 50 home runs). It's mostly been the Davis show recently (.320/.397/.660, 10 home runs), but
Matt Wieters
(.296/.389/.541),
Adam Jones
(.295/.343/.504) and
Nate McLouth
(!) (.280/.355/.456) haven't been slouches either.
4. An improved defense. The glove work was often sloppy early in the year, all around the diamond, but not so much lately (largely since
Manny Machado
was called up). Machado is a shortstop (with the range that implies) playing third base, and adjusting both well and quickly to it.
J.J. Hardy
is one of the game's better shortstops. Whoever is playing second is decent (
Robert Andino
or
Ryan Flaherty
).
Mark Reynolds
may have found a home at first base, even if he's not a Gold Glover there (yet). The O's fielding (via FanGraphs) for the first four months: -20 runs. Fielding since: +0.
5. Orioles magic. Even if you count the O's as underdogs in each playoff series -- and really, you probably should -- they still have a 3-5 percent chance of winning it all (those chances double if they knock off Texas, by the way).
--Daniel Moroz, Camden Depot
Texas Rangers

1. An obvious on-paper advantage in the wild-card game.
Yu Darvish
has been dominant down the stretch with a 2.13 ERA and just 10 walks over his final seven starts. He's a strikeout pitcher against a lineup that strikes out a lot. Meanwhile,
Joe Saunders
is 0-6 with a 9.38 ERA in six career starts in Arlington.
2. Big-game experience.
Matt Harrison
had a terrific season, and having started a Game 7 of the World Series won't be fazed by the postseason.
Derek Holland
has had an inconsistent season but, as he showed in the World Series last year, is certainly capable of huge performances.
Ryan Dempster
also has playoff experience with the Cubs.
3. Defense. The infield defense with
Adrian Beltre
,
Elvis Andrus
and
Ian Kinsler
is arguably the best in baseball and was a key component to the Rangers' World Series run a year ago.
4.
Josh Hamilton
. If these are his final days with the Rangers, you get the feeling he'll be focused to go out with a bang, especially after his disastrous game in the regular-season finale. After his hot start, Hamilton recovered from his slump in June and July to hit 14 home runs over the final two months.
5. One game equals momentum. OK, the series sweep in Oakland was a disaster, but all it takes is one win over Baltimore and the Rangers can forget what happened down the stretch. Do that and this team is still the scary opponent everyone figured it was a few days ago.
--David Schoenfield
Oakland Athletics

1. Sometimes a very good overall team matches up poorly against a playoff opponent. As far as lefty-righty goes, the A's won't have that issue. General manager Billy Beane gave manager Bob Melvin the pieces to construct platoons, including at first base (
Brandon Moss
/
Chris Carter
), designated hitter (
Seth Smith
/
Jonny Gomes
) and catcher (
Derek Norris
/
George Kottaras
). Further, the top two everyday hitters,
Josh Reddick
and
Yoenis Cespedes
, bat from opposite sides of the plate, and leadoff man
Coco Crisp
, a switch-hitter, has very similar career splits from both sides of the plate.
2. The top three relievers,
Grant Balfour
,
Ryan Cook
and
Sean Doolittle
, have pitched remarkably well. All three bring gas. Cook can struggle with his command and Doolittle might hit a rookie wall any minute, but Balfour's 3.01 FIP is the highest of the group.
3. The A's are third in baseball in runs scored after the All-Star break. Ahead of the Yankees. Ahead of the Rangers. Well ahead of the Tigers. The current roster has been legitimately excellent on offense.
4. Defensive efficiency is a very simple metric: It is the rate at which a team turns balls in play into outs. It doesn't account for everything, but it does measure the core skill of a team's run-prevention unit. The A's are third in baseball in this number. Either the pitching staff doesn't give up hard-hit balls, the defense catches everything in sight, or both. Regardless of the why, the what is indisputable: Hits don't happen against the A's.
5. By record, the Tigers are the worst squad in the playoffs, yet the A's, the No. 2 AL team, play them in the first round because of the structure of playoff seeding. It likely isn't a huge advantage (the A's did just sweep Texas, after all), but every little bit counts on the way to a trophy.
--Jason Wojciechowski, Beaneball
Detroit Tigers

1. Miguel Cabrera. MVP or not, the Triple Crown speaks for itself. He is the best pure hitter in baseball and, unlike last year, is healthy heading into the postseason.
2.
Prince Fielder
was the American League's only .300/.400/.500 hitter, and he's not even the best player on his own team. He isn't completely helpless against LOOGYs either, posting an OPS of .808 against left-handed pitchers this season.
3.
Justin Verlander
, who has been just as good as he was in 2011. If Mother Nature cooperates this year, he will put a serious dent in that career 5.57 postseason ERA.
4. The rest of the rotation. With
Doug Fister
finally healthy,
Max Scherzer
's breakout second half, and the acquisition of
Anibal Sanchez
, the Tigers have the best playoff rotation in the big leagues. The four starters (Verlander included) combined for a 2.27 ERA in September and October.
5. Jim Leyland. The Tigers' skipper has been ridiculed by the fan base for most of the year for the team's lackluster performance, most of which was a mirage created by its early struggles. He has had his finger on this team's pulse all season and deserves credit for managing the outrageous expectations for a team with more flaws than people realized. Now he has the Tigers playing their best baseball heading into October and is the biggest reason why they could be parading down Woodward Avenue in early November.
--Rob Rogacki, Walkoff Woodward
New York Yankees

1. The rotation. This looks like the strongest playoff rotation the Yankees have had in years, even better than 2009, when Joe Girardi rode three starters (
CC Sabathia
,
Andy Pettitte
,
A.J. Burnett
) to the World Series title. Sabathia has battled a sore elbow but looked good down the stretch, including eight-inning efforts in his final two starts. Pettitte is 40 years old but still looks like Andy Pettitte.
Hiroki Kuroda
had a quietly excellent season, finishing eighth in the AL in ERA and 10th in OBP allowed among starters.
Phil Hughes
is a solid No. 4.
2. Home-field advantage. While this generally isn't a big factor in baseball, the Yankees' power comes into play with the short porch at Yankee Stadium. Earning the No. 1 seed was probably more important to the Yankees than any other team.
3.
Robinson Cano
. He's locked in right now, going 24-for-39 in his final nine games, all multihit games. Don't be surprised if he has a monster postseason.
4. Lineup depth and versatility. In this age of bullpen matchups, the Yankees are difficult to match up with. They can run out a lineup that goes right-left-right-left-switch-switch-left-left/right-right. You'd better have a deep bullpen to beat this team in the late innings.
5. Health. While
Mark Teixeira
may not be 100 percent, at least he's back in the lineup, meaning the Yankees finally have all their position players available (even
Brett Gardner
may make the postseason roster as a pinch runner/defensive replacement). They've been dinged up all season, but Sabathia and Pettitte should be strong. The only question: The Yankees haven't won a World Series without
Mariano Rivera
since 1978.
--David Schoenfield
April, 16, 2012
4/16/12
3:43
PM ET
Monday's
Baseball Today podcast
was taped with the
Boston Red Sox
and
Tampa Bay Rays
playing a morning game in the background, but the big story in Beantown wasn't the game, as Mark Simon and I discussed.
1. What was Bobby Valentine thinking calling out
Kevin Youkilis
? You know, I still can't figure it out, but it doesn't bode well for the future. Plus, we analyze the
Jacoby Ellsbury
injury and
Cody Ross
filling in. Can the Red Sox overcome?
2. It's Power Rankings day! Are the Red Sox in the top 10? Are the Phillies? And where will Mark jump the streaking
Los Angeles Dodgers
?
3. How can the
San Francisco Giants
lose an All-Star closer and still be contenders? We explain, but we believe.
4. Mark gets us going with the first Leaderboard of the Week segment discussing an unlikely power source pacing the league in well-hit average.
5. Our emailers want to talk about the best announcers,
Miguel Cabrera
and the chalk line, and intentional walks!
So download and listen to Monday's excellent Baseball Today podcast, and get ready for another fine show on Tuesday!
April, 14, 2012
4/14/12
10:01
PM ET
By
Christina Kahrl
| ESPN.com
The news that the
San Francisco Giants
could lose
Brian Wilson
for the balance of the season sounds grim. It isn't as if there weren't warning signs coming into the season: Declining velocity and an increasing reliance on his slider made it clear he wasn't the same pitcher whose late-game endurance and power helped propel the Giants to a 2010 World Series win.
We'll have to see what
the second or third opinions
the Giants are seeking will reveal. But in the meantime, what will the Giants do with their late-game leads?
If manager Bruce Bochy follows up with his initial comment that he'll go with a bullpen by committee, it should mean save opportunities will go to righties
Santiago Casilla
and
Sergio Romo
, with lefties
Javier Lopez
and
Jeremy Affeldt
possibly in the mix as well. Bochy and the Giants have been here before, of course, if just for a month last season. That was when Wilson broke down in August with a strained elbow, and made it back in time for only the last 10 days of the season. Casilla notched most of the save opportunities in Wilson's absence, although since Romo was also on the disabled list that August, you can't automatically chalk this up to simple preference for Casilla.
[+] Enlarge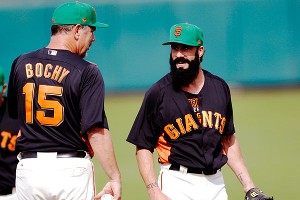 AP Photo/Marcio Jose SanchezBruce Bochy says he'll go closer-by-committee without Brian Wilson, right, but will he really?
Will we really see a closer-by-committee in action? In Bochy's long experience as a major league manager, he hasn't exactly had much chance or demonstrated any willingness to experiment with his team's save opportunities in this way. Bochy has a well-established track record of relying heavily on one designated closer, but that's largely a function of opportunity. During his 12 years managing the Padres, Bochy almost always had Trevor Hoffman to close for him.
That was true in every one of Bochy's seasons skippering the Padres save one: 2003, when Hoffman was out with shoulder surgery for most of the year. And that time around, Bochy really did compensate for the lack of a closer with a bullpen by committee, at least initially. For two months, journeymen Brandon Villafuerte, Jay Witasick, Jaret Wright, Matt Herges and Jesse Orosco all notched saves, including the last two of Orosco's long career. But even on a team going nowhere (the Pads would lose 98 games), nobody liked this solution much. Rather than stick with it, the Padres signed Rod Beck in June, and got 20 saves from the Shooter over the next three months.
That wasn't the only time Bochy has had to change gears with his closer in-season, though. In 2007, Bochy's first year managing the Giants, he once again wound up in a "manager's choice" scenario. Two months into that season, the Giants dealt Armando Benitez in the wake of a lot of public recriminations over Benitez's performance. In the absence of anyone even remotely resembling an established closer, Bochy might have gone with a committee. He didn't, making utility pitcher Brad Hennessey his stopper. Hennessey had all of one career save beforehand, but he notched 19 more before getting replaced by Wilson toward the end of the season. Wilson went on to fame, a ring and Taco Bell commercials; Hennessey never got another save in the major leagues.
So, in both of these situations, Bochy basically reverted to convention, whether that was identifying a designated temporary closer in the case of Hennessey in 2007, or having one brought in as Beck was in 2003.
What does that mean going forward? Last season, during Wilson's monthlong absence, Bochy split save opportunities between Casilla and
Ramon Ramirez
. He wound up favoring Casilla, but as I said, Romo was hurt and out of the running for part of that time. We'll see how much more than polite, for-public-consumption consideration for his top relievers Bochy's comments about a committee wind up being. But if you want to bet on what's going to happen in the next couple of weeks if Wilson really is out for the year, bet on Bochy picking one pitcher to close.
Christina Kahrl covers baseball for ESPN.com. You can follow her on Twitter.
May, 10, 2011
5/10/11
1:05
AM ET
The Minnesota Twins and Boston Red Sox battled for 11 innings on Monday night, and in the end,
Carl Crawford
's double high off the Green Monster plated
Jose Iglesias
with the winning run in a 2-1 victory.
Twins manager Ron Gardenhire, apparently waiting to take the lead before using closer
Matt Capps
, and not wanting to use
Joe Nathan
on back-to-back days, was left with somebody named
Jim Hoey
on the mound. With one out, Hoey walked
Jed Lowrie
-- not necessarily a surprise since Hoey walked 34 in 52 2/3 innings in the minors last season. Iglesias came in as a pinch-runner and Crawford hit a 3-2 pitch off the wall.
We're going to see a lot of games like that this season: low-scoring affairs decided in the late innings. With scoring down, games will be tight, and with close games, late-inning bullpen work may be more important than ever. And if you're relying on Jim Hoey in tie games, chances are you may be 12-21.
Let's do a quick overview of the state of 'pens around baseball.
Three best bullpens on contenders
1. San Francisco Giants: The unheralded secret weapon of last year's champs, the bullpen has picked up where it left off, with
Javier Lopez
,
Sergio Romo
,
Ramon Ramirez
and
Guillermo Mota
throwing lights-out. Closer
Brian Wilson
blew his first save chance but has since converted 11 in a row, despite a little wildness. The team has lefty-righty balance, with lefties
Jeremy Affeldt
and
Dan Runzler
adding solid depth.
2. Florida Marlins: Several arms were added to the Marlins' 'pen after last season's shaky performance and so far they have a 2.59 relief ERA, second only to San Diego's. I believe in this group, although stellar setup man
Clay Hensley
was just placed on the DL with a bruised rib. Closer
Leo Nunez
appeared in 17 of the team's first 32 games, so watch his usage carefully.
3.
New York Yankees
: Yes,
Mariano Rivera
had that little burp, but he's back on track. Setup man
Rafael Soriano
has struggled, but I project he'll turn it around.
Joba Chamberlain
is throwing better than he has in years, and underrated
David Robertson
has one of the nastiest curves you'll see. The 'pen has allowed just five home runs in 95 innings. The big question is whether
Boone Logan
will prove to be a reliable lefty in the absence of
Pedro Feliciano
.
Bullpen doing it with smoke and mirrors right now
Tampa Bay Rays: The Rays have a 2.69 bullpen ERA, third-best in the majors, and have allowed opponents a .203 batting average. They've allowed just 61 hits in 87 innings despite a poor 51/34 strikeout/walk ratio. Some of that is attributable to their defense, but the low strikeout rate means that .203 average will be difficult to maintain. And maybe you believe in
Kyle Farnsworth
more than I do.
Three bullpens I'm worried about
1. Texas Rangers: The Rangers will be fine at closer once
Neftali Feliz
returns, but the rest of the 'pen looks shaky, as it has allowed 16 home runs in just 94 innings and has a poor 66/43 strikeout/walk ratio. Forty-somethings
Darren Oliver
and
Arthur Rhodes
are looking more their age and have surrendered three home runs apiece, and
Darren O'Day
is on the 60-day DL with a torn labrum in his hip.
2. Detroit Tigers: The team's best reliever has been
Al Alburquerque
, and with a name like that, he'd better be good, because we want him to last a long time. Closer
Jose Valverde
is always a tightrope, but the rest of the setup crew, including high-priced free agent
Joaquin Benoit
, has looked inconsistent.
3. Milwaukee Brewers: Brewers relievers already have nine defeats. They have a few good arms in closer
John Axford
and
Zach Braddock
and
Brandon Kintzler
, but control issues have been a problem so far and lack of depth could be an issue.
Two awesome bullpens if you only need two guys
1. Atlanta Braves:
Craig Kimbrel
and
Jonny Venters
are dominant (and
Eric O'Flaherty
provides a nice third guy). We'll have to see whether Venters holds up after pitching 79 games and 83 innings last year, but so far he's been even better than he was in 2010, with a 0.70 WHIP.
2. Boston Red Sox:
Daniel Bard
's raw numbers are great (well, except that 0-3 record, which is not exactly a non-important notation).
Jonathan Papelbon
is back with an 18/2 strikeout/walk ratio. But new acquisitions
Bobby Jenks
and
Dan Wheeler
have been disastrous, leaving a gaping hole after the top two.
Bullpen that may actually be OK
St. Louis Cardinals: The Cards are tied with the Brewers with nine bullpen losses, three by deposed closer
Ryan Franklin
. And while the team may not have a set closer (
Fernando Salas
has the role for now), there are some good arms here.
Jason Motte
,
Mitchell Boggs
and rookie
Eduardo Sanchez
all average more than 93 mph with their fastballs, and Salas throws strikes. Mix in LOOGYs
Trever Miller
and
Brian Tallet
, and I think Tony La Russa will figure out roles that turn this into one of the better 'pens in the NL.
PHOTO OF THE DAY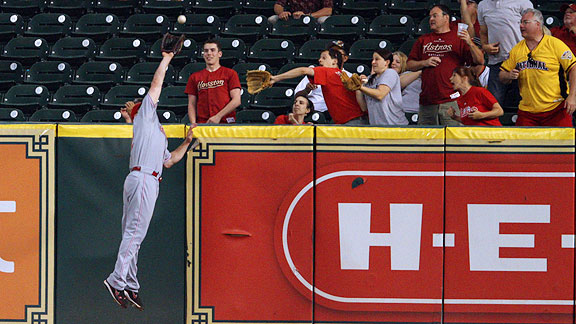 Thomas Campbell/US PresswireStretch! Jay Bruce reached as high as he could, but no dice. That one's gone.
March, 23, 2011
3/23/11
5:54
PM ET
An update from the Giants' camp now suggests that closer
Brian Wilson
will
not be ready for their season opener
due to an oblique strain. He earlier missed three weeks with lower back soreness and has made just five appearances this spring.

Wilson
Wilson, of course, has been one of baseball's best closers the past two seasons, leading the majors in saves in 2010 and tossing 11 2/3 scoreless innings during the postseason.
So would the Giants miss Wilson if his injuries lead to him missing extended time? Not really. As the Giants showed in the playoffs, they have one of the deepest 'pens in the majors, going seven deep with the likes of
Sergio Romo
,
Santiago Casilla
,
Javier Lopez
,
Ramon Ramirez
,
Jeremy Affeldt
and
Dan Runzler
. The Giants had a 2.99 bullpen ERA, second-best in the National League. Romo would likely step in for Wilson and he actually had a lower WHIP and better SO/BB ratio.
One smart thing Bruce Bochy did in 2010 was not saving Wilson for just the ninth inning. Among relievers with at least 20 saves, Wilson entered games with 30 inherited runners, third-most in the majors behind
Carlos Marmol
(40) and
Chris Perez
(31), and well ahead of more protected relievers like
Huston Street
(1),
Francisco Cordero
(4),
Brad Lidge
(6) and
Heath Bell
(9).
That said, that total placed Wilson only 84th among
all relievers
, proving yet again how the closer role is overrated. Lopez inherited 57 baserunners, Casilla 47 and Romo 46. As much as Wilson, those guys were the stalwarts of the San Francisco bullpen. They spent the season pitching out of tight jams.
I will, however, miss the beard if Wilson doesn't soon return.
Follow David Schoenfield on Twitter at @dschoenfield. Follow the SweetSpot blog at @espn_sweet_spot.
October, 1, 2010
10/01/10
11:16
PM ET
SAN FRANCISCO -- If
Clayton Richard settles down
the Giants dig themselves out of this four-run hole and this game turns into a battle of the bullpens, you'd probably figure the Padres have the edge.
And you might be right. But you might be wrong.
Yes, San Diego's relievers sport a 2.81 ERA, lowest in the National League. But the Giants aren't far behind, in third place with a 3.09 mark.
Let's look at their specific guys.
The Padres have
Heath Bell
(1.86 ERA, 86 strikeouts/27 walks), but the Giants have
Brian Wilson
(1.83, 92/26).
The Padres have
Luke Gregerson
(3.21, 88/18), but the Giants have
Santiago Casilla
(2.08, 53/26)
The Padres have
Mike Adams
(1.80, 71/23) , but the Giants have
Sergio Romo
(2.24, 68/14!).
Really, the Padres have just one real weapon the Giants don't: left-hander
Joe Thatcher
, who's been almost unbelievably brilliant in his 63 games -- and only 35 innings -- this season. If Bud Black needs to retire a lefty swinger in a key spot, he can bring Thatcher in and feel really confident.
As edges go, though, this one's particularly small tonight. Because the Giants have just one key left-handed hitter,
Aubrey Huff
. And I'll bet Joe Thatcher's thinking about Huff already.