SweetSpot:

Skip Schumaker
September, 16, 2012
9/16/12
1:26
AM ET
By
Christina Kahrl
| ESPN.com
If there's one takeaway where the defending world champs are concerned, it's this: Even wounded, these Cardinals could still fly. Most teams, you scratch a No. 1 starter, a leadoff man and a cleanup hitter, and you might expect them to be long since dead in the water. But even without
Chris Carpenter
, without
Rafael Furcal
, without
Lance Berkman
-- all of that in the post-Pujols era -- no matter how many blows the Cards take, they aren't dead, not by a long shot.
The big question, though, isn't why they're still going, but why they're not ahead just the same. With a record that is
games worse than expected
, they're supposed to be able to lose games like Saturday night's --
a 4-3 defeat
in Los Angeles -- and not break a sweat. But that's not where they are. Instead, they've fallen into a tie with the Dodgers for the National League's last slot.
It isn't supposed to have worked out this way.
Allen Craig
plated every run the Cardinals scored, a Pujolsian feat that also reflects a creeping problem for the Cards' offense: The league-leading attack that had been scoring 5 runs per game before the All-Star break has dropped off to score 4.4 runs per game since. They were allowing 4.2 runs before the break, and they're at 4.0 runs allowed per nine after, but because of the offense's drop-off, the margins they get to work with have narrowed.
The first-half question over why the Cardinals weren't doing as well as they should has become more persistent in the second half, and after a swing game like Saturday's, the uncomfortable questions are unavoidable.
Is it the manager? Rookie manager Mike Matheny's under fire, but he was tasked with the impossible task of following in Tony La Russa's footsteps as the old mast heads down the road to Cooperstown. It's easy to single out the Cardinals' record in one-run games -- now 18-25 -- and assert that some better manager to be named later would do better than that.
But that's looking for a fall guy, and Matheny may not really deserve that, save as a matter of expectations as the first-year skipper managing a defending world champ. Any suggestion that La Russa might be the Cardinals' missing man most missed might have needed one particular proof this night: Would the bullpen deliver? Love it or hate it, that's the gold standard by which most managers get judged by many commentators and fans, because 'pen management is the one task that's transparent to the public.
After getting a good game from
Jaime Garcia
, without getting too clever playing matchup games Matheny ran through his crew in straightforward style:
Edward Mujica
to
Mitchell Boggs
to
Jason Motte
... and Motte blew it, giving up a two-out double in the ninth to
Luis Cruz
for the tie, then gave up the game-losing single to
Juan Rivera
.
There was no special brand of genius involved, just a scripted set-up gone wrong: Closer tasked with closing, leaves the door open, then sees it blown off its hinges. If Matheny's to be judged, it's by exactly the same standard that Casey Stengel suggested back in the day, in happier circumstances after
winning the 1958 World Series
: "I couldna dunnit without the players."
To Matheny's credit, he managed other elective tasks just fine on Saturday night. Swapping around in the middle infield midgame is the Cardinals' lot. Early on they paid the penalty of making
Daniel Descalso
a shortstop as a matter of need: His first error in the first inning created the Dodgers' first score. With second baseman Descalso playing short and converted outfielder
Skip Schumaker
starting at second, the Cards have been sacrificing defense to put their best available players in the lineup. Is that on Matheny? No more than the subsequently regretted decision to dump key utilityman
Tyler Greene
on the Astros.
With a lead six frames into the game, out came Schumaker, in came good-glove
Pete Kozma
at shortstop, and Descalso slid back to his natural position. Lineup management isn't particle physics. Inveterate tinkerer La Russa may be history in every sense of the word, but this sort of lineup tinkering can still go on without him as Matheny tries to compensate for losing Furcal.
Given the Cardinals' increasingly narrow margins, watching every run, every opportunity, forces Matheny to make tough calls. You can't really blame him for the choices he made, given the options he had. No less than the bullpen blowing the game, you can't blame him too badly for having Descalso at short. The agony for the Cardinals right now is that it's adding up to just enough to lose.
PHOTO OF THE DAY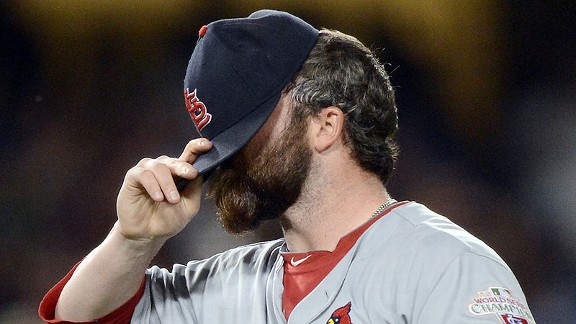 Harry How/Getty ImagesWell that Jason Motte might cover his face after blowing the save on Saturday night.
Christina Kahrl covers baseball for ESPN.com. You can follow her on Twitter.
October, 28, 2011
10/28/11
11:37
PM ET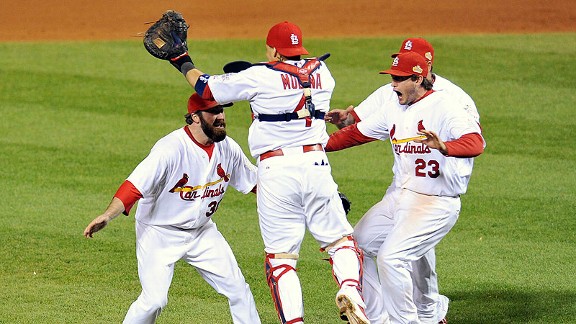 Steve Mitchell/US PresswireThe St. Louis Cardinals celebrate their 11th World Series title, beating the Texas Rangers in Game 7.
ST. LOUIS -- You fight through the monotony of fielding practice in spring training. The sore elbows, the back pain, the starts when you leave your fastball in the bullpen, and maybe a surgery or two at some point in your career.
Chris Carpenter
missed an entire season with shoulder surgery. He missed another season after injuring his elbow on Opening Day and undergoing Tommy John surgery. When the St. Louis Cardinals reached the World Series in 2004, he couldn't pitch due to nerve problem in his right biceps.
A couple days ago, Tony La Russa wasn't sure if Carpenter would be able to pitch Game 7. For one thing, the Cardinals had to win Game 6. La Russa and pitching coach Dave Duncan didn't officially decide to go with Carpenter until Friday, going with their staff ace on three days' rest.
There was a time, of course, when that wouldn't have been a big deal. Christy Mathewson once tossed three shutouts in the World Series over a six-day span. Sandy Koufax pitched a three-hit shutout in 1965 on
two days' rest
. Jack Morris' famous 10-inning shutout in 1991 came on three days' rest.
[+] Enlarge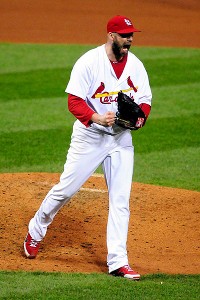 Jeff Curry/US PresswireOn short rest, Chris Carpenter gave up two runs on six hits in six innings to win the clincher.
But Carpenter had only done that once before in his career -- three weeks ago, in Game 2 of the Division Series against the Philadelphia Phillies. He lasted three innings. It wasn't pretty. He said he'd learned a few things from that experience. La Russa made the call: Go with the big guy, the 6-foot-6, 36-year-old veteran from New Hampshire with a scruffy growth of beard, and on this day, in the biggest game of his career, a toolbox full of pitches.
The
St. Louis Cardinals
beat the
Texas Rangers
6-2
in a Game 7 of the World Series that couldn't match the impossible drama and excitement of Game 6. The Rangers played hard, but their pitching staff simply ran out of gas, exemplified by the Cardinals' fifth inning, when they scored two runs without getting the ball out of the infield -- without even getting a hit. Rangers pitchers walked three batters and hit two more, turning a 3-2 game into a 5-2 deficit. Critics will put a lot of blame on manager Ron Washington for the Rangers' defeat, and deservedly so, but in the end the Rangers simply couldn't throw enough strikes and couldn't get the final out they needed in Game 6.
On this night, however, the Cardinals made the big plays:
David Freese
with another clutch hit, a two-out stinging double into the gap in left-center to score two runs in the first (giving the World Series MVP a postseason record 21 RBIs);
Allen Craig
with a go-ahead home run in the third, fighting back from a 1-2 count to hit a 3-2
Matt Harrison
fastball into the St. Louis bullpen in right-center; Craig later robbing
Nelson Cruz
of a home run.
But the key was Carpenter. "Dave had a real heart-to-heart with him to gauge just how ready he was to pitch just physically, not mentally, but physically," La Russa said before the game. He then added, "The last thing is ... what he means to our club. I think our guys feel better about him starting than anybody."
Carpenter pitched into the seventh and became the first pitcher to win two do-or-die games in one postseason, after also winning Game 5 of the division series. No, it won't quite go down alongside Mathewson and Koufax and Morris, but it was a terrific effort, especially since he almost didn't get out of the first inning. The first four batters all reached base as Carpenter fell behind each hitter. But
Ian Kinsler
slipped while taking an aggressive secondary lead and
Yadier Molina
picked him off. The play proved enormously costly when
Elvis Andrus
walked and
Josh Hamilton
and
Michael Young
doubled to right field. Carpenter struck out
Adrian Beltre
and got Cruz to ground, maybe the two key at-bats of the game.
From there, the St. Louis' bullpen mowed down the Rangers, Busch Stadium getting louder and louder with each out, erupting when
Arthur Rhodes
retired
Yorvit Torrealba
and
Octavio Dotel
struck out Kinsler, raising the decibel level when
Lance Lynn
fanned Beltre to end the eighth, the anticipation building into a loud chant of "Let's Go Cards!" in the ninth and the crowd releasing into a deafening explosion of joy as
Jason Motte
recorded the final out on a fly ball to left field.
Maybe Game 7 was over as soon Freese hit his home run onto the grass in Game 6. Many people said it was. I didn't think that was the case; I thought the Rangers had a chance. You make your own breaks, but the Rangers sure didn't catch any: Craig steps in for the injured
Matt Holliday
and has a great game; that 3-2 pitch to Molina with the bases loaded in the fifth could have been called a strike and changed the momentum of the game.
But give credit to Chris Carpenter and the St. Louis Cardinals, a team that could have given up in early September. A team that made the playoffs on the final day of the regular season, that needed to beat
Roy Halladay
just to reach the National League Championship Series, that was down to its final strike twice in Game 6, and figured out how to win the World Series. A worthy champion and one to be remembered.
* * * *
Of course, this World Series will also be remembered for the many questionable decisions by Washington, moves that led to the Rangers suffering one of the most painful defeats in World Series history. Before we get to that, keep this in mind: Rangers pitchers walked 41 batters, a World Series record worst. They walked six more in Game 7. Too many walks, too many walks.
Washington didn't help matters by issuing another ill-timed intentional walk. I said it all series long: the intentional walks were going to come back to haunt the Rangers. A free pass to Lance Berkman hurt the Rangers in Game 6. In Game 7, Washington walked Freese with runners on second and third, which was followed by Scott Feldman's walk to Molina and then C.J. Wilson hitting Rafael Furcal to force in another run.

I didn't necessarily have a problem with using Feldman to start the fifth. The best option might have been Mike Adams, but Washington hasn't shown a lot of confidence in Adams' ability to go more than three outs. He was hoping Feldman could get him a couple innings. (Needless to say, using Alexi Ogando would have been a likely disaster).

Washington's decision to have Andrus bunt in the top of the fifth after Kinsler's leadoff single was odd. Down by one on the road, top of the order, giving up an out? Play for one, get none. Carpenter got Hamilton to pop out to third on a 3-1 fastball -- Freese made a nice catch as he leaned over the dugout railing and stumbled to the ground -- and struck out Young on a 1-2 cut fastball.

In the bottom of the fourth, St. Louis up 3-2, Molina and Furcal singled with one out, bringing up Skip Schumaker and Carpenter. Washington had Feldman warming up, but it made sense to leave in Harrison at that point since Schumaker is a career .210 hitter against left-handers. Schumaker grounded out to first to move up the runners, leaving La Russa with a choice: Hit for Carpenter? There were calls on Twitter to do so. At that point he'd thrown 63 pitches, 34 for strikes, but had retired 11 of the previous 14 Rangers hitters. I thought it was too early remove Carpenter, who had settled down, and especially considering La Russa's own bullpen didn't have a lot of pitches left in it.

In the seventh inning, Albert Pujols came up for maybe the final at-bat of his Cardinals career. Oddly, there was no chant, no standing ovation, just a bunch of flashes going off as he struck out. The crowd did stand and applaud as he walked back to the dugout after striking out.
October, 24, 2011
10/24/11
6:38
PM ET
We've had two one-run games, a dramatic ninth-inning rally, the greatest single-game offensive performance in World Series history and one of the
best pitched games of the past 20 years
. Are we headed for a classic World Series? The next three games will reveal the historic context of this showdown. Until then, some quick thoughts on Game 5:
Mark Simon and Doug Kern of ESPN Stats & Information take a look at what's worked and what hasn't worked for C.J. Wilson and Chris Carpenter this postseason. Wilson didn't have much success with his cut fastball in Game 1, and considering Derek Holland's success with his breaking pitches in Game 4, ESPN Insider argues that Wilson should throw more offspeed pitches. Jim Bowden writes that this is Wilson's chance at postseason redemption and presents his keys to Game 5.
Wilson is chasing the bad kind of history: He's gone seven-straight postseason starts without a victory and is trying to avoid joining five other guys who have gone eight in a row without a win. Wilson's record over those seven starts isn't good: 0-5 (the Rangers won once), 6.18 ERA, with 22 walks and 10 home runs allowed over 39.1 innings. Just for fun, a look at the other five guys.

Al Leiter (11): Amazingly, Leiter made 11 postseason starts in his career and didn't win a single one (he did win twice in relief). His stretch began with the Marlins in 1997 and included the 1999 and 2000 postseasons with the Mets. He didn't pitch that poorly, posting a 4.36 ERA that included his awful start in Game 6 of the 1999 NLCS, when he failed to retire a batter. He pitched six innings in Game 7 of the 1997 World Series for the Marlins, allowing two runs in a game Florida won in extra innings. In four starts in 2000, he went at least seven innings each turn and posted a 2.93 ERA. Overall, some rough starts mixed in with some bad luck.

Dwight Gooden (9): Doc never won a postseason game in his career (nine starts, three relief appearances). His starts were great in the 1986 NLCS, but he lost 1-0 to Mike Scott and pitched 10 innings in a no-decision against Nolan Ryan in Game 5. His career postseason ERA was 3.97.

Gary Nolan (9): A member of the 1970s Big Red Machine club, Nolan won his first and last postseason starts, but was winless in-between. He had a 4.12 ERA in those nine starts, but Sparky Anderson often had a quick hook and he had seven no-decisions.

Randy Johnson (8): Johnson ended up 7-9 with a 3.50 ERA in his postseason career, but he famously lost seven-straight decisions at one point. Over those eight winless starts, he had a 3.84 ERA, but his team scored one run or zero five times.

Charles Nagy (8): Pitching in the high-powered mid- to late-'90s, with Cleveland, Nagy was 0-2 with a 5.14 ERA over his eight-game stretch.
Asked about Josh Hamilton before the game, Ron Washington said, "We know Josh is dealing with some ailments, but any minute, in any inning and any game, nobody knows, Josh may step up and get it done. But he's in a good enviroment because we're not totally depending on Josh."
Tony La Russa will start Skip Schumaker in center field for the slumping Jon Jay, who is 1 for his last 26 in the postseason. Schumaker isn't the greatest option against Wilson, since he's a career .210 hitter against left-handers (.250 this season in limited action). "If you know Jay, he's starting to pull his hair out because he's just not right at the plate," La Russa said. "I'm going to give Schu a shot because Schu is a really good player and can play the outfield and come in with a fresh stroke, and then we'll see about Game 6. But it's more just Jay is just not himself."
Rafael Furcal continues to hit leadoff, but he hasn't done much with the bat this postseason: He's hitting .185/.232/.338 and .125 in the World Series. "I just see over-effort," La Russa said. "There isn't anybody playing in the World Series that wants to win this thing more than he does." It's a lot more comfortable pitching to Albert Pujols with nobody on base. If the Cardinals are to pull this out, they'll likely need more production from Furcal.
July, 20, 2011
7/20/11
10:30
AM ET
By
Christina Kahrl
| ESPN.com
One of the key components of the stretch drive is that you have to cut bait on the things that aren't working, and start finding, trading or adding things that do. It's more important when you're locked in a tight race with few guarantees that your team will come out on top. Add in the approaching trade deadline and the chances that your divisional rivals might do something to help themselves while you stand pat, and the motivation to fix what's broke becomes all the more pressing.
The reason I belabor all this obviousness is because it's where the Cardinals ought to find themselves with the pesky matter of their middle infield, and particularly their middle-infield defense. As Chuck Yeager might have put it, the Cards have pushed the envelope when it comes to their infield defense.
[+] Enlarge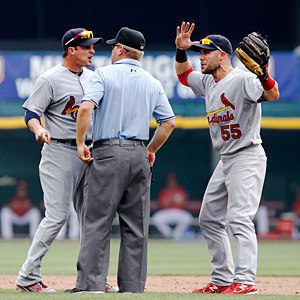 Joe Robbins/Getty ImagesThe combination of Ryan Theriot, left, and Skip Schumaker (55) is costing the Cardinals wins.
That was admirable, up to a point. In 2009, moving
Skip Schumaker
from the outfield to the keystone was a creative solution to the twin problems of limited resources and a weak offseason market for second basemen. Similarly, trading for
Ryan Theriot
last winter was a smart adaptation to a limited supply of available options at short. But now, with everything at stake and three serious rivals in the NL Central, the Cards can't afford to leave nagging problems unaddressed.
It's time to admit that Schumaker's conversion isn't going to be an honored addition to the franchise's legacy of moving Mike Shannon from the outfield to third base, let alone give them the next Davey Lopes. And it's also time to acknowledge that Theriot was moved to the right side of the bag for cause. Since becoming a second baseman in 2009, Schumaker's Fielding Runs (from Baseball-Reference.com) have moved from a historically awful -10 to -8 in 2010; switch over to BIS' Defensive Runs Saved, and he started out at -11 and dropped to -9. In his time limited by injury this year, Schumaker's only hurting the Cardinals at -2 ... and still is essentially costing the Cards a win over a full season with his play afield.
Theriot's defense has been far from an asset, costing the Cards -14 in Defensive Runs Saved, or -10 Fielding Runs. That's a win lost to bad fielding at shortstop
in a half season
.
Even though fielding data is still more suggestive than conclusive, does anyone think that the Cardinals really want to risk losing another win or two to middle infield defense down the stretch?
Theriot's problems at short were already generally accepted, and he's a good glove on the other side of the bag, so it isn't like the Cardinals are in trouble employing him at all. If they add a slick-fielding second baseman, maybe that compensates enough for Theriot's problems at short; on the other hand, if they add a good glove at short, Theriot would go from defensive problem to defensive asset on the other side of the bag.
It also isn't like Schumaker's difficulties are a surprise -- he's done a great job improving his work around the bag, and he's as good a second baseman as he's going to be. At the highest level, it's still not good, and there comes a time when you have to give up on favored projects and get serious about putting the best team possible on the field. Adding a better defender would help the rotation top to bottom, but perhaps ground-ball fiend
Jake Westbrook
in particular.
It's worth mentioning that this is also an area where GM John Mozeliak and company can help the lineup as well. That may seem like a relatively minor consideration when the Cards are tied with the Reds for the NL lead in runs scored per game, and when
Clay Davenport's Equivalent Average stats
judge the Birds as boasting baseball's best team-wide offense, rating with the Red Sox.
But that performance has been
despite
Schumaker, entirely negating the purported offensive benefit to switching an outfielder into the infield in the first place. Schumaker's .251 EqA is below-average for second base (.260 for all MLB second basemen), and it was last year (.249, to the MLB average of .263). Schumaker was above-average offensively in the first year of the experiment back in '09 (.272 to .262), but he's no longer a young player in his prime, he's a thirtysomething with a bad glove and negligible offensive value.
Some luggage you pay to carry, and some it pays to carry. Schumaker's not worth it either way. The good news is that because Ryan Theriot would be worth moving across the bag, they can shop around for both shortstops and second basemen, and find the best short-term rental.
For myself, I like the idea of the Cards taking on some risk --
Rafael Furcal
might be a dodgy proposition given his fragility, but the upside could be a nice one-two punch atop the order of Furcal and Theriot, or a Theriot as the "second leadoff man" in the nine-hole should Tony La Russa want to get back to batting his pitchers eighth anything more than sporadically.
Christina Kahrl covers baseball for ESPN.com. You can follow her on Twitter.
April, 20, 2011
4/20/11
6:40
PM ET
By
Christina Kahrl
| ESPN.com
With the news that the Cardinals have both
a closer conundrum
and
a pair of players headed to the DL
, the thing that comes to mind isn't that the Cardinals are now suddenly doomed, or even especially troubled. Instead, it's that in the case of both
Ryan Franklin
and
Skip Schumaker
, they might be running up against the limits of what they might have reasonably expected from two ballplayers, having asked both to do something extraordinary in the context of their previous careers.
In Franklin's case, there was perhaps some surprise that this has gone as long as it has. Before his arrival in St. Louis, nobody, perhaps not even Ma Franklin, envisioned Franklin notching a 38-save season at some point. Especially not heading further towards 40 years of age. Franklin's subsequent success as the Cardinals' save-generating dude is fairly easy to cite as an example that more people
can
close games than might automatically get associated with the label "closer." Certainly his pedestrian velocity and a more starter-like three-pitch ensemble doesn't exactly conjure up classic visions of who gets to rack up the game's glory stat.
That Franklin has done so as effectively as he has is another example that, while teams idealize what kind of pitcher racks up saves, there are people who can do it without lighting up the speed gun. He's probably being replaced by
Mitchell Boggs
, whose fastball sits in the mid-90s -- something much more closer-y. However, even while lighting up the gun, Boggs will need to continue to make progress with his slider against lefties to reliably succeed in a high-leverage role. If it works out, the Cards could wind up a little better off than they were.
As for Schumaker, the converted outfielder's travails at second base have hardly been a source of strength. Across the panoply of defensive metrics publicly available, the Schumaker's numbers rank sharply negative in all of the major available metrics -- BIS' Plus/Minus, Total Zone, Fielding Runs, and UZR. That kind of damning consistency suggests that the attempt to make Schumaker a second baseman just hasn't worked out especially well. When he was posting OBPs in the .350 range, you could make excuses for his defense, but he only reached base at a .328 clip last year, and that's about the extent of his contributions as a hitter.
This doesn't make the Cards dumb for trying to make Schumaker a second baseman. In 2009 they didn't have a great set of options at the keystone, so converting an outfielder was a creative way of giving themselves an alternative. However, moves against the defensive spectrum, from "easier" positions to harder ones are fairly uncommon for a reason. As much hard work as Schumaker has put into the attempt, his trip to the DL makes for a handy way of acknowledging that, in
Daniel Descalso
, the Cards probably have another home-grown guy who might produce similar offense and better defense. Whether Descalso gets a clean shot at the job, winds up platooning with Tyler Greene, or if Nick Punto gets in on the action, this doesn't necessarily represent bad news in itself.
Instead, in both cases, with Franklin and with Schumaker, the Cards can feel pretty good about how well these surprising adaptations worked, for as long as they've worked. That they're forced to do something else in these circumstances highlights the possibility that they may find themselves rewarded again.
Christina Kahrl helped found Baseball Prospectus in 1996, is a member of the BBWAA, and covers baseball for ESPN.com. You can follow her on Twitter here.
September, 15, 2009
9/15/09
2:35
PM ET
As
Dave Cameron notes
, the
Skip Schumaker
experiment has worked about as well as anyone might have hoped. After jettisoning
Adam Kennedy
, the Cardinals installed Schumaker, previously an outfielder, at second base last spring. And after a pretty rough start with the glove, he's apparently been decent enough since the middle of May. And of course the Cardinals are heading to the playoffs in a few weeks.
Cameron:
Knowing Dave Duncan's desire to spread the gospel of the two-seam fastball, the Cardinals know the importance of infield defense to their success. Despite the risks, they were still willing to take a gamble on Schumaker's ability to turn himself into a decent defender at the position, and they held to their convictions even after a really bad start to the season. Their reward? A league average hitter who can hold his own as a middle infielder.

The Cardinals deserve a lot of credit for not just making the move, but sticking with it. I have a feeling they won't be the last team to get away from strict mindsets about what types of players can play certain positions. As teams experience success moving guys like Schumaker to second base, I have a feeling we'll see this trend take off.
Gosh, I don't know. Maybe. But I will point out that 1) Kennedy's been quite a bit more valuable than Schumaker this season, and 2) those runs Schumaker cost the Cardinals in the spring did count.
Yes, if he can keep playing moderately well at second base next season, it'll make some sense. But "moving guys like Schumaker," even when the transition works, probably doesn't work immediately. Learning to play a tougher position in the cauldron of the major leagues is not an easy thing. It's a testament to Schumaker's talents and hard work that he's apparently been able to do it. But I don't know that every team and manager has the patience to wait as long as the Cardinals and La Russa did.
Especially considering that the Cardinals are good. Radical moves make more sense for non-contenders, who need to take risks and don't really have anything to lose, if something doesn't work out. In fact, the Cardinals weren't the only team to try this exact thing this season. Cameron wrote on this subject in April, noting not only the Schumaker switch, but also similar moves involving Kansas City's Mark Teahen and Colorado's Ian Stewart. His conclusion: "I'd bet that going forward, second base is going to look a lot more like third base."
Maybe. But neither of those latter moves survived contact with the enemy. Not for long, anyway. Teahen started all of three games at second base, while Stewart's started 20 (and just one since July). Cameron might argue that second base should be the new third base. But in the real world, it's probably going to happen when you've got 1) a third baseman who's willing enough and talented enough to play second base passably, 2) a manager who's both stubborn and creative, and 3) a supportive general manager.
My guess? That's a rare combination, now and in the future.
April, 8, 2009
4/08/09
12:56
PM ET
It might be the most fascinating phenomenon in baseball this spring: three teams turning outfielders and third basemen into second basemen. The Cardinals are doing it with
Skip Schumaker
, the Royals are doing it with
Mark Teahen
, and the Rockies are doing it with
Ian Stewart
.
Crazy? When it's one team you might think so, but when it's three teams you have wonder if maybe they've figured out something that everyone else hasn't.
That's Dave Cameron's take, I'm guessing ...
Over the winter, I did a series of posts on position adjustments and put forward the idea that second base is an overrated defensive position. It is lumped into the "up the middle" spots with catcher, shortstop, and center field, but is not actually that much more difficult to play than third base. I also mentioned that there's been something of a height bias, where tall infielders are shifted to third and short infielders are shifted to second, even if the tall guy is a better defender than the short guy.

You can imagine, then, that I'm thrilled to see three teams experimenting with non-traditional second baseman this year.

--snip--

Three franchises, all with off-season decisions to make about how to fill a hole at second base, decided to fill the position with players from the corners. Schumaker, Teahen, and Stewart are not traditional keystone defenders in any way, shape, or form, but all three organizations have decided to go make some defensive sacrifices at the position in order to improve their offense.

It's interesting to me that we've seen three franchises go away from the traditional second base model in the same winter that outfield defense seemed to increase significantly in value in the marketplace. As the newer defensive metrics gain credibility, we saw an increase in the premium for defense at positions where defense hasn't historically been valued and a corresponding decrease at a position that has been genuinely considered a premium glove spot.

I don't think that's a coincidence. I'd bet that going forward, second base is going to look a lot more like third base.
What if the game suddenly changed in a dramatic and fundamental way, and we were around to see it?