May, 16, 2014
May 16
12:25
PM ET
Jose Fernandez
is having
his Tommy John surgery Friday
, but if you're a fan of pitching and low-scoring baseball, the good news is there are more young guns on the way. Here are five starters making big impressions so far as breakout pitchers for 2014.
1. Garrett Richards, Angels
I'll admit: This one has caught me by surprise. Richards has always had a terrific arm but never put up good strikeout rates in the high minors or majors because of lack of command and quality secondary pitches. Last year, splitting time between the bullpen and rotation, he fanned 101 in 145, a nice total for 1989, but not so great for 2013. But he's put it all together through eight starts as Keith Law and Eric Wedge discuss in the video above, holding batters to a .186 average with just one home run allowed and striking out 54 in 52 innings. When he gets ahead in the count, his slider has become a wipeout pitch as batters have struck out 25 times in 44 plate appearances ending with that pitch (with just four hits for a .095 average).
2. Nate Eovaldi, Marlins
One of my top breakout candidates entering the season because of his explosive fastball, Eovaldi has averaged 96 mph with his heater, second-highest among qualified starters (just ahead of Richards' 95.8). Like Richards, however, Eovaldi had a mediocre strikeout rate in 2013. He's still primarily a fastball/slider guy, mixing in an occasional curve and changeup, but improved fastball command has resulted in a big drop in his walk rate and a higher K rate on his fastball (from 12.5 percent to 20.1 percent). He got roughed up Thursday night, raising his ERA from 2.86 to 3.62, but if he can develop a third pitch and keep throwing strikes (12 walks in nine starts), watch out.
3. Yordano Ventura, Royals
This is the guy with the best fastball velocity among starters at 96.5 mph (and touching 100 more than once). He's 2-3 with a 2.40 ERA and a 53/16 SO/BB ratio in 48 ⅔ innings. Unlike Richards and Eovaldi, Ventura doesn't throw a slider, instead relying on a changeup and curveball; that's helped him limit left-handers to a .217 average. Listed at 6-feet, 180 pounds, Ventura doesn't have your classic power pitcher's build, so the concern is whether he has the durability to hold up as a starter. But that may not be a legitimate issue beyond the usual concerns about a 22-year-old rookie who throws in the upper 90s. A
2010 study
by Glenn P. Greenberg in the SABR Fall 2010 Baseball Research Journal found:
Height was not correlated to durability in seasons in which players were healthy, but that fact does not end the analysis. For us to be able to say that height does not correlate to durability at all, short pitchers would have to throw as much and stay off the disabled list as much as taller pitchers. The data for players on the disabled list at any time during 1994 through 2007 can be seen in table 5. There is no statistically significant correlation for games started or innings pitched; the highest r-square being .002 and the lowest p-value being .096. However, there is a correlation between height and games -- a negative one: greater height correlates to fewer games pitched.

4. Sonny Gray, A's
Gray burst on to the scene late last season with 10 regular-season starts and then that 1-0 win over the Tigers in the ALDS, so his rise has been perhaps a little more predictable. Still, as primarily a fastball/curveball pitcher, I wondered how the league would adjust against him, having seen him once or twice. So far, it's Gray who has made the adjustments, as he's 4-1 with a 2.17 ERA in eight starts, including a .222 average allowed and just 11 extra-base hits (three home runs). Batters are hitting .152 with no extra-base hits against the curveball, but he's also mixing in about eight changeups and eight sliders a game, just enough to keep those pitches as potential weapons.
5. Wily Peralta, Brewers
Another right-hander with a big arm, Peralta has averaged 95.2 mph with his fastball -- placing him fifth in average fastball velocity (
Gerrit Cole
is fourth; Fernandez sixth). As a rookie in 2013, Peralta found that the fastball alone wasn't enough as he went 11-15 with a 4.37 ERA and 129 strikeouts in 183 ⅓ innings. His strikeout rate hasn't jumped up, but he's cut his free passes in half -- from a 10.5 percent walk rate to 5.3 percent. Pounding the strike has worked as he's 4-2 with a 2.05 ERA (although that's helped by five unearned runs). His slider is his knockout pitch and batters are hitting .204 against it without an extra-base hit.
Which one do you like best? I'd probably put Gray and Ventura 1-2 because of a deeper arsenal of pitches. Gray seems to have that classic feel for pitching and knowing how to set up hitters. Richards and Eovaldi would be next; both have shown tremendous strides this year. Peralta's strikeout rate is the worst rate of the group, so I'd put him fifth. But all have the ability to develop into aces.
May, 1, 2014
May 1
12:39
AM ET
I hope the women and children in Texas didn't witness the sweep the
A's
put on the
Rangers
because I think the A's just committed three counts of felony sports-slaughter. After beating
Yu Darvish
4-0 on Monday and the red-hot
Martin Perez
9-3 on Tuesday, they bashed
Robbie Ross
in a 12-1 victory on Wednesday. The A's close out April with an 18-10 record, including 12-4 on the road, and while they don't have baseball's best record, they are baseball's best team after one month.
Here are 10 reasons they were the best in April … and should continue to roll along:
1. Run differential:
The
Milwaukee Brewers
(20-8) and
Atlanta Braves
(17-9) have better win-loss records, but the A's have a huge edge in run differential: plus-59 compared to plus-19 for the Brewers and plus-16 for the Braves. Sure, you don't want to overemphasize run differential in April since one or two blowout wins or losses can skew the totals, but plus-59 is total domination and a better indicator of team strength than going 20-8 because you went 6-2 in one-run games and 4-1 in extra innings. Sorry, Brewers fans.
2. This lineup is deep:
The
Chicago White Sox
, riding the big bat of
Jose Abreu
and some other improbable hot starts (
Tyler Flowers
hitting .354,
Dayan Viciedo
.348,
Alexei Ramirez
.351) have scored a few more runs, and the
Los Angeles Angels
have scored one more run in one less game played, but no team matches the depth of the Oakland lineup from one through nine.
Coco Crisp
(.393 OBP) and
Jed Lowrie
(.423) set the table at the top with
Josh Donaldson
,
Brandon Moss
and
Yoenis Cespedes
anchoring the middle of the order. They have two catchers who can hit in
Derek Norris
and
John Jaso
,
Craig Gentry
is one of the best fourth outfielders in baseball and
Alberto Callaspo
and
Nick Punto
are versatile switch-hitters off the bench. In fact, Crisp and Lowrie also switch-hit, making it difficult to match up with the A's in the late innings. That kind of flexibility allowed the A's to bat with the platoon advantage 70 percent of the time last season, the second highest in the majors.
[+] Enlarge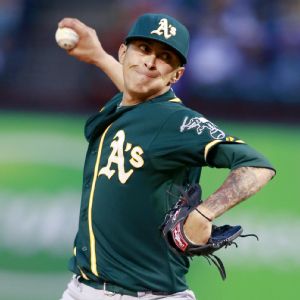 Tim Heitman/USA TODAY SportsJesse Chavez is just the A's latest mystery man propelling them to the top.
3. Jesse Chavez is no fluke:
When
Jarrod Parker
and
A.J. Griffin
(who just announced he'd undergo Tommy John surgery as well) both went down in spring training, it opened up a rotation slot for Chavez. He's 2-0 with a 1.89 ERA in six starts and was silly good in Wednesday's win, allowing one hit and one walk in seven innings. He's a four-pitch guy, or five pitches if you want to include both his four-seam fastball and two-seam fastball, adding a cutter that he throws a lot, a changeup and a curveball.
What makes Chavez so tough is that he uses the different pitches to basically pitch to all four quadrants of the strike zone. Both fastballs tend to be up in the zone, primarily used inside to both righties and lefties; he uses his cutter on the outside part of the plate (meaning he has the ability to spot it to
both
sides, depending on whether it's a lefty or righty batting; the changeup, mostly thrown to left-handed batters, is low and away; the curveball usually drops in at the knees across the plate.
Where did he come from? The journeyman righty spent time with the
Pittsburgh Pirates
, Braves,
Kansas City Royals
and
Toronto Blue Jays
before the A's purchased him from Toronto in August of 2012. He had a 3.92 ERA in relief last season with Oakland. When he first reached the majors, Chavez was primarily a fastball/slider guy. He's since dumped the slider and added the cutter while throwing his four-seamer less and his changeup and curve more often. It's working. He throws strikes, he knows how to pitch and if, he can handle 30 starts without breaking down, he'll be good all season.
4. Josh Donaldson is no fluke, either:
He finished April with a .279/.338/.533 line, seven home runs and 23 RBIs. Just like 2013, he'll be one of the best players in the American League.
5. Sonny Gray just might be an ace:
I'll admit I was skeptical heading into 2014 despite his dynamite showing at the end of 2013 and in the postseason. A short right-hander who is basically a two-pitch pitcher? I took a "prove it to me again" attitude. He's proving it, alright, with a 4-1, 1.76 start, including that three-hit shutout against Darvish on Monday. Look, let's not get carried away here: He's only 16 starts into his career, and he needs to show he can handle 200 innings in the major leagues and pitch consistently every fifth day. But he is slowly working in a few changeups and sliders to go with his power heater and hammer curveball, and he's got that "look" out there, not that I can define what that means.
6. Crisp has aged into an underrated star:
Another Billy Beane special. Crisp does a little of everything: good range in center (although the metrics rate him off to a slow start with minus-7 Defensive Runs Saved), excellent percentage base stealer, doesn't strike out much and he even added power last season with 22 home runs (and hit his third of 2014 on Wednesday). At 34, he's playing the best baseball of his career.

7. An improved Yoenis Cespedes:
The feeling last season was that Cespedes got a little too homer-happy, selling out for the long ball. He hit 26 of them, but his walk rate dropped and his strikeouts increased, leading to a .240 average and sub-.300 OBP. He has 16 strikeouts and 12 walks so far, a much improved ratio over last season's 137/37 mark. A more disciplined Cespedes is a more scary Cespedes.
8. I'm not worried about the bullpen:
The A's have lost three games they led heading into the ninth, one reason they're 18-10 instead of 21-7 or 20-8. They have some power arms down there, however, and things will get sorted out.
Sean Doolittle
, for example, is 0-2 with a 5.68 ERA, but he's also fanned 15 with no walks; he'll be fine.
Luke Gregerson
is good,
Jim Johnson
has pitched better after a couple early bad outings,
Ryan Cook
is back,
Fernando Abad
has pitched very well and
Dan Otero
is a tricky right-hander. The pen is fine.
9. Manager Bob Melvin:
One of the best in the business. The calm serenity of a redwood tree. Or something like that.
10. Green Collar Baseball:
That's the A's official slogan of sorts. The team's website includes it, and the clubhouse in spring training had a sign up to remind players of it, not that they need reminding. As Donaldson told me in spring training about what it means, "It's about grinding every at-bat. That you're never out of a game." It's not necessarily playing with a chip on your shoulder just because you're on the small-market A's but showcasing your ability every day, no matter your salary, your service time, the number of fans in the park or your place in the standings. "I think you're going have guys in this locker room who are going to be $20 million ballplayers," Donaldson said in March. "They may not be making $20 million right now, but there's definitely potential for guys to make that money. There's a bunch of guys here with less than three years of service, so we have guys still trying to make their mark. That's the great thing about baseball: You get a chance every time you step on the field to prove yourself."
April, 14, 2014
Apr 14
1:05
PM ET


We're back with the always popular rapid fire edition of SweetSpot TV, where Eric and myself take a quick trip through the majors. Today's topics include the Brewers, Freddie Freeman, the A's one-two punch, Dee Gordon and Billy Hamilton, the first manager to be fired, Red Sox injuries and Jose Abreu.


April, 6, 2014
Apr 6
3:07
PM ET
By
Christina Kahrl
| ESPN.com
Top prospect
Jameson Taillon
is going to miss the season with Tommy John surgery? If you wanted to see the latest Pirates prodigy pumping mid-90s gas and big-breaking benders in the big leagues, you're going to have to wait another season.
Considering there was little to no concern about Taillon's workload and he'd been handled as carefully as any top prospect should be, this automatically becomes another suggestion that some guys are just going to get hurt. But more important, it's extremely disappointing news, because we're greedy when we start talking about a young pitcher this good. Whether you're a Pirates fan or just a fan of the game, you want to see him, because we all want to see him pitch the way he can.
On the other hand, will this hurt the Pirates that badly in terms of the 2014 season? Over the course of a full 162-game campaign, maybe it won't. The Pirates still have depth to cover their rotation needs for the full season. A front four of
Francisco Liriano
,
Gerrit Cole
,
Wandy Rodriguez
and
Charlie Morton
is a quartet you can win with -- if everyone stays healthy, which is no sure thing.
[+] Enlarge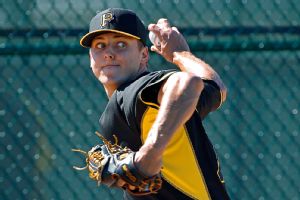 AP Photo/Gene J. PuskarFans will have to wait another year to see Jameson Taillon pitching regularly in the Pirates' rotation.
They also have two live science projects to choose from for their fifth slot. Right now, they have the task of building journeyman
Edinson Volquez
back up to what he was, as
Jerry Crasnick covered in detail
. Perhaps later, they'll see if they can bring
Jeff Locke
back -- once he's healed up from his strained oblique -- to the form that got the defense-dependent lefty into last year's All-Star Game. If both of them pan out, the Pirates would be ready to endure an injury among their front four. And they have swingman
Jeanmar Gomez
to turn to before having to reach from Triple-A for a solid organizational guy like
Brandon Cumpton
. So they have the depth to be able to compete and perhaps contend with.
And keep in mind that in terms of the full scope of Taillon's career, this may also perhaps not dent their long-term outlook that much. Assuming that Taillon is one of the 75 percent or so of guys who recover fully from the surgery, he's going to be a big part of their 2015 rotation at some point, the same as was already expected before injury struck.
However, the problem with losing Taillon now is multifold. A great young pitcher just experienced the first major stumbling block of his career. Here's hoping he can roll with it, recover fully, and work with the Pirates to deliver on the promise that has so many fans ready to watch him in the majors. And there's that element of anticipation that's always associated with a young prospect, now thwarted.
But the bigger problem by far is losing the stuff that fuels that anticipation about Taillon's future. As Cole showed last October -- as did
Michael Wacha
for the Cardinals and
Sonny Gray
for the Athletics -- you want to be able to turn to a guy with the stuff to overpower a postseason lineup. Any postseason lineup. Guys like Morton or Rodriguez are great assets to have over a full six months, but are they the guys you want on the mound in a must-win postseason game? To advance deeper into October? It's possible, but you'd rather have the outcome depend on someone with Taillon's talent, someone with an arm so able he can take complete control of a low-scoring game. Say Liriano gets hurt or Volquez doesn't become their latest resurrection. Who starts a crucial third or fourth game in an League Division Series? Who starts twice in an LCS?
Assuming the Pirates make it back into the postseason, that's when losing Taillon might hurt most, when they won't have the freedom to choose one of their best arms to exploit a championship opportunity. And if anyone knows how rare those opportunities can be, it's Pirates fans, who just recently saw their team's two-decade run of futility end.
Christina Kahrl writes about MLB for ESPN. You can follow her on Twitter.
October, 10, 2013
10/10/13
11:30
PM ET
Another Game 5, so let's try another running diary.
First, a couple quick notes on the starting pitchers. Joe Sheehan made a great point about
Sonny Gray
in his newsletter: Other than his Game 2 start against the Tigers, Gray has faced a pretty easy slate of opponents in his short career, including the Astros and Mariners twice, plus two starts against the
Joe Mauer
-less Twins in September. Of 329 pitchers to throw at least 50 innings, Gray was 255th in quality of opposing batters faced (per Baseball Prospectus).
That said, aside from those dominant eight shutout innings in Game 2, I think there are two other reasons Bob Melvin gave him the start over
Bartolo Colon
: (1) Gray has a 1.66 ERA at home and (2) Gray's fastball has more juice than Colon's.
Miguel Cabrera
and
Prince Fielder
have struggled against good fastballs, Cabrera of late due to his injuries and Fielder all season (he slugged just .439 against fastballs in the regular season). They've fed Cabrera a steady diet of fastballs and neither he nor Fielder have an extra-base or a walk in the series.
As for
Justin Verlander
, he's allowed one earned run in three postseason starts against Oakland the past two years, striking out 11 each game. Of course, what he did last season isn't all that relevant to this season, unless he's in the heads of the Oakland hitters, and as a reminder the A's did score five runs off Verlander in late August.
First inning
One major lineup change for the Tigers:
Jhonny Peralta
is back at his old shortstop position over
Jose Iglesias
with
Don Kelly
playing left field. With Verlander on the mound, it's probably worth taking the defensive hit at shortstop, as Verlander's a good bet to rack up strikeouts and he's also more of a fly ball pitcher. Kelly gives Jim Leyland a much better glove in left and another left-handed bat to do battle against Gray's curveball.
Both pitchers cruise through the first, one strikeout for Gray, two for Verlander.
Second inning
The Tigers run themselves into a double play when they try a strange hit-and-run with Fielder (who had walked) on first and Peralta at bat. Halfway to second base, Fielder turns around and tries to hop on the BART back to first base.
Verlander has another 1-2-3 inning with two strikeouts, impressively blowing two fast ones past
Brandon Moss
.
Third inning
Is there any manager more lovably crusty than Leyland? In one of those between-innings interview he says Gray isn't as sharp as Game 2, so they better get to him early. But he says it in that flat monotone, so you don't know if he's disgusted his team hasn't scored or just perturbed he can't go smoke a cigarette. The Tigers don't have a hit through three innings, although Gray has thrown just 22 of 41 pitches for strikes.
Meanwhile, Verlander is nine up and nine down, firing a 96 mph 3-2 fastball right down the middle and right past
Stephen Vogt
for his fifth strikeout. These two pitchers have combined for 23 scoreless innings in the series and Verlander has 23 consecutive scoreless innings going back to the regular season.
Fourth inning
With one out,
Torii Hunter
grounds a 3-2, 94 mph four-seamer up the middle for the game's first hit. There goes our dream of a double no-hitter! And then -- finally! -- Cabrera connects. A 93 mph fastball low and away for a ball and then a 94 mph fastball up and in that Cabrera powers over the left-field wall, just his second home run since late August. Not sure if it was Dennis Eckersley or Buck Martinez who said it on air, but with the way they've been getting Cabrera out all series by going away, away, away, that pitch was not the location the A's wanted. Tigers up 2-0.
With the way Verlander is pitching, that home run feels a lot like the two-run home run
David Freese
hit for the Cardinals on Wednesday night.
Also, Leyland was right. Unable to throw the curve for strikes, the Tigers are starting to sit on the fastball.
Victor Martinez
singles to left with two outs. Peralta singles. Very dangerous right now for the A's as they can't afford to give up anything else. Nobody is warming up.
Alex Avila
walks to load the bases.
Dan Otero
finally gets up, but if
Omar Infante
singles here it's 4-0 and the game just might be over. Gray is also at 27 pitches in the inning. Two balls to Infante, a foul ball, another foul on a high fastball out of the zone ... and a 6-3 grounder to escape the inning. A's are still in it, but I'll be surprised if Gray comes out for the fifth. He's been a one-pitch pitcher tonight and you can't live off fastballs alone. Well, unless you're Walter Johnson.
Twelve up, 12 down for Verlander; just 51 pitches, 34 for strikes.
Fifth inning
Well, tells you what I know. Gray is back out there. I get that he's only at 74 pitches, but he's facing the 9-1-2 hitters, which means it will be the third time around for the top of the order. We'll see. Gray survives a leadoff walk to Kelly and intentional walk to Cabrera by getting Fielder on a comebacker to end the inning.
Verlander averaged 12.7 swing-and-misses per game in the regular season. He's at 17, with six strikeouts, and he's still perfect after another easy inning. Pure domination. Don't think there's been a hard-hit ball off him.
Sixth inning
Not sure why Melvin waited for Gray to allow two more baserunners before taking him out. Otero almost escapes the jam, getting Infante to hit a hard grounder to third baseman
Josh Donaldson
, but Donaldson's throw to turn the double play is in the dirt and
Alberto Callaspo
can't turn it, allowing a run to score. Donaldson was an MVP candidate but hasn't done anything in the series, hitting .158 with no extra-base hits and failing to turn a pretty easy double play there.
So the story now is pretty much just Verlander and his quest for perfection. And ... it ends after 16 batters. A 3-2 fastball to
Josh Reddick
is way outside. Vogt flies to deep right-center and
Coco Crisp
flies routinely to left. Maybe the A's should try laying down a bunt in front of Cabrera or something. Or Fielder. Nine outs to go for the no-hitter. Right now, I'm thinking I'd bet on it.
Seventh inning
Did you know that from May 11 through Aug. 27 Verlander had a 4.49 ERA? OK, you probably did, since there a lot of "What's wrong with Justin Verlander?" stories cropping up there. At one point, he said he found a flaw in his mechanics, although that was late July or early August and he didn't really turn it around until September.
Maybe it will be a minor blessing in disguise for the Tigers though, since Verlander threw 20 fewer innings this year than 2012 and 33 fewer than 2011, and he struggled at times in both postseasons (although in total pitches, he only threw 76 fewer this season than last season).
Donaldson whiffs swinging on 96 mph high-inside heat.
Jed Lowrie
flies out to left. Then
Yoenis Cespedes
ends the no-hit bid with a sharp single up the middle. No, Iglesias wouldn't have gotten to it, either. Verlander recovers by striking out
Seth Smith
on a curveball that Ted Williams in 1941 couldn't have hit. Two amazing clutch performances we've seen these two nights, first from
Adam Wainwright
and now Verlander.
Eighth inning
Who would you say had more pressure tonight? I'm not saying either team felt it, but the A's had that Game 5 history to overcome -- five straight Game 5 losses in the Division Series in 2000, 2001, 2002, 2003 and 2012. On the other hand, the Tigers have the weight of expectation and star talent -- that they
should
win, that they can't afford to miss another postseason opportunity with guys like Verlander, Cabrera and
Max Scherzer
at their peaks.
In the bottom of the eighth, Reddick singles with two outs, but then Verlander strikes out Vogt -- he threw him four straight curveballs. I think Vogt could face Verlander a hundred times and not get a hit. The cameras show Verlander getting handshakes and little man hugs from his teammates. He's going to be done after 111 pitches, two hits, one walk and 10 strikeouts. In four starts against the A's the past two postseasons, Verlander has allowed one earned run in 31 innings with 43 strikeouts. Fair to say the A's hope never to see him again in October.
Ninth inning
After
Grant Balfour
retires the Tigers in order, it's up to
Joaquin Benoit
to put the finishing touches on Verlander's masterpiece. The A's will have the top of their order up.
Lowrie singles with two outs, giving A's fans one last bit of life. A bloop and a blast ... or hit batter and a blast. Cespedes is hit by a 2-2 changeup, although the Tigers thought he might have swung. So it's up to Smith (why is he batting ahead of 30-homer guy Moss?). Hard to stay within yourself here and not swing for the fences. Benoit struck out Smith to end Game 4 -- after Smith fouled off several pitches -- also when he was the tying run.
Key to Benoit is timing that fastball and laying off the changeup. Ball, strike, fastball up. Hitter's count. Fastball ... and Smith gets under it, Hunter makes the catch in right and Verlander finally breathes in the Detroit dugout.
Detroit is moving on to the American League Championship Series again, and the A's suffer the indignity of a sixth straight Game 5 loss in the ALCS.
October, 10, 2013
10/10/13
6:25
PM ET
Oakland A's manager Bob Melvin chose rookie
Sonny Gray
over veteran
Bartolo Colon
to
start Game 5 of the American League Division Series
against the Tigers -- making Gray the third rookie to start what I call an "ultimate" game this postseason (a do-or-die game), following
Gerrit Cole
for the Pirates last night and
Danny Salazar
for the Indians in the AL wild-card game.
Cole pitched well, but made one mistake, a slider over the plate that
David Freese
lined for a two-run homer, the only runs Cole allowed in five innings before being lifted for a pinch-hitter. Salazar was less effective, allowing three runs in four innings.
Here are some of the memorable outings by rookie starters in ultimate games:
Jarrod Parker, 2012 A's
Sound familiar, A's fans? One year ago, another rookie right-hander faced
Justin Verlander
in Game 5 of the Division Series. Parker allowed four runs and Verlander was brilliant in a complete-game shutout.
John Lackey, 2002 Angels
Manager Mike Scioscia had a decision to make for Game 7 of the World Series:
Ramon Ortiz
on full rest or the rookie on three days' rest. The Giants actually scored first, but the Angels soon jumped on
Livan Hernandez
and Lackey allowed just one run in five innings as the Angels won 4-1.
Jaret Wright, 1997 Indians
Wright had gone 8-3 with a 4.38 ERA in 16 starts, but ended up starting both Game 5 of the Division Series and Game 7 of the World Series. He got the win against the Yankees, although he allowed three runs in 5.1 innings, and survived five walks against the Marlins to leave after 6.1 innings with a 2-1 lead. The interesting note here is that manager Mike Hargrove chose Wright on three days' rest over
Charles Nagy
; it proved to be the right choice, but
Jose Mesa
couldn't get the save in the ninth and Nagy ended up taking the loss in the 11th inning.
Joe Magrane, 1987 Cardinals
The left-hander had gone 9-7 with a 3.54 ERA, but drew the start after Whitey Herzog had scrambled his rotation. Magrane had started Game 1, followed by Danny Cox, John Tudor and Greg Mathews. He brought back Cox and Tudor on three days' rest in Games 5 (Cardinals win) and 6 (Twins win), setting up Magrane again. Magrane left with a 2-1 lead in the fifth and a runner on first, but Cox entered and gave up a game-tying double to Kirby Puckett. The Twins then scored in the sixth and the eighth (closer Todd Worrell pitched three innings!) and won 4-2.
Fernando Valenzuela, 1981 Dodgers
The youngest pitcher to start an ultimate game, Fernando beat the Expos in the NLCS. He allowed a run in the first, settled down and dominated, Rick Monday homered in the ninth to give the Dodgers a 2-1 lead and after Fernando walked Gary Carter and Larry Parrish with two outs in the ninth, Bob Welch came on and got Jerry White for the final out.
Marty Bystrom, 1980 Phillies
Bystrom was a September call-up who had gone 5-0 with a 1.50 ERA in five starts. Ace Steve Carlton had started Games 1 and 4, so Dallas Green went with Bystrom over Dick Ruthven for Game 5 of the NLCS against the Astros. Bystrom was solid -- he left in the sixth with the game tied 2-2 -- but the excitement happened after he left in one of the great games (and series) in baseball history. The Astros scored three in the seventh, the Phillies five in the eighth (Nolan Ryan couldn't hold the lead), the Astros tied it and the Phillies finally won in 10 innings, Ruthven pitching two perfect innings for the win.
Mel Stottlemyre, 1964 Yankees
This was the last hurrah of the long Yankee dynasty that began in the 1920s. They wouldn't appear in the postseason again for 12 seasons. Manager Yogi Berra had started Whitey Ford in the World Series opener, but Ford, who had pitched in pain throughout the season, didn't pitch well and wouldn't appear again, leaving Berra's rotation in a bit of a mess. Stottlemyre had been called up in August and gone 9-3, 2.06 in 12 starts, and he started and went the distance in Game 2. Jim Bouton threw another complete-game victory in Game 3. Al Downing started Game 4 and allowed four runs in six innings. Stottlemyre pitched well in Game 5, although the Yankees lost in extra innings, and then Bouton won Game 6. Berra went with Stottlemyre on two days' rest in Game 7 over Downing. The Cardinals started Bob Gibson, also on two days' rest -- after pitching 10 innings in Game 5. The Cardinals scored three in the fourth and Stottlemyre was lifted for a pinch-hitter. They extended their lead to 6-0 off Downing. Gibson staggered to the finish line but held on for a 7-5 win.
Joe Black, 1952 Dodgers
This was one of the curious pitching decisions in World Series history. Black was a 28-year-old veteran of the Negro Leagues who had gone 15-2, 2.15 -- but almost entirely out of the bullpen; he started just two games in the regular season. Chuck Dressen tabbed Black to starts Games 1, 4 and 7 of the World Series, however … and it almost worked. Black won the opener, pitched well but lost 2-0 in Game 4, and then gave up a go-ahead home run to Mickey Mantle in the sixth inning of the final as the Yankees won 4-2.
Babe Adams, 1909 Pirates
Adams was an unknown rookie on a great, 110-win Pirates team. He'd gone 12-3 in a starter/reliever role, but was the surprise Game 1 starter. He ended up winning three games over Ty Cobb's Tigers, all complete games: 1, 5 and then an 8-0 shutout in Game 7.
September, 22, 2013
9/22/13
8:33
PM ET
With apologies to Andrew Friedman in Tampa Bay or John Mozeliak in St. Louis or Neal Huntington in Pittsburgh or Ruben Amaro Jr. in Philadelphia (just kidding, Phillies fans!), if I win $750 million in the lottery and purchase a major league franchise, Billy Beane is the guy I'd hire to run my franchise.
Although I may try to steal some of the stats guy from Tampa, St. Louis and Pittsburgh.
The Oakland A's clinched their second straight American League West title with Sunday's 11-7 win over the Minnesota Twins, further proof that Beane can build a winner minus
Barry Zito
,
Tim Hudson
and
Mark Mulder
. Maybe the ideas behind "Moneyball" have been replicated and expanded -- find a market efficiency and exploit it and hire smart analysts to help you find those inefficiences -- but Beane has won the past two years in sort of an old-fashioned way: Make good trades and scrounge around the discount sales pile for cheap buys.

The A's aren't built around expensive free agents; we know that. But they aren't built around a stockpile of high first-round picks either. There is no
David Price
or
Evan Longoria
on the Oakland roster, no
Andrew McCutchen
,
Pedro Alvarez
or
Gerrit Cole
. The only homegrown first-round pick to make a significant contribution this season is Sunday's starter,
Sonny Gray
, the team's first-round pick out of Vanderbilt in 2011 who improved to 4-3 with a 2.90 ERA in nine starts. It wasn't his best outing -- seven hits and four runs in five innings -- but it was good enough to probably cement his place in Oakland's postseason rotation.
But even Gray was just the 18th overall pick of the first round, low enough that you're well past sure thing territory. Even in the post-Moneyball era, the A's never sank to rock bottom the way the Rays or Pirates had to; their worst record under Beane was the 74-88 mark in 2011. The only top-10 pick the franchise has had since drafting Mulder and Zito in 1998 and 1999 was
Michael Choice
, 10th overall in 2010 (Choice has had 17 plate appearances this year with the A's).
Only four A's are making more than $5 million -- outfielders
Chris Young
($8.7 million),
Yoenis Cespedes
($8.5 million) and
Coco Crisp
($7 million), plus starter/reliever
Brett Anderson
($5.75 million). Compare that to their division rival Rangers, who have 10 players from their Opening Day roster making $5 million-plus, or AL East champion Boston, which has 12.
Crisp was one of the stars on Sunday, going 2-for-4, including a three-run homer in Oakland's six-run second inning. Crisp has been a big surprise in the power department, with 22 home runs and 65 RBIs out of the leadoff spot, 13 of those coming in 53 games since the All-Star break. Crisp was originally signed as a free agent after an injury-plagued season with Kansas City in 2009, when he hit .228 and played just 49 games. Beane bought low, as he did with minor league free agent
Brandon Moss
and past-his-prime starter
Bartolo Colon
. In other cases, he sold high, as when he dealt established mid-rotatin starter
Trevor Cahill
to Arizona for
Jarrod Parker
and
Ryan Cook
.
[+] Enlarge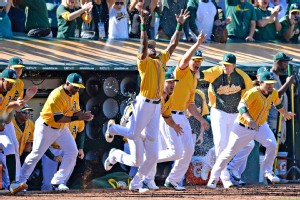 Bob Stanton/USA TODAY SportsThe A's can celebrate back-to-back division wins thanks in part to someone not on the field: GM Billy Beane.
Beane's smartest transaction this past offseason was plugging the team's shortstop hole. Oakland shortstops had hit .203 with a .585 OPS last year. Beane acquired
Jed Lowrie
from the Astros for three players, including first baseman/DH
Chris Carter
, who had provided an effective right-handed platoon bat for the A's in 2012. Lowrie has a good bat for a shortstop, but had been injury-prone and doesn't have the defensive profile you might expect from an Oakland shortstop. But Beane knew he needed more offense from his infield and Lowrie has played 149 games and hit .288/.344/.443 -- the highest OPS among all regular shortstops (
Troy Tulowitzki
and
Jhonny Peralta
are higher but haven't qualified).
But Beane doesn't stop there. In late March, he picked up
Nate Freiman
off waivers from the Astros (he'd been a Rule 5 pick from the Padres). Freiman was a 26-year-old minor league vet. Why the interest in a guy who couldn't make the Astros? Freiman had hit .348 against left-handers in Double-A in 2012. He's provided the A's with a right-hander to replace Carter. That's not the discount pile, that's the discard pile.
Now all Beane and the A's have to do is prove their stuff works in the postseason.
June, 5, 2013
6/05/13
12:57
AM ET
News items:
1. Sources say Major League Baseball will
seek to suspend about 20 players
connected to the Biogenesis PED scandal up to 100 games.
2. The Oakland A's lost a tough one, 4-3 in 10 innings to the Brewers after blowing a 3-0 lead. Still, they've won 15 of their past 18 games.
3. The
Texas Rangers
were hammered 17-5 in Boston.
The Rangers' lead over the A's in the AL West -- 7 games less than three weeks ago -- remains at 1.5 games. Maybe you were ready to count out the A's back when they were plodding along at 20-22, chalking up 2012's division title as a fluke. But this is what the A's do: They get on these awesome runs, an Oakland tradition going back to the Hudson-Zito-Mulder clubs.
Last year, they were 37-42 entering July, 13 games out of first place. They won 18 of their next 21 games; in August and early September they would run off another stretch of 15 wins in 17 games. In 2006, when they had last won the AL West title, the A's were 25-30 on June 2 when they won 13 out of 14. They would later reel out a 17-3 stretch. In 2004, they had a 16-2 stretch in August/early September. In 2003, it was a 14-2 stretch in August/September that pulled them to a division title. In 2002, it was the famous 20-game winning streak beginning in August. In 2001, they had a 22-2 stretch -- again in August into September.
Those earlier years were a different generation of A's teams, of course, but the A's have always had a similar philosophy, it seems: They're loose, they have fun, they play with that ol' fire in their bellies. Whether or not that helps to lead to more of these hot streaks, I don't know, but when the A's get hot they seem unstoppable.
The Rangers, of course, were supposed to be here, although there were some questions about the offense after losing
Josh Hamilton
, some concerns about the bullpen with
Alexi Ogando
moving back to the rotation, and then some concerns about the rotation after
Matt Harrison
underwent back surgery after just two starts.
It's a fascinating AL West race, especially after the A's swept the Rangers in the final three games last season to pass the Rangers and send Texas into the wild-card game. The Rangers have become one of baseball's wealthy franchises while the A's are still put together with toothpaste and tin foil. The Rangers still have the star power --
Yu Darvish
,
Adrian Beltre
,
Ian Kinsler
-- while Oakland's best player has been the relatively unknown second-year third baseman/former catcher
Josh Donaldson
.
[+] Enlarge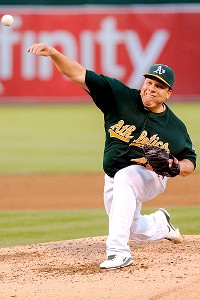 Ed Szczepanski/USA TODAY SportsBartolo Colon has been the A's best pitcher this season.
This race becomes even more interesting if MLB does find a way to suspend the players involved in the Biogenesis report. While the biggest names there are
Ryan Braun
and
Alex Rodriguez
, the two most
important
names are
Bartolo Colon
of the A's and
Nelson Cruz
of the Rangers. Braun's Brewers are way out of the race, the Yankees are hoping A-Rod just goes away and the Nationals'
Gio Gonzalez
, while on the list of Biogenesis clients, might have received only legal substances.
Remarkably, Colon, who just turned 40 on May 24, has been Oakland's best pitcher with a 6-2 record and 3.33 ERA. He's become one of the most unique pitchers in major league history. He's walked just four batters in 11 starts and basically throws just fastballs -- two-seamers and four-seamers, so count that as two pitches if you'd like. Of the 964 pitches he's thrown, 823 have been fastballs, with some sliders and changeups mixed in.
If Colon were to be suspended, the A's have a couple options. First, there's
Brett Anderson
, their preseason No. 1, who's currently on the disabled list with a stress fracture in his right foot. But he might be out another two months. After that, former first-round draft pick Sonny Gray would appear to be the next option, as he has 2.40 ERA at Triple-A Sacramento with 65 strikeouts, 20 walks and just one home run allowed in 63.2 innings.
Cruz may be even more difficult to replace, however. He's having a solid season with a .268/.323/.512 line, hitting his 14th home run in Tuesday's loss. But this Rangers team isn't the offensive powerhouse of recent seasons, ranking seventh in the AL in runs scored. They could play defensive whiz
Craig Gentry
on a regular basis or utility guy
Jeff Baker
, but Gentry would be exposed offensively playing every day while Baker is really just a platoon bat against left-handers. There doesn't appear to be much in the way of outfielders on the Triple-A roster. Of course, the wild card could be moving
Jurickson Profar
to the outfield when Kinsler returns from the DL, but I don't think you would move a rookie infielder to a new position at the major league level. Or, horror of horrors, you could try
Lance Berkman
or
Mitch Moreland
out there.
Of those options, playing Gentry is probably the best one; at least he'll give you great defense. Baker can continue to be platooned with
David Murphy
in left field. But losing Cruz's power still leaves a gaping hole in the middle of the lineup.
The Rangers could look to swing a trade --
Andre Ethier
(and his ugly contract) is probably available for free from the Dodgers!
Of course, we're getting way ahead of ourselves. But if MLB gets its way on the suspensions, it's the A's and Rangers who will be most affected. How Billy Beane and Jon Daniels respond ultimately could decide the AL West.
June, 16, 2011
6/16/11
2:04
PM ET
I'd argue that whenever SweetSpot blogger/editor David Schoenfield co-hosts the
Baseball Today Podcast

that's all the reason you need to listen, but Thursday's show was indeed a particularly special one, because ...
1. Former All-Star third baseman
Robin Ventura
stops by for a cool interview, talking College World Series, timely grand slams, ankle transplant surgery and a whole lot more!
2. On Wednesday's show we discussed whether
Justin Verlander
was the AL's top pitcher. And then
Josh Beckett
happened. Now what do we think? Who is going to win the AL Cy Young?
3. Check out those
Seattle Mariners
… they're contenders! With second base prospect Dustin Ackley on the way to the bigs, our resident Mariners fan gets realistic with expectations … and I tend to agree.
4. The
Florida Marlins
seem to be having a bit of trouble winning baseball games. Are we more surprised about their collapse or that maligned Ohio team?
5. If you don't know the story about Thursday's starting pitcher for the
New York Yankees
, you're really missing out.
Plus: Excellent emails, the designated hitter rule, those crazy, ol' umpires, how
Javier Vazquez
will throw a gem in Philly, and that "hitting in Petco Park junk," all of it on a packed Thursday Baseball Today podcast!