March, 13, 2013
Mar 13
12:17
PM ET
By
Bill Baer
| Crashburn Alley
When baseball fans talk about
Roy Halladay
, it seems to be done in the past tense these days. "He was one of the most dominant pitchers of his era," or "his sinker was nasty." It is hard to fault them after the season Halladay had, finishing 2012 season with a 4.49 ERA, in part due to a right shoulder injury that sapped 2 mph off his fastball. Even manager Charlie Manuel seems to have lost faith, describing Halladay as merely "serviceable."
Just one year ago, he was described as the staff ace, the Cy Young runner-up in 2011.
Things aren't looking better as the 2013 regular season approaches. In 11 spring innings, Halladay has allowed nine runs (all earned) on 12 hits and six walks. His velocity has not improved either. MLB.com's Todd Zolecki reported scouts clocking his velocity between 86 and 88 mph, while others came in with readings below that. Halladay's fastball averaged at least 92 mph from 2008-11, according to FanGraphs.
The truth is, Halladay is attempting to come back from one of the most historically severe declines in baseball history. Going by Baseball-Reference WAR, Halladay's decline from 8.5 in 2011 to 0.7 in 2012 is the seventh-steepest decline among starters in the post-integration era, minimum 150 innings thrown in both seasons.
Of the 20 biggest declines listed above, Halladay (35) was the second oldest behind only Jim Bunning (36) in 1968. Unlike Steve Carlton in 1973, Dwight Gooden in 1986 and
Zack Greinke
in 2010, none in the 30-plus age club set an impossibly high bar with a tremendous season; rather, all declined rather precipitously. If it is any consolation, Halladay was one of only two, along with Catfish Hunter, in the 30-plus club to at least post a positive WAR in his decline year.
Bunning and Hunter were the only ones to continue to decline, however. Johnny Sain bounced back with 2 WAR,
Javier Vazquez
2.7,
Esteban Loaiza
3.6, and Mike Moore 4.4 in the ensuing season. Hunter never recovered his modest ability to miss bats. Bunning not only couldn't miss bats as much, but he overall become more hittable. He enjoyed success throughout much of his career with a BABIP in the .250-.280 range, but it ranged from .297 to .309 in the final four years of his career.
Aside from Hunter, the other five had at least one average (2 WAR) season left in them, but only Sain (2.9, 1953) and Bunning (2.7, 1970) had theirs at least two years removed from their historically bad decline. In other words, even if there was a recovery, it wasn't long lasting.

For Halladay, however, his peripherals weren't that much worse than in 2011. His strikeout rate only declined by 3 percent, his walk rate only increased by 2 percent, and his BABIP only increased by three points. However, he induced 6 percent fewer groundballs and allowed twice as many home runs in a per-fly ball basis, while also allowing 4.5 percent more line drives.
Halladay rose to prominence on the back of an ability to generate groundball outs, miss bats with frequency and limit free passes. If those continue to vanish, then his decline will be more severe than we could have anticipated even two years ago. Still, Halladay is by no means done.
Greg Maddux
pitched well into his 40s even after the erosion of his bat-missing capabilities. Halladay, like Maddux, has shown pinpoint control of his pitches and can continue to use guile to prolong a Hall of Fame career.
(Special thanks to Crashburn Alley writer Ryan Sommers (@Phylan) for doing the research that inspired this article.)
Bill Baer runs the Phillies blog Crashburn Alley. You can follow him on Twitter @CrashburnAlley.
March, 1, 2013
Mar 1
12:15
PM ET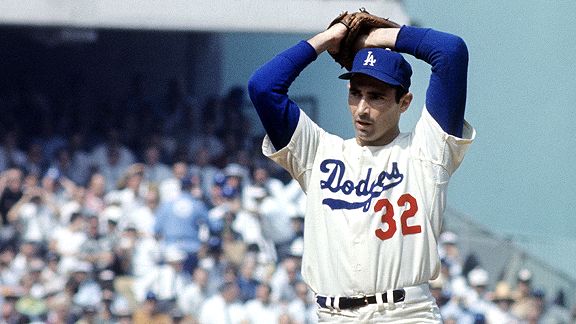 Focus on Sport/Getty ImagesOver his final five seasons, Sandy Koufax went 111-34 with a 1.95 ERA and three Cy Young Awards.
This is another follow-up to a debate that arose in a recent chat session: Which pitcher had the best five-year peak?
With
Sandy Koufax having spent time at Dodgers camp this spring
it seems like a perfect time for a list, doesn't it?
Well, I can never make things easy, so this will be a long list. I started with pitchers since 1950, primarily because I'm not as interested in comparing the peak of dead-ball era pitchers to the more modern game. Plus, we had to make this somewhat manageable. I'm going to use Baseball-Reference Wins Above Replacement to rank the pitchers and we'll have a vote at the end of the story.
The rules: It has to be a five-year consecutive peak -- not necessarily the best five seasons of a pitcher's career, but the best five years in a row. A pitcher can appear only once. That's it. I didn't include postseason results, but maybe should have. I looked at all the Hall of Fame starting pitchers from this era, some current guys and some others I wanted to include. The list is 41 pitchers, but this is
not
the best 41 peaks. I left out some good pitchers, such as Orel Hershiser, Dwight Gooden,
Roy Oswalt
and others. I do think I got all the guys who accumulated at least 30 WAR, however.
Jack Morris, 1983-1987: 20.2 WAR
We have to start somewhere.
Don Sutton, 1971-1975: 21.1
Despite winning 324 games, Sutton was a controversial selection to the Hall of Fame when he made it on his fifth year on the ballot. He was viewed as a compiler -- and, well, he sort of was, as his career-high WAR was 6.3 and he topped 5.0 just three times. From '71 to '75 he went 89-53 with a 2.63 ERA and 25 shutouts. Not bad for a compiler.
Early Wynn, 1952-1956: 22.3
In 1948, Wynn went 8-19 with a 5.82 ERA for the Senators, walking 94 and striking out 49. Bill Veeck of the Indians coveted Wynn anyway because of his good fastball, they got him along with Mickey Vernon in a trade, pitching coach Mel Harder taught Wynn a curve and slider, and he went on to average 18 wins per season in his nine years in Cleveland.
Whitey Ford, 1961-1965: 22.5
Here's a fair question: Is Whitey Ford overrated? Think about it: He pitched in the old Yankee Stadium, with its mammoth left-center power alley, certainly helpful to a left-handed pitcher; he didn't have to face the best team in the league, back when there were only eight teams in the league for much of his career; he won "only" 236 games. Of course, he was the ace of many World Series winners and was certainly clutch in the postseason. Ford's best five years came after Casey Stengel was fired after the Yankees lost the 1960 World Series. Stengel was always cautious with Ford's workload, using him for more than 230 innings only once. But from '61 to '65 Ford averaged 260 innings and went 99-38, a .723 winning percentage.
John Smoltz, 1995-1999: 22.9
When Smoltz shows up on the Hall of Fame ballot, it will be interesting to see how he fares compared to Curt Schilling, two guys with similar career records (Smoltz: 213-155, 3.33; Schilling: 216-146, 3.46) and similar excellence in the postseason. The big difference between the two is Smoltz never had the string of dominant seasons like Schilling did.
Catfish Hunter, 1971-1975: 23.4
Made his mark by winning seven games in the postseason as the A's won three consecutive World Series from 1972 to 1974, but vastly overrated as a pitcher. This five-year peak accounts for two-thirds of his career WAR of 32.1
Tom Glavine, 1995-1999: 24.0
What were the odds that a 22-year-old pitcher who led the league with 17 losses and struck out only 84 batters in 195 innings would turn into a 300-game winner and future Hall of Famer? Lower than slim and none? Glavine's best season via WAR was his breakout campaign in 1991 (8.2) when he won his first Cy Young Award, but in many ways he was similar to Sutton, an amazingly durable pitcher who was very good for a long time.
Felix Hernandez, 2008-2012: 24.1
Working on four straight years of 230-plus innings and doesn't turn 27 until April. With his new contract, the Mariners are banking on many more of those 230-inning seasons in the future.
Nolan Ryan, 1973-1977: 26.0
His first big year came after the Mets traded him to the Angels in 1972 and he won 19 games with a 2.28 ERA, worth 5.8 WAR. Twenty years later he was 44 and posted a 5.0 WAR season for the Rangers. In between, he was a dynamic, often wild, always amazing, and certainly one-of-a-kind. His mid-'70s peak was dragged down by a couple mediocre seasons in '75 and '76 when he posted a 3.40 ERA, only league average for the time once you adjust for his home park.
Mike Mussina, 1999-2003: 26.7
His career WAR of 78.1 is higher than many Hall of Fame pitchers of this era. Best season came in 1992 (7.9 WAR), but he had seven seasons of 5.0 or higher, five of those coming with the Orioles.
Justin Verlander, 2008-2012: 26.7
This stretch includes Verlander's 2008 when he went 11-17 with a 4.84 ERA, worth 1.5 WAR, so the total will jump up with a big 2013. Verlander led the league in losses that year, which prompts the question: How many Hall of Fame pitchers led their league in losses? Well, Phil Niekro managed to do it four straight seasons. Bert Blyleven did it at the end of his career in 1988, and future Hall of Famer Glavine did it the same season at the beginning of his career. Steve Carlton and Robin Roberts each did it twice. Early Wynn and Hal Newhouser. A couple of others. Not necessarily that unusual.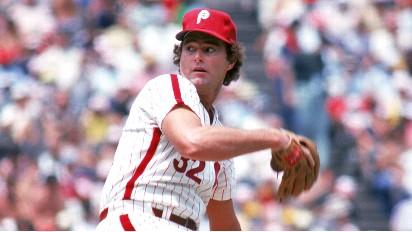 Rich Pilling/Getty ImagesSteve Carlton won four Cy Young Awards, but only one came during his best five-year WAR peak.
Steve Carlton, 1969-1973: 27.9
Maybe the most inconsistent great pitcher ever, this period includes Carlton's all-timer season in 1972 when he went 27-10 with a 1.97 ERA for a Phillies team that won only 59 games. No other pitcher won more than seven games, and he was a reliever. But Carlton followed that up with a 13-20, 3.90 year in 1973 and had some less-than-stellar years. His best stretch of consistent excellence actually came later in his career from 1980-1983, but his 11.7 WAR in '72 helps make this his best five-year stretch.
Don Drysdale, 1960-1964: 28.0
Dodger Stadium: 65-43, 2.19 ERA
L.A. Coliseum: 36-25, 3.14 ERA
Road games: 95-92, 3.41 ERA
Cliff Lee, 2008-2012: 28.9
Sort of the anti-Nolan Ryan. Whereas Ryan would
never
give in to a hitter, preferring to walk a batter rather than just throw something over the middle of the plate, Lee
never
wants to give up a free pass. Over this five-year stretch he has walked 165 batters; Ryan walked that many in a season three times.
Bret Saberhagen, 1985-1989: 29.1
Includes his Cy Young seasons in 1985 (6.9 WAR) and 1989 (9.2 WAR), but he couldn't stay healthy after that. Remember when Dave Stewart whined about not winning the Cy Young in 1989? Yeah, let's not get into that.
Jim Palmer, 1975-1979: 29.2
Palmer won 20 games eight times in nine seasons, but went 7-12 in 1974 right in the middle of that stretch to drag down his five-year peak (we ended up using a mediocre 10-6, 3.30 partial season in 1979 to round out our five years).
Frank Tanana, 1974-1978: 29.3
One of the best young pitchers ever, but hurt his arm in 1978. Returned as a finesse guy to have a long career.
David Cone, 1993-1997: 29.4
Only averaged 184 innings per season over this span thanks to the two strike-shortened seasons and an injury in 1996 that limited him to 11 starts, but went 64-35 with a 3.17 ERA during a high-scoring era and won the Cy Young Award in 1994.
CC Sabathia, 2007-2011: 29.7
Finished in the top five of the Cy Young voting all five seasons.
Rick Reuschel, 1976-1980: 29.8
A favorite of sabermetricians because of a career WAR of 64.6 that ranks 32nd
all time
among pitchers -- just ahead of Palmer, Sutton and Smoltz. Hmm. Reuschel's career record of 214-191 with a 3.37 ERA doesn't blow you away, but he spent his best years with mediocre Cubs teams in a hitter's park with bad defenses behind him. In these five years, he went 77-62 with a 3.33 ERA, topped by a 1977 season (20-10, 2.79 ERA) in which Baseball-Reference rates him not only as the best pitcher in the National League (9.2 WAR), but as the most valuable
player
. In comparing to Palmer, Baseball-Reference estimates Palmer's defense saved him 0.33 runs per nine innings over his career but cost Reuschel 0.18 runs per nine innings (a difference of about 14 runs over 250 innings). Maybe Reuschel would have won three Cy Young Awards if he had Mark Belanger and Paul Blair behind him.
Jim Bunning, 1963-1967: 30.2
After going 12-13 with a 3.88 ERA in 1963, the Tigers traded Bunning to the Phillies (for Don Demeter and Jack Hamilton), figuring at 32 he was past his prime. He wasn't. Instead, Bunning reeled off four magnificent seasons with the Phillies, going 74-46 with a 2.48 ERA while averaging 298 innings per season.
Kevin Appier, 1992-1996: 30.9
Surprise! Went 69-43 with a 3.22 ERA, including a spectacular 9.0-WAR 1993 when he led the AL with a 2.56 ERA and allowed only eight home runs. Should have won the Cy Young Award that year.
Warren Spahn, 1949-1953: 32.2
This stretch includes four of his five highest WAR seasons, the other being his best one -- 9.1 in 1947. Two awesome Spahn stats: (1) From 1947 to 1963, the
fewest
innings he pitched was 245.2; (2) Led the NL in complete games seven consecutive seasons, from ages 36 to 42. Here's a third one: Led or tied for the NL lead in wins eight times.
[+] Enlarge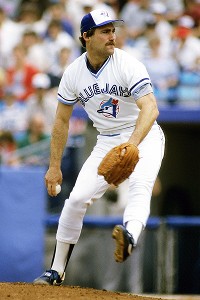 Ronald C. Modra/Getty ImagesToronto ace Dave Stieb should have won a Cy Young Award or two in the early '80s.
Dave Stieb, 1981-1985: 32.4
Underrated in his own time, Baseball-Reference rates Stieb as the first- or second-best pitcher in the AL all five seasons in this stretch, but he never finished higher than fourth in the Cy Young voting because they were giving the awards to guys like Pete Vuckovich and LaMarr Hoyt.
Roy Halladay, 2007-2011: 32.5
Went 93-44 with a 2.80 ERA.
Bert Blyleven, 1971-1975: 33.5
Blyleven's run came from ages 20 to 24 and included a 325-inning season in 1973 when he was 22. Somehow his ligaments and tendons remained attached and didn't turn into soba noodles. You'll notice that Blyleven is the third pitcher with the exact same five-year dates; to a large extent this is because innings totals increased during this period. With more innings comes a higher WAR. In the 1960s, for example, there were 25 300-inning seasons; in the first five years of the '70s, there were 27. Or, really, innings started ramping up in the late '60s, when offense declined, leading to the lowering of the mound after 1968 and the advent of the designated hitter in the American League. To put a more dramatic spin on the increase in workload, from 1955 to 1964, there were seven 300-inning seasons (three by Drysdale); in the next 10 years, there 47 300-inning seasons.
Johan Santana, 2004-2008: 34.2
Won three ERA titles and two Cy Young Awards (and probably should have won a third) in this period.
Ferguson Jenkins, 1968-1972: 34.9
Went 107-71 with a 3.02 ERA, averaging 309 innings and winning the 1971 Cy Young Award. The Cubs were still pretty good in this era, finishing over .500 all five years, so this wasn't just a pitcher excelling despite a bad team behind him.
Curt Schilling, 2000-2004: 35.0
This run includes half a season in Philly, three and a half in Arizona and his first year in Boston, a year that culminated with a bloody sock and the lifting of a curse. Five-year totals: 85-40, 3.24, three Cy Young runner-up finishes, three 20-win seasons, a 300-strikeout season (he had two more in 1997 and 1998) and two World Series championships. Schilling pounded the strike zone -- he averaged only 1.5 walks per nine innings -- and had a remarkable 316/33 strikeout/walk ratio in 2002.
Kevin Brown, 1996-2000: 35.4
Deserved to hang out on the Hall of Fame ballot longer than one year and have his case at least discussed. For a time, Brown was impressive as any pitcher of his generation, throwing that hard, mid-90s sinker. In this stretch he went 82-41 with a 2.51 ERA in the heart of the steroids era, averaging 242 innings, twice leading in ERA and pitching in two World Series. His seasonal WAR totals: 7.7, 6.7, 8.3, 5.9, 6.8.
Juan Marichal, 1962-1966: 35.4
Starting in 1963, he went 25-8, 21-8, 22-13, 25-6, 14-10, 26-9 and 21-11. You know how many Cy Young votes he received those seasons? None. His best five-year peak would be better if not for that 1967 season where he missed some time and made 26 starts. As is, he went 107-45 with a 2.37 ERA.
Wilbur Wood, 1970-1974: 36.7
Another early '70s guy, Wood's knuckleball allowed him to post some of the more freakishly awesome seasons in modern history, including 1971 when he had a 1.91 ERA in 334 innings, and 1972 when he started 49 games and pitched 376.2 innings. Those two seasons were worth 11.5 and 10.3 WAR. (He slacked off in 1973 and started only 48 games and threw 359.1 innings.)
10. Gaylord Perry, 1972-1976: 37.0
OK, we're into the top 10, so we'll start numbering the countdown. If you're getting the idea that the early '70s were to pitching what the late '90s and early aughts were to hitting, then give yourself a gold star. Perry's 1972 with Cleveland was an amazing season: 24-16, 1.92 ERA, 29 complete games, 342 innings, worth 10.4 WAR. From May 6 to Aug. 5 he started 22 games and completed 19, posting a 1.55 ERA. Here's the kicker: He averaged
more than
nine innings per start in that stretch (one of his non-complete games was a
13-inning scoreless effort
).
Five-year totals: 97-79, 2.83 ERA, 313 innings per season.
9. Tom Seaver, 1969-1973: 37.4
Went 103-51 with a 2.35 ERA. Followed this up with another five-year stretch valued at 30.2 WAR.
8. Bob Gibson, 1966-1970: 38.0
This period includes his memorable 1968 season when he went 22-8 with a 1.12 ERA, a year that included a 47-inning scoreless streak and one period where he allowed two earned runs in 92 innings. No wonder baseball lowered the height of the mound from 15 to 10 inches for 1969. That season was worth 11.1 WAR, and he followed that up with two more pretty good ones: 10.3 WAR in 1969 and 8.4 in 1970, when he won another Cy Young Award. If not for a broken leg that forced him to miss two months in 1967, he'd be even higher on the list. (Or if we included hitting; he accumulated 3.3 WAR at the plate as well, and had 19 RBIs in 1970.) Five-year totals: 99-48, 2.30, 27 shutouts.
7. Phil Niekro, 1974-1978: 38.6
This is never mentioned as a great peak since Niekro's record was just 87-77 (pitching for bad Braves teams in the post-Aaron era) and his ERA was 3.16. He even led the league in losses in 1977 and 1978 (and would do so again in 1979 and 1980, joining Pedro Ramos as the only pitchers to do that four consecutive years). His ERA+ of 127, for example, was much lower than Gibson' five-year mark of 153. What Niekro did was throw a lot of innings -- 302.1, 275.2, 270.2, 330.1 and 334.1 -- and that workload led to WAR totals of 7.5, 6.5, 6.4, 8.6 and 9.6.
6. Sandy Koufax, 1962-1966: 39.1
Only sixth? For a pitcher who went 111-34 with a 1.95 ERA, won the NL ERA crown all five years and had seasons of 25-5, 26-8 and 27-9? He won an MVP Award and finished second in the voting two other years, while winning three Cy Young Awards (when they gave it to just one pitcher in all of baseball). So why only sixth? Well, there's no doubting Koufax's domination -- he, Gibson and Wood are the only two pitchers with two seasons of 10+ WAR during their peak runs. But a couple of things: (1) Dodger Stadium was a huge pitcher's park in those days, with a notoriously high mound (Koufax had a 1.37 ERA at home and 2.57 on the road, not that there's anything wrong with 2.57), so his numbers are knocked down a bit to adjust for that; (2) He missed time in 1962 (184 innings) and 1964 (223 innings), so that cuts into his value, at least compared to the other three seasons.
5. Greg Maddux, 1992-1996: 39.2
This is when he won his four consecutive Cy Young Awards. Five-year math: 90-40, 2.13 ERA, 191 ERA+, single-season WAR of 8.9, 5.5, 8.3, 9.5, 7.0 (followed by seasons of 7.6 and 6.3). And remember, his value was held down by the shortened seasons of 1994 and '95, when he had ERAs of 1.56 and 1.63.
[+] Enlarge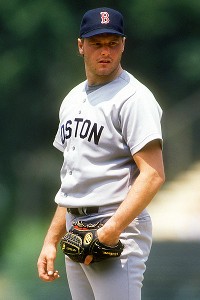 Mitchell Layton/Getty ImagesThe young Roger Clemens wasn't too shabby.
4. Roger Clemens, 1986-1990: 40.1
The numbers: 100-42, 2.71 ERA, 156 ERA+, 256 innings per season, 57 complete games, 23 shutouts, two Cy Young Awards (and was robbed in 1990). Also had 33.7 WAR from 1996 to 2000 and six other seasons of 5+ WAR not included in either of those two stretches.
3. Robin Roberts, 1950-1954: 40.5
Now this is what you call a peak: 115-64, 2.87 ERA, 138 ERA+, 135 complete games, 327 innings per season, seasons of 7.0, 7.6, 7.9, 9.4 and 8.6 WAR. By the 1950s, innings pitched totals had to started to decline, especially compared to the dead-ball guys, but not for Roberts. There were 10 300-inning seasons in the decade and Roberts had six of them. From his autobiography (tip of the cap to the "Neyer/James Guide to Pitchers"): "I was mainly a one-pitch pitcher, although sometimes I mixed in a curveball when I was ahead in the count. I could put my fastball where I wanted it, but I was sometimes criticized for not pitching inside more. ... I just went after people with my best stuff and let the batters hit it if they could."
Roberts threw very hard -- Bill James says he threw about as hard or possibly harder than Bob Feller or Bob Gibson or any of those big guys. Because his control was so good, he relied primarily on that one pitch. (He did give up a lot of home runs.) Outside of this stretch, Roberts had only one more season rated above 5.0 WAR, and one other above 4.0.
2. Pedro Martinez, 1997-2001: 41.4
Let's take these seasons one-by-one:
--1997: 17-8, 1.90 ERA, 8.7 WAR, 241.1 IP, 158 H, 305 SO, won Cy Young Award. Led NL in ERA and complete games (13).
--1998: 19-7, 2.89 ERA, 6.9 WAR, second in Cy Young voting in first year with Red Sox, struck out 251 in 233.2 innings.
--1999: 23-4, 2.07 ERA, 9.5 WAR, won Cy Young, second in MVP voting, 313 SO in 213.1 innings (13.2 per nine).
--2000: 18-6, 1.74 ERA, 11.4 WAR, won Cy Young, somehow only fifth in MVP voting, 284 SO in 217 IP, opponents hit .167 off him --
.167!
This isn't a closer we're talking about here. .167.
--2001: 7-3, 2.39 ERA. Injured, made only 18 starts.
It's too bad we couldn't sub in his 2002 (20-4, 2.26) or 2003 (14-4, 2.22). Great fastball, the best changeup of all time, command, varied his arm angles, mixed in a cut fastball, slider and curveball, and wasn't afraid to deliver some chin music every now and then. Only thing he lacked was the durability to rack up a lot of innings.
Five-year totals: 84-28, 2.18 ERA, 215 ERA+, 1,316 SO in 1,022 innings.
1. Randy Johnson, 1998-2002: 42.2
As awesome as Pedro was, the Unit rates even higher, which tells us something about how good
he
was. Five-year totals: 100-38, 2.63 ERA, 174 ERA+, four Cy Young Awards, three ERA titles, 41 complete games, 17 shutouts, five 300-strikeout seasons, 1,746 SO in 1,274 innings.

Individual seasons: 5.4, 8.8, 7.8, 9.8, 10.4. In fact, his five-year peak could have been higher had he not sulked his way through the first half of 1998 with the Mariners before finally getting traded to the Astros (where he went 10-1 with a 1.28 ERA in 11 starts).
On a rate basis, Pedro was a little better, as reflected in his better ERA+. He also had to face DH lineups for four of his five seasons. But Johnson was dominant
and
durable -- he pitched 252 more innings than Pedro in his five-year peak and that puts him at No. 1.
* * * *
Of course, you don't have to rely on WAR for your own personal rankings. My top five would probably go Johnson, Martinez, Koufax, Maddux, Clemens, with apologies to Bob Gibson.
In the poll, we can only include five names. I apologize to Robin Roberts fans for leaving him out despite his No. 3 ranking above. Like Phil Niekro, his value comes as much from a huge workload as being a great pitcher. But he wasn't dominant in the same sense as some of these other pitchers -- he never led his league in ERA, for example, and his ERA+ during his five-year peak was 138, well below the others. So he got the boot from the poll.
Who do you have?
December, 1, 2011
12/01/11
7:03
PM ET
Nobody seems to want to believe in
C.J. Wilson
. I haven't seen anybody suggest, "Yes, he's an ace! Give him $100 million!" Maybe it's the years he spent as a nondescript middle reliever, maybe it's the postseason performance (21 runs allowed in 28 innings in 2011), maybe its the Southern California surfer vibe and str8edgeracer Twitter handle.
OK, so he dated a
Sports Illustrated swimsuit model
and once said he was
writing a novel
. He has interests besides baseball. But the dude can pitch.
In his two years in the Rangers rotation, he won 31 games with a 3.14 ERA, pitching 427 innings without missing a start. He's done that despite pitching in a tough home park -- his road ERA over those two seasons was 2.56. Over the past two seasons, the only starters with a better park-adjusted ERA are
Roy Halladay
,
Clayton Kershaw
,
Cliff Lee
,
Justin Verlander
and
Jered Weaver
. Wilson rates better than
CC Sabathia
,
Felix Hernandez
or
Cole Hamels
.
[+] Enlarge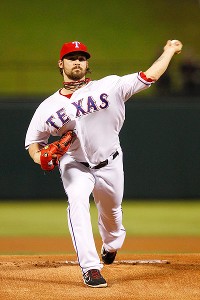 Mike Segar/Pool Photo/US PresswireWill C.J. Wilson's history as a reliever effect his next contract as a starter?
So even if you grudgingly admit Wilson has been one of the game's top starters since 2010, that doesn't help us project his future -- and whether or not he'll be worth a fat mega-contract.
Wilson is difficult to project for a couple reasons, as his years as a reliever make it a little more difficult to evaluate what will happen the next five seasons, especially his ability to stay healthy. There are two mind-sets on that:
1. His years as a reliever saved wear and tear on his arm, so he actually has less mileage on it than most 31-year-olds.
2. Because he's only started for two seasons, we don't know if his arm can hold up for 200-plus innings for six, seven seasons in a row.
Aside from that unknown, one way to project his future is to compare him to other similar pitchers. During his age-29 and 30 seasons, Wilson had a 142 ERA+ (ERA adjusted for league performance and home park). From Baseball-Reference.com, I found 16 other pitchers since 1969 who pitched 400 innings in their age 29/30 seasons, with an ERA+ of at least 130 and who averaged at least 6.0 strikeouts per nine innings.
Those 16:
Greg Maddux
,
Johan Santana
, Orel Hershiser, Cliff Lee,
John Smoltz
,
Randy Johnson
,
Tom Glavine
, CC Sabathia, J.R. Richard,
Curt Schilling
,
Chris Carpenter
, Teddy Higuera,
David Cone
,
Roger Clemens
,
Mike Mussina
,
Bartolo Colon
.
Let's see how those pitchers did from ages 31 to 35. I'm going to leave Smoltz, Sabathia and Richard out of the study; Smoltz spent two of those years in the bullpen (although he did miss one season with an injury), Sabathia is just entering his age-31 season and Richard suffered a stroke during his age-30 season and never returned to the majors.
Here are the seasonal averages for the other 13 (noting that Lee and Santana are still in the middle of that 31-35 age range):
29-30: 226 IP, 191 H, 63 BB, 193 SO, 2.99 ERA
31-35: 178 IP, 161 H, 46 BB, 157 SO, 3.24 ERA
Seven of the 13 averaged at least 200 innings from 31 to 35 (Maddux, Lee, Johnson, Glavine, Schilling, Clemens and Mussina). Hershiser missed nearly one full season, Carpenter two and Higuera and Colon also battled major injuries.
Overall, though, the pitchers remained fairly effective, suffering only a slight decline in performance. Based on this small sample size, if Wilson remains healthy, he should remain effective.
There is something else to consider, however. Those pitchers averaged 2.5 walks per nine innings from 29 to 30, and 7.7 strikeouts per nine. Wilson averaged 3.5 walks and 7.9 strikeouts. Those pitchers displayed better control than Wilson. So maybe a better comparison is to find pitchers with more similar walk and strikeout rates. I searched for all pitchers since 1969 from the ages of 27 to 32, who over a two-year span pitched at least 400 innings and averaged between 3.0 and 4.0 walks per nine innings and between 7.0 and 8.5 strikeouts.
Here's the complete list (you'll see some repeat names), followed by each pitcher's ERA+ over those two years. Remember, ERA+ adjusts for league and home ballpark (100 is league average).
David Cone, 1994-94: 146
C.J. Wilson, 2010-11: 142
Kevin Appier
, 1996-97: 138
Ryan Dempster
, 2008-09: 137
Mario Soto, 1984-85: 130
Mark Langston, 1988-89: 130
Jack Morris, 1985-86: 125
Andy Benes
, 1996-97, 120
Doug Davis
, 2004-05: 119
Darryl Kile
, 1996-97: 119
Pedro Astacio
, 1999-00: 113
Steve Carlton, 1974-75: 111
Aaron Sele
, 1998-99, 110
Mickey Lolich, 1969-70: 109
Todd Stottlemyre
, 1996-97: 109
Mark Langston, 1990-91: 108
Steve Carlton, 1973-74: 106
Jose DeLeon, 1988-89: 106
Floyd Bannister, 1983-84: 102
Todd Stottlemyre, 1995-96: 102
Jose DeLeon, 1989-90: 101
Andy Benes, 1995-96: 101
Pedro Astacio, 1998-99: 98
Juan Guzman, 1992-93: 98
Floyd Bannister, 1984-85: 87
You see the problem here, right? Of the 25 two-year groupings, Wilson's ERA+ rates second-best. The argument is that it's unlikely he can continue to keep his ERA around 3.00 based on his current walk and strikeout rates.
Of course, there are two caveats here: Wilson does a good job of keeping the ball in the park (only 26 home runs allowed the two seasons combined), and he pitched much better in 2011, cutting his walks from 4.1 to 3.0 and increasing his strikeouts from 7.5 to 8.3.
Plus, there are some good pitchers on that list -- and you probably noticed Steve Carlton's name. After his famous 27-10 season in 1972, he battled control problems for a few years. But he regained mastery of his slider and was one of the first conditioning freaks in baseball. He won three Cy Young Award in his 30s. Now, I'm not comparing Wilson to Steve Carlton, but pointing out that pitchers can evolve well into their 30s.
Wilson improved in 2011. If he can maintain that improvement and stay healthy, he'll be worth the big contract he'll receive. If he pitches closer to his 2010 level, his new team will be disappointed.
As with any pitcher ... buyer beware.
June, 30, 2011
6/30/11
11:00
AM ET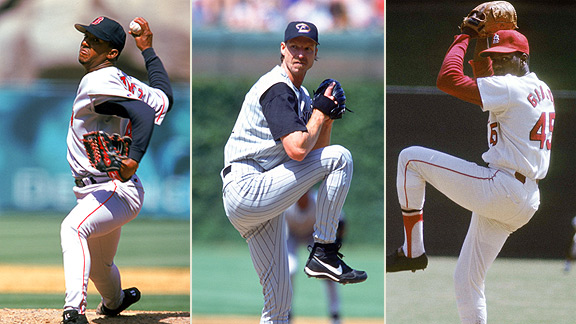 Getty ImagesWho had the best season since 1960? Pedro, Randy and Bob Gibson are in the running.
Last week on his blog, Curt Schilling wrote an interesting post on
what he called Pitcher Dominance Factor
-- a way to evaluate the best starting pitchers. His formula basically rates a pitcher by comparing his ERA to the league average ERA for starters, and comparing his baserunners allowed per nine innings to the league average.
In many ways the formula works perfectly -- it rewards pitchers with low ERAs and those who don't allow many baserunners. It has a couple primary flaws in assessing overall value: There are no park effects and it doesn't factor in innings pitched, so a 170-inning season can have the same "dominance factor" as a 250-inning season.
There's another flaw: All of Schilling's highest-rated seasons since 1960 came during the so-called steroid era. His top 13 seasons included five from
Pedro Martinez
; two apiece from
Randy Johnson
,
Greg Maddux
and
Kevin Brown
; and one each from
Roger Clemens
and
Johan Santana
. Now, maybe those
are
the best seasons since 1960, as those guys dominated in a high-scoring era.
Of course, there are other metrics out there as well to measure the best pitcher seasons.
Wins:
I think we all agree by now that wins aren't the best way to measure a pitcher. By this method, in 1990 Bob Welch had the second-best season since 1960 with 27 wins -- despite ranking just sixth in his own league in ERA and posting a mediocre 127/77 SO/BB ratio.
ERA:
Better than wins, but doesn't adjust for home ballpark, era (a 2.05 ERA in 1968, when the American League ERA was 2.98 is not as valuable as a 2.05 ERA in 1996, when the AL ERA was 5.00) or innings pitched.
ERA+:
The Baseball-Reference stat adjusts a pitcher's ERA for his park and era to a scale where 100 is average. Much better than regular ERA, although it still doesn't factor in innings pitched, unearned runs, or the quality of a pitcher's defense. It actually ends up generating a list similar to Schilling's as 15 of the top 25 ERA+ seasons since 1960 occurred between 1994 and 2005. ERA+ also doesn't factor in "dominance" in the sense of what Schilling was looking for, as it's possible to post a low ERA without dominating peripherals.
WAR (wins above replacement):
WAR establishes a value to a pitcher's season. FanGraphs and Baseball-Reference have different versions of WAR, and both arguably have a problem in generating a list of the best pitching seasons since 1960.
Under the Baseball-Reference formula, the more innings you pitch, the more value you accumulate. While completely logical (you're more valuable if you pitch more innings), its list ends up skewed towards the late '60s and early '70s, when starters routinely racked up 300-plus innings. Fourteen of its top 25 seasons reached 300 innings (and only four have fewer than 275), so modern pitchers struggle to make the top of the list since they don't pitch as many innings.
FanGraphs' version of WAR doesn't factor a pitcher's ERA or runs allowed. Instead, it extrapolates a pitcher's innings, strikeouts, walks allowed and home runs allowed (adjusted for park and era). It also only has pitcher WAR dating back to 1974. As it turns out, nine of its
top 10 seasons
occurred between 1995 and 2004, and you also end up with seasons like Schilling's 2002 in the top 10, when he had a great strikeout-to-walk ratio, but finished just 10th in the NL in ERA.
Both the B-R and FanGraphs lists are a terrific guide to greatness. I'm not knocking their lists. I'm just not sure either should be considered the definitive list of the "best" seasons. So here's my subjective 15 best since 1960, trying to account for the changing patterns of the game ... with apologies to the many great pitchers who finished 16th in my personal tally.
15. Steve Carlton, 1980 Phillies
24-9, 2.34 ERA, 304 IP, 243 H, 90 BB, 286 SO, 15 HR
The last pitcher to throw 300 innings, Carlton led the NL in wins, innings, strikeouts and SO/BB ratio. He held opponents to a .218 average -- and this despite Greg Luzinski usually behind him in left field.
14. Gaylord Perry, 1972 Indians
24-16, 1.92 ERA, 342.2 IP, 253 H, 82 BB, 234 SO, 17 HR
A great season that nobody remembers, although Perry did win the Cy Young Award. While 1972 didn't see much hitting -- there was a reason the AL instituted the DH rule for the 1973 -- Perry's workload was amazing as he had 29 complete games and averaged 8.5 innings per start. That's a lot of spit. From May 6 through Aug. 5, he started 22 games and averaged more than nine innings per start, all while compiling a 1.55 ERA.
13. Randy Johnson 2002 Diamondbacks
24-5, 2.32 ERA, 260 IP, 197 H, 71 BB, 334 SO, 26 HR
Johnson captured his fourth straight Cy Young Award with one of his many dominant seasons. He allowed two runs or fewer in 22 of his 35 starts and struck out 15 or more four times. He also tightened up when it most counted, holding batters to a .174 average in "high-leverage" situations, with just one home run allowed in 154 at-bats.
12. Zack Greinke, 2009 Royals
16-8, 2.16 ERA, 229.1 IP, 195 H, 51 BB, 242 SO, 11 HR
Greinke hasn't been able to replicate the consistency, focus or, yes, the little bit of magic he had in 2009. He allowed one run or less in more than half of his starts -- 18 of 33 -- but due to lack of run support won just 12 of those 18 games. (Thank you, Royals teammates.) His relative lack of stamina prevents him from ranking higher as he pitched fewer than seven innings in 13 of his starts.
11. Greg Maddux, 1995 Braves
19-2, 1.63 ERA, 209.2 IP, 147 H, 23 BB, 181 SO, 8 HR
The shortened season cost Maddux a few starts, otherwise he'd rank even higher with the additional innings pitched. He allowed 39 runs (38 earned) in 28 starts and had a remarkable 0.81 WHIP. His .224 OBP allowed is the second-best since 1960 and his ERA+ is third-best (he ranked even better in 1994, although he did allow nine unearned runs that year.) Maddux allowed more than two runs just four times and more than three runs just twice. He painted the corners, got grounders, didn't give up home runs and dominated without just blowing batters away. Some say he also had a few extra innings off the plate to work with thanks to the kindness of the umpires.
10. Tom Seaver, 1971 Mets
20-10, 1.76 ERA, 286.1 IP, 210 H, 61 BB, 289 SO, 18 HR
The only season on our list not to result in a Cy Young trophy, as Seaver lost out to Fergie Jenkins, who went 24-13 with a 2.77 ERA for the Cubs. The vote actually wasn't a travesty; once you adjust for Shea Stadium and Jenkins' 39 more innings pitched, the seasons are close in value. However, Seaver did outpitch Jenkins by quite a bit on the road: 1.63 ERA versus 2.70 ERA, so I rate Seaver's season as better. Seaver's 9.1 K's per nine led the league, at a time when the league average was 5.4, a ratio of +69 percent. In 2011, the NL average is 7.2 K's per nine; a rate of +69 percent would equate to 12.2 K's per nine.
9. Ron Guidry, 1978 Yankees
25-3, 1.74 ERA, 273.2 IP, 187 H, 72 BB, 248 SO, 13 HR
My buddy Bish is going to punish me for not ranking Louisiana Lightning her, but this is a tough field. Guidry, all 160 pounds of him, threw 16 complete games and tossed nine shutouts. Guidry didn't lose until July, and in September, with the Yankees battling the Red Sox for the AL East title, he went 6-1 with a 1.19 ERA. He went 3-0 in four starts against the Red Sox. Can we have a re-do on that AL MVP vote?
8. Pedro Martinez, 1999 Red Sox
23-4, 2.07 ERA, 213.1 IP, 160 H, 37 BB, 313 SO, 9 HR
Pedro's second of three Cy Young reasons resulted in an opponents' batting line of .205/.248/.288, as he allowed just nine home runs while fanning 13.2 per nine, the second-highest total ever for a starter. He fanned 15 batters four times, 16 once and 17 once. He allowed more than four runs just once, a nine-run disaster after his All-Star start that landed him on the DL. In fact, that's the only strike against this season: He made just 29 starts. Well, that and
these gloves he wore during the playoffs
.
7. Randy Johnson, 2001 Diamondbacks
21-6, 2.49 ERA, 249.2 IP, 181 H, 71 BB, 372 SO, 19 HR
And if you want to give him extra credit for winning three games in the World Series, please do so. Johnson struck out 10 or more in 23 starts, including a record-tying 20 on May 8 against the Reds. His 13.4 K's per nine is the best ever for a starter, left-handed batters hit one home run off him all season and you didn't dare dig him against him: he also hit 18 batters. Yes
6. Sandy Koufax, 1966 Dodgers
27-9, 1.73 ERA, 323 IP, 241 H, 77 BB, 317 SO, 19 HR
You could flip a coin between any of Koufax's three Cy Young seasons (1963, '64, '66). His strikeout and hit rates were better in 1965 than 1966, but he also allowed 14 more runs in the same number of starts. He threw 11 shutouts in 1963, but had a big home park advantage that year. In 1966, he had 1.52 ERA at home and 1.96 on the road, his most even split, so I give '66 the nod. This was his final season, as he pitched in so much pain doctors were injecting steroids directly into the elbow joint, according to Jane Leavy's "Sandy Koufax: A Lefty's Legacy." Down the stretch, with the Dodgers battling for the pennant, he started seven times over the final 26 days, posting a 1.20 ERA.
5. Steve Carlton, 1972 Phillies
27-10, 1.97 ERA, 346.1 IP, 257 H, 87 BB, 310 SO, 17 HR
If you want to argue that Carlton's season was the best ever, I won't mount much of a disagreement. Carlton famously won nearly half of his team's 59 wins as he completed 30 of his 41 starts and threw eight shutouts. He held batters to a .207/.257/.291 line while making 31 starts on three days' rest. He allowed one home run to a cleanup hitter all season. And did you check the innings pitched total? The National League OPS that year was .680, not far below the .704 so far this season. Carlton's 12.2 WAR ranks No. 1 on Baseball-Reference's list since 1960.
4. Roger Clemens, 1997 Blue Jays
21-7, 2.05 ERA, 264 IP, 204 H, 68 BB, 292 SO, 9 HR
While the AL was batting .271/.340/.428 in 1997, Clemens dominated with a .213/.273/.290 line. He won the pitching Triple Crown, leading the league in wins, ERA and strikeouts while allowing zero runs or one run in 20 of his 33 starts. Clemens had many great seasons -- seven Cy Young Awards, seven ERA titles -- but 1997 stands out as his best. Red Sox fans just punched the wall in disgust.
3. Dwight Gooden, 1985 Mets
24-4, 1.53 ERA, 276.2 IP, 198 H, 69 BB, 268 SO, 13 HR
He allowed just a .201 average and .270 slugging percentage. Left-handed batters had a lower OPS off him than right-handers. In September, with the Mets fighting the Cardinals for a division title, he went 4-0 in six starts with a 0.34 ERA. His strikeout rate of 8.7 per nine may not appear to stand out now, but that's 58 percent better than the NL average. He even hit .226. And he did all this at 20 years of age while partying with Darryl Strawberry.
2. Bob Gibson, 1968 Cardinals
22-9, 1.12 ERA, 304.2 IP, 198 H, 62 BB, 268 SO, 11 HR
Yes, 1968 was the Year of the Pitcher, but even in a league where the league ERA was 2.99, Gibson's 1.12 ERA ranks as fourth-best ERA+ since 1968. He threw 13 shutouts (meaning he was just 9-9 if he didn't throw up a zero). You can find areas to nitpick: He allowed nine unearned runs, he averaged just 7.9 K's per nine (although that was second-best mark in the NL). But this is what stands out most to me: He pitched seven innings his first two starts of the season ... and then at least eight every start after that. The man literally didn't have a bad game all season.
1. Pedro Martinez, 2000 Red Sox
18-6, 1.74 ERA, 217 IP, 128 H, 32 BB, 284 SO, 17 HR
Can a guy who pitched 87 fewer innings than Gibson have had a better season? (Vote in the poll!) Pedro's opponent batting line is just sick: .167/.213/.259. Absolutely incredible. He was throwing 95-mph Wiffle balls that year, unhittable heaters and changeups and curveballs with precise location. The AL ERA in 2000 was 4.92, giving Pedro the best adjusted ERA since 1960. I think I answer it this way: If I wanted one of these guys pitching at his peak in a game to save the future of mankind, I'd take 2000 Pedro Martinez.
(Statistics from Baseball-Reference.com and FanGraphs.com.)
Follow David on Twitter @dschoenfield and the SweetSpot blog on Facebook.
March, 5, 2011
3/05/11
11:30
AM ET
One of my baptismal moments as a baseball fan came when I was about 9 or so, and I had a new baseball card that was one of those historical tributes, this one to Walter Johnson. Riding in the back of our '76 Plymouth van, I quizzed my dad on how many career strikeouts the Big Train had, thinking there was no way he would get the exact four-digit number. When Dad said "3,509," I was flabbergasted. How could he possibly have known?
[+] Enlarge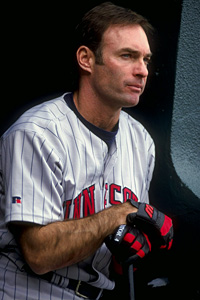 Doug Pensinger /AllsportHall of Famer Paul Molitor, who retired in 1998, is the last player to crack the top 10 in all-time hits.
Soon enough, I learned the joy of losing myself in baseball's career stat leaders. In that long-before-the-Internet era, you would pore over the Baseball Encyclopedia or the Street and Smith's annual preview. We never saw Johnson or Ty Cobb play, but through those numbers (which later proved to be subject to correction by baseball researchers), they began to gain a purpose. They began to gain an identity.
Things change. Johnson, who was No. 1 in career strikeouts when I was a boy (in fact, was the tops from 1921 through 1983), is No. 9 today. Steve Carlton passed him first, then Nolan Ryan leapfrogged Carlton and obliterated the mark, finishing with 5,714. Besides Johnson, just one pre-World War II pitcher is left in the top 20. That's Cy Young, resting in 20th place with 2,803.
With marriage and three children, I'm forced to live much more in the present than maybe I'd like to, especially from a baseball standpoint. It's been years since I've luxuriated in the career tables like I did in the past -- one of life's simple pleasures lost to a much more complex existence. And so when I turned my attention to the career strikeout leaders today, it didn't surprise me much that so much change had occurred.
But when I looked over at the career hit leaders, I was taken aback -- by the utter stability of it all. It was as if it were frozen in time, but the truth is, that top-10 list is a boulder that would not be moved.
It was just as I left it as a single man. The most recent player to break into the top 10 was Paul Molitor, whose major league career began before my 11th birthday and ended back in 1998. Carl Yastrzemski was the only other top-10er to play into my teen years.
I mean, I don't know what I was expecting -- and those of you with healthier attention spans will think me a fool for being the least bit surprised, so forgive me -- but how wonderful, how glorious, how … viscerally energizing it was to see these names hold up over time. Rose and Cobb and their angry, cantankerous 4,000-plus hit careers. The classy Hammerin' Hank and Stan the Man holding strong in third and fourth. The classic old-timers -- Speaker, Cap Anson, Honus Wagner -- in the meat of the lineup at 5-7. At eight and nine, Yaz and Molitor, young whippersnappers even as they court the AARP demographic.
And then … this was my favorite. No. 10, with 3,315 hits: Eddie Collins. To my utter shame, I haven't given Eddie Collins a nanosecond of thought in years. My mind has been too polluted by extraneous, worthless details like work and family to give Collins the time of day -- and yet there he sits, steady as granite. Mays couldn't catch him. Murray and Ripken couldn't catch him. Yount and Gwynn, Winfield and Biggio, Henderson and Carew, Brock and Palmeiro and Boggs … all playing in the 162-game era, many with the designated hitter rule in their right pocket, and none could touch Collins, born in 1887, christened in 1906, retired by 1930. When he passed away in 1951, he was fifth all-time in hits. Sixty years later, he's lost only five spots.
Soon, Collins might finally face his top-10 eviction notice.
Derek Jeter
has 2,926 career hits, more than any ballplayer at age 36 since Yount, two decades ago. By July, Jeter will probably break 3,000 and (with all the subtle media coverage of a moon landing) become the 28th man to reach that milestone, leaving him perhaps no more than two years away from Collins. Behind Jeter looms
Alex Rodriguez
, barely 600 hits from Collins and Molitor at age 34.
After that? Maybe 36-year-old
Ichiro Suzuki
has more than 1,000 hits left in him to catch Yastrzemski. Quite possibly, 30-year-old
Albert Pujols
, who has 1,900 hits in his first decade, picks up close to the same in his second, knocking out Wagner.
And so maybe that stability on the all-time hits list is headed by the wayside. Hours ago, I wouldn't have known what I missed. But now I wonder … I miss Walter Johnson in that No. 1 spot. Is it that crazy that I might miss Eddie Collins at No. 10?
If it is, all I can say is that's the same kind of crazy that made me the baseball fan I am today.
Jon Weisman writes about the Dodgers at Dodger Thoughts for ESPNLosAngeles.com. Follow him on Twitter.
March, 3, 2011
3/03/11
12:30
PM ET
By
The Common Man
| ESPN.com
The
Minnesota Twins
do seem awfully down on their ace,
Francisco Liriano
, lately. Between openly criticizing his offseason workouts, giving the Opening Day start to
Carl Pavano
and exploring trade offers, it sounds as though the club is doing its best to alienate the pitcher and send him packing. The other day,
Charlie Saponara argued
that teams should not be undervaluing Liriano, calling him "one of the most dominating pitchers in the game." Indeed, everything points to the notion that trading Liriano would be a disastrous blow to Minnesota's chances in 2011. Dealing him now, with two years left before free agency, makes no sense. But as I argued Wednesday
on my site
, the Twins aren't exactly big on rationality and logic.
They aren't alone, however. While doing research for my
40 worst offseasons series
, I found that many of the worst trade decisions in baseball history were born out of emotion, rather than clear thinking. Consider:
[+] Enlarge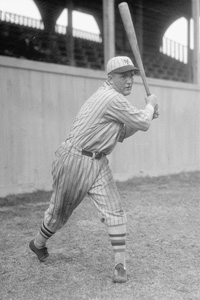 AP PhotoRogers Hornsby lasted just one season with the Giants.
Anger -- 1928 New York Giants
The Giants had the best player in the National League in Rogers Hornsby, who had hit .361/.448/.586 the year before. But early in the offseason, rumors reached owner Horace Stoneham that Rajah had directed some unflattering words his way in private discussions. Stoneham ordered his superstar traded, and Hornsby was sent to the Boston Braves. The Giants missed the World Series by two games, which they would have won had Hornsby been with the club.
Impatience -- 1972 Houston Astros
The Astros were tired of waiting for John Mayberry to develop, so they sent Joe Morgan, Cesar Geronimo, Jack Billingham and others to the Reds for slugging first baseman Lee May and change. Mayberry was sent to Kansas City for a couple relievers. May was merely decent in Houston, while Morgan became a 10 WAR-per-season player in Cincy. Mayberry hit 108 homers over the next four years. And Geronimo and Billingham became founding members of the Big Red Machine.
Spite -- 1972 St. Louis Cardinals
Steve Carlton had a history of contentious negotiations with Augustus Busch, the owner of the Cardinals, who had once told his GM, "I don't care if he ever throws another damn ball for us." In 1972, in the middle of another protracted negotiation, he got his wish. Carlton was dealt to Philadelphia for Rick Wise. Lefty went 27-10 with a 1.97 ERA for the last-place Phils. Rob Neyer calculated in his Big Book of Baseball Blunders that the move cost the Cards three NL East crowns.
Resignation -- 2008 Minnesota Twins
With just one season left before he would become a free agent, everyone seemed to agree that the Twins had to deal ace lefty
Johan Santana
. They set out to find a partner, and courted offers from both the Yankees and the Red Sox (though there was speculation the Sox were simply trying to get the Yankees to up their offer). When both sides balked at the Twins' demands and cut off negotiations, Minnesota was left in the lurch. Rather than regrouping, the Twins simply took the best offer they could find, which ended up being
Carlos Gomez
,
Philip Humber
,
Kevin Mulvey
and Deolis Guerra from the Mets, a quartet of disappointing players. Meanwhile, the '08 Twins tied for the AL Central lead, and lost a one-game playoff to the White Sox. If they hadn't felt obligated to deal Santana, they could have kept him and assuredly would have won the title outright.
The Gut Feeling -- 1966 Cincinnati Reds
Frank Robinson had been a leader in Cincinnati since he was a 20-year-old rookie in 1956. The Reds' general manager, Bill DeWitt, thought Frank Robinson was lazy and a malcontent, and allegedly told him so at their first meeting in 1960. That feeling didn't go away, and DeWitt dealt him to Baltimore, saying that Robby was "not a young 30" and that he'd "rather trade a player a year early than a year late." But what a year it was, as Robinson won the Triple Crown while smacking 49 homers and winning the AL MVP. And anyway, it turned out to be about nine years too early, since Robinson was still productive into the mid-'70s.
---
The Twins may indeed trade Liriano prematurely. They may allow their dissatisfaction with Liriano's conditioning and contract and injury history to overcome the club's desperate need for a shutdown ace. It's nice to know, if that happens, that the Twins will have plenty of bad company.
The Common Man writes obsessively on The Platoon Advantage and you can follow him on Twitter.