April, 9, 2013
4/09/13
12:06
AM ET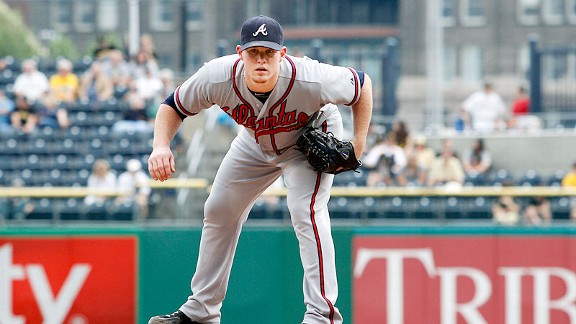 Justin K. Aller/Getty ImagesCraig Kimbrel led the NL in saves last season and is considered the most dominant closer in baseball.
The Tigers need one. The Brewers thought they had one. The Cubs already have a new one. Some teams probably wish they had a different one. Closers are already melting down in rapid fashion.
On Monday afternoon, with closer
Jason Motte
sidelined with a sore elbow (he'll get a new MRI on Tuesday), the Cardinals' bullpen imploded in a
13-4 loss
to the Reds, led by
Mitchell Boggs
giving up seven runs in the ninth inning. Now they might have closer issues as well. Rookie
Trevor Rosenthal
blew a 4-3 lead in the eighth, his second blown "save" of the young season, so he's not necessarily the answer if manager Mike Matheny has lost faith in Boggs.
The Tigers will apparently give
Joaquin Benoit
their next save opportunity, but many think they need to make a trade for a Proven Closer (tm). The problem ... well, there aren't really that many Proven Closers out there. And the truth is, most closers weren't preordained to be closers anyway, many arriving at the role only after failing as starters or finally getting the opportunity in their late 20s. Let's rank all 30 closers and you'll see what I mean.
Proven Closers
These are guys who have done the job for more than one season, thus earning the coveted title of Proven Closer.
1. Craig Kimbrel, Braves
The best ninth-inning guy in the business, coming off maybe the most dominant relief season ever -- he fanned over half the batters he faced -- in the modern era, or what Goose Gossage likes to refer to as "After I retired."
Before becoming a closer:
Groomed as a closer, he's never started a game in pro ball and became Atlanta's closer as a rookie in 2011.
2. Aroldis Chapman, Reds
I'm actually breaking my own rule here since Chapman has only been a closer for less than one season. But unless his control suddenly abandons him, he's obviously the real deal after striking out 122 in 71.2 innings last season.
Before becoming a closer:
Lacked the secondary pitches and stamina to make it as a starter.
3. Mariano Rivera, Yankees
He's old, he basically has one pitch and he's coming off a torn anterior cruciate ligament. Anyone want to bet against him?
Before becoming a closer:
Failed starting pitcher prospect.
4. Jonathan Papelbon, Phillies
Starting his eighth year as a closer, which is entering elevated territory. (Hall of Famer Bruce Sutter, for example, only had seven dominant seasons as a closer.) Papelbon had some not-so-clutch moments last season, however, finishing with four blown saves and six losses.
Before becoming a closer:
Forty-eight of his 58 appearances in the minors and his first three major league appearances came as a starter, but Red Sox converted him to relief.
5. Joe Nathan, Rangers
Not quite the Rivera-like force he was during his Twins days, but still pretty good. Picked up his 300th career save Monday, becoming the 23rd reliever to hit that mark.
Before becoming a closer:
Had a 4.70 ERA in two seasons as a part-time starter for the Giants in 1999-2000, had a 7.29 ERA in the minors in 2001 (5.60 in 2002), made it back, traded to the Twins, then became a closer at age 29.
6. Rafael Soriano, Nationals
Has three seasons as a closer with three different teams, so this will be his fourth year as a closer with his fourth different teams, making him the best example of Proven Closer, Will Travel.
Before becoming a closer:
Spent parts of seven seasons in the majors (starting as a rookie with Seattle), many parts of which were spent on the disabled list.
7. Huston Street, Padres
Now entering his ninth season as a closer, Street has recorded 30-plus saves just twice, as he's often hurt and hasn't pitched 60 innings since 2009.
Before becoming a closer:
Groomed as a closer since Oakland made him the 40th pick in the 2004 draft out of Texas.
8. Chris Perez, Indians
Now entering his fourth season as Cleveland's closer, he's been an All-Star the past two seasons despite a less-than-awe-inspiring 3.45 ERA and 4-11 record.
Before becoming a closer:
Mediocre middle reliever with St. Louis and Cleveland for two years. Fell into the closer role in 2010 because
Kerry Wood
was injured at the start of the season.
9. J.J. Putz, Diamondbacks
He's had four seasons of 30-plus saves, although he spent three years in between closer jobs. He's another guy who isn't the most durable pitcher around and hasn't pitched 60 innings since 2007.
Before becoming a closer:
Started for three years in the minors for Seattle, moved to the bullpen, spent two years as a mediocre middle guy, but learned the splitter and became a closer at age 29 after Proven Closer
Eddie Guardado
imploded early in 2006.
10. Joel Hanrahan, Red Sox
All-Star closer with the Pirates the past two seasons, but he walked 36 and allowed eight home runs in 59.2 innings last year. Could easily lose the job to former Proven Closer
Andrew Bailey
.
Before becoming a closer:
Didn't make it as a starter with the Dodgers, traded to the Nationals and then to the Pirates. Spent three years as a middle reliever.
One-year wonders
These guys became closers last year, and several of them had dominant seasons. But beware the
John Axford
lesson: One season does not make you a Proven Closer. Do it again and we'll start believing.
11. Fernando Rodney, Rays
After years as basically a bad reliever (22-38 career record., 4.29 ERA), he signed with Tampa Bay and lucked into getting a save in the season's second game as the fourth reliever of the ninth inning in a game against the Yankees. Went on to have one of the greatest relief seasons ever, with a 0.60 ERA and five earned runs allowed. He's already allowed three earned runs in 2013. Was last year a fluke?
Before becoming a closer:
See above. Did save 37 games (with a 4.40 ERA) for the Tigers in 2009.
[+] Enlarge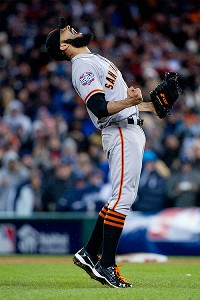 Ron Vesely/MLB Photos/Getty Images)After many seasons as a middle reliever, Sergio Romo finally got the chance to close and got the last out in the 2012 World Series.
12. Sergio Romo, Giants
The slider specialist replaced
Santiago Casilla
, who had replaced the injured
Brian Wilson
. Saved 14 games and then allowed one run in 10.2 postseason innings.
Before becoming a closer:
Not much of a prospect as a 28th-round pick who didn't throw hard, but Romo was an excellent middle guy for four seasons.
13. Ernesto Frieri, Angels
The hard-throwing righty came over after an early-season trade with the Padres, got the closer job after
Jordan Walden
struggled and had a terrific season. Might lose his job anyway if former Journeyman Made Good
Ryan Madson
gets healthy.
Before becoming a closer:
Moved to the bullpen after posting a 3.59 ERA in Double-A in 2009.
14. Jason Motte, Cardinals
Took over the closer role late in 2011 and helped the Cards win the World Series. Saved 42 games with 2.75 ERA last year. Currently injured.
Before becoming a closer:
Spent first three pro seasons as a catcher.
15. Jim Johnson, Orioles
In his first full year as closer he saved 51 games. Rare among closers, he's a ground ball specialist who doesn't register many whiffs (41 in 68.2 innings in 2012).
Before becoming a closer:
A not-very-good minor league starter.
16. Tom Wilhelmsen, Mariners
In his first full year in the majors, he replaced a struggling
Brandon League
. Did just fine with his mid-90s fastball and hammer curve.
Before becoming a closer:
Was bartending.
No, seriously
.
17. Addison Reed, White Sox
Saved 29 games as a rookie, although his 4.75 ERA wasn't exactly Rivera-ish.
Before becoming a closer:
Drafted in the third round out of San Diego State in 2010, he had a dominant relief season in the minors in 2011 (1.26 ERA) that pushed him quickly to the majors.
18. Greg Holland, Royals
Had 16 saves last season, but his job could be in jeopardy after four walks in his first two innings of 2013. Aaron Crow saved Monday's win for the Royals.
Before becoming a closer:
Came out of nowhere to post a 1.80 ERA with the Royals in 2011.
19. Steve Cishek, Marlins
Saved 15 games after expensive Proven Closer
Heath Bell
gakked up several memorable save opportunities.
Before becoming a closer:
The sidearmer was never on prospect radar lists because sidearmers are never on prospect radar lists.
20. Brandon League, Dodgers
Saved 37 games for Seattle in 2011, but lost his job early last season due to general lack of impressiveness. Throws a hard sinker so he gets ground balls but not many K's. Pitched better in 27 innings for the Dodgers last season so they gave him a bunch of money. Control was fine in 2011, not so fine last year.
Before becoming a closer:
Didn't make it as a starter in the minors despite high-90s fastball.
Journeymen Made Good
These guys became closers essentially because their teams didn't have anyone else. Perseverance pays off!
21. Grant Balfour, A's
Hard-throwing Aussie became a closer last year for the first time at age 34.
Before becoming a closer:
Played Australian rules football. OK, not really. Went from Twins to Reds to Brewers before finally having some good years with Tampa Bay.
22. Glen Perkins, Twins
The rare lefty closer had 16 saves a year ago.
Before becoming a closer:
Career 5.06 ERA as a starter in 44 games before moving to the bullpen.
23. Rafael Betancourt, Rockies
At 37 years old, he became a closer for the first time and saved 31 games for Rockies in 2012.
Before becoming a closer:
Has a career 3.13 ERA, so he'd been a good reliever for a lot of years.
24. Jason Grilli, Pirates
The veteran reliever had a career year last year at age 35 with 90 K's in 58.2 innings and took over the closer role when Hanrahan was traded.
Before becoming a closer:
Played for five major league teams before Pittsburgh.
25. Casey Janssen, Blue Jays
Another late bloomer, he got the ninth-inning job after
Sergio Santos
was injured last year.
Before becoming a closer:
The former starter didn't really have a wipeout pitch so he got pushed to the pen.
26. Bobby Parnell, Mets
He's long been heralded as a closer candidate due to his high-octane fastball. Now he'll finally get the opportunity.
Before becoming a closer:
One-time minor league starter has spent past four seasons in the Mets' bullpen.
The Import
27. Kyuji Fujikawa, Cubs
The new Cubs' closer could be good, bad or something in-between. I think he'll be pretty good.
Looking for help
28. Tigers.
The problem with
Phil Coke
as a closer is that Phil Coke just isn't a very good reliever.
Al Alburquerque
and
Brayan Villarreal
have better stuff but not much experience.
29. Brewers.
Axford was signed out of independent ball and had a monster 46-save season for the Brewers in 2011. He's allowed four home runs in 2.2 innings this season and the Brewers may sign Rollie Fingers.
Might not get a save opportunity until May
30. Jose Veras, Astros.
Now 32, he's pitched for the Yankees, Indians, Marlins, Pirates and Brewers and has five career saves.
Before becoming a closer:
The Brewers had the worst bullpen in the majors last year and even they didn't want him back.
March, 10, 2013
3/10/13
7:53
PM ET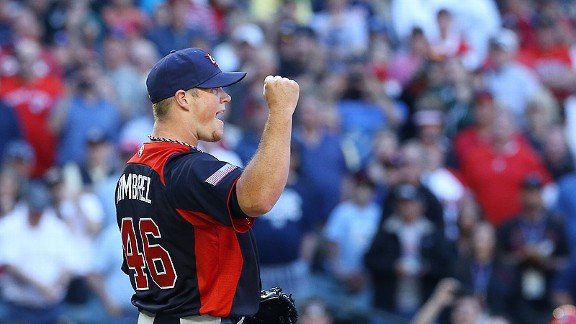 Mark J. Rebilas/USA TODAY SportsCraig Kimbrel worked a one-two-three ninth to secure the win over Team Canada.
They call this the World Baseball Classic and Sunday's United States-Canada game certainly qualifies as a classic, with a David-versus-Goliath storyline, several questionable lineup and managerial decisions made by Joe Torre, a late-inning rally and maybe some respect earned for this tournament.
The final score read
9-4 in favor of the United States
, and the U.S. moves on to the second round next weekend in Miami. But the game was much more tense than the score indicated. Some quick thoughts:
Let's begin with Torre's lineup. He inserted Shane Victorino into left field and Ben Zobrist into right field, moving Ryan Braun to the DH spot, Joe Mauer to catcher and benching Giancarlo Stanton. While that added two switch-hitters to the Team USA lineup against Canadian right-hander Jameson Taillon, it meant sitting one of the game's premier sluggers for Victorino, who isn't the same presence in the lineup. I understand that Torre wanted to get Victorino into a game, but this isn't tee ball; there are no trophies and cookies handed out to the losing team for trying your best.

Torre then had a strange sacrifice bunt attempt in the second inning with two runners on and no outs after David Wright doubled and Canada third baseman Taylor Green dropped an infield pop-up. Instead of going for a big inning against a 21-year-old who has pitched three games above Class A, Torre had Adam Jones bunt. It made no sense to play little ball there instead of trying to blow the game open against a pitcher who didn't exactly dominate the Florida State League in 2012. The bunt worked but Taillon worked out of the jam without a run. Play for one, get none.

The U.S. fell behind when Mariners outfielder Michael Saunders continued his hot WBC streak with a two-run home run to right, yanking a terrible hanging slider from Derek Holland. Saunders had shown bunt on the first pitch, a ball in the dirt, then swung away. That's what can happen when you don't bunt.

Down 2-0 in the fourth, Torre then bunted again with two on and no outs. The bunt "worked" when Green hesitated on Zobrist's bunt down the third-base line and Zobrist beat the throw to first. How rare is a bunt when trailing by two runs? Torre managed the Yankees from 1996 to 2007 and the Yankees had 13 sacrifice bunts when down two runs -- one by a pitcher, three by Miguel Cairo and the others by weak hitters other than two by Derek Jeter in 2004. In other words, Torre almost never bunted in that situation. It's like Torre was watching all the small ball played by the Asian teams and forgot he has the best lineup in the tournament. If Green makes the play, the U.S. scores only one run that inning instead of two. Good outcome, but the wrong call.

In the eighth inning, after Jones delivered a big go-ahead double to give the U.S. the lead, Torre turned to Diamondbacks righty David Hernandez even though the heart of the Canada lineup -- Joey Votto, Justin Morneau and Saunders, all left-handed hitters -- was due up. I can't quibble too much with that decision, even though lefty Jeremy Affeldt was available. I would have used Affeldt, as all three players had sizable platoon splits last year, but Hernandez was one of the game's best relievers in 2012 (although he held righties to a .145 average and lefties to a .240 mark). After Votto reached on an infield, Morneau struck out and Saunders laid down a perfect bunt single. Chris Robinson then singled to load the bases and Adam Loewen grounded out to make the score 5-4. Torre then brought in Marlins reliever Steve Cishek (of course, using Craig Kimbrel, the most dominant reliever in baseball with your tournament on the line was apparently out of the question) and had him intentionally walk Pete Orr (!) to load the bases. I never like that move, which gives a pitcher no room for error. Canadian manager Ernie Whitt also pinch-hit lefty Tim Smith to face the sidearmer. The intentional walk also guaranteed Votto would bat in the bottom of the ninth. Anyway, Cishek got Smith to ground out to second in what turned out to be the game's crucial at-bat.

The U.S. broke it open in the ninth, with Whitt waiting too long to bring in Brewers closer John Axford, who served up a three-run double to Eric Hosmer. In the end, the U.S. bullpen depth proved key, as many expected it would before the game.

One thing that needs to stop is the guarantees made to general managers that if their guy is selected to a squad, he needs to play. I'm not sure if Torre used Hernandez because he hadn't pitched in the previous two games -- and again, it wasn't that strange of a move, not like the two bunts -- and needed to get him some work. Same thing with Cishek. Or maybe Torre just wanted to get them into a game. But this isn't exactly an All-Star Game. It's not an easy job, but I'd like the U.S. managers to treat this a little more seriously and not guarantee playing time. It's easy enough for a reliever to throw on the side after a game and Victorino's season isn't going to be ruined by not playing for three days.

Part of the fun of the World Baseball Classic is rooting for guys from your team, no matter which country they're playing for. As a Mariners fan, it was exciting to see Saunders have another big game. It was a rough day for Brewers fans, however. Green went 0-for-5 and his two miscues in the field led to at least two U.S. runs, Jim Henderson couldn't hold the 4-3 lead in the eighth, and then Axford let the game get away in the ninth. Even Braun went a quiet 1-for-5.
March, 9, 2013
3/09/13
12:42
AM ET
Justin Verlander
,
Prince Fielder
,
Clayton Kershaw
and
Mike Trout
aren't on the United States roster, and their absence means a lot of fans don't care about the World Baseball Classic -- certainly not enough to spend a Friday evening in early March watching a baseball game between a largely no-name Mexico team and a still-star-laden U.S. team.
But this tournament isn't for fans who so willingly dismiss it. It's not even so much for fans in the United States, who are more focused on their professional teams or the impending NCAA basketball tournament. Earlier in the day, MLB reported that one-third of all television sets in Japan had watched the first-round games involving the Japanese team. I'm sure its dramatic comeback win over Taiwan on Friday morning rated even higher. Fans in Puerto Rico cheered on their team to a victory over Spain. Fans in Venezuela and the Dominican Republic care intensely about how their teams fare.
And Chase Field in Phoenix was nearly full for Friday's Mexico-U.S. game -- with maybe half that crowd rooting for Mexico.
Those
fans certainly cared that Mexico pulled off the huge
5-2
upset victory, essentially avoiding elimination after Thursday's heartbreaking ninth-inning loss to Italy. The players on the Mexican team certainly cared.
The Mexico lineup is pretty weak outside of Dodgers first baseman
Adrian Gonzalez
.
Jorge Cantu
hit fifth and he spent all of last year in Triple-A.
Karim Garcia
is still around and he hasn't played in the majors since 2004. But
R.A. Dickey
's knuckleball wasn't effective, a leadoff bloop single led to two runs in the first inning and Gonzalez torched a 73 mph knuckler to center field for a two-run homer in the third.
Other thoughts:
Pool D is really interesting now. It could all come down to run differential to see which two teams advance to the second round. If we assume the U.S. beats Italy on Saturday, and the U.S. and Mexico both beat Canada, then Italy, the U.S. and Mexico all finish 2-1. But Italy mercy-ruled Canada in a 14-4 victory, putting pressure on the U.S. lineup to do some damage in its next two games. The eighth inning could prove a key for the U.S., as Tim Collins and Steve Cishek worked out of a second-and-third, nobody-out jam.
After Dickey's performance, fans will be crying that Verlander or Kershaw or David Price aren't here. First off, Dickey wanted to be here and those guys didn't. Second, Dickey earned his invite as much as those guys would have, coming off his National League Cy Young Award. He just didn't have a good night. That's what happens in a tournament, not much different than what happens in the postseason: Anything can happen.
Joe Torre's lineup left a little to be desired. He hit Jimmy Rollins and Brandon Phillips 1-2, because they're fast and they hit at the top of the order for their regular teams. He hit Eric Hosmer sixth, pushing Giancarlo Stanton -- who only led the NL in slugging percentage -- all the way down to seventh, and Adam Jones, he of the 32 home runs last year, batting eighth. Stanton and Jones are better hitters than Rollins, Phillips and Hosmer. Torre might have been playing the hot hand with Hosmer, who had hit .391 in spring training with the Royals, and maybe he wanted to spread out his three left-handed hitters (switch-hitter Rollins, Joe Mauer and Hosmer). Still, a little more creativity would have had something like David Wright, Mauer, Ryan Braun, Stanton, Jones, Rollins, Phillips, Hosmer and catcher J.P. Arencibia.
Dodgers third baseman Luis Cruz had two key at-bats for Mexico. In the first inning, he delivered a sacrifice fly that was also deep enough to move Ramiro Pena to third, and Pena scored on Gonzalez's sac fly. In the fifth, after Eduardo Arredondo slapped an Ichiro-like double down the left-field line off Twins closer Glen Perkins and was bunted to third, Cruz delivered another sac fly.
Pitchers are allowed a maximum of 65 pitches in first-round games, but Yovani Gallardo was on a 50-pitch limit for Mexico. He looked sharp, allowing two hits and striking out four in 3.1 innings, but that meant Mexico had to rely on its bullpen, a day after using four relievers in that 6-5 loss to Italy. Royals righty Luis Mendoza escaped a jam in the fifth after walking the first two batters, striking out Arencibia on a nice 0-2 slider and then retiring Rollins and Phillips on ground balls. Oliver Perez got a key out in the sixth and Oscar Villareal pitched a scoreless seventh. The U.S. scored once off Cardinals reliever Fernando Salas in the eighth, and Giants closer Sergio Romo closed it out.
The Giants were undoubtedly nervous seeing Romo come in. They had apparently requested that Romo not appear in consecutive games, and manager Bruce Bochy has always been very cautious with his use of Romo. He threw 26 pitches Thursday, but this was a must-win game for Mexico. Saving him for Saturday's game against Canada doesn't make any sense if you lose this game. A reliever can't appear three consecutive days, so Romo is unavailable now for Canada.
Ryan Vogelsong starts for the U.S. against Italy, and while the Italian team is mostly comprised of U.S.-born players -- including several major leaguers -- they will start an actual pitcher from Italy: Luca Panerati, a left-hander who was in the Reds' system from 2008-11, never advancing past Class A. Last year, he pitched in the Italian Baseball League. Now he gets to face a team of the best players in the world. This is what the World Baseball Classic is all about.
July, 9, 2012
7/09/12
10:00
PM ET
David Samson is president and de facto general manager of the
Miami Marlins
. (Michael Hill has the official title of general manager, but Samson is the guy who makes the decisions generally associated with that title.)
This would suggest he knows something about baseball.
Well, Samson believes
Justin Ruggiano
should be representing the Marlins at the All-Star Game in place of the injured
Giancarlo Stanton
. Or relief pitcher
Steve Cishek
. Look, it's too bad that the Marlins' only legitimate All-Star rep got injured, but ... seriously ... Justin Ruggiano? Somebody who runs a major league team actually said this? Yep.
"I spoke to MLB. Cishek, Ruggiano, I think there were a lot of different ways that Tony [La Russa] and MLB could have gone,"
Samson told the Sun-Sentinel
. "I think it's unfortunate. I think that every team should be represented on the line in an All-Star Game."
Now, Ruggiano has been great, hitting .390 ... in 96 plate appearances. I suppose it goes without saying that 96 plate appearances does not make an All-Star, especially a 30-year-old minor league vet who has spent most of the past six seasons in Triple-A. It's been a terrific 96 plate appearances; I'm not knocking Ruggiano. But he's not an All-Star.
Cishek is a middle reliever with a 2.17 ERA. That's a little misleading, however, as six of the 15 runs he's allowed have been unearned. He's allowed 31 hits and 18 walks in 37.1 innings. He's a good pitcher; he's not an All-Star.
Notice, of course, that Samson didn't nominate his $106 million shortstop who is hitting .264 and scored just 41 runs. Or his $27 million closer who has maybe been the least valuable player in baseball in the first half.
In fact, if I were Samson, instead of worrying about who should replace Stanton in Kansas City, I'd be asking Ozzie Guillen why he keeps using
Heath Bell
to close out games.
February, 8, 2012
2/08/12
6:18
PM ET
Some more good stuff from around the SweetSpot network ...
And a few more links from elsewhere ...