November, 7, 2013
11/07/13
2:00
PM ET
The Veterans Committee portion of the Hall of Fame induction process doesn't generate the same uproar as the Baseball Writers vote does. But the people it elects are still full-fledged members of Cooperstown, with their little plaques right there next to Hank Aaron, Willie Mays and Babe Ruth. Last year, the Veterans Committee elected an owner, an umpire and a player -- all of whom had been dead since 1939.
This year, the committee is looking at what it calls the
Expansion Era ballot
, for candidates whose greatest contributions came in 1973 and later. The last time the VC looked at this era, in 2011, only executive Pat Gillick was elected. This year's ballot will likely produce more Hall of Famers; sadly, however, none are likely to be players. The 12 finalists who the 16-man committee (and it's all men, no women) will consider includes six players and six others. You need 12 of 16 votes to get elected. Let's take a closer look.
The managers: Bobby Cox, Tony La Russa, Billy Martin, Joe Torre
[+] Enlarge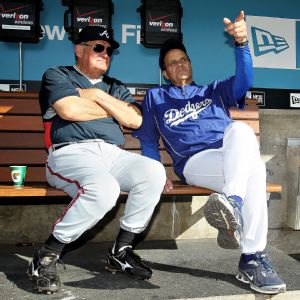 Jeff Gross/Getty ImagesJoe Torre twice beat Bobby Cox in the World Series, but they should share Hall of Fame honors next summer.
Even by the historically lax standards of the Veterans Committee, Cox, La Russa and Torre are obvious Hall of Fame managers, and I suspect all three will get in. Cox is fourth on the all-time wins list and made 16 playoff appearances with the Blue Jays and Braves, although he won just one World Series. Cox finished 503 wins above .500 -- the only managers with a higher total are John McGraw and Joe McCarthy. You can hold the the only-one-title against Cox, but Whitey Herzog made it in 2010 with just one title, fewer wins and a worse winning percentage. La Russa is third on the all-time wins list and has three World Series titles. Torre had a borderline Hall of Fame career as a player; include his four championships as a manager and he's the third lock.
Martin is the interesting candidate, but he has no chance to get in with this group also on the ballot. Martin is 35th on the wins list and won just one title. What we do know about him, however, is that he was arguably the best turn-around artist in managerial history. Now, part of that was because nobody could stand to have him as their manager for more than five minutes, so he got a lot of opportunities. But consider:
Took over the Twins in 1969 and they improved from 79 to 97 wins and won the AL West. (Fired after the season, in part for getting in a fight with one of his pitchers.)

Took over the Tigers in 1971 and they improved from 79 to 91 wins. In 1972, they won the AL East. (Fired in 1973 after ordering his pitchers to throw spitballs in protest of Gaylord Perry allegedly doing so for Cleveland.)

Took over Rangers in September of 1973. The club improved from 57-105 to 84-78 in 1974. (Fired in 1975 after some a confrontation with owner Brad Corbett.)

Took over the Yankees late in 1975. Club improved from 83 wins to 97 in '76 and won its first pennant since 1964. In 1977, the Yankees won the World Series. (Resigned in 1978 after fighting with Reggie Jackson during a game and rumors that George Steinbrenner tried to trade Martin to the White Sox.)

After managing the Yankees again for part of the 1979 season, he took over the A's in 1980. They had lost 108 games in 1979. They won 83 and then made the playoffs in the strike season of 1981. (Fired after losing 94 games in 1982.)
Then came all the ridiculousness with the Yankees in the '80s. Still, it's an impressive track record, although it came at a cost: Martin overworked his pitchers (most notably with a young staff in Oakland that soon fell apart) and none of the teams he managed sustained any long-term success. In the end, I can't really advocate for him for the Hall of Fame; not enough career wins, only one title and his other issues (drinking and brawling) that might have affected his teams. Plus: We have enough managers in already, with three more on the way.
The owner: George Steinbrenner
The Boss was on the last Expansion Era ballot and received fewer than eight votes. He was a bully, banned from baseball for paying a gambler to dig up dirt on Dave Winfield, and ran the franchise into the ground in the late '80s and early '90s (only to see it revived during his banishment). His team also won six World Series titles (and a seventh after he had given up day-to-day operations to his sons), and there's no denying he was one of the most famous people in the sport during his reign. I'll pass, but I suppose there's an argument to put him in.
The union guy: Marvin Miller
Miller fell one vote short of election last time around. Since then, he passed away and you almost feel as though the time to honor the man was missed. He's no doubt one of the most important figures in baseball history; the union leader who helped free the players from the reserve clause and enter the era of free agency. Does that make him a Hall of Famer? Nobody ever paid a penny to watch Marvin Miller in action. But if you can vote in Bowie Kuhn, you should put in Marvin Miller. FYI: There are four executives on the committee (Paul Beeston, Andy MacPhail, Dave Montgomery and Jerry Reinsdorf), so if they all vote against him, the other 12 (which includes six Hall of Fame players) have to vote for him.
The glove: Dave Concepcion
Concepcion received eight votes in 2010, so he is the highest returning player candidate. With a career WAR of 40.0, he doesn't have a strong statistical argument. There is also another shortstop candidate with obviously better credentials: Alan Trammell, who is still on the BBWAA ballot. Concepcion's case basically comes down to being part of the Big Red Machine, although he was a nine-time All-Star and won five Gold Gloves. The Reds already have one marginal Hall of Famer in Tony Perez; I don't think we need another.
The strong jaw: Steve Garvey
He was also on the last ballot and received fewer than eight votes. Career WAR of 37.6, only one season above 5.0. His case is that he was regarded as very valuable while active -- he won an MVP Award and finished second another year and sixth three other times. It's kind of a Jim Rice argument. Won't get in and shouldn't, as even his peak only lasted seven years. Keith Hernandez would be a better candidate to discuss at first base.
The guy they named the surgery after: Tommy John
Three pitching lines:
John: 288-231, 3.34 ERA, 111 ERA+, 62.3 WAR
Bert Blyleven: 287-250, 3.31 ERA, 118 ERA+, 96.5 WAR
Jack Morris: 254-186, 3.90 ERA, 105 ERA+, 43.8 WAR
Three pitchers with similar career win-loss records, but vastly different values by Wins Above Replacement. All three got about 20 percent of the vote their first years on the BBWAA ballot. Blyleven stayed there for a long time until the statistical argument became clear that he deserved Cooperstown; score one for the statheads. Morris has slowly climbed closer to 75 percent and may get in this year; score one for the old schoolers. John never really moved from his initial 22 percent.
By WAR, John is in the gray area; a good candidate but not a strong one. The argument against him is that he pitched forever but was never
great
. His peak WAR season was 5.6 and he had four years above 5.0. But just four others above 3.0. A lot of 2.4 and 1.5 kinds of seasons. Good No. 3 starter who was durable but rarely an ace. I wouldn't vote for him, although Blyleven's election in 2011 may help him.
The Cobra: Dave Parker
[+] Enlarge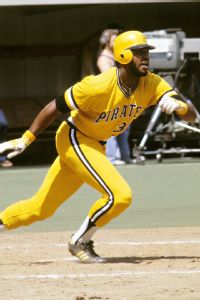 Malcolm Emmons/USA TODAY SportsDave Parker won two batting titles and an MVP Award, but is he a Hall of Famer?
Parker is new to the ballot, with Al Oliver, Rusty Staub, Ron Guidry and Vida Blue getting bumped off. Parker has some interesting career numbers: .290 average, 339 home runs, 1,439 RBIs, more than 2,700 hits. He won an MVP Award in 1978 and deserved it. He had a very high peak from 1975 to 1979, but then wasted several years and wasn't really contributing much after that despite his high RBI totals.
Is Parker the best outfielder not in the Hall of Fame? Clearly not. Even leaving off all the players still on the BBWAA ballot, there's another right fielder I would have preferred to see on this ballot: the criminally underrated Dwight Evans.
Evans is sort of the opposite of Parker. Parker had his best years in his 20s; Evans in his 30s. Parker never walked; Evans built a lot of value by walking (708 more career walks). Parker got fat; Evans stayed in tremendous shape. Parker ended up wasting a lot of his ability; Evans got the most out of his.
By career WAR, it's not close: Parker 40.0, Evans 66.7. Let's get Dewey on the ballot next time.
The submariner: Dan Quisenberry
Happy to see him get recognized. His career wasn't really so different from Bruce Sutter's, except Sutter had more facial hair and "invented" a pitch. Consider Quisenberry's run in Cy Young voting: fifth, no votes (1.73 ERA, though), third, second, second, third. He also finished in the top 10 of the MVP voting in four of those seasons. That said ... voters of that era dramatically overrated relief pitchers, even though they were pitching a lot more innings than today. But for a six-year run, he was as good as anybody.
The catcher: Ted Simmons
He's back after receiving fewer than eight votes, as well. I've always been a fan of Simmons' candidacy, which is admittedly borderline. One of the better hitting catchers, with a .285 career average (hit above .300 seven times), 248 home runs and 1,389 RBIs. He played second fiddle to Johnny Bench in the National League in the 1970s but, hey, not everybody can be Johnny Bench.
Two of the people on the committee are Paul Molitor, Simmons' teammate with the Brewers, and Whitey Herzog, who traded Simmons from the Cardinals to the Brewers after the two feuded and Simmons' defense had started declining. So I could see Molitor arguing
for
Simmons and Herzog
against
Simmons.
Either way, it probably doesn't matter, as Simmons' chances of getting in are slim.
The results will be announced at the winter meetings in December. I predict Cox, La Russa and Torre get in, with Miller, John and Concepcion falling a little short. I'd include Miller on my vote along with the three managers, while regretfully not voting for Simmons. (With Mike Piazza around, he's not the best catcher eligible for induction.)
January, 10, 2012
1/10/12
11:30
AM ET
With the Hall of Fame voting still on our minds, I thought it would be fun to look at which non-Hall of Famers fared best in MVP voting, and which Hall of Famers have fared worst.
Modern MVP voting began in 1931 so we'll focus on players whose careers began after that. We'll also limit our scope to position players. We'll use award shares, a metric invented by Bill James that
Baseball-Reference tracks
. If you're a unanimous MVP winner, meaning you've collected 100 percent of the possible maximum points, your award share is 1.00. If you get 80 percent of the possible maximum points, your award share is 0.80. You can than add up individual seasons to reach a career total.
[+] Enlarge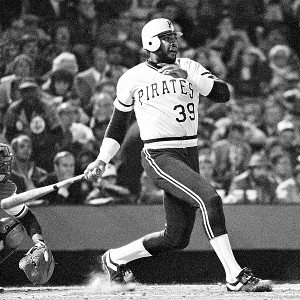 AP Photo/FileDave Parker won the MVP award in 1978.
Not including active players, those yet to have appear on the Hall of Fame ballot (like Barry Bonds or Frank Thomas) or those ineligible for Hall of Fame selection (we mean you, Pete Rose), the player with the most award shares
not
in the Hall of Fame is ...
Dave Parker
. With 3.19 career award shares, he's 28th all time. Parker was an amazing player with the Pirates from 1975 to 1979, compiling 30.1 WAR and winning MVP honors in 1978 when he hit .334 to win the batting title, led the league in slugging percentage and hit 30 home runs with 117 RBIs. He also finished third in MVP votes in '75 and '77 and 10th in '79. After that, he got fat, dabbled in drugs and ruined his career for a few years. He bounced back with the Reds and on the basis of a league-leading 125 RBIs in 1985, finished second in the MVP vote. Another big RBI season in 1986 got him up to fifth in MVP voting. Parker never fared well in the Hall of Fame voting, peaking at 24.5 percent in his second year but holding at around 15 percent after that.
Parker, by the way, had a slightly higher award shares total than Jim Rice (3.15), a similar player from the same era who did make the Hall of Fame in large part due to his success in MVP voting.
Here are the next five:
Jeff Bagwell (2.89 award shares):
The unanimous MVP in 1994, Bagwell also had a second-place and third-place finish and three other top-10 finishes.
Juan Gonzalez (2.76 award shares):
A two-time MVP, although his 1996 win was one of the worst MVP selections ever.
Steve Garvey (2.46 award shares):
Garvey won the NL MVP in '74 with a pedestrian-looking .312/.342/.469 line. It was a good line for the time, but not
that
good -- he ranked 14th in the NL in OPS. But he was third in the league in RBIs and the Dodgers won the division.
Albert Belle (2.38 award shares):
From 1991 through 2000, he hit .300 and averaged 39 homers and 122 RBIs per season. He had a second and two thirds in MVP voting. Despite his peak value, his Hall of Fame support was approximately equal to Herman Cain's in the Iowa caucus.
George Foster (2.37 award shares):
The 1977 NL MVP when he hit 52 home runs and drove in 149 runs for the Reds, Foster had a nice run from '75 to '81. Just don't ask Mets fans what happened after that.
Some Hall of Famers with low award shares:
Wade Boggs (1.20 award shares):
I was surprised Boggs' total wasn't higher. His best MVP finish was fourth in 1985. He wasn't an RBI guy, so was underrated to some extent during his time, although he cruised into the Hall of Fame. Baseball-Reference rates him as the best player in AL in 1986, '87 and '88.
Tony Perez (0.93 award shares):
Despite being a big RBI guy, the kind of player MVP voters have historically loved, he had just one top-five MVP finish in his career.
Ozzie Smith (0.65 award shares):
He finished second in 1987 but that was his only top-10 MVP finish. The MVP vote has always been about offense, but it's interesting that the player widely regarded -- even while active -- as perhaps the greatest defensive player ever fared so poorly, especially since he did became a solid offensive contributor in the mid-'80s.
Richie Ashburn (0.62 award shares):
A Veterans Committee selection in 1995, Ashburn was a gifted center fielder with a career .308 average but only 29 home runs. He twice finished seventh in the MVP vote, his only top-10 appearances.
Bill Mazeroski (0.19 award shares):
A Veterans Committee selection, he was the Ozzie of second basemen, except even less valuable with the bat. He received MVP votes in just two seasons: One eighth-place finish and one 23rd.
New Hall of Famer Barry Larkin finished with 1.10 award shares, including a 0.72 for his 1995 win. Alan Trammell, a similar player who hasn't fared well in the Hall of Fame voting, recorded 1.22 award shares.
July, 7, 2011
7/07/11
6:15
PM ET
By
Christina Kahrl
| ESPN.com
The
news has broken
that Hall of Fame manager Dick Williams passed away today. He was 82 years old, and was one member of a generation of dugout greats, and with the loss of Sparky Anderson last November and Chuck Tanner in February, it's a generation whose ranks have taken a few too many hits in recent months.
[+] Enlarge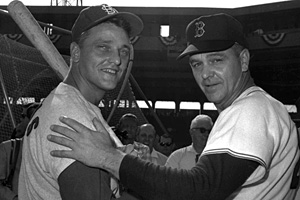 AP File PhotoFormer Red Sox manager Dick Williams, right, chats with St. Louis outfielder Roger Maris before Game 2 of the 1967 World Series. Williams made a career of rebuilding downtrodden teams.
Williams is perhaps best remembered as the manager of the "Impossible Dream" team in Boston in 1967, that Red Sox squad that took the Cardinals all the way to seven games in the World Series before coming up short. Williams set a precedent there for the kind of manager he would be, placing his faith in young talent; in Boston, he gave Reggie Smith and Sparky Lyle their first big breaks.
But the Red Sox would not be his last or best team, let alone mark his last visit to the World Series. Fired by Boston at the tail end of the '69 season -- in part for his authoritarian tendencies as a skipper -- Williams went to Oakland and took over as the firm hand perhaps perfectly suited to run the rowdies and rebels of the Big Green Machine dynasty of the early '70s. The A's won consecutive World Series on his watch in '72 and '73 before winning a third in a row under his replacement, Alvin Dark. After dealing with larger-than-life personalities like Reggie Jackson and Vida Blue on the field and team owner Charlie Finley off it, he finally resigned over team owner Finley's meddlesome, disgraceful attempt to humiliate and deactivate Mike Andrews for poor fielding during the course of the '73 Series.
Williams did not always have the magic touch -- there was nothing he could do in his next job to get the California Angels into contention in 1975 or '76 before he was fired in July, but he did break in long-term big-leaguers like Jerry Remy, Dave Collins, and Ed Figueroa. However, his setback in Anaheim freed him for the next signature gig in his career, his multi-year run managing the Montreal Expos from 1977 to 1981, helping drive them to second-place finishes in '79 and '80. He once again got fired in the middle of the '81 stretch run with his team in the race and 27 games left to play, an event as shocking then as Ned Yost's firing by the Brewers in the middle of the 2008 stretch run was in the recent past; Williams' hard hand running the club had worn thin again. But in Montreal, he was the manager with the good sense to get Gary Carter out of the outfield and back behind the plate as an everyday catcher, setting the Kid on his own Hall of Fame track. Moving Carter helped make space for future Hall of Famer Andre Dawson in the outfield, and in Williams' last season in Montreal he installed the eventually Hall-worthy Tim Raines alongside Dawson. Williams also oversaw the breakthroughs of an incredible batch of pitching talent: Scott Sanderson, Bill Gullickson, Charlie Lea and David Palmer, for starters.
A free agent again, Williams next landed in San Diego for the '82 season. In three years, he'd won another pennant, again by installing a crew of young pitchers (notably Eric Show, Dave Dravecky and Andy Hawkins), a speedy leadoff threat in Alan Wiggins, Kevin McReynolds in center and yet another Hall of Famer,
Tony Gwynn
, in right. Williams also got to supplement that squad with famous discards from more famous teams: Steve Garvey of the Dodgers, and Goose Gossage and Graig Nettles from the Yankees, but it only took one more season before Williams was forced out, reportedly by Jack McKeon and others in the front office.
Williams would finish his MLB career in the dugout unsuccessfully trying to turn around the Mariners -- but installing a future All-Star in Harold Reynolds at second base -- and then put in time in the Senior Professional Baseball Association, a league that operated in 1989-90 that was populated by former big-leaguers aged 35 and older. He "retired" to years spent as a special consultant to George Steinbrenner, one of many great baseball minds who the Boss has employed in that sort of gig over the years.
Williams' legacy for delivering winners, turning teams around, and breaking in young players is exceptional, and clearly places him among the front rank of baseball's best skippers. It came with the price of a man whose heavy-handed brand of leadership tended to make him unpopular within a few seasons, but it was a price teams were understandably willing to pay given Williams' ability to deliver.
At a time when some sabermetricians still favor the notion that managers don't matter, Williams serves as a great example of the reasons why and how they do, not simply via in-game tactics but more importantly in their ability to determine who plays and why. If you're interested in investing something more than just memory to Williams and his legacy as a manager, you could pick up a copy of Williams' biography,
No More Mister Nice Guy
(written with Bill Plaschke), which is well worth having on your shelf to understand where he was coming from, in Boston in '67 or in Seattle 20 years later, and at all points in between. For a fine take of his virtues as a skipper, you can also check out Chris Jaffe's
Evaluating Baseball Managers
.
Christina Kahrl covers baseball for ESPN.com. You can follow her on Twitter.
June, 6, 2011
6/06/11
12:06
PM ET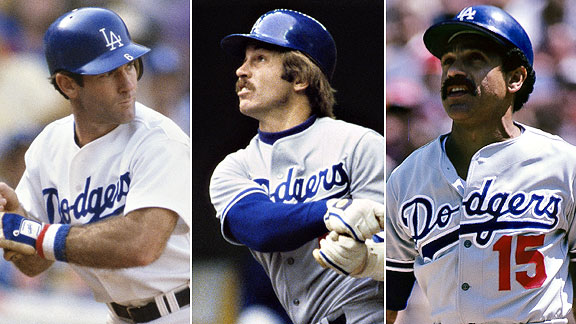 Getty ImagesThe Dodgers drafted 15 players who made the majors in 1968, including All-Stars Steve Garvey, Ron Cey and Davey Lopes.
If a team drafts one future star, that's a pretty good draft.
If a team drafts three solid future contributors, that's a pretty good draft.
But no team has ever come close to the draft haul the Dodgers pulled off in 1968.
Back then, the draft was conducted in four different phases -- two in January and two in June. The January phases were for high schools kids who had graduated, community college players or players who had reached the age 21. The regular January phase was for players who hadn't been drafted before, the secondary phase for those who had previously been drafted. The regular June phase was for all high school and college players who hadn't been drafted previously; the secondary phase was for all previously drafted players. (Basically, baseball was worried about the legality of the draft, so figured if players could be drafted every six months, that gave them more signing leverage.)
Anyway, here's who the Dodgers hauled in:
Davey Lopes, OF, Washburn University:
Drafted in the second round of the January secondary phase, Lopes was already nearly 23 and didn't play his first full season until he was 28. The Dodgers converted him to second base and he played over 1,800 major league games, becoming a four-time All-Star and one of the game's best-ever basestealers (he stole 47 bases in 51 attempts at the age of 40).
Geoff Zahn, LHP, Michigan:
A fifth-round January selection, Zahn would win 111 games in the majors, although only four for the Dodgers. After posting a 2.03 ERA in 79 innings as a rookie in 1974, the Dodgers traded him to the Cubs for Burt Hooten, who would win 112 games with the Dodgers. The Cubs, meanwhile, would release Zahn after he won just two games with them. (He had later success with the Twins and Angels.)
Bobby Valentine, OF, Rippowam HS, Stamford, Conn.:
The team's first-round pick in the June regular phase, Valentine would become one of the
top prospects of the draft era
before knee and ankle injuries ruined his career.
[+] Enlarge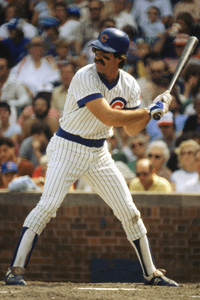 Jonathan Daniel/Getty ImagesBill Buckner, drafted in the second round in '68, went on to play for 22 seasons.
Bill Buckner, 1B, Napa HS, Vallejo, Calif.:
A second-round pick, Buckner played his first big league game while still just 19. He'd play 22 seasons and finish with 2,715 hits. With the Dodgers, he had good speed before knee injuries slowed him down and forced a move from outfield to first base. He was later traded to the Cubs for Rick Monday.
Tom Paciorek, OF, Houston:
Despite consistently great numbers in the minors, Paciorek never got much of a chance with the Dodgers. He went to Atlanta, then Seattle, then the White Sox, lasting until he was 40, hitting .300 four times and finished with over 1,000 hits.
Joe Ferguson, OF, Pacific:
Ferguson, an eighth-round pick, would play over 1,000 games in the majors, mostly at catcher. He had two big seasons with the Dodgers in '73 and '74, splitting time in right field and behind the plate.
Doyle Alexander, RHP, Woodlawn HS, Birmingham, Ala.:
Drafted a round after Ferguson, Alexander reached the majors in 1971 and posted a 3.80 ERA in 92 innings as a rookie. The Dodgers dealt him to the Orioles after the season in a deal that netted Frank Robinson. Alexander would win 192 games in the majors and, of course, later be dealt from the Braves to the Tigers for a minor leaguer named John Smoltz.
Steve Garvey, 3B, Michigan State:
The team's first-round pick in the June secondary phase (he'd been drafted out of high school by the Twins), Garvey would become the 1974 NL MVP and 10-time All-Star, finishing with 2,599 hits (1,968 with the Dodgers).
Ron Cey, 3B, Washington State:
A six-time All-Star and one of the most underrated players of the '70s, Cey hit 312 career home runs and drove in 1,139 runs.
In all, the Dodgers drafted 15 players who made the majors. While none of them become Hall of Famers, it's the greatest draft haul in history, and Garvey, Cey and Lopes formed three-quarters of the infield (along with Bill Russell) that helped the Dodgers reach four World Series between 1974 and 1981.