SweetSpot:

Steve Lombardozzi
May, 11, 2014
5/11/14
2:04
PM ET
By
Christina Kahrl
| ESPN.com
So the first-place Orioles are getting
Chris Davis
back. That comes after they're already getting
Manny Machado
back. Along with the big-bopping benefits of
Nelson Cruz
, they should be ready to roll, right?
Well, maybe not so much, because Matt Wieters' long fight to avoid the DL finally ended with his heading there to get some rest for his elbow soreness to recede. He may be gone until July.
Still, let's take the big-picture view of where the Orioles offense is right now. Despite losing Davis for some time, not having Machado for most of the season so far and needing to lean heavily on weak-hitting subs like
Ryan Flaherty
,
Steve Lombardozzi
,
Jonathan Schoop
and
David Lough
in the early going, the Orioles are nevertheless seventh in the league in runs scored at 4.3 per game. That's nevertheless a little below average because of the big split -- almost a half-run -- between the league's six best offenses and the rest of the league.
[+] Enlarge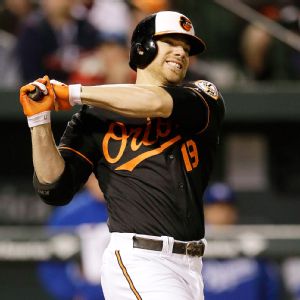 AP Photo/Patrick SemanskyThe Orioles are hoping Chris Davis starts crushing like it's 2013 all over again.
But now that Davis is back, you can see how things should improve for the Orioles, even if Wieters has to rest his elbow until June or perhaps even July. Cruz has already powered 10 home runs in his PED suspension redemption campaign. Machado has struggled, but in his defense, he has less than two weeks' worth of live-game at-bats between his rehab work and his time since being reactivated; it shouldn't be much longer before he's back in a groove.
J.J. Hardy
hasn't really gotten going, but he was hampered by early hamstring problems.
And then there's Davis, last year's third man in the Trout-Cabrera MVP duel after his 53-homer campaign. That built on Davis' end-of-season heroics in 2012, when his 10 homers after Sept. 1 powered the Orioles into the postseason. If the Orioles are going to sustain another October bid, they need him to be producing at the plate.
One potential problem for Davis? According to BrooksBaseball.net pitch data at Baseball Prospectus, Davis is seeing 23.75 percent of all pitches below the strike zone and 25.68 percent of all pitches away and outside: low, high, you name it. Between those two categories, that should amount to a lot of balls (Eric Gregg strike zones excepted), but it means a lot of pitchers are throwing him low and outside. As he waits for cookies that haven't come, Davis hasn't been able to resist. He has swung at almost 60 percent of breaking and off-speed pitches below and outside the strike zone, swinging and missing on 56 percent of them while notching just three base hits. He may not like being more of a walking man, but until he can force pitchers to come back into the zone against him, those cookies are going to be a long time coming.
Getting Davis back is very good news. And I don't think it's at all coincidental that getting Lough out of the lineup at the same time that Machado has replaced that unproductive Schoop-Flaherty combo at the hot corner has helped. Wieters' move to some time at DH while
Steve Clevenger
chipped in a surprising amount of offense? Another benefit. With Davis back, this could mean a whole more at-bats for Davis' substitute at first base,
Steve Pearce
, in the DH slot, keeping Lough among the playing-time losers.
But getting more out of the regular lineup is a matter of finally getting some production out of several weak slots in the Orioles' lineup. They are last in the league in walk rate, getting a free pass in just 5.9 percent of at-bats. Davis' return will be a big help on that score, but a significant problem is the absence of almost anyone else in the lineup who might walk much. Counting on Pearce for any length of time will be a risk, and waiting on Wieters while hoping Clevenger can keep popping as their regular catcher in the meantime will be another. And the absence of any acceptable answer at second base figures to be a season-long problem; I don't consider Schoop a real answer, not when he hasn't hit very well anywhere for any meaningful length of time since mashing in the Sally League in a half-season in 2011.
It's clear the Orioles need to deal for some help, but GM Dan Duquette's job on that front won't be easy. This early, with few teams in sell mode, there aren't a ton of options available at second base -- mighty mite
Jose Altuve
of the Astros, perhaps? There are almost as few options to trade for behind the plate.
If there's good news, it's that the organization may finally have some pieces to deal,
ranking 10th in the Keith Law's preseason organizational sorting
, but it's a system with a few great high-upside arms and not a ton of depth, so perhaps not exactly the sort of hand you want to deal from to land some of the right-now help the Orioles need. Even assuming Duquette were willing to deal, high-end talent demands high-end returns, and Altuve probably ain't that.
Which brings it back to Davis and right now. If he starts pounding at the same time that Machado and Hardy get in gear, that could buy the Orioles the time they need. Time to see when Wieters will be back. Time to see whether an answer to their needs at second base and either DH or left field -- wherever Cruz isn't -- present themselves. For a team in first place in the tight fight in the American League East, they can afford to take the time to find out.
Christina Kahrl writes about MLB for ESPN. You can follow her on Twitter.
March, 24, 2014
3/24/14
10:18
AM ET
It's safe to say that the
Detroit Tigers
didn't really have a backup plan at shortstop in case
Jose Iglesias
suffered a long-term injury. Yes, general manager Dave Dombrowski had acquired Steve Lombardozzi from the Nationals in the
Doug Fister
trade during the offseason and penciled him in as the team's utility infielder, but Lombardozzi has played just 18 innings at shortstop in the majors and just 20 games there in the minors. As the Tigers undoubtedly learned this spring, Lombardozzi doesn't have the range or arm to play there on a regular basis.
So, with Iglesias out with stress fractures in both shins, the Tigers acquired
Andrew Romine
over the weekend from the Angels for
Jose Alvarez
and
now reportedly acquired
veteran
Alex Gonzalez
from the Orioles for Lombardozzi. Gonzalez, who played sparingly the past two seasons with the Brewers (67 games) because of his own injury problems, had been in Orioles camp as a non-roster invite. In case you're confused, this is the Alex Gonzalez who came up with the Marlins, made the All-Star team at age 22, hit a walk-off home run in the 12th inning of Game 4 of the 2003 World Series, has drifted around in recent seasons and is now 37 years old. It's not the Alex Gonzalez who came up with the Blue Jays, made that crucial error for the Cubs in the 2003 NLCS and last played in the majors in 2006.
It's hard to say which guy is the better bet to take over the shortstop job for the Tigers. Romine is a regarded as a good fielder but has spent most of the past three seasons at Triple-A Salt Lake, hitting .281, .285 and .287 but with limited power (four home runs each season). In 189 innings at shortstop in the majors, spread out over four seasons, he's been rated at minus-3 defensive runs saved, so it's possible he projects as an average defender at shortstop. Gonzalez, hitting .429 this spring with two home runs, last played shortstop regularly for the Braves in 2011 and hit .241/.270/.372 with a plus-9 DRS. It's possible they work into a platoon because Gonzalez bats right-handed and Romine is a switch-hitter.
For the Orioles, they pick up a free body for a guy who probably wasn't going to make their roster. With
Manny Machado
beginning the year on the disabled list, Lombardozzi can fill in at third base and then join the fray at second base that includes
Ryan Flaherty
and
Jemile Weeks
. Flaherty has had the best spring, hitting .310 with a couple of homers, while Weeks has struggled to a .143 average in 35 at-bats. This could end up being another platoon situation with Flaherty against right-handers and Lombardozzi against left-handers.
Anyway, it adds up to a minor trade that could help both teams, but give Orioles GM Dan Duquette credit for adding depth at his weakest position and not being content with Weeks merely because he was acquired for closer
Jim Johnson
.
May, 29, 2013
5/29/13
11:15
PM ET
It was 86 degrees in Baltimore on Wednesday night, the ball was flying and we had one of the most exciting games of the season,
a 9-6 Orioles victory
over the
Washington Nationals
and one of the hottest pitchers in baseball, including a six-run rally in the seventh inning.
Here are 30 thoughts/observations/random tidbits on the game ...
1.
Chris Davis
. It was Chris Davis T-shirt night at Camden Yards and he didn't disappoint, slamming his 18th and 19th home runs, going 4-for-4, scoring three runs, driving in three, selling pretzels between innings. After his second home run, the camera panned to him a few moments later in the dugout, his helmet off -- and if you ever want to know the look of a man in the zone, Davis had it. Sort of part-bemused, like he was reliving the moment, part-amazed, like the first time you see the Grand Canyon, eyes wide, soaking it all in.
2. Electric atmosphere. As the Orioles announcer said, it had the feel of a Friday-night college crowd, with a buzz going all game, the fans exploding after each hit during Baltimore's big seventh. Baseball at its best.
3. Last season, it seemed Orioles fans were a little reluctant to jump on the bandwagon, as the support -- at least as shown in attendance figures -- was slow to get going, certainly understandable after years of losing. Looks like the support is getting back to levels we saw in the mid-1990s, when you couldn't get a ticket to an O's game.
4. Davis versus
Miguel Cabrera
. For all the attention that Cabrera has rightfully been generating for chasing the Triple Crown again, Davis is having the better season at the plate:
Davis: .359/.447/.755, 19 HR, 18 2B, 50 RBIs, 1.214 OPS
Cabrera: .368/.444/.656, 15 HR, 13 2B, 59 RBIs, 1.099 OPS
5. Of course, as one Tigers fan tweeted to me the other night, let's see the numbers at the end of the season.
6. Still.
7. Fifteen players have slugged .700 in the first half since 2000, but only two since 2009:
Albert Pujols
in 2009 (.723) and
Jose Bautista
in 2011 (.702).
8. This isn't the same Chris Davis who had a big breakout season last year, when he hit 33 home runs. Last year, he struck out in 30.1 percent of his plate appearances and walked in 6.6. This year, those figures are 21.9 and 13.2. A man with his power
and
better control of the strike zone is a scary proposition. OK, so maybe he's not a .359 hitter, but he's not doing it by accident.
9.
Manny Machado
hit another double. That's 24. He's on pace for 73. The record is 67, set way back in 1931 by Earl Webb.
10. He doesn't turn 21 until July. That's Machado; Webb is dead.
11. Will it upset everyone to suggest that Machado -- with his brilliant defense at third -- has arguably been as valuable as Davis and Cabrera? I mean ... he's hitting .332/.365/.517 and has more range than Meryl Streep. Baseball-Reference wins above replacement leaders, American League, entering Wednesday: Machado 3.4,
Dustin Pedroia
3.0, Cabrera 2.8, Davis 2.7. FanGraphs: Machado 3.1, Davis 2.9, Cabrera 2.9,
Mike Trout
2.9.
12. It's a legitimate argument if you can look beyond RBIs.
13.
Ryan Zimmerman
, have a day. Tough to hit three home runs -- he homered his first three times up -- and get upstaged, but that's what happened. Is it fair to say that Zimmerman is one of the most important players in the National League? With the Nats' offense struggling -- although a little better of late -- it desperately needs a second big bat behind
Bryce Harper
. Zimmerman has to be that guy, or maybe
Adam LaRoche
. Or, preferably, both. Zimmerman's throwing troubles have been an issue all season, although also better of late.
[+] Enlarge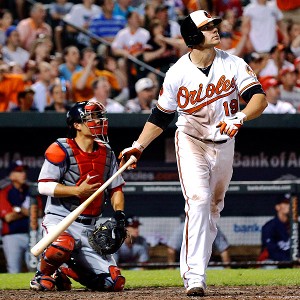 AP Photo/Patrick SemanskyChris Davis' second homer of the night, a two-run blast, gave the Orioles their final margin.
14. Davey Johnson's beard. Google it. Let's hope the Nationals turn this into a promotional event down the road.
15.
Jordan Zimmermann
was due for a bad game, but did make some bad pitches. Davis' first home run was off a slider over the middle of the plate.
Nick Markakis
' home run came off an 0-1 fastball that
Kurt Suzuki
wanted in but was also over the middle of the plate.
16. Both were hit to the almost identical location in right-center -- in fact, you can see the same guy in the white tank T-shirt reaching for both homers.
17.
Steve Pearce
's two-run shot off Zimmermann just cleared the fence in left-center. On another night, with a little more luck, it's maybe three long outs to the warning track.
18. Davis' second home run, off an 0-2 changeup from
Tyler Clippard
, was the most impressive of the night as he showcased his huge raw power, with an easy, almost one-handed swing. How strong is this guy? This one landed near where T-shirt dude was sitting as well, except he must have been off in the beer line this time around.
19. Zimmermann hadn't walked a batter since May 8. So now he has 10 in 11 starts. Terrible.
20. The Orioles can hit. That's 10 or more hits in 27 of their 53 games.
21. The Nationals' bench was supposed to be a big strength heading into the season, but it's been a weak spot.
Roger Bernadina
did homer, but he's hitting .149.
Tyler Moore
is hitting .149.
Chad Tracy
is hitting .170.
Steve Lombardozzi
is hitting an empty .234. And they've had to play a lot, accumulating more than 300 plate appearances among the four of them so far. Along with struggling
Danny Espinosa
, they're a huge reason the Nationals are just a game over .500.
22. Remember when
Nate McLouth
was washed up?
23. He's 17-for-18 in steals. The O's lead the American League in home runs and are tied for the lead in stolen bases. When's the last time that happened?
24. I'm sure Orioles fans were a little nervous when
Jim Johnson
entered for the save in the ninth, considering his last outing in Toronto on Sunday -- his fourth blown save and fifth loss. But he had a 1-2-3 inning with two strikeouts, albeit against the bottom three hitters.
25.
Tommy Hunter
was unfair in the eighth inning. He threw a 100 mph fastball to Moore followed by a two-strike curve that Moore missed. No chance.
26. I still don't know what to make of
Chris Tillman
. Four home runs tonight, 11 over his past five starts. Yes, four of those games came at Camden, but he's going to continue having gopher ball problems with such a low ground-ball rate (37 percent on the season).
27. A Beltway Series would be fun in October. Nearly happened last year, but I think the Orioles will need to make a deal for a starting pitcher. I mean,
Freddy Garcia
goes on Thursday.
28. Buck Showalter can manage my team.
29. I still think second baseman
Ryan Flaherty
can produce some offense. He returned to the Orioles lineup' and had two hits. I'm less confident about Espinosa.
30. How do I get one of those Chris Davis T-shirts?
August, 11, 2012
8/11/12
1:30
AM ET
By
Christina Kahrl
| ESPN.com
The echoes of 1986 aren't new to this year's Nationals team. Budding superstar starter? Dwight Gooden with that year's Mets and
Stephen Strasburg
now, that's one. All-world outfielder Darryl Strawberry then,
Bryce Harper
now? Yep, that's another. Davey Johnson in the dugout for both teams, skippering a club with the best record in baseball? That just makes things easy.
But seeing Johnson manage the Nats generates other similarities between those eventual world champs of '86 and this year's contending club, and that has everything to do with who he's using and how he's using them. It's something that should keep changing for the better down the stretch as the Nationals heal up -- assuming they
stay
healthy, of course.
Here's a short, non-comprehensive list of things these Nats and those Mets have in common, each of which bears watching as Washington takes its shot at its first postseason appearance:
1. A deep rotation:
When talking about the Nationals' pitching staff, the focus tends to go to Strasburg's workload and the potential horrors of life after this newfangled Operation Shutdown (no apologies to
Derek Bell
necessary) gets put into action. But one of the interesting things about the Nats is that they stockpiled so many starting pitching options that whatever they eventually decide to do, it isn't like they'll be stuck with replacement-level pitching talent once they have to turn to a replacement for Strasburg.
Not that
John Lannan
,
Tom Gorzelanny
or even
Zach Duke
will weave anything like the same magic Strasburg does when they're on the mound. All of them are significantly more defense-dependent than Strasburg, but that goes for almost everybody who isn't as strikeout-savvy as Strasburg. Happily for anybody who throws strikes and gets the ball in play with the aplomb that Lannan, in particular, commands, the Nationals defense ranks tops in the NL in Defensive Efficiency at .708. And between Lannan, Gorzo and Duke, it isn't like starting in the major leagues will be some sort of new experience.
Perhaps the more relevant question is if
Jordan Zimmermann
,
Gio Gonzalez
,
Edwin Jackson
and
Ross Detwiler
will wilt when the spotlight is no longer on Strasburg, but that seems speculative at best. Jackson has postseason experience, and Gio and ZNN have been top-ranked talents most of their adult lives. Weep not for Washington's rotation if Strasburg has to sit for a bit.
And the '86 Mets? They got great work from Rick Anderson in the rotation when they weren't relying on their front five of Gooden, Ron Darling, Bob Ojeda, Sid Fernandez and Rick Aguilera. That was after Bruce Berenyi had to be given up on, so you could say the Mets had to go at least seven deep. Then as now, it pays to go deeper than five in your rotation.
2. Outfield playing time "controversy":
For Johnson, the man filling out the lineup cards, it was picking between Mookie Wilson and Lenny Dykstra in center field back then. Perhaps it's
Roger Bernadina
and
Jayson Werth
now. Set aside moping about their relative price tags for the time being -- it isn't my money or yours, after all -- but Johnson arguably has as nice a problem today as he had back then. Bernadina offers a good OBP and some speed, Werth has power and patience. Now as then, Davey gets to play matchup games and exploit his depth so that nobody's rest day among his outfield regulars costs the lineup too much.
3. Power to spare:
The Nats rank in a five-team pack grouped up behind the two league-leading home run tallies of the Brewers and Reds, while the '86 Mets finished third in the league. Keep in mind what's involved with where the Nats rank, though: They were without Jayson Werth and
Michael Morse
for major portions of the season, and lost
Ryan Zimmerman
for a major chunk of time to boot. Now they're all back, and they're all capable of putting up plenty of runs. If the Nationals light up the scoreboards down the stretch, don't act surprised.
4. Bench bats:
Those '86 Mets had Lee Mazzili, Tim Teufel, Danny Heep ... guys who could help you score runs in a pinch. This year's Nats have
Tyler Moore
and
Chad Tracy
both able to spot at the corners and produce power in pinch-hitting roles. It's harder to make room for those kinds of guys today, but in the age of the 12-man pitching staff, Davey Johnson's found a way. And one of the big reasons why? That's next.
5. A super-sub:
The '86 Mets had Kevin Mitchell moving all over the place. I know, you might remember him as the bigger guy catching balls bare-handed in left field for the Giants. But in 1986, Mitchell started 20 games at short, six in center and played all four corners. That's handy as a roster expander, which is exactly what Steve Lombardozzi has given the Nats this season, stepping into the everyday lineup at second base with
Ian Desmond
out, but he's started at short, third and left.
Like I said, it's far from comprehensive, but it's a start. So look beyond the SAT-like comparisons, this is one Davey Johnson team that's very much like the other for more reasons than just the big names.
PHOTO OF THE DAY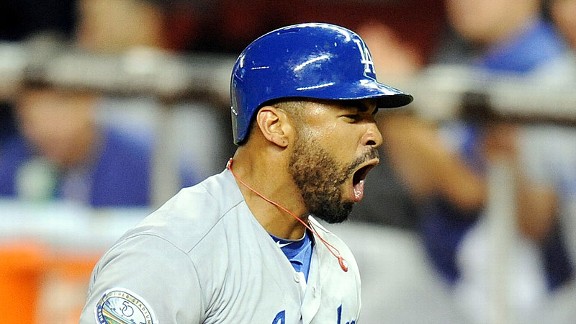 Steve Mitchell/US PresswireYeah, it's safe to say that Matt Kemp likes being safe at home plate.