September, 21, 2014
9/21/14
10:38
PM ET
Teams make the playoffs with expected production from their stars, with young players who improve, maybe a couple rookies who step up. But on almost every playoff team, you can find a guy who came out of nowhere to offer a major contribution.
Vance Worley
is one of those guys. Where would the Pittsburgh Pirates be without the journeyman right-hander? The Pirates all but wrapped up a wild-card spot with Sunday's 1-0 win over the Brewers, giving Pittsburgh the series victory and moving the Pirates into the wild-card lead with the San Francisco Giants, 4.5 games over the Milwaukee Brewers. Worley went eight innings and allowed just four hits before a sellout crowd at PNC Park, improving his season numbers to 8-4 with a 2.93 ERA over 17 appearances (16 starts).
Worley wasn't even supposed to be out there on Sunday.
Charlie Morton
had replaced him in the rotation earlier in the week, but Morton's hernia flared up in his start so Worley was back out there against the Brewers. Worley pounded the strike zone with 63 strikes in 82 pitches, relying on his sinking fastball, a cutter and a slider, with an occasional curve.
[+] Enlarge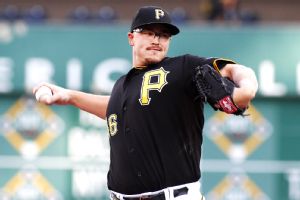 Justin K. Aller/Getty ImagesVance Worley was an afterthought, more or less. Now he might be the captain of the All-Surprise Team.
"A little rest was good for me," Worley
said after the game
. "This is the deepest I've gone into a season the last couple of years, so it gave me some time to get my feet back under me, to gather up some of the energy I used up early in the season."
Worley is a journeyman right-hander because his fastball velocity doesn't light up the radar gun, but this is a guy who has had intermittent success in his four seasons in the majors. Of course, none of that came last year with the Twins, who had acquired him from the Phillies. In 10 starts with Minnesota, Worley got pounded like few pitchers in recent history, going 1-5 with a 7.21 ERA and .381 batting average allowed -- the highest average allowed by a pitcher with at least 40 innings since Mike Torrez in 1984.
With numbers like those, it's no surprise the Pirates were able to purchase Worley from the Minnesota Twins late in spring training. There was no downside for the Pirates, and he started the year in Triple-A before joining the Pirates' rotation in mid-June when
Francisco Liriano
went on the disabled list. He tossed seven scoreless innings against the Miami Marlins in that game and has been solid ever since.
Worley is one member of what we'll call the All-Surprise Team. Or maybe we can call it the lucky pickup team. Should the Pirates receive credit for Worley turning into gold? Hard to say. The Twins had actually put Worley on waivers and nobody claimed him until the Pirates made the cash deal. In the end, it's still a lot of luck. I'm pretty sure the Pirates didn't envision Worley making 16 starts with a sub-3.00 ERA. Here are some other members of the lucky pickup team:
Steve Pearce, Orioles
Pearce began the season with the Baltimore Orioles (they had originally claimed him off waivers from the New York Yankees in 2012) but only appeared in three games before they released him on April 27. The Toronto Blue Jays actually claimed Pearce, but he had the right to refuse the deal and instead become a free agent and apparently had an agreement to sign back with Baltimore. Two days later, with
Chris Davis
injured, the Orioles re-signed him. Pearce has responded with 20 home runs in 327 at-bats -- after hitting 17 in 743 career at-bats spread out over seven previous seasons. A new, closed stance has done wonders. Among American League hitters with at least 350 plate appearances, he's fourth in wOBA behind
Jose Abreu
,
Victor Martinez
and
Mike Trout
.
Chris Young, Mariners
Young has faltered a bit of late, including a bad loss in a vital game against the Houston Astros on Saturday, but the big right-hander is 12-9 with a 3.65 ERA. That's one more than he had from 2009 to 2013. That the Seattle Mariners ended up with Young was a result of their own penny-pinching ways. Originally, they had signed
Randy Wolf
as their token veteran to fill out the back of the rotation. Wolf had made the team out of spring training but the Mariners refused to give Wolf a guaranteed full-year contract, instead insisting he sign a 45-day contract. Wolf refused and the Mariners released him, picking up Young, who had been cut by the Washington Nationals. Now that was a stroke of luck, as Wolf ended up making just four poor starts with the Marlins.
Justin Turner, Dodgers
ESPN researcher Mark Simon
wrote about Turner last week
. The Los Angeles Dodgers' infielder has hit .332/.397/.467 in 310 PAs while starting games at all four infield spots. The Dodgers signed him as a free agent in February after the New York Mets non-tendered him, apparently because
they tired of him not running hard
. The Mets saved $500,00 or so, replacing Turner's $1 million salary with a minimum-salaried player. The Dodgers got themselves one of the year's best utility infielders.
Josh Harrison, Pirates
Harrison wasn't a free pickup since he was already in the Pirates' system, but nobody could have projected the 26-year-old to have this kind of breakout season. He entered 2014 with a .250 career average in 575 PAs and actually played more in Triple-A in 2013 than with the Pirates.
Now he may win a batting title
.
[+] Enlarge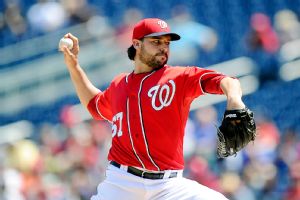 Greg Fiume/Getty ImagesFifth starter? Hardly. Tanner Roark has a 2.85 ERA.
Tanner Roark, Nationals
After beating out
Ross Detwiler
and others for the final spot in the Nationals' rotation, Roark has gone 14-10 with a 2.85 ERA in his first full season in the majors. The 27-year-old has actually been in the Washington system since the 2010 trade deadline, but his production this year was certainly a surprise. Plus, consider how the Nationals acquired him: For
Cristian Guzman
, whose major league ended that year with a .152 average in 15 games for the Rangers. Think Texas could have used Roark the past couple of seasons?
Matt Shoemaker, Angels
We've written about Shoemaker here before, so you know what kind of season he's put together, helping the Angels surge to the AL West title even after
Garrett Richards
went down. He's certainly the definition of free talent: The Angels signed him as an undrafted free agent out of Eastern Michigan in 2008. But consider this: Before the season, Baseball America rated the Angels' farm system the worst in the majors and Shoemaker wasn't listed as one of the team's top 30 prospects.
Thirty.
Riding a terrific splitter/changeup, he's 16-4 with a 3.04 ERA.
J.D. Martinez, Tigers
For all the moves the Tigers have made, this has perhaps been the biggest as Martinez has been worth 3.9 WAR with his .320/.363/.570 line with 23 home runs and 76 RBIs. Released by the Astros in spring training, Martinez made some minor tweaks to his swing and the results have obviously been impressive. After a hot start and prolonged slump, he's been red hot again in September, hitting .394 with six home runs.
(Note: I missed Martinez upon first publishing the piece. Apologies to Tigers fans!)
Pat Neshek, Cardinals
The veteran reliever pitched OK in 40 innings with the A's last year, but that was also the most he had pitched since 2007. So it wasn't a surprise that teams weren't pounding down his door with offers over the winter. He finally signed a minor league contract with the Cardinals in February, with an invite to spring training. He made the team, pitched his way into a setup role and even made the All-Star team. He's 7-1 with a 1.39 ERA and a 65/8 strikeout/walk ratio.
What do these guys prove? For starters, all the analytics out there can't project every player, and that's a good reminder that players aren't robots, their statistics always predictable within a small range. And as much as we praise front offices for building a winner or criticize them for building a loser, there is still a fair amount of luck involved. It's hard to really praise the front office for any of these performances.
None of these guys may do this again next year, but that's not important now. They did it this year and helped their teams into the playoffs or into contention.
September, 17, 2014
9/17/14
12:51
AM ET
What a night. Two clinchers, a no-hit bid into the eighth inning from the
Cubs
'
Jake Arrieta
(for the second time this season), a benches-clearing incident between the
Yankees
and
Rays
after manager Joe Girardi went a little crazy when
Derek Jeter
got hit by a pitch,
Jose Altuve
breaking Craig Biggio's
Astros
club record for hits in a season. As always, check out the latest standings, playoff odds and upcoming schedule on the
Hunt for October
page.
1. The Nationals clinch the NL East behind Tanner Roark.
That's one way of asking: Will Roark be in the Nationals' postseason rotation? He's 14-10 with a 2.85 ERA now after tossing seven shutout innings in the 3-0 clincher over the collapsing
Braves
. There's nothing fancy about him except he throws strikes, locates his two-seam sinking fastball and four-seamer on the corners and mixes in a slider, changeup and curveball, giving him a five-pitch repertoire. He's in his first full season in the majors, but don't worry about an innings limit here: Roark is 27, turns 28 in early October and still looks strong.
Starting Roark would bump
Gio Gonzalez
from the rotation, although, depending on the opponent, maybe having the lefty Gonzalez in there instead of four right-handers make sense. There's also an argument that Gonzalez -- despite a 3.79 ERA -- has actually been every bit as good as Roark. The fielding independent pitching numbers (FIP) have Gonzalez at 3.20 and Roark at 3.54 entering Tuesday. That's because Gonzalez has the better strikeout rate -- 9.0 K's per nine innings compared to 6.4 for Roark. But is that a deficiency for Roark? His two-seamer isn't a big strikeout pitch but gets ground balls. Yes, that means relying a little more on defense than Gonzalez does.
The difference in their ERAs stems primarily from results with runners in scoring position: Roark has allowed a .252/.310/.397 line, while Gonzalez has allowed a .281/.348/.465 line.
Of course, Gonzalez is the veteran, which might ultimately enter into manager Matt Williams' decision. Plus, Roark has more experience pitching out of the bullpen, having made 29 relief appearances between Triple-A and the majors last season. Either way, Williams has a nice luxury in that he can have a quick hook with any of his starters in the postseason if necessary.
2. Joe Nathan is starting to remind of 2009 Brad Lidge.
Remember that year? Lidge was horrendous all season with the
Phillies
, going 0-8 with a 7.21 ERA and 11 home runs and 34 walks in just 58⅔ innings, and yet, Charlie Manuel stuck with him as closer all season and the Phillies still managed to reach the World Series. Manuel's loyalty finally burned him in Game 4, when Lidge entered in the ninth of a 4-4 tie and gave up three runs.
What does that have to do with Nathan? He hasn't been quite as bad as Lidge but inspires the same level of confidence in
Tigers
fans right now. After
J.D. Martinez
hit a dramatic three-run homer in the top of the ninth off
Glen Perkins
to give the Tigers a 3-2 lead over the
Twins
, Nathan coughed it up by allowing the Twins to score twice. It wasn't all his fault, although he did get the rally started with a one-out walk to
Trevor Plouffe
.
Kurt Suzuki
hit a liner to shallow left-center on which
Ezequiel Carrera
appeared to get a slow read and missed the diving catch. (Would
Austin Jackson
have made the play?) The winning run then scored with two outs on
Aaron Hicks
' infield chopper up the middle. Nathan is 4-4 with a 5.10 ERA and seven blown saves. Again, not quite as bad as Lidge, but still the symbol of a shaky Detroit bullpen.
3. Don't blame Ned Yost!
Unfortunately for the
Royals
, they weren't able to take advantage of Detroit's loss and remained 1½ games behind the Tigers -- or two games behind, counting the suspended game they're losing to the
Indians
. (Yes, I'm required to mention that every night!)
Yost actually did what he didn't do on Sunday: bring in
Kelvin Herrera
in the sixth inning. And it worked, as Herrera got the final out to preserve a 4-4 tie. After the Royals then took a 5-4 lead, things were looking good, but Herrera gave up two singles in the seventh, and
Wade Davis
-- pitching in the seventh for the first time all season -- walked
Jose Abreu
, pitching him a little too carefully.
Conor Gillaspie
, after fouling off two pitches, then hit a 2-2, 97 mph fastball for a bases-clearing triple, and Herrera and Davis both saw their scoreless-inning streaks of more than 30 end.
Yost did the right thing. He brought in his two dominant relievers in crucial situations in a close game. On this night, they just got beat. Considering how dominant they'd been, they were probably due. But don't blame this one on Ned.
4. Steve Pearce, legend in the making.
The
Orioles
clinched with an 8-2 win over the
Blue Jays
(good night, Toronto). The big blow was Pearce's three-run homer in the first. What a story he's been. The 31-year-old had spent parts of seven seasons in the majors but never batted more than 188 times. Pearce began the season with the Orioles but appeared in just three games before Baltimore designated him for assignment on April 27. The Blue Jays actually claimed Pearce on waivers, but Pearce had the right to become a free agent rather than accept the claim, which he did. Two days later, with
Chris Davis
injured, the Orioles re-signed Pearce to a major league contract. He hasn't stopped hitting and is now at .294/.371/.541 with 18 home runs, and he's hitting fifth for a division winner. Just another reason we love this game.
5. Brewers notch big comeback win.
In the first of a three-game series in St. Louis, the Brewers tied it in the top of the ninth and won it in the 12th inning. They move up to four games back of the
Cardinals
and remained 1½ behind the
Pirates
for the second wild card. Good job by the Milwaukee pen with just two hits over five scoreless innings.
Jhonny Peralta
nearly tied it with a long fly in the 12th to the warning track, but
Gerardo Parra
hauled it in and
Francisco Rodriguez
escaped with a 1-2-3 save.
August, 23, 2014
8/23/14
2:34
PM ET
By
Christina Kahrl
| ESPN.com
CHICAGO -- With
the news already out
, the Orioles' brass was ready to put the best possible face on the fact that third baseman
Manny Machado
will have to miss the remainder of the season with an injury to his right knee almost identical to the one he suffered to his left knee last season. Beyond the big-picture question of how well and how soon one of the game's most exciting young stars will recover, having this happen to a first-place team automatically creates stretch-run questions of how well the Orioles will adjust.
Meeting with reporters before the game, general manager Dan Duquette acknowledged, "Manny came to us yesterday and said his knee wasn't responding to the rest … He has a very similar injury to his right knee that he had last year to his left knee. … Given this injury and the time of the season, we thought that we would rest it and try to recover and play for the rest of the year. But Manny didn't feel like that was the best option."
But manager Buck Showalter was quick to refer to the resilience the Orioles have shown all season, saying, "I don't get in that 'woe is me, the earth is shaking, the sky is falling' mentality. We've played 40-50 games without him. … We'd like to have him, but life goes on, baseball goes on. It's not uncharted territory for this team."
[+] Enlarge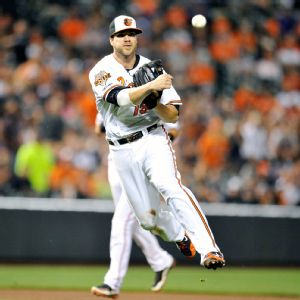 Joy R. Absalon-USA TODAY SportsWill Chris Davis have the range to cover the O's needs at third base?
But with the waiver-trade deadline around the corner, you have to wonder if the Orioles aren't going to make a move while there's still time. Showalter said, "I'm looking at the people we have here, the people we have in Norfolk, the people we have in Bowie, and lean on the versatility of our players."
On a practical level, that's because there may not be that many options that fit the Orioles' needs right now. As Duquette observed, "There is a very limited pool of players that are available at this time of the year, because a lot of players' contracts don't get through the trade/waiver process, so it's a very limited pool. I think we have some pretty good depth in-house, and we've had some players step up -- like
Steve Pearce
-- and do a good job. We're going to continue to need players to step up in those situations."
Pearce will be part of the solution to fill the need for power hitter at-bats to replace Machado, but that will be at his best position, first base. That's because
Chris Davis
is being challenged to show if he can still handle third base. You might well worry, because although Davis split time between first and third as a prospect working his way up through the Rangers' farm system, he was always expected to end up at first, and because he hadn't played an inning at the hot corner in two years since starting 25 games there for the Rangers and Orioles in 2011. But after Davis was pressed into action at third during Machado's suspension in June and after it didn't prove embarrassing, he is the obvious choice to get most of the starts at third, especially with Pearce and
Delmon Young
both hitting their way into the lineup at first base and DH (or left field when
Nelson Cruz
DH's).
While Davis can't provide Machado's range and quickness, he does at least boast a strong arm, so you can understand how it might seem survivable. It isn't as though we haven't seen teams win after making sacrifices on defense at third: The Tigers and Giants both won pennants in 2012 with
Miguel Cabrera
and
Pablo Sandoval
not providing a ton of value afield, and the Cardinals won a couple of pennants and a World Series without
David Freese
making anyone forget Terry Pendleton.
That's in the abstract, though, but the problem of playing the comparatively less-mobile Davis regularly at third presents a challenge for more defense-dependent pitchers. Orioles pitchers rank 11th overall in the league in strikeout rate (18.8 percent), the lowest mark of any contending team in the AL. So it shouldn't surprise you to learn that the Orioles have been getting the benefit of one of the highest Defensive Efficiency marks in baseball, converting 70.4 percent of all balls in play into outs, the third-best rate in the AL.
Obviously, that number is in danger of going down with Davis at third. Fortunately for them, none of the Orioles' starting pitchers is an extreme ground-ball guy, with none of them rating more than average in groundout/fly-ball-out ratio. However, it's in the pen where guys like
Zach Britton
,
Tommy Hunter
and T.J. McFarland generate a ton of ground-ball outs. Result? You shouldn't be surprised to see Davis switched off third or out of the game for a defensive replacement in the later innings.
The other added-on risk is whether or not Pearce will be overexposed at the plate in full-time play. Pearce already has 100 more at-bats so far than he got all of last year or in any major league season in his career. With a .785 OPS against righties so far this season, you wouldn't pigeonhole him as a platoon hitter, but on his career, he has a .664/.856 righty-lefty split that should make O's fans worry. If that's the shape of things to come, the Orioles' heavily right-handed lean in the lineup could become a significant handicap down the stretch. We'll see if they add a lefty bat who can play the infield and/or outfield corners to help with that, but as Duquette observed, it won't be easy.
Christina Kahrl writes about MLB for ESPN. You can follow her on Twitter.
July, 10, 2014
7/10/14
4:08
PM ET
By
Jason Rosenberg
| ESPN.com
Quite a week, eh? We've seen a massive
"go for it"
trade that
paid quick dividends
for the A's, some
unfortunate DL
news for the Yanks' Masahiro Tanaka and
the Reds' Joey Votto
, and a couple of
disappointing
vets
were DFA'd. Although Carlos Beltran's
facial fractures off a BP ricochet
off his own bat and the screen takes the "freak injury" award this week.
Arizona Diamondbacks: Inside the 'Zona
D-backs' slap-hitter offense decent but unusual
: Though good overall, the Diamondbacks offense is among the worst in the majors in walks and "hard-hit average." Ryan P. Morrison draws from a quote from Bill James in wondering whether slap hitters are an inefficiency Arizona could exploit. Follow on Twitter:
@InsidetheZona
.
Wade Miley is the canary in the coal mine
: The D-backs are sellers, but their moves so far have been short-term oriented. Jeff Wiser looks at Miley's value as a trade chip, and makes the case that what the team decides to do with Miley will tell us a lot. Follow on Twitter:
@OutfieldGrass24
.
Atlanta Braves: Chop County
Mississippi Braves game report from 6/24/14
: Photos and scouting reports on several of the Braves top prospects, including speedy second baseman Jose Peraza. Follow on Twitter:
@gondeee
.
Baltimore Orioles: Camden Depot
Examining Steve Pearce's fantastic, unexpected first half
: Matt Kremnitzer dives into the play of Pearce, who has been a major reason why the Orioles currently reside in first place in the AL East. His season has been a wild ride of being designated for assignment as well as delivering outstanding play at the plate. Follow on Twitter:
@CamdenDepot
.
Boston Red Sox: Fire Brand of the American League
It's time for the Red Sox to sell
: Alex Skillin writes that the Red Sox need to consider trading players such as Jake Peavy, Jonny Gomes and Koji Uehara to allow the team an opportunity to evaluate its younger talent, like Jackie Bradley Jr, Mookie Betts, and others who could benefit from full-time work. Follow on Twitter:
@firebrandal
.
Chicago Cubs: View From The Bleachers
Why you should be in favor of the big trade
: Joe Aiello talks about the weekend deal that sent Jeff Samardzija and Jason Hammel to Oakland and why Cubs fans should be happy with the result. Follow on Twitter:
@vftb
.
What the Samardzija and Hammel trade means for the rebuild
: Noah Eisner breaks down the deal further and looks at what it means going forward for the Cubs' farm system. Follow on Twitter:
@Noah_Eisner
.
Chicago White Sox: The Catbird Seat
The White Sox are not a bullpen away from being contenders
: The White Sox bullpen is terrible, yet the team floats around near .500; would they be contenders if they could get some relievers? James Fegan says no. Follow on Twitter
@TheCatbird_Seat
.
Colorado Rockies: Rockies Zingers
The 2014 Colorado Rockies: What went wrong?
: Eric Garcia McKinley looks at the Rockies' first-half performance so far and discusses why the Rockies are doing so badly. It turns out that they weren't that good in the first place. Follow on Twitter:
@garcia_mckinley
.
New York Yankees: It's About The Money
The real Brandon McCarthy
: Katie Sharp gives Yankee fans on primer on their newest starting pitcher. Follow on Twitter:
@ktsharp
.
Power-hitting Brett Gardner
: Katie examines how Gardner's game has changed and power has become a part of it. Follow on Twitter:
@IIATMS
.
St. Louis Cardinals: Fungoes
Matt Adams' secret: Better strike-zone discipline?
: Since returning from the disabled list, Adams has been beating the shift and pretty much everything else that opposing teams have thrown at him. He credits improved strike-zone discipline. But is that really the case? Follow on Twitter:
@fungoes
.
Texas Rangers: One Strike Away
The case for trading Alex Rios
: Brandon Land examines the possibility of the Rangers trading Rios to retool for 2015 or 2016. Follow on Twitter:
@one_strike_away
.
Jason Rosenberg is the founder of It's About the Money, a proud charter member of the SweetSpot Network. IIATMS can be found on Twitter here and here as well as on Facebook.
July, 8, 2014
7/08/14
12:11
AM ET
This is the lineup the
Baltimore Orioles
dreamed about back in spring training:
Manny Machado
spraying hits all over the field,
Chris Davis
hitting big bombs, J.J. Hardy providing power from shortstop.
And of course,
Nelson Cruz
doing Nelson Cruz types of things. You know: .294 average, 28 home runs, 73 RBIs. That's a pretty typical Cruz season; maybe a little high with the batting average since he has hit between .260 and .266 each of the past three seasons, but sometimes you just have one of those seasons when the bloopers fall and the ground balls have eyes.
Yep, a pretty typical Cruz kind of season. Except the Orioles have played 89 games and Cruz is on pace for 51 home runs and 133 RBIs. He played a big part in the
Orioles' 8-2 win over the Nationals in 11 innings
on Monday. His two-run home run in the fourth inning off
Stephen Strasburg
provided the team's offense until a six-run explosion in the 11th -- a rally Cruz started with a broken-bat infield single.
[+] Enlarge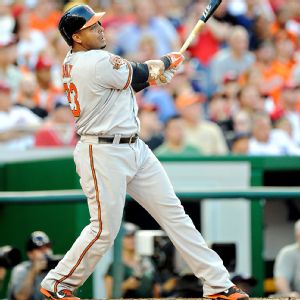 Greg Fiume/Getty ImagesNelson Cruz ripped his 28th homer for the Orioles, but where would they be if he'd signed elsewhere?
Cruz homered off a 1-0 95 mph fastball from Strasburg, waist-high and too much near the middle of the plate, the kind of pitch Cruz hasn't been missing this season. It's also the kind of pitch that has gotten Strasburg into trouble all season. Despite his premium velocity, his fastball has been one of the least effective in the majors, as opponents are hitting .328/.371/.510 against it. Fall behind Cruz, and he loves to sit on those heaters -- 19 of his 28 home runs have come off fastballs.
You know, back in the old days -- like, I don't know, five years ago -- Cruz would probably be the AL MVP favorite right now. For decades, the guy who led the league in RBIs was usually on the short list for MVP candidates. If you also led the league in home runs (Cruz leads in both) and your team made the playoffs or were close to making it, you were pretty much a lock to win the award. See:
Ryan Howard
,
Juan Gonzalez
, George Bell and so on. Things like defense and position didn't really matter.
(We could bring up
Mike Trout
here, but
Miguel Cabrera
was a better candidate than guys such as Gonzalez and Bell, but I digress).
We all know Trout is the best all-around player in the American League and that Cruz's WAR doesn't compare -- entering Monday, Trout led Cruz in bWAR 5.0 to 2.7 and in fWAR 5.5 to 2.5 -- but it is fair to ask where the Orioles would be without Cruz.
Machado had five hits on Monday, including a double and home run, but that raised his season line to only .261/.308/.404. Davis got over .200 with his go-ahead home run that followed Cruz's infield single. Hardy's tacked-on home run in the 11th was just his third of the year, after averaging 26 the past three seasons.
Chris Tillman
pitched well on Monday, but he and
Ubaldo Jimenez
have generally been awful.
Despite that, the Orioles are 49-40 -- 14-4 in their past 18 games -- and they're in first place. Cruz has helped overshadow Machado's immaturity, Davis' struggles and the issues in the rotation.
I'm not actually advocating Cruz as AL MVP. It's clearly Trout. But Cruz has been the big bat the Orioles have needed.
* * * *
One thing sabermetricians haven't been able to quantify: How much of a team's success in a season is dumb luck?
I mean, there are ways to quantify it, but I'm getting at things like the Cruz signing or
Steve Pearce
. The Orioles basically lucked into Cruz. They got him because he didn't get the free-agent money he wanted, teams decided to spend their money on players other than Cruz, so the Orioles were kind of the last team standing with a little extra cash. They signed Cruz on Feb. 24, after spring training had already started.
Then there's Pearce, who is hitting .324/.379/.578 in a part-time role. In terms of bWAR, he actually has been the Orioles' second-most valuable player -- behind
Adam Jones
and
ahead
of Cruz. That's a hard sell, but there's no doubt he has been huge.
And there's luck involved there as well. Pearce is a journeyman who has bounced around Triple-A and the majors for several years. The O's had him in 2012, and waived him during the season. They brought him back later that season and he came off the bench last year. He opened the season with Baltimore but was released on April 27, having played just three games. Then Davis got injured, Pearce was re-signed and he's been on fire ever since.
Dumb luck? I'd say so. Or some element of it.
Nobody could have expected Cruz to put up numbers like he has or Pearce to hit like this. Yes, it remains to be seen whether both players can keep this up, but Monday's game showcases why the Orioles don't have to rely just on those two moving forward: There's talent in this lineup ready to break out. I think Machado and Davis will have better second halves, and that's why the AL East is the Orioles' division to lose.
May, 11, 2014
5/11/14
2:04
PM ET
By
Christina Kahrl
| ESPN.com
So the first-place Orioles are getting
Chris Davis
back. That comes after they're already getting
Manny Machado
back. Along with the big-bopping benefits of
Nelson Cruz
, they should be ready to roll, right?
Well, maybe not so much, because Matt Wieters' long fight to avoid the DL finally ended with his heading there to get some rest for his elbow soreness to recede. He may be gone until July.
Still, let's take the big-picture view of where the Orioles offense is right now. Despite losing Davis for some time, not having Machado for most of the season so far and needing to lean heavily on weak-hitting subs like
Ryan Flaherty
,
Steve Lombardozzi
,
Jonathan Schoop
and
David Lough
in the early going, the Orioles are nevertheless seventh in the league in runs scored at 4.3 per game. That's nevertheless a little below average because of the big split -- almost a half-run -- between the league's six best offenses and the rest of the league.
[+] Enlarge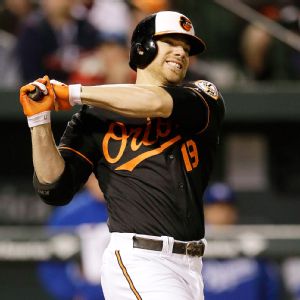 AP Photo/Patrick SemanskyThe Orioles are hoping Chris Davis starts crushing like it's 2013 all over again.
But now that Davis is back, you can see how things should improve for the Orioles, even if Wieters has to rest his elbow until June or perhaps even July. Cruz has already powered 10 home runs in his PED suspension redemption campaign. Machado has struggled, but in his defense, he has less than two weeks' worth of live-game at-bats between his rehab work and his time since being reactivated; it shouldn't be much longer before he's back in a groove.
J.J. Hardy
hasn't really gotten going, but he was hampered by early hamstring problems.
And then there's Davis, last year's third man in the Trout-Cabrera MVP duel after his 53-homer campaign. That built on Davis' end-of-season heroics in 2012, when his 10 homers after Sept. 1 powered the Orioles into the postseason. If the Orioles are going to sustain another October bid, they need him to be producing at the plate.
One potential problem for Davis? According to BrooksBaseball.net pitch data at Baseball Prospectus, Davis is seeing 23.75 percent of all pitches below the strike zone and 25.68 percent of all pitches away and outside: low, high, you name it. Between those two categories, that should amount to a lot of balls (Eric Gregg strike zones excepted), but it means a lot of pitchers are throwing him low and outside. As he waits for cookies that haven't come, Davis hasn't been able to resist. He has swung at almost 60 percent of breaking and off-speed pitches below and outside the strike zone, swinging and missing on 56 percent of them while notching just three base hits. He may not like being more of a walking man, but until he can force pitchers to come back into the zone against him, those cookies are going to be a long time coming.
Getting Davis back is very good news. And I don't think it's at all coincidental that getting Lough out of the lineup at the same time that Machado has replaced that unproductive Schoop-Flaherty combo at the hot corner has helped. Wieters' move to some time at DH while
Steve Clevenger
chipped in a surprising amount of offense? Another benefit. With Davis back, this could mean a whole more at-bats for Davis' substitute at first base,
Steve Pearce
, in the DH slot, keeping Lough among the playing-time losers.
But getting more out of the regular lineup is a matter of finally getting some production out of several weak slots in the Orioles' lineup. They are last in the league in walk rate, getting a free pass in just 5.9 percent of at-bats. Davis' return will be a big help on that score, but a significant problem is the absence of almost anyone else in the lineup who might walk much. Counting on Pearce for any length of time will be a risk, and waiting on Wieters while hoping Clevenger can keep popping as their regular catcher in the meantime will be another. And the absence of any acceptable answer at second base figures to be a season-long problem; I don't consider Schoop a real answer, not when he hasn't hit very well anywhere for any meaningful length of time since mashing in the Sally League in a half-season in 2011.
It's clear the Orioles need to deal for some help, but GM Dan Duquette's job on that front won't be easy. This early, with few teams in sell mode, there aren't a ton of options available at second base -- mighty mite
Jose Altuve
of the Astros, perhaps? There are almost as few options to trade for behind the plate.
If there's good news, it's that the organization may finally have some pieces to deal,
ranking 10th in the Keith Law's preseason organizational sorting
, but it's a system with a few great high-upside arms and not a ton of depth, so perhaps not exactly the sort of hand you want to deal from to land some of the right-now help the Orioles need. Even assuming Duquette were willing to deal, high-end talent demands high-end returns, and Altuve probably ain't that.
Which brings it back to Davis and right now. If he starts pounding at the same time that Machado and Hardy get in gear, that could buy the Orioles the time they need. Time to see when Wieters will be back. Time to see whether an answer to their needs at second base and either DH or left field -- wherever Cruz isn't -- present themselves. For a team in first place in the tight fight in the American League East, they can afford to take the time to find out.
Christina Kahrl writes about MLB for ESPN. You can follow her on Twitter.
August, 19, 2012
8/19/12
1:00
AM ET
By
Christina Kahrl
| ESPN.com
The Orioles are the team that won't go away. For months now, they've been predicted to, expected to, and they have no end of excuses for why they're
supposed
to be long since out of the expanded wild-card picture already. Injuries, run differential, relative anonymity plus generally underwhelming performances from most of the people you have heard of -- the Orioles are supposed to be goners.
They aren't gone, but they might be going places. On Saturday, it was
Zach Britton
's bend-don't-break stylings that were their latest "that's not really possible, is it?" feat.
Seven shutout innings
against the Tigers make for some sort of Saturday night special, not bad for the latest transient solution in Buck Showalter's constantly fixed-up rotation.
Go by appearances alone, and it seemed like Britton had no business matching zeroes with the Tigers'
Rick Porcello
, allowing nine baserunners to Porcello's four through the first six innings. But three 6-4-3 double plays were enough to keep his head above water. Porcello had retired 11 men in a row heading into the seventh, but so what? A pair of dink singles and
Chris Davis
' three-run shot later, it didn't matter what Porcello had done beforehand or how good he looked doing it, because the O's had a decisive lead thanks to Davis' just-enough bit of bopping, making Britton a winner.
That in itself might be a bit of a surprise, considering that Britton's shot at pitching this year was no sure thing in March, when shoulder surgery seemed likely. But opting for platelet-rich plasma (or PRP) treatments put him on the shorter road to rehab, and he's been the skippable, sometime-fifth starter for a team that barely goes a week without having to change something in its rotation.
The Orioles have managed to keep the identity of their rotation's third or fourth or fifth starter a matter of a near-weekly surprise to everyone, including themselves. Some of that has been a matter of effective roster management by general manager Dan Duquette: Early in the season, the Orioles could afford to flip the optionable
Tommy Hunter
back and forth between Baltimore and Triple-A Norfolk, rostering him only when they had to. Despite that time spent shuttling back and forth, it says something about Baltimore's lot that Hunter is now second on the team in total starts because almost everyone queued up ahead of him has broken down or pitched his way out of a job.
This yo-yo role Britton found himself in on Saturday, as he was called back up into the latest breach in the rotation after already blowing his initial call-up after the All-Star break, getting clobbered in five of six starts. In the Orioles' ad-hoc rotation, he was back up because he was on the 40-man roster and had four days' rest, and little else -- he was four days removed from getting chewed up by Charlotte, pitching through a split nail on his pitching hand.
Britton briefly dealt with the burden of being blown up too soon as a sign of better times to come in the spring of 2011, after he notched a quick eight quality starts in his first 10 turns as a rookie in the big-league rotation. But just like
Brian Matusz
and
Jake Arrieta
, his success didn't last -- Britton managed just five starts of six innings or more and three runs allowed or less in his last 18 turns in 2011, putting him well on his way toward a new entry on the Orioles' list of mound disappointments. But like every other expectation for an Orioles setback, it seemed to merely set the stage for this latest improbable bit of heroics.
Where the rotation woes of the Yankees or the Red Sox get featured prominently, the Orioles have been scrambling all season. Only Chinese import
Wei-Yin Chen
has lasted the season. Chen plus Britton, Hunter, former Mariners prospect
Chris Tillman
and journeyman
Miguel Gonzalez
represent the latest front-five confection in a rotation that has already had to use 10 starters. Every day, the four non-Chens are all pitching for their jobs, because
Jason Hammel
is on the mend and due back in another two weeks.
Contenders aren't supposed to start TBD in three or four rotation slots this late in the season, are they? But this comes on top of their playing TBNL in left field. Davis was briefly their answer there, but so was
Nolan Reimold
,
Endy Chavez
,
Xavier Avery
and
Steve Pearce
. They're down to a
Nate McLouth
-
Lew Ford
platoon that would be entirely plausible if we were talking about a contender -- in the International League.
All of which is part of what makes the Orioles so entertaining. As they scrape to keep pace with the Rays in the wild-card chase, it might be hard to call them the underdog, but that's only if you keep your eyes peeled on payrolls. It's easy to root for the Rays -- every statistically savvy smart kid goes fanboy on sabermetrics' poster team. And they're supposed to beat Baltimore -- they're supposedly smarter, and stocked up on the really good players you already know, like
Evan Longoria
and
David Price
. And yet the Orioles still will not go away. Fun, ain't it?
PHOTO OF THE DAY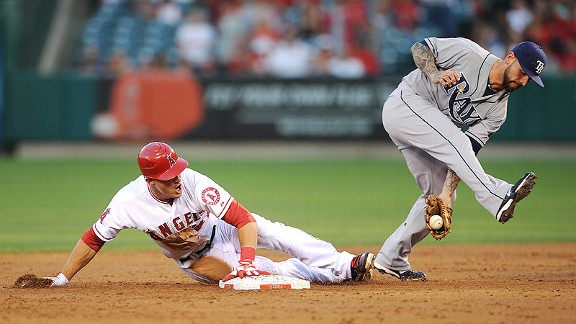 Kelvin Kuo/US PresswireRyan Roberts might do a little dance, but it's Mike Trout who has a steal to celebrate.
Christina Kahrl covers baseball for ESPN.com. You can follow her on Twitter.
June, 30, 2012
6/30/12
9:29
PM ET
By
Christina Kahrl
| ESPN.com
Jim Thome
's right back where he needs to be, and if you're an Orioles fan, you might think
the trade that moves him down I-95
has come not a moment too soon. The Orioles really needed to do something to shore up their offense, and perhaps more than anything, they've needed to find an outfield bat or two. Averaging just 4.2 runs per game, they're ninth in the American League in offense, and a major part of the problem is the lack of good wood they've gotten from their left fielders (.642 collective OPS) and right fielders (.703).
The funny thing is that the Orioles' designated hitters weren't a problem, not in the aggregate, with a .787 OPS. Their in-season problem was that the absence of a reliable performer had helped suck
Chris Davis
out of the infield and into their DH mix. With their gaping holes in the outfield corners, they really do need something that would stick at DH, freeing manager Buck Showalter to reemploy Davis in the field and spare the club from reverting to the DH-du-jour non-answers Baltimore's weakly stocked bench provides.
Which brings me to the other major implication of this move -- what this deal does
not
mean: Thome isn't replacing
Wilson Betemit
or Davis in the lineup in a bit of incremental improvement. Instead, he's the answer to a crying need in Showalter's offense, which was the absence of a regular DH who could deliver on the hitting half of being designated to hit. The Orioles' current scoring clip is not going to get it done in the AL East, even with the expanded postseason.
But the market didn't really have much to offer as far as outfield thumpers, so general manager Dan Duquette did the next-best thing: He traded for a cheaply available bat in Thome, figuring that adding a bat lets Showalter reemploy the day-to-day rovers he's used to plug lineup holes all season to man one fewer position, and perhaps more precisely help fix the club's problems in the non-
Nick Markakis
outfield corner. Markakis is due back soon, so the Orioles are already going to have one outfield answer. Trading for Thome is going to help them fix the other corner.
Adding Thome to the roster helps because it frees up the bats the Orioles were using at DH to help fix the other slots in the lineup. Showalter has utilized Davis in particular as one of those rovers, and he'll no doubt continue to use Betemit as his infield Mr. Fix-It. With Thome in the fold, Davis might very well be the Orioles' left fielder of the immediate future, a patch they desperately need.
With Markakis looking like a lock to return from the disabled list after the All-Star break, the Orioles' lineup should be in significantly better shape shortly, with Markakis in right field, Davis in left and Thome at DH.
Where roster management is concerned, it's understandably fashionable in the age of the seven-man bullpen to laud the virtues of doing without an everyday DH, and to instead use the slot as a chance to spread at-bats around to the three non-catchers most AL teams get by with on their benches. There's a certain kind of wisdom to it when you have bench bats worth playing, but that was not this Orioles team, not when it's been picking from among the likes of infrequently healthy
Nick Johnson
, minor league veteran
Steve Pearce
, Rule 5 pick
Ryan Flaherty
or career fifth outfielder
Endy Chavez
. Or what might be more simply referred to as "bad choices."
The Orioles' getting away from their initial team-DH solution and instead placing their faith in one of the last few true designated mashers left is what both Thome and they deserve. Just as he can be an instrument of their second-half success, so too can Thome show off that he's still got plenty left in the tank.
Over the past two seasons, as a 40- and 41-year-old, Thome has hit .254/.357/.484 for the Twins, Indians and Phillies. This year, DHs around Major League Baseball have put together a .257/.331/.435 line -- which might not sound great, but it's a better line than what MLB teams are getting from their first basemen or left fielders. But Thome's been better still, despite the rust that started forming in his infrequent DH role until interleague play helped get him back in action.
The 27 innings that Thome played in the field for the Phillies were more than some thought he could handle, and it was more playing time with a fielding glove than he's put in since 2005. They might also be the last, because after the misery of less-than-part-time play, Thome may elect to never return to the National League. If he keeps hitting this way, he shouldn't need to.
PHOTO OF THE DAY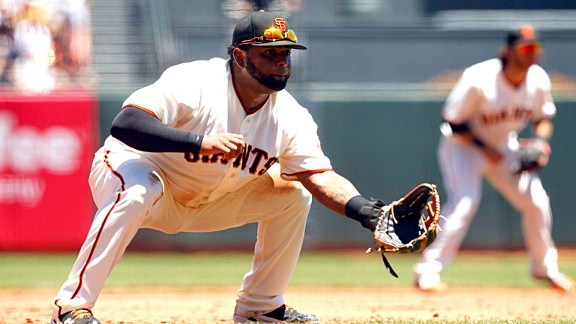 Cary Edmondson-US PresswireA Kung-Fu Panda has a natural advantage: A low center of gravity.
Christina Kahrl covers baseball for ESPN.com. You can follow her on Twitter.
June, 4, 2011
6/04/11
12:00
PM ET
By
Christina Kahrl
| ESPN.com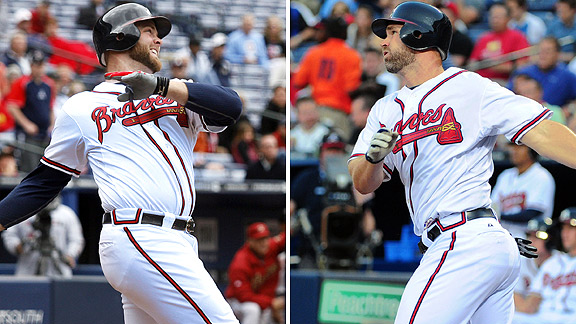 US Presswire/Getty ImagesThe lefty/righty catching platoon of Brian McCann and David Ross has been the NL's best this season.
If the American League has very few stable platoons but a few identifiable platoon players getting work, is the National League any better off? Even with today's bigger bullpens, the absence of a DH gives NL skippers and GMs a little more freedom to carry a player whose primary value is to platoon, since they have five reserves, so even if one is a catcher and another is someone who can play short, that still leaves space for the odd guy. Say, that journeyman who can knock a situational lefty right out of the box, or who can help put up a crooked number against that tiring right-handed starter in the fifth or sixth inning. And it doesn't hurt that these kinds of guys are handy for double-switches.
As in the American League, you find a few catching platoons of convenience, in which the backup backstop bats from the other side and conveniently gets his starts on the days the starter needs a rest. The Braves' setup with
Brian McCann
and
David Ross
is the best of the lot, but when Atlanta afforded itself Ross, it did so knowing it was getting more than a platoon player. The Mets' young/old and lefty/righty combo of
Josh Thole
and
Ronny Paulino
has its virtues. Charlie Manuel has the benefit of a slight inversion of the paradigm when
Brian Schneider
is healthy -- a lefty-batting backup is a lot easier to spot when
Carlos Ruiz
really does need a rest, since most pitching is right-handed -- but he's on the DL.
Stable platoons beyond those behind home plate are surprisingly limited in the Senior Circuit. I'd divide the current group of platoons in the league into three groups: committed, accidental and diffident, reflecting the level of planning and commitment that went into constructing them, and whether or not they're going to last more than a couple weeks.
Among the few we'd call committed, Clint Hurdle's stolidly running out his right-field combo of
Garrett Jones
and
Matt Diaz
. It isn't hitting all that well, but that was the plan, and so far, they're sticking with it. The Phillies anticipated a right-field platoon before the season, but
Domonic Brown
's injury kept that from becoming a reliable feature of Manuel's lineup cards until recently, pressing
Ben Francisco
back into an everyday role he handed back.
[+] Enlarge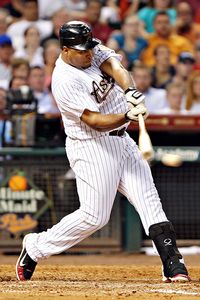 Troy Taormina/US PresswireThe Astros are 10-8 against lefties this season, which could be partly because that matchup allows them to move Carlos Lee out of left field.
In the infield, San Diego manager Bud Black has been reliably sticking with
Brad Hawpe
and
Jorge Cantu
as his first-base arrangement, but there's only so much Can'tu at the plate that even the Padres can endure. The rare multi-position platoon that's a matter of design, but also a certain diffidence is found in Houston, where Brad Mills is moving
Carlos Lee
between left and first base, but not every time out.
Brett Wallace
sits against a few lefties,
Jason Michaels
plays left and Lee moves to first and keeps getting to play every day. The 'Stros might have a 10-8 record vs. lefties, but getting Michaels into the lineup isn't the reason why. But re-potting the increasingly immobile Lee someplace other than left field might be a contributing factor.
Alone among their NL brethren, the Marlins have stuck with an infield platoon someplace other than first base, and they platoon at third without actually finding a set right-handed half of the platoon. Edwin Rodriguez has damned the defensive torpedoes to run
Greg Dobbs
out there every day against right-handers, while leaving his partner du jour as a matter of mystery -- sometimes it's
Wes Helms
, sometimes it was
Donnie Murphy
, and now sometimes it's the roving
Emilio Bonifacio
. Those happy few who root for the Teal Deal are no doubt on their seat's edge when their Fish face a lefty.
Among the accidental platoons, three NL West teams have setups they didn't necessarily expect. To the credit of both Bruce Bochy and Black, they've proven reliably willing to platoon, and they're assembling new ones on the fly after their initial designs broke down. Black got plenty of mileage out of his outfield platooning last year, but
Will Venable
flopped this spring, handing back his half of the right-field job. In his desperation, Black is pairing
Eric Patterson
with
Chris Denorfia
, which isn't helping matters.
While Bochy isn't trying anything quite as inspired as last year's mid-season lineup platoon between
Travis Ishikawa
and
Aaron Rowand
-- with
Aubrey Huff
moving to the outfield against righties and returning to first base against lefties -- he has been aggressive in getting
Nate Schierholtz
into the lineup against right-handers while playing
Cody Ross
daily. Rowand is getting platoon time with
Andres Torres
in center, but
Pat Burrell
hasn't been entirely reduced to Schierholtz's platoon partner.
Then their is the Dodgers' Don Mattingly. Some combination involving
Jay Gibbons
in left field was probably going to be part of the program at the outset, but Gibbons' spotty health, a passing interest in
Tony Gwynn
's speed, and
Marcus Thames
' breakdown opened up an opportunity for first baseman
Jerry Sands
to win the job. But like so many other thundersticks from Albuquerque in Dodgers history, his stick fell still in Chavez Ravine, and now Sands is in an accidental platoon with Gibbons until they decide there's a better alternative.
Injury created the Braves' temporary replacement platoon setup for
Jason Heyward
, as the
Eric Hinske
/
Joe Mather
platoon is working out nicely -- but it's also clear that pair will head back to pine time as soon as Heyward's healthy. In contrast, some managers look like they'd like to platoon more, but injuries have gotten in the way. The Brewers' Ron Roenicke appears committed to a
Nyjer Morgan
/
Carlos Gomez
platoon in center because of the speed 'n defense combo it provides, but Morgan's injury got in the way at the outset. If it sticks, that's the circuit's lone platoon arrangement up the middle someplace other than catcher.
The Pirates' loose platoon at the infield corners reflect what I mean by "diffident platooning." In contrast with his greater faith in his right field platoon, at the infield corners Clint Hurdle's sort of futzing around with
Steven Pearce
at both first and third vs. lefties to give him something to do, and sometimes
Brandon Wood
gets time at third. But it isn't an everyday sort of devotion, and has as much to do with
Pedro Alvarez
's career-stunting slow start and
Lyle Overbay
's offensive indifference than any abiding faith in Pearce or Wood.
I'd also chuck Kirk Gibson's first-base set-up into this category as well --
Xavier Nady
and
Juan Miranda
are platooning, sort of, but Gibson isn't exactly being a stickler about it. Since neither are hitting the people they're supposed to, and since neither plays first base all that well, it's more first base by coin toss at gunpoint than a straight platoon.
Platooning isn't automatically a good idea, after all, and if as Casey Stengel put it, "I could'na dunnit widdout the players," that's just as true today -- skippers can only use what they've got, no matter how clever they might be in how they employ it.
Christina Kahrl covers baseball for ESPN.com. You can follow her on Twitter.