SweetSpot:

Steve Trachsel
November, 29, 2011
11/29/11
9:26
PM ET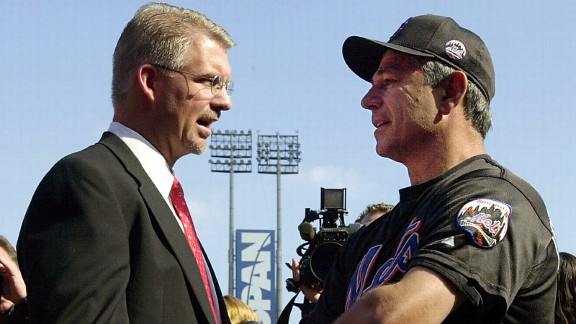 Henny Ray Abrams/Getty ImagesSteve Phillips and Bobby Valentine rarely saw eye-to-eye during their time with the Mets.
When fans think of Bobby Valentine, most will initially think of the time he tried to sneak back into the dugout wearing glasses and a fake mustache after getting ejected from a game. There will be plenty of talk about the perception that he's arrogant, a little aloof and craves the limelight too much. There will be talk that he hasn't managed in the major leagues since 2002 (although he did in Japan after that) and that his departure from the Mets was fueled in part by his disagreements with general manager Steve Phillips.
So the talk will mostly be about his personality. But what kind of manager was he? Let's look back at his career -- focusing mostly on his full seasons with the Mets from 1997 to 2002 -- to see what that may indicate about how he'll manage the Red Sox.
Will Carl Crawford hit leadoff?
With
Jacoby Ellsbury
's new power stroke, it may make sense to move him down in the order to get him more RBI opportunities; that would leave Crawford as a leadoff option. I don't see that. Even if Crawford bounces back, his on-base percentage is hardly ideal for a leadoff hitter and Valentine -- a guy who was using computers and studying sabermetrics back with the Rangers in the '80s -- craves a high OBP from his leadoff hitter.
Check out his leadoff hitters with the Mets:
1997: Lance Johnson/Brian McRae.
1998: Brian McRae/Tony Phillips -- McRae posted a career-high .360 OBP that year.
1999:
Rickey Henderson
.
2000: Ten different leadoff hitters, including
Benny Agbayani
27 games.
2001: Used four guys at least 20 games, led by
Joe McEwing
's 44 games. Led off Agbayani 32 times.
2002:
Roberto Alomar
/
Roger Cedeno
.
The unconventional use of Agbayani, the rotund Hawaiian without much speed but in possession of good on-base skills, shows Valentine's preference for OBP. In 2002, with Cedeno failing to do the job, he used Alomar there. I see Crawford remaining lower in the order, with Ellsbury staying in the No. 1 spot.
Does he like the quick hook or does he let his starters stay in the game?
There's not really a lot of in-game strategy in the American League, especially with a team like the Red Sox that basically just looks to bash the ball. So the most important strategic elements for Valentine will be how he handles the rotation and bullpen. The 2011 Red Sox were 12th in the AL in average innings per start, but that was more a function of a lousy rotation than Terry Francona's itchy trigger finger.
Let's see where the Mets under Valentine ranked in average in innings per start among NL teams:
1997: 5th
1998: 4th
1999: 8th
2000: 4th
2001: 4th
2002: 5th
Nothing really unusual here, as the Mets usually had a solid rotation under Valentine. They ranked in the upper half of innings because he had decent pitchers.
He was a little more generous when it came to allowing his starters throw 100 to 119 pitches:
1997: 9th
1998: 7th
1999: 12th
2000: 3rd
2001: 1st
2002: 4th
What's interesting about the 2001 squad is that they actually allowed the fewest walks in the league, so the high pitch counts weren't the result of a staff that walked a lot of hitters. He had a veteran rotation that year -- Leiter,
Kevin Appier
,
Glendon Rusch
,
Steve Trachsel
,
Rick Reed
-- and let his starters work deeper into games. It will be interesting to see if Valentine allows
Jon Lester
and
Josh Beckett
to reach the century mark more often than Francona did. In 2011, Lester had 22 100-pitch games -- tied for 25th-most among major league starters; Beckett had 21.
Justin Verlander
had 34,
CC Sabathia
31, and other top AL pitchers like
James Shields
,
David Price
,
Felix Hernandez
,
C.J. Wilson
,
Dan Haren
and
Jered Weaver
were all in the high 20s or low 30s.
Does he like an experienced closer?
In other words, would he be comfortable with
Daniel Bard
in the ninth inning? With the Mets, he initially had
John Franco
. The team acquired
Armando Benitez
in 1999 and when Franco went down with an injury in early July, Benitez took over as closer; when Franco returned, Benitez kept the closer job. As the Rangers' manager from 1985 to 1992, he had a different closer every year early on, before the club turned starter Jeff Russell into a successful closer in 1989. Hard to read too much into this, although both Russell and Bard throw hard. My guess is this becomes more of a front-office decision (do they sign
Ryan Madson
?), but that Valentine would have no problem making Bard his closer.
Does he like strikeout pitchers or guys who throw strikes?
With the Rangers, Valentine (and pitching coach Tom House) were obsessed with guys who threw hard. They had
Bobby Witt
, Jose Guzman, Edwin Correa, Nolan Ryan, Mitch Williams and others. Ryan had mostly refined his control (for him) by the time he reached Texas, but the other four would have problems hitting a barn door placed 10 feet in front of them. His first four staffs all had the highest walk rate in the American League. His staffs with the Mets were better, and Valentine seemed less concerned with velocity -- guys like Reed, Bobby Jones and Rusch were more finesse-type pitchers who threw strikes.
Mets strikeout rate under Valentine:
1997: 13th
1998: 7th
1999: 4th
2000: 3rd
2001: 5th
2002: 5th
Mets walk rate under Valentine:
1997: 2nd
1998: 7th
1999: 8th
2000: 3rd
2001: 1st
2002: 5th
Does he like a set lineup?
During his years with the Mets, Valentine always had a set infield, but remarkably never had one outfielder start 100 games at one position more than once. His machinations out there were pretty remarkable and show the willingness to be flexible and mix and match players as needed. Now, with the Red Sox he won't have same issue, with Ellsbury and Crawford playing every day, but it certainly suggests he'd be comfortable with a platoon in right field.
Here's the list of outfielders who started 100 games in a season at the same position with the Mets under Valentine:
1997:
Bernard Gilkey
, LF, 134
1998: Brian McRae, CF, 144
1999: Rickey Henderson, LF, 113
2000:
Jay Payton
, CF, 124;
Derek Bell
, RF, 136
2001: None
2002: Roger Cedeno, LF, 125;
Jeromy Burnitz
, RF, 131
The big issue here is how he handles Crawford, especially if he struggles to hit left-handers again (.195 in 2011). Would he consider benching Crawford against lefties, or at least the tough lefties?
Does he like young players?
With the Mets, he mostly had a veteran lineup. He did give Agbayani an opportunity, broke in Payton and
Timo Perez
, and gave Cedeno his first chance to play every day. With the Rangers, he broke in position players like
Ruben Sierra
, Oddibe McDowell, Steve Buechele, Pete Incaviglia, Jerry Browne,
Ivan Rodriguez
,
Juan Gonzalez
and
Dean Palmer
. Again, this might be more of a front-office decision, but I'd say Valentine would give youngsters like
Josh Reddick
and
Ryan Lavarnway
an opportunity to play regularly.
Valentine's reputation with the Mets was one of being prepared and being tactically smart with his in-game moves. He had to do more with the Mets than he'll have to with the Red Sox, especially considering he was often platooning at one or two outfield spots. He trusted his veteran starters to go deep into games. In short, there's nothing radically unconventional about Valentine's managerial philosophy. Of course, he last managed in the majors 10 years ago and his biggest challenge won't necessarily be strategy, but getting Crawford to rebound, getting his older players in better shape, and rebuilding Bard's confidence.
March, 23, 2011
3/23/11
11:35
AM ET
I don't actually remember the first baseball game I attended, but in the spring of 1973 my father assures me we went to see a local high school phenom named Floyd Bannister, who would go 15-0 with an 0.00 ERA and three years later become the first pick in the draft by the Astros.
The first major league game I saw in person was Mariners versus Red Sox, Kingdome, May 1977. Must have been backpack night or tote bag night because the attendance totaled more than 52,000, and back then the Mariners drew that many fans only on Opening Day or for promotional giveaways. Jim Rice and Carlton Fisk hit home runs and, of course, the Mariners lost.
[+] Enlarge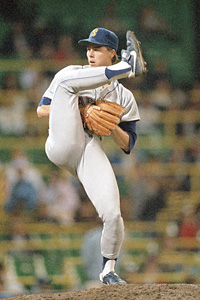 AP Photo/Fred JewellFormer Seattle ace Mark Langston's high leg kick was a staple at Mariners games for years, like during this 1987 shutout of the White Sox.
While I suffered through endless defeats, I witnessed plenty of exciting moments, like Ruppert Jones hitting an inside-the-park home run against the Yankees that first season that propelled everybody into a "Rupe! Rupe! Rupe!" chant at the top of our lungs. Or bat night in 1981, when Tom Paciorek beat the Yankees for the second night in a row with a ninth-inning home run and we started banging our bats against the metal bleachers in a deafening celebration. I was there with my father when Gaylord Perry won his 300th game and later that season when Perry was ejected for the only time in his career for throwing a spitball (Boston's Rick Miller swung and missed a pitch by about two feet and charged the mound, leading to an impressive melee).
I've seen Mark Langston two-hit the Tigers, compelling Sparky Anderson to call him the best young left-hander he'd seen since Sandy Koufax. I loved Langston and his high leg kick, but the Mariners couldn't afford him and he was later traded for a tall, gangly rookie named
Randy Johnson
, and I was there in the upper deck when Johnson beat the Angels (and Langston) in the 1995 tiebreaker to put the Mariners into the playoffs for the first time in franchise history.
I've sat in primo box seats at Fenway Park (thanks, Rob), watching
Pedro Martinez
strike out 17 Devil Rays … and lose 1-0 because
Steve Trachsel
pitched a three-hit shutout. I've seen Clemens throw a bat at Piazza, squinting from the upper deck at Yankee Stadium, not sure I saw what I thought I saw. I've seen
Tino Martinez
and
Scott Brosius
hit bottom-of-the-ninth homers to tie World Series games, and I definitely couldn't believe what I saw.
I'm just one fan, with my own chamber of baseball memories. You have your own, but we all keep going to the ballpark or watching on television or checking updates on our phones for the same reasons: We still love the games. We want to know who wins, who loses, hope for a game-winning home run or a young left-hander who throws 95 and makes us believe he's the next Koufax.
So with the 2011 season soon upon us, I can't wait for the games to begin, to see more memories formed.
To see what
Buster Posey
and the Giants will do for an encore.
To see whether
Jason Heyward
will explode in his sophomore campaign.
To see
Carl Crawford
going first to home on an
Adrian Gonzalez
double off the Monster.
To see if the Rays can again shock the baseball world and win the AL East for the third time in four seasons.
To see Cardinals fans give
Albert Pujols
a five-minute standing ovation the first time he steps to the plate.
To see
Joey Votto
deliver more big hits for Reds. (Note: I have a man crush on Joey Votto.)
To see
Troy Tulowitzki
range deep in the hole and rob a batter of a sure single. And then blast a 425-foot home run later in the inning.
To see
Joe Mauer
spray line drives all over the field.
To see
Justin Verlander
and
Josh Johnson
blow away hitters.
To see the artistry of
Roy Halladay
.
To see Yankees fans panic if
Derek Jeter
starts the season 1-for-14.
I can't wait to see the late game on Opening Day:
Tim Lincecum
versus
Clayton Kershaw
, the little righty with the funky motion and two Cy Young Awards versus the big lefty who could win one this season.
If our memories of games are a tangled web of neurons, well, that's kind of how baseball works, too. Langston was drafted in the second round with a pick acquired from the Rangers after they signed Bill Stein as a free agent. The Mariners picked Stein in the expansion draft from the White Sox, who had acquired him for Jerry DaVanon, who had been traded for Roger Repoz, who was acquired for Jack Sanford, who came up on the unlucky end of a 1-0 loss for the Giants in Game 7 of the 1962 World Series. The Giants didn't win a World Series in San Francisco until 2010, led by their ace Lincecum, who grew up in the suburbs of Seattle -- maybe the first game
he
ever saw featured Mark Langston -- using a pitching motion his father taught him, a motion modeled on the delivery of Sandy Koufax.
The SweetSpot blog will be here all season, writing about and discussing and analyzing the web that is a baseball season. Join myself and other contributors as we discuss the news, have some fun and give you a chance to interact. Mostly, we'll be watching a lot of games, as the moments of 2011 unveil themselves.
I can't wait. How many hours until the first pitch?
Follow David Schoenfield on Twitter at @dschoenfield. Follow the SweetSpot blog at @espn_sweet_spot.