SweetSpot:

Tanner Scheppers
March, 31, 2014
Mar 31
9:44
PM ET
The first rule of Opening Day: Don't overreact to Opening Day. So these are merely observations from flipping around watching a bunch of different games.
1.
At one point during the Cardinals-Reds opener,
Adam Wainwright
looked a little perturbed, presumably at the strike zone of plate umpire Gary Cederstrom. After all, Wainwright walked three guys unintentionally in his seven innings (plus another intentional walk). This was a guy who walked just 35 batters in 34 starts last year, just once walking three guys in a game. So he may have been unhappy with the balls and strikes … and yet still threw seven scoreless innings with nine strikeouts and just three hits allowed in the Cards' 1-0 victory. Whenever the Reds threatened, Wainwright got the big outs -- a
Joey Votto
double play on a 2-2 fastball in the third and
Zack Cozart
on a tapper in front of the plate with two runners on to end the sixth. He threw 105 pitches, including 22 of his famous curveball -- the Reds went 0-for-6 with a walk against the curve, including Cozart's out. Here's the thing about the Cardinals: While I (and others) have spent a lot of time discussing their depth and versatility, they also have two of the best players in the game: Wainwright and
Yadier Molina
. Their lone run off
Johnny Cueto
: Molina's home run in the seventh off a 0-0 cutter that didn't cut.
2.
I don't know if
Billy Hamilton
will hit, but I know he can't hit Wainwright. The Reds' rookie went 0-for-4 with four strikeouts against Wainwright to register the dreaded golden sombrero -- the 17th player since 1914 to go 0-for-4 with four strikeouts on Opening Day. The potential bigger picture: If Hamilton and
Brandon Phillips
don't get on base enough -- a distinct possibility -- Votto is going to draw 100-plus walks no matter if he has
Jay Bruce
, Johnny Bench or Frank Robinson hitting behind him. Which will lead to the haters complaining about Votto's RBI total.
3.
The Tigers beat the Royals 4-3 thanks to a big day from emergency shortstop acquisition
Alex Gonzalez
, who tripled in the tying run in the seventh and singled in the winning run in the ninth.
Justin Verlander
scuffled through his six innings, giving up six hits and three walks with just two strikeouts, but that's not my initial concern. The concern is that Opening Day roster, which includes Gonzalez,
Andrew Romine
,
Bryan Holaday
,
Tyler Collins
,
Don Kelly
,
Ian Krol
and
Evan Reed
. Besides Krol and Reed, the bullpen includes
Phil Coke
(1.6 WHIP over the past two seasons),
Joba Chamberlain
,
Al Alburquerque
and
Luke Putkonen
. In other words: The final 10 spots on the roster could be a disaster. It could work out -- Chamberlain and Alburquerque will probably be OK if they stay healthy, for example -- but the lack of depth on this team could be an issue. Detroit's star players -- Verlander,
Miguel Cabrera
and
Max Scherzer
-- have been very durable, but a lengthy injury to any of those three or
Anibal Sanchez
,
Austin Jackson
or
Ian Kinsler
could be crushing.
4.
The Pirates picked up with the kind of game they won last year, beating the Cubs 1-0 on
Neil Walker
's walk-off home run in the 10th inning. The Pirates won five 1-0 games last year (there were only 48 such games in the majors last season, so the Pirates had over 10 percent of all 1-0 victories). The major league average when scoring one run, two runs or three runs was a .270 winning percentage; the Pirates were 25-39 (.390) when scoring one to three runs, so they won a lot of low-scoring games. The big positive besides the bullpen throwing four scoreless innings was the six dominant innings from
Francisco Liriano
, who tied a Pirates club record with 10 strikeouts on Opening Day. With the loss of
A.J. Burnett
, the pressure is on Liriano to repeat his 2013 performance.
5.
Showing early confidence in
B.J. Upton
, who hit .184 last year while striking out in 34 percent of his plate appearances, Braves manager Fredi Gonzalez hit his center fielder second while moving
Justin Upton
down to fifth (
Chris Johnson
hit cleanup). I can't say that's the lineup I'd go with -- Justin Upton seems the logical choice to bat second behind leadoff hitter
Jason Heyward
-- but no matter what order Gonzalez chooses there are going to be some OBP issues if B.J. Upton,
Dan Uggla
and
Evan Gattis
don't get on base more often.
Yovani Gallardo
kept the Braves in check with six shutout innings -- a good sign for the Brewers considering Gallardo's inconsistency and drop in velocity last year -- while
Francisco Rodriguez
was called on for the save in the Brewers' 2-0 victory.
6.
One reason I'm a little wary about the Orioles is new closer
Tommy Hunter
's struggles against left-handed batters -- he gave up 12 home runs last year, which is way too many for a reliever to begin with, and all 12 were against lefties. He scraped through the save in the O's 2-1 win over the Red Sox, hitting
Will Middlebrooks
with a pitch and giving up a one-out single to
Dustin Pedroia
, but he got ahead of
David Ortiz
0-2 before getting him to fly out to medium-deep left center, and then struck out
Jackie Bradley
looking on a fastball at the belt. (Bradley was hitting after pinch running for
Mike Napoli
in the eighth).
7.
I was dubious about
Tanner Scheppers
as a starter and his performance in the Rangers' 14-10 loss to the Phillies didn't alleviate any of those concerns. His fastball averaged 96.3 mph last year as a reliever but 93.3 on Monday as a starter. His strikeout rate as a reliever didn't scream "try this guy as a starter" and he fanned just two in his four innings, which required 93 pitches to get through. It's just one start and considering it was his first in the major leagues and on Opening Day -- a strange choice by Ron Washington -- let's give him a pass and keep an eye on his next outing.
8.
Tough loss for the Mets, blowing leads in the seventh and ninth innings and then losing in 10 to the Nationals. As Mets broadcaster Gary Cohen said after
Anthony Rendon
hit a three-run homer off
John Lannan
in the 10th, "What an atrocious day by the Mets' bullpen." Something Mets fans have witnessed all too often in recent seasons.
9.
While flipping through the various games, it's pretty clear we're going to see even more defensive shifting. According to Baseball Info Solutions, the number of shifts has increased from 2,358 in 2011 to 4,577 in 2012 to 8,134 in 2013.
10.
Jose Fernandez
. He looked brilliant in his six innings, throwing 73 of his 94 pitches for strikes, and smiling when
Carlos Gonzalez
homered in the sixth off his one mistake. I think I may watch 33 Marlins games this year.
March, 31, 2014
Mar 31
8:00
AM ET
There's nothing quite like Opening Day. As Pete Rose once said, "It's like Christmas except warmer." It's a reminder that for perhaps inexplicable reasons we still love this crazy game, that we're ready to devote way too many hours over the next seven months to watching games that will enthrall us and disgust us but bring us together. We'll laugh, we'll cry, we'll shout -- and that's just within one
Starlin Castro
at-bat. It's Opening Day. Enjoy.
Must-watch game of the day
If I could watch only one game on Opening Day -- which would pretty much qualify as cruel and unusual punishment if actually forced to such limits -- I'd go with
St. Louis Cardinals
at
Cincinnati Reds
(4 p.m. ET, ESPN/WatchESPN). First, we get a heated division rivalry with two playoff teams from last season. We get a great pitching matchup with
Adam Wainwright
and
Johnny Cueto
. We get
Billy Hamilton
trying to get on base and then trying to run on
Yadier Molina
if he does get on. We get the new Reds lineup with
Joey Votto
and
Jay Bruce
hitting third and fourth. (Oh, how we miss you, Dusty.) Plus, there are potential cameos from
Eric Davis
, Chris Sabo, Pete Rose or Schottzie.
Best pitching matchup of the day
Considering the depth of starting pitching in the majors, you'd think we'd have more can't-miss pitching matchups of Cy Young contender facing Cy Young contender, but that isn't really the case on this day. But
James Shields
versus
Justin Verlander
is a great one (
Kansas City Royals
at
Detroit Tigers
, 1:08 p.m. ET).
Here's an interesting fact: The Tigers had all that great pitching last year, right? Well, the Royals allowed the fewest runs in the American League. Shields is making his sixth career Opening Day start while Verlander makes his seventh in a row. Verlander allowed zero runs his past two openers (although he pitched just five innings last year on a cold day in Minnesota). Royals fans must deal with no
Jeff Francoeur
in the opening lineup for the first time in four years. Hold those tears.
Pitcher you have to watch if you've never watched him
The Marlins rarely appear on national TV, so you may not have seen
Jose Fernandez
pitch as a rookie unless you're actually a Marlins fan or your team faced him. If you missed him, you made a mistake, so don't miss this one. No dinner break. No excuse that this may be your third game of the day. He starts against
Jorge De La Rosa
as the
Colorado Rockies
play the
Miami Marlins
(7 p.m. ET, ESPN2/WatchESPN).
This is kind of a cool random factoid from ESPN Stats & Information: This is the first Opening Day matchup in the past 100 years of pitchers born in Cuba and Mexico. Fernandez will become the fourth-youngest Opening Day starter in the past 35 seasons behind Dwight Gooden (1985 and 1986 Mets), Fernando Valenzuela (1981 Dodgers) and
Felix Hernandez
(2007 Mariners).
The "Wait, he's starting on Opening Day?" award
This is always a fun one. One year the Pittsburgh Pirates started
Ron Villone
, who had posted a 5.89 ERA the year before -- primarily as a reliever. The Tampa Bay Devil Rays started
Dewon Brazelton
in 2005; he'd finish the season 1-8 with a 7.61 ERA. The Twins started
Vance Worley
a year ago. This year's most interesting surprise starter is
Tanner Scheppers
of the Rangers (
Philadelphia Phillies
at
Texas Rangers
, 2:05 p.m. ET) -- interesting because he has never started a major league game.
Since 1914, only three pitchers made their major league debuts starting on Opening Day: Lefty Grove of the A's in 1925, Jim Bagby Jr. of the Red Sox in 1938 and Al Gerheauser of the 1943 Phillies. Scheppers doesn't match their feat because he's pitched in relief, but he does match Valenzuela, whose first major league start came in that 1981 Opening Day start. Of course, to match Fernando, all Scheppers has to do is throw five shutouts and six complete games in his first seven starts.
Just thought I'd mention this
The Los Angeles Dodgers will pay reliever
Brandon League
more this season ($8.5 million) than the Pirates will pay National League MVP
Andrew McCutchen
($7.458 million), who will rank 34th among outfielders in salary in 2014. Anyway, watch McCutchen's
Pirates
host the
Chicago Cubs
(1 p.m. ET, ESPN/WatchESPN).
Another reason to love McCutchen, besides the fact that he's a
talented artist
, can imitate
others' batting stances
and helps old ladies cross the street: His WAR has increased each season of his career, 2.3 to 3.8 to 5.7 to 7.0 to 7.9.
Watch Robinson Cano in a new time zone
Cano makes his Mariners debut in a late game,
Mariners
at
Angels
(10 p.m. ET, ESPN2/WatchESPN). As a bonus, you get Felix Hernandez and
Jered Weaver
,
Mike Trout
and
Albert Pujols
,
Abraham Almonte
and
Justin Smoak
. The Mariners begin the season with a seven-game road trip and play 22 of their first 25 games against division opponents while trying to patch together a rotation missing
Hisashi Iwakuma
and
Taijuan Walker
for a few weeks, so few teams will be under more pressure early on than Seattle. Enjoy the marine layer, Robby!
Player most likely to be booed on Opening Day
I was going to say
Dan Uggla
or
Ryan Braun
, but unfortunately the
Atlanta Braves
play at the
Milwaukee Brewers
(2:10 p.m. ET) instead of vice versa.
Player likely to get the biggest ovation
I'll go with
Paul Konerko
of the Chicago White Sox, in what will be his final Opening Day -- although he's
not guaranteed to start
(
Twins
at
White Sox
, 4:10 p.m. ET). OK, Konerko or
Ike Davis
, I'm not sure.
March, 27, 2014
Mar 27
12:44
PM ET
We're getting closer ...
Watched the Baltimore-Tampa Bay game on Wednesday night since it featured Opening Day starters Chris Tillman and David Price. Considering the teams are division rivals, both starters may have held back just a bit and neither pitcher went five innings. I think Price has a huge season coming, one reason I'm picking the Rays to win the AL East. Yu Darvish was going to be my Cy Young pick until his current stiff neck issue means he's going to miss the first week of the season and raises at least a little doubt over his season. I may shift now to Price -- or Max Scherzer or Justin Verlander -- as he became a strike-throwing machine when he returned from his DL stint last season, walking just 13 batters over his final 18 starts. When you can command your stuff like that and throw 95+ mph, a lot of good things are going to happen.
The Angels cut Joe Blanton even though he's owed $8.5 million on his contract. Teams still have a hard time admitting mistakes so give Angels GM Jerry DiPoto credit here for cutting bait. It was a bad deal at the time -- Blanton predictably got hammered in the AL after straddling the line of mediocrity in the NL -- and his poor performance (2-14, 6.04 ERA) was a major reason the Angels finished under .500. Blanton was worth -2.0 WAR last year, so even replacement-level pitching from the fifth spot will be an improvement.
Strong final start from Rockies Opening Day starter Jorge De La Rosa, with six shutout innings against the Giants with one walk and seven strikeouts. The Rockies will need Jhoulys Chacin to come back strong in May but I'm starting to think the Rockies could be that sleeper team to watch -- a team that finished below .500 in 2013 that could make the playoffs. A lot of that depends on the health of some injury-prone players -- Carlos Gonzalez, Troy Tulowitzki, Brett Anderson -- but if the back of the rotation holds up the Rockies could crack .500 and surprise.
The Mets still haven't decided between defensive whiz Juan Lagares and stolen-base dude Eric Young Jr. for a starting outfield slot. The Mets know Lagares can play center -- his great range and 15 assists allowed him to post 26 Defensive Runs Saved in 2013, the sixth-highest total of any fielder -- but also know the .281 OBP he posted may not get any better. OK, I get that he can't hit. But EYJR, who led the NL with 46 steals, had a .310 OBP with the Mets last year. Young has been worth 0.3 WAR in his major league career, Lagares valued at 3.5 WAR a year ago. Lagares doesn't have to improve with the bat to be a more valuable player than Young. Even if his defense slips a little (he may not get as many assists, for example), he's still the better player.
The Pirates locked up Starling Marte to a six-year, $31 million extension, buying out at least one year of free agency and owning options on two more. Looks like a great deal for the Pirates, exactly the kind of below-market rate they need to sign their young players to, and once Gregory Polanco reaches the majors at some point this year, you're going to see what could be one of the best defensive outfields in recent memory with Marte in left, Andrew McCutchen in center and Polanco in right.
Tanner Scheppers was named Opening Day starter for the Rangers, in what will be his first career start. I wonder how many pitchers have made their first career start on Opening Day? If I did the search right on Baseball-Reference, it looks like just three (at least since 1914): Lefty Grove of the Philadelphia A's in 1925, Jim Bagby Jr. of the Red Sox in 1938 and Al Gerheauser of the Phillies in 1943. So who were those three guys? Grove had been a star for years for Baltimore in the International League when the A's purchased him. Bagby, son of a former major leaguer, had gone 21-8 in the Class A New York-Penn League in 1937, enough for the Red Sox to start him against the Yankees as a 21-year-old rookie. Boston had been 80-72 in 1937, so starting a rookie seems a little odd. Gerheauser was a 26-year-old minor league vet who had pitched for Yankees' Triple-A club in Newark in 1942. The Phillies had lost 109 games in 1942, so probably were hoping some Yankee magic would rub off on them. (Actually ... that list looks like pitchers who made their major league debut as an Opening Day starter. Fernando Valenzuela's first career start -- after 10 relief appearances in 1980 -- came on Opening Day of 1981. He pitched a shutout and then reeled off seven more starts in a row of nine innings (one wasn't a complete game). He allowed four runs in those eight starts and we had Fernandomania.
So Randy Wolf was told he had made the Mariners' Opening Day rotation. And then got released. So ... what? Apparently, the Mariners asked Wolf to sign a 45-day advanced-consent relief form, which would mean the Mariners could release Wolf within 45 days and not have to pay his full season's salary. I didn't know such a possible contract existed, and I don't know how common such requests are, but Wolf refused to sign it and became a free agent. (Ryan Divish of the Seattle Times has the story here.) It's understandable why the Mariners would make the request -- Wolf didn't pitch in the majors last year and was last effective in 2011 and it's possible he would simply be holding a spot for a few starts until Taijuan Walker is ready, but considering Wolf was set to make just $1 million, it makes the Mariners look petty and cheap. It's already hard enough to get players to come to Seattle; this isn't going to help.
March, 26, 2014
Mar 26
11:50
AM ET
A few quick thoughts as we continue to count down to Opening Day ...
It's always fun to see 22-5 scores, even in spring training -- especially when the game happens in Florida and not Arizona. That was the Pirates beating the Blue Jays as they racked up 29 hits, including 21 in 5.2 innings against JA Happ and Esmil Rogers. Happ's poor spring -- he's allowed 21 hits and 16 runs in seven innings while walking more than he's struck out -- has opened up a rotation slot for Drew Hutchison, who was a promising rookie back in 2012 before undergoing Tommy John surgery. Like everyone else, I see the Jays' rotation as one big question mark: R.A. Dickey and Mark Buehrle both posted ERAs over 4.00 last year and will be 39 and 35; Brandon Morrow pitched 54 innings last year; Hutchison has yet to prove himself at the major league level; the fifth spot is from the likes of Dustin McGowan, Todd Redmond and Happ, as Ricky Romero still can't throw strikes. In the tough AL East, that group just doesn't any inspire much confidence to call the Jays a playoff contender.
The Rangers are in the news with a bunch of stuff: Yu Darvish's stiff neck means he'll miss his Opening Day start, which probably now goes to Martin Perez; former closer Neftali Feliz was optioned to Triple-A; Robbie Ross pitched scoreless innings on Tuesday against the Indians, perhaps paving the way for him to get some starts in April as the Rangers wait on Matt Harrison and Colby Lewis. Speaking of that rotation, Tanner Scheppers is the third starter behind Darvish and Perez. Joe Saunders is apparently the favorite for the fourth spot even though he currently has a tired arm. I have my doubts as Scheppers as a starter (and definitely on Saunders, strong arm or tired arm). Yes, Scheppers has that power arm and put up a 1.88 ERA in relief last year, but this is a guy who only started eight games in the minors and while the ERA was nice last year as a reliever, his strikeout rate was below average for a reliever (59 in 76.2 innings). I'm not sure he has the secondary pitches and command to pitch deep into games. Meanwhile, poor Alexi Ogando is back in the bullpen. I don't remember a pitcher who has been handled this way before. He started in 2011 and pitched well (3.51 ERA); he went to the bullpen in 2012 and pitched well (3.27 ERA); he was back starting primarily in 2013 and pitched well (3.11 ERA, although injuries limited him to 104 innings). He started this spring but didn't pitch well and now may serve as the setup guy to Joakim Soria.
The Pirates optioned first baseman/outfielder Andrew Lambo to Triple-A, clearing room for journeyman Travis Ishikawa to make the team as the platoon partner at first base with Gaby Sanchez. Lambo hit .095 this spring while Ishikawa has hit .333 with three home runs ... because good results in 24 at-bats means something. Ishikawa is regarded as a plus defender but owns a .260/.324/.398 career mark in the majors in 859 plate appearances. His one stint at regular playing time came with the Giants in 2009. He hit .290/.389/.465 in Triple-A last year, so he probably won't be a complete disaster but a team trying to upend the Cardinals isn't going to do that with Travis Ishikawa playing first base.
Assuming Francisco Liriano's tight groin allows him to start Opening Day, the Pirates' first-week rotation is also, with Liriano, Charlie Morton and Wandy Rodriguez scheduled to pitch the first series against the Cubs, with Gerrit Cole and Edinson Volquez in the four and five spots. While it may seem a little strange to start Morton and Rodriguez ahead of Cole, putting Cole at No. 4 does allow him to start against the Cardinals in the second series. I'm not sure if that's Clint Hurdle's reasoning or if he's simply putting the veterans ahead of the second-year righty, but it's not the worst idea. Back in the day, managers users to manipulate their rotations more so their best starters pitched more often against the best teams. But it's all about a strict rotation these days (and has been for about three decades).
No, you don't need to get your eyes checked. That was Verlander pinch-running and playing right field for the Tigers on Tuesday -- Ben Verlander, younger brother of Justin. He was a 14th-round pick last June from Old Dominion but hit just .219 in the New York-Penn League.
The Nationals released Jamey Carroll. At 40, this may be it for him. He was a 14th-round pick of the Expos way back in 1996 and didn't reach the majors until he was 28. He hung around long enough to finish with 1,000 career hits, however, and it's fair to say that few players have gotten more out of their abilities than Carroll.
December, 28, 2013
12/28/13
10:30
AM ET
By
Christina Kahrl
| ESPN.com
You might think sabermetrics is merely the pursuit of joyless predictability, but a big part of my enjoyment of sabermetrics doesn't come from the results that match our expectations but rather is derived from the guys who totally upset them, guys whose results defied prediction or anticipation. The trick is that most of them can't sustain that kind of surprise. The 2013 season gave us our fair share of guys who broke out, but here's a group of five who will have a hard time topping what they did last season, not just in 2014, but ever.
Let's start with third baseman
Josh Donaldson
of the Athletics. Starting off as a hot-corner conversion project to help the A's paper over their lack of a viable alternative, the former catcher busted out big, ripping 64 extra-base hits and finishing fourth in the AL MVP race. He put up an 8.0 WAR season, good for fourth in the major leagues, a better year in that regard than the ones put up by
Miguel Cabrera
and
Robinson Cano
. Donaldson's .883 OPS wasn't just unexpected, it was totally out of character from everything we'd already seen from him, 50 points higher than his
minor
league career rate. His walk rate also significantly outperformed his minor league numbers, and his .333 BABIP was significantly better than anything he'd done in any full season in the minors.
[+] Enlarge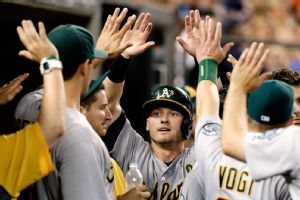 AP Photo/Paul SancyaJosh Donaldson had plenty to celebrate in 2013, but can he deliver again next year?
If you can set aside any reservations you have about WAR, eight-win players don't just manifest out of thin air. Among
the 115 guys who've had eight-WAR seasons since the start of the divisional play
, the only guy who might be more surprising to see there than Donaldson was Bernard Gilkey and his big year back in 1996.
So, where did that Donaldson leap come from? Was it the benefit of finally not having to deal with the wear and tear of catching? Or perhaps a classic case of a guy busting out in his age-27 season? A mere BABIP aberration? Whatever it was, that was followed by some postseason shaming at the hands of the Tigers, creating questions. However,
that's the best rotation in the league
, and Donaldson didn't face especially weak competition (ranking
53rd out of 107 AL batters with 400 or more plate appearances
according to Baseball Prospectus), so it wasn't merely a matter of clobbering weak opponents.
As fun as it was, it's hard to see Donaldson sticking around at this level of production consistently, if only because it would be unprecedented. The Bill James Handbook forecast a 77-point tumble in OPS, and other projection systems are going to be similarly predictably skeptical, anticipating a drop-off because that's how they generally work with players with histories like Donaldson's. On the half-full side of the glass, though, if you had told A's fans a year ago that they could have a third baseman who could put up a .780-.800 OPS with good D and durability, they'd have offered you their firstborn in exchange. It might all be downhill from his 2013, but Donaldson should remain an asset for a contender. Not many guys can shed 100 points of OPS and still say that.
Moving over to pitchers, one easy exercise in separating actual performance from what you were supposed to get given a pitcher's peripheral numbers such as strikeout and walk rates is to subtract a guy's ERA from FIP:
Presto, you have a leaderboard of surprise pitchers
you might want to bet against. I'll start with
Hector Santiago
because he's someone who just got dealt and the Angels are banking on, but he's also someone who's likely to see his ERA jump by a run if FIP is any guide.
As promising as Santiago's arm is because he's a southpaw with low-90s heat, a big part of the problem is the huge number of people he's putting on base. Only
Jake Arrieta
and
Jason Marquis
put more people on first base via unintentional walks and hit batsmen than Santiago's 13 percent clip last season. The hit batsmen -- 15 last season alone -- might partially be a function of Santiago's need to work inside, which he had to do to survive pitching at U.S. Cellular Field, the best home run ballpark for right-handed hitters; as HotZone reflects,
he struggled when he let righties get good extension
. Getting out of the Cell should spare him many of the penalties of making a mistake in the zone, but, if his command isn't just a function of that environment -- and he was still putting guys on first base at a 12 percent clip on the road last season-- you probably can expect his ERA to go up as much as FIP suggests.
Joe Kelly
of the Cardinals is another name in that ranking of pitchers to worry about who might surprise you after the role he played in their pursuit of the National League pennant, posting a 10-5 record and 2.69 ERA. Add in a fastball that sits around 95 mph and what's not to love? Approached analytically, the problem is the absence of strikeouts, where FIP "expects" more whiffs. In the real world, Kelly works hard at being an effective sinker/slider guy as a starter, pounding the bottom of the zone, which produces an exceptionally poor strikeout rate (4.8 K/9). That plus a lot of run support (almost six runs per nine last season) produced the contrast between the gaudy win total and ERA against a 3.98 FIP and the expectation that run support comes and goes. What you're left with is a guy who still looks pretty good if you're talking about your team's fifth starter, his lot with the Cardinals, but if you were banking on big win totals and an ERA under 3.0 in a full season of rotation work -- don't.
Because I set my cutoff at 70 innings, Rangers reliever
Tanner Scheppers
is easy to pick on because of the distance between his expected and actual performance: A 3.77 FIP versus his 1.88 ERA. There's a pen man like that any given season; it's always harder to sustain that kind of fluky discrepancy over a larger number of innings. But, as a sinker-slider guy, Scheppers is a defense-dependent ground-pounder, which is why he profited greatly from inducing an MLB-best DP rate of 24.5 percent in double-play situations. If he can continue that kind of execution, that's great, but can you bank on it? Even a slip back to something closer to league average will mean a bunch of runs allowed in tight late-game situations for the Rangers, as well as a big jump in Scheppers' ERA.
Finally, let's talk about outfielder
Marlon Byrd
. A 30-something slugger who owes a big chunk of his power production to Texas' home park leaves after 2009, has two disappointing seasons with the Cubs, then falls over a cliff in his age-34 season. And that's it for him, right? Not at all: Byrd's big bounce-back in 2013 after earning a job with the Mets in spring training made him a key stretch pickup for the Pirates. His combined .511 slugging percentage made him this winter's quick addition to the fast-acting Phillies for two years (or three if a 2016 option vests) at $8 million per annum.
There are all sorts of "that won't be easy" warning signs about Byrd's 2013. Can he repeat a career-high .220 Isolated Power clip as a 36-year-old? Or a .353 batting average on balls in play, his best mark since his breakthrough 2007 season with the Rangers? Or a career-best 11.1 percent clip of homers on fly balls? It's notable that Byrd has become a significantly different, more aggressive batsman with age, striking out a career-high 24.9 percent of the time last season while his unintentional walk rate plummeted to 5 percent, while also becoming a more pronounced fly-ball hitter.
That would be a tough act to sustain for people with considerably stronger track records than Byrd's. Tip your cap to Byrd for earning another multiyear deal in his 30s, but don't be surprised when this turns out as badly for the Phillies as it did for the Cubs.
Christina Kahrl covers baseball for ESPN.com. You can follow her on Twitter.
September, 29, 2013
9/29/13
8:53
PM ET
There were some moments there when it appeared the Tampa Bay Rays would complete a mini collapse of sorts, especially when manager Joe Maddon lost his cool as the Rays were starting to melt down in the seventh inning and he had an Earl Weaver moment, getting ejected after arguing with plate umpire Paul Schreiber following a trip to the mound.
The Rays had entered the weekend in control of their own wild-card destiny, but while the Indians and Rangers were beating the Twins and Angels, Tampa had lost twice to Toronto. A six-run first inning made it appear it would be an
easy win on Sunday
, but the Rays saw a 7-0 lead slide to 7-3 in the sixth, then 7-4 in the seventh and then 7-6 in the eighth as closer Fernando Rodney gave up two run-scoring singles and then a walk that loaded the bases. But he struck out Moses Sierra with two outs and got through the ninth and now the Rays will play the Rangers in the tiebreaker game on Monday night to move on to the wild-card game.
On paper, the pitching matchup goes to the Rays, with David Price starting against Martin Perez. The Rays set up their rotation back in early September to line up Price to start the wild-card game or, if necessary, this game. The Rangers had to scramble at the end and, needing a win on Sunday, started ace Yu Darvish, so the start here falls to the young left-hander.
Before we get to Price's checkered big-game history -- especially against the Rangers -- I'm left with two thoughts on this year's wild-card race.
First, the Rays are arguably better than the Indians or Rangers. By that, I mean the AL East was clearly a tougher division than the Central or the West. AL East teams went 242-188 outside the division, the Central went 210-220 and the West went 197-233. If the Rays had played 19 games against the Astros and Mariners instead of the Orioles and Blue Jays, they would have likely won a few more games.
But them's the breaks, I guess, and strength of schedule matters only for NCAA tournament seedings. Plus, the Rangers are hosting the game because they did win the season series, 4-3.
The second issue is the decision the Rays made to start Wil Myers in the minor leagues and not recall him until June 18. While the Rays can claim they wanted Myers to work on cutting down his strikeouts, we also know this move is something the Rays have done in the past to save money. By delaying Myers' call-up date, they saved not only a season on his free agency but also postponed his initial eligibility for arbitration by a year. That will save them millions down the road, but maybe it will end up costing them a playoff berth this year.
From Opening Day until June 17, Rays right fielders hit .246/.327/.427, not awful but below Myers' .295/.353/.482 line. Matt Joyce and Ben Zobrist played a lot out there early on, so in essence the Rays were playing guys like Ryan Roberts and Sam Fuld early on instead of Myers. I think it's fair to suggest the Rays would have at least one more win if Myers had been called up six weeks earlier.
[+] Enlarge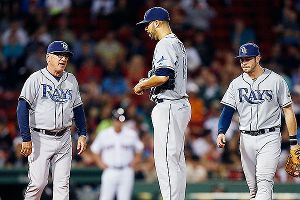 AP Photo/Michael DwyerDavid Price doesn't want to have to face further questions about his problems with the Rangers.
OK, so what about Monday's game? While Price is understandably the guy Maddon wants to give the ball to, it's also true that the Rangers sort of have the whammy on him. Price is 1-4 with a 5.98 ERA in eight regular-season starts against Texas and is 0-3 with a 4.66 ERA in three postseason starts. Those are the only three playoff starts of Price's career, and remember also that on that memorable final day of 2011 he started and dug a big hole for the Rays when he allowed six runs in four innings to the Yankees. So he has a checkered past in big games.
After missing all of June with a triceps injury, Price returned and had the best stretch of his career, eight starts where he went 5-1 with a 1.40 ERA, a 44-to-2 strikeout-to-walk ratio and had three complete games where he threw fewer than 100 pitches. He's allowed two runs in each of his past four starts, but hasn't had quite the same efficiency. What he's done, however, is keep the ball in the park as he's given up just two home runs in his past 11 starts.
In a move to perhaps counteract Price's dominance against left-handers, the Rangers announced Nelson Cruz will be activated for Monday's game. They didn't say whether he would be in the starting lineup, but you have to think Ron Washington may take that chance even though Cruz hasn't played a major league game since Aug. 4.
The past week or so, Washington has gone with Craig Gentry in left, Leonys Martin in center and Alex Rios in right, with David Murphy, Jeff Baker and others rotating through the DH slot. Martin hasn't hit lefties (.231/.286/.300), but an outfield of Gentry/Martin/Rios is the best defensive alignment the Rangers can throw out there. Baker will be in the lineup somewhere, considering he's slugged .667 against left-handers (10 home runs in 105 at-bats). An infielder by trade, Baker has started 15 games at first base. If I'm Washington, I keep the outfield intact, play Baker at first, bench Mitch Moreland and use Cruz as the designated hitter.
(Update: Baker has a hernia and has been ruled out from playing in the field the past few weeks. Plus he hasn't homered since August, so we'll likely see Moreland at first but maybe still see Cruz at DH.)
Perez doesn't have Price's résumé, but he has a 3.05 ERA over his past 11 starts. The peripherals aren't quite as good, with just 51 strikeouts in 73 2/3 innings. However, Perez has a great changeup that has actually made him more effective against right-handed batters. Maddon is pretty limited in his lefty-bashing options at the plate. You may see David DeJesus, who has delivered some big hits down the stretch, but you're unlikely to see Matt Joyce, who hit .167 against lefties.
Washington, of course, has a deep bullpen so he'll have the luxury of a quick hook and the ability to mix and match with righties and lefties. Remember, expanded rosters are in play since this is simply Game No. 163 of the regular season. While Perez has been solid of late, I don't think Washington should play around unless Perez is absolutely dealing; a quick hook should be in order. On the other hand, in sweeping the Angels, Washington did use Tanner Scheppers and Joe Nathan all four games and Neal Cotts in three. Not that Scheppers or Nathan will be unavailable, but it probably means Washington is even more unlikely to be a little creative and maybe stretch those two for four or five outs instead of three.
Given where the Rays were a week ago, I feel like more pressure is actually on them. The Rangers won their last seven just to get here and have to feel good just to have one more game. If the Rays lose, they'd become the first team since the 2002-03 Mariners to miss the playoffs two straight years while winning 90-plus games, so they face the frustration of another excellent season that falls just short of the postseason.
I don't see Price going the distance, so it becomes a battle of the bullpens in the late innings.
Advantage, Rangers
. I'll say Texas 4, Tampa Bay 3, with Fernando Rodney taking the loss in the bottom of the ninth.
July, 6, 2013
7/06/13
7:49
PM ET
The big questions for this season's All-Star selections as we headed into Saturday's selection show: Would
Yasiel Puig
make it? Who backs up
Miguel Cabrera
at third base in the American League from a strong field of candidates? Who represents the Astros?
But I'm left with this one: Could the American League have chosen a worse, more boring squad?
Remember, the All-Star squads are chosen by a four-tiered system: The fans vote in the starters, the players vote for the reserves at each position, plus the top five starting pitchers and top three relievers, the managers choose the rest of the squad (with their choices limited due to having to name a representative for each team) and then the fans vote again for the final man.
Got all that?
The player vote is the one that usually causes the biggest mistakes. Last season, for example, the players voted in Cubs first baseman
Bryan LaHair
as the backup first baseman even though he was a platoon player with 28 RBIs at the time of selection. Similarly,
Lance Lynn
, who had a big April, was voted in as one of the top five starters even though he ranked 28th in the National League in ERA. The ripple effect for selections like those end up causing more worthy All-Stars to not make it. This season, a similar thing happened, most notably with
Torii Hunter
named as an outfield reserve in the AL.
My quick reaction to this season's
American League
and
National League
squads:
Best fan selection:
Chris Davis
, Orioles. Hardly a household name before the season, his offensive numbers are just too good to ignore, and he's a deserving starter over
Prince Fielder
.
Worst fan selection:
Bryce Harper
, Nationals. The fans generally do a good job -- better than the players -- and while I don't see Harper as a glaring mistake (I'd put him on my NL roster as a reserve), he did miss significant time with the knee injury.
Andrew McCutchen
of the Pirates or
Carlos Gomez
of the Brewers would be a more deserving starter (both should be starting over
Carlos Beltran
as well).
Most controversial AL selection:
Justin Verlander
, Tigers. He's not having a terrific season, with a 9-5 record and lukewarm 3.54 ERA, but I don't have a huge problem with American League manager Jim Leyland selecting the guy who's been the best pitcher in baseball the previous two seasons.
Most controversial NL selection:
Marco Scutaro
, Giants. The NL roster is actually pretty solid, but you can nitpick Scutaro and
Allen Craig
. With
Matt Carpenter
being voted in by the players, manager Bruce Bochy didn't have to add a third second baseman, but he did select his guy and take a slot away from a deep pool of outfield candidates -- Puig and
Hunter Pence
were added to the final-vote group, but
Starling Marte
,
Jay Bruce
and
Shin-Soo Choo
all had All-Star first halves. But, hey, even All-Star teams need professional hitters.
How the Astros screwed the AL:
Salvador Perez
being voted in by the players as the backup catcher meant
Jason Castro
was named as a third catcher to represent the Astros. Actually, this is a little unfair, since Castro is having a season equal to or better than Perez's. But having three catchers on the squad takes a slot away from one of the much more deserving third basemen --
Evan Longoria
,
Josh Donaldson
or
Adrian Beltre
.
[+] Enlarge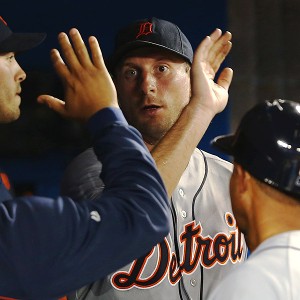 Tom Szczerbowski/USA TODAY SportsWith the American League's weak pitching staff, Max Scherzer could see a couple innings.
How the players screwed the AL:
Hunter rode a .370 April to an All-Star berth, but he's down to .307 with just five home runs. It's not a great season for AL outfielders, but Hunter is kind of a joke selection: He ranks 24th among AL outfielders in FanGraphs WAR (0.9).
Brett Gardner
or
Jacoby Ellsbury
are better options.
Weirdest selection:
Brett Cecil
, Blue Jays. The Jays already had
Jose Bautista
and
Edwin Encarnacion
, so there was no need to add Cecil. Don't get me wrong, he is having a nice season -- 1.43 ERA, 50 strikeouts in 44 innings -- but this is also a guy with a 4.79 career ERA entering the season. (Granted, mostly as a starter.) Rangers starter
Derek Holland
was the better choice here.
Team with a gripe:
The A's have a better record than the Tigers yet ended up with one All-Star to Detroit's six.
Most-deserving guy who didn't make it, AL:
Longoria. Seventy All-Stars were named today, but somehow one of the top 10 players in the game didn't make it.
Most-deserving guy who didn't make it, NL:
Not including the players eligible in the final-player vote, I'd go with Pirates outfielder Marte or Braves defensive whiz
Andrelton Simmons
.
Worst final-player vote ever:
American League. Choose from
Joaquin Benoit
,
Steve Delabar
,
David Robertson
,
Tanner Scheppers
and
Koji Uehara
. Can I go to a dentist appointment instead? Unless you have a fetish for right-handed relief pitchers, this isn't exactly the best way to get fans enthused about the All-Star final vote. Why not at least have a final-man vote with Longoria, Beltre and Donaldson?
Most predictable final-player vote ever:
National League. Is there any way Puig doesn't beat out
Ian Desmond
,
Freddie Freeman
,
Adrian Gonzalez
and Pence for the final vote?
In a perfect world, Jim Leyland does this:
The AL pitching staff is a little shaky, so he should try to ride his top starting pitchers. Assuming
Max Scherzer
starts, I'd pitch him two innings and then bring in White Sox lefty
Chris Sale
for two more innings so he can face the top of the NL lineup that would probably feature
Carlos Gonzalez
and
Joey Votto
.
Yu Darvish
and
Felix Hernandez
take over from there and hand the ball to
Mariano Rivera
, with
Glen Perkins
and Cecil used as situational lefties if needed.
Offensively, Cabrera and Davis should play the entire game, as they've clearly been the dominant offensive forces in the AL. Frankly, I'm not too thrilled with the AL bench, especially the outfield.
Mike Trout
and Bautista should also play the entire game. Use Fielder and Encarnacion to pinch hit as needed for
J.J. Hardy
or
Adam Jones
.
Manny Machado
can replace Cabrera in the late innings if the AL is ahead.
In a perfect world, Bruce Bochy does this:
The NL squad looks much better on paper. Assuming
Matt Harvey
starts, he should be followed up with
Clayton Kershaw
and
Cliff Lee
(
Adam Wainwright
is scheduled to pitch on Sunday and will be unavailable). From there, I'd match up --
Madison Bumgarner
or
Jordan Zimmermann
-- and then turn the game over to three dominant relievers:
Jason Grilli
,
Aroldis Chapman
and
Craig Kimbrel
. (Kudos to Bochy for going with all starting pitchers after the mandatory three relievers.)
Offensively,
David Wright
should play the whole game in front of the home fans, and assuming
Paul Goldschmidt
gets the nod as the designated hitter, I'd let him and Votto play the entire nine as well. Without a regular center fielder in the starting lineup (although Beltran, Gonzalez and Harper have all played there in the past), I'd get McCutchen in the game as soon as possible, with apologies to Gomez. I'd hit for
Brandon Phillips
in a key situation with a better bat like
Buster Posey
or Craig or maybe for Gonzalez against a left-hander (although he's hit very well against lefties this season).
And Puig? Yes, once he makes the team, I'd like to see him play as well.
June, 14, 2013
6/14/13
12:24
AM ET
Jesse Chavez
is essentially the 25th man on the Oakland A's roster. He started the year in Triple-A, got called up, got sent down, got called back up and is working as the low-leverage guy out of the bullpen. Before Thursday, he hadn't pitched since June 5, and the final scores of games he'd appeared in (without a decision) were 6-1, 10-2, 11-5, 6-2, 6-1, 6-3, 10-2, 9-6 and 8-1.
Chavez is the definition of a journeyman right-hander, having pitched for the Pirates, Braves, Royals and Blue Jays before the A's purchased him from Toronto last August. He was a typical Billy Beane acquisition: He has a pretty good arm, fastball in the low 90s, but what Chavez hadn't had was much success at the major league level, with a 5.74 ERA over 191 career innings.
But sometimes you need that 25th guy to come through, and Chavez's other asset is that he had started for Triple-A Sacramento. That ability to pitch multiple innings came into play in Thursday's 18-inning marathon in Oakland, the A's finally pushing across the winning run with a blooper and broken-bat flare off
Mariano Rivera
, winning
3-2
. Chavez was the big hero, however, pitching 5.2 innings of one-hit, scoreless relief. He has a starter's repertoire, with a cutter, curve and changeup. He got two big outs when he entered with two runners on in the 13th, striking out
Kevin Youkilis
and
Vernon Wells
on curveballs.
In the 14th, A's manager Bob Melvin had the guts to intentionally walk
Robinson Cano
with runners on first and second;
Mark Teixeira
popped out to shortstop, missing a hittable fastball. From there it was smooth sailing, as Chavez retired the side in order in the 15th, 16th, 17th and 18th innings. Not bad for your garbage-time reliever.
[+] Enlarge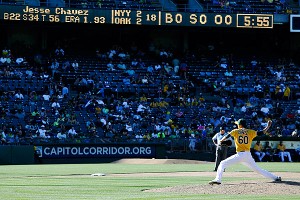 AP Photo/Eric RisbergJesse Chavez got the win for the A's in 5.2 innings of scoreless relief, with one hit and seven strikeouts.
"The last guy they threw was the best guy we faced all day," Teixeira told MLB.com. "That guy is nasty."
It's one of those games that will be remembered if the A's end up winning the American League West. It's that kind of bullpen depth that fueled their second-half surge last season and has fueled their strong start this season. The A's are 33-0 when leading heading into the ninth inning. They're 6-2 in extra innings. When tied through seven innings they're 8-1. This is a tough team to beat late in a game.
The A's have won 11 consecutive games at home and 21 of their past 26, and while they were 7 games behind the Rangers in mid-May, they now lead the division by two games, after the Blue Jays beat
Yu Darvish
and the Rangers
3-1
, dropping the Rangers to 4-8 in June. Injuries to
Ian Kinsler
and
Mitch Moreland
have hurt, but that gets us back to roster depth.
Who is the favorite to win the West? Here's a quick rundown comparing the two teams.
Lineups
Oakland: .246/.328/.397
Texas: .264/.327/.436
Entering Thursday's games, the Rangers had the higher wOBA, but the A's had the slightly better park-adjusted offense. The A's have gotten huge performances from
Josh Donaldson
and
Coco Crisp
, and while some regression might be in order, Donaldson also looks like a much-improved hitter from last season,
as Jerry Crasnick wrote
. On the other hand,
Josh Reddick
(.187) and
Chris Young
(.169) should improve.
For the Rangers, the offense is trending downward. In 2011, they averaged 5.3 runs per game; in 2012, 5.0; this year, 4.4.
Adrian Beltre
and
Nelson Cruz
are doing Adrian Beltre- and Nelson Cruz-type things, but
Elvis Andrus
and
David Murphy
are struggling right now. If Murphy doesn't pick it up, the Rangers might look to add an outfielder.
Advantage: A's.
Starting pitching
Oakland: 29-24, 4.01 ERA; .249/.298/.398; 6.1 innings per start
Texas: 25-21, 3.77 ERA; .251/.311/.391; 5.9 innings per start
The rotations have posted similar numbers, but once you adjust for ballpark, the Rangers' staff has performed better, led by Darvish and
Derek Holland
. FanGraphs WAR rates the Rangers' starters at 8.6 Wins Above Replacement, third-best in the majors, and the A's 12th-best at 5.0.
The good news for the A's is that
Jarrod Parker
pitched well again Thursday. After posting a 7.34 ERA through his first seven starts, he's gone 4-1 with a 2.40 ERA over his past seven, with a .183 average allowed and WHIP under 1.00. His changeup is back to the deadly weapon it was last year, as batters have hit .118 against it in those most recent seven games.

The Rangers have succeeded even though
Matt Harrison
has spent most of the season and the disabled list and
Colby Lewis
all of it.
Alexi Ogando
is also
out again with shoulder inflammation
. The Rangers received some solid work from
Nick Tepesch
and
Justin Grimm
early on, but those two haven't been quite as strong lately, and you have to wonder if the injuries won't catch up to the rotation at some point, at least until Lewis and Harrison return.
Edge: Even. The Rangers have been better so far, but moving forward I think the A's close the gap.
Bullpen
Oakland: 12-3, 2.89 ERA; .227/.289/.358
Texas: 13-7, 3.29 ERA; .240/.313/.368
The Texas bullpen has also been outstanding, especially the back three of
Joe Nathan
,
Tanner Scheppers
and
Robbie Ross
.
Neal Cotts
has added some depth as well. Scheppers has been the big surprise, with a fastball that sits at 94-96 mph and touches 98; he's always had a good arm but might finally be putting it together. He doesn't have a big strikeout rate (21 in 32.1 innings), and I do wonder if he keeps pitching this well. Batters are hitting just .170 off his fastball even though Scheppers' strikeout/walk ratio with the pitch is just 10.9.
Edge: A's. The Rangers have a good pen, but once you get into the fifth, sixth and seventh guys, I think the A's have the advantage.
Defense
Oakland: minus-20 Defensive Runs Saved
Texas: plus-8 Defensive Runs Saved
Ultimate Zone Rating has the clubs essentially even -- Texas at minus-0.3, Oakland at minus-1.3. The big problem area for the A's has been shortstop
Jed Lowrie
at minus-8 DRS. Chris Young, who usually rates very well in the outfield, has also rated poorly at minus-5 DRS. Of course, if he doesn't start hitting, he's not going to get much playing anyway behind Crisp, Reddick and
Yoenis Cespedes
.
Edge: Rangers.
The A's were my preseason pick to win the division, and they look like the better team right now. What do you think?