SweetSpot:

Tanner Scheppers
September, 29, 2013
Sep 29
8:53
PM ET
There were some moments there when it appeared the Tampa Bay Rays would complete a mini collapse of sorts, especially when manager Joe Maddon lost his cool as the Rays were starting to melt down in the seventh inning and he had an Earl Weaver moment, getting ejected after arguing with plate umpire Paul Schreiber following a trip to the mound.
The Rays had entered the weekend in control of their own wild-card destiny, but while the Indians and Rangers were beating the Twins and Angels, Tampa had lost twice to Toronto. A six-run first inning made it appear it would be an
easy win on Sunday
, but the Rays saw a 7-0 lead slide to 7-3 in the sixth, then 7-4 in the seventh and then 7-6 in the eighth as closer Fernando Rodney gave up two run-scoring singles and then a walk that loaded the bases. But he struck out Moses Sierra with two outs and got through the ninth and now the Rays will play the Rangers in the tiebreaker game on Monday night to move on to the wild-card game.
On paper, the pitching matchup goes to the Rays, with David Price starting against Martin Perez. The Rays set up their rotation back in early September to line up Price to start the wild-card game or, if necessary, this game. The Rangers had to scramble at the end and, needing a win on Sunday, started ace Yu Darvish, so the start here falls to the young left-hander.
Before we get to Price's checkered big-game history -- especially against the Rangers -- I'm left with two thoughts on this year's wild-card race.
First, the Rays are arguably better than the Indians or Rangers. By that, I mean the AL East was clearly a tougher division than the Central or the West. AL East teams went 242-188 outside the division, the Central went 210-220 and the West went 197-233. If the Rays had played 19 games against the Astros and Mariners instead of the Orioles and Blue Jays, they would have likely won a few more games.
But them's the breaks, I guess, and strength of schedule matters only for NCAA tournament seedings. Plus, the Rangers are hosting the game because they did win the season series, 4-3.
The second issue is the decision the Rays made to start Wil Myers in the minor leagues and not recall him until June 18. While the Rays can claim they wanted Myers to work on cutting down his strikeouts, we also know this move is something the Rays have done in the past to save money. By delaying Myers' call-up date, they saved not only a season on his free agency but also postponed his initial eligibility for arbitration by a year. That will save them millions down the road, but maybe it will end up costing them a playoff berth this year.
From Opening Day until June 17, Rays right fielders hit .246/.327/.427, not awful but below Myers' .295/.353/.482 line. Matt Joyce and Ben Zobrist played a lot out there early on, so in essence the Rays were playing guys like Ryan Roberts and Sam Fuld early on instead of Myers. I think it's fair to suggest the Rays would have at least one more win if Myers had been called up six weeks earlier.
[+] Enlarge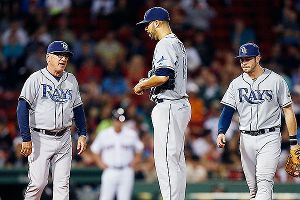 AP Photo/Michael DwyerDavid Price doesn't want to have to face further questions about his problems with the Rangers.
OK, so what about Monday's game? While Price is understandably the guy Maddon wants to give the ball to, it's also true that the Rangers sort of have the whammy on him. Price is 1-4 with a 5.98 ERA in eight regular-season starts against Texas and is 0-3 with a 4.66 ERA in three postseason starts. Those are the only three playoff starts of Price's career, and remember also that on that memorable final day of 2011 he started and dug a big hole for the Rays when he allowed six runs in four innings to the Yankees. So he has a checkered past in big games.
After missing all of June with a triceps injury, Price returned and had the best stretch of his career, eight starts where he went 5-1 with a 1.40 ERA, a 44-to-2 strikeout-to-walk ratio and had three complete games where he threw fewer than 100 pitches. He's allowed two runs in each of his past four starts, but hasn't had quite the same efficiency. What he's done, however, is keep the ball in the park as he's given up just two home runs in his past 11 starts.
In a move to perhaps counteract Price's dominance against left-handers, the Rangers announced Nelson Cruz will be activated for Monday's game. They didn't say whether he would be in the starting lineup, but you have to think Ron Washington may take that chance even though Cruz hasn't played a major league game since Aug. 4.
The past week or so, Washington has gone with Craig Gentry in left, Leonys Martin in center and Alex Rios in right, with David Murphy, Jeff Baker and others rotating through the DH slot. Martin hasn't hit lefties (.231/.286/.300), but an outfield of Gentry/Martin/Rios is the best defensive alignment the Rangers can throw out there. Baker will be in the lineup somewhere, considering he's slugged .667 against left-handers (10 home runs in 105 at-bats). An infielder by trade, Baker has started 15 games at first base. If I'm Washington, I keep the outfield intact, play Baker at first, bench Mitch Moreland and use Cruz as the designated hitter.
(Update: Baker has a hernia and has been ruled out from playing in the field the past few weeks. Plus he hasn't homered since August, so we'll likely see Moreland at first but maybe still see Cruz at DH.)
Perez doesn't have Price's résumé, but he has a 3.05 ERA over his past 11 starts. The peripherals aren't quite as good, with just 51 strikeouts in 73 2/3 innings. However, Perez has a great changeup that has actually made him more effective against right-handed batters. Maddon is pretty limited in his lefty-bashing options at the plate. You may see David DeJesus, who has delivered some big hits down the stretch, but you're unlikely to see Matt Joyce, who hit .167 against lefties.
Washington, of course, has a deep bullpen so he'll have the luxury of a quick hook and the ability to mix and match with righties and lefties. Remember, expanded rosters are in play since this is simply Game No. 163 of the regular season. While Perez has been solid of late, I don't think Washington should play around unless Perez is absolutely dealing; a quick hook should be in order. On the other hand, in sweeping the Angels, Washington did use Tanner Scheppers and Joe Nathan all four games and Neal Cotts in three. Not that Scheppers or Nathan will be unavailable, but it probably means Washington is even more unlikely to be a little creative and maybe stretch those two for four or five outs instead of three.
Given where the Rays were a week ago, I feel like more pressure is actually on them. The Rangers won their last seven just to get here and have to feel good just to have one more game. If the Rays lose, they'd become the first team since the 2002-03 Mariners to miss the playoffs two straight years while winning 90-plus games, so they face the frustration of another excellent season that falls just short of the postseason.
I don't see Price going the distance, so it becomes a battle of the bullpens in the late innings.
Advantage, Rangers
. I'll say Texas 4, Tampa Bay 3, with Fernando Rodney taking the loss in the bottom of the ninth.
July, 6, 2013
Jul 6
7:49
PM ET
The big questions for this season's All-Star selections as we headed into Saturday's selection show: Would
Yasiel Puig
make it? Who backs up
Miguel Cabrera
at third base in the American League from a strong field of candidates? Who represents the Astros?
But I'm left with this one: Could the American League have chosen a worse, more boring squad?
Remember, the All-Star squads are chosen by a four-tiered system: The fans vote in the starters, the players vote for the reserves at each position, plus the top five starting pitchers and top three relievers, the managers choose the rest of the squad (with their choices limited due to having to name a representative for each team) and then the fans vote again for the final man.
Got all that?
The player vote is the one that usually causes the biggest mistakes. Last season, for example, the players voted in Cubs first baseman
Bryan LaHair
as the backup first baseman even though he was a platoon player with 28 RBIs at the time of selection. Similarly,
Lance Lynn
, who had a big April, was voted in as one of the top five starters even though he ranked 28th in the National League in ERA. The ripple effect for selections like those end up causing more worthy All-Stars to not make it. This season, a similar thing happened, most notably with
Torii Hunter
named as an outfield reserve in the AL.
My quick reaction to this season's
American League
and
National League
squads:
Best fan selection:
Chris Davis
, Orioles. Hardly a household name before the season, his offensive numbers are just too good to ignore, and he's a deserving starter over
Prince Fielder
.
Worst fan selection:
Bryce Harper
, Nationals. The fans generally do a good job -- better than the players -- and while I don't see Harper as a glaring mistake (I'd put him on my NL roster as a reserve), he did miss significant time with the knee injury.
Andrew McCutchen
of the Pirates or
Carlos Gomez
of the Brewers would be a more deserving starter (both should be starting over
Carlos Beltran
as well).
Most controversial AL selection:
Justin Verlander
, Tigers. He's not having a terrific season, with a 9-5 record and lukewarm 3.54 ERA, but I don't have a huge problem with American League manager Jim Leyland selecting the guy who's been the best pitcher in baseball the previous two seasons.
Most controversial NL selection:
Marco Scutaro
, Giants. The NL roster is actually pretty solid, but you can nitpick Scutaro and
Allen Craig
. With
Matt Carpenter
being voted in by the players, manager Bruce Bochy didn't have to add a third second baseman, but he did select his guy and take a slot away from a deep pool of outfield candidates -- Puig and
Hunter Pence
were added to the final-vote group, but
Starling Marte
,
Jay Bruce
and
Shin-Soo Choo
all had All-Star first halves. But, hey, even All-Star teams need professional hitters.
How the Astros screwed the AL:
Salvador Perez
being voted in by the players as the backup catcher meant
Jason Castro
was named as a third catcher to represent the Astros. Actually, this is a little unfair, since Castro is having a season equal to or better than Perez's. But having three catchers on the squad takes a slot away from one of the much more deserving third basemen --
Evan Longoria
,
Josh Donaldson
or
Adrian Beltre
.
[+] Enlarge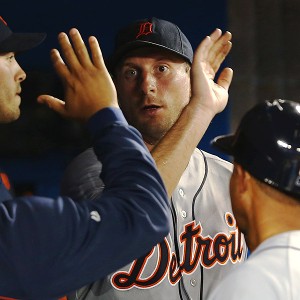 Tom Szczerbowski/USA TODAY SportsWith the American League's weak pitching staff, Max Scherzer could see a couple innings.
How the players screwed the AL:
Hunter rode a .370 April to an All-Star berth, but he's down to .307 with just five home runs. It's not a great season for AL outfielders, but Hunter is kind of a joke selection: He ranks 24th among AL outfielders in FanGraphs WAR (0.9).
Brett Gardner
or
Jacoby Ellsbury
are better options.
Weirdest selection:
Brett Cecil
, Blue Jays. The Jays already had
Jose Bautista
and
Edwin Encarnacion
, so there was no need to add Cecil. Don't get me wrong, he is having a nice season -- 1.43 ERA, 50 strikeouts in 44 innings -- but this is also a guy with a 4.79 career ERA entering the season. (Granted, mostly as a starter.) Rangers starter
Derek Holland
was the better choice here.
Team with a gripe:
The A's have a better record than the Tigers yet ended up with one All-Star to Detroit's six.
Most-deserving guy who didn't make it, AL:
Longoria. Seventy All-Stars were named today, but somehow one of the top 10 players in the game didn't make it.
Most-deserving guy who didn't make it, NL:
Not including the players eligible in the final-player vote, I'd go with Pirates outfielder Marte or Braves defensive whiz
Andrelton Simmons
.
Worst final-player vote ever:
American League. Choose from
Joaquin Benoit
,
Steve Delabar
,
David Robertson
,
Tanner Scheppers
and
Koji Uehara
. Can I go to a dentist appointment instead? Unless you have a fetish for right-handed relief pitchers, this isn't exactly the best way to get fans enthused about the All-Star final vote. Why not at least have a final-man vote with Longoria, Beltre and Donaldson?
Most predictable final-player vote ever:
National League. Is there any way Puig doesn't beat out
Ian Desmond
,
Freddie Freeman
,
Adrian Gonzalez
and Pence for the final vote?
In a perfect world, Jim Leyland does this:
The AL pitching staff is a little shaky, so he should try to ride his top starting pitchers. Assuming
Max Scherzer
starts, I'd pitch him two innings and then bring in White Sox lefty
Chris Sale
for two more innings so he can face the top of the NL lineup that would probably feature
Carlos Gonzalez
and
Joey Votto
.
Yu Darvish
and
Felix Hernandez
take over from there and hand the ball to
Mariano Rivera
, with
Glen Perkins
and Cecil used as situational lefties if needed.
Offensively, Cabrera and Davis should play the entire game, as they've clearly been the dominant offensive forces in the AL. Frankly, I'm not too thrilled with the AL bench, especially the outfield.
Mike Trout
and Bautista should also play the entire game. Use Fielder and Encarnacion to pinch hit as needed for
J.J. Hardy
or
Adam Jones
.
Manny Machado
can replace Cabrera in the late innings if the AL is ahead.
In a perfect world, Bruce Bochy does this:
The NL squad looks much better on paper. Assuming
Matt Harvey
starts, he should be followed up with
Clayton Kershaw
and
Cliff Lee
(
Adam Wainwright
is scheduled to pitch on Sunday and will be unavailable). From there, I'd match up --
Madison Bumgarner
or
Jordan Zimmermann
-- and then turn the game over to three dominant relievers:
Jason Grilli
,
Aroldis Chapman
and
Craig Kimbrel
. (Kudos to Bochy for going with all starting pitchers after the mandatory three relievers.)
Offensively,
David Wright
should play the whole game in front of the home fans, and assuming
Paul Goldschmidt
gets the nod as the designated hitter, I'd let him and Votto play the entire nine as well. Without a regular center fielder in the starting lineup (although Beltran, Gonzalez and Harper have all played there in the past), I'd get McCutchen in the game as soon as possible, with apologies to Gomez. I'd hit for
Brandon Phillips
in a key situation with a better bat like
Buster Posey
or Craig or maybe for Gonzalez against a left-hander (although he's hit very well against lefties this season).
And Puig? Yes, once he makes the team, I'd like to see him play as well.
June, 14, 2013
Jun 14
12:24
AM ET
Jesse Chavez
is essentially the 25th man on the Oakland A's roster. He started the year in Triple-A, got called up, got sent down, got called back up and is working as the low-leverage guy out of the bullpen. Before Thursday, he hadn't pitched since June 5, and the final scores of games he'd appeared in (without a decision) were 6-1, 10-2, 11-5, 6-2, 6-1, 6-3, 10-2, 9-6 and 8-1.
Chavez is the definition of a journeyman right-hander, having pitched for the Pirates, Braves, Royals and Blue Jays before the A's purchased him from Toronto last August. He was a typical Billy Beane acquisition: He has a pretty good arm, fastball in the low 90s, but what Chavez hadn't had was much success at the major league level, with a 5.74 ERA over 191 career innings.
But sometimes you need that 25th guy to come through, and Chavez's other asset is that he had started for Triple-A Sacramento. That ability to pitch multiple innings came into play in Thursday's 18-inning marathon in Oakland, the A's finally pushing across the winning run with a blooper and broken-bat flare off
Mariano Rivera
, winning
3-2
. Chavez was the big hero, however, pitching 5.2 innings of one-hit, scoreless relief. He has a starter's repertoire, with a cutter, curve and changeup. He got two big outs when he entered with two runners on in the 13th, striking out
Kevin Youkilis
and
Vernon Wells
on curveballs.
In the 14th, A's manager Bob Melvin had the guts to intentionally walk
Robinson Cano
with runners on first and second;
Mark Teixeira
popped out to shortstop, missing a hittable fastball. From there it was smooth sailing, as Chavez retired the side in order in the 15th, 16th, 17th and 18th innings. Not bad for your garbage-time reliever.
[+] Enlarge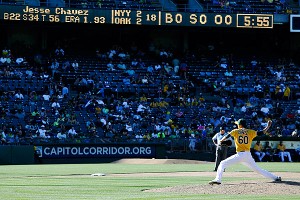 AP Photo/Eric RisbergJesse Chavez got the win for the A's in 5.2 innings of scoreless relief, with one hit and seven strikeouts.
"The last guy they threw was the best guy we faced all day," Teixeira told MLB.com. "That guy is nasty."
It's one of those games that will be remembered if the A's end up winning the American League West. It's that kind of bullpen depth that fueled their second-half surge last season and has fueled their strong start this season. The A's are 33-0 when leading heading into the ninth inning. They're 6-2 in extra innings. When tied through seven innings they're 8-1. This is a tough team to beat late in a game.
The A's have won 11 consecutive games at home and 21 of their past 26, and while they were 7 games behind the Rangers in mid-May, they now lead the division by two games, after the Blue Jays beat
Yu Darvish
and the Rangers
3-1
, dropping the Rangers to 4-8 in June. Injuries to
Ian Kinsler
and
Mitch Moreland
have hurt, but that gets us back to roster depth.
Who is the favorite to win the West? Here's a quick rundown comparing the two teams.
Lineups
Oakland: .246/.328/.397
Texas: .264/.327/.436
Entering Thursday's games, the Rangers had the higher wOBA, but the A's had the slightly better park-adjusted offense. The A's have gotten huge performances from
Josh Donaldson
and
Coco Crisp
, and while some regression might be in order, Donaldson also looks like a much-improved hitter from last season,
as Jerry Crasnick wrote
. On the other hand,
Josh Reddick
(.187) and
Chris Young
(.169) should improve.
For the Rangers, the offense is trending downward. In 2011, they averaged 5.3 runs per game; in 2012, 5.0; this year, 4.4.
Adrian Beltre
and
Nelson Cruz
are doing Adrian Beltre- and Nelson Cruz-type things, but
Elvis Andrus
and
David Murphy
are struggling right now. If Murphy doesn't pick it up, the Rangers might look to add an outfielder.
Advantage: A's.
Starting pitching
Oakland: 29-24, 4.01 ERA; .249/.298/.398; 6.1 innings per start
Texas: 25-21, 3.77 ERA; .251/.311/.391; 5.9 innings per start
The rotations have posted similar numbers, but once you adjust for ballpark, the Rangers' staff has performed better, led by Darvish and
Derek Holland
. FanGraphs WAR rates the Rangers' starters at 8.6 Wins Above Replacement, third-best in the majors, and the A's 12th-best at 5.0.
The good news for the A's is that
Jarrod Parker
pitched well again Thursday. After posting a 7.34 ERA through his first seven starts, he's gone 4-1 with a 2.40 ERA over his past seven, with a .183 average allowed and WHIP under 1.00. His changeup is back to the deadly weapon it was last year, as batters have hit .118 against it in those most recent seven games.

The Rangers have succeeded even though
Matt Harrison
has spent most of the season and the disabled list and
Colby Lewis
all of it.
Alexi Ogando
is also
out again with shoulder inflammation
. The Rangers received some solid work from
Nick Tepesch
and
Justin Grimm
early on, but those two haven't been quite as strong lately, and you have to wonder if the injuries won't catch up to the rotation at some point, at least until Lewis and Harrison return.
Edge: Even. The Rangers have been better so far, but moving forward I think the A's close the gap.
Bullpen
Oakland: 12-3, 2.89 ERA; .227/.289/.358
Texas: 13-7, 3.29 ERA; .240/.313/.368
The Texas bullpen has also been outstanding, especially the back three of
Joe Nathan
,
Tanner Scheppers
and
Robbie Ross
.
Neal Cotts
has added some depth as well. Scheppers has been the big surprise, with a fastball that sits at 94-96 mph and touches 98; he's always had a good arm but might finally be putting it together. He doesn't have a big strikeout rate (21 in 32.1 innings), and I do wonder if he keeps pitching this well. Batters are hitting just .170 off his fastball even though Scheppers' strikeout/walk ratio with the pitch is just 10.9.
Edge: A's. The Rangers have a good pen, but once you get into the fifth, sixth and seventh guys, I think the A's have the advantage.
Defense
Oakland: minus-20 Defensive Runs Saved
Texas: plus-8 Defensive Runs Saved
Ultimate Zone Rating has the clubs essentially even -- Texas at minus-0.3, Oakland at minus-1.3. The big problem area for the A's has been shortstop
Jed Lowrie
at minus-8 DRS. Chris Young, who usually rates very well in the outfield, has also rated poorly at minus-5 DRS. Of course, if he doesn't start hitting, he's not going to get much playing anyway behind Crisp, Reddick and
Yoenis Cespedes
.
Edge: Rangers.
The A's were my preseason pick to win the division, and they look like the better team right now. What do you think?