SweetSpot:

Taylor Teagarden
September, 20, 2012
9/20/12
2:28
AM ET
This is
Baltimore Orioles
baseball.
This is
Seattle Mariners
baseball.
Watching the last few innings of their game against Seattle, you knew how it would end:
The Orioles would win
. They'd wait out
Felix Hernandez
. They'd wait out
Tom Wilhelmsen
. They waited 18 innings to win on Tuesday and they'd wait as long as it took to win their 15th consecutive extra-innings game on Wednesday. Eventually, they'd run into a Mariners reliever who didn't have it. Or maybe they'd wait for the Mariners to make a mistake or Eric Wedge to make a dumb move or Jeff Reboulet to come off the bench and hit a home run.
You knew. You knew BECAUSE THE ORIOLES DON'T LOSE IN EXTRA INNINGS. GOT THAT? THE ORIOLES DO NOT LOSE IN EXTRA INNINGS. The game was over. It was just a matter of how the baseball gods wanted the O's to win on this night.
It didn't take 18 innings.
Adam Jones
belted a two-run home run off
Josh Kinney
in the 11th, off a "hit me hard, please" 3-2 hanging slider. It was Jones' 30th long one of the season, his fourth go-ahead home run in extra innings (no other player has more than two) and his sixth in the seventh inning or later (no other player has more than four). You don't have to call that clutch if you don't want to, but you can call it awesome.
As for the bottom of the 11th, the Mariners' first two hitters singled. I'll let Joe Sheehan take over from there:
First and second, no outs. Two pitches later you've given away the game. Hard to believe the Mariners haven't made the playoffs in 11 years.

— Joe Sheehan (@joe_sheehan) September 20, 2012
Joe wasn't quite accurate on the pitch count, but you get the idea.
Justin Smoak
, displaying all the speed of a Molina, grounded into a 3-6-1 double play, pitcher
Jim Johnson
making a nice scoop to complete the play.
Michael Saunders
walked. Wedge then pinch-hit his best hitter,
John Jaso
. At least he managed to get him in the game this time; in Tuesday's loss he was outmaneuvered by Buck Showalter, pinch-hitting Jaso only to see Showalter bring in a lefty, which forced a pinch hitter for Jaso.
Trouble is, Jaso never got a chance to swing the bat. Saunders tried to steal on the first pitch. The Orioles saw it coming, as Johnson threw a high-and-away fastball, the perfect pitch for catcher
Taylor Teagarden
to gun down to second base. He nailed Saunders with a perfect throw right on the corner of the base.
[+] Enlarge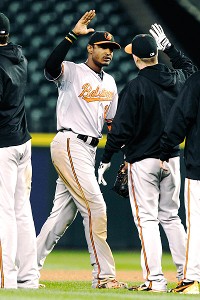 AP Photo/Ted S. WarrenAdam Jones' winning blast was his fourth this season in extra innings -- twice as many as anyone else.
Orioles baseball. Mariners baseball.
It wasn't necessarily the worst move to send Saunders, who had been 20-for-23 in steal attempts. Give credit to Showalter or Teagarden for reading the tea leaves, as Johnson normally throws his heavy sinker pitch after pitch.
* * * *
I'm jealous of Orioles fans right now. I want to be in your seat, rooting for a team I've suffered with for far too long, to keep doing the improbable, to keep winning games like this. There is nothing in sports more exciting than the daily adrenaline rush of pennant-race baseball, sweating through every pitch and sometimes forgetting to breathe. Orioles fans deserve this; there are high school seniors who had never seen the O's even experience a winning season until this year.
Earlier in the day, I wrote a post titled
"It's just an Orioles kind of season."
Indeed. I've never seen anything like this; and unless you were rooting for the 1949
Cleveland Indians
-- who won 17 straight in extra innings -- neither have you.
The Yankees swept a doubleheader from the Blue Jays on Wednesday, leaving the Orioles a half-game behind their wealthy neighbors in the American League East. But the remaining schedule seems to slightly favor Baltimore: The O's have a day off on Thursday and then three at Boston, four against Toronto, three against Boston and three at Tampa Bay. The Yankees have one with Toronto, three against Oakland, three at Minnesota, four at Toronto and three against Boston.
When Bobby Thomson beat the Dodgers to win the pennant in 1951, Red Smith wrote, "Now it is done. Now the story ends. And there is no way to tell it. The art of fiction is dead. Reality has strangled invention." When Don Larsen pitched his perfect game in the 1956 World Series, Dick Young wrote one of the great first sentences in sports writing: "The imperfect man pitched the perfect game."
The Orioles' story in 2012 is far from its end, but that's how I feel about this group: The imperfect team has strangled invention.
July, 15, 2012
7/15/12
12:30
AM ET
By
Christina Kahrl
| ESPN.com
The
Baltimore Orioles
' walk-off win over the
Detroit Tigers
in the 13th inning Saturday makes for an interesting moment, and not just for the O's. You don't expect to win a game in extras on your new backup catcher's first hit of the year -- but the
Orioles just did
, thanks to
Taylor Teagarden
's two-run home run.
You can't really top that for a first impression and this is an Orioles team that has been making a lot of fresh impressions. From starter
Jason Hammel
's turnaround from innings-eater to rotation front man, to closer
Jim Johnson
's All-Star invitation, to former top prospects like
Adam Jones
and
Chris Davis
finally living up to their billing.
Compare them to the Tigers, who spent like a champ and expected to win like one. They might complain how so many of their young players who were primed to start peaking, like
Brennan Boesch
or
Max Scherzer
, haven't. But even after a loss like this, it's too soon to say they're done, especially in the AL Central where 90 wins might still get you a division flag. If you think Dave Dombrowski has thrown in the towel, guess again.
Before a pitch was thrown this season nothing was expected of the Orioles, while just about everything was expected of the Tigers. That's no longer true of either team. At this time of year outcomes can deliver outsized results -- and super-sized responses. The trade deadline is right around the corner, and execs and managers will be making decisions about what to do with what their teams have done so far.
With little more than 75 games left to go, both teams have something different to prove. The Orioles have to prove they aren't a fluke and have a shot down the stretch. The Tigers have to prove their disappointing first half was only a fluke and that an always-winnable division is still within reach.
But a number like "75 games" gives too much credit to the idea that every game counts equally. It's one of the handy truisms that gets repeated all season long: Every game counts the same in the standings. It's true in the broadest sense, in terms of mathematical value, but it's a statement that's divorced from the world of real reactions to wins and losses. The day-to-day results have an impact on day-to-day decisions.
Not that big-picture considerations don't also add pressure. Before the game, the Orioles dedicated their latest stadium statue to all-time franchise great Jim Palmer. It only seems like it's been that long since they've mattered -- Palmer pitched for Baltimore's last World Series winner in 1983, notching a win out of the bullpen. Though the O's have their Jeffrey Maier-induced regrets since, it's been a tough three decades. They haven't won more than 70 games since 2005, and they haven't had a winning season since their ALCS loss in 1997. Think they don't want to change that? Guess again.
In the big picture, it's easy to say that the Orioles have been lucky. You can use Pythagorean-projected wins and see the Orioles have won six more games than expected, easily the biggest number in the league. And they owe a lot of that to their 10-2 record in extra innings, not to mention their 16-6 record in one-run games. More complicated stats like ESPN's
RPI for baseball
move the O's-verperformance up to seven games; Clay Davenport's
projections has it at five
, Baseball Prospectus
has it at six
.
So the Orioles have a case for being the luckiest team in the league, because whatever your brand of record-parsing, theirs is the biggest number in the league. It's the sort of result that will get people to say this is not a team to take seriously. Project that forward, and you wind up with a lot of models saying that the Orioles will wind up around 80 or 81 wins -- going 34-41 from here on out, yet winding up with their best season in 15 years.
But even though the Orioles' 13-inning win Saturday might seem improbable -- delivered by an even more improbable hero -- it matters more than just one ballgame out of 75. That's because it's one of the few games left between now and the trade deadline -- just 17 games away. The team that's fielded after the deadline might be very different from the one people say is just lucky to be here.
Baltimore general manager Dan Duquette can take all of this at face value. Maybe his team really is just lucky to be here and he can accept regression to the mean. Or, he can do something about it. He can leverage the wins his team already has and try to add somebody who can change the equation. Because for the first time in a long time, Orioles fans will have a reason to see what their team does at the deadline.
PHOTO OF THE DAY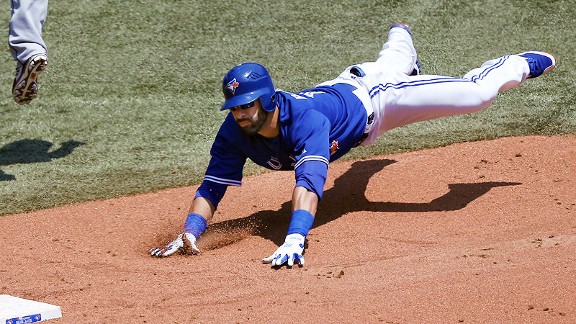 Tom Szczerbowski/Getty ImagesYou knew Jose Bautista had super powers, but did you also know he could fly?
Christina Kahrl covers baseball for ESPN.com. You can follow her on Twitter.
February, 18, 2010
2/18/10
8:06
PM ET
Among the many question to be answered this spring: Who's going to catch for the Rangers? Because as T.R. Sullivan writes, at this point
there's a competition
:
The Rangers have a mantra for Spring Training: whatever is in the best interests of the team to help us win.That's why there is extreme competition on the pitching staff. That's also why their catching situation is up for grabs going into the first workout on Friday. That's why Jarrod Saltalamacchia will have to fight off Taylor Teagarden, Toby Hall and others if he wants to be the Rangers' No. 1 catcher again.

"That's what we're basing the club on: what's best for the team and our ability to win," Rangers general manager Jon Daniels said. "We have to apply that here as well."

So, for the third straight year, Saltalamacchia comes into camp having to win a job and there is still a possibility the Rangers could sign free-agent catcher Jose Molina. They have had discussions with his representatives and he still hasn't signed.

"It has been presented to us as competition, so I'm going to prepare myself to do what it takes to win the job," Saltalamacchia said. "I still believe it's a team game and we have to do our job working with the pitching staff and do what it takes to help them."

--snip--

The job is open because of the uncertainty about Saltalamacchia's shoulder. He came down with thoracic outlet syndrome in August and had surgery in September to have a rib bone removed that was causing pain and numbness in his right throwing arm. The Rangers expect full recovery, but he did have one offseason setback when he tried to return too quickly to play winter ball.

"We're not certain about his health," Washington said. "He just has to show us he can play. If he can play, he's got the job."
Gee, this doesn't sound like much of a competition to me.
Toby Hall? He's 34, he missed 2009 with a severe shoulder injury, and he's got a .297 career on-base percentage. Hall isn't a candidate; he's cheap insurance in case somebody gets hurt next month.
And it sounds like the job is Saltamacchia's to lose. I'm just not sure it should be.
Remember when the Rangers had too many catchers? Well, that problem took care of itself.
Max Ramirez
, who tore up Double-A in 2008, suffered wrist problems in Triple-A in 2009, and even if he's healthy and hitting again he'll probably wind up at first base.
Saltalamacchia and Teagarden?
We're still waiting for them to hit.
Salty's career line: .251/.314/.389
Teagarden's career line: .237/.295/.457
But the statistical question marks go beyond the majors. Really, neither player has accomplished much above Class A, which makes me wonder why we (read: I) thought so highly of them in the first place.
Saltalamacchia turns 25 this spring; Teagarden is 26.
Teagarden bats right-handed, while Saltalamacchia has the virtue of switch-hitting (though it's not a great virtue if he doesn't actually hit).
A couple of years ago, it seemed (to me) like a question of which young Ranger would first establish himself as a star catcher in the majors. Now that seems like a silly question. Now the organization can only hope that one of them becomes slightly more than competent, and they seem to be close enough as hitters that maybe defense should be the tiebreaker.
Or Ron Washington could just do the smart thing, and platoon them.
August, 18, 2009
8/18/09
4:13
PM ET
Ivan Rodriguez
a Ranger again? Raise your hand if you saw
this
coming? Jeff Wilson with
all the details
(except for the identity of the presumably nondescript minor leaguers the Rangers are giving up):
A source said Rodriguez will serve as the backup for Taylor Teagarden, who has assumed the starting duties with Jarrod Saltalamacchia on the disabled list. Saltalamacchia was placed on the DL on Saturday with arm fatigue and was told today by vascular specialist Dr. Greg Pearl that he has thoracic outlet syndrome. Saltalamacchia, though, said that he will stretch and rehab the arm over the next few weeks and was told that he could play again this season. "I'm going to play through it, and hopefully it goes away," Saltalamacchia said. "He [Pearl] thinks that if I stretch it out and do the rehab, there's a chance I can overcome it. "I don't want my season to end. We're in the hunt, and I want to help out as much as I can."
Do you remember last summer, when smart guys like me were saying the Rangers had so many good catchers they should trade one of them to the Red Sox?
Those three good catchers -- Teagarden, Saltalamacchia, and Maximiliano Ramirez -- have been so good this season that management felt compelled to trade two young players for a 37-year-old catcher with a .280 on-base percentage.
Saltalamacchia? The starter for most of this season, he's got a .293 on-base percentage, and he's had some problems throwing the ball back to the pitchers.
Teagarden? He's been even worse, with a .264 on-base percentage in 38 games.
Ramirez? He can't really catch, and anyway he hasn't done enough with the bat this year to escape the minor leagues.
Hence, Ivan Rodriguez. Of course, his OBP isn't any great shakes, either. But he can still throw, and with Saltalamacchia out the Rangers do need another catcher. And speaking purely as a fan, it'll be fun to see him wearing the uniform again.