May, 7, 2012
5/07/12
2:25
PM ET
After a wild and wacky weekend around baseball, Mark Simon and I gathered to record Monday's
Baseball Today podcast

, with hitters pitching, Power Rankings and ridiculous emails as our backdrop!
1. Chris Davis bests Darnell McDonald in a crazy and lengthy extra-inning affair at Fenway Park. Should hitters be pitching at all? And what does our able producer think about the struggling Red Sox and their manager?
2. The Washington Nationals needed a big weekend against the rival Phillies, and they got it, though the news from the outfield was a bit mixed.
3. It's a Battle of the Beltway! Which team posted the better spot in the Power Rankings between the Orioles and Nationals? Also, why do Mark and I differ so much on the Rays?
4. Our Simon Says segment focuses on the weekly leaderboard and other players struggling worse than Albert Pujols. By the way, didja know he finally homered?
5. Our emailers have thoughts about the All-animal lineup and rotation, and the most common final score!
So download and listen to Monday's Baseball Today podcast, as we tell you who is most likely to throw a no-hitter today, and why a certain Phillies pitcher will have many eyes watching him.
April, 14, 2012
4/14/12
12:15
AM ET
By
Bill Baer
| Special to ESPN.com
Matt Cain
has been flummoxing statheads almost as long as he has been flummoxing opposing hitters. The 6-foot-3, 230-pound right-hander has quietly become one of baseball's premier pitchers since earning a regular spot in the
San Francisco Giants
' rotation in 2006, despite a career
xFIP
(4.26) nearly a full run higher than his career ERA (3.37).
Utilizing a typical starting pitcher's tool chest -- fastball, slider, changeup, curve -- Cain has posted an ERA between 2.88 and 3.14 in each of the past three seasons, but stood in the background as teammate and 2008-09 back-to-back Cy Young Award winner
Tim Lincecum
shone in the spotlight. Sabermetricians labeled Cain a fluke, bound to regress to a 4.50 ERA that was more in line with his xFIP.
[+] Enlarge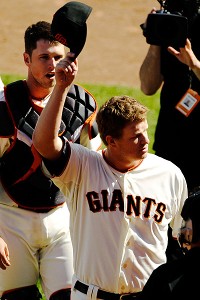 AP Photo/Eric RisbergMatt Cain tips his cap after his one-hit, 11-strikeout shutout in the Giants' home opener.
In fact, many balked when the Giants awarded Cain a six-year, $127.5 million contract extension nearly two weeks ago. Cain has never finished higher than eighth in Cy Young balloting and never posted a strikeout-to-walk ratio in excess of 3-1. How could he possibly be worth that much money?
Cain showed exactly how in this afternoon's game against the
Pittsburgh Pirates
. He brought a perfect game into the sixth inning, allowing his first hit with two out in the frame to opposing starter
James McDonald
on his way to a
5-0 Giants victory
. The home crowd in San Francisco gave him a lengthy and appreciative standing ovation, perhaps a penance for worrying after his first start, in which the
Arizona Diamondbacks
tagged him for five runs over six innings.
While he is not known for his ability to strike batters out on a frequent basis, Cain has posted an average strikeout rate (a shade under 20 percent) over his career. Today, Cain struck out 11 Pirates, utilizing expert pitch sequencing. ESPN Stats & Information notes that eight of his 11 punchouts were on pitches out of the strike zone, and overall, Pirates hitters chased at 58 percent of pitches out of the zone.
An added bonus to being so unpredictable is weak contact. Since 2006, among starters with at least 1,000 innings pitched, Cain has the fourth-highest infield fly ball rate at 12.6 percent, trailing
Ted Lilly
(13.8),
Jered Weaver
(13.6), and
Bronson Arroyo
(12.7). As a result, Cain's career batting average on balls on play sits at .265, about 35 points below the average for pitchers and the point to which most pitchers regress. That low BABIP is the reason most expected him to regress, but he has proven he has an ability to limit hits on balls in play better than most pitchers, which is a rare skill.
If Cain had authored the 273rd no-hitter in baseball history, he certainly would have gained some recognition across the baseball world. But in reality, his resume is already impressive enough, and he has been everything the Giants had hoped for when they drafted him in the first round of the 2002 draft and, at 27 years old, there is plenty more still to come.
Bill Baer writes for
Crashburn Alley
and you can follow him on
Twitter here
.
July, 23, 2011
7/23/11
3:00
PM ET
By
Charlie Saponara
| ESPN.com
With trade rumors hitting us in full force as the deadline approaches, let's take a look back at some of what happened at the 2010 trade deadline and see how many of those players are making an impact for their new teams.
Cliff Lee traded to the Rangers; Mariners acquired Justin Smoak, Blake Beavan, Matthew Lawson and Josh Lueke
Despite a solid BB/K rate, Smoak continues to struggle with consistency at the big league level. He's still only 24, so there is time for him to improve, but he's not the instant impact bat that the Mariners were hoping for. Both Beavan and Lueke have pitched in spots for the Mariners this season. The Rangers rode Lee's contributions to the World Series and have since moved on from Smoak seamlessly, relying instead on the likes of postseason hero
Mitch Moreland
,
Michael Young
and
Mike Napoli
.
[+] Enlarge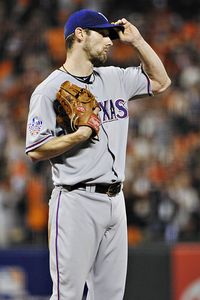 Scott Rovak/US PresswireThe Rangers acquired Cliff Lee in a 2010 deadline deal and rode his arm to a World Series appearance.
Dan Haren traded to the Angels; Diamondbacks received Joe Saunders, Tyler Skaggs, Patrick Corbin and Rafael Rodriguez
Haren has thrived for the Angels this season, and Saunders has held his own with the surprise contenders in Arizona. However, the big score for the D-Back may not arrive until late next season or 2013, as Skaggs has continued to impress all those who have seen him pitch. Recently, he earned a promotion to Double-A after posting a 3.22 ERA, 2.65
FIP
and 3.7 K/BB rate at High-A Visalia in the hitter-friendly California League. Corbin has had his struggles at Double-A, but he has posted an impressive 4.5 K/BB rate and should see the big leagues one day.
Edwin Jackson traded to the White Sox; Diamondbacks received Daniel Hudson and David Holmberg
This move was sort of a head-scratcher at the time, and the way Hudson has pitched for the D'backs ever since confirms that confusion. The Snakes have Hudson under team control through 2016 while Jackson will hit the free-agent market this winter.
Roy Oswalt traded to the Phillies; Astros acquired J.A. Happ, Anthony Gose and Jonathan Villar
Oswalt pitched brilliantly for the Phils in the 2010 postseason. However, career-long back problems may have finally caught up to him. On the Astros' side, Happ was plugged right into the rotation, but his struggles with command and allowing the long ball have led to an ERA nearing six. Gose never played a game in the Astros' system as he was flipped to the Blue Jays for first baseman
Brett Wallace
; the 24-year-old Wallace has been unimpressive in his young major league career, though he does sport an above-average OBP. Villar continues to struggle with strikeouts in the minor leagues.
Lance Berkman traded to the Yankees; Astros received Mark Melancon and Jimmy Paredes
While Berkman is in the midst of a late-career renaissance with the Cardinals, Melancon has taken over as the Astros' closer with a 2.91 ERA, 3.33 FIP and ground-ball rate of 60 percent. Jimmy Paredes is now in Double-A and continues to steal bases, but he also continues to struggle with his lack of plate discipline.
Matt Capps traded to the Twins; Nationals received Wilson Ramos and Joe Testa
Capps pitched well for the Twins down the stretch in 2010, but his huge regression in strikeout rate has hurt him big-time this season. In the meantime, despite some ups and downs in his first full big-league season, Ramos has established himself as the Nationals' catcher of the now and the immediate future.
Jhonny Peralta traded to the Tigers; Indians received Giovanni Soto
Peralta re-signed with the Tigers last offseason and has been worth every penny of the $5.25M he is making this season. Over the past two seasons, Peralta has improved his contact rate, which has helped to lower his strikeout rate. Meanwhile, the 20-year-old Soto continues to show good strikeout ability at the lower minor-league levels of the Indians' organization.
Ted Lilly and Ryan Theriot traded to the Dodgers; Cubs received Blake DeWitt, Brett Wallach and Kyle Smit
Lilly pitched well for the Dodgers down the stretch in 2010, but his issues with the gopher-ball have hurt him this season. With the Dodger's financial situation in shambles, the three-year $33 million deal Lilly signed last offseason only makes things worse. Overall, this deal has helped no one, though the Dodgers did at least acquire league-average reliever
Blake Hawksworth
in exchange for Theriot this past offseason.
Octavio Dotel traded to the Dodgers; Pirates acquired James McDonald and Andrew Lambo
After being acquired by Los Angeles, Dotel appeared in 19 games, allowed seven earned runs and was then traded to the Rockies in September. The Pirates landed the high-upside, inconsistent McDonald, who has been once again inconsistent. However, his 4.15 ERA (4.57 FIP) have at least contributed as a back-end rotation piece to the surprising Pirates. Lambo was once a top-end prospect with the Dodgers, but his prospect status is all but gone now. He's hitting .206/.278/.326 between Double- and Triple-A this season.
Kyle Farnsworth and Rick Ankiel traded to the Braves; Royals received Tim Collins, Jesse Chavez and Gregor Blanco
Both Farnsworth and Ankiel moved on from the Braves in the offseason, and Blanco was traded to the Nationals this past May. Collins made the Royals out of spring training and has continued to prove that he can miss bats (24.3 percent whiff rate), but his control has really tailed off at the big-league level. Collins is only 21 years old, so his future may still be as a consistent late-inning reliever someday.
Charlie Saponara writes for SweetSpot blog, "Fire Brand of the AL." You can find all of his writing adventures by following on Twitter.
June, 6, 2011
6/06/11
4:53
PM ET
Here are the top five reasons why you really must download, listen to and follow to the letter Monday's
Baseball Today podcast

with myself and Mark "Mr. Negative" Simon:
1. Former GM and current ESPN contributor Jim Bowden talks about Monday's draft, from the influence general managers have (or don't have) to the current GMs to watch this week. Bowden's interviews are, by the way, really good.
2. Mark finally gets to Citi Field this past weekend to see his beloved --although it sounds like he's saying depressing -- Mets, and shares tales from the visit, including a very superstitious hat!
3. It's Power Rankings day, and let's just say I totally regret jumping on the bandwagon of a certain team a few weeks ago. Naturally, Mark doesn't really agree. We reveal each of our top 10s.
4. More discussion and numerous emails about our "stars versus superstars" discussion, and while I'm shocked which side most people seem to be on with the defending NL MVP, I guess I understand it. Hey, let's ask grandma (listen and you'll understand the reference!).
5. Ted Lilly versus Adam Dunn: Who's the better hitter? OK, so there's no real debate there, but there is a similarity, and let's just say one of their performances is pretty annoying.
Plus: Excellent emails, Bill Dickey stands alone, trivia on the Dodgers-Phillies playoff history, focus on the interesting pitching matchups of Monday and really, so much more on a packed Baseball Today!
April, 13, 2011
4/13/11
4:49
PM ET
Eric Karabell hosts and David Schoenfield pinch-hits for Keith Law on Wednesday's
Baseball Today podcast.

Topics include:
February, 2, 2011
2/02/11
3:06
PM ET
A prospect is a prospect until proven worthy at the big league level.
As a Cubs fan, I have never been so happy to see prospects, promising ones at that, get traded in such a flurry. As a matter of fact, this is the first time in recent memory that I can remember my beloved Cubs trading away the future for the present.
Chris Archer … gone. Hak-Ju Whatever-Your-Name-Is … gone. Traded away for
Matt Garza
, a former Tampa Bay Rays starter with some youth left to boot! Did I mention he was good?
Before this move, the Cubs seemed determined to stick with their homegrown talent at any cost. Names like Rich Hill,
Felix Pie
,
Corey Patterson
were once prospects of gold! It appeared that championships were waiting to be picked off like a snoozing runner with a big lead at first. It was as if the Cubs' brass hoped one of those prospects could be the next Ernie Banks or Greg Maddux so it could end this century-long streak and do it with their own talent, discovered in-house, by their own people. For a period of time this seemed to be the game plan on Chicago's north side. Nobody wanted to give up the next Ernie Banks for, well, the next Ernie Broglio.
Insert the Matt Garza trade. He will get one of the top three spots in the Cubs' rotation for the coming season. Don't get me wrong, Wrigleyville. I'm not trying to predict greatness, but the move does give the Cubs a certain validity in the NL Central. The real question won't be what he does on the mound, but what he does for the rotation as a whole. Even a pedestrian effort could bear fruit in year one!
With Garza's acquisition, a certain amount of strain is removed from
Ryan Dempster
and
Carlos Zambrano
. Two above-average pitchers (on their good days) carrying a rotation is a stretch, and before the Garza trade, your Cubs rotation looked like a head case; an injury waiting to happen (the reason we have Dempster is because of his an injury-riddled past); and a guy (
Carlos Silva
) that another team couldn't wait to get rid of for
Milton Bradley
, followed by two doses of young, unproven talent. One word: Yuck!
With Garza, the clouds seemed to part. If he gives the Cubs 200 innings this year, which many believe he is capable of, then the gray skies become blue … Cubbie blue! Zambrano continues his form from his 8-0 effort in the second half last year, Dempster proves the injuries are in the distant past and keeps forging his path of consistent, not dominant, but consistent stuff, and Silva becomes a nice back-of-the-rotation starter.
If Garza can win 10 or more against the AL East, what can he do against the NL Central? Does anybody remember what
Ted Lilly
did when he came over to the division?
This leaves one spot for a new guy. A young gun in need of some nurturing, but one who has the stuff to be good. A "get your feet wet at the back of the rotation" guy. Who could it be? This is where it gets fun!
Now, if only
Carlos Pena
can hit above .250 …Chet West contributes to View from the Bleachers, a blog about the Chicago Cubs.
Chet West contributes to View from the Bleachers, a blog about the Chicago Cubs.
August, 6, 2010
8/06/10
6:22
PM ET
By Jack Moore, Disciples of Uecker | ESPN.com
Why will the Brewers contend in 2011?
1. The Brewers have already patched up their bullpen.
On opening day, the Brewers' bullpen contained (among others)
Trevor Hoffman
and
Claudio Vargas
. After two awful starts,
Jeff Suppan
joined this awful duo. Those three all had ERAs above 6.90 in April and May, and they combined for a stunning minus-2.96 WPA – mostly via Hoffman and his five blown saves, but also from the general incompetence of the trio. That means that this group was three wins worse than merely average relievers.
Since then, Hoffman has been replaced as closer by
John Axford
, Suppan has been replaced in the rotation by
Chris Narveson
and in the bullpen by
Kameron Loe
.
Zach Braddock
has taken the role of top lefty from
Mitch Stetter
(a middling-at-best LOOGY who was utterly incompetent against RHB). Vargas's low-leverage innings have been split between players like
Chris Capuano
, who is an interesting project if nothing else, and
David Riske
, who is merely biding the time until his contract expires.
Axford, Braddock, and Loe have been fantastic since joining the Brewers, combining for plus-2.22 WPA in their time on the team, largely coming after Jeff Suppan's June 7 release. All three will be under team control next year, making them near locks to be important bullpen pieces next season, added to relievers
Carlos Villanueva
and
Todd Coffey
.
2. The Brewers have a favorable payroll situation.
With the toxic contracts of Jeff Suppan,
Bill Hall
, and others coming off the books, the Brewers will shed roughly $45 million in contracts after this season. After arbitration raises, I estimate that the Brewers will be about $25 million below the 2010 opening day payroll, even if
Prince Fielder
remains a Brewer. That means they'll have some money to play with.
The Brewers aren't losing much, either. The only important player from 2010 who's on his way out is
Jim Edmonds
, but he can be replaced in-house by either
Carlos Gomez
or
Lorenzo Cain
. At every other position, the Brewers are solid. CHONE's August update projects the Brewers with one above-average player (+2.0 WAR per 150 games) at each position.
That means the Brewers can spend most, if not all, of that "extra" $25 million on their weakness: starting pitching. The market this winter isn't great, but
Javier Vazquez
,
Brandon Webb
,
Ted Lilly
,
Jon Garland
(likely to decline his mutual option),
Jake Westbrook
, and
Kevin Millwood
, among others, are all interesting options. Perhaps a better move would be to use some of that cash to deal with a team like the Marlins, who might attempt to move
Ricky Nolasco
's high arbitration award in the offseason. They could also trade Prince Fielder for pitching, as
Mat Gamel
could step in and likely be an average first baseman. For the right pitcher, trading Fielder could actually make the Brewers better in 2011.
The roster certainly isn't perfect, but much of it is returning and there's money to fix the holes.
3. The NL Central is weak.
St. Louis has a good team this year, certainly, but it's not without its holes. Perennial All-Stars
Albert Pujols
,
Adam Wainwright
,
Chris Carpenter
, and
Matt Holliday
form an excellent core, but there are question marks after those four players. The back of the rotation has struggled mightily, as the Cardinals have attempted patches with
Blake Hawksworth
and Jeff Suppan, eventually trading
Ryan Ludwick
away for Jake Westbrook. Losing Ludwick, one of the better right fielders in the NL, will hurt next year, and Westbrook will be a free agent. They also lose
Brad Penny
, who has been injured much of the year, and
Felipe Lopez
, who was an absolute steal in last year's free-agent market. The Cardinals have played like an 89-win team this season according to
Beyond the Box Score's power rankings
(looking at cW%). They have a modest amount of money to spend this year, but they are losing enough to the point where I wouldn't feel comfortable projecting any sort of major increase, especially given that St. Louis's top financial priority will be locking up Albert Pujols past 2011, the last year of his current contract.
The
Cincinnati Reds
have played about as well as the Cardinals so far this year, but there's really only one word to describe why I'm not super high on this team heading into next year:
regression
. Will
Scott Rolen
continue to be a power threat in his mid 30s? Is
Mike Leake
a sub-4.00 ERA pitcher despite skipping the minor leagues? Is
Arthur Rhodes
really one of the best left-handed relief pitchers in baseball? I'm inclined to say "no" to all of these questions. There's enough young talent on this Reds team to still be solid next season, and they might add Aroldis Chapman to the mix as well, and they won't have
Edinson Volquez
recovering from Tommy John surgery for half a season. That said, there's no reason to believe that the Reds are anything more than an 89-win team themselves, and simple regression says that we should expect something closer to 86 or 87.
4. "Contending" doesn't mean favorites.
The favorites to win the division next year will be, barring the unforeseen, Cincinnati and St. Louis, in some order and for good reason. However, they're not elite teams, and given the crazy things that can happen during the course of the season, they could each just as easily end up as .500 squads as 95-win teams. The Brewers look like a true talent 81-win team right now. They've played .519 baseball since releasing Suppan, and that's just above what the Beyond the Boxscore rankings expect (a .505 cW percent). I would feel pretty confident calling the roster on hand an 81-win team for next season.
The Brewers had a similar projection opening the season last year, and were given playoff odds of about 17 percent by
Baseball Prospectus
prior to the season. With the money available to plug holes in the rotation, the Brewers can definitely make themselves a preseason contender (say, 30-40 percent playoff odds) prior to the season, even if they're not favorites.
Jack Moore writes about the Brewers at Disciples of Uecker, a member of ESPN.com's SweetSpot Network
.
May, 27, 2010
5/27/10
6:24
PM ET
It's not often that you see a runner on first base arguing with the first-base umpire. But that's exactly what happened in the bottom of the sixth inning at
Wrigley Field today
, as
Casey Blake
got into it with crew chief John Hirschbeck.
I was watching the Cubs' broadcast, and Len Kasper and Bob Brenly both were perplexed.
Just a moment later, though, I saw this on Twitter, from
C.J. Nitkowski
: "Watching some daytime MLB. Camera just zoomed in & didn't realize it caught a pitcher cheating. Don't ask me who/what. Tricks of the trade."
Still a mystery, right? Then, this: "Uh-oh Casey Blake is on to it. TV guys completely in the dark. I should start my analyst career."
Nitkowski said he wouldn't tell us the who/what ... But with the mention of Casey Blake, we know the "who" must be
Ted Lilly
.
Still no what, though. And the broadcasters never revisited the subject (and even if they'd figured it out, they're probably not going to score a lot of points in the organization by exposing one of their own guys as a cheater).
Fortunately, the Twitterverse is vast and powerful.
First, this from
GreenLantern411
: "pretty sure CJ is talking about lilly's left foot being nowhere near the rubber ... was pretty blatant"
And a few moments later, this from (Rangers fan)
jcooksey04
: "Lilly's foot was about 6 inches from the rubber in his last start vs the Rangers. Umps never saw it."
Thus armed, I went back and watched the bottom of the sixth inning again, but this time the Dodger broadcast with Steve Lyons and Eric Collins.
The fun begins with two outs and Blake on first base.
Reed Johnson
fouls off one pitch, then another. Blake, leading off, is one of the two people in Chicago with the best look at whatever Lilly's doing (first baseman
Derrek Lee
is the other). Before throwing his third pitch, Lilly steps off the mound. We don't know why. A moment later, he steps off again and finally we see Blake standing on first base, complaining to John Hirschbeck about
something
.
Lyons says, "I think Casey Blake maybe thought he saw a balk, and he's over there chipping at the first-base umpire about, why aren't we calling it?"
First-base coach Mariano Duncan gets between Blake and Hirschbeck, and eventually Joe Torre saunters out for a bit of mid-afternoon entertainment.
Finally, a replay from the high-third-base camera, showing Lilly getting set, and Blake just standing on first base and pointing at Lilly. And now Lyons gets it: "Take a good look at Casey. And he's trying to say whether or not, maybe Ted Lilly isn't even
on
the rubber. We've talked a lot about the fact that he stays way on one side of the rubber or the other, and Casey's saying he's about four inches
off
the rubber in front of it. Which can give you a significant advantage."
What we'd missed the first time around -- and what the Cubs broadcast somehow never managed (or bothered) to show -- was Blake turning to Hirschbeck and holding his hands four to six inches apart. And again, if anybody would have known, he would.
Torre didn't belabor the point, Reed Johnson made out on the next pitch, and Lilly cruised through the seventh inning. This is a small thing. Pitchers have been cheating in exactly this way since pitching rubbers were first installed, I'm absolutely sure. But you may, if you like, apportion extra credit this afternoon to Casey Blake, to C.J. Nitkowski, and to the InterWeb.