February, 15, 2011
2/15/11
1:00
PM ET
By
Geoff Young
| ESPN.com
People love a winner, and there's nothing wrong with that. People also love to assign credit for winning. There's nothing wrong with that, either, so long as we recognize its limitations.
Take a starting pitcher's win-loss record.
[+] Enlarge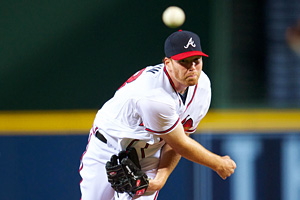 Dale Zanine/US PresswireAtlanta pitcher Tommy Hanson's 2010 season was much better than his won-loss record suggests.
It tells us what happened, but not how or why. If we use wins and losses to judge the quality of a pitcher's performance, we risk reaching faulty conclusions.
Felix Hernandez
is a recent example fresh in everyone's minds. He turned the American League into his personal playground in 2010, but because he played for a
Seattle Mariners
team that refused to score runs, he finished with a pedestrian 13-12 record. This led to talk in some circles that Hernandez might not deserve the Cy Young Award.
Beyond Hernandez, others suffered similar fates this past season. And still others succeeded despite themselves.
A while back,
I repurposed an old Bill James study
to compare the 2003 seasons of
Jarrod Washburn
and
Ramon Ortiz
. I've since done the same with the 2008 seasons of
Jake Peavy
and
Tim Redding
. In each case, one pitcher was more effective than successful, while the opposite held true for the other.
You can find these pairs of pitchers in any season. There were several in 2010, the most extreme being Atlanta's
Tommy Hanson
and Milwaukee's
Chris Narveson
.
Here are their overall numbers as a starter (Narveson began the season in the bullpen, going 1-0 in nine relief appearances):
Did Narveson have the better year? As measured by wins and losses, yes. As measured by run prevention, which typically leads to wins, no, and it's not close.
The obvious first question is what kind of run support each pitcher received. In this case, the answer doesn't help -- the Braves averaged 4.29 runs in Hanson's starts, while the Brewers averaged 4.25 when Narveson toed the slab.
So we dig deeper and discover something curious. When their teams scored three runs or more, Hanson and Narveson were indistinguishable:
Hanson was slightly more effective, Narveson slightly more successful, but those two lines are close. What isn't close is how they fared when their teams scored two runs or fewer:
Even accounting for the fact that Hanson allowed several unearned runs, this is a huge discrepancy. It doesn't explain everything, but does provide insight into why there is a gap between these two pitchers' overall effectiveness (as measured by ERA) and their success (as measured by wins and losses).
There are other angles to examine as well. One is how each pitcher fared in their wins:
And in other starts (losses and no-decisions):
Is it reasonable to expect someone with a 4.19 ERA to sport a record of 0-13? Well,
Phil Hughes
had the same ERA in 2010 and went 18-8. Anyway, this is a baseball column, not a calculus class so we'll stop here. If you're curious and motivated, here are some follow-up questions about Hanson and Narveson's starts worth considering:
" How well did the opposing starter pitch?
" How effective was the bullpen?
I'm sure you can think of others, but the point is that without proper context, it is impossible to make an accurate judgment about a player.
Wins and losses tell a story about a pitcher, but not the whole story. When we miss that point, we find ourselves dismissing Hernandez as a Cy Young candidate or arguing that Narveson had a better season than Hanson.
When we ignore available evidence, we look like idiots. Nobody wants that.
Geoff Young writes Ducksnorts, a blog about the San Diego Padres. Follow him on Twitter.
May, 19, 2009
5/19/09
4:52
AM ET
OK, so
last night's late game
was ugly. Ben Shpigel was there, and had
an excellent view of the festivities
...
Their 3-2 loss in 11 innings mercifully ended one of their most disheartening games of the season, one that included a crucial baserunning blunder by Ryan Church and a season-high five errors. The final two errors led to the winning run, when Mark Loretta scored after Jeremy Reed threw wide of the plate.

The Mets thought they had taken the lead in to the top of the inning, when Church scored on two-out Angel Pagan's gapper to right-center field. But Church skipped over third base, never touching the bag. The Dodgers were successful in appealing, and Church was ruled out, ending the inning.

In the bottom of the 11th, Mark Loretta led off with a walk against Brian Stokes and Xavier Paul, followed with a fly ball to left-center. Pagan and Carlos Beltran converged on it, and Pagan appeared to screen Beltran. The ball dropped, and the Dodgers had runners on second and third with no outs. Juan Pierre was walked intentionally, loading the bases, and Rafael Furcal flied to shallow left for the first out. Orlando Hudson tapped one to the first baseman Reed, whose throw was nowhere near the catcher, Ramon Castro.

The lone bright spot for the Mets (21-17) was Tim Redding, who in his debut showed that he could be a capable fifth starter. After giving up two runs in the first, Redding shut down the Dodgers, allowing just two hits over six innings in emerging with a quality start. Four Mets relievers combined to hold the Dodgers scoreless until the 11th.
I don't know how many Mets fans were still up when the game ended. I was, though, and yeah, I can't say it was disheartening because my heart doesn't care about the Mets, but man was it ever ugly. I don't know that I've seen a good team make more obvious mistakes in the late stages of a close game.
You know what's worse, though? When Tim Redding is your fifth starter. Because you know what that means, don't you? It means that Livan Hernandez is your fourth starter. I happened to be at the ballpark in San Francisco last Friday night, and I just sat there in the first inning, dumbfounded, as Hernandez gave up hit after hit after hit. I can't say that I exactly felt sorry for Hernandez -- after all, nobody forced him to take the Mets' money this spring -- but I couldn't quite help myself.
More, though, I felt sorry for Mets fans who have to put up with a pitcher like Livan Hernandez every five days (particularly if he really is the club's fourth starter, and really will pitch every five days). Frankly, there's simply no excuse for a team with a new ballpark and a $150 million payroll to trot Hernandez out there regularly, and wind up with Jeremy Reed at first base in a close game, and Angel Pagan in left field at the same moment, and ... well, you get the idea. I can't feel sorry for the Mets, and I can't feel too sorry for their fans. Not with that payroll. As a guy who just likes to watch good baseball, though, I find this odd collection of talent just a little bit offensive.