June, 5, 2014
Jun 5
1:35
PM ET
By
Domenic Lanza
| ESPN.com
Four weeks ago, the Yankees announced that Tino Martinez and Paul O'Neill would be joining the "hallowed ground" that is Monument Park. Truth be told, I would prefer to use air quotes around hallowed ground -- but such a gesture does not come through too well in print; but I digress. Both Martinez and O'Neill were on the Yankees for their historic run of four World Series championships in five years between 1996 and 2000, and both were quite good along the way. I am not sure that either was ever the best, second-best, or even third-best Yankee in any of those four championship seasons -- but such is life on a team with first-ballot Hall of Famers in Derek Jeter and Mariano Rivera, and surefire "Hall of Very Good-ers" in Andy Pettitte and Jorge Posada. It seems inane to suggest that not being as talented and productive as an all-time great is a mark against a player.
On Wednesday, however,
Sweeny Murti
and
Craig Calcaterra
broached the issue of Martinez and O'Neill lowering the standards of Monument Park (in so few words). At face value, this is an intriguing topic. Neither Martinez nor O'Neill won any awards, nor did they set any records. The two combined for all of five All-Star Games in pinstripes, and very little ink was spilled over their exclusion from the midsummer classic.
With this in mind, Murti suggests that Willie Randolph and Graig Nettles should be next in line for Monument Park. They were integral parts of some excellent Yankees teams in the 1970s and '80s, winning World Series titles in '77 and '78 -- not quite on par with Messrs Martinez and O'Neill, to be sure, but few can boast as many rings as that duo. Of course, that sort of comparison may not be fair, either. Randolph (1694) and Nettles (1535) played more games in pinstripes than Martinez (1054) and O'Neill (1254), and both were arguably better, to boot. Per 650 PA, O'Neill averaged 3.7 bWAR as a Yankee, and Martinez averaged 3.0. Now, compare that to Randolph's 5.2 and Nettles' 5.1 marks, and you begin to see that neither is intended as a snarky response -- they were legitimately superior players.
Randolph and Nettles were underappreciated in their time, due to much of their value coming from defense and on-base skills, and they have only recently begun to get their due. And I agree that the enshrinements of Martinez and O'Neill can and should open the door for players of their ilk ... though, that should not have been necessary, given their legitimate excellence.
The greatest issue I see with any of the uproar surrounding Martinez and O'Neill garnering a monument, coming full circle, is the suggestion that Monument Park is hallowed ground. Only Miller Huggins, Babe Ruth, Joe DiMaggio, Lou Gehrig, Mickey Mantle and George Steinbrenner have actual monuments -- this does not infringe upon that. Rather, the only effect on Monument Park this will have is adding two good-not-great names to those that have been honored with plaques -- a list that includes Roger Maris, Elston Howard and Allie Reynolds, as other good-not-great Yankees. Surely O'Neill and Martinez fit well alongside those three, right?
Regardless, I do not think that there is any reason to be upset with the addition of a couple of legitimate contributors to the Yankees' late '90s dynasty. If there are better Yankees out there, we should push for them to receive a plaque, or some other honor. There is not a finite amount of praise to be given to the greats that have taken our breath away in the Bronx -- and I, for one, adore the team's recognition of its history, as well as its fans.
Now, then -- let's get Bernie Williams in there, shall we?
Domenic Lanza writes for It's About The Money, a New York Yankees blog on the ESPN SweetSpot Network. You can follow him on Twitter @domeniclanza.
March, 23, 2011
3/23/11
11:35
AM ET
I don't actually remember the first baseball game I attended, but in the spring of 1973 my father assures me we went to see a local high school phenom named Floyd Bannister, who would go 15-0 with an 0.00 ERA and three years later become the first pick in the draft by the Astros.
The first major league game I saw in person was Mariners versus Red Sox, Kingdome, May 1977. Must have been backpack night or tote bag night because the attendance totaled more than 52,000, and back then the Mariners drew that many fans only on Opening Day or for promotional giveaways. Jim Rice and Carlton Fisk hit home runs and, of course, the Mariners lost.
[+] Enlarge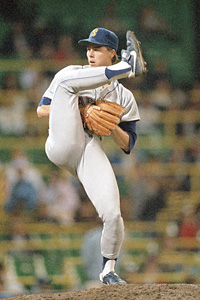 AP Photo/Fred JewellFormer Seattle ace Mark Langston's high leg kick was a staple at Mariners games for years, like during this 1987 shutout of the White Sox.
While I suffered through endless defeats, I witnessed plenty of exciting moments, like Ruppert Jones hitting an inside-the-park home run against the Yankees that first season that propelled everybody into a "Rupe! Rupe! Rupe!" chant at the top of our lungs. Or bat night in 1981, when Tom Paciorek beat the Yankees for the second night in a row with a ninth-inning home run and we started banging our bats against the metal bleachers in a deafening celebration. I was there with my father when Gaylord Perry won his 300th game and later that season when Perry was ejected for the only time in his career for throwing a spitball (Boston's Rick Miller swung and missed a pitch by about two feet and charged the mound, leading to an impressive melee).
I've seen Mark Langston two-hit the Tigers, compelling Sparky Anderson to call him the best young left-hander he'd seen since Sandy Koufax. I loved Langston and his high leg kick, but the Mariners couldn't afford him and he was later traded for a tall, gangly rookie named
Randy Johnson
, and I was there in the upper deck when Johnson beat the Angels (and Langston) in the 1995 tiebreaker to put the Mariners into the playoffs for the first time in franchise history.
I've sat in primo box seats at Fenway Park (thanks, Rob), watching
Pedro Martinez
strike out 17 Devil Rays … and lose 1-0 because
Steve Trachsel
pitched a three-hit shutout. I've seen Clemens throw a bat at Piazza, squinting from the upper deck at Yankee Stadium, not sure I saw what I thought I saw. I've seen
Tino Martinez
and
Scott Brosius
hit bottom-of-the-ninth homers to tie World Series games, and I definitely couldn't believe what I saw.
I'm just one fan, with my own chamber of baseball memories. You have your own, but we all keep going to the ballpark or watching on television or checking updates on our phones for the same reasons: We still love the games. We want to know who wins, who loses, hope for a game-winning home run or a young left-hander who throws 95 and makes us believe he's the next Koufax.
So with the 2011 season soon upon us, I can't wait for the games to begin, to see more memories formed.
To see what
Buster Posey
and the Giants will do for an encore.
To see whether
Jason Heyward
will explode in his sophomore campaign.
To see
Carl Crawford
going first to home on an
Adrian Gonzalez
double off the Monster.
To see if the Rays can again shock the baseball world and win the AL East for the third time in four seasons.
To see Cardinals fans give
Albert Pujols
a five-minute standing ovation the first time he steps to the plate.
To see
Joey Votto
deliver more big hits for Reds. (Note: I have a man crush on Joey Votto.)
To see
Troy Tulowitzki
range deep in the hole and rob a batter of a sure single. And then blast a 425-foot home run later in the inning.
To see
Joe Mauer
spray line drives all over the field.
To see
Justin Verlander
and
Josh Johnson
blow away hitters.
To see the artistry of
Roy Halladay
.
To see Yankees fans panic if
Derek Jeter
starts the season 1-for-14.
I can't wait to see the late game on Opening Day:
Tim Lincecum
versus
Clayton Kershaw
, the little righty with the funky motion and two Cy Young Awards versus the big lefty who could win one this season.
If our memories of games are a tangled web of neurons, well, that's kind of how baseball works, too. Langston was drafted in the second round with a pick acquired from the Rangers after they signed Bill Stein as a free agent. The Mariners picked Stein in the expansion draft from the White Sox, who had acquired him for Jerry DaVanon, who had been traded for Roger Repoz, who was acquired for Jack Sanford, who came up on the unlucky end of a 1-0 loss for the Giants in Game 7 of the 1962 World Series. The Giants didn't win a World Series in San Francisco until 2010, led by their ace Lincecum, who grew up in the suburbs of Seattle -- maybe the first game
he
ever saw featured Mark Langston -- using a pitching motion his father taught him, a motion modeled on the delivery of Sandy Koufax.
The SweetSpot blog will be here all season, writing about and discussing and analyzing the web that is a baseball season. Join myself and other contributors as we discuss the news, have some fun and give you a chance to interact. Mostly, we'll be watching a lot of games, as the moments of 2011 unveil themselves.
I can't wait. How many hours until the first pitch?
Follow David Schoenfield on Twitter at @dschoenfield. Follow the SweetSpot blog at @espn_sweet_spot.