SweetSpot:

Todd Wellemeyer
February, 27, 2011
2/27/11
3:36
PM ET
In 2010, the NL Central finished the season with only six of the top 40 starting pitchers based on ERA. Three of those pitchers belonged to one team, the
St. Louis Cardinals
(
Adam Wainwright
,
Chris Carpenter
,
Jaime Garcia
.) The other three were
Brett Myers
,
Wandy Rodriguez
(
Houston Astros
) and
Johnny Cueto
(Reds). This means the Cubs, Pirates and Brewers were without a starter in the top 40 ERA's in the league by the end of 2010. The potential was there, but it was never realized. Fast forward to 2011 …
[+] Enlarge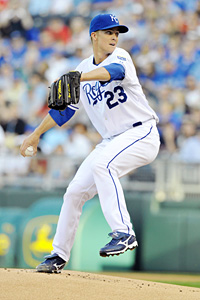 John Rieger/US PresswireThe Brewers added former Kansas City ace Zack Greinke to the top of their rotation in the offseason.
The Brewers made the first move this offseason when they picked up
Zack Greinke
in a trade with the Royals. They gave up little for what will be their staff ace.
FanGraphs
projects Greinke's 2011 stats to be about 14-15 wins and an ERA in the mid 3.00's. The Brew Crew did not stop there, acquiring Shawn Marcum, who cobbled together a nice 2010 for Toronto in the tough AL East after missing all of 2009. These two additions, along with future Cy Young candidate
Yovani Gallardo
make the Brewers a contender for the NL Central crown in 2011.
The Cubs' offseason answer to their pitching staff questions came in a trade with Tampa Bay.
Matt Garza
was acquired in exchange for a slew of prospects. While the big question is how Garza will fair in Wrigley, it goes without saying he is an upgrade, and makes a fine middle-of-the-rotation addition. FanGraphs projects something like 11 wins and a high 3.00 to low 4.00 ERA. He gives the Cubs a very solid top three along with
Ryan Dempster
and a "newly cured"
Carlos Zambrano
. What if
Randy Wells
can get his 2009 form back? Any Cubs fan can tell you that 2010's failure came from a lack of offense. If this staff gets even a hint of support, the NL Central is well within reach.
We can't discuss the Cubs without touching on the Cardinals. Year in and year out the Cardinals seem to have pitching, or at least starting pitching. Yes, Wainwright is gone for the 2011 season, and while this is a big blow, I don't see it being the end of their 2011 season. Tony La Russa and Dave Duncan are unbelievable at squeezing water from a stone. Duncan got production from
Todd Wellemeyer
for crying out loud. Every year the duo of La Russa and Duncan seems to pull a starting pitcher out of a hat. I am sure somebody will fall in place to pick up at least some of the wreckage left behind by Wainwright's injury. They still have Carpenter and Garcia to lean on. Let's also not forget the sinkerball pitcher,
Jake Westbrook
, who I am sure Duncan will turn into a Cy Young candidate before long. Oh yes, the Cardinals are still in the hunt … even when they lose their best pitcher.
The sneakiest staff might be Houston's. Rodriguez and Myers will once again anchor this staff. Don't count out
J.A. Happ
, as he fit in nicely coming over from the Phillies in a trade last season. While I don't see the Astros contending this year, mostly because of their offensive woes and bullpen, these three guys make for a nice base to a starting staff. Rodriguez and Myers were both in the top 40 ERA's for starting pitchers last year, and Happ has the stuff to be included in that conversation someday, too.
Alongside these teams sit the
Cincinnati Reds
. Youth would be the operative word here. The potential in this starting rotation is enormous for 2011 and beyond. Yes,
Bronson Arroyo
is 33, but after that you have Edison Volquez (28), Cueto (25) ,
Homer Bailey
(25) and a fifth starter in
Travis Wood
(24) or
Mike Leake
(23). There is also the tease that Cuban fireballer
Aroldis Chapman
(22) might one day become a starter. With the exception of Chapman and possibly Wood, all of these pitchers have seen significant success at the major league level in a starting role. The only thing keeping the Reds from a return to the playoffs is the fact that every team in the division upgraded with exception to the
Pittsburgh Pirates
.
The NL Central has always had a few good pitchers sprinkled about its rosters. What's new to the past decade is the depth of each team's starting staff, not to mention the potential for more in the future. While the Astros, and more so the Pirates, have some ground to make up in this category, the remaining four teams are finding strength and depth from their starters.
Chet West writes for The View From the Bleachers blog, which is part of the SweetSpot network.
March, 23, 2010
3/23/10
4:52
PM ET
Andrew Baggarly with some
news we've been expecting
:
Top prospect Madison Bumgarner has been optioned to AAA Fresno, along with RHP Joe Martinez.

Bumgarner entered as the top candidate to open as the No. 5 starter, but he had an erratic spring and struggled to top 89 mph. Martinez was set back by elbow inflammation but has thrown twice off a mound and seems to be OK.

It's between Todd Wellemeyer and Kevin Pucetas for the last rotation spot now, although Wellemeyer sure looks to be the guy.
Wellemeyer's run of success as a starter in the majors was relatively brief, and came when he was both healthy
and
taking the regular advice of Dave Duncan. Pucetas, 25, just barely qualifies as a fringe prospect after a so-so 2009 in the Pacific Coast League. Martinez is two years older than Pucetas and has 65 innings above Class AA in his ledger.
Tell me again why teams choose
a
No. 5 starter rather than some sort of committee?
Meanwhile, Bumgarner's star continues to fall. He's been throwing in the high 80s since last summer, and if he's throwing in the high 80s, he simply isn't a top prospect anymore. If he throws strikes and keeps the ball down, he might be able to hold down a slot in the rotation someday. But we'll never see the ace that was advertised not so long ago.