January, 9, 2014
Jan 9
12:45
PM ET
I'm in Hall of Fame fatigue, but here's one last post, a roundup of what some others are writing about Wednesday's results. And then we'll move on to
Ervin Santana
and
Ubaldo Jimenez
, and why the Orioles haven't made a big move.
Tom Verducci, Sports Illustrated
:
Today is a day for celebrating why we love baseball. On a day that has become the annual hand-wringing day about the Steroid Era, two pitchers who looked like they should be shelving books at a library instead of playing in the most anabolically-enhanced era in baseball history rose above the Sturm und Drang. Maddux and Tom Glavine, fellow teammates, fellow 300-game winners, fellow golf partners and fellow summa cum laude graduates of the game, are going in to the Hall of Fame just as they navigated the teeth of the Steroid Era: together.
Dave Cameron, FanGraphs
:
In other words, more than 75% of the voters would vote yes for Craig Biggio if that was the only question that was posed to them, but the limit means that is not the question they were asked, and they had to weigh his candidacy against the many other deserving candidates who made up this historically crowded ballot.

The fact that more than 75% of the voters would vote for Biggio, but could not because of an archaic rule that serves no purpose, but he did not get elected because of that rule, is reason enough to discard it post haste. Craig Biggio is, in the minds of 75% of the HOF voters, a Hall of Famer, but is being kept out by a technicality.
Joe Posnanski
:
There are so many things wrong with the Hall of Fame voting right now that it feels silly to talk about just one or two. Every time I bring up a Hall of Fame voting change to Bill James, he kind of sighs and acts like I've said, "Hey Bill, I've got a way to fix Congress."

Still, it's clear to me that the BBWAA should make its votes public. I know there are some negatives that go with this — including the potential that voters will feel bullied into voting in a way they would not want to vote. I understand.

But the Hall of Fame does not belong to the BBWAA. It belongs to everybody. If you're going to vote, you should stand behind your vote. And if public pressure keeps people from throwing a gag vote to J.T. Snow or skipping over Greg Maddux for some inexplicable reason, hey, I don't see how that's a bad thing.
Buster Olney, ESPN Insider
:
No. 1: Make a formal offer from the writers to the Hall of Fame for the BBWAA to recuse itself from the voting. An offer, not an outright recusal.

No matter what your perspective is on the PED generation and its Hall of Fame candidates, the balloting has become something of a mess. Maybe you want to blame the voters who cast ballots for the presumed PED users, or maybe you want to blame the hardened majority, or maybe you want to blame the users or the institution of baseball or the Hall of Fame. No matter where your opinion is, its inarguable that it's become a controversial, convoluted, flawed process.

Think of this as a presidential crisis: When something isn't working, the administration officials involved will usually offer their resignation, because as the saying goes, they serve at the pleasure of the president. The BBWAA is involved in this only because it is asked to by the Hall of Fame. In the past, Hall president Jeff Idelson has expressed satisfaction with the voting, and he and the board of directors may want to continue using the writers as the voters. It's their prerogative, either way.
Jeff Passan, Yahoo
:
Similarly, the question about Bonds, Clemens and other performance-enhancing-drug users must continue to be asked to those who don't vote for them as well as those who do. If a myriad of Hall of Famers used amphetamines, drugs now considered illegal by Major League Baseball and thought of by some players as even more performance enhancing than steroids, how can we pretend keeping out the modern-day users somehow sanctifies the Hall? If the difference between Bonds and Clemens and others from their era who weren't caught is as simple as the fact that their drug dealers were pinched by authorities, does the organization believe it's tantamount to a drug-sniffing dog, that it knows enough about those it is electing and their potential use to prevent a scenario in which a Hall of Famer later is found to have used and the guys with seven MVPs and seven Cy Youngs are left on the outside?

For all the hand-wringing about how their candidacies are essentially dead, let's remember that the BBWAA voting bloc isn't exactly full of Captain Consistencies. In his second year on the ballot, Bert Blyleven dipped from 17.5 percent to 14.1 percent. A dozen years later, he received 79.7 percent of the vote, having not thrown a single pitch. His greatest ally was time, and the same can be said for Barry Bonds and Roger Clemens.

They have until 2027. That's 13 more years. Think about where we were 13 years ago. Bill James was a cult hero. "Moneyball" was two years from being released. The evolution of the game since then has been staggering, frightening, glorious. If the game grows half as much over the next 13 years, it will still be a monumental shift.
Ken Rosenthal, Fox Sports
:
For at least some of us, a refusal to vote for a player strongly linked to PEDs is not a question of morality.

Bob Costas said on MLB Network that the issue was more one of "authenticity." I see it the same way, knowing full well that my voting choices are fair game for those who argue — quite reasonably — that we cannot accurately judge which players did what, to what extent, and the impact their usage had on the game.

I'm not sure I'm doing the right thing by withholding votes for Barry Bonds, Roger Clemens and others, and I reassess my choices every year. But as I've written before, election to the Hall is a privilege, not a right. And the Hall is a museum — a museum with a stated mission of preserving the game's history, warts and all.

The so-called steroid era is part of that history. If the BBWAA chooses not to elect Bonds and Clemens, it would not mean that they are whitewashed out of Cooperstown; their respective achievements are well-documented in the museum. No, not electing them would simply mean they did not receive the sport's highest honor.
Rick Morrissey, Chicago Sun-Times
:
So I had a big, fat, chemically augmented "no" for Barry Bonds, Sammy Sosa, Roger Clemens, Mark McGwire and Rafael Palmeiro. And I had an agnostic "no," if there is such a thing, for Steroid Era guys such as Jeff Bagwell, Craig Biggio, Mike Piazza, Luis Gonzalez and Jeff Kent.

I can't emphasize this enough: I'm not sorry about any of it.

Don't blame me for the people who didn't get into the Hall. Blame an era. Blame the dirty players (and there were a lot of them) for creating an atmosphere heavy with distrust. Blame Major League Baseball if you think it was either complicit in the Steroid Era or looked the other way. I don't care.

I get to vote how I want, for whom I want and by whatever yardstick I want. That's how it works when you walk into a voting booth, isn't it? You bring in all your experiences, opinions and prejudices. Same thing here.
Russell Carleton, Baseball Prospectus
:
There are some differences between those lines. Glavine pitched 850 more innings than did Mussina and 1150 more than Schilling, plus Glavine won more games (and more Cy Young Awards). Maybe more importantly, Glavine won three hundred (and five) games. But their ERAs are comparable, and Glavine notched the fewest strikeouts of the three. Looking at the WAR totals, they all rate pretty comparably. It seems like it's the same basic case for all three men, or at least close to it. They all even have a "calling card" postseason heroic game to brag about (Schilling's hematological hosiery heroics in the 2004 ALCS, Glavine's eight-inning, one-hit performance in the clinching Game 6 of the 1995 World Series, and Mussina's criminally overlooked 15-strikeout performance in Game 3 of the ALCS, although the Orioles eventually lost that game), as well as his three-inning relief appearance in 2003 ALCS Game 7.

Why then is Glavine (91.9 percent!) getting inner-circle level support while neither Schilling nor Mussina broke the 30 percent barrier? It seems that these three men should have roughly the same support. It's tempting to think that Glavine's crossing of the magic 300-win mark is what put him into the 90 percent, first-ballot club. ...

Let me float a slightly different theory. If I played a word association game with "Tom Glavine," I'll bet the most common response would be "Greg Maddux." ... Suppose that Maddux had not been on this year's ballot. Or suppose that Maddux had been teammates for most of the '90s with Mussina or Schilling. Does Tom Glavine break the 90 percent mark, or is he simply a 60 percent guy who will get in eventually, but only after we've had enough time to think about it? Did Glavine get in this time because he had Greg Maddux (and fellow electee Bobby Cox) as a wingman? It's sort of an uncomfortable question, isn't it?

Frank Thomas, Hall of Famer (via USA Today)
:
Asked whether players linked to PEDs should be allowed in, Thomas referenced current Hall of Famers he has spent time with and their vehement stance against steroid users joining the club.

"I've got to take the right stance too," Thomas said. "No, they shouldn't get in. There shouldn't be cheating allowed to get into the Hall of Fame."
January, 8, 2014
Jan 8
10:00
AM ET
Let's finish up with the 14 players I consider strong Hall of Fame candidates. Of course, if I had a ballot, I could vote for only 10 ... well, that's another essay, my friends. Here is
Part 1
,
Part 2
and
Part 3
.
The Hall of Famers
14. Tim Raines (69.1 career WAR, 52.2 percent of the vote last year)
-- I'm a big supporter of Raines although it's possible that the sabermetric crowd has overstated his case just a bit. Raines had a high peak from 1983 to 1987 while with the Expos -- his combined WAR ranks fourth among position players, behind Wade Boggs,
Rickey Henderson
and
Cal Ripken
, meaning he was arguably the best player in the National League over that span. He was also an outstanding player in the 1981 strike season and again in 1992 with the White Sox. Other than those seven seasons, however, he was merely good instead of great and spent his late 30s as a part-time player.
Still, as others have written, as he's a very close statistical comp to
Tony Gwynn
-- Raines just happened to replace Gwynn's hits with walks. He's one of the best basestealers in history and the WAR is right in line with recent Hall of Fame selections. The good news is that Raines' case is building, from 22.6 percent to 30.4 to 37.5 to 48.7 to 52.2. If he can avoid a collapse this year because of the crowded ballot, his momentum appears strong enough to eventually see election.
13. Craig Biggio (64.9 WAR, 68.2 percent)
-- Results from public ballots have Biggio just crossing over the 75 percent mark. Biggio reached the magical 3,000-hit barrier, meaning the only surprise was he didn't get elected in his first year on the ballot. In the past, 3,000 hits meant you were a mortal lock for Cooperstown. Of the 28 players to reach 3,000 hits, only Biggio, Paul Waner and
Rafael Palmeiro
failed to get elected on the first ballot (not including Pete Rose and
Derek Jeter
).
Of course, to get there, Biggio wasn't helping his club at the end. He picked up 265 hits his final two seasons while being valued at minus-1.7 WAR. He posted poor on-base percentages and had poor range at second base, not surprising considering he played in his age-40 and age-41 seasons. That's the flaw in focusing on round numbers. Biggio only got there by hanging on.
At his peak, however, Biggio was a tremendous offensive player as a second baseman, with power, speed, on-base skills and the ability to steal bases. From 1994 to 1998 he ranked third, third, second, 12th, third and second, in the NL in offensive WAR and was right up there with the best all-around players in the game.
12. Alan Trammell (70.3 WAR, 33.6 percent)
-- To me, it's clear that the BBWAA threw its support behind the wrong Detroit Tiger. Trammell is basically the same player as
Barry Larkin
(70.2 WAR), except he played in the same league as Cal Ripken and Larkin played in the same league as
Shawon Dunston
.
The weird thing about this is that I'm pretty sure Trammell was more
famous
while active than Larkin, at least on a national level. Larkin did win an MVP Award but Trammell's teams were in the playoff race for most of his career while the Reds were a small-market club that was up and down during Larkin's career. I think what happened is basically this: Say the 33 percent who vote for Trammell also voted for Larkin. That leaves the other two-thirds of the voting pool. Say one-third were NL beat guys and columnists and the other third were AL beat guys and columnists. All the NL guys voted for Larkin because he was the best shortstop in his league but didn't vote for Trammell. But the AL guys didn't vote for Trammell either because he wasn't Ripken -- and then after Trammell retired, Derek Jeter and
Alex Rodriguez
and
Miguel Tejada
and
Nomar Garciaparra
came along. Larkin gets the easy label -- best in his league -- that Trammell doesn't. Which is too bad. Trammell was a beautiful ballplayer who did everything well.
11. Mark McGwire (62.0 WAR, 16.9 percent)
-- One of the things I'll never forget as a baseball fan is watching McGwire take batting practice while covering a Cardinals-Tigers game at Tiger Stadium in 1999. Standing behind the batting cage as he launched ball after ball onto the roof or over the roof made me re-think the laws of physics (not that I know the laws of physics).
Why McGwire and not Sammy Sosa, when their career WAR isn't that dissimilar? Maybe it
is
a feel thing, a feeling that McGwire is one of the game's historic figures. I think that counts for something. He also has the best home run rate in history (higher than Babe Ruth).
10. Edgar Martinez (68.3 WAR, 35.9 percent)
-- Bias alert! I wrote about Martinez
back in 2009
and
then again
the other day. I rate him a little higher than the guys above because he had more high peak seasons -- five with 6-plus WAR, eight with 5.5-plus WAR and two more at 4.9 and 4.8. Simply, one of the best hitters the game has ever seen. Sadly, if the Mariners didn't waste three years of his career letting him unnecessarily rot in the minors, his case would be much stronger.
9. Mike Piazza (59.2 WAR, 57.8 percent)
-- We'll learn a lot about Piazza's future Hall of Fame hopes this year. He achieved a strong showing in his first year. If that grows this year, it's a good sign. If it falls or remains the same, it could be that he's maxed out already due to PED concerns. About that WAR total: It's difficult for catchers to compile the same WAR as other positions, as they play fewer games and often have shortened careers. Piazza ranks sixth all time among catchers, behind Johnny Bench, Gary Carter, Carlton Fisk,
Ivan Rodriguez
and Yogi Berra.
8. Mike Mussina (83.0 WAR, first year)
-- As I wrote
back in November
, Mussina is eminently qualified for the Hall of Fame.
7. Frank Thomas (73.6 WAR, first year)
-- I
wrote about Thomas
the other day. It looks like he'll get in on his first year on the ballot. Will Thomas' election help Martinez? Once Thomas is in, doesn't it mean you can't use the "but he was a DH" argument against Martinez? Probably not. That suggests a consistent and logical line of thinking from the BBWAA, which ... well, that's like expecting a Cardinals fan to be treated with kindness and respect while sitting in the Wrigley Field bleachers wearing a Matt Holliday jersey.
6. Tom Glavine (81.4 WAR, first year)
-- Not much to add about Glavine that you don't already know. Durable, consistent, got the most out of his ability. Like
Greg Maddux
, an absolute joy to watch (unless you were a Mets fan). He owned the outside corner of the plate -- and maybe a few inches beyond -- with that changeup. I think Glavine and Maddux have a bit of an unfair reputation of not showing up in the postseason. Compare their results to those of
Andy Pettitte
, who does have a reputation as being extra-special clutch in October:
Glavine: 14-16, 3.30 ERA, 35 GS, 218 1/3 IP, 1.27 WHIP
Maddux: 11-14, 3.27 ERA, 30 GS, 198 IP, 1.24 WHIP
Pettitte: 19-11, 3.81 ERA, 44 GS, 276 2/3 IP, 1.30 WHIP
Their records aren't as good because they didn't get the same run support, not because they didn't pitch well.
5. Jeff Bagwell (79.5 WAR, 59.6 percent)
-- Other than not playing an up-the-middle position, the perfect ballplayer: power, speed, on-base ability, terrific baserunner, durable (at least until a shoulder injury cut his career a few years short), excellent defender. Here's something I wrote
on Bagwell last January
.
There are those who refuse to vote for Bagwell under the assumption he used PEDs;
Bagwell has strongly denied using PEDs
, telling ESPN's Jerry Crasnick in 2010:

I never used [steroids], and I'll tell you exactly why: If I could hit between 30 and 40 home runs every year and drive in 120 runs, why did I need to do anything else? I was pretty happy with what I was doing, and that's the God's honest truth. All of a sudden guys were starting to hit 60 or 70 home runs and people were like, 'Dude, if you took [PEDs], you could do it too.' And I was like, 'I'm good where I'm at. I just want to do what I can do.'

There's nothing abnormal about Bagwell's career curve, other than his freakishly awesome 1994 MVP season when he hit .368. He didn't suddenly start posting career-best numbers in his mid-30s like McGwire or
Barry Bonds
. He was good as a rookie, got better, remained great and then slowly declined in his 30s.
4. Curt Schilling (79.7 WAR, 38.8 percent)
-- Why Schilling over Glavine, even though Glavine won 305 games while Schilling won just 216 games? OK, here's why:
1. Wins are overrated.
2. More career pitching WAR (80.7 to 74.0).
3. Schilling had more high peak seasons -- eight 5-plus WAR seasons with three at 7.9 or higher compared to Glavine's four and one.
4. Postseason dominance.
In the end, I just feel Schilling had the bigger impact on the game's history -- the 2001 World Series triumph for the Diamondbacks, ending the Red Sox curse in 2004 and winning another title in 2007.
Glavine was more durable and lasted longer and maybe you prefer that type of career arc. But I'll take Schilling and his big seasons and go to war with him in October.
3. Greg Maddux (106.8, first year)
-- The smartest pitcher who ever lived. At his 1994 and 1995 peak, maybe the
best
pitcher who ever lived.
2. Roger Clemens (140.3 WAR, 37.6 percent)
-- Let's say Clemens started using PEDs in 1997, the year he went to Toronto and went 21-7 with a 2.05 ERA. The popular mythology is that Clemens was fat and washed up in Boston. Actually, he had ranked second among AL pitchers in WAR and led the league in strikeouts in 1996. But whatever. Anyway, through 1996 he was 192-111 with a 3.06 ERA, three Cy Young Awards and 81.3 career pitching WAR. That's more career WAR than Glavine or Schilling. After two big Cy Young seasons with the Blue Jays, he went to the Yankees. And you know what? He wasn't
that
great with them -- 77-36 but with a 3.99 ERA. He won a sixth Cy Young Award because he went 20-3, not because he was the best pitcher in the league. He won a seventh with the Astros because he went 18-4 (he was seventh among NL pitchers in WAR). Other than the 1.87 ERA in 2005 -- thanks to an absurdly low BABIP -- his late career basically matches what Nolan Ryan did in his 40s.
1. Barry Bonds (162.5 WAR, 36.2 percent)
-- Somebody tweeted this on Tuesday night,
Bonds hitting a mammoth home run
at Yankee Stadium in 2002 -- a blast so impressive that even Yankees fans cheered in awe.
On a basic level, I understand the no votes: Cheaters shouldn't be honored. My colleague Christina Kahrl made a great point about how we view the PED guys: It's a litmus test that tells us what we want from the game. As she told me, we have to remember the past is plenty grimy, full of stories and people every bit as wonderful as we want them to be -- people who also happen to be human.
From 1988 to 1994, Bonds was second in the majors in home runs (to
Fred McGriff
) and first in OPS and sixth in stolen bases. His WAR was 13 wins higher than the No. 2 position player (Rickey Henderson). From 1988 to 1995, he was 14.5 wins better than the No. 2 guy (Cal Ripken).
Ken Griffey Jr
. joined the league in 1989. From '89 to '98, Bonds' WAR was 84.1, Griffey's 65.6 (and the No. 3 guy, Barry Larkin, way back at 51.1). Bonds was the most devastating force in the game
before
he allegedly started using PEDs sometime after McGwire and Sosa went all crazy in 1998.
Ray Ratto just wrote a
brilliant Hall of Fame column
and he had two great points about Bonds (and Clemens): "1. The player did things on the baseball field that few others did. ... 6. I DON'T WORK FOR BASEBALL, AND I DON'T CARE WHAT IT PURPORTS TO BE. I CARE WHAT IT IS, AND THIS IS PART OF IT."
Bonds is arguably the greatest player of all time, and, yes, a man with many flaws.
What do you want out of the game?
January, 4, 2014
Jan 4
8:00
AM ET
Curt Schilling
appeared on the Hall of Fame ballot for the first time a year ago with overwhelmingly strong credentials for election: The 216-game winner ranks 26th all-time in wins above replacement for pitchers (17th-highest total since the live ball era began in 1920) and 15th all-time in strikeouts, including three 300-strikeout seasons; he's got the best strikeout-to-walk ratio of any pitcher ever (well, not counting a guy named Tommy Bond who was 5-foot-7, born in Ireland and began his career with the 1874 Brooklyn Atlantics) and three 20-win seasons; and he led the league twice in wins, twice in innings, three times in starts, four times in complete games (his 15 complete games in 1998 is the highest total in the majors since 1991), twice in strikeouts and five times in strikeout-walk ratio. Schilling never won a Cy Young Award but finished second in the voting three times.
Of course, Schilling was also one of the greatest postseason pitchers ever, going 11-2 with a 2.23 ERA in 19 starts. His October legacy includes his iconic Bloody Sock Game in Game 6 of the 2004 American League Championship Series against the Yankees, a win in the World Series that year that helped end the long suffering of Red Sox fans, plus his dominant performance throughout the 2001 postseason when he allowed six runs in six starts as the Diamondbacks won the World Series. He helped the Red Sox win another title in 2007. His career 3.46 ERA in a hitters' era gives him an adjusted ERA equal to Tom Seaver and Bob Gibson and higher than Hall of Famers like Jim Palmer, Juan Marichal and Bob Feller.
Schilling was great, he has the advanced metrics that scream Hall of Famer, and he was an iconic figure in the game while active. What more do you need to get elected to Cooperstown?
More than 60 percent of voters didn't check Schilling's name on their ballot.
Then there's the pitcher who finished with the same career adjusted ERA as Schilling. His best ERAs, all in seasons where he pitched more than 210 innings, were 1.89, 2.38, 2.39, 2.58 and 2.69, all coming when offensive totals were exploding. The worst of those seasons had an adjusted ERA+ of 150. Since 1920, only five other starters had five or more seasons with at least 200 innings and an ERA+ of 150 or higher:
Greg Maddux
,
Roger Clemens
, Lefty Grove,
Randy Johnson
and
Roy Halladay
. This pitcher had another season where he went 18-9 with a 3.00 ERA and another where he went 21-11 with a 3.32 ERA while leading his league in innings pitched. He won more than 200 games. He had a 16-strikeout game in the postseason. His career pitching WAR of 68.5 is higher than Palmer, Carl Hubbell or Don Drysdale.
Kevin Brown
got 12 votes in his one year on the ballot, not close to the 5 percent needed to remain on the ballot, and he was kicked to the curb alongside
Raul Mondesi
,
Bobby Higginson
and
Lenny Harris
.
Thank you for your nice career, but your case has no merit.
Heck, Willie McGee received twice as many votes. I mean, Willie McGee was a nice player, and even a great one the season he won the MVP Award, but he had about half the career value of Brown.
The Baseball Writers' Association of America treats starting pitchers like they're infected with the plague. They've elected
one
in the past 14 years: Bert Blyleven in 2011. And Blyleven, despite winning 287 games and ranking 11th all-time in WAR among pitchers, took 14 years to finally get in. Meanwhile, the BBWAA has elected three relief pitchers in those 14 years, so it's not an anti-pitcher bias; it's an anti-starting pitcher bias.
What's happened here? How come no starting pitcher who began his career after 1970 is in the Hall of Fame? Leaving aside the case of Clemens, who would have been elected if not for his ties to PEDs, there are several issues going on.
1. The 1980s were barren of strong, obvious Hall of Fame pitchers. The BBWAA ignored the cases of borderline candidates like
David Cone
, Dave Stieb,
Bret Saberhagen
and Orel Hershiser, and instead embraced Jack Morris, a lesser pitcher than those four but a guy with more career wins.
2. Comparison to the previous generation of starters. Including Blyleven, there are 10 "1970s pitchers" in the Hall of Fame. Here they are, listed in order of election year along with each pitcher's 10-year peak period:
Bert Blyleven (2011): 1971-1980
Nolan Ryan (1999): 1972-1981
Don Sutton (1998): 1971-1980
Phil Niekro (1997): 1970-1979
Steve Carlton (1994): 1972-1981
Tom Seaver (1992): 1968-1977
Fergie Jenkins (1991): 1967-1976
Gaylord Perry (1991): 1967-1976
Jim Palmer (1990): 1969-1978
Catfish Hunter (1987): 1967-1976
These pitchers aren't merely just great pitchers but products of their generation. The late '60s and early '70s produced the lowest-scoring seasons in the major leagues since the dead ball era. The average team in 1968 scored 3.42 runs per game, the lowest total since 1908. That was the notorious pitchers' year, but 1972 didn't see much more offense at 3.69 runs per game. This was also the period when pitchers were worked harder than they had been in decades, making more starts and pitching more innings. The 15-year period from 1963 to 1977 saw 62 different seasons where a pitcher threw 300 innings. The previous 15 seasons saw it happen just 13 times (six by Robin Roberts); the ensuing 15 seasons saw it happen just three times, two of those by knuckleballer Niekro.
This period was the perfect time to ferment long careers with lots of wins. More starts and more innings gave pitchers the opportunity to get more wins. It's no coincidence that the peak seasons of the above pitchers all occurred in roughly the same time span.
3. Speaking of wins ... Hall of Fame voters love wins like
Yasiel Puig
loves driving fast. Morris has 254, a main reason he earned 67.7 percent of the vote last year despite his 3.90 career ERA. Schilling has 216 and Brown 211. The fixation on career wins -- and 300 in particular -- is the result of a unique generation of pitchers; it's a standard previous pitchers weren't held to. Bob Gibson won 251 games, Juan Marichal 243, Whitey Ford 236, Don Drysdale 209 and Sandy Koufax 165. Focus on the entire résumé, not just the win total. Schilling didn't win 254 games, let alone 300, but he's a far superior Hall of Fame candidate to Morris.
Let's compare
Tom Glavine
to
Mike Mussina
, both appearing on the ballot for the first time. With 305 wins, Glavine appears to be the much stronger candidate than Mussina, who won 270 games. Here's what one voter, Dan Shaughnessy of The Boston Globe, wrote:
Glavine and Maddux were 300-game winners. Those are magic plateaus ... unless you cheated.

The rest of the list of players I reject are good old-fashioned baseball arguments. (Craig) Biggio got 68.2 percent of the vote last year, but I don't think of him as Hall-worthy (only one 200-hit season). Same for Mussina and his 270 wins (he always pitched for good teams) and (Lee) Smith and his 478 saves (saves are overrated and often artificial).
There you go. Glavine won 305 games, Mussina won 270, so Glavine is the easy choice. As an aside: I love the bit about Mussina pitching for good teams. As if Glavine didn't pitch for good teams? Since when is pitching for good teams considered a demerit? Plus,
as Jason Collette pointed out
, "Mussina pitched for Baltimore for 10 years -- and Baltimore had losing records in five of those ten seasons. Yet, Mussina had a .645 winning percentage and won 147 of his 270 starts with the Orioles. The Yankees never had a losing record when Mussina pitched there and he had a .631 winning percentage with them. Mussina's .645 winning percentage as an Oriole dwarfed the team's .510 winning percentage in that same time."
(Also, Shaughnessy is apparently voting for Morris because he won 254 games, which I believe is less than 270.)
Anyway, when you examine the numbers a little deeper, Glavine and Mussina compare favorably:
Pitching WAR
Glavine: 74.0
Mussina: 82.7
ERA+
Glavine: 118 (3.54 career ERA in the National League with great defense behind him)
Mussina: 123 (3.68 career ERA in the American League with often bad defenses behind him)
5+ WAR seasons
Glavine: 4
Mussina: 10
Postseason
Glavine: 14-16, 3.30 ERA, 1.27 WHIP
Mussina: 7-8, 3.42 ERA, 1.10 WHIP
The point here isn't to detract from Glavine, but that Mussina has every bit the case Glavine does -- or 95 percent of it, giving Glavine some extra credit if you wish for his two Cy Youngs. Glavine hung on and won 35 more games; Mussina retired after winning 20. That doesn't make Glavine a superior pitcher.
4. Stingy voters. To a certain extent, the BBWAA voters have become tough on
all
candidates -- not just starting pitchers and PED users. As Joe Sheehan wrote recently:
Consider the recent history of Hall voting. The average number of players named per ballot declined steadily up until just last year. In 1966, which was the first vote in the modern era of BBWAA balloting (that is, in which there have been no years in which the BBWAA did not vote), there were 7.2 names listed per ballot. Ten years later, that figure was 7.6. By 2000, a year that featured two players voted in and a ballot with five others who would eventually be voted in (plus Jack Morris, still kicking around), the number was down to 5.6. There were more baseball players than ever before becoming eligible for the Hall, but the voters were becoming much more difficult to impress. That would remain the case for most of this century:

2001: 6.3
2002: 6.0
2003: 6.6
2004: 6.6
2005: 5.6
2007: 6.6
2008: 5.4
2009: 5.4
2010: 5.7
2011: 6.0
2012: 5.1
2013: 6.6

Remember, that downward trend is occurring despite an increasingly crowded ballot due to the split opinions on what do about the PED candidates. With as many as 15 to 20 legitimate Hall of Fame candidates on this year's ballot it will be interesting to see if that 6.6 players per ballot increases further.
5. Timing. The starting pitching problem will be abated somewhat in upcoming elections. Maddux will get in this year, Glavine this year or next. Randy Johnson,
Pedro Martinez
and
John Smoltz
then join the ballot next year. Johnson is a lock, and Martinez has the Koufax-esque peak value thing going for him, although with 219 wins he's not a first-year lock. Smoltz is similar to Schilling in many ways, down to the career win total (213) and postseason heroics, so odds are he'll face the same uphill climb.
I believe most Hall of Fame voters have the same goal: Elect the best players to the Hall of Fame, or at least the best ones they believe to be clean from PEDs. That issue is still stuck in the mud, the Hall itself refusing to give guidance to the voters. But electing Curt Schilling and Mike Mussina is simply an issue of understanding their greatness. They are among the very best pitchers in the history of the game. They deserve to be elected this year, alongside Maddux and Glavine.
December, 20, 2013
12/20/13
8:22
PM ET
I wasn't around when
Roy Halladay
announced his retirement at the winter meetings on Dec. 9, so this piece is a little late to the game, but it's also about a few of the pitchers on this year's Hall of Fame ballot --
Curt Schilling
and
Mike Mussina
and
Tom Glavine
.
Whenever a great player such as Halladay retires, the Hall of Fame discussion immediately follows. But what makes a Hall of Fame pitcher? Do you prefer Halladay's short but brilliant career or the consistency and longevity of Glavine?
Halladay finished with 203 wins -- a low total for a Hall of Fame starting pitcher. Only Sandy Koufax since World War II has been elected with fewer wins among starters. On the other hand, Halladay won two Cy Young Awards and finished second in two other votes (he probably should have won in 2011, when he had a much higher wins above replacement total than winner
Clayton Kershaw
). Over his 10-year peak from 2002 to 2011, he went 170-75 (a .694 winning percentage) with a 2.97 ERA while averaging 219 innings per season. He had seven top-five Cy Young finishes.
That's a remarkable run of dominance. But again: What makes a Hall of Fame pitcher?
Let's see how Halladay -- not to mention Mussina, Schilling, Glavine or also-retired
Andy Pettitte
-- compare with Hall of Fame pitchers and other recent starters. Warning: Big chart to follow. I've included all post-1960 Hall of Fame starters, plus a bunch of other guys of interest. The chart includes each pitcher's career WAR from Baseball-Reference.com plus his 10-year peak WAR. Since we're using Halladay as our base comparison, we're using the best 10 years in a row, not the 10 best overall seasons. I also listed each pitcher's percentage of total career value earned in that 10-year period. (WAR includes only value earned as a pitcher; Glavine, for example, also earned 7.5 WAR from his hitting in his career.)
For those looking for excellence over individual seasons, we've listed the number of 7-WAR seasons (Cy Young-type year) and 5-WAR seasons (All-Star caliber).
OK, some random comments...
Roy Halladay:
As you can see, he is unique in that most of his career value
is
wrapped up in that 10-year stretch, with 95 percent (his career value is also hurt by his two awful seasons in 2000 and 2013, worth minus-3.9 WAR). Only Koufax had a higher percentage of his career value from his 10-year peak (of course, his peak was really only five or six seasons). The impressive thing is how high Halladay ranks: Among 31 pitchers listed in the chart, he's 10th in peak value.
I tend to weigh peak value heavily, especially when it's as high as Halladay's was ... and 10 years is a pretty long period of dominance for a pitcher. Compare Halladay with Glavine, who is new to this year's ballot. Glavine, playing most of his career for much better teams, won 305 games. He was very good -- he won two Cy Young Awards -- and durable, never missing a start for 20 years. In his 10-year peak, he earned 47.7 WAR; in his other 12 seasons, he earned 26.3 WAR, barely 2 per season ... but also earned credit for another 130 wins. You can win a lot of games simply by being average for a long period, especially when you have
Andruw Jones
playing center field behind you.
Does that average period of pitching make Glavine that much stronger of a Hall of Fame candidate than Halladay? History suggests it will.
As for Halladay, the most similar pitcher to him is probably Juan Marichal, who wrapped up most of his value in a 10-year stretch, as well. Marichal pitched in an era when starters made more starts and pitched more innings, so he won more games, but their careers map pretty closely. In fact, Halladay has more career WAR and the higher peak. Marichal won 243 games and was inducted in his third year on the ballot.
Curt Schilling:
Based on career value, peak value and postseason results, Schilling should be a slam dunk Hall of Famer. Instead, voters looked at his 216 wins and gave him only 39 percent of the vote last year, his first time on the ballot.
Mike Mussina:
Mussina is middle-of-the-pack in peak value and higher in career value. He also has 10 seasons of 5-plus WAR, topped by only six starters. The view might be that Mussina's peak wasn't good enough (he never won a Cy Young Award), but this chart says that's just not the case. If you combine career WAR and peak WAR, he should be an easy Hall of Famer. Yet I still fear he will fail to get 5 percent of the vote and will get booted from the ballot.
Andy Pettitte:
Pettitte won 256 games, which might make his Hall of Fame case pick up steam, much as Jack Morris' eventually did. Factor in his World Series rings, and he might fare better than Mussina (although he also admitted to using PEDs). My view is Pettitte's case is much weaker than Halladay's or Schilling's or Mussina's, as he lacks peak value while being borderline in career value.
Don Sutton:
Sutton's case was a bitter Hall of Fame dispute for several seasons, until he finally got elected in his fifth year thanks to 324 career wins. The view of the naysayers was that he was merely a compiler -- a guy who was very good and lasted a long time but was never elite. That looks like an accurate assessment. His 10-year peak is low, and he had no 7-WAR seasons. He's similar in many ways to Glavine, although Glavine was a
little
better. Still, 324 wins is 324 wins ...
David Cone, Dave Stieb, Bret Saberhagen, Orel Hershiser:
I listed these guys, all of whom fell off the ballot right away, to see how they stack up. It's hard to argue with the Hall of Fame voters here: These guys don't quite compare to the Hall of Fame pitchers in career or peak value. Cone probably has the best case of the group, kind of a poor man's Halladay. He went 194-126 in his career, won a Cy Young and started for five World Series winners (although he was in the bullpen in the playoffs for the 2000 Yankees). Cone received 4 percent of the vote his one year on the ballot, with his case to be reviewed at some point by the veterans committee.
Jack Morris:
Morris was never as good as the four pitchers above at his peak, whether it's one-year peak, three-year peak or 10-year peak. His case boils down to 254 wins, Game 7 of the 1991 World Series and a nebulous title as "Pitcher of the '80s," which is just another way of saying he won the most games in the decade. OK, you want to give credit to Morris for the postseason? Why did Hershiser and Cone and even Saberhagen -- who threw his own Game 7 shutout -- get no credit for theirs? Anyway, this is Morris' last shot. It will be interesting to see, once he clears the ballot -- in or out -- how voters will start evaluating wins. Hey, Pedro Martinez won
only
219 games.
Nolan Ryan:
You know what? Nolan Ryan was a compiler. He compiled strikeouts, walks and longevity. He was one-of-a-kind and I'd certainly classify him as a clear-cut Hall of Famer, but he was never the pitcher Halladay or Schilling was. (I mean, at his
best
, on those days he was throwing a little harder and with a little better control, sure, he was more dominant than anyone, but for one season or period of seasons, I'd take Halladay or Schilling.)
As for Halladay, I'd vote for him without a second thought. Voters need to realize that they shouldn't overemphasize wins -- plus, look at the chart. The period of the late '60s and '70s was conducive to a lot of wins for several reasons. Three of the pitchers had the exact same peak years, with others just a year or two off. Just because many from that generation won 300 games doesn't mean that should continue to be the Hall of Fame standard.
Roy Halladay, Curt Schilling, Mike Mussina and Tom Glavine are all Hall worthy.
March, 1, 2013
3/01/13
12:15
PM ET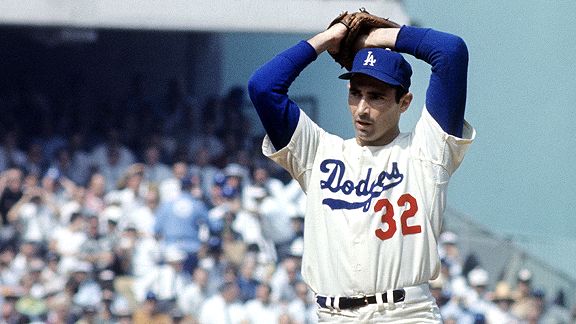 Focus on Sport/Getty ImagesOver his final five seasons, Sandy Koufax went 111-34 with a 1.95 ERA and three Cy Young Awards.
This is another follow-up to a debate that arose in a recent chat session: Which pitcher had the best five-year peak?
With
Sandy Koufax having spent time at Dodgers camp this spring
it seems like a perfect time for a list, doesn't it?
Well, I can never make things easy, so this will be a long list. I started with pitchers since 1950, primarily because I'm not as interested in comparing the peak of dead-ball era pitchers to the more modern game. Plus, we had to make this somewhat manageable. I'm going to use Baseball-Reference Wins Above Replacement to rank the pitchers and we'll have a vote at the end of the story.
The rules: It has to be a five-year consecutive peak -- not necessarily the best five seasons of a pitcher's career, but the best five years in a row. A pitcher can appear only once. That's it. I didn't include postseason results, but maybe should have. I looked at all the Hall of Fame starting pitchers from this era, some current guys and some others I wanted to include. The list is 41 pitchers, but this is
not
the best 41 peaks. I left out some good pitchers, such as Orel Hershiser, Dwight Gooden,
Roy Oswalt
and others. I do think I got all the guys who accumulated at least 30 WAR, however.
Jack Morris, 1983-1987: 20.2 WAR
We have to start somewhere.
Don Sutton, 1971-1975: 21.1
Despite winning 324 games, Sutton was a controversial selection to the Hall of Fame when he made it on his fifth year on the ballot. He was viewed as a compiler -- and, well, he sort of was, as his career-high WAR was 6.3 and he topped 5.0 just three times. From '71 to '75 he went 89-53 with a 2.63 ERA and 25 shutouts. Not bad for a compiler.
Early Wynn, 1952-1956: 22.3
In 1948, Wynn went 8-19 with a 5.82 ERA for the Senators, walking 94 and striking out 49. Bill Veeck of the Indians coveted Wynn anyway because of his good fastball, they got him along with Mickey Vernon in a trade, pitching coach Mel Harder taught Wynn a curve and slider, and he went on to average 18 wins per season in his nine years in Cleveland.
Whitey Ford, 1961-1965: 22.5
Here's a fair question: Is Whitey Ford overrated? Think about it: He pitched in the old Yankee Stadium, with its mammoth left-center power alley, certainly helpful to a left-handed pitcher; he didn't have to face the best team in the league, back when there were only eight teams in the league for much of his career; he won "only" 236 games. Of course, he was the ace of many World Series winners and was certainly clutch in the postseason. Ford's best five years came after Casey Stengel was fired after the Yankees lost the 1960 World Series. Stengel was always cautious with Ford's workload, using him for more than 230 innings only once. But from '61 to '65 Ford averaged 260 innings and went 99-38, a .723 winning percentage.
John Smoltz, 1995-1999: 22.9
When Smoltz shows up on the Hall of Fame ballot, it will be interesting to see how he fares compared to Curt Schilling, two guys with similar career records (Smoltz: 213-155, 3.33; Schilling: 216-146, 3.46) and similar excellence in the postseason. The big difference between the two is Smoltz never had the string of dominant seasons like Schilling did.
Catfish Hunter, 1971-1975: 23.4
Made his mark by winning seven games in the postseason as the A's won three consecutive World Series from 1972 to 1974, but vastly overrated as a pitcher. This five-year peak accounts for two-thirds of his career WAR of 32.1
Tom Glavine, 1995-1999: 24.0
What were the odds that a 22-year-old pitcher who led the league with 17 losses and struck out only 84 batters in 195 innings would turn into a 300-game winner and future Hall of Famer? Lower than slim and none? Glavine's best season via WAR was his breakout campaign in 1991 (8.2) when he won his first Cy Young Award, but in many ways he was similar to Sutton, an amazingly durable pitcher who was very good for a long time.
Felix Hernandez, 2008-2012: 24.1
Working on four straight years of 230-plus innings and doesn't turn 27 until April. With his new contract, the Mariners are banking on many more of those 230-inning seasons in the future.
Nolan Ryan, 1973-1977: 26.0
His first big year came after the Mets traded him to the Angels in 1972 and he won 19 games with a 2.28 ERA, worth 5.8 WAR. Twenty years later he was 44 and posted a 5.0 WAR season for the Rangers. In between, he was a dynamic, often wild, always amazing, and certainly one-of-a-kind. His mid-'70s peak was dragged down by a couple mediocre seasons in '75 and '76 when he posted a 3.40 ERA, only league average for the time once you adjust for his home park.
Mike Mussina, 1999-2003: 26.7
His career WAR of 78.1 is higher than many Hall of Fame pitchers of this era. Best season came in 1992 (7.9 WAR), but he had seven seasons of 5.0 or higher, five of those coming with the Orioles.
Justin Verlander, 2008-2012: 26.7
This stretch includes Verlander's 2008 when he went 11-17 with a 4.84 ERA, worth 1.5 WAR, so the total will jump up with a big 2013. Verlander led the league in losses that year, which prompts the question: How many Hall of Fame pitchers led their league in losses? Well, Phil Niekro managed to do it four straight seasons. Bert Blyleven did it at the end of his career in 1988, and future Hall of Famer Glavine did it the same season at the beginning of his career. Steve Carlton and Robin Roberts each did it twice. Early Wynn and Hal Newhouser. A couple of others. Not necessarily that unusual.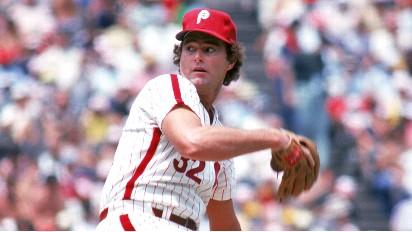 Rich Pilling/Getty ImagesSteve Carlton won four Cy Young Awards, but only one came during his best five-year WAR peak.
Steve Carlton, 1969-1973: 27.9
Maybe the most inconsistent great pitcher ever, this period includes Carlton's all-timer season in 1972 when he went 27-10 with a 1.97 ERA for a Phillies team that won only 59 games. No other pitcher won more than seven games, and he was a reliever. But Carlton followed that up with a 13-20, 3.90 year in 1973 and had some less-than-stellar years. His best stretch of consistent excellence actually came later in his career from 1980-1983, but his 11.7 WAR in '72 helps make this his best five-year stretch.
Don Drysdale, 1960-1964: 28.0
Dodger Stadium: 65-43, 2.19 ERA
L.A. Coliseum: 36-25, 3.14 ERA
Road games: 95-92, 3.41 ERA
Cliff Lee, 2008-2012: 28.9
Sort of the anti-Nolan Ryan. Whereas Ryan would
never
give in to a hitter, preferring to walk a batter rather than just throw something over the middle of the plate, Lee
never
wants to give up a free pass. Over this five-year stretch he has walked 165 batters; Ryan walked that many in a season three times.
Bret Saberhagen, 1985-1989: 29.1
Includes his Cy Young seasons in 1985 (6.9 WAR) and 1989 (9.2 WAR), but he couldn't stay healthy after that. Remember when Dave Stewart whined about not winning the Cy Young in 1989? Yeah, let's not get into that.
Jim Palmer, 1975-1979: 29.2
Palmer won 20 games eight times in nine seasons, but went 7-12 in 1974 right in the middle of that stretch to drag down his five-year peak (we ended up using a mediocre 10-6, 3.30 partial season in 1979 to round out our five years).
Frank Tanana, 1974-1978: 29.3
One of the best young pitchers ever, but hurt his arm in 1978. Returned as a finesse guy to have a long career.
David Cone, 1993-1997: 29.4
Only averaged 184 innings per season over this span thanks to the two strike-shortened seasons and an injury in 1996 that limited him to 11 starts, but went 64-35 with a 3.17 ERA during a high-scoring era and won the Cy Young Award in 1994.
CC Sabathia, 2007-2011: 29.7
Finished in the top five of the Cy Young voting all five seasons.
Rick Reuschel, 1976-1980: 29.8
A favorite of sabermetricians because of a career WAR of 64.6 that ranks 32nd
all time
among pitchers -- just ahead of Palmer, Sutton and Smoltz. Hmm. Reuschel's career record of 214-191 with a 3.37 ERA doesn't blow you away, but he spent his best years with mediocre Cubs teams in a hitter's park with bad defenses behind him. In these five years, he went 77-62 with a 3.33 ERA, topped by a 1977 season (20-10, 2.79 ERA) in which Baseball-Reference rates him not only as the best pitcher in the National League (9.2 WAR), but as the most valuable
player
. In comparing to Palmer, Baseball-Reference estimates Palmer's defense saved him 0.33 runs per nine innings over his career but cost Reuschel 0.18 runs per nine innings (a difference of about 14 runs over 250 innings). Maybe Reuschel would have won three Cy Young Awards if he had Mark Belanger and Paul Blair behind him.
Jim Bunning, 1963-1967: 30.2
After going 12-13 with a 3.88 ERA in 1963, the Tigers traded Bunning to the Phillies (for Don Demeter and Jack Hamilton), figuring at 32 he was past his prime. He wasn't. Instead, Bunning reeled off four magnificent seasons with the Phillies, going 74-46 with a 2.48 ERA while averaging 298 innings per season.
Kevin Appier, 1992-1996: 30.9
Surprise! Went 69-43 with a 3.22 ERA, including a spectacular 9.0-WAR 1993 when he led the AL with a 2.56 ERA and allowed only eight home runs. Should have won the Cy Young Award that year.
Warren Spahn, 1949-1953: 32.2
This stretch includes four of his five highest WAR seasons, the other being his best one -- 9.1 in 1947. Two awesome Spahn stats: (1) From 1947 to 1963, the
fewest
innings he pitched was 245.2; (2) Led the NL in complete games seven consecutive seasons, from ages 36 to 42. Here's a third one: Led or tied for the NL lead in wins eight times.
[+] Enlarge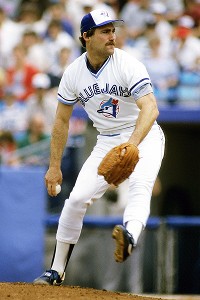 Ronald C. Modra/Getty ImagesToronto ace Dave Stieb should have won a Cy Young Award or two in the early '80s.
Dave Stieb, 1981-1985: 32.4
Underrated in his own time, Baseball-Reference rates Stieb as the first- or second-best pitcher in the AL all five seasons in this stretch, but he never finished higher than fourth in the Cy Young voting because they were giving the awards to guys like Pete Vuckovich and LaMarr Hoyt.
Roy Halladay, 2007-2011: 32.5
Went 93-44 with a 2.80 ERA.
Bert Blyleven, 1971-1975: 33.5
Blyleven's run came from ages 20 to 24 and included a 325-inning season in 1973 when he was 22. Somehow his ligaments and tendons remained attached and didn't turn into soba noodles. You'll notice that Blyleven is the third pitcher with the exact same five-year dates; to a large extent this is because innings totals increased during this period. With more innings comes a higher WAR. In the 1960s, for example, there were 25 300-inning seasons; in the first five years of the '70s, there were 27. Or, really, innings started ramping up in the late '60s, when offense declined, leading to the lowering of the mound after 1968 and the advent of the designated hitter in the American League. To put a more dramatic spin on the increase in workload, from 1955 to 1964, there were seven 300-inning seasons (three by Drysdale); in the next 10 years, there 47 300-inning seasons.
Johan Santana, 2004-2008: 34.2
Won three ERA titles and two Cy Young Awards (and probably should have won a third) in this period.
Ferguson Jenkins, 1968-1972: 34.9
Went 107-71 with a 3.02 ERA, averaging 309 innings and winning the 1971 Cy Young Award. The Cubs were still pretty good in this era, finishing over .500 all five years, so this wasn't just a pitcher excelling despite a bad team behind him.
Curt Schilling, 2000-2004: 35.0
This run includes half a season in Philly, three and a half in Arizona and his first year in Boston, a year that culminated with a bloody sock and the lifting of a curse. Five-year totals: 85-40, 3.24, three Cy Young runner-up finishes, three 20-win seasons, a 300-strikeout season (he had two more in 1997 and 1998) and two World Series championships. Schilling pounded the strike zone -- he averaged only 1.5 walks per nine innings -- and had a remarkable 316/33 strikeout/walk ratio in 2002.
Kevin Brown, 1996-2000: 35.4
Deserved to hang out on the Hall of Fame ballot longer than one year and have his case at least discussed. For a time, Brown was impressive as any pitcher of his generation, throwing that hard, mid-90s sinker. In this stretch he went 82-41 with a 2.51 ERA in the heart of the steroids era, averaging 242 innings, twice leading in ERA and pitching in two World Series. His seasonal WAR totals: 7.7, 6.7, 8.3, 5.9, 6.8.
Juan Marichal, 1962-1966: 35.4
Starting in 1963, he went 25-8, 21-8, 22-13, 25-6, 14-10, 26-9 and 21-11. You know how many Cy Young votes he received those seasons? None. His best five-year peak would be better if not for that 1967 season where he missed some time and made 26 starts. As is, he went 107-45 with a 2.37 ERA.
Wilbur Wood, 1970-1974: 36.7
Another early '70s guy, Wood's knuckleball allowed him to post some of the more freakishly awesome seasons in modern history, including 1971 when he had a 1.91 ERA in 334 innings, and 1972 when he started 49 games and pitched 376.2 innings. Those two seasons were worth 11.5 and 10.3 WAR. (He slacked off in 1973 and started only 48 games and threw 359.1 innings.)
10. Gaylord Perry, 1972-1976: 37.0
OK, we're into the top 10, so we'll start numbering the countdown. If you're getting the idea that the early '70s were to pitching what the late '90s and early aughts were to hitting, then give yourself a gold star. Perry's 1972 with Cleveland was an amazing season: 24-16, 1.92 ERA, 29 complete games, 342 innings, worth 10.4 WAR. From May 6 to Aug. 5 he started 22 games and completed 19, posting a 1.55 ERA. Here's the kicker: He averaged
more than
nine innings per start in that stretch (one of his non-complete games was a
13-inning scoreless effort
).
Five-year totals: 97-79, 2.83 ERA, 313 innings per season.
9. Tom Seaver, 1969-1973: 37.4
Went 103-51 with a 2.35 ERA. Followed this up with another five-year stretch valued at 30.2 WAR.
8. Bob Gibson, 1966-1970: 38.0
This period includes his memorable 1968 season when he went 22-8 with a 1.12 ERA, a year that included a 47-inning scoreless streak and one period where he allowed two earned runs in 92 innings. No wonder baseball lowered the height of the mound from 15 to 10 inches for 1969. That season was worth 11.1 WAR, and he followed that up with two more pretty good ones: 10.3 WAR in 1969 and 8.4 in 1970, when he won another Cy Young Award. If not for a broken leg that forced him to miss two months in 1967, he'd be even higher on the list. (Or if we included hitting; he accumulated 3.3 WAR at the plate as well, and had 19 RBIs in 1970.) Five-year totals: 99-48, 2.30, 27 shutouts.
7. Phil Niekro, 1974-1978: 38.6
This is never mentioned as a great peak since Niekro's record was just 87-77 (pitching for bad Braves teams in the post-Aaron era) and his ERA was 3.16. He even led the league in losses in 1977 and 1978 (and would do so again in 1979 and 1980, joining Pedro Ramos as the only pitchers to do that four consecutive years). His ERA+ of 127, for example, was much lower than Gibson' five-year mark of 153. What Niekro did was throw a lot of innings -- 302.1, 275.2, 270.2, 330.1 and 334.1 -- and that workload led to WAR totals of 7.5, 6.5, 6.4, 8.6 and 9.6.
6. Sandy Koufax, 1962-1966: 39.1
Only sixth? For a pitcher who went 111-34 with a 1.95 ERA, won the NL ERA crown all five years and had seasons of 25-5, 26-8 and 27-9? He won an MVP Award and finished second in the voting two other years, while winning three Cy Young Awards (when they gave it to just one pitcher in all of baseball). So why only sixth? Well, there's no doubting Koufax's domination -- he, Gibson and Wood are the only two pitchers with two seasons of 10+ WAR during their peak runs. But a couple of things: (1) Dodger Stadium was a huge pitcher's park in those days, with a notoriously high mound (Koufax had a 1.37 ERA at home and 2.57 on the road, not that there's anything wrong with 2.57), so his numbers are knocked down a bit to adjust for that; (2) He missed time in 1962 (184 innings) and 1964 (223 innings), so that cuts into his value, at least compared to the other three seasons.
5. Greg Maddux, 1992-1996: 39.2
This is when he won his four consecutive Cy Young Awards. Five-year math: 90-40, 2.13 ERA, 191 ERA+, single-season WAR of 8.9, 5.5, 8.3, 9.5, 7.0 (followed by seasons of 7.6 and 6.3). And remember, his value was held down by the shortened seasons of 1994 and '95, when he had ERAs of 1.56 and 1.63.
[+] Enlarge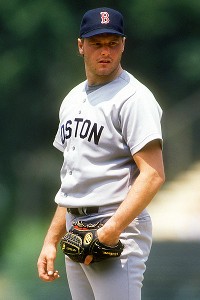 Mitchell Layton/Getty ImagesThe young Roger Clemens wasn't too shabby.
4. Roger Clemens, 1986-1990: 40.1
The numbers: 100-42, 2.71 ERA, 156 ERA+, 256 innings per season, 57 complete games, 23 shutouts, two Cy Young Awards (and was robbed in 1990). Also had 33.7 WAR from 1996 to 2000 and six other seasons of 5+ WAR not included in either of those two stretches.
3. Robin Roberts, 1950-1954: 40.5
Now this is what you call a peak: 115-64, 2.87 ERA, 138 ERA+, 135 complete games, 327 innings per season, seasons of 7.0, 7.6, 7.9, 9.4 and 8.6 WAR. By the 1950s, innings pitched totals had to started to decline, especially compared to the dead-ball guys, but not for Roberts. There were 10 300-inning seasons in the decade and Roberts had six of them. From his autobiography (tip of the cap to the "Neyer/James Guide to Pitchers"): "I was mainly a one-pitch pitcher, although sometimes I mixed in a curveball when I was ahead in the count. I could put my fastball where I wanted it, but I was sometimes criticized for not pitching inside more. ... I just went after people with my best stuff and let the batters hit it if they could."
Roberts threw very hard -- Bill James says he threw about as hard or possibly harder than Bob Feller or Bob Gibson or any of those big guys. Because his control was so good, he relied primarily on that one pitch. (He did give up a lot of home runs.) Outside of this stretch, Roberts had only one more season rated above 5.0 WAR, and one other above 4.0.
2. Pedro Martinez, 1997-2001: 41.4
Let's take these seasons one-by-one:
--1997: 17-8, 1.90 ERA, 8.7 WAR, 241.1 IP, 158 H, 305 SO, won Cy Young Award. Led NL in ERA and complete games (13).
--1998: 19-7, 2.89 ERA, 6.9 WAR, second in Cy Young voting in first year with Red Sox, struck out 251 in 233.2 innings.
--1999: 23-4, 2.07 ERA, 9.5 WAR, won Cy Young, second in MVP voting, 313 SO in 213.1 innings (13.2 per nine).
--2000: 18-6, 1.74 ERA, 11.4 WAR, won Cy Young, somehow only fifth in MVP voting, 284 SO in 217 IP, opponents hit .167 off him --
.167!
This isn't a closer we're talking about here. .167.
--2001: 7-3, 2.39 ERA. Injured, made only 18 starts.
It's too bad we couldn't sub in his 2002 (20-4, 2.26) or 2003 (14-4, 2.22). Great fastball, the best changeup of all time, command, varied his arm angles, mixed in a cut fastball, slider and curveball, and wasn't afraid to deliver some chin music every now and then. Only thing he lacked was the durability to rack up a lot of innings.
Five-year totals: 84-28, 2.18 ERA, 215 ERA+, 1,316 SO in 1,022 innings.
1. Randy Johnson, 1998-2002: 42.2
As awesome as Pedro was, the Unit rates even higher, which tells us something about how good
he
was. Five-year totals: 100-38, 2.63 ERA, 174 ERA+, four Cy Young Awards, three ERA titles, 41 complete games, 17 shutouts, five 300-strikeout seasons, 1,746 SO in 1,274 innings.

Individual seasons: 5.4, 8.8, 7.8, 9.8, 10.4. In fact, his five-year peak could have been higher had he not sulked his way through the first half of 1998 with the Mariners before finally getting traded to the Astros (where he went 10-1 with a 1.28 ERA in 11 starts).
On a rate basis, Pedro was a little better, as reflected in his better ERA+. He also had to face DH lineups for four of his five seasons. But Johnson was dominant
and
durable -- he pitched 252 more innings than Pedro in his five-year peak and that puts him at No. 1.
* * * *
Of course, you don't have to rely on WAR for your own personal rankings. My top five would probably go Johnson, Martinez, Koufax, Maddux, Clemens, with apologies to Bob Gibson.
In the poll, we can only include five names. I apologize to Robin Roberts fans for leaving him out despite his No. 3 ranking above. Like Phil Niekro, his value comes as much from a huge workload as being a great pitcher. But he wasn't dominant in the same sense as some of these other pitchers -- he never led his league in ERA, for example, and his ERA+ during his five-year peak was 138, well below the others. So he got the boot from the poll.
Who do you have?
December, 12, 2012
12/12/12
8:55
PM ET
Many shocks from ESPN's Hall of 100, the biggest thus far is that they have John Smoltz as better all time than Tom Glavine. #Hallof100

— Julian Spivey (@julianspivey44) December 12, 2012
I was a little surprised as well that
John Smoltz
came in at No. 75 while
Tom Glavine
ranked No. 93, considering Glavine won 305 games compared to Smoltz's 213. We know that wins aren't everything, still ... 92 wins is a lot of wins to make up in other areas. Of course, these two are easier to compare than most pitchers since they were teammates from 1988 through 2002, pitching with the same defenses behind them.
Career numbers:
Smoltz was the more dominant pitcher -- more strikeouts, harder to hit. But Glavine had nearly 1,000 more innings as Smoltz battled some injuries (missing all of the 2000 season) and spent three seasons and part of a fourth as a closer. All those extra innings helped Glavine achieve the edge in career wins above replacement (per Baseball-Reference.com), thus seemingly turning this into a debate over career value versus peak value.
But that's not really the case. Let's rank their top 20 seasons:
1. Glavine, 1991: 8.2
2. Smoltz, 1996: 7.1
3. Glavine, 1998: 5.9
4. Glavine, 1996, 5.6
(tie Smoltz, 2006: 5.6
6. Glavine, 1997: 5.3
7. Smoltz, 1991: 5.1
8. Smoltz, 2005: 4.7
9. Glavine, 1995: 4.6
(tie) Glavine, 2000: 4.6
11. Smoltz, 1997: 4.5
12. Smoltz, 2007: 4.3
13. Smoltz, 1999: 4.2
14. Smoltz, 1995: 4.0
15. Glavine, 2005: 3.9
16. Glavine, 2002: 3.8
(tie) Glavine, 2004: 3.8
18. Glavine, 1992: 3.6
19. Smoltz, 1989: 3.5
20. Glavine, 2001: 3.4
I can't see where Smoltz rates the edge in peak value. If anything, in looking at the best 10 seasons, Glavine rates the edge. Smoltz did edge out Glavine in career ERA, but that's a factor of (1) Smoltz spending those years in the bullpen (his ERA was 3.40 as a starter); and (2) Glavine taking a few years to get going (4.29 ERA through his first three-plus seasons).
It may also be worth looking at how each performed in the Braves' closest pennant races.
1991: Braves beat Dodgers by 1 game (Glavine: 20-11, 2.55; Smoltz: 14-13, 3.80)
1993: Braves beat Giants by 1 game (Glavine: 22-6, 3.20; Smoltz: 15-11, 3.62)
1999: Braves beat Mets by 6.5 games, lead was 1 game with 12 to go (Glavine: 14-11, 4.12; Smoltz: 11-8, 3.19). In September, Glavine beat the Mets twice, allowing three runs in two starts. Smoltz had a no decision in one start against the Mets, allowing one run.
2000: Braves beat Mets by 1 game (Glavine: 21-9, 3.40; Smoltz: Missed entire season)
2001: Braves beat Phillies by 2 games (Glavine: 16-7, 3.57; Smoltz: 3-3, 10 saves)
That was it while they were teammates. In 2005, the Braves topped the Phillies by 2 games and Smoltz went 14-7, 3.06. In 2006, Glavine's Mets won the National League East by 12 games.
Anyway, it's pretty clear that Glavine rates the decided edge in "close pennant race" seasons. He pitched in 1991 and 1993, seasons the Braves won the East by 1 game (and there was no wild card). Due to injuries, Smoltz wasn't a factor in close races in 2000 and 2001.

So, it has to be Glavine, right? Higher career WAR, just as strong in peak seasons, better in close races.
We've left out one thing, however: Postseason performance.
Smoltz is one of the great October pitchers of all time, going 15-4 with a 2.67 ERA and four saves. Glavine went 14-16 with a 3.30 ERA. Smoltz pitched 209 innings and allowed 67 runs; Glavine pitched 218.1 innings and allowed 91 runs.
To push Smoltz past Glavine, you have to give him extra credit for that postseason performance, which is certainly reasonable. So we're kind of left with this: Glavine helped his teams a little more in getting to the postseason; Smoltz was the guy you wanted starting
in
the postseason. Tough call. I wonder if our image of Smoltz is stronger because he threw harder and if you watched postseason baseball in the '90s, you remember some of his big games.
If anything, maybe they should have been 75 and 76 in the Hall of 100 ... I'm just not sure in which order.
August, 13, 2012
8/13/12
5:46
PM ET
Before the Olympics began,
Kobe Bryant
suggested this year's Olympic basketball team would defeat the fabled 1992 Dream Team that featured Michael Jordan, Magic Johnson, Charles Barkley and Larry Bird. Bryant later adjusted his thoughts, saying the Dream Team was better but that the 2012 squad could beat them.
Bryant and company cruised throughout the tournament until Sunday's gold-medal game against Spain,
prevailing 107-100
after leading by just one point heading into the fourth quarter.
Anyway, that's a lead-in to this: What would baseball's dream team from 1992 look like? Let's turn back the clock and imagine we're in the summer of 1992. Let's pick a 25-man team -- 15 position players, seven starting pitchers and three relievers. Just like the '92 hoops Dream Team, legend status should come into play a bit. Since we're imagining an Olympic-type scenario, we're going with U.S. players only.
The Starters
1. 2B Ryne Sandberg, Cubs
(.304/.371/.510, 26 HR, 7.6 WAR)
Made his ninth consecutive All-Star appearance in '92.
2. CF Kirby Puckett, Twins
(.329/.374/.490, 19 HR, 6.8 WAR)
Had led the Twins to a World Series title in 1991; finished second in '92 American League MVP vote.
[+] Enlarge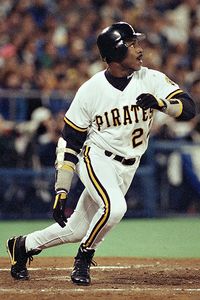 AP Photo/John SwartBarry Bonds led the Pirates to the NLCS in 1992.
3. LF Barry Bonds, Pirates
(.311/.456/.624, 34 HR, 8.9 WAR)
The best player in the game; won his second MVP award in '92.
4. DH Frank Thomas, White Sox
(.323/.439/.536, 24 HR, 6.7 WAR)
In his second full season, but the most feared hitter in the AL. Led the league in OBP and OPS for the second consecutive season.
5. 1B Mark McGwire, A's
(.268/.385/.585, 42 HR, 6.2 WAR)
Had rebounded from a poor 1991 to lead the AL in slugging percentage and the A's to the AL West title.
6. RF Ken Griffey Jr., Mariners
(.308/.361/.535, 27 HR, 5.5 WAR)
At 22 years old, already one of the game's best all-around players. We'll move him to right field with Kirby in center.
7. 3B Terry Pendleton, Braves
(.311/.345/.473, 21 HR, 4.8 WAR)
People remember his 1991 MVP season, but he finished second to Bonds in the '92 vote.
8. C Darren Daulton, Phillies
(.270/.385/.524, 27 HR, 6.7 WAR)
It was a weak year for catchers, but Daulton had a monster season with the fourth-highest WAR among position players.
9. SS Cal Ripken, Orioles
(.251/.323/.366, 14 HR, 3.8 WAR)
Not a good season but a baseball dream team wouldn't have been complete without Ripken.
The Bench
OF Rickey Henderson, A's
(.283/.426/.457, 15 HR, 5.4 WAR)
The best leadoff hitter in the game compiled 5.4 WAR despite playing just 117 games.
OF Andy Van Slyke, Pirates
(.324/.381/.505, 14 HR, 5.9 WAR)
Led the NL in doubles and hits, fourth in the MVP vote, Gold Glove center fielder. His window was small, but a terrific player for a few years.
OF Dave Winfield, Blue Jays
(.290/.377/.491, 26 HR, 3.8 WAR)
Others with a higher WAR, but Winfield gets credit for legend status and helping the Blue Jays win the World Series.
SS Ozzie Smith, Cardinals
(.205/.367/.342, 0 HR, 5.0 WAR)
Tough call here:
Barry Larkin
(.304/.377/.452, 5.5 WAR) or the 37-year-old Ozzie? The Wizard could still pick it and had 43 steals.
3B Gary Sheffield, Padres
(.330/.385/.580, 33 HR, 6.0 WAR)
Challenged for the Triple Crown much of the year before finishing first in batting, third in homers and fifth in RBIs.
C Terry Steinbach, A's
(.279/.345/.411, 3.8 WAR)
Gets the nod over Mickey Tettleton as the backup catcher for his good defense and leadership.
Pitching Staff
Tom Glavine, Braves
(20-8, 2.76 ERA, 3.6 WAR)
The only lefty on our 10-man staff, finished second in the Cy Young vote after winning it the year before.
[+] Enlarge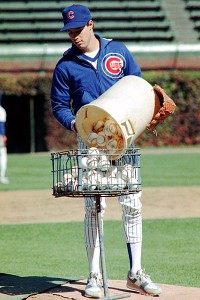 AP Photo/Bill WaughGreg Maddux would win four consecutive Cy Youngs beginning with the 1992 season.
Greg Maddux, Cubs
(20-11, 2.18 ERA, 8.9 WAR)
Won the first of his four consecutive Cy Young Awards.
Roger Clemens, Red Sox
(18-11, 2.41 ERA, 8.4 WAR)
Led the AL in ERA, shutouts, WHIP and SO/BB ratio, but finished just third in Cy Young vote.
Doug Drabek, Pirates
(15-11, 2.77 ERA, 5.1 WAR)
Career went downhill after signing with the Astros in '93, but regarded as one of the toughest competitors in the game at the time.
Jack Morris, Blue Jays
(21-6, 4.04 ERA, 2.5 WAR)
Morris absolutely would have been on a '92 dream team despite the high ERA. He'd just won back-to-back World Series titles and had the 21 wins.
Jack McDowell, White Sox
(20-10, 3.18 ERA, 4.9 WAR)
Kevin Appier
and
Mike Mussina
had better ERAs, but Black Jack had the image at the time. And the league-leading 13 complete games.
Nolan Ryan, Rangers
(5-9, 3.72 ERA, 1.8 WAR)
The numbers don't merit inclusion, but by '92 Ryan was the biggest icon in the game, a 45-year-old flame-throwing legend. Much like Bird, you wouldn't leave him off.
Dennis Eckersley, A's
(7-1, 1.91 ERA, 51 saves, 2.8 WAR)
The last AL reliever to win the Cy Young, Eck also walked away with the MVP trophy. OK, it was a bad vote, but Eck seemed unbeatable back then.
Rob Dibble, Reds
(3-5, 3.07 ERA, 25 saves, 0.9 WAR)
At the time, Dibble had four of the five highest K/9 rates in major league history (minimum 50 innings).
Jeff Montgomery, Royals
(1-6, 2.18 ERA, 39 saves, 3.0 WAR)
From '89 to '93, Montgomery fashioned a 2.22 ERA with 159 saves. What, you expected Mitch Williams?
So, who got Isiah'd? We mentioned Barry Larkin.
Tony Gwynn
was in a bit of a down spell (for him), so he loses out as well. We can't find room for NL home run leader
Fred McGriff
, Will Clark or Paul Molitor. For pitchers, some of the better statistical options would have included the aforementioned Mussina (7.9 WAR) and Appier (7.7 WAR) as well as Frank Viola, Sid Fernandez, Bob Tewksbury and
David Cone
, plus some up-and-coming guys like
John Smoltz
and
Curt Schilling
.
How does this team compare to a 2012 dream team? I'll let you debate who would be on such a 2012 team in the comments section.
October, 24, 2011
10/24/11
2:16
PM ET
The highest World Series game score of all time belongs to Babe Ruth, for a game in 1916 in which he pitched 14 innings and allowed just six hits and one run. Ruth's game scores at 97. Don Larsen's perfect game -- 9 IP, 0 H, 0 R, 7 SO -- scores a 94, tied with Ed Walsh's 12-strikeout, 2-hit shutout in 1906.
In World Series history, only eight starts have scored 90 or better according to the game score metric -- in addition to the three above, the others were recorded by Gibson in 1968 (93),
Randy Johnson
in 2001 (91) and Monte Pearson in 1939, George Earnshaw in 1931 and Bill Dinneen in 1903 (all 90).
Derek Holland
's game scored at 84, just the 45th outing in World Series history to score that high, and the highest since
Josh Beckett
's five-hit shutout in Game 6 of 2003, which also scored 84. ESPN's Stats & Information team broke down Holland's start,
complete with heat maps of his pitch locations
, and also reports Holland was just the seventh left-hander since 1920 to record a game score of at least 84 -- joining Johnson, Sandy Koufax (who did it twice), Whitey Ford, Warren Spahn,
Tom Glavine
and John Tudor.
After the game, Holland said he couldn't let the importance of the game -- down two games to one, it was a needed win for the Rangers -- get to him. "I just wanted to make sure I could go out there and execute all my pitches," he said. "That was the main thing. I wanted to go right after these hitters. I wanted to show that I belong here."
He certainly did that. Since Jack Morris' 10-inning shutout in Game 7 of 1991, here's my ranking of the five best World Series starts.
1. Josh Beckett, Marlins, Game 6, 2003 (game score: 84)
Pitching on three days' rest and in Yankee Stadium, Beckett tossed the five-hit shutout with nine strikeouts, throwing just 107 pitches, to clinch the title for the Marlins.
Derek Jeter
went 0-for-4 with two strikeouts and the Yankees went 0-for-7 with runners in scoring position.
2. Tom Glavine, Braves, Game 6, 1995 (game score: 85)
In another clinching game, Glavine held the explosive Cleveland lineup (
Kenny Lofton
,
Carlos Baerga
, Albert Belle,
Manny Ramirez
,
Jim Thome
) to just one hit in eight innings, walking three and striking out eight.
Mark Wohlers
got the final three outs as the Braves won 1-0 for their only World Series title in Atlanta.
3. Randy Johnson, Diamondbacks, Game 2, 2001 (game score: 91)
Johnson dominated with an 11-strikeout, three-hit shutout to give Arizona a 2-0 series lead. He struck out each Yankee at least once and only baserunner reached second base.
4. Derek Holland, Rangers, Game 4, 2011 (game score: 84)
Considering the circumsances: Trailing in the series, pitching in a tough ballpark against an explosive lineup, an absolute masterpiece.
5. Roger Clemens, Yankees, Game 2, 2000 (game score: 87)
Yes, this was
that
game. What everyone forgets is that Clemens pitched eight masterful innings, allowing just two hits, no runs, no walks while striking out nine. (The Mets scored five runs in the ninth to make the final score 6-5.)
June, 27, 2011
6/27/11
11:41
PM ET
In 1985, Dwight Gooden won 24 games, struck out 268 batters and posted a 1.53 ERA, the second-lowest in 60 years.
The next spring, the Mets decided to change Gooden's approach. Pitching coach Mel Stottlemyre directed him to not go for so many strikeouts. Later that season, with Gooden going through a rough patch, Stottlemyre told The New York Times, ''I have downplayed the strikeouts with him for the simple reason he doesn't need to strike out 10 batters to have a strong game. The important thing is put zeros on the scoreboard. I probably made too great an emphasis with him on getting ground balls, and not enough on getting pop-ups."
It should be mentioned that Stottlemyre was a ground ball pitcher during his own pitching days. He averaged 4.3 strikeouts per nine innings over his career, far less than the league average during his time. He undoubtedly was coming from a good place; Gooden was just 21 years old, and he wanted to preserve his arm and make him more durable over the long haul.
But Stottlemyre's advice was bad advice. As Bill James wrote in the "1987 Baseball Abstract" about Stottlemyre's thinking, "That's a common belief among baseball men, but it is dead wrong. Among all of the hundreds of issues that I have studied in the ten years I have been doing this, the
most
definitive evidence I have ever found on any issue is the evidence that the career expectation for a strikeout pitcher is dramatically longer than it is for a control pitcher."
Gooden, who had struck out 11.4 batters per nine innings as a rookie in 1984 and 8.7 in 1985, dropped to 7.2 in 1986. His ERA rose to 2.84. Obviously, Gooden faced extenuating circumstances later in his career -- he entered drug rehab in the spring of 1987 and later injured his shoulder -- but in the summer of 1986, he claimed velocity wasn't an issue.
"'I'm throwing harder than at any time in my career,'' he said, ''but the ball has been going straight and it's been getting hit, and that's been part of the problem." The magic of 1985? Gooden never regained it.
* * * *
After
Justin Verlander
no-hit the Blue Jays on May 7, I watched his postgame interview, and he said he and Tigers pitching coach Rick Knapp had been working on slowing down his delivery, trying to make it more methodical to improve his consistency and location. He said he even dialed down his fastball early in the game, throwing 92 to 94 mph instead of his customary 96-plus. He didn't exactly say it, but in the back of my mind, I thought, "Uh-oh, that sounds like he could be saying that he's trying to pitch to contact."
Verlander struck out only four Blue Jays that day. On May 24, after he gave up six runs to Tampa Bay, his ERA stood at 3.42. It was looking like another typical Verlander year -- while that's a solid ERA, in 2011 it hardly makes you one of baseball's elite pitchers. (Currently, that would rank only 48th among starting pitchers.) And as good as Verlander has been, he's never had a season ERA less than 3.25 or a top-five finish in ERA in the American League.
But in the six starts since May 24, Verlander is 6-0 with a 0.72 ERA, allowing just four runs in 49 2/3 innings. He's also struck out 51 batters.
Yes, strikeouts matter. As he continues to blow away hitters, it appears to me now that Verlander wasn't working on inducing more contact. He was working on becoming a more dominant pitcher, refining his control and mixing up his repertoire. But he's shown over the past month that he's still trying to strike guys out. And now he's become perhaps the best starter in the game.
* * * *
Fans will invariably say, "Yes, but what about
Tom Glavine
? Or
Greg Maddux
. Or
Jamie Moyer
!"
In Glavine's first Cy Young season, in 1991, he struck out 7.0 batters per nine innings, well more than the National League average of 5.9. In 1998, when he won his second Cy Young, he was still striking out 6.2 per nine, a tick less than the NL average of 6.8. The point is, he had room to work with: He started out above the league average strikeout rate before slowly dipping through the years.
Maddux was even more of a strikeout pitcher than Glavine. During his 1992-98 peak, when he went 127-53 with a 2.15 ERA, his K rate was 6.9 per nine, peaking at 7.8.
Even Moyer will surprise you. He certainly didn't throw hard, but he struck out just enough hitters -- 5.4 per nine over his career -- to pitch forever. Last season he was still averaging 5.1 K's per nine, not a great total, but enough to get by, which is what he did.
And those pitchers, of course, are extreme examples, masters of location, control and changing speeds. Maybe they didn't blow 100 mph fastballs past hitters like Verlander can do, but they still got their swings and misses.
* * * *
I checked the pitchers with the best ERAs since 2008 (at least 500 innings pitched). Among the top 25 pitchers, only
Tim Hudson
has averaged less than 6.3 K's per nine. Thirteen of the 25 have averaged more than 8.0. For the most part, the best pitchers are strikeout pitchers. Yes, there is an occasional Tim Hudson or
Mark Buehrle
, who has thrived for years without a high K rate. They are a rare breed.
This is why it's important to check out a pitcher's strikeout rate -- no matter how often your local broadcaster says it's a good thing that Pitcher X isn't trying to strike everybody out anymore. Bottom line: It's difficult to maintain a high level of success without a K rate at least close to the league average (currently about 7.0 per nine innings). Here are some starters to monitor closely:
As I write this, I'm watching
Brandon Beachy
of the Braves pitch. Most analysts projected him as a fifth-starter type heading into the season. Heading into Monday's start, he had a 3.22 ERA while averaging more than 10 K's per nine. I'm beginning to think he might be better than initially advertised.
Follow David on Twitter @dschoenfield.
PHOTO OF THE DAY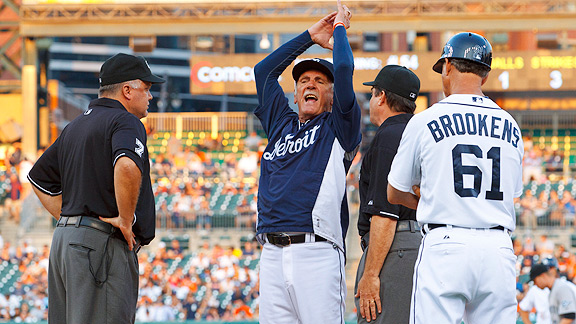 Rick Osentoski/US PresswireSafe to say Jim Leyland isn't trying to get the crowd to applaud the umpiring crew. Just a guess.
June, 19, 2009
6/19/09
12:22
AM ET
Have we seen the last of
Tom Glavine
? Looks like we probably have. From
MLB Rumors
:
Breaking news out of Atlanta: Tom Glavine told Buck Lanford of Fox 5 Atlanta that he won't pitch in 2009.

"I'm not going to pitch or do anything in baseball until at least next year." Glavine stopped short, according to Fox 5, of announcing his retirement, saying he plans to be "a full-time dad."

The decision leaves Pedro Martinez as the surefire Hall of Fame pitcher remaining in the free agent market. Glavine did not announce his retirement, though it is hard to imagine him returning after taking the rest of the season off.

The decision is surprising for a number of reasons. For one thing, Glavine had been so adamant about objecting to his treatment by the Braves, who released him following his final rehab start.

For another, who knew people Tom Glavine's age knew how to text?
Hilarious. I know lots of guys Glavine's (and my) age who know how to text. We're just not real quick about it.
Anyway, this is surprising only if we don't read between the lines a little bit. I figured that Glavine could still do enough to get a job with some desperate club as a fifth starter, but his (unofficial) retirement suggests that he didn't want to pitch for a desperate team, or didn't show enough to attract even someone who is desperate.
Either way, it looks to me like Glavine just didn't have an attractive offer. Which is kind of a shame, as I kind of wanted to see him pitch at least one more time. But only if he could pitch kind of well.
June, 6, 2009
6/06/09
10:47
PM ET
Tom Glavine
is miffed. I don't blame him. All that hard work, only to be released by his longtime employers? But
this -- via Ken Rosenthal -- is pretty silly
:
Pitcher Tom Glavine is considering filing a grievance against the Atlanta Braves over his release Wednesday, as originally reported on FOX Saturday Baseball.

Glavine's agent, Gregg Clifton, has spoken with a labor attorney and the players' union about possibly filing the grievance, according to a major-league source.

Players cannot be released by their teams due to financial reasons, according to the collective-bargaining agreement. Glavine was set to receive a $1 million bonus once he made the major-league roster, another $1.25 million for 30 days on the roster and another $1.25 million for 90 days on the roster.

--snip--

If history is any indicator, Glavine would not have much of a chance should he file the grievance. Historically, teams have the upper hand in such cases and don't need a significant performance based reason to release a player.
This, I think, is one of those deals where the agent is going through all the motions merely to placate his client. Because he must know he doesn't stand a snowball's chance in the Sahara. For one thing, it would be almost impossible to prove intent. For another, there's
Geoff Blum
,
Nomar Garciaparra
,
Neal Cotts
,
Eric Byrnes
,
Brad Ausmus
,
Rich Aurilia
and dozens of other players who are earning at least a million dollars this season for little apparent reason. To almost every Major League Baseball team, one million dollars is practically
nothing
. Just look at who they give their millions to!
If the Braves thought Glavine was good enough to help them, they would have kept him. Doesn't mean he's not good enough to pitch. Just means that for a moment, at least, the Braves figured he wasn't good enough to pitch for them. And that's all that matters.
April, 15, 2009
4/15/09
4:59
AM ET
Today's links were discovered in Seattle, where the good citizens are wondering if the Mariners will ever lose again (seriously: people here are talking about 2001 and they're not kidding) ...
• ShysterBall wonders if Chief Wahoo is on his way out. I don't know about that, but I do believe that when Wahoo goes, he goes with a whimper rather than a scream. I also believe that the men who run the franchise know the right thing, but are a little too worried about the short-term public reaction to actually do it, quick-like.
• Well, I won't have DeWayne Wise to kick around anymore, at least not for a while. One editorial note, though: It's probably real smart to refer to DeWayne Wise as a "young man," as the 31-year-old Wise is young only when compared to old baseball writers.
• Is Daniel Cabrera trying to be a different sort of pitcher? As Dave Cameron points out, his fastballs this year sure are different from last year's.
• I don't know about you, but I'd hate to see Tom Glavine go out like this. He hasn't won a game since last May 20, and though he did pitch well in that game, it was followed by five starts without a decision, the last of which was disaster.
• Michael Salfino takes issue Joe Girardi's recent bullpen maneuverings, and I can't defend Girardi, except by saying that it's early and maybe Girardi's still taking the measure of his relief corps. He'd better hurry up, though; I doubt if the Yankees or any other team in that division have much room for error.
• Do you ever wonder which hitters hit the most opposite-field home runs? If not, please move along and by all means don't read this.
• On the DL's Dan Levy writes about Harry Kalas; Jimmy Shapiro's got some great stuff here.
• Matt Sisson susses out Nick Swisher's scoreless inning.