June, 8, 2014
Jun 8
11:15
AM ET
By
Christina Kahrl
| ESPN.com
CHICAGO -- On May 9,
Jose Fernandez
took the ball for the last time in 2014. The Marlins lost the game, and a week later, Fernandez had Tommy John surgery on his elbow. The Fish were four games over .500 and tied for first place in the National League East. You would be forgiven if you were both a rare Marlins fan -- because there aren't a lot of you hardy souls -- and in despair of what the next four and a half months might bring you, absent the team's ace, one of the game's most exciting talents.
Fast-forward a month and the Marlins haven't lost much ground. They are two games over .500 and a game out of first. Perhaps just as important for you lonely Fish fans, they are still as entertaining a team as you might have asked for.
That's because, even without Fernandez, the Marlins still have two of the most entertaining hurlers in baseball: hard-throwing
Nathan Eovaldi
, whose changeup averages 88 mph, and ground-pounding sinkerballer
Henderson Alvarez
, as talented a claimant to the Luis Tiant crown for mound styling as the game might have going for it today. Both are just 24 years old, and both are guys who, perhaps in any other market or on any other team, would be commanding your attention every five days, just the same as their more famous teammate.
[+] Enlarge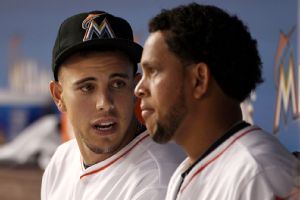 Marc Serota/Getty ImagesJose Fernandez will be back next year, rejoining a rotation Henderson Alvarez will meanwhile keep starring in.
"I've seen guys come up, but I've never before been fortunate enough to be with a group of pitchers this talented," said veteran third baseman
Casey McGehee
. "As bad as it was for us to lose Jose, maybe it was a blessing in disguise, because you see some of these guys taking on leadership in the rotation. And then, when we get Jose back, it's just going to be that much better."
Start with Sunday's starter, Alvarez, and let's look at
the first pitch of Alvarez's starts
: He goes into a deep front-leaning crouch, brings the ball up high, going into an exaggerated windup that looks like a farcical impersonation of Hideo Nomo, and then never does that again in-game.
"He's got the whole first pitch thing. … I'm not sure why he does it, and I don't even want to ask him why he does it. He's different," said Marlins manager
Mike Redmond
.
"Henderson, you never know what you're going to get out of him," Eovaldi said with a chuckle.
Later on, Alvarez will throw a curveball so slow you might mistake it for something knuckleballer
R.A. Dickey
floated to the plate, clocking in somewhere around highway speed limits of 65 mph.
"'The Henderson,'" said Redmond, laughing. "We named it. They asked me if there was a name for it, and that's the first thing I came up with, 'The Henderson.' I have no idea why he does that. He'll throw it maybe once a game, sometimes two times. I really only like to see it once. It scares me. [Laughs.] But he seems to do it at the right time or hasn't had a game where anybody's swung at it yet. I'm not sure why he does that or when he decides that that's going to be the right time for that pitch, but I know he has a plan."
Does the catcher knows it's coming? "I don't think so," Redmond said. "I don't think they have a sign for that. It's just a breaking ball, and he just flips it in there."
But set aside all the antics and you have a guy who has already thrown three complete-game shutouts this season, after Alvarez no-hit the Tigers on the final day of the 2013 season. Beyond all the in-game entertainment that Alvarez provides, he zips through his games with a precision that draws the best possible comparisons.
"He's in a category all his own. You look up in the fourth or fifth inning sometimes and he's at 50 pitches. That's so efficient. He finished that last game at, what 88 [pitches]? That's Maddux-type command and quick contact," Redmond said. "This is a guy, when he's on, he's as good as anybody. He generates a ton of ground balls. When he's down in the zone, he's very effective and gets a lot of quick outs. And that keeps his pitch count down, to generate a lot of ground balls, quick outs and quick contact."
Only in a rotation that boasted Fernandez's brand of magic and Alvarez's antics could Eovaldi wind up being relatively nondescript. All he does is
average
97 mph on his fastball, up a tick or two from his rookie season in 2012. Throwing that hard might obscure Eovaldi's development of a broader arsenal this season, as he works in more breaking pitches to set up his fastball that much more effectively.
But as so many pitchers will tell you, it all starts with fastball location.
[+] Enlarge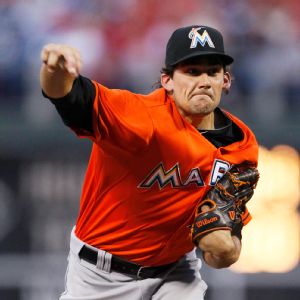 AP Photo/Tom MihalekNathan Eovaldi is just 24 and picking up even more velocity as he develops into an ace.
"I've been able to locate the fastball a lot better this year. I've had more control of it, and my other pitches work off of it," Eovaldi said. "That's been a big key for me. I've been working with [pitching coach] Chuck [Hernandez] a lot, working on the slider more and then using the curveball and the changeup a bit more.
"With the changeup, it's a good weapon to throw to the lefties, but more so the curveball, throwing it for strikes, not just at the beginning of counts and not just as a chase pitch. The curveball for me is a lot slower than everything else for me. Even my changeup is hard, but the curve's a lot slower and it changes batters' eye levels too, and then I can locate my fastball or slider off of that. If I can get a curveball inside on a guy and put them down 0-1, that sets me up to do more with my fastball."
That increasing breadth of weapons with which to attack batters has generated 10 quality starts in 13 turns for Eovaldi, tied for the fourth-best tally in the league with more famous hurlers like
Stephen Strasburg
,
Adam Wainwright
and
Jeff Samardzija
.
And it isn't like the rest of the Fernandez-free rotation is chopped liver. "We all feed off each other. That's the good thing about pitching. If somebody throws seven, eight, nine innings, everybody else feeds off that and makes everyone else better," Eovaldi said. "We haven't had many games when we're out of the game when the starter comes out of the game. If we can keep that up, great."
Tom Koehler
might have once been characterized as an organizational arm, but he throws 94 mph and has put up eight quality starts in 12 turns this year.
Jacob Turner
, the ninth overall selection of the 2009 draft, may seem like he's been around a while because he cracked the majors in 2011 with the Tigers, but he's still just 23 years old and perhaps only beginning to tap into the big sinker that might be his meal ticket. And there's
Randy Wolf
, the veteran southpaw tabbed to fill in for Fernandez as the fifth starter.
Even if having to turn to Wolf to replace Fernandez was an unwanted challenge, Redmond sees a silver lining: "I think it's important to have veteran guys, not just the position players we have but pitchers as well, to teach our guys. We are so young in our rotation; we needed a guy like that to help teach them."
Said McGehee: "Randy's a guy you love to play behind when he's on the mound. He's going to throw strikes; he's going to generate contact. He's very analytical. Just in the little time he's been here, he's had an impact on the younger guys."
What will the future hold? McGehee was willing to make a comparison to his time with the NL Central-winning Brewers of 2011 and the impact of adding an ace to put in front of
Yovani Gallardo
.
"The thing with that, as soon as we traded for
Zack Greinke
, all the pressure was off Yovani, the pressure was off Randy Wolf. We automatically knew how good we were," McGehee said. "I think the day Jose [Fernandez] comes back, it'll be like making the biggest trade you can make but without having to give anybody up. By that time, these guys will all have taken a step forward."
"It's unfortunate that we've lost Jose, but he'll be back next year," adds Eovaldi with the ready and understandable confidence of youth.
In the meantime, the Marlins may make some more noise without him while being as entertaining a team to watch as any you might ask for. In today's parity party, the Fish are tied for a wild-card slot. There's no reason to count them out, even down an ace. They may no longer have three of a kind, but in Alvarez and Eovaldi, it looks like they may still have a pair of aces.
Christina Kahrl writes about MLB for ESPN. You can follow her on Twitter.
May, 3, 2014
May 3
1:48
AM ET
By
Chad Dotson
| ESPN.com
Lots of storylines around the majors on Friday night, as you would expect. With all due respect to
Starling Marte
(walk-off homer against Toronto) and rookie
Jose Abreu
(11th homer of the season equals the total of the
Kansas City Royals
), however, the five most noteworthy performances of the evening occurred on the pitching mound.
1.
Ubaldo Jimenez
was nothing short of brutal in five April starts, but the big right-hander
finally picked up his first win
with the Orioles. He did so in dominating fashion, twirling 7 1/3 scoreless innings, while allowing just three hits and one walk in a 3-0 shutout of Minnesota.
More encouraging for Baltimore fans: Jimenez struck out 10 Twins. Before Friday night, he had been walking too many batters (17 in 27 1/3 innings), and the drop in fastball velocity (1.6 mph below last year's fastball) continues to be worrisome, but the Orioles need an effective Jimenez if they want to stay atop the American League East.
2.
Wily Peralta
did it all himself in Cincinnati. Not only did the Brewers' right-hander pitch eight shutout innings, but Peralta also
doubled in both of Milwaukee's runs
in a 2-0 win. Those RBIs were the first of Peralta's career.
Milwaukee boasts the best record in baseball at 21-9; its 12-3 mark away from Miller Park is also the best in the league. We are just two days into May, and the Brew Crew has already opened up a six-game lead in the NL Central (9.5 over the last-place Cubs and Pirates).
[+] Enlarge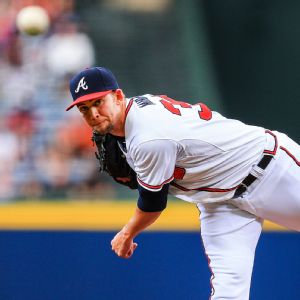 Daniel Shirey/USA TODAY SportsBraves lefty Mike Minor took the loss in his season debut Friday night despite pitching well over six innings.
3.
Much ink has been spilled about the early brilliance of Atlanta's pitching, but you have to think that
Mike Minor
's return to the Braves couldn't have come at a better time.
Minor was effective over six innings
, permitting two runs on seven hits while striking out four (both San Francisco runs scored on solo homers). Of course, that performance wasn't enough to out-duel
Tim Lincecum
, as the Giants won 2-1.
Minor has been Atlanta's best pitcher since the 2012 All-Star break (87 1/3 IP, 2.16 ERA in the second half of 2012; 13-9, 3.21 ERA in 200+ innings last year). With the clock (possibly) striking midnight on
Aaron Harang
, and the club now mired in a four-game losing skid, Minor's return to the top of the Atlanta rotation is welcome indeed.
4.
Tom Koehler
entered the season as Miami's fifth starter after going 5-10 with a 4.41 ERA as a rookie last year. On Friday, Koehler pitched seven scoreless innings,
holding the Dodgers to three hits
in a 6-3 Marlins victory. The win was Miami's seventh in a row at home; its 13-4 home record is the best in baseball. Also, don't look now, but the win permitted the Marlins to climb above .500 for the first time since April 9.
Koehler is 3-2 with a 2.41 ERA on the season, but he seems like a good bet to return to Earth any time now. He has issued free passes to almost four batters per nine innings, and that 24/16 strikeout-to-walk ratio does not inspire confidence that he can continue to outperform his peripherals (4.41 FIP, for example).
5.
We would be remiss if we didn't mention
the best pitching matchup
of the night:
Cliff Lee
vs.
Stephen Strasburg
. Strasburg pitched six strong innings, giving up three unearned runs in the first before settling down; he was lifted by manager
Matt Williams
after only 83 pitches. Lee had a typical Cliff Lee performance, allowing one earned run over seven innings. Things got a little testy in the fifth, when Lee got into a bit of a shouting match with Washington's
Denard Span
, after which each player's posse emerged from his respective dugout to mill around on the field before order was restored.
Finally, we didn't really need more proof that you can't predict baseball, but Lee and Strasburg provided it. Lee had issued four walks in his first six starts. He hadn't walked a pitcher in three years. So what happened tonight? Yep, Lee walked Strasburg on four straight pitches.
You gotta love baseball.
Chad Dotson writes for Redleg Nation on the SweetSpot Blog Network.