April, 4, 2013
Apr 4
12:20
PM ET
Baseball teams don't have the same home-field advantage as, say, NBA teams, but it's still an important element of the game. Last season, 26 of the 30 teams had a better record at home, although a big home-field advantage isn't necessarily a path to the playoffs. The Astros, Cubs and Brewers each won 15 more games at home than on the road but finished a combined 199-287. The Tigers and Cardinals had the biggest home-field advantages among playoff teams, both going 50-31 at home and 38-43 on the road.
With the season under way, here's a look at some players for whom home-field advantage is an important thing to consider when evaluating how they may fare.
Tom Milone, P, A's.
The soft-tossing lefty made his first start on Wednesday and showed again that he loves pitching at home. He allowed two home runs to Seattle in the first inning but settled down after that, throwing six scoreless frames and allowing just four total hits over his seven innings. Milone is a fly ball pitcher, which plays well with Oakland's big dimensions, but his splits were so extreme last year (2.74 ERA, 6 HR at home, 4.83 ERA, 18 HR on the road), that manager Bob Melvin should consider skipping him on the road whenever possible.
Jason Vargas, P, Angels.
Staying in the AL West, Vargas moves over from Seattle, where he loved Safeco Field. He gave up 35 home runs last year despite pitching in a park that kills fly balls, especially to left-center. In his four years with Seattle, he allowed 34 home runs at Safeco but 57 on the road. Last year, his ERA was two runs higher on the road, where he allowed 26 of those 35 homers. Anaheim is still a pretty good park for fly ball pitchers (see
Jered Weaver
), but it will be interesting to see whether Vargas keep his home-field dominance intact.
[+] Enlarge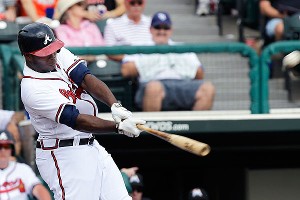 AP Photo/David J. PhillipWill Justin Upton hit with Atlanta like he did with Arizona?
Justin Upton, LF, Braves.
Upton moves from one of the best hitting parks in baseball in Arizona to a more neutral environment. In general terms, every player performs a little better at home, but Upton's splits were pretty extreme with the D-backs. He hit .307/.389/.548 at Chase Field -- superstar numbers -- but a pedestrian .250/.325/406 on the road. So far so good: He's homered in his first two games at home,
including smashing a low Roy Halladay fastball
to right-center on Wednesday night.
Mike Napoli and Jonny Gomes, Red Sox.
One reason the Red Sox signed the two right-handed sluggers is their potential ability to take advantage of the Green Monster. Both have big raw power but can also pull the ball to left field. Over the past three years, 49 of Napoli's 80 home runs have gone to left or left-center. But what makes him even more intriguing is that he's hit 18 to the "far right" -- meaning in the direction of the Pesky Pole. Fenway is a tough home run park to right-center, but very short down that right-field line. Napoli is that rare hitter who may take advantage of the Monster
and
the Pesky Pole. Gomes, meanwhile, is a dead-pull hitter. Over the past three years, 48 of his 50 homers went left or left-center.
Carlos Gonzalez, LF, Rockies.
Is Gonzalez a star hitter or just a guy who takes advantage of Coors Field? Over the past three years he's at .361/.421/.651 at home (55 HRs) and .263/.315/.440 on the road (29 HRs). I'd like to see better production on the road before I declare him the great player many believe he is.
James Shields, P, Royals.
Shields has pitched 200-plus innings the past six seasons and the Royals hope their new ace makes it seven. But he leaves Tampa, a pitcher's park, for Kansas City, a neutral hitting environment. During his tenure with the Rays, Shields had a 3.34 ERA at lovely Tropicana Field, 4.51 on the road. Last year, it wasn't quite as extreme, 3.25 and 3.83, but I think Shields will be hard-pressed putting up the same numbers he did with Tampa (although moving to the AL Central could help in that regard since he won't have to face the Yankees and Red Sox eight times a year or so).
Nick Swisher, OF-1B, Indians.
Swisher averaged 26 home runs per season during his four years with the Yankees, but it was
not
because the switch-hitter took advantage of the short porch in right at Yankee Stadium. Fifty-nine of his 104 home runs in pinstripes came on the road, so I see no reason Swisher shouldn't hit around 25 home runs for Cleveland.

Josh Hamilton, RF, Angels.
Hamilton, of course, moves from one of the best hitter's parks in baseball in Arlington -- probably second only to Coors Field -- to Angel Stadium. Despite the initial inclination that the move may hurt Hamilton, Michael Veneziano of ESPN Stats & Info argued in December
that he may not be affected
. Michael looked at all of Hamilton's home runs from last season and figured that only one would not have gone out at Angel Stadium. In other words, when Hamilton hits them, he hits them a long way.
Zack Greinke, P, Dodgers.
The other big free-agent signing of the offseason should enjoy his new home park. Dodger Stadium remains an excellent park for pitchers and Greinke has spent most of the past two seasons in Milwaukee, where the balls fly. Despite that, he pitched very well at home (2.98 ERA last season, which includes his time with the Angels, versus 3.98 on the road). If that home-field advantage carries over to Dodger Stadium, Greinke could be poised for the big season his contract suggests.
All Mariners hitters!
The Mariners are moving in the fences -- primarily in left-center -- so after years of cool Pacific Northwest air swatting down fly balls and line drives, will Seattle hit better at home? This was a team that actually scored more runs on the road a year ago than the Rangers. We don't know the effect this will have on the Mariners' hitters (or how it will hurt
Felix Hernandez
and friends on the mound), but I suspect we'll see a few more runs scored this year at Safeco and the hitters will enjoy a little home cooking for a change.
February, 8, 2013
Feb 8
8:00
AM ET
2012 in review
Record: 94-68 (92-70 Pythagorean)
713 runs scored (8th in American League)
614 runs allowed (2nd in AL)
Big Offseason Moves
Traded
Cliff Pennington
and Yordy Cabrera to Arizona for
Chris Young
. Re-signed free agent
Bartolo Colon
. Signed Japanese shortstop
Hiroyuki Nakajima
. Acquired
John Jaso
in three-way deal that sent A.J. Cole to Washington. Traded
Chris Carter
,
Brad Peacock
and Max Stassi to Houston for
Jed Lowrie
and
Fernando Rodriguez
. Lost free agents
Brandon McCarthy
,
Stephen Drew
and
Jonny Gomes
.
More than anything, Billy Beane improved Oakland's athleticism and versatility. He lost two designated-hitter types in Carter and Gomes, but acquired an elite defensive center fielder in Young and picked up two infielders to go along with the return of
Scott Sizemore
(the team's best hitter in 2011 who missed all of 2012). Nakajima was a star player in Japan and since Lowrie's range at short is limited, the A's are counting on Nakajima to live up to his defensive reputation. The loss of McCarthy will hurt, but re-signing Colon helps maintain their rotation depth. For the tight-budgeted A's, a solid offseason that gives manager Bob Melvin multiple options around the diamond.
Position Players
As you can see from the projected lineup, there is a lot of unsettled aspect to Oakland's starting nine, but in a good way. Melvin will be able to mix and match and the depth gives the A's injury insurance.
But how
good
is the lineup? The A's set an all-time strikeout record last season and hit just .238. They did hit better with runners in scoring position -- .265 -- which is one reason they ranked eighth in runs despite finishing 12th in on-base percentage and ninth in slugging percentage. Three reasons to like Oakland's chances to score more runs this year, however: The second basemen hit .228 with five home runs; the third basemen had a .280 OBP, lowest in the AL; and the shortstops had a .272 OBP, again lowest in the AL.
And a fourth reason:
Yoenis Cespedes
surprised everyone by hitting .292/.356/.505. Very nice numbers. Those could be big numbers this year.
Pitching Staff
Either you believe in Oakland's young starters or you don't. I'm a believer. Remember that the best of the group might be
Brett Anderson
, and he made just seven starts in 2012 after returning from Tommy John surgery.
Jarrod Parker
,
Tom Milone
and
A.J. Griffin
enter their second seasons with playoff experience under their belts and Colon returns after his suspension for using performance-enhancing drugs.
Dan Straily
and
Travis Blackley
provide depth.
If we're going to nitpick, it's that it's not a big strikeout rotation. The A's ranked 10th in the AL strikeout rate among starting pitchers at 16.6 percent -- more than 5 percent less than Tampa Bay's 21.9 mark. But guess which staff tied for the lowest walk rate? The A's won't beat themselves and they pitch to their big home ballpark -- where Young,
Coco Crisp
and
Josh Reddick
have the speed to run down a lot of flyballs.
If you watched the A's down the stretch, you saw the hard-throwing trio of
Grant Balfour
,
Ryan Cook
and
Sean Doolittle
dominate the late innings. Those three combined for a 2.49 ERA over 195 innings; not bad for a minor free-agent signing, a throw-in in the
Trevor Cahill
trade and a guy playing first base in the minors in 2011. All told, opponents hit .206 off the Oakland pen, second-lowest in the league to the Rays' .205 mark. There's depth behind those three guys as well.
Good rotation. Good pen. Some will predict regression from this group, but I expect another solid season in which the A's once again rank among the AL leaders in fewest runs allowed.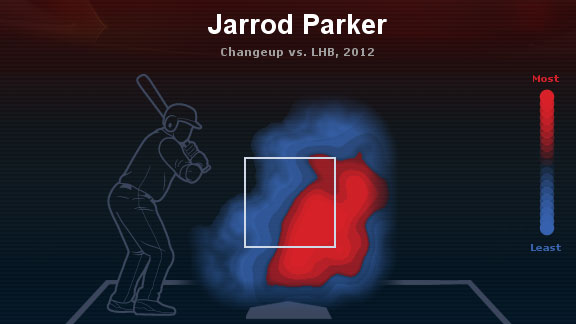 ESPN Stats & InformationJarrod Parker's 3.8 WAR ranked 10th among AL pitchers in 2012.
Heat Map to Watch
Beane acquired Parker from the Diamondbacks and the rookie right-hander showed why he was highly rated coming up through the Arizona system. His changeup made many left-handed hitters look foolish at the plate -- in 140 plate appearances ending with that pitch, they hit .163/.216/.194, with just three extra-base hits (two doubles, one triple). It's one of the best pitches in the game and the reason I expect Parker to have another solid season.
Overall Grade

Many won't believe in the A's simply because they were such a big surprise a year ago. But I'm trying to find reasons to expect a decline and am having trouble identifying them. OK, the offense was sort of one-dimensional last season; but the A's basically received nothing from three positions and they have likely upgrades at all three spots. I didn't even mention Jaso above; if he hits like he did with Seattle, he's another plus at the plate (though the Mariners clearly didn't like his defense behind the plate).
OK, maybe you don't believe in Reddick and Cespedes and
Brandon Moss
. I do. I think they return to the playoffs.
October, 7, 2012
10/07/12
4:45
PM ET
The last few innings won't exactly go down as textbook October baseball, but the
Detroit Tigers
will happily take the
5-4 walk-off win
over the A's, the 2-0 series lead and the plane ride to Oakland knowing they need to win only one of three games.
It was a game in which some of Detroit's little guys stepped up:
Omar Infante
had two key hits,
Don Kelly
delivered the winning sacrifice fly and backup shortstop
Danny Worth
made a nice play in the ninth.
In the end, the A's have nobody to blame but themselves.
Tommy Milone
, after looking like he wouldn't last past the third inning early on, settled down and allowed just one run over six innings. When the A's took a 2-1 lead in the seventh off
Doug Fister
, Bob Melvin had the game exactly where he wanted: The chance to hand the ball to his final three relievers with a lead.
Sean Doolittle
,
Ryan Cook
and
Grant Balfour
had been dominant down the stretch for the A's when they surged to win the division title. Check out their numbers:
Doolittle since Sept. 7: 15 IP, 8 H, 3 BB, 13 SO, 1.80 ERA, .154 AVG
Cook since Sept. 7: 15 IP, 8 H, 1 BB, 16 SO, 0.00 ERA, .154 AVG
Balfour since Sept. 14: 11 IP, 3 H, 1 BB, 14 SO, 0.00 ERA, .086 AVG
It's worth noting that Melvin pushed all three hard in the final week -- Cook and Balfour each appeared in the final five games and Doolittle the final four. None had appeared in more than three consecutive games all season prior to that. The A's had three days off since clinching and all three had excellent velocity, but you do wonder how much they have left in the tanks.
The key play came with Doolittle pitching in the seventh. After
Austin Jackson
and Infante singled,
Miguel Cabrera
hit a fly ball to somewhat shallow center field.
Coco Crisp
, playing in Saginaw, got a late jump and then tried to Willie Mays it, but dropped it, and two runs scored on the error. It wasn't that difficult of a play, even from where Crisp started. You can't make errors like that and win postseason games.
But the A's actually took the lead in the eighth when
Yoenis Cespedes
created a run all by himself, singling, stealing second and third and scoring on a wild pitch. When
Josh Reddick
then lofted a 3-2 changeup from
Joaquin Benoit
over the right-field fence to make it 4-3 (batters had previously hit .174 off Benoit's changeup, with 47 strikeouts and three walks), the A's once again looked good.
But in the bottom half,
Delmon Young
and
Jhonny Peralta
singled off Cook and
Andy Dirks
laid down a perfect sacrifice bunt. Pinch-hitter
Quintin Berry
struck out, but Cook then threw a pitch in the dirt, catcher
George Kottaras
made an unsuccessful backhand stab and pinch-runner Kelly scored the tying run.
In the ninth,
Al Alburquerque
relieved
Phil Coke
with two runners on and got Cespedes on a bouncer back to the mound to end the threat. Balfour, the hyper Australian, came on in the bottom of the ninth having retired the previous 26 batters he faced. But Infante singled to right with one out, Cabrera dumped a flare into center to send Infante to third, and after
Prince Fielder
was intentionally walked, Kelly lofted an 0-1 pitch to right, easily scoring the winner.
Despite the back-and-forth nature of the game, there weren't too many managerial moves to question. I'm not a fan of loading the bases since it forces the pitcher to throw strikes, but you can't argue with putting on a hitter such as Fielder to pitch to Kelly. Fielder did ground into 17 double plays, but Balfour is a fly-ball pitcher and Kelly was hitting .186 (although his strikeout rate of 17 percent isn't terrible). All things considered, you're much more likely to get a strikeout there than a double play with Fielder.
I did think Melvin missed a chance to get power-hitting
Chris Carter
in the game when Leyland brought in Coke to start the ninth to face Kottaras. Melvin instead pinch-hit his other catcher,
Derek Norris
, who struck out.
Melvin also chose not to sacrifice bunt with
Stephen Drew
in the third inning after the first two batters reached. I didn't have a problem with that. Even though the score was 0-0 at the time, Milone had been shaky, escaping a bases-loaded jam in the second, so Melvin was correct in thinking he should go for a big inning instead of one run. Drew struck out and the A's scored just one run, as the Tigers ended the threat when rookie
Avisail Garcia
gunned down Crisp at home plate with a perfect throw from right field.
So it's a huge win for the Tigers and a frustrating loss for the A's. The one clear advantage Oakland had going into the series was the bullpen, and now the 'pen has a mark on the wrong side of the ledger. The A's do head home, where they've won eight of nine, but even if they pull out the next two games, you know who is staring down at them for a possible Game 5:
Justin Verlander
.
July, 22, 2012
7/22/12
10:49
PM ET
We know everything about baseball these days. We can tell you that
Mike Trout
leads the majors in batting average on low pitches. We can tell you which starting pitcher throws his fastball with the most velocity on average (
Stephen Strasburg
) or most often (
Bartolo Colon
) or the vertical break
Justin Verlander
gets on his curveball (a lot).
On the other hand ... we don't know anything.
How else do you explain the
Oakland Athletics
? Nobody expected the A's to be any good this season. Many expected them to lose 100 games. I heard one national radio analyst declare that the A's could lose 120 games. I'm not sure the A's believed in the A's, not after trading
Gio Gonzalez
and
Trevor Cahill
in the offseason in yet another rebuilding plan. Dan Szymborski's ZiPS model was a little more optimistic,
projecting in March
that Oakland would win 70 games.
But here are the A's at 51-44 after an exciting four-game sweep of the
New York Yankees
: Four one-run victories, two in walk-off fashion, including Sunday's
5-4, 12-inning thriller
during which
Seth Smith
tied the game with a home run in the bottom of the ninth and
Coco Crisp
's two-out flare scored
Derek Norris
with the winning run. It may have been the most electrifying four games any team has played this season. Just like that, the A's are playoff contenders, tied with the Orioles for the second wild card and just a half-game behind wild-card leader Los Angeles.
Yes, maybe our knowledge tells us the A's are still last in the American League in runs scored and last with a .228 batting average. Maybe our knowledge tells us they're too young, too inexperienced, too lucky with those five straight one-run wins and a major league-leading 11 walk-off wins.
But why not the A's? They've allowed the fewest runs in the AL -- 38 runs fewer than any other club. Too young? Can't hit? I'm sure in late July of 1969 skeptics said the same thing about the
New York Mets
. I'm sure in July of 1991 many believed the
Atlanta Braves
, who had finished in last place the previous three seasons, were too inexperienced and just riding a wave. In 2008, we waited for the
Tampa Bay Rays
to fall apart.
Sometimes, as we apply our knowledge, we too easily ignore the emotion of the sport, strip it down to numbers, statistics and probability.
Probability.
That's not the same thing as certainty. A's general manager Billy Beane undoubtedly can see this weekend's results and think back to his 2002 club that won 20 games in a row. What was the probability of that, even from a team far superior to this one?
But as A's outfielder Smith said after Sunday's dramatic comeback and win, "I don't think there was anybody in the dugout or in the stands who didn't think we were going to win."
Believe.
Heck, even the numbers weren't complete disbelievers in the A's -- ZiPS gave Oakland a 1.8 percent chance of making the playoffs. That's larger than zero.
How did the A's get here? Five key reasons:
1. Josh Reddick
He's been one of the best players in the AL, ranking
third among AL position players in Baseball-Reference WAR
behind Trout and
Robinson Cano
, at 4.1 wins above replacement. Reddick is hitting .271/.349/.529 with 21 home runs and 19 doubles, great numbers considering Oakland is a tough place to hit.
2. Yoenis Cespedes
When Beane gambled and signed Cespedes to a four-year, $36 million contract, even the most optimistic of observers thought it would take him a year to adapt to major league pitching. Instead, he's providing a big presence in the middle of the Oakland order, and despite going 0-for-5 on Sunday is hitting .299/.358/.530. Led by Reddick and Cespedes, the A's ranked third in the AL in home runs in June and rank third in July. Yes, the offense was terrible in April (.211) and May (.210), but it's been respectable of late. (Buster Olney
wrote more about Cespedes
on Sunday.)
3. Young starters
The A's lead the AL with a 3.69 rotation ERA. Yes, their home park helps, and skeptics will point to a low strikeout rate (5.93 K's per nine innings) as a possible indicator this rotation will eventually implode. However, maybe that's misreading the stats a bit. Colon has walked 19 in 19 starts; rookie lefty
Tommy Milone
has walked 26 in 19 starts;
Travis Blackley
has walked 10 in his eight starts; ace
Brandon McCarthy
, out since June with a bad shoulder but scheduled to throw this week at the club's spring training facility, walked 19 in 12 starts. This isn't a staff that beats itself. That roll call doesn't include Oakland's most impressive starter, rookie
Jarrod Parker
, the key acquisition in the Cahill trade, who is 7-4 with a 3.00 ERA in 16 starts. He's the one Oakland starter whose stuff grades out as top-of-the-line and he's held opponents to a .223 average.
4. Ryan Cook and Grant Balfour
The rookie All-Star Cook allowed his first two home runs of the season during the four games against the Yankees, but he and Balfour give the A's two nasty right-handers at the back of the 'pen. Opponents are hitting .115 off Cook and .185 off Balfour. But this 'pen has depth: Former position player
Sean Doolittle
has a 29-4 SO-BB ratio since his recall,
Jerry Blevins
is a solid lefty who can be stretched out against righties (he pitched two innings to get the win on Sunday) and
Jordan Norberto
and
Jim Miller
provide decent quality.
5. Intangibles
Yes, let's put it out there. Emotion, energy, the thrill of the unexpected. It means something. Maybe we can't quantify it. Maybe there isn't a number we can point to that analyzes it. But the something is there with this club right now.
"It definitely feels good to battle and be victorious against the best teams, on paper, in the game,"
Crisp told MLB.com after the game
. "You can look up and down a lot of lineups like Detroit, or the Angels, the teams with high payrolls. Obviously they have high payrolls for a reason, because the players on the team deserve it. When we battle against those guys and come out with wins, it's definitely a great feeling."
The A's are riding a big wave right now. Maybe the team with baseball's lowest payroll can ride it further than anyone imagined.
PHOTO OF THE DAY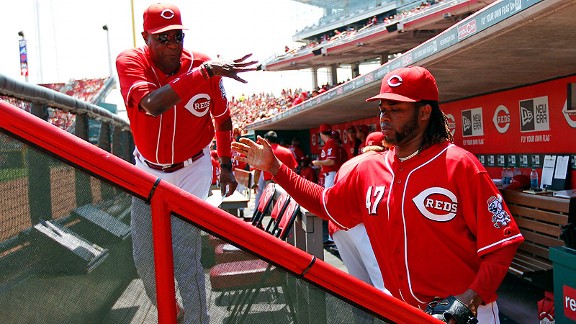 Frank Victores/US PresswireDusty Baker likes what he's seeing from his Cy Young aspirant, Johnny Cueto.
July, 20, 2012
7/20/12
10:00
AM ET
In three of the six divisions, the first- and second-place teams will be meeting this weekend, and while we shouldn't expect the top spot to change in any of them anytime soon, calling cards can be sent. Frankly, it's hardly an indictment to qualify for the playoffs as merely a wild-card entry, although the new rules make the overall October ride a bit tougher now. Still, would it surprise anyone if the
Texas Rangers
take the American League West but the Mike Trouts -- sorry, the
Los Angeles Angels
-- end up representing the AL? Anyway, here's what to watch this weekend.


1. Rangers-Angels highlights the weekend, but both those teams likely will be playing meaningful October baseball. The
Chicago White Sox
, meanwhile, head to Detroit to challenge the team almost everyone seemed to think was a postseason lock. Well, the Tigers currently are looking
up
at the White Sox, although it's hardly an insurmountable deficit. Chicago will need to deal with
Justin Verlander
, arguably baseball's top pitcher, on Friday night. Verlander hasn't faced the ChiSox this season, but since 2009, he's 10-1 with a 2.33 ERA in 11 starts against them. The White Sox likely will fare better against
Rick Porcello
and rookie
Jacob Turner
the rest of the weekend. Porcello relies on defense, which is a poor plan with what takes the field behind him, while Turner was obliterated for seven runs, including three home runs, in two innings against the Trouts earlier this week. To say the Tigers are interested in rotation upgrades through trade would be an understatement.


2. The top teams in the National League East face off for a four-game weekend set in Washington (day-night doubleheader Saturday!), with the Braves having to face
innings eater
Stephen Strasburg
on Friday. Then the road gets easier. Honestly, people, can we have one conversation about the awesome Nationals and their star right-hander without mentioning the possible 160-innings limit? It's coming, so deal with it. This team still can win the division and the World Series without him. Anyway, Washington is 20-12 against NL East teams, and that includes a 6-2 mark against the Braves. After Strasburg, the Nationals send
Edwin Jackson
, former "ace"
John Lannan
(for his first big league start of the year) and
Ross Detwiler
to the mound, as the Braves avoid
Jordan Zimmermann
and
Gio Gonzalez
, the team's likely 1-2 starters for a postseason series. Sounds like a pending split to me.


3. The first-place Giants boast one of baseball's top records against left-handed pitching (19-9), but the
Philadelphia Phillies
will be sending only one (
Cole Hamels
) to the mound this weekend. Against right-handers, the Giants are merely 32-32. Well, that's probably all
Joe Blanton
needs to boost his confidence, right? Anyway, any Giants story has to mention the once-great
Tim Lincecum
, Friday's starter. Timmy looked aces in his previous outing, fanning 11
Houston Astros
over eight shutout innings, but it's worth noting his home ERA is 3.43, while his road mark is an even 9.00 (over 10 starts). This game is on the road. Lincecum has dominated Philly the past three regular seasons (1.22 ERA in five starts from 2009 to '11, 41 strikeouts, 8 walks) but this hasn't been the same pitcher. It's an interesting matchup against Philly's now-whole lineup.
Three more ERAs to watch:
1.73 ERA:
Combined home ERA for
Tommy Milone
and
Jarrod Parker
, the Athletics hurlers who face the
New York Yankees
at home Friday and Saturday.
1.29 ERA:
Combined overall ERA for
Milwaukee Brewers
right-hander
Michael Fiers
and
Cincinnati Reds
right-hander
Johnny Cueto
since June 12. They're scheduled to face off Sunday.
8.66 ERA:
That's Dan Haren's work over his past five starts, although they likely were complicated by back woes. The Angels right-hander is scheduled to come off the DL for ESPN's "Sunday Night Baseball" to face the Rangers.
Have a great weekend, everyone!
April, 25, 2012
4/25/12
8:00
AM ET
First base: Mr Enigmatic.
Is
Max Scherzer
a good pitcher? A mediocre pitcher? A potentially great pitcher? Last October, in Game 2 of the American League Division Series, we saw how good Scherzer can be when he pitched six scoreless innings, using an explosive, moving fastball to throttle the Yankees. And there he was two starts later in the American League Championship Series against the Rangers, getting knocked out in the third inning. One reason so many people predicted the Tigers to run away with the AL Central is they penciled in improvement for Scherzer and
Rick Porcello
. I wasn't quite so sure; both have maddeningly inconsistent in their young careers and it's been mostly bad Scherzer in 2012. The punchless Mariners roughed him up Tuesday for
10 hits and five runs in five innings
, bumping his ERA to 8.24. Frankly, I can't figure him out. He has a nice 23/6 strikeout-to-walk but has allowed 30 hits in 19.2 innings. Unlucky on balls in play? Sure, probably. Mix in a little
Miggy Cabrera
,
Prince Fielder
and
Jhonny Peralta
as well. But it was similar last season, when he posted a 4.43 ERA: Good ratios, but too many hits and too many home runs (29). Coming on the heels of Porcello's one-inning stinker, the Detroit rotation after
Justin Verlander
remains a work in progress.
Second base: Narveson out for season.
Tough day for pitchers, as
Michael Pineda
will get another opinion on his shoulder and
Mike Pelfrey
went on the disabled list with elbow inflammation and possibly worse. Brewers starter
Chris Narveson
, however, is done for the season after it was announced he'll undergo rotator cuff surgery. Narveson was a solid fifth last season, but
Marco Estrada
is a nice replacement -- maybe even a step up. A fastball/curve/changeup guy, the Nationals originally drafted Estrada but never quite believed in him since his fastball is 90-91, and the Brewers picked him up on waivers in 2010. He pitched well last season, including a 3.70 ERA in seven spot starts, and threw well last week with five innings of one-run ball, with nine strikeouts and no walks against the Rockies. He isn't flashy, but he throws strikes and should be solid. We talk a lot about the need for rotation depth. Estrada will end up being a key to the Brewers' season.
Third base: CarGo-es deep.
The Rockies
lost 5-4
to the Pirates as the bullpen blew a lead in the eighth inning but the good news was
Carlos Gonzalez
finally hit his first two home runs, improving his triple-slash line to .278/.328/.500 (he raised his average 38 points and his slugging percentage 140 points in one night). Nice, but the Rockies will need more ... like 2010 more, when Gonzalez led the National League with a .336 average, slugged .598 and finished third in the MVP vote. That season was built on a .384 average on balls in play, third-best in the majors. His BABIP returned to more normal levels last season and his numbers fell. Gonzalez did start out slow last April (.228, one homer) before heating up in May and June, only to come down with a wrist injury in July that he aggravated again in September. Hopefully this is a sign the wrist is completely healthy and he'll start heating up.
Tweet of the night.
A's rookie lefty
Tom Milone
improved to 3-1 with a 2.00 ERA with eight shutout innings against the White Sox.
His tweeting is boring as all get out but @tommymilone_57 is one hell of a pitcher. Outstanding.

— Brandon McCarthy (@BMcCarthy32) April 25, 2012