July, 10, 2013
7/10/13
11:00
AM ET
When the New York Mets traded Tom Seaver to the Reds on June 15, 1977, Mets fans were so upset they tried to organize a boycott of home games until Seaver would return to Shea Stadium with the Reds in August.
The boycott never materialized, but the fans had a right to be upset. The four young players the Mets received for Seaver -- Steve Henderson, Pat Zachry, Doug Flynn and Dan Norman -- never developed into anything more than minor contributors and the Mets would average 97 losses in nonstrike seasons from 1977 to 1983.
The Seaver deal remains one of the most shocking deadline deals in baseball history. Even though everyone knew Seaver was at odds with Mets management over a new contract and the state of the team, nobody really expected the Mets to trade their franchise icon. That's what makes the trade deadline so exciting -- even if a big name is central to trade rumors, we don't know
where
the player will land.
The trade deadline was later moved from June 15 to July 31 in 1986, resulting in more deadline trades than occurred with the earlier date. Here are the five biggest blockbusters to happen in July -- not necessarily the
best
trades, but the ones with the biggest names in deals that sent shock waves through baseball land.
5. July 31, 1997: A's trade Mark McGwire to the Cardinals for Eric Ludwick, T.J. Mathews and Blake Stein.
Why the trade:
The A's were floundering in the post-Bash Brothers era, Tony La Russa was already in St. Louis and McGwire was an impending free agent. The A's needed to rebuild and everyone knew they were shopping McGwire, but would they have the guts to trade him in a season in which he had a chance to break Roger Maris' home run record? Yes, they would. The surprising part was the destination: The Cardinals were 51-56 at the time of the trade, 7½ games out of first place and even further behind in the wild-card standings.
Quote:
"What I hope is the fans understand we're trying to rebuild this team to a contending level and that sometimes calls for hard decisions." -- A's general manager Sandy Alderson
What happened:
McGwire had 34 home runs for the A's but went on a tear with St. Louis, slamming 24 home runs in 51 games to finish with 58, three short of Maris' record. McGwire wouldn't test free agency but would instead sign a three-year deal with the Cards and break Maris' record the next year. The three pitchers the A's acquired never did much.
Similar player today:
Let's see: Franchise icon, one of the game's premier power hitters … maybe somebody like the Red Sox trading David Ortiz.
4. July 9, 2010: Mariners trade Cliff Lee and Mark Lowe to the Rangers for Justin Smoak, Blake Beavan, Josh Lueke and Matt Lawson.
Why the trade:
Lee had won the AL Cy Young Award with the Indians in 2008 and then dominated in the 2009 postseason with the Phillies, going 4-0 in five starts with a 1.56 ERA. The Phillies inexplicably traded him to the Mariners that winter, but the Mariners were awful and Lee's ability and postseason performance made him the hot commodity on the trade market. The Rangers were in first place on July 9, but hadn't made the playoffs since 1999 and needed an ace to lead the rotation. The Mariners were close to a deal with the Yankees for Jesus Montero -- reports said Yankees GM Brian Cashman had actually called Lee to say a deal was imminent -- before the Rangers relented and finally included rookie first baseman Smoak. Mariners GM Jack Zduriencik didn't seem concerned about trading within the division.
Quote:
"We had ongoing talks with several clubs. And at the end, when you're finished and you go another direction, before you consummate a deal, you always go back and tell the other club, 'Hey, look, this is the direction we're going, this is the decision we made.'" -- Zduriencik
What happened:
Lee went only 4-6 down the stretch with the Rangers, but Texas won the division easily. Lee really earned his keep in the postseason, beating Tampa Bay twice in the division series and beating the Yankees with eight shutout innings in the ALCS. He did lose both his World Series starts, but the Rangers at least got there for the first time in franchise history. The transformation of the Rangers into one of the big players in MLB was helped by that World Series appearance -- helped by a division rival. As for the Mariners … Smoak owns a .230 career average.
Similar player today:
Cliff Lee?
3. July 31, 2004: In a four-team trade, the Red Sox trade Nomar Garciaparra to the Cubs and acquire Orlando Cabrera from the Expos and Doug Mientkiewicz from the Twins.
Why the trade:
It's easy now to forget how popular Garciaparra was in Boston, winning batting titles in 1999 and 2000 and driving in 105 runs in 2003, when the Red Sox fell one game short of the World Series. But there were reports that Garciaparra was unhappy in Boston and the Red Sox had come close to an offseason deal that would have sent him to the Dodgers or White Sox and brought Alex Rodriguez to the Red Sox. General manager Theo Epstein was also interested in improving the team's defense, and Cabrera would be an upgrade there. Official news of the deal didn't come down until an hour after the deadline.
Quote:
"I think as far as Nomar goes, maybe it was good. Give him some time to clear his head. Sometimes starting over is not so bad. He's going to a great place to play, just like Boston. Now what we need to do is get our team headed in the right direction and I think we have a good chance to do that." -- Red Sox manager Terry Francona
What happened:
The Red Sox were 56-46 at the time of the trade, 8½ games behind the Yankees and a game out of the wild-card lead. They would go 42-18 after the trade and while they didn't catch the Yankees they would ride that momentum to a World Series crown. Cabrera hit .294, drove in 31 runs in 58 games and played excellent defense. The Cubs were 1½ games out of the wild card but would fall three games short of the playoffs. Garciaparra hit .297 with 20 RBIs in 43 games, missing some time with an injury (he'd never be completely healthy again).
Similar player today:
Popular player, injury risk, impending free agent … how about Chase Utley?
2. July 31, 2008: In a three-team deal, the Red Sox trade Manny Ramirez to the Dodgers and acquire Jason Bay from the Pirates.
Why the trade:
The Red Sox were in second place behind the Rays, a game ahead of the Yankees and Twins in the wild-card race, but had grown tired of Manny's act, which had included a fight with teammate Kevin Youkilis, a physical altercation with the team's traveling secretary and, most damaging, several instances in late July of not running out ground balls, perhaps in protest of his contract situation. The Dodgers were 54-53, but just one game behind the Diamondbacks in the NL West. The Red Sox and Marlins were in heated talks, but Boston couldn't pry Class A slugger Mike Stanton away from the Marlins. The Pirates were then brought in, sending two-time All-Star Bay to Boston and receiving prospects Brandon Moss, Craig Hansen, Andy LaRoche and Bryan Morris from the Dodgers and Red Sox in a deal consummated at "3:59 and seconds," according to Pirates GM Neal Huntington (in other words, just before the 4 p.m. ET deadline).
Quote:
"The Red Sox don't deserve a player like me. During my years here, I've seen how [the Red Sox] have mistreated other great players when they didn't want them to try to turn the fans against them. The Red Sox did the same with guys like Nomar Garciaparra and Pedro Martinez, and now they do the same with me. Their goal is to paint me as the bad guy. I love Boston fans, but the Red Sox don't deserve me. I'm not talking about money. Mental peace has no price, and I don't have peace here." -- Manny Ramirez, just before deadline day
What happened:
Hitting .299/.398/.529 with Boston, Ramirez heated up with the Dodgers, hitting .411 in August and .396/.489/.743 over his two months with the team, carrying the Dodgers to the NL West title and finishing fourth in the MVP vote despite playing just 53 games in the National League. He also got the Dodgers to drop two team options for 2009 and 2010 (although he would end up re-signing with the club). The Dodgers upset the Cubs in the division series but lost to the Phillies in the NLCS. Bay played well with the Red Sox, who lost Game 7 of the ALCS, and hit 36 home runs the following season. As for the Pirates … well, LaRoche was the big prospect but didn't pan out and only Morris still remains with the organization.
Similar player today:
Veteran slugger who had fallen from grace … sounds sort of like Alex Rodriguez, if A-Rod were healthy and hitting.
1. July 31, 1998: Mariners trade Randy Johnson to the Astros for Freddy Garcia, Carlos Guillen and John Halama.
Why the trade:
The Mariners had won the division title in 1997 but hadn't signed Johnson, an impending free agent who had made it clear he wasn't returning to Seattle. They first shopped him around in the offseason, reportedly
turning down a Mariano Rivera offer
from the Yankees because a "Mariner official also said there are concerns about Rivera's arm. There were suspicions the 27-year-old right-hander had shoulder trouble late in the season."
Anyway, the Astros were in first place but looking for another starter to complement Mike Hampton, Shane Reynolds and Jose Lima.
Quote:
"It's hard to believe, but there was very little interest in Randy Johnson." -- Mariners general manager Woody Woodward. Really, Woody?
What happened:
The trade was widely panned, especially in Seattle, where Ken Griffey Jr. said
"I was ordered not to say anything."
In Houston, manager Larry Dierker seemed critical, as well, suggesting the team was sacrificing the future for the present. Well, Johnson was dominant for the Astros, going 10-1 with a 1.28 ERA in 11 starts, but the Astros would lose in the division series to the Padres. Garcia would be better than advertised (the Mariners had wanted Scott Elarton) and he, Guillen and Halama would help the Mariners to the playoffs in 2000 and 2001.
Similar player today:
Imagine a taller Clayton Kershaw with longer hair and a harder fastball and meaner scowl. In other words, the best lefty in the game.
Honorable mention:
David Cone to the Yankees (1995); CC Sabathia to the Brewers (2008); Fred McGriff to the Braves (1993); Curt Schilling to the Diamondbacks (2000); Mark Teixeira to the Braves (2007); Scott Rolen to the Cardinals (2002).
June, 6, 2013
6/06/13
4:00
PM ET
1965: Reds draft Johnny Bench
Back in the first draft, it was still possible to dig up a relatively unknown kid from rural Oklahoma. Bench wasn't selected until the second round -- the 36th player overall -- and seven other catchers went ahead of him. Jim McLaughlin, the Reds' farm director in 1965, in Kevin Kerrane's classic book on scouting, "Dollar Sign on the Muscle":
A friend of mine with another club said, "You better send someone down to Binger, Oklahoma, to look at this kid Bench. We're not gonna draft him because the general manager's seen another he likes up in New England." ... They took that New England catcher on the first round, and the kid never got above Double A. And we took Bench on the second round. It was kind of a poker game. Nobody else knew much about him; his team hadn't played many games, and our scout was usually the only one there, so we could wait. After the draft Bill DeWitt, my boss, said, "I've never heard of him." I said, "I know you haven't, but you will. And that's why you hired me -- to hear about kids like this one."
Does McLaughlin's story check out? Sort of. There was no catcher from New England drafted in the first round, but the Orioles did take a catcher from Dartmouth in the second round -- one pick ahead of Bench. As to the claim that nobody else knew about Bench, at least
one
other team saw him: the Dodgers drafted a high school teammate of Bench's in the seventh round, but passed twice on selecting Bench.
1966: Reggie Jackson falls into A's lap
In one of the more famous draft blunders, the Mets' had the No. 1 pick and passed on Arizona State outfielder Jackson to select a high school catcher named Steve Chilcott, who would battle injuries and never reach the majors. "It was a position pick," said Joe McDonald, a Mets executive at the time. "We did not feel we had an adequate catching prospect in the organization."
1966: Braves draft Tom Seaver
The Braves? Yep. Atlanta selected Seaver in the now non-existent January secondary phase of the draft (for players who had previously been drafted). Seaver, pitching at USC, had been drafted the previous June by the Dodgers, but didn't sign after the Dodgers turned down his $70,000 asking price. The Braves took him with the 20th pick of the January phase, setting off a weird chain of events. The Braves signed Seaver for $40,000, but commissioner Spike Eckert ruled Seaver was ineligible to sign because USC had already played two exhibition games (Seaver didn't pitch). But the NCAA then declared Seaver ineligible, because he had signed a pro contract. So Eckert ruled that any team willing to match the Braves' offer would enter a lottery. The Mets, Phillies and Indians matched, and the Mets won the lottery.
1971: George Brett and Mike Schmidt drafted back-to-back
Pretty cool that arguably the two greatest third basemen in history were drafted the same year with consecutive picks. The catch: They went in the second round, Brett and then Schmidt. The Royals' first-round pick was a pitcher named Roy Branch, who briefly reached the majors but never won a game; the Phillies' pick was Roy Thomas, who had a marginal eight-year career as a reliever, although never pitched in the majors for the Phillies.
1976: Trammell and Morris ... and Ozzie (sort of)
In 1976, the Tigers had one of the great drafts ever, selecting Steve Kemp in the January phase and then Alan Trammell (second round), Dan Petry (fourth round), and Jack Morris (fifth round). Trammell and Morris aren't in the Hall of Fame yet, but both could get there someday. No team has ever drafted (and signed) two future Hall of Famers in the same draft. The kicker: They also drafted Ozzie Smith in the seventh round, but he didn't sign, and the Padres selected him the following year.
1987: Mariners draft Ken Griffey Jr.
The Mariners owned the first overall pick, and penurious Mariners owner George Argyros wanted the club to draft college pitcher Mike Harkey, because he would be easier to sign and presumably quicker to reach the majors. Scouting director Roger Jongewaard won out in the end. (Harkey went fourth overall, to the Cubs.)
1988: Dodgers draft Mike Piazza ... in 62nd round
Maybe the most famous late-round pick, Piazza was the Dodgers' final pick that year -- the 1,390th pick overall out of 1,395.
1990: Braves land Chipper Jones
Hard-throwing high school right-hander Todd Van Poppel was the consensus top talent in the 1990 draft -- "the best pitching prospect ever" label had been slapped on him -- but his declaration that he didn't want to sign and instead attend the University of Texas scared teams off him. So the Braves took Jones, which worked out pretty well for them.
2000: Cardinals draft Yadier Molina
The 2000 draft as one of the worst ever -- after top pick
Adrian Gonzalez
(by the Marlins), the rest of the top 15 were Adam Johnson, Luis Montanez, Mike Stodolka, Justin Wayne, Rocco Baldelli, Matt Harrington, Matt Wheatland, Mark Phillips, Joe Torres, Dave Krynzel, Joe Borchard, Shaun Boyd, Beau Hale and
Chase Utley
(OK, finally one that panned out). Keep that list in mind when you get excited about your team's first-round pick this year. The only other first-round of note that year was
Adam Wainwright
(by the Braves). He would eventually get traded to St. Louis, where he would team with a young catcher from Puerto Rico also drafted in 2000.
2009: Nationals draft Stephen Strasburg
The story here is how the Mariners kicked away the No. 1 overall selection. The Nationals headed into the final weekend with a record of 59-99, having gone 3-11 over their previous 14 games. The Mariners were 58-101 and had lost 14 of 15. This was tanking at its best. All the Mariners had to do was lose one game to lock up the first pick. One loss. Easy, right? Instead the Mariners sweep the A's. The Nationals lose all three.
Josh Outman
's throwing error sets up
Yuniesky Betancourt
's two-run go-ahead in triple in the fifth inning of the season finale. In other words, if Outman doesn't throw the ball away, Strasburg might be in a Mariners uniform instead of a Nationals one. (With the second pick, the Mariners selected
Dustin Ackley
.)
June, 30, 2011
6/30/11
11:00
AM ET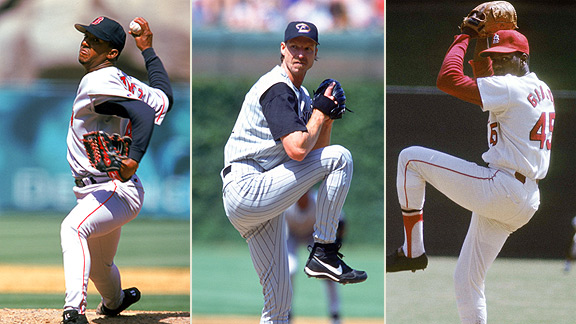 Getty ImagesWho had the best season since 1960? Pedro, Randy and Bob Gibson are in the running.
Last week on his blog, Curt Schilling wrote an interesting post on
what he called Pitcher Dominance Factor
-- a way to evaluate the best starting pitchers. His formula basically rates a pitcher by comparing his ERA to the league average ERA for starters, and comparing his baserunners allowed per nine innings to the league average.
In many ways the formula works perfectly -- it rewards pitchers with low ERAs and those who don't allow many baserunners. It has a couple primary flaws in assessing overall value: There are no park effects and it doesn't factor in innings pitched, so a 170-inning season can have the same "dominance factor" as a 250-inning season.
There's another flaw: All of Schilling's highest-rated seasons since 1960 came during the so-called steroid era. His top 13 seasons included five from
Pedro Martinez
; two apiece from
Randy Johnson
,
Greg Maddux
and
Kevin Brown
; and one each from
Roger Clemens
and
Johan Santana
. Now, maybe those
are
the best seasons since 1960, as those guys dominated in a high-scoring era.
Of course, there are other metrics out there as well to measure the best pitcher seasons.
Wins:
I think we all agree by now that wins aren't the best way to measure a pitcher. By this method, in 1990 Bob Welch had the second-best season since 1960 with 27 wins -- despite ranking just sixth in his own league in ERA and posting a mediocre 127/77 SO/BB ratio.
ERA:
Better than wins, but doesn't adjust for home ballpark, era (a 2.05 ERA in 1968, when the American League ERA was 2.98 is not as valuable as a 2.05 ERA in 1996, when the AL ERA was 5.00) or innings pitched.
ERA+:
The Baseball-Reference stat adjusts a pitcher's ERA for his park and era to a scale where 100 is average. Much better than regular ERA, although it still doesn't factor in innings pitched, unearned runs, or the quality of a pitcher's defense. It actually ends up generating a list similar to Schilling's as 15 of the top 25 ERA+ seasons since 1960 occurred between 1994 and 2005. ERA+ also doesn't factor in "dominance" in the sense of what Schilling was looking for, as it's possible to post a low ERA without dominating peripherals.
WAR (wins above replacement):
WAR establishes a value to a pitcher's season. FanGraphs and Baseball-Reference have different versions of WAR, and both arguably have a problem in generating a list of the best pitching seasons since 1960.
Under the Baseball-Reference formula, the more innings you pitch, the more value you accumulate. While completely logical (you're more valuable if you pitch more innings), its list ends up skewed towards the late '60s and early '70s, when starters routinely racked up 300-plus innings. Fourteen of its top 25 seasons reached 300 innings (and only four have fewer than 275), so modern pitchers struggle to make the top of the list since they don't pitch as many innings.
FanGraphs' version of WAR doesn't factor a pitcher's ERA or runs allowed. Instead, it extrapolates a pitcher's innings, strikeouts, walks allowed and home runs allowed (adjusted for park and era). It also only has pitcher WAR dating back to 1974. As it turns out, nine of its
top 10 seasons
occurred between 1995 and 2004, and you also end up with seasons like Schilling's 2002 in the top 10, when he had a great strikeout-to-walk ratio, but finished just 10th in the NL in ERA.
Both the B-R and FanGraphs lists are a terrific guide to greatness. I'm not knocking their lists. I'm just not sure either should be considered the definitive list of the "best" seasons. So here's my subjective 15 best since 1960, trying to account for the changing patterns of the game ... with apologies to the many great pitchers who finished 16th in my personal tally.
15. Steve Carlton, 1980 Phillies
24-9, 2.34 ERA, 304 IP, 243 H, 90 BB, 286 SO, 15 HR
The last pitcher to throw 300 innings, Carlton led the NL in wins, innings, strikeouts and SO/BB ratio. He held opponents to a .218 average -- and this despite Greg Luzinski usually behind him in left field.
14. Gaylord Perry, 1972 Indians
24-16, 1.92 ERA, 342.2 IP, 253 H, 82 BB, 234 SO, 17 HR
A great season that nobody remembers, although Perry did win the Cy Young Award. While 1972 didn't see much hitting -- there was a reason the AL instituted the DH rule for the 1973 -- Perry's workload was amazing as he had 29 complete games and averaged 8.5 innings per start. That's a lot of spit. From May 6 through Aug. 5, he started 22 games and averaged more than nine innings per start, all while compiling a 1.55 ERA.
13. Randy Johnson 2002 Diamondbacks
24-5, 2.32 ERA, 260 IP, 197 H, 71 BB, 334 SO, 26 HR
Johnson captured his fourth straight Cy Young Award with one of his many dominant seasons. He allowed two runs or fewer in 22 of his 35 starts and struck out 15 or more four times. He also tightened up when it most counted, holding batters to a .174 average in "high-leverage" situations, with just one home run allowed in 154 at-bats.
12. Zack Greinke, 2009 Royals
16-8, 2.16 ERA, 229.1 IP, 195 H, 51 BB, 242 SO, 11 HR
Greinke hasn't been able to replicate the consistency, focus or, yes, the little bit of magic he had in 2009. He allowed one run or less in more than half of his starts -- 18 of 33 -- but due to lack of run support won just 12 of those 18 games. (Thank you, Royals teammates.) His relative lack of stamina prevents him from ranking higher as he pitched fewer than seven innings in 13 of his starts.
11. Greg Maddux, 1995 Braves
19-2, 1.63 ERA, 209.2 IP, 147 H, 23 BB, 181 SO, 8 HR
The shortened season cost Maddux a few starts, otherwise he'd rank even higher with the additional innings pitched. He allowed 39 runs (38 earned) in 28 starts and had a remarkable 0.81 WHIP. His .224 OBP allowed is the second-best since 1960 and his ERA+ is third-best (he ranked even better in 1994, although he did allow nine unearned runs that year.) Maddux allowed more than two runs just four times and more than three runs just twice. He painted the corners, got grounders, didn't give up home runs and dominated without just blowing batters away. Some say he also had a few extra innings off the plate to work with thanks to the kindness of the umpires.
10. Tom Seaver, 1971 Mets
20-10, 1.76 ERA, 286.1 IP, 210 H, 61 BB, 289 SO, 18 HR
The only season on our list not to result in a Cy Young trophy, as Seaver lost out to Fergie Jenkins, who went 24-13 with a 2.77 ERA for the Cubs. The vote actually wasn't a travesty; once you adjust for Shea Stadium and Jenkins' 39 more innings pitched, the seasons are close in value. However, Seaver did outpitch Jenkins by quite a bit on the road: 1.63 ERA versus 2.70 ERA, so I rate Seaver's season as better. Seaver's 9.1 K's per nine led the league, at a time when the league average was 5.4, a ratio of +69 percent. In 2011, the NL average is 7.2 K's per nine; a rate of +69 percent would equate to 12.2 K's per nine.
9. Ron Guidry, 1978 Yankees
25-3, 1.74 ERA, 273.2 IP, 187 H, 72 BB, 248 SO, 13 HR
My buddy Bish is going to punish me for not ranking Louisiana Lightning her, but this is a tough field. Guidry, all 160 pounds of him, threw 16 complete games and tossed nine shutouts. Guidry didn't lose until July, and in September, with the Yankees battling the Red Sox for the AL East title, he went 6-1 with a 1.19 ERA. He went 3-0 in four starts against the Red Sox. Can we have a re-do on that AL MVP vote?
8. Pedro Martinez, 1999 Red Sox
23-4, 2.07 ERA, 213.1 IP, 160 H, 37 BB, 313 SO, 9 HR
Pedro's second of three Cy Young reasons resulted in an opponents' batting line of .205/.248/.288, as he allowed just nine home runs while fanning 13.2 per nine, the second-highest total ever for a starter. He fanned 15 batters four times, 16 once and 17 once. He allowed more than four runs just once, a nine-run disaster after his All-Star start that landed him on the DL. In fact, that's the only strike against this season: He made just 29 starts. Well, that and
these gloves he wore during the playoffs
.
7. Randy Johnson, 2001 Diamondbacks
21-6, 2.49 ERA, 249.2 IP, 181 H, 71 BB, 372 SO, 19 HR
And if you want to give him extra credit for winning three games in the World Series, please do so. Johnson struck out 10 or more in 23 starts, including a record-tying 20 on May 8 against the Reds. His 13.4 K's per nine is the best ever for a starter, left-handed batters hit one home run off him all season and you didn't dare dig him against him: he also hit 18 batters. Yes
6. Sandy Koufax, 1966 Dodgers
27-9, 1.73 ERA, 323 IP, 241 H, 77 BB, 317 SO, 19 HR
You could flip a coin between any of Koufax's three Cy Young seasons (1963, '64, '66). His strikeout and hit rates were better in 1965 than 1966, but he also allowed 14 more runs in the same number of starts. He threw 11 shutouts in 1963, but had a big home park advantage that year. In 1966, he had 1.52 ERA at home and 1.96 on the road, his most even split, so I give '66 the nod. This was his final season, as he pitched in so much pain doctors were injecting steroids directly into the elbow joint, according to Jane Leavy's "Sandy Koufax: A Lefty's Legacy." Down the stretch, with the Dodgers battling for the pennant, he started seven times over the final 26 days, posting a 1.20 ERA.
5. Steve Carlton, 1972 Phillies
27-10, 1.97 ERA, 346.1 IP, 257 H, 87 BB, 310 SO, 17 HR
If you want to argue that Carlton's season was the best ever, I won't mount much of a disagreement. Carlton famously won nearly half of his team's 59 wins as he completed 30 of his 41 starts and threw eight shutouts. He held batters to a .207/.257/.291 line while making 31 starts on three days' rest. He allowed one home run to a cleanup hitter all season. And did you check the innings pitched total? The National League OPS that year was .680, not far below the .704 so far this season. Carlton's 12.2 WAR ranks No. 1 on Baseball-Reference's list since 1960.
4. Roger Clemens, 1997 Blue Jays
21-7, 2.05 ERA, 264 IP, 204 H, 68 BB, 292 SO, 9 HR
While the AL was batting .271/.340/.428 in 1997, Clemens dominated with a .213/.273/.290 line. He won the pitching Triple Crown, leading the league in wins, ERA and strikeouts while allowing zero runs or one run in 20 of his 33 starts. Clemens had many great seasons -- seven Cy Young Awards, seven ERA titles -- but 1997 stands out as his best. Red Sox fans just punched the wall in disgust.
3. Dwight Gooden, 1985 Mets
24-4, 1.53 ERA, 276.2 IP, 198 H, 69 BB, 268 SO, 13 HR
He allowed just a .201 average and .270 slugging percentage. Left-handed batters had a lower OPS off him than right-handers. In September, with the Mets fighting the Cardinals for a division title, he went 4-0 in six starts with a 0.34 ERA. His strikeout rate of 8.7 per nine may not appear to stand out now, but that's 58 percent better than the NL average. He even hit .226. And he did all this at 20 years of age while partying with Darryl Strawberry.
2. Bob Gibson, 1968 Cardinals
22-9, 1.12 ERA, 304.2 IP, 198 H, 62 BB, 268 SO, 11 HR
Yes, 1968 was the Year of the Pitcher, but even in a league where the league ERA was 2.99, Gibson's 1.12 ERA ranks as fourth-best ERA+ since 1968. He threw 13 shutouts (meaning he was just 9-9 if he didn't throw up a zero). You can find areas to nitpick: He allowed nine unearned runs, he averaged just 7.9 K's per nine (although that was second-best mark in the NL). But this is what stands out most to me: He pitched seven innings his first two starts of the season ... and then at least eight every start after that. The man literally didn't have a bad game all season.
1. Pedro Martinez, 2000 Red Sox
18-6, 1.74 ERA, 217 IP, 128 H, 32 BB, 284 SO, 17 HR
Can a guy who pitched 87 fewer innings than Gibson have had a better season? (Vote in the poll!) Pedro's opponent batting line is just sick: .167/.213/.259. Absolutely incredible. He was throwing 95-mph Wiffle balls that year, unhittable heaters and changeups and curveballs with precise location. The AL ERA in 2000 was 4.92, giving Pedro the best adjusted ERA since 1960. I think I answer it this way: If I wanted one of these guys pitching at his peak in a game to save the future of mankind, I'd take 2000 Pedro Martinez.
(Statistics from Baseball-Reference.com and FanGraphs.com.)
Follow David on Twitter @dschoenfield and the SweetSpot blog on Facebook.
June, 6, 2011
6/06/11
8:42
PM ET
Tim Lincecum
starts Monday night for the Giants. In his fifth season, he already has 995 strikeouts and can become just the eighth pitcher since 1900 to record 1,000 strikeouts in his first five seasons. (
UPDATE: He struck out five Nationals to reach 1,000
.) The list:
Tom Seaver, 1155
Bert Blyleven, 1094
Dwight Gooden, 1067
Kerry Wood
, 1065
Pete Alexander, 1036
Hideo Nomo
, 1031
Mark Langston, 1018
Tim Lincecum, 995
Pretty good company: Three Hall of Famers, a 194-game winner (Gooden), a 179-game winner (Langston) and a 123-game winner (Nomo). Only Wood failed to win 100 games. Four of the next five guys on the list are Hall of Famers as well:
Roger Clemens
, Bob Feller, Don Sutton, Frank Tanana and Fergie Jenkins.
You probably can't read too much into this, but for all those who worry that Lincecum will get injured ... well, all these guys except Wood had long careers as starting pitchers. Tanana did suffer a major arm injury but managed to hang on as a soft-tosser for a long time and he won 240 games. Gooden did later develop some shoulder problems. Basically, if Lincecum hasn't been hurt by now, there's a pretty good chance he'll be around for a long time.
Now, strikeouts are just one statistic, and Lincecum has the advantage of playing in a high-strikeout era and in a good pitcher's park. Has he been one of the
best
pitchers through five seasons? (Obviously, he has four months left in the season.) From
Baseball-Reference
, here is the list of top-10 pitchers by WAR (wins above replacement level) through their first five seasons:
1. Pete Alexander, 36.8
2. Tom Seaver, 36.7
3. Bert Blyleven, 29.3
4. Dwight Gooden, 28.6
5. Nap Rucker, 28.3
6. Bob Feller, 28.1
7. Frank Tanana, 28.1
8. Eddie Plank, 28.0
9. Robin Roberts, 27.9
10. Teddy Higuera, 27.3
Not surprisingly, some of the same names. It's a reminder of how of good Tanana was from 1973 to 1977: 66-49, 2.69 ERA, 73 complete games and 19 shutouts. (And, really, it was only four seasons, as he made just four starts in '73.) Teddy Higuera is the surprise name on the list. If you don't know about him, maybe he is a precautionary tale for Lincecum: He was a little 5-10 lefty for the Brewers and went 78-44 with a 3.28 ERA from 1985 to 1989. But he began suffering back problems in 1989 and later tore his rotator cuff.
As for Lincecum, his Baseball-Reference career WAR is 20.8, which currently puts him at 44th. If we extrapolate his 2011 numbers (2.0 WAR so far) we get four additional WAR, which pushes him up to 24.8 and into the top 20.
How does Lincecum fare among active pitchers? Only four actives are currently ahead of him on the WAR chart for their first five seasons:
Tim Hudson
(24.9),
Brandon Webb
(24.4),
Roy Oswalt
(22.4) and
Barry Zito
(21.0). Let's see what happened to those
after
their first five seasons.
Tim Hudson
First five (1999-2003): 80-33, 1052 IP, 3.26 ERA, 137 ERA+, 796 SO, 338 BB, 24.9 WAR
Next five: (2004-2008): 66-44, 965 IP, 3.73 ERA, 117 ERA+, 576 SO, 281 BB, 15.2 WAR
Like Lincecum, Hudson is a small right-hander. He never threw as hard as Lincecum although he had lows 90s heat when he first came up. He's never had the strikeout rates of The Freak, but turned into a supreme ground-ball pitcher and has overcome Tommy John surgery in the 2008 season.
Brandon Webb
First five (2003-2007): 65-55, 1089 IP, 3.22 ERA, 144 ERA+, 880 SO, 368 BB, 24.4 WAR
Next five: (2008-): 22-7, 230 IP, 3.47 ERA, 134 ERA+, 185 SO, 67 BB, 4.8 WAR
Webb went 22-7 in 2008 and finished second to Lincecum in the Cy Young voting, but hurt his shoulder in his first start of 2009 and has yet to make it back to the majors.
Roy Oswalt
First five (2001-2005): 83-39, 980 IP, 3.07 ERA, 142 ERA+, 850 SO, 225 BB, 22.4 WAR
Next five (2006-2010): 67-44, 1034 IP, 3.29 ERA, 129 ERA+, 816 SO, 242 BB, 17.1 WAR
Oswalt hasn't suffered much of a decline through the years. His strikeout rate has dipped a bit, but some of his decline could be attributable to a bad team behind him in Houston in his latter years. By the way, take note of all the big, hulking right-handers just selected in the draft: Lincecum, Hudson and Oswalt are all 6-foot or shorter.
Barry Zito
First five (2000-2004): 72-40, 981 IP, 3.41 ERA, 130 ERA+, 774 SO, 332 BB, 21.0 WAR
Next five (2005-2009): 61-66, 1018 IP, 4.24 ERA, 104 ERA+, 727 SO, 454 BB, 10.7 WAR
Zito always lived a fine line, walking 80-plus guys a year without having a monster strikeout rate. It worked for several seasons, including a Cy Young season, but he was just a slightly better than league average pitcher his second five seasons (although at least a durable one, making 32-plus starts every season).
One final list. Leaders in Baseball-Reference WAR since 2007:
1.
Roy Halladay
, 27.6
2.
CC Sabathia
, 25.4
3.
Felix Hernandez
, 21.9
4.
Dan Haren
, 21.6
5. Tim Lincecum, 20.8
Because he had just a partial season in 2007, Lincecum has fewer starts than the other guys. Lincecum's ERA+ is better than Haren's and Hernandez's, the same as Sabathia's, and a bit lower than Halladay's.
So the question: Which pitcher would you most want for the NEXT five seasons? Discuss below or on our
SweetSpot Facebook page
.
PHOTO OF THE DAY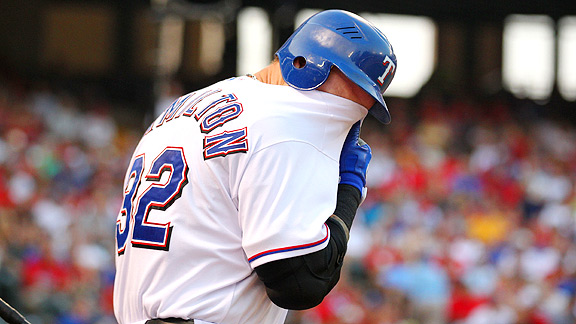 Matthew Emmons/US PresswireListen, Josh, it's OK, you can look. It's over. The Rangers lost 13-7 against the Tigers. It's one game.
May, 6, 2011
5/06/11
4:09
PM ET
To go with our Willie Mays package today, SportsNation worked up a list ranker with 30 of the greatest players of all time. Don't agree with me that
Willie Mays was the greatest ever
? Then
Click here to vote
yourself.
Here's my quick list without spending too much time thinking about it:
1. Willie Mays: He could hit, hit for power, run the bases and field with the best we've ever seen. Could have won as many as 10-11 MVP Awards.
2. Barry Bonds: If he had played center field instead of left, I'd consider him for No. 1.
3. Babe Ruth: I'd like to see him hitting 95-mph fastballs on a regular basis.
4. Hank Aaron: A testament to longevity, consistency, durability and greatness.
5. Stan Musial: Won three MVPs and finished second four other times.
6. Ted Williams: Maybe the greatest hitter of all time, but I give Musial the slight all-around edge.
7. Albert Pujols: Barring injury, he's this good.
8. Roger Clemens: We don't know what he did and if it helped. But we know what he did on the field. Greatest pitcher of all time.
9. Mike Schmidt: Dominated the mid-'70s to the mid-'80s. Eight-time home run champ and one of best fielding third basemen ever.
10. Walter Johnson: Could have dominated in any era.
11. Honus Wagner: Won batting titles, ran the bases and hit for power in the dead-ball era.
12. Lou Gehrig: Only strike against him is he didn't play a premium defensive position.
13. Alex Rodriguez: You can't deny the numbers.
14. Lefty Grove: The most underrated great pitcher of all time. Won nine ERA titles.
15. Mickey Mantle: If only he had stayed healthy.
16. Ty Cobb: Would love to go back in time and bring him back to 2011.
17. Josh Gibson: They say he hit 'em longer than the Babe.
18. Joe Morgan: The most underrated great position player of all time. Did everything well.
19. Rickey Henderson: The object is to score runs and nobody has scored more than Rickey.
20. Greg Maddux: 355 wins, fourth-most starts, more pitches painting black than anyone.
21. Cal Ripken: Overrated as a hitter, underrated as a fielder.
22. Tom Seaver: Mets fans still can't believe they traded him.
23. Pedro Martinez: At his
peak
, the best ever. Four pitches that made batters cry.
24. Frank Robinson: And to think he was only third-best NL outfielder of the early '60s.
25. Johnny Bench: Knees gave out, but those first 12 seasons were amazing.
26. Satchel Paige: Was he even the best Negro Leagues pitcher?
27. Rogers Hornsby: No denying his hitting numbers. Too low? Maybe so.
28. Pete Alexander: Won 94 games over one three-year span, impressive even for the time.
29. Cy Young: Yes, you can say I'm disrespecting the 19th century.
30. Sandy Koufax: A little bit of a product of his time and a huge home/road splits, plus short career for this list.
Follow David on Twitter: @dschoenfield. Follow the SweetSpot blog: @espn_sweet_spot.