April, 23, 2014
Apr 23
11:17
AM ET
From my Twitter feed on Tuesday:
@dschoenfield Hey, David: Who's the best player since 1933 who never made an All-Star game?

— Larry Fahey (@hotdogdynamite) April 22, 2014
This is pretty easy to check. Thanks to Baseball-Reference.com's Play Index, we can search for most career Wins Above Replacement for players who never played in an All-Star Game. By position, we get:
C -- Rick Dempsey (25.3)
1B -- Earl Torgeson (32.7)
2B -- Mark Ellis (33.3)
3B -- Eric Chavez (37.1)
SS -- John Valentin (32.5)
OF -- Tim Salmon (40.5)
OF -- Kirk Gibson (38.3)
OF -- Garry Maddox (36.6)
UT -- Tony Phillips (50.8)
Also in the top 10: Ken McMullen (34.1), Dwayne Murphy (33.2) and Richie Hebner (32.9).
Phillips tops the list with 50.8 career WAR, higher than many Hall of Famers. He was an underrated player who played all over, mostly at second base and the outfield, but he was a shortstop early in his career and started 336 games at third base. During his peak from 1990 to 1997 he averaged .277/.396/.409 and 104 runs per season, more or less playing as a regular for the Tigers, Angels and White Sox while moving around the field. I suspect his utility status hurt him at All-Star time, plus a lot of his value came from drawing walks more than hitting for a high average (he hit .300 once) or for power (hit more than 20 home runs just once).
Gibson told MLB.com in 2011 that he was twice invited as a reserve to the All-Star Game, in 1985 and 1988 (the year he won the NL MVP Award), but turned down the selections. Ellis, Maddox and Murphy were defense-first players, although I was surprised Maddox never made it considering he played for a lot of good Phillies teams. In 1976, he was hitting .321 with five home runs and 40 RBIs at the All-Star break and he'd finish fifth in the MVP vote that year. The National League All-Star outfielders were Greg Luzinski, George Foster and Dave Kingman (starters), plus Bake McBride (.345-3-18 at the break, but St. Louis' only rep), Cesar Cedeno (.297-14-48), Ken Griffey Sr. (.340-4-50) and Al Oliver (.360-12-49 and Pittsburgh's only rep). Pretty tough group to crack.
Salmon's best season came in 1995 when he hit .330 with 34 home runs and 105 RBIs, worth 6.6 WAR (fifth among AL position players that year). The American League All-Star outfielders were Albert Belle, Kenny Lofton and Kirby Puckett (starters), plus Ken Griffey Jr. (injured), Jim Edmonds, Manny Ramirez and Paul O'Neill. Another tough group and Salmon hit .364 in the second half.
You can have a lot of fun doing this. Chavez's best years came from 2000 to 2005 when he averaged .278-30-98 and 4.7 WAR. AL All-Star third basemen those years were Travis Fryman, Troy Glaus, Cal Ripken and Tony Batista (2000); Ripken and Glaus (2001); Shea Hillenbrand, Robin Ventura and Batista (2002); Glaus and Hank Blalock (2003); Alex Rodriguez and Blalock (2004); Rodriguez, Melvin Mora and Hillenbrand (2005). Yes, Shea Hillenbrand started an All-Star Game.
For the pitchers, the top five in career WAR since 1933 to never make an All-Star team:
Tom Candiotti (42.5)
Danny Darwin (40.5)
Charlie Leibrandt (34.4)
Fritz Ostermueller (34.4)
John Tudor (34.3)
The active leader is A.J. Burnett at 27.2.
Tudor didn't make it in 1985, the year he went 21-8 with a 1.93 ERA. He was 10-7 with a 2.27 ERA at the break before going 11-1, 1.59 in the second half (he threw 10 shutouts that year). Not as many pitchers were selected back then so it was more difficult to make it. There were nine NL pitchers and the weakest starter on the staff was the one who actually started, LaMarr Hoyt, who was 12-4 with a 2.93 ERA.
Most career saves to never make an All-Star team? Gene Garber, with 218. Kevin Gregg, with 177, is third on that list and is the active leader.
One more list. Here's the most single-season WAR for players who didn't make the All-Star team that year:
1. John Valentin, 1995: 8.3
2. Josh Donaldson, 2013: 8.0
3. Bernard Gilkey, 1996: 8.0
4. Nick Markakis, 2008: 7.4
5. Brett Gardner, 2010: 7.3
6. Randy Velarde, 1999: 7.0
7. Bill North, 1973: 7.0
8. Andrelton Simmons, 2013: 6.9
9. Dwayne Murphy, 1980: 6.9
10. Chris Hoiles, 1993: 6.8
11. Eddie Lake, 1945: 6.8
12. Solly Hemus, 1952: 6.7
13. Franklin Gutierrez, 2009: 6.6
14. Tim Salmon, 1995: 6.6
15. Rick Wilkins, 1993: 6.6
Valentin actually led AL position players in WAR in 1995, hitting .298/.399/.533 with 27 home runs and 102 RBIs while playing solid defense at shortstop. He finished ninth in the MVP voting (his teammate Mo Vaughn won). The AL All-Star shortstops were Ripken and Gary DiSarcina of the Angels.
For pitchers, the top five (or seven, with ties):
1. Bill Hands, 1969: 8.4
2. John Tudor, 1985: 8.1
3. Mike Caldwell, 1978: 8.1
4. Jim Abbott, 1991: 7.6
5. Mark Eichhorn, 1986: 7.4 (as a reliever!)
6. John Denny, 1983: 7.4
7. Dave Roberts, 1971: 7.4
Hands went 20-14 with a 2.49 ERA for the Cubs, pitching 300 innings. Don't blame him for the Cubs' fade that year: He had 2.27 ERA in August and 2.27 in September.
June, 6, 2012
6/06/12
3:30
PM ET
In my chat on Tuesday, we briefly discussed the
all-time draft rosters for each team
that I compiled. Somebody asked: What's the all-time roster for players drafted and traded away while still minor leaguers? Some of these deals are pretty famous --
Jeff Bagwell
and
John Smoltz
being the two everyone remembers. There are some that fans think of but the player had received a cup of coffee before being traded: Ryne Sandberg and
Kenny Lofton
being two examples.
This list only includes drafted players, so Latin American free agents like
Johan Santana
(signed originally by the Astros) are not included. There are also a couple of U.S.-born players who weren't drafted who could have made the list, such as Toby Harrah or Tom Candiotti, but they weren't included either.
This post is longer than I intended, but I thought I'd fill in some details on
why
the player was traded or lost. So here's the team with Baseball-Reference's Wins Above Replacement noted. Active players who could some day make the list would include
Adrian Gonzalez
(drafted by the Marlins),
Josh Hamilton
(Rays),
Austin Jackson
(Yankees) and
Gio Gonzalez
(White Sox).
C -- Jason Varitek (career WAR: 21.3)
Drafted: Seattle Mariners, 1st round, 1994
How lost: The Red Sox acquired Varitek and Derek Lowe for Heathcliff Slocumb, July 31, 1997
One of the great deadline heists of all time. Desperate for a reliever, the Mariners gave up two of their top prospects for the mediocre Slocumb. It's difficult to understand why the Mariners were willing to deal Varitek, even though he was hitting just .254 at Triple-A Tacoma. He'd been a first-round pick and had power and solid defensive skills.
[+] Enlarge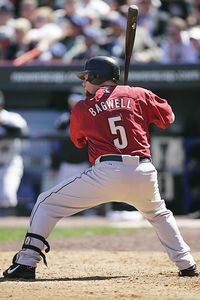 Rich Pilling/MLB Photos/Getty ImagesJeff Bagwell played 15 seasons in the majors, all with Houston, and finished his career with 449 home runs.
1B -- Jeff Bagwell (career WAR: 76.7)
Drafted: Boston Red Sox, 4th round, 1989
How lost: Astros got Bagwell for Larry Andersen on Aug. 30, 1990
Fighting for the AL East title, the Red Sox decided they needed another reliever. Andersen did pitch well, allowing three runs in 22 innings, and the Red Sox edged the Blue Jays by two wins to take the division. But for 22 innings of Andersen they gave up one of the greatest first basemen of all time.
2B -- Tony Phillips (career WAR: 48.2)
Drafted: Montreal Expos, 1st round of January secondary draft, 1978
How lost: The Expos traded Phillips to the Padres for Willie Montanez (who hit .185 with Montreal). But the Padres traded Phillips to the A's with two others for two guys who never played for the Padres.
Phillips, of course, became a standout utility player with the A's, Tigers, Angels and White Sox, posting a .374 career OBP and scoring 1,300 runs. With the Expos in Double-A in 1980, Phillips had hit .249 with five home runs, but with 98 walks and 50 steals. Trading him for the washed-up Montanez was bad as it looks. The Padres traded Phillips late in spring training of 1981, acquiring reliever Bob Lacey (who must have gotten hurt). Billy Martin is listed as Oakland's GM at the time, but I'm not sure who actually made the deals for Oakland then -- president Roy Eisenhardt, Martin or a young lawyer named Sandy Alderson, who became the team's GM in 1983. Who knows, maybe Martin saw Phillips in a spring training game. Or the A's, early converts to the value of the walk, noticed Phillips' minor league stats.
3B -- Darrell Evans (career WAR: 55.1)
Drafted: Kansas City A's, 7th round, January secondary draft, 1967
How lost: The Braves selected Evans in the Rule 5 draft on Dec. 2, 1968
Evans had actually been drafted four times previously before finally signing with the A's. Evans had some sort of injury in 1968 and hit .241 with three home runs in Double-A in just 56 games, and considering he wasn't a high pick, probably wouldn't have been considered a top prospect in the modern style of thinking. Chalk it up to good scouting by the Braves. Evans went on to hit 414 home runs as one of the more underrated players in baseball history.
SS -- Jay Bell (career WAR: 34.1)
Drafted: Minnesota Twins, 1st round, 1984
How lost: Traded to the Indians for Bert Blyleven, Aug. 1, 1985. The were other players, but it essentially ended up Bell-for-Blyleven.
The Twins had another young shortstop in Greg Gagne, so could afford to part with Bell. The deal paid huge dividends two years later when Blyleven helped the Twins win the 1987 World Series. As for Bell, he didn't hit with the Indians, who of course gave up on him even though he was just 22 years old and traded him to Pittsburgh for somebody named Denny Gonzalez.
OF: Chet Lemon (career WAR: 52.0)
Drafted: Oakland A's, 1st round, 1972
How lost: Traded to the White Sox with Dave Hamilton for Stan Bahnsen and Skip Pitlock, June 15, 1975.
Here's a case of a player who clearly was a top prospect being dealt away. In fact, I'm sure if Keith Law and Kevin Goldstein were ranking prospects in the summer of 1975, Lemon would have been one of the best in the game, considering his age (20), production (he was hitting .307/.373/.508) in Triple-A, and speed. He was, however, fielding .858 at third base. The A's were in a pennant race (they'd win the AL West) and wanted a veteran starter. But here's what's odd: Bahnsen had a 6.06 ERA at the time of the deal. The White Sox moved Lemon to center field where he became an elite defender (though, surprisingly, never won a Gold Glove) and solid hitter.
OF -- Amos Otis (career WAR: 39.2)
Drafted: Boston Red Sox, 5th round, 1965
How lost: The Mets drafted Otis in the 1966 minor league draft
I'm not quite sure of the rules at the time, but somehow Otis was exposed in the minor league draft after the 1966 season. I assume he had to be placed on a certain roster relative to his experience, since the Mets jumped him from the New York-Penn League to Triple-A. Three years later (Otis had spent most of that time in Triple-A), the Mets traded him to the Royals for Joy Foy. Otis became a five-time All-Star while Foy played 99 games with the Mets.
OF -- Willie McGee (career WAR: 30.9)
Drafted: New York Yankees, 1st round, January secondary draft, 1977
How lost: Traded to the Cardinals for Bob Sykes, Oct. 21, 1981
If Baseball-Reference's date is correct, this trade happened on the day the Yankees played the second game of the World Series, which seems a little odd. Anyway, Sykes never pitched for the Yankees; in fact, never pitched again in the majors. But McGee wasn't even the best prospect the Yankees gave away during this era ...
DH -- Fred McGriff (career WAR: 48.2)
Drafted: New York Yankees, 9th round, 1981
How lost: Traded to the Blue Jays with Dave Collins and Mike Morgan for Dale Murray and Tom Dodd, Dec. 9, 1982
Murray posted a 4.73 ERA in 62 games with the Yankees. McGriff went on to hit 493 home runs. Would McGriff have been considered a top prospect at the time? He'd hit .272/.413/.456 in the Gulf Coast Rookie League, with nine home runs in 272 plate appearances. He struck out a ton (63 whiffs) but drew walks and the nine home runs led the league. The Yankees certainly should have realized he had big power potential. Instead, he was a throw-in for a mediocre veteran reliever. Man, I miss George Steinbrenner.
[+] Enlarge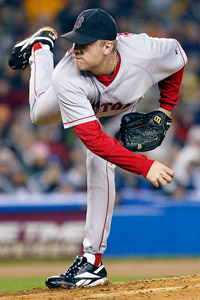 AP Photo/Kathy WillensCurt Schilling had a career postseason record of 11-2, including 4-1 in World Series games.
SP -- Curt Schilling (career WAR: 76.9)
Drafted: Boston Red Sox, 2nd round, January phase, 1986
How lost: Traded to the Orioles with Brady Anderson for Mike Boddicker, July 29, 1988
Schilling was actually traded three times before finally hitting it big with the Phillies -- the Orioles traded him to the Astros in the regrettable Glenn Davis deal and then the Astros traded him to the Phillies for (cough)
Jason Grimsley
. And then the Phillies traded him to the Diamondbacks and the Diamondbacks traded him to the Red Sox. The only deal where the team that traded Schilling actually got any value in return was the first one; Boddicker at least helped the Red Sox win division titles in 1988 and 1990.
SP -- John Smoltz (career WAR: 62.6)
Drafted: Detroit Tigers, 22nd round, 1985
How lost: Traded to the Braves for Doyle Alexander, Aug. 12, 1987)
Even though Smoltz had been a 22nd-round pick, I believe he was a highly rated prospect out of high school (he'd been an All-State pitcher in Michigan), but teams believed he was going to attend Michigan State. The Tigers took a flyer and signed him in September. At the time of the deal, he had a 5.68 ERA in Double-A with nearly as many walks (81) as strikeouts (86). Sometimes those hard-throwers do figure things out.
SP -- Cliff Lee (career WAR: 30.6)
Drafted: Montreal Expos, 4th round, 2000
How lost: Traded with Grady Sizemore, Brandon Phillips and Lee Stevens for Bartolo Colon and Tim Drew, June 27, 2002.
Forced to trade Colon the following January, that crafty Omar Minaya acquired
Orlando Hernandez
,
Rocky Biddle
and
Jeff Liefer
.
SP -- Kevin Tapani (career WAR: 26.6)
Drafted: Oakland A's, 2nd round, 1986
How lost: Traded to the Mets in a three-team deal, Dec. 12, 1987
The A's ended up getting Bob Welch in the deal. Tapani later became part of the Frank Viola deal with the Twins and was the best pitcher on the 1991 World Series champs. Yes, he was: Tapani had a 2.99 ERA that year, Jack Morris a 3.43.
SP -- Doug Drabek (career WAR: 25.0)
Drafted: Chicago White Sox, 11th round, 1983
How lost: Traded to the Yankees for Roy Smalley, July 19, 1984
Drabek was tearing up Double-A when the White Sox traded him for Smalley, who proceeded to hit .170 and was traded in the offseason to the Twins for Randy Johnson. Wrong Randy Johnson. Drabek pitched well as a rookie with the Yankees in 1986, but of course back then they always preferred an old guy on his last legs as opposed to a young guy with potential, so they traded Drabek to the Pirates for Rick Rhoden. Really, can't we get the Steinbrenners more involved in making trades again?
RP -- Trevor Hoffman (career WAR: 27.0)
Drafted: Cincinnati Reds, 11th round, 1989
How lost: Selected by the Marlins in the 1993 expansion draft
Hoffman had been drafted as a shortstop before converting to the bullpen. The Marlins would end up trading him, Andres Berumen and Jose Martinez to the Padres for
Gary Sheffield
. Somehow I doubt the Padres knew they were acquiring a reliever who would rack up 601 career saves.
November, 29, 2011
11/29/11
9:26
PM ET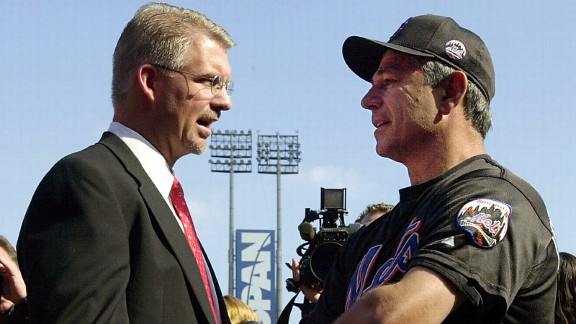 Henny Ray Abrams/Getty ImagesSteve Phillips and Bobby Valentine rarely saw eye-to-eye during their time with the Mets.
When fans think of Bobby Valentine, most will initially think of the time he tried to sneak back into the dugout wearing glasses and a fake mustache after getting ejected from a game. There will be plenty of talk about the perception that he's arrogant, a little aloof and craves the limelight too much. There will be talk that he hasn't managed in the major leagues since 2002 (although he did in Japan after that) and that his departure from the Mets was fueled in part by his disagreements with general manager Steve Phillips.
So the talk will mostly be about his personality. But what kind of manager was he? Let's look back at his career -- focusing mostly on his full seasons with the Mets from 1997 to 2002 -- to see what that may indicate about how he'll manage the Red Sox.
Will Carl Crawford hit leadoff?
With
Jacoby Ellsbury
's new power stroke, it may make sense to move him down in the order to get him more RBI opportunities; that would leave Crawford as a leadoff option. I don't see that. Even if Crawford bounces back, his on-base percentage is hardly ideal for a leadoff hitter and Valentine -- a guy who was using computers and studying sabermetrics back with the Rangers in the '80s -- craves a high OBP from his leadoff hitter.
Check out his leadoff hitters with the Mets:
1997: Lance Johnson/Brian McRae.
1998: Brian McRae/Tony Phillips -- McRae posted a career-high .360 OBP that year.
1999:
Rickey Henderson
.
2000: Ten different leadoff hitters, including
Benny Agbayani
27 games.
2001: Used four guys at least 20 games, led by
Joe McEwing
's 44 games. Led off Agbayani 32 times.
2002:
Roberto Alomar
/
Roger Cedeno
.
The unconventional use of Agbayani, the rotund Hawaiian without much speed but in possession of good on-base skills, shows Valentine's preference for OBP. In 2002, with Cedeno failing to do the job, he used Alomar there. I see Crawford remaining lower in the order, with Ellsbury staying in the No. 1 spot.
Does he like the quick hook or does he let his starters stay in the game?
There's not really a lot of in-game strategy in the American League, especially with a team like the Red Sox that basically just looks to bash the ball. So the most important strategic elements for Valentine will be how he handles the rotation and bullpen. The 2011 Red Sox were 12th in the AL in average innings per start, but that was more a function of a lousy rotation than Terry Francona's itchy trigger finger.
Let's see where the Mets under Valentine ranked in average in innings per start among NL teams:
1997: 5th
1998: 4th
1999: 8th
2000: 4th
2001: 4th
2002: 5th
Nothing really unusual here, as the Mets usually had a solid rotation under Valentine. They ranked in the upper half of innings because he had decent pitchers.
He was a little more generous when it came to allowing his starters throw 100 to 119 pitches:
1997: 9th
1998: 7th
1999: 12th
2000: 3rd
2001: 1st
2002: 4th
What's interesting about the 2001 squad is that they actually allowed the fewest walks in the league, so the high pitch counts weren't the result of a staff that walked a lot of hitters. He had a veteran rotation that year -- Leiter,
Kevin Appier
,
Glendon Rusch
,
Steve Trachsel
,
Rick Reed
-- and let his starters work deeper into games. It will be interesting to see if Valentine allows
Jon Lester
and
Josh Beckett
to reach the century mark more often than Francona did. In 2011, Lester had 22 100-pitch games -- tied for 25th-most among major league starters; Beckett had 21.
Justin Verlander
had 34,
CC Sabathia
31, and other top AL pitchers like
James Shields
,
David Price
,
Felix Hernandez
,
C.J. Wilson
,
Dan Haren
and
Jered Weaver
were all in the high 20s or low 30s.
Does he like an experienced closer?
In other words, would he be comfortable with
Daniel Bard
in the ninth inning? With the Mets, he initially had
John Franco
. The team acquired
Armando Benitez
in 1999 and when Franco went down with an injury in early July, Benitez took over as closer; when Franco returned, Benitez kept the closer job. As the Rangers' manager from 1985 to 1992, he had a different closer every year early on, before the club turned starter Jeff Russell into a successful closer in 1989. Hard to read too much into this, although both Russell and Bard throw hard. My guess is this becomes more of a front-office decision (do they sign
Ryan Madson
?), but that Valentine would have no problem making Bard his closer.
Does he like strikeout pitchers or guys who throw strikes?
With the Rangers, Valentine (and pitching coach Tom House) were obsessed with guys who threw hard. They had
Bobby Witt
, Jose Guzman, Edwin Correa, Nolan Ryan, Mitch Williams and others. Ryan had mostly refined his control (for him) by the time he reached Texas, but the other four would have problems hitting a barn door placed 10 feet in front of them. His first four staffs all had the highest walk rate in the American League. His staffs with the Mets were better, and Valentine seemed less concerned with velocity -- guys like Reed, Bobby Jones and Rusch were more finesse-type pitchers who threw strikes.
Mets strikeout rate under Valentine:
1997: 13th
1998: 7th
1999: 4th
2000: 3rd
2001: 5th
2002: 5th
Mets walk rate under Valentine:
1997: 2nd
1998: 7th
1999: 8th
2000: 3rd
2001: 1st
2002: 5th
Does he like a set lineup?
During his years with the Mets, Valentine always had a set infield, but remarkably never had one outfielder start 100 games at one position more than once. His machinations out there were pretty remarkable and show the willingness to be flexible and mix and match players as needed. Now, with the Red Sox he won't have same issue, with Ellsbury and Crawford playing every day, but it certainly suggests he'd be comfortable with a platoon in right field.
Here's the list of outfielders who started 100 games in a season at the same position with the Mets under Valentine:
1997:
Bernard Gilkey
, LF, 134
1998: Brian McRae, CF, 144
1999: Rickey Henderson, LF, 113
2000:
Jay Payton
, CF, 124;
Derek Bell
, RF, 136
2001: None
2002: Roger Cedeno, LF, 125;
Jeromy Burnitz
, RF, 131
The big issue here is how he handles Crawford, especially if he struggles to hit left-handers again (.195 in 2011). Would he consider benching Crawford against lefties, or at least the tough lefties?
Does he like young players?
With the Mets, he mostly had a veteran lineup. He did give Agbayani an opportunity, broke in Payton and
Timo Perez
, and gave Cedeno his first chance to play every day. With the Rangers, he broke in position players like
Ruben Sierra
, Oddibe McDowell, Steve Buechele, Pete Incaviglia, Jerry Browne,
Ivan Rodriguez
,
Juan Gonzalez
and
Dean Palmer
. Again, this might be more of a front-office decision, but I'd say Valentine would give youngsters like
Josh Reddick
and
Ryan Lavarnway
an opportunity to play regularly.
Valentine's reputation with the Mets was one of being prepared and being tactically smart with his in-game moves. He had to do more with the Mets than he'll have to with the Red Sox, especially considering he was often platooning at one or two outfield spots. He trusted his veteran starters to go deep into games. In short, there's nothing radically unconventional about Valentine's managerial philosophy. Of course, he last managed in the majors 10 years ago and his biggest challenge won't necessarily be strategy, but getting Crawford to rebound, getting his older players in better shape, and rebuilding Bard's confidence.
May, 21, 2011
5/21/11
12:00
PM ET
By
Christina Kahrl
| ESPN.com
Yes, this is another article about the sorry state of offense in 2011. Scoring is down a fifth of a run per team from 2010, a "year of the pitcher." It's down four-tenths of a run from 2009, six-tenths of a run if you want to reach back to 2006. We've also heard about how power is a big part of this "problem," as MLB-wide isolated power is down 20-25 points from 2006. But we're not talking about something else that seems to have gone missing: leadoff hitters who are quality table-setters.
[+] Enlarge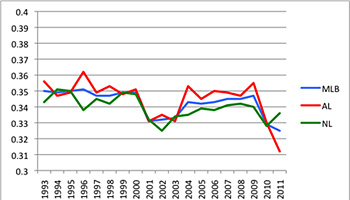 Courtesy of Baseball-Reference.comOn-base percentages for leadoff men.
We'll get into the data up front and then start seeing if we can parse what it might mean. First, there's the simple fact that OBPs for leadoff hitters are down. Last year's MLB-wide leadoff man OBP of .329 was the lowest we've seen in a full season since 1982, when it was also .329. It hadn't been lower than .329 since 1978, when the leadoff OBP was .323. From 1993-2010, the American League's leadoff OBP of .330 was its worst, the NL's .328 its second-worst. Keep in mind, leadoff OBP didn't disappear in a puff of PED ban enforcement. As the first chart reflects, leadoff OBPs weren't just stable after 2006,
they went up
. The AL's 2009 leadoff OBP of .355 was its highest since 1996. On-base percentage for leadoff men was back up where it had been in the offensive onslaught of the late '90s… until last year.
So, a low-water mark was set in 2010, the worst leadoff OBP in 32 seasons … until this spring's action. In 2011, leadoff hitters have managed to get on base at a .325 clip. It's especially bad in the American League, where leadoff men were eking out a .312 OBP through Thursday's action. More than a quarter of the way in, we're still waiting for both leagues to flip the ignition, but without any ignitors, let alone the original Paul Molitor, how is that supposed to happen?
[+] Enlarge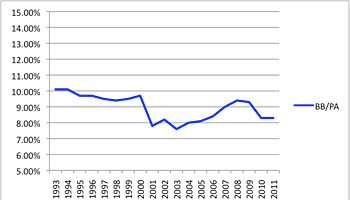 Courtesy of Baseball-Reference.comBase on balls percentages for leadoff men.
Naturally, the first question to ask is
why?
Looking at walk rates for leadoff hitters in the second table, we've obviously lost some of what we took for granted -- hitters aren't managing that walk once every 10 times up, a pace you might once have accepted as the basic standard. We're not at the bottom of a trough, but the rate is back down where things were earlier in the Aughties, and that's sub-good.
Some of that is a matter of the selection of leadoff likelies available to their teams:
Jacoby Ellsbury
is not a big-time walking man, for example, and wishing he was won't make it so, but it doesn't make him ineffective. However, in a league and time where Rickey Henderson is still retired, finding people who can draw ball four hasn't exactly been easy, which is probably why
Juan Pierre
or even
Scott Podsednik
keep getting opportunities. Some of it can also be institutional -- last year, the Rays came up with a perfectly functional creative adaptation, moving
John Jaso
and
B.J. Upton
into and out of the role as Joe Maddon played matchups. But this year they got carried away with the
Sam Fuld
phenomenon, only to learn what they already knew from his projections, which is that for a leadoff hitter he makes a heck of a defensive replacement.
Admittedly, when we think about leadoff hitters, it's easy to stick with happier memories, of the guys who are or were truly great at it: Rickey and Tim Raines in the '80s for example, or Ichiro for the past decade. You can take things down a notch and think fondly of
Ray Durham
or Tony Phillips, or from the current generation of players get sentimental about guys like
Brian Roberts
and
Chone Figgins
. And from any of these guys, you generally knew what to expect: OBPs that were .350 or higher, plenty of walks, and stolen-base totals in the 20-50 range.
But even then, there were always the other guys, the way the other half lived with their leadoff options, which pulled leadoff OBPs down around .333 year after year. If you were around in 1981, you had a rare opportunity to see one of the worst leadoff hitters of all time in action, achieving what would be, even by his standards, a career lowlight. Alfredo Griffin posted a .236 OBP leading off for the Blue Jays for the bulk of a season that was blighted by a strike. It's a mark for single-season leadoff putrescence that hasn't been underwhelmed in the 30 years since.
We can get into origin myths if you like, and ask where the great leadoff men came from and now, where they went, and whether or not we're bereft of truly elite leadoff men in this particular generation of players -- beyond admirable dinosaurs like Ichiro, of course. I wonder if we aren't just stuck in the
Michael Bourn
generation. That might not seem entirely fair to Bourn, because he's one of the better leadoff hitters by today's standards. He has posted OBPs better than league average in 2009 and 2010, after all. He's off to a slow start this season, but at least he's reliably within spitting distance of walking once every ten times and he runs well. That might represent a new, lower standard of what will do, but perhaps this isn't a burden to be Bourn, but a reflection of a changed game. Bourn makes an appropriate symbol for a time when teams are getting used to living with less offense.
Christina Kahrl covers baseball for ESPN.com. You can follow her on Twitter.
November, 4, 2010
11/04/10
6:07
PM ET
From the tail end of
Theo Epstein's conference call today
(which was mostly about exercising the one-year option in
David Ortiz
's contract):
Yeah, we'd love to have Bill Hall back in the right circumstances. He really, I thought, blossomed this year in a super-utility role. He played so well, in fact, especially in terms of his power production that he might attract interest from a number of teams as an everyday player and get more substantial playing time. And if that happens, I'm sure that would be of interest to Billy. If later in the offseason, he's in a position to consider a super-utility role and based on the moves we've made with our everyday players, that type of player makes sense on our roster, I'm sure we'll be talking. He was nothing but a great teammate while he was here and a contributing player."
I think the term "super utility" is a fairly recent invention, don't you?
The first player I recall being
used
in a super-utility role was
Tony Phillips
.
Originally a shortstop, Phillips later became a second/third baseman, and finally qualified for super-utility status by becoming an occasional outfielder as well. In 1988, Phillips started one game at shortstop, one game in right field, three games in center field, 14 games in left field, 14 games at third base, and 20 games at second base. He also appeared in three games at first base. Which is to say, he did everything except pitch and catch.
All this was masterminded by Tony La Russa, of course.
Phillips might have been the first player who did that (except as a stunt), but my quick-and-dirty search suggests that the "first Tony Phillips" was actually
Cesar Tovar
, who played for the Twins in the 1960s. In 1968 (for example), Tovar started eight games in right field, 12 at second base, 15 in left field, 20 at shortstop, 29 in center field, and 68 at third base. Tovar also played first base, catcher, and pitcher for one inning apiece in
this game
. Which obviously
was
a stunt, as he became the first major leaguer to play all nine positions in one game. Granted, a stunt that worked exceptionally well, as Tovar pitched a scoreless first inning
and
scored one of the Twins' runs in a 2-1 victory.
Tovar did this sort of thing for about six years, and usually drew a bit of down-ballot MVP support, probably because of his versatility. When we think of Bill Hall and Tony Phillips -- and
Chone Figgins
in 2004 and '5 -- we should think of Cesar Tovar, the first Super Utility Man.
Again, as near I can tell. Of course we can all come up with our own definition. But the important thing is that you have to play the infield and the outfield. If you're just playing the infield, you're a utility infielder; if just the outfield, a fourth outfielder (unless you're
Andres Torres
, in which case you're a center fielder who's occasionally slumming it). And you also have to play more than one position in the infield.
Last year, Hall started 34 games in the outfield and 51 games in the infield, but all 51 were at third base.
This year, Hall started 53 games in the outfield and 43 games in the infield: 38 at second base, three at shortstop, two at third base. My preference would be to see a Super Utility Man play a few more games at shortstop or third base. But who am I to argue with Theo Epstein?