April, 22, 2014
Apr 22
3:56
PM ET
The
suspensions are in
from Sunday's Brewers-Pirates fracas and they seem pretty fair to me:
Notably absent is Pirates pitcher
Gerrit Cole
, who kind of instigated the whole thing when he yelled at Gomez after Gomez's triple. Still, yelling at a guy isn't the same thing as throwing at a batter's head, so I'm not sure you can really call Cole an instigator here just because Gomez reacted (Brewers fans, of course, will disagree).
Anyway, I think there's a bigger picture here. This whole "play the game the right way" thing has gotten out of control. What's the right way? As Jon Paul Morosi
wrote on FOX
:
But for the most part, Gomez needs to be celebrated -- not discouraged -- for what he brings to major league baseball. At a time when the sport's message on instant replay and home-plate collisions has become muddled, Gomez illuminates an even greater concern: Why do major league players take exception to peers who have the audacity to enjoy themselves on a baseball field?

If Gomez's story sounds familiar, it should. Replace "Carlos Gomez" with "Yasiel Puig" or "Jose Fernandez," and the basic theme holds true: A Latin American-born player has become a star in the major leagues, and he's supposed to "tone down" his celebrations and remove the individuality from his game because "we don't do that here."

In my chat Tuesday, we had a big discussion about Gomez and his theatrics on the field. Gomez, who also had a flare-up against the Braves last September, is the common link, one reader wrote. Jacob from Georgia wrote, "Why do people keep pretending the
[Brian] McCann
/Gomez incident was about pimping a home run? It's blatantly clear to anyone who saw it happen that McCann and
[Freddie] Freeman
and everybody else were simply sticking up for
[Paul] Maholm
. Guys have pimped homers against the Braves before plenty of times, and we haven't seen McCann do anything. McCann got in Gomez's face because Gomez made a fool of himself by screaming at Maholm unprovoked. I guess it makes for a better mindless meme if we pretend that McCann is the rules police though, regardless of how little sense it makes."
Of course, it's not that simple, is it? Maholm had hit Gomez earlier in the season so Gomez probably had a rush of adrenaline after hitting the home run, screamed, and then had Freeman yelling at him as he rounded first base and McCann standing in the middle of the baseline as he neared home plate. McCann, of course, had another incident earlier in September with Fernandez. The Braves also had a bench-clearing incident against the Nationals in August after
Julio Teheran
hit
Bryce Harper
.
Plus, all this showing enjoyment and emotion on the field isn't a new thing. Pete Rose ran to first base on walks; he wasn't given the nickname "Charlie Hustle" out of admiration.
Rickey Henderson
had his snap catch in the outfield and was showboating home runs in the '80s. Dennis Eckersley used to point at batters after striking them out.
Roger Clemens
showed up to a playoff game with war paint on his face. You don't think Babe Ruth styled a few home runs?
I mean, we can go back to the days when players hit home runs and ran the bases with
their heads down
and didn't even stop as they crossed home plate. Or we can enjoy that there are different ways to play the game.
April, 20, 2014
Apr 20
8:15
PM ET
The National League Central was shaping up as a season-long bloodbath, and now we have some bad blood as well between the
Milwaukee Brewers
and
Pittsburgh Pirates
to spice things up. I suppose there will be those out there decrying the decline of civilization and need for severe punishment after the two clubs brawled in the top of the third inning of Sunday's game, but this
is
part of baseball: Tempers flare, players lose their cool and sometimes benches clear.
Fighting used to be a much larger part of baseball. The '86 Mets had four on-field brawls, including
this infamous fight
between Ray Knight and
Eric Davis
of the Reds, as Knight dropped his glove and went to his best Marquess of Queensberry impersonation for hardly any reason at all. The closest
Cal Ripken
came to missing a game during his consecutive games streak came the day after this
Mariners-Orioles brawl
. If you were fan during the 1970s, '80s and into the '90s, you can easily recount a big brawl involving your favorite team.
Things have toned down the past 15 years as punishments for brawls became more severe. But fights have also decreased as salaries have increased; with more money comes the expectation of a certain level of professional civility (and more to lose if you get injured) -- fewer brawls, fewer managers throwing fits like a 3-year-old child and more respect for your opponent.
That's what made this brawl interesting. It didn't result from the usual issue of pitching inside or hitting a batter or
Brian McCann
getting upset, but from
Carlos Gomez
hitting a triple. It all began
when Gomez hit a two-out fly ball to center
, flipped his bat and admired his own awesomeness,
which he has been known to do
-- except the ball didn't clear the fence, rebounded past
Andrew McCutchen
and Gomez didn't turn on the jet skis until he rounded first base. Given Gomez's blazing speed, he may have been able to turn the hit into an inside-the-park home run he had ran hard out of the batter's box.
Pitcher
Gerrit Cole
, backing up third on the play, obviously chirped a little something to Gomez and Gomez went a little Ray Knight, swinging his batting helmet at one point. The benches cleared and the players weren't wishing each other a Happy Easter. In the middle of the scuffle, Brewers backup catcher
Martin Maldonado
cold-cocked Pirates outfielder
Travis Snider
with a solid right to the head.
So, the ramifications? The umpires will file an initial incident report to MLB senior vice president of standards and on-field operations Joe Garagiola Jr., who will review the report and video and make a recommendation to Joe Torre and the suspensions should be issued in a couple days.
Gomez and Snider (who came off the bench) were ejected from the game and face likely suspensions. Gomez's reputation -- he got into two incidents with the Braves last season -- probably won't help here, and swinging equipment is almost surely an automatic suspension. Maldonado may draw the longest suspension for his punch.
Look, while a little bad blood is a good thing for us fans, this is clearly an incident in which Gomez should have remained cool (Cole admitted he let his emotions get the best of him, telling Gomez not to watch the ball if he's going to hit triples). Gomez
did
showboat, which I don't really mind as long as the ball actually clears the fence, and potentially cost his a team a run (the Brewers didn't score that inning).
You can argue Cole could have handled things differently as well, like buzzing Gomez the next time he was up if he didn't like the preening at home plate, but that's a potentially more dangerous situation than saying some heated words as you walk back to the pitcher's mound.
Oh, there was still a game to be played and the Brewers got the final word in what turned into a 14-inning marathon. While the discussion will be about the brawl, the most important aspect of the game is that the Pittsburgh bullpen blew another late lead.
Jason Grilli
blew the save in the ninth when
Ryan Braun
homered with one out to tie it up. This came a night after Braun belted a two-run homer off Grilli in the ninth to give the Brewers an 8-7 win.
Khris Davis
eventually homered off
Jeanmar Gomez
in the 14th and
Francisco Rodriguez
locked down his seventh save.
The Brewers have an MLB-best 14-5 record and a big part of that is they've cleaned up on the Pirates with a 6-1 record. The Pirates, now 8-11, didn't lose many of these games last year -- they were 80-4 when leading entering the ninth inning -- and now have to be concerned about their closer bouncing back from back-to-back blown saves as they play the Reds and Cardinals this week.
September, 4, 2013
9/04/13
1:14
AM ET
Some quick thoughts on the most important results and plays of the day, and a look forward to Wednesday.
Key at-bat of the day:
The Pirates had surrendered a 3-2 lead in the bottom of the eighth, but
Travis Snider
pinch-hit for
Vin Mazzaro
leading off the ninth against Brewers closer
Jim Henderson
and smashed a 2-2 slider 418 feet to right-center for the go-ahead home run. It was a great at-bat as Snider fell behind 1-2 and fouled off two pitches to stay alive. After five straight mid-90s four-seam fastballs, Henderson tried to sneak a slider past Snider. Didn't work.
Pitching performance of the day:
The Reds'
Homer Bailey
pitched seven scoreless innings, allowing just two hits, in a 1-0 win over the Cardinals, five days after tossing 7 1/3 scoreless against the Cards (who are now a game under .500 since the All-Star break).
Most important win:
The Pirates beating the Brewers 4-3 to move to 81 wins, clinching the franchise's first .500 season since 1992. Of course, that wasn't exactly reason to pop champagne in the clubhouse, since this team has designs on something much bigger than 81 wins.
If anything, it's more a moment for the fans -- for all those who suffered through the John Russell years, the rise and fall of
Oliver Perez
, the blown draft picks, Operation Shutdown,
Jason Kendall
's horrific injury, the
Aramis Ramirez
trade, the collapses of 2011 and 2012,
Kris Benson
's wife, dumping
Jose Bautista
… and on and on and on. So, congrats to Clint Hurdle and the boys, but congrats to Pirates fans as well. Now, go win the division.
Oh … the game. Besides Snider's heroics,
Justin Morneau
went 3-for-3 with a walk and
Marlon Byrd
went 2-for-3 with two RBIs, so some positive returns for the August trade acquisitions. But it was
Andrew McCutchen
who once again jump-started the offense, scoring three runs, including his 100th career homer in the first inning. Can you say MVP?
Most important loss:
The Orioles couldn't muster any offense against
Ubaldo Jimenez
in a 4-3 loss to the Indians. While they made it interesting with
Nate McLouth
's three-run homer in the ninth off
Chris Perez
, Perez eventually got
Chris Davis
to ground out (two pitches after Davis had a check-swing strike on a breaking ball that actually hit him in the leg). Combined with the Yankees' dramatic five-run eighth to the beat the White Sox 6-4, the Orioles fell behind the Yankees in the wild-card race (with Tampa Bay still holding the lead on wild-card berth No. 2).
Awards watch:
Max Scherzer
lost! He's now 19-2, although he remains the Cy Young favorite. Scherzer pitched well in the Tigers' 2-1 loss to the Red Sox, but
Will Middlebrooks
' two-run single with two outs in the sixth was the game-winning hit. It was a first-pitch slider that Scherzer left up in the zone.
Wednesday's best pitching matchup:
Yu Darvish
versus
Jarrod Parker
(Texas at Oakland, 3:35 p.m. ET). Darvish has struck out 11 or more batters in five of his past seven starts. Parker had a 2.23 ERA in six starts in August, allowing 11 runs.
Player to watch:
Just recalled from the minors,
Zach Britton
will make the start for the Orioles, his first since July, when he allowed five runs against the Rangers and didn't strike out a batter in five innings. Britton didn't exactly mow through Triple-A at Norfolk, posting a WHIP over 1.50. His last turn was good, however, with eight K's and no walks, although over his previous three starts he had 14 walks and 14 strikeouts. Buck Showalter wants to give his starters an extra day of rest -- and also line up
Chris Tillman
to pitch Monday against the Yankees instead of Sunday against the White Sox -- but this seems like a bit of a gamble.
May, 22, 2013
5/22/13
12:46
AM ET
Quick thoughts on Tuesday's excellent slate of major league action …
March, 4, 2013
3/04/13
8:30
PM ET
Earlier, I wrote about
10 players facing the most pressure
in 2013. The following five players have a different kind of pressure (if pressure does actually exist), one perhaps even more intense: This may be their last chance to prove themselves as major league regulars and get on track to receive that multi-million dollar payday that will allow them to buy a large house in a gated community. A slow April and May and they could find themselves sitting on the bench.
Domonic Brown, LF, Phillies (age 25)
[+] Enlarge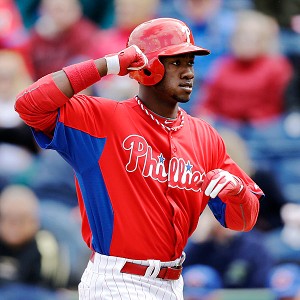 AP Photo/Matt SlocumDomonic Brown is only 25 and has had less than 500 plate appearances in the majors.
MLB career: 492 PAs, .236/.315/.396
Top prospect ranking: No. 4 Baseball America, 2011
Supposed to be: Power/speed threat
ZiPS projection: .265/.335/.461
After hitting .327/.391/.589 between Double-A and Triple-A in 2010, Brown looked like he would be a key to the Phillies' continued run of NL East dominance. Instead, he's been injured at times, hasn't hit when he has played and there have been reports about the Phillies allegedly not being too pleased with his hustle or work ethic. Aside from that final question, there are three issues here: (1) He's never played more than 116 games in any season; (2) He hasn't received consistent playing time with the Phillies; (3) Maybe he's just not as good as advertised.
So what is he now? His defense is suspect, he was probably never going to be a big basestealer (17-of-24 in the minors and 2010) and his power hasn't played up since fracturing his hamate bone at the base of his right wrist in spring training 2011. Still, he has fewer than 500 plate appearances in the big leagues and is just 25.
Justin Smoak, 1B, Mariners (26 years old)
MLB career: 1421 PAs, .223/.306/.377
Top prospect ranking: Baseball America No. 13 (2010)
Supposed to be: Patient switch-hitter, good glove, moderate power
ZiPS projection: .230/.318/.383
The Mariners acquired a bunch of DH-types in the offseason, but for now the plan appears to have Smoak opening at first base, with
Mike Morse
in left field,
Kendrys Morales
DH-ing and
Raul Ibanez
filling in (with
Jason Bay
potentially in the mix if he has a big spring training). At 26 and with nearly 1500 plate appearances under his belt, Smoak is getting too old to project much growth; he probably has three months to prove he's a starting first baseman.
The questions here: Can he improve against offspeed pitches? (He hit .194 against "slow" stuff in 2012.) Will moving in the fences at Safeco improve his production and confidence? (He's hit .210 with a .343 slugging percentage there in his career.) After getting sent down to Tacoma last year, he returned in September with a
shorter swing
from the left side and hit .341/.426/.580 with five home runs in 26 games. An adjustment that will stick? We'll see.
Brett Wallace, 1B, Astros (age 26)
MLB career: 792 PAs, .250/.323/.424
Top prospect ranking: Baseball America No. 27 (2010)
Supposed to be: Hitting machine
ZiPS projection: .242/.313/.387
The 13th pick in the 2008 draft -- two slots after Smoak -- Wallace entered pro ball with doubts about his body type and fielding, but everyone believed in the bat. He was traded three times before reaching the majors, but he's certainly with the one team where he has a chance of some guaranteed playing time.
Wallace showed some signs last year, hitting .253/.324/.424, but a strikeout rate of 28.7 percent is way too high for a guy who was supposed to hit for average. Couple that with a poor walk rate and he's not going to make it as a starter unless his approach improves.

Travis Snider, OF, Pirates (25 years old)
MLB career: 1062 PAs, .248/.309/.415
Top prospect ranking: Baseball America No. 6 (2009)
Supposed to be: Big-time run producer
ZiPS projection: .253/.312/.403
Snider was just 20 when he first reached the majors with Toronto, but he's been back and forth between Triple-A and the bigs ever since. The Jays finally gave up on him last summer, trading him to Pittsburgh, so the Pirates will see if he can finally tap into his power potential. Snider has hit .333/.412/.565 in various stints in Triple-A -- but that was in Las Vegas, where everyone puts up monster numbers.
Snider may not have the bat speed to excel at the major league level. Since 2010 in 346 plate appearances ending in fastballs, he's hit just .234 with nine home runs. That's well below the major league average of .280 against fastballs. If you can't hit the fastball, you're not going to make it.
Brian Matusz, P, Orioles (26 years old)
MLB career: 368 innings, 5.36 ERA
Top prospect ranking: Baseball America No. 5 (2010)
Supposed to be: Top-of-the-rotation starter
ZiPS projection: 8-11, 144 innings, 5.16 ERA
The fourth pick in the 2008 draft, Matusz's strong finish to his 2010 rookie campaign (7-1, 2.60 ERA over the final two months) had him on track to develop into the Orioles' ace. Instead, everything fell apart in 2011, beginning with a painful intercostal strain in spring training. In 12 starts, he went 1-9 with a 10.69 ERA and other ugly numbers. Given another shot at the rotation in 2012, he was 5-10 with a 5.42 ERA in July when he was sent down to the minors.
He returned as a reliever and excelled -- two runs in 13.1 innings with 19 strikeouts. While many guys end up throwing hard in relief, Matusz's average fastball velocity wasn't actually much different out of the bullpen -- 91.4 mph versus 91.0 -- so the Orioles will give him another chance in a potentially crowded rotation (he'll battle
Jake Arrieta
, another guy running out of chances, among others). Matusz has a spot in the bullpen if he's not starting, but that would be a disappointing scenario for a young pitcher who looked as good as he did in 2010.
Which of these guys is the best bet to prove himself? I'll go with Dan Szymborski's ZiPS projection and go with Brown. He's the youngest of the five and has the least amount of major league experience.
February, 15, 2013
2/15/13
3:40
PM ET
2012 in review
Record: 79-83 (78-84 Pythagorean)
651 runs scored (10th in NL)
674 runs allowed (7th in NL)
Big Offseason Moves
Signed free agents
Russell Martin
and
Francisco Liriano
. Re-signed free agent
Jason Grilli
. Traded
Joel Hanrahan
and
Brock Holt
to Boston for
Mark Melancon
,
Jerry Sands
,
Ivan De Jesus
and Stolmy Pimentel. Acquired
Clint Robinson
and
Vin Mazzaro
from the Royals. Lost free agents
Kevin Correia
and
Rod Barajas
.
What, you expected the Pirates to sign
Josh Hamilton
,
Zack Greinke
and
Kyle Lohse
? The Neal Huntington regime began in late September 2007. The GM took over a club that won 68 games and has won 67, 62, 57, 72 and 79 games. I guess that's progress. The club he inherited wasn't completely without talent, at least on offense:
--
Jose Bautista
: Traded in 2008 for
Robinzon Diaz
.
--
Jason Bay
: Traded in 2008 in a three-way deal. Pirates got
Andy LaRoche
,
Brandon Moss
,
Craig Hansen
and
Bryan Morris
. Also known as the poo-poo platter (although Moss resurfaced with Oakland last year and played well).
--
Adam LaRoche
: Traded in 2009 for
Hunter Strickland
and
Argenis Diaz
.
--
Freddy Sanchez
: Traded in 2009 for Tim Alderson.
--
Jack Wilson
: Hit .296 in '07. Traded in 2009 with
Ian Snell
for
Jeff Clement
,
Ronny Cedeno
and two minor leaguers.
Look, Huntington took over a wreck of a franchise. The farm system did have
Andrew McCutchen
and
Neil Walker
, but not much else. But Huntington had five players with some value (six if you include
Xavier Nady
, who had a decent 2007), traded all of them, and got nothing in return. That's one reason the Pirates are still where they're at today.
Huntington's first draft pick was
Pedro Alvarez
, the second overall pick in 2008. It took longer than expected, but he finally produced a decent season with 30 home runs in 2012. Still, he's hardly a star, hitting .244 last year with mediocre defense and no value on the bases.
Buster Posey
went a couple picks later. The Pirates selected catcher
Tony Sanchez
with the fourth pick in 2009, a choice widely panned at the time. He hasn't hit much in the minors (.268 AVG/.365 OBP/.403 SLG). With the second pick in 2010, the Pirates selected pitcher Jameson Taillon, who looks good, although
Manny Machado
was the next pick.
Gerrit Cole
was the first overall pick in 2011 and should reach the majors this year. Behind those two upside arms, Keith Law ranked the
Pirates' system seventh overall

.
Will that be enough to save the Huntington regime? After contending into July the past two seasons only to collapse over the final two months, this may be a make-or-break season for him.
As for the offseason moves, it was smart to trade Hanrahan while his value was high, although I don't think the Pirates got much back. Melancon is just another relief pitcher and Sands has a chance to stick as a platoon outfielder. Martin is an upgrade over Barajas, although backup catcher
Michael McKenry
actually had better numbers than Martin, and Liriano has had an ERA over 5.00 in three of the past four seasons, so good luck with that. (And now he'll miss the start of the season after breaking his arm in a freak Christmas accident, the day before he was to fly to Pittsburgh for his physical. Only the Pirates.)
Position Players
Well, McCutchen is pretty good. He may have won the MVP Award if he had better teammates.
The Pirates had four regulars with an OBP under .300 last year, but only shortstop
Clint Barmes
is back in his starting role, and he's there for his glove. Young outfielders
Jose Tabata
and
Alex Presley
flopped, so this year's flavors of the month appear to be Blue Jays former top prospect/washout
Travis Snider
and homegrown
Starling Marte
.
Marte is a 24-year-old with tools, but in his first exposure to major league pitching he struck out 50 times in 167 at-bats and walked just eight times. That approach isn't going to lead to a long and fruitful career, that's for sure. His career walk rate in the minors was abysmal, so I don't see much -- if any -- star potential here. More time in the minors may be needed, giving Tabata another chance at full-time duty.
That approach is Pittsburgh's overall problem on offense: They were fourth in the NL in homers but last in walks drawn, leading to a .304 OBP. Walks are good.
Defensively, the Pirates ranked 24th in the majors at minus-25 defensive runs saved, with Barmes being the only real plus defender. Barajas was terrible throwing out runners a year ago: 93 steals and only six caught stealing (not a misprint).
Pitching Staff
There is some potential here for an above-average rotation if Burnett repeats,
James McDonald
figures out what went wrong in the second half (9-3, 2.57 before the break, 3-5, 7.52 after),
Wandy Rodriguez
pitches like Wandy Rodriguez, and Cole makes a rapid ascension into the big league rotation. Even
Jeff Karstens
isn't a bad No. 5 starter, a soft-tosser who at least doesn't beat himself.
On the other hand, it's still
A.J. Burnett
, McDonald's first half may have been a fluke, Rodriguez could be ripe for a decline, and Karstens isn't really that good. You know things are going bad if free-agent reclamation project
Jonathan Sanchez
appears in the rotation.
The bullpen had a solid 3.36 ERA in 2012, seventh in the NL, but I'm skeptical about a repeat performance. Hanrahan wasn't always dominant, but he blew just four saves each of the past two seasons. Veteran Jason Grilli came out of nowhere to fan 90 in 58.2 innings, so if he pitches like that again he'll be fine as the closer. But guys like
Jared Hughes
and
Tony Watson
are good bets for regression, and I don't see much depth.
Heat Map to Watch
What's amazing about McCutchen's final numbers -- .327 average, 31 home runs -- is that it's easy to forget he didn't hit a home run in April. He did fall off the final two months, hitting .252 in August and .254 in September, as maybe the weight of 24 teammates on his shoulders wore him down. He tinkered with his swing mechanics last offseason and it paid off, especially against fastballs. He hit .363/.423/.676 against fastballs, with 22 of his 31 homers. He had hit .280 off fastballs in 2011. The new revamped swing allowed him to do much more damage on inside pitches.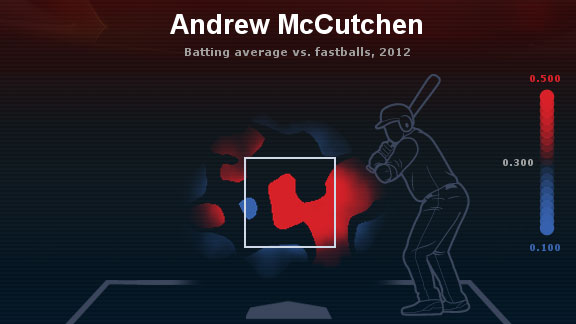 ESPN Stats & InformationAndrew McCutchen feasted on fastballs in 2012, especially those on the inner half of the plate.
Overall Grade

Is this the year? Can the Pirates finish over .500 for the first time since 1992?
I'd like to say yes. I'd like to say that Pedro Alvarez will hit .275 with 40 bombs, and both Travis Snider and Starling Marte will hit .280 (and combine for 40 home runs), and McCutchen will have another MVP-caliber year, and Burnett and McDonald and Rodriguez will win 15 games apiece, and Cole will come up from the minors in May and go 12-5 with a 3.27 ERA.
But I don't see it. The Astros aren't much competition (Pittsburgh went 12-5 against Houston) and the Reds and Cardinals look pretty tough again. But I hope I'm wrong.
August, 19, 2012
8/19/12
10:42
PM ET
By
Jack Moore, SweetSpot network
| ESPN.com
The
Pittsburgh Pirates
can be forgiven for lingering bad memories of 19th innings past. It was the 2011 season that looked like the breakthrough that Pittsburgh has been waiting for since 1992 … until it
all came crashing down on July 26
, as an apparent blown call at the plate gave the
Atlanta Braves
a victory in the 19th frame.
The Pirates entered that game last year at 53-47, tied with the Cardinals for the National League Central lead. Much as they were entering Sunday's game, the Pirates were no lock for the playoffs, but they were right in the thick of things. Fast-forward to October and the Pirates were 24 games out of first. It wasn't a collapse, it was an implosion -- the Pirates were an NL-worst 19-42 after that infamous extra-inning contest.
On Sunday, the Pirates and Cardinals -- along with San Francisco the Pirates' closest rivals for the second NL wild-card slot -- slogged through 18 innings knotted up in an increasingly epic 3-3 tie. Who in Pittsburgh could help but recall the moment that turned last season's seemingly magical campaign on its head?
But then with one out in the Pirates' half of the 19th,
Pedro Alvarez
launched a ball deep into the St. Louis evening. Pittsburgh tacked on two more via an
Andrew McCutchen
single, and then
Wandy Rodriguez
held the lead with a 1-2-3 inning for his
first victory as a Pirate
.
Should the Pirates manage to hold their still-slim lead on the NL's last playoff slot, it will be easy to point at July 26, 2011, and Aug. 19, 2012, as key points in Pirates history. Some will wax poetic about the Pirates breaking free, or of a reversal of franchise fortune. What Aug. 19, 2012, really proves is the quality of this 2012 squad -- far above anything Pittsburgh baseball has seen in recent memory.
Let's not forget the mirage created by the 2011 Pirates' first four months. The lineup featured just four starters with an OPS+ of 82 or lower. The club managed a 3.46 first-half ERA despite a strikeout-to-walk ratio below 2.0 and just 6.2 strikeouts per nine innings. The Pirates' 116 FIP- wound up as the worst mark in the National League. It was, simply put, not a good team.
The differences with the team they're fielding in 2012 begin with Sunday's hero, third baseman Alvarez. Alvarez was easily the worst hitter on the 2011 Pirates, a team featuring 99 games of
Brandon Wood
, 128 games of
Ronny Cedeno
, 100 games of
Matt Diaz
and 121 games of
Xavier Paul
. Alvarez managed just four home runs in 74 games, limping to a 58 OPS+ and an early demotion to Triple-A. Alvarez still strikes out nearly once every three at-bats, but his prodigious power is back -- Sunday's game-winner marked Alvarez's 23rd home run of the season, raising his slugging percentage to .467, nearly 200 points above last year's disastrous clip.
Alvarez is just one component behind the improved lineup --
Garrett Jones
(131 OPS+),
Neil Walker
(123),
Michael McKenry
(140) and obviously McCutchen (180) have all had their say in raising the Pirates' offensive output from 3.8 runs per game in 2011 to 4.2 runs per game this season.
But the biggest improvement for the Pirates has come in run prevention, not run production. The Pirates created their 2011 mirage on pitching and defense. Their 383 runs allowed through the debacle in Atlanta was fourth best in the National League; they nearly doubled that mark in 40 fewer games, allowing a league-worst 329 runs down the stretch.
Adding
A.J. Burnett
to the rotation was key. The bullpen has featured more than just
Joel Hanrahan
this season -- after all, the Pirates' closer and six others combined for 12 innings of nine-hit, one-run baseball in St. Louis on Sunday, with setup men like
Jason Grilli
and
Jared Hughes
lowering their ERAs to 2.38 and 2.51 respectively.
But the real key has been defense. McCutchen could be in the running for a Gold Glove. If
Starling Marte
and
Travis Snider
can return quickly from injuries, they will give the Pirates one of the speediest outfields in baseball.
Clint Barmes
hasn't hit, but his glove has stabilized the always-difficult shortstop position. McKenry saved the game several times Sunday with clutch stops behind the plate.
Overall, the Pirates own a .720 defensive efficiency, meaning they turn 72 percent of batted balls in play into outs. Only Washington, Seattle, Oakland and Anaheim own better marks, with Washington's .723 leading the league. Last year, the Pirates' squad finished 25th in baseball at .700, roughly 10 points below the league average.
Sunday's 19-inning victory against St. Louis showed plenty of things -- heart, perseverance and even some good fortune. But it also showed the one thing that really separates the 2012 Pirates from the 2011 version that faltered down the stretch: Talent. The Pirates still have a long way to go, but this year's team is infinitely better equipped to walk the path and carry Pittsburgh into the postseason for the first time since 1992.
PHOTO OF THE DAY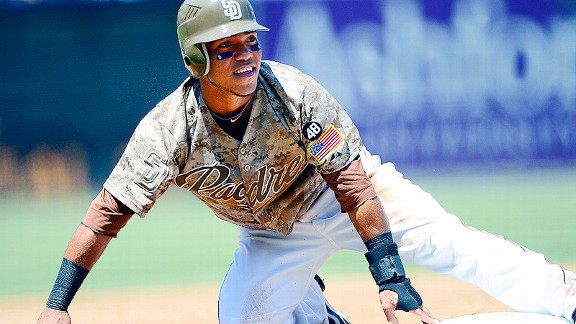 Christopher Hanewinckel/US PresswireThat's Alexi Amarista of the Padres sliding into third base, not G.I. Joe.
Jack Moore's work can be seen at FanGraphs and Disciples of Uecker (a SweetSpot affiliate devoted to the Brewers). Follow him on Twitter @jh_moore.
February, 16, 2012
2/16/12
9:00
AM ET
I asked readers on Twitter to name their top choice for breakout player for this season.
The question is fairly vague, although I did say not to include rookies like
Yu Darvish
,
Matt Moore
and
Mike Trout
, players who have received plenty of hype and will have high expectations.
Out of 100 responses, I got 63 different names listed, although that included my friend Thomas jokingly picking
Don Kelly
. Who knows, maybe Kelly
will
push
Miguel Cabrera
to full-time designated hitter. Anyway, here are the players who received more than two votes:
Justin Smoak
, Mariners: 7
Brett Lawrie
, Blue Jays: 6
Brandon Beachy
, Braves: 3
Mike Minor
, Braves: 3
Dexter Fowler
, Rockies: 3
Travis Snider
, Blue Jays: 3
Lucas Duda
, Mets: 3
Brandon Belt
, Giants: 3
Dustin Ackley
, Mariners: 3
This is what makes baseball so exciting and unpredictable. Some of the 63 guys mentioned
will
break out. All 63 certainly have a chance to break out, even in the vague definition of the term. And while Lawrie is an obvious candidate after his monster performance late last season, we
don't
know if Smoak or Belt or Fowler will become a big star. Maybe one will; maybe all three will. It's why we watch. My own pick:
Homer Bailey
. Long-heralded, he finally started putting it together last season. Cincinnati's a tough place to pitch so I'm not expecting a 3.18 ERA or anything, but I think he can get that ERA in the 3.50-3.75 range and become a solid No. 3 starter behind
Mat Latos
and
Johnny Cueto
.
Some comments from Twitter:
Dexter Fowler. I think this is DexFo's year to break out and become the third part of the Tulo, Cargo, Dexfo triumverante. -- @sskapyak
@LoMoMarlins Goes off .300/.405/.515 with a bump in power numbers. -- @faust74
Brett Lawrie is gonna have a memorable season. -- @GTAdross
Matt Wieters
. Continues to cut his strikeouts down, .840 OPS in the second half of 2011. -- @GreenLineOutfit
I like jordan zimmermann to really break out this year. Keeps the ball in the park and limits his BBs #checkoutmynewWHIP -- @TheMuzz34
Cameron Maybin
. Finally puts up a .290-20-90-50 campaign like the Tigers and Marlins expected. --@djameson87
Kris Medlen
? Very good when healthy, and is finally healthy. Will play a huge roll for Braves this year. --@Max_Jensen10
Mike Stanton
. He will lead the Majors with 45 HRs. --@JoeBoria
Alex Gordon
, will have an MVP type season and finally live up to his potential --@Sean_Bealer
Justin Smoak. Or is that just wishful thinking?? --@CRoscoe2121
May, 19, 2010
5/19/10
3:03
PM ET
From the ol' mailbag today:
Rob- any thoughts on the Jays? They have been one of the hottest teams the past month yet it remains a struggle to get any air time from ESPN. I recognize that it is early, and they will likely not end up contending by season's end but what does it take to at least get a blog?? Some great stories here around some young pitching, Wells re emergence and Cito all of a sudden looking like a genious again.



- Regan (Toronto)
The Jays' hitting is full of bizarre anomalies, not so surprising considering that we're still in May.
John Buck
,
Alex Gonzalez
, and
Jose Bautista
are all out of their minds, while
Lyle Overbay
,
Aaron Hill
, and
Adam Lind
are all hitting below their weight (which essentially works only if you play first base for the Brewers). I should probably throw
Vernon Wells
in there somewhere, too, if only because .627 seems like a fairly high slugging percentage even for a player with such obvious talents.
Travis Snider
might be the only guy in the lineup who's reasonably close to pegging his projections.
Leaving all that aside, the Jays are second in the league in scoring but have the 10th-best on-base percentage, and I'm not real sure that's a combination with much long-term viability. Which means the Jays' overall performance probably isn't sustainable, either. The big story has been
Shaun Marcum
and
Ricky Romero
, and there are certainly good reasons to think they both are (or will become) fine major league pitchers. But the rest of the rotation is
loaded
with question marks, as
Dana Eveland
doesn't strike out enough guys,
Brandon Morrow
walks too many guys, and
Brett Cecil
feeds too many gophers (so far, anyway).
I wish I had better news, Regan. But I just don't see these Jays as better than a .500 team, and I think they're probably more likely to finish below than above.