SweetSpot:

Trevor Plouffe
March, 1, 2014
Mar 1
3:32
PM ET
By
Christina Kahrl
| ESPN.com
This early, whatever team you're rooting for, the last thing you want is some major buzzkill to change how you feel about the season to come. So if you can spare a moment, give
Minnesota Twins
fans some pity, because the news that top third-base prospect Miguel Sano is
going to miss the season after Tommy John surgery on his elbow
just deleted one of the best reasons to look forward to the 2014 season from their picture.
Let's face it: Year round, everybody loves prospects. It's our anticipation of the new and unknown wrapped around the promise of something better, but in cleats. How good was the outlook? Insider's Dan Szymborski projected Sano as capable of pounding 30 home runs and slugging .471 as a 21-year-old rookie. Who wouldn't want a slice of that to spice up your season at Target Field?
[+] Enlarge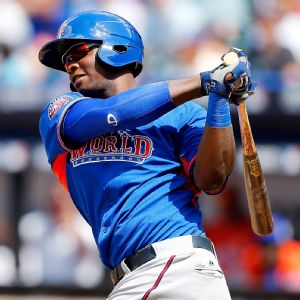 Jim McIsaac/Getty ImagesTop prospect Miguel Sano ripped 35 home runs between Class A and Double-A in 2013.
ESPN injury expert Stephania Bell offers some reassurance to Twins fans. "He should be able to recover fully from this," she stressed. "The return time varies, just as it does with pitchers, but it's typically shorter for a position player -- roughly 8-12 months, but, again, that can vary. For those wondering why he didn't have Tommy John right away when [he] first sprained his elbow last fall, this is consistent with how the injury is managed. Rehab is often the first course, especially since some players can play for a period of time with the injury. Also, the athlete has to buy into an extensive surgery/recovery process."
Anticipating Sano was
part of my own four pack of reasons Twins fans could look forward to this season
; now, that sort of expectation has to be ratcheted back down to waiting for catcher
Josmil Pinto
and hoping that center fielder
Aaron Hicks
recovers from a horrendous rookie season. That's still worth looking forward to, but Sano's power would have done much to make the Twins a much more dangerous lineup.
In the meantime, it isn't like the man Sano was expected to replace at some point this season is chopped liver.
Trevor Plouffe
isn't going to set the world on fire, but the wrist injury that hampered him last season has healed up, so his swing from an OPS around .700 back up towards .750 might seem relatively likely. The guy did belt 24 home runs in 2012 (albeit with an unlikely-to-be-repeated 14.5 percent clip of home runs on fly balls), and he's heading into his age-28 season, still well within a traditional player's peak, arcing from 25 to 29. Maybe the healed wrist helps keep him from being eaten up by fastballs up and in. Projected by Szymborski to deliver a .719 OPS, Plouffe is playable on offense -- the average OPS for third basemen last season was .735. But reports suggesting that Plouffe has bulked up enough to become an increasing defensive liability at the hot corner might send Twins fans on an unwanted return down memory lane with visions of infamously immobile
Ron Coomer
dancing in their head.
Now, sure, Sano will be back, and Twins fans can look forward to seeing him eventually take over at third base. But if spring is supposed to be a time of optimism and renewal, getting this sort of news this early on can only renew a sense that it'll be another case of "wait 'til next season" in the Twin Cities.
Christina Kahrl writes about MLB for ESPN; you can follow her on Twitter.
July, 2, 2012
7/02/12
9:00
AM ET
First base: Don't look now ...
With
CC Sabathia
and
Andy Pettitte
on the DL, the Yankees need
Phil Hughes
to step it up and pitch deeper into games to help save the bullpen workload. On Sunday, he went eight innings for the second straight game in the
Yankees' 4-2 victory over the White Sox
, allowing two runs and striking out eight with one walk. Hughes has now allowed two runs or fewer in eight of his past 10 starts. True, the other two starts were blow-up outings -- six runs against the Braves, seven against the Angels -- but he seems to be settling into some consistency.
Hiroki Kuroda
has also quietly lowered his ERA to 3.17, ninth among AL starters. With those two pitching well, the Yankees can be patient in getting Sabathia and Pettitte back.
Second base: Slumping Rays.
The Rays lost 5-3 to the Tigers on Sunday, dropping them to 41-38. After going 15-8 in April, they've gone 26-30 since and have been outscored on the season. The team's issues go beyond injuries at this point.
Desmond Jennings
, expected to produce in the leadoff spot, has a .303 OBP.
B.J. Upton
's continues to cost himself millions as an upcoming free agent, with a woeful .240/.298/.358 line.
Jeff Keppinger
batted cleanup on Sunday and the lineup included
Hideki Matsui
(.177) and
Jose Molina
(.198).
Evan Longoria
, please come back. It's worth noting, perhaps, that the Rays were only three wins better a year ago at this point at 44-35, but went 18-10 in August and 17-10 in September.
Third base: Plouffe power.
Trevor Plouffe
hit two more home runs for the Twins and now leads all major league third basemen with 18. Not bad for a guy who started only 10 games in April and didn't hit his second home run until May 16. Since that date the Twins are 23-19 and averaging 4.9 runs per game. It's hard to see them climbing back in it considering their terrible rotation -- even at just 8.5 games behind the White Sox -- but at least they've becoming an interesting team to pay attention, a far cry from the April team that looked headed for 100 losses.
Home plate: Tweet of the day.
After being shut out five times in six games (and hitting .163 over that span), the Dodgers exploded for eight runs on Sunday night. Thanks to three Mets errors, six of the runs were unearned.
The Dodgers are undefeated in July!

— YCPB (@cantpredictball) July 2, 2012
November, 11, 2011
11/11/11
10:00
PM ET
By
Christina Kahrl
| ESPN.com
The Minnesota Twins'
rumored agreement
with
Jamey Carroll
for two years and $7 million is another one of those nice developments (if you're Jamey Carroll), while simultaneously proving to be yet another cause for frustration for Twins fans still wondering how they got here.
[+] Enlarge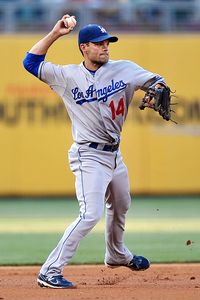 Drew Hallowell/Getty ImagesJamey Carroll might not be as effective a defensive shortstop as the Twins pitching staff needs.
Keep in mind, the Twins haven't let the position become a scar over the years. After
Cristian Guzman
left as a free agent, they replaced him with
Jason Bartlett
, who they'd stolen from the Padres in a minor deal for
Brian Buchanan
years before. Even before Bartlett got expensive, they bundled him with
Matt Garza
to get
Delmon Young
from the Rays. The Twins didn't effectively replace Bartlett for two years (mucking around with
Nick Punto
,
Orlando Cabrera
,
Brendan Harris
,
Adam Everett
and more), but finally dealt
Carlos Gomez
-- one of the keys to the
Johan Santana
trade -- to get
J.J. Hardy
. Yet a year later, with Hardy still a year removed from free agency, he was deemed too expensive, and Minnesota dealt him to the Orioles.
In all of these trades -- dealing away Garza plus Bartlett, Gomez, Hardy and Young -- the Twins have ended up on the short end, at least on every scoreboard that doesn't have a dollar sign on it. Worse yet, they lost talent that other teams have either dealt to better effect or happily retained. And all of those trades belonged to then-general manager Bill Smith. So did signing
Tsuyoshi Nishioka
and finding he was
another Japanese import who couldn't handle shortstop
in the major leagues. And the decision to move
Alexi Casilla
to short last year, despite a spotty track record there in the minors, without ever spending an entire season at the position? Another Smith move, for which you can blame penury, optimism or madness, whatever your inclination might be.
The question is whether this inaugural move for Terry Ryan's second (non-consecutive) term running the show in Minny is really that much better, or if it isn't just the latest patch slapped on a self-inflicted wound. There's no reason to believe that Carroll can play short adequately on an everyday basis. His Total Zone Fielding Runs or Defensive Runs Saved marks this year were dreadful; they were dreadful in 2005. And this is the man joining a Twins team that needs good fielding behind its pitchers, who routinely rank low in the majors in strikeout rate, touching bottom with last season's 30th-place finish.
Even if Carroll's track record as a shortstop wasn't poor, that's without getting into the number of shortstops playing the position effectively into their late 30s. Carroll will be 38 by next season, and only 25 teams have ever played a shortstop that old or older; of them, only one, the 1984 Cubs with Larry Bowa, ever made the postseason. The Yankees will be giving it a shot next year with
Derek Jeter
. Suffice to say Jamey Carroll ain't the Captain, whatever your position on Jeter's defensive performance.
It's possible that Carroll winds up at second instead of short, and that the Twins continue to employ Nishioka and Casilla and
Trevor Plouffe
at shortstop. However, a four-headed middle-infield monster where nobody can play shortstop effectively simply sounds more monstrous. Add in
Danny Valencia
's brand of relative immobility at third, and it sounds like a tough season to come for the Twins' especially defense-dependent pitching -- unless Carroll replaces Valencia, and the Twins find a shortstop.
Which leaves Minnesota with ... what? Beyond the unfortunate legacy and throwing money at the middle-infield problem, the Twins do get something for their troubles. The good news is that Carroll's perhaps Punto-plus at the plate -- his lowest OBP mark in the past four seasons was .355. And given that he's a negligible extra-base threat, Target Field's slugging-suppressing powers won't matter to him. Placed in one of the two top slots in Minnesota's order, he ought to be an offensive asset, creating plenty of run-scoring opportunities for
Joe Mauer
and … well, other people, because on the long list of problems that Ryan is going to have to fix this winter, staffing next year's lineup has to rank right at the top. Carroll's a useful part, and one who can be moved around, but if he's locked in at short, the Twins have locked in on a non-solution to their problems there.
Christina Kahrl covers baseball for ESPN.com. You can follow her on Twitter.