March, 5, 2012
3/05/12
1:30
PM ET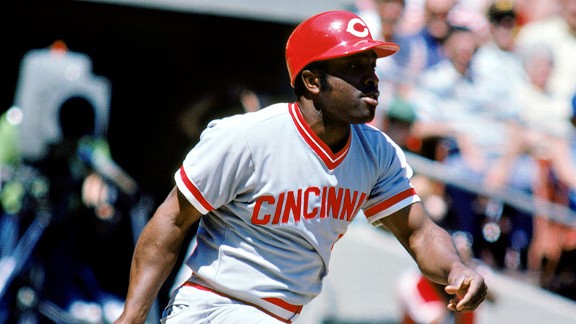 Rich Pilling/Getty ImagesIn the mid-1970s, Joe Morgan was the best all-around player in baseball -- by a large margin.
In 1975, Joe Morgan hit .327 with 17 home runs and 94 RBIs. Those traditional statistics may not seem impressive, but Morgan's season ranks as one of the best in the game's history.
As we begin voting Monday on the
greatest individual season of all time
, consider Morgan's value that season:
He drew 132 walks, giving him a league-leading .466 on-base percentage (the highest figure, by the way, in either league between Mickey Mantle in 1962 and Wade Boggs in 1988).

Because of his ability to get on base, he created a lot of runs --about 145, 17 more than the No. 2 hitter in the league, Greg Luzinski. But he created his runs in an efficient manner. He used up 354 outs; Luzinski, by comparison, used up 443 outs. So Morgan created more runs while using up 89 fewer outs.

He stole 67 bases in 77 attempts. Factor in his speed, and he was one of the best baserunners in the league.

He was an outstanding defensive second baseman, not only winning a Gold Glove but also ranking as the third-best overall defensive player in the National League in 1975, according to Baseball-Reference.com.

He did all this in an era when second basemen usually produced little at the plate. In 1975, National League second basemen hit a collective .267/.330/.353 (BA/OBP/SLG) -- with just 80 home runs. Morgan hit nearly one quarter of all home runs by National League second basemen. In 2011 terms, that would be akin to a second baseman hitting close to 50 home runs.

The Reds won 108 games, Morgan was the near-unanimous MVP winner, and he even drove in the winning run in the ninth inning of Game 7 of the World Series.
Add it up, and you end up with a player who was the best hitter in the league and one of the best defenders and baserunners in his league, and he did so while towering over other players at his position and playing on a championship team.
The wins above replacement statistic attempts to capture all this. In 1975, Morgan's Baseball-Reference WAR was 12.0, the best of his career and easily the best in the National League. During his 1972 to 1976 peak, Morgan rated as the best player in the NL four times, at least acording to Baseball-Reference.
In 1975, Morgan was a full five wins better than Mike Schmidt, an astonishing total. Only 12 times since 1901 has a player recorded a bWAR of at least 4.5 wins higher than the No. 2 position player in his league:
1921 AL: Babe Ruth (14.0) over Ty Cobb/Tris Speaker (6.6)
1924 AL: Babe Ruth (11.9) over Harry Heilmann (6.2)
1956 AL: Mickey Mantle (12.9) over Yogi Berra (7.3)
2002 NL: Barry Bonds (12.2) over Jim Edmonds (7.2)
1975 NL: Joe Morgan (12.0) over Mike Schmidt (7.0)
1924 NL: Rogers Hornsby (13.0) over Frankie Frisch (8.0)
1967 AL: Carl Yastrzemski (12.2) over Al Kaline (7.3)
1946 AL: Ted Williams (11.8) over Johnny Pesky (6.9)
1923 AL: Babe Ruth (14.7) over Harry Heilmann (9.8)
1926 AL: Babe Ruth (12.0) over Goose Goslin (7.2)
1922 NL: Rogers Hornsby (10.7) over Dave Bancroft (5.9)
1948 NL: Stan Musial (11.5) over Johnny Mize (6.9)
For what it's worth, only three of those 12 seasons ended in a World Series title -- Morgan, Mantle and Ruth in 1923.
So maybe Joe Morgan didn't hit 73 home runs or drive in 191 runs or bat .400. But his 1975 season ranks as sleeper candidate for greatest individual season of all time.
* * * *
It wasn't easy picking the 32 best seasons. I had two rules: Only one season per player, so we'd end up with a bracket of 32 different players; and I considered only seasons since 1901 (sorry, Ross Barnes fans).
It was important to get a diverse list of eras as well as positions. I did put a little more emphasis on more recent decades; basically, the quality of the game has improved over time, thus making it more difficult to post seasons with huge WAR totals like Ruth put up. Here is the breakdown by decade:
1900s -- 1
1910s -- 3
1920s -- 3
1930s -- 2
1940s -- 4
1950s -- 3
1960s -- 2
1970s -- 3
1980s -- 3
1990s -- 4
2000s -- 4
And by position:
C -- 2; Johnny Bench, Mike Piazza.
1B -- 3; Lou Gehrig, Jimmie Foxx, Rod Carew.
2B -- 4; Eddie Collins, Rogers Hornsby, Jackie Robinson, Joe Morgan.
3B -- 2; George Brett, Mike Schmidt.
SS -- 5; Honus Wagner, Ernie Banks, Robin Yount, Cal Ripken, Alex Rodriguez.
LF -- 6; Babe Ruth, Ted Williams, Carl Yastrzemski, Rickey Henderson, Barry Bonds, Albert Pujols. (Ruth played left field in 1921, and Pujols primarily played left in 2003.)
CF – 8; Ty Cobb, Tris Speaker, Hack Wilson, Joe DiMaggio, Stan Musial, Mickey Mantle, Willie Mays, Ken Griffey Jr. (Musial started at all three outfield positions in 1948 but played the most in center.)
RF -- 2; Hank Aaron, Sammy Sosa.
So there are our 32 players. I didn't necessarily pick each player's highest WAR season. In some cases, a player's iconic season -- like Ted Williams' .406 year or Hank Aaron's 1957 MVP campaign -- was selected. In some instances, maybe a player had other things in his favor that would help him to potentially fare better in the voting, like a big RBI total. Certainly, WAR is a good baseline to use because it helps us adjust for differences in eras, but it shouldn't be the only factor in determining the better season between two players. Was what Williams accomplished in 1941 more impressive than what Morgan accomplished in 1975? Is Yount being the best hitter in his league while playing shortstop more impressive than what Babe Ruth did in 1921 against an inferior brand of pitching? Maybe you prefer the all-around brilliance of Mays or DiMaggio over the pure hitting dominance of Rogers Hornsby or Lou Gehrig.
Which seasons just missed the cut? There were seven players who had a bWAR season of at least 10.0 who didn't make the bracket -- Lou Boudreau, Jason Giambi, Ron Santo, Adrian Beltre, Home Run Baker, Norm Cash and Matt Kemp. Sorry, guys. (Just noticed there are three third basemen there; too late now to change the final 32, unfortunately.)
So get to the bracket and start voting
. We'll do one round per day this week, culminating in the final matchup on Friday.
Let the debates begin.
Follow David Schoenfield on Twitter @dschoenfield.
April, 13, 2011
4/13/11
12:48
PM ET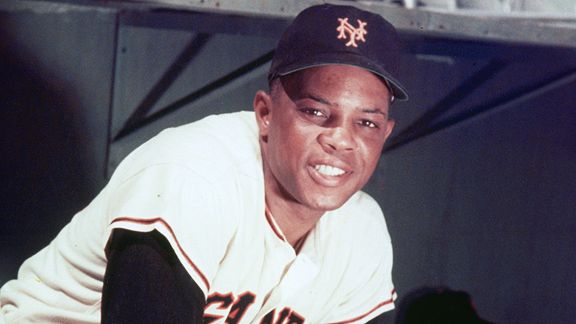 MLB Photos/Getty ImagesDid Willie Mays headline the golden era of center fielders when he played for the New York Giants?
This is somewhat shocking to me: A center fielder hasn't won an MVP Award since Ken Griffey Jr. in 1997. (
Josh Hamilton
played some there last season, but the majority of his games came in left field.)
Before that, it was Robin Yount in 1989.
Since Yount won his MVP Award, a first baseman has won 11 times – sure, three of those trophies belong to
Albert Pujols
, but
Frank Thomas
(twice),
Jeff Bagwell
,
Mo Vaughn
,
Jason Giambi
,
Ryan Howard
,
Justin Morneau
and
Joey Votto
have also won.
This hasn't always been the case. Willie McGee won the NL MVP Award in 1985 with a terrific all-around season. Dale Murphy won back-to-back trophies in 1982 and 1983. Fred Lynn won in '75 and if you go back further, you get all-timers like Willie Mays, Mickey Mantle and Joe DiMaggio.
Anyway, I always thought of center field as baseball's glamour position -- the guys who get to making leaping grabs at the fence, steal bases and belt home runs. More than any other position, center fielders are expected to do everything. As Nick Loucks discovered, however, 2010 was the first season of the live-ball era
that no center fielder hit .300
. Searching through Baseball-Reference's wondrous
Play Index
, I also discovered that 2010 was the first season since 1944 that no center fielder recorded a WAR of 5.0 or better.
Are we in a lull of great center fielders? Maybe so. We have a nice group of power/speed guys like
Chris Young
,
Drew Stubbs
and
Andrew McCutchen
, but none of them are MVP-caliber hitters right now. A decade ago we had guys like Griffey,
Jim Edmonds
,
Carlos Beltran
,
Andruw Jones
and
Bernie Williams
out there. Everybody knows about Willie, Mickey and the Duke patrolling center field in New York in the mid-'50s. It made me curious: What
was
baseball's golden age of center fielders?
Using B-R's search functions, I checked every individual season back to 1901, looking for center fielders who posted a WAR of 5.0 or better. I also broke each decade into five-year increments (2006-2010, 2001-2005 and so on) and checked cumulative WAR for center fielders over those five-year periods.
I think we're only talking about
good
center fielders here -- nobody cares who the 23rd best center fielder is right now. So I focused on the top one-third – the top 10 center fielders in this era (30 teams), but adjusted downward to the top six when there were only 16 teams.
Best single years:
[+] Enlarge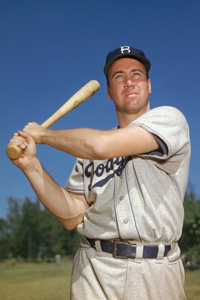 Hulton Archive/Getty ImagesDodgers center fielder Duke Snider had a .341 average with 40 home runs and 130 RBIs in 1954.
1954:
Willie Mays (10.2 WAR), Mickey Mantle (7.8), Duke Snider (7.7), Richie Ashburn (6.2), Larry Doby (5.6). These guys all made the Hall of Fame, Mays won the NL MVP Award, Snider finished fourth in the voting. Doby finished second in the AL vote, and Mantle somehow finished 15th despite leading the AL with 129 runs and generally scorching the baseball. After those guys, you had the original Frank Thomas (23 home runs), Wally Moon (106 runs), Jackie Jensen (92 runs, 117 RBIs) and Gus Bell (104 runs, 101 RBIs). Not bad for a 16-team league.
1992:
This was the final season before offense began jumping up. There were fewer runs per game in '92 than any season between 1982 and 2010. The depth was extraordinary: Andy Van Slyke (6.9), Kirby Puckett (6.7),
Kenny Lofton
(5.7),
Marquis Grissom
(5.6), Ken Griffey Jr. (5.4),
Devon White
(5.3),
Steve Finley
(5.3),
Ray Lankford
(4.3), Brett Butler (4.3). And you had solid players like Lance Johnson, Mike Devereaux (107 RBIs), a young
Juan Gonzalez
(led the AL with 43 home runs) and an aging Yount.
1999:
Andruw Jones (7.0),
Brian Giles
(6.7), Kenny Lofton (5.9),
Carl Everett
(5.9),
Brady Anderson
(5.4), Steve Finley (5.1), Bernie Williams (5.0), Ken Griffey Jr. (4.8),
Chris Singleton
(4.6), Carlos Beltran (4.4),
Doug Glanville
(3.9),
Garret Anderson
(2.7). Griffey led the AL with 48 home runs, knocked in 134 runs and scored 123 – and he rates as only the ninth-best center fielder that season (B-R gives him a very poor defensive rating). The list doesn't even include Edmonds, who was injured that season.
OK, those are nice lists, but I think we're looking more for an era, not a single season. One way to look at this was to simply average the five-year chunks of WAR for our groups of center fielders.
Under this method, it does show 2006-10 as the weakest era for center fielders since Joe DiMaggio headlined a nondescript group from 1936-40 (we didn't count the 1941-45 war period). Carlos Beltran (26.3) had the best WAR over this period, followed by
Grady Sizemore
(20.5),
Curtis Granderson
(20.3),
Torii Hunter
(15.6) and
Mike Cameron
(14.6). A nice group of all-around players, but no future Hall of Famers.
OK, using WAR as the baseline, looking at things like MVP votes and making a few personal judgments as I desired, here are my top golden eras for center fielders:
5. 1986-1990
Top five: Kirby Puckett,
Eric Davis
, Andy Van Slyke, Lenny Dykstra, Brett Butler.
Next five: Robin Yount, Dave Henderson,
Ellis Burks
, Devon White, Gary Pettis/Willie McGee.
Great depth as the top six all accumulated 20-plus WAR. Lacks a signature superstar, but what gloves you had out there: Van Slyke, White and Pettis were all supreme flychasers.
4. 1916-1920
Top five: Ty Cobb, Tris Speaker, Edd Roush, Happy Felsch, Benny Kauff
Next five: Max Carey, Cy Williams, Hi Myers, Clyde Milan, Amos Strunk
You have two of the greatest center fielders of all time each compiling over 7.0 WAR per season, two other Hall of Famers (Roush and Carey) and a slew of other good players.
3. 1966-1970
Top five: Jimmy Wynn, Willie Mays, Paul Blair, Tommie Agee, Reggie Smith
Next five: Willie Davis, Matty Alou, Rick Monday, Curt Flood, Adolfo Phillips
Mays was starting to age but still racked up 28.0 WAR, just behind Wynn's 28.3. There are those who will argue that Blair is the greatest gloveman ever in center. Smith later moved to right field, but he came up with the Red Sox as a power-hitting center fielder. Alou hit .327 over the five years.
2. 1996-2000
Top five:
Ken Griffey Jr.
, Bernie Williams, Andruw Jones, Kenny Lofton, Ray Lankford
Next five: Jim Edmonds, Brady Anderson, Steve Finley, Mike Cameron, Lance Johnson
The top six all accumulated over 20 WAR. Griffey hit 249 home runs, Williams hit .324, Jones covered ungodly amounts of ground, Lofton brought speed and on-base skills and Lankford was one of the most underrated players of his era.
1. 1956-1960
Top five: Mickey Mantle, Willie Mays, Richie Ashburn, Duke Snider, Jim Landis.
Next five: Jim Piersall, Bill Bruton, Bill Virdon, Vada Pinson, Larry Doby.
I guess the song has it right. This era rates a little better than the 1951-55 period due to more overall depth. Doby and Snider had their best five-year stretch in 1951-55, but Mantle and Mays were dominating their leagues. Ashburn was a leadoff guy who rivaled Mays for defensive excellence and guys like Landis, Piersall and Bruton, while forgotten today by all but the most dedicated seamheads, were excellent players. And remember -- this came in a 16-team league.
Follow David Schoenfield on Twitter at @dschoenfield. Follow the SweetSpot blog at @espn_sweet_spot.
March, 5, 2011
3/05/11
11:30
AM ET
One of my baptismal moments as a baseball fan came when I was about 9 or so, and I had a new baseball card that was one of those historical tributes, this one to Walter Johnson. Riding in the back of our '76 Plymouth van, I quizzed my dad on how many career strikeouts the Big Train had, thinking there was no way he would get the exact four-digit number. When Dad said "3,509," I was flabbergasted. How could he possibly have known?
[+] Enlarge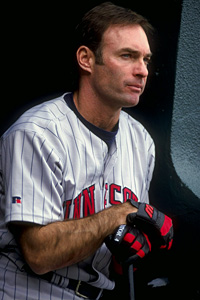 Doug Pensinger /AllsportHall of Famer Paul Molitor, who retired in 1998, is the last player to crack the top 10 in all-time hits.
Soon enough, I learned the joy of losing myself in baseball's career stat leaders. In that long-before-the-Internet era, you would pore over the Baseball Encyclopedia or the Street and Smith's annual preview. We never saw Johnson or Ty Cobb play, but through those numbers (which later proved to be subject to correction by baseball researchers), they began to gain a purpose. They began to gain an identity.
Things change. Johnson, who was No. 1 in career strikeouts when I was a boy (in fact, was the tops from 1921 through 1983), is No. 9 today. Steve Carlton passed him first, then Nolan Ryan leapfrogged Carlton and obliterated the mark, finishing with 5,714. Besides Johnson, just one pre-World War II pitcher is left in the top 20. That's Cy Young, resting in 20th place with 2,803.
With marriage and three children, I'm forced to live much more in the present than maybe I'd like to, especially from a baseball standpoint. It's been years since I've luxuriated in the career tables like I did in the past -- one of life's simple pleasures lost to a much more complex existence. And so when I turned my attention to the career strikeout leaders today, it didn't surprise me much that so much change had occurred.
But when I looked over at the career hit leaders, I was taken aback -- by the utter stability of it all. It was as if it were frozen in time, but the truth is, that top-10 list is a boulder that would not be moved.
It was just as I left it as a single man. The most recent player to break into the top 10 was Paul Molitor, whose major league career began before my 11th birthday and ended back in 1998. Carl Yastrzemski was the only other top-10er to play into my teen years.
I mean, I don't know what I was expecting -- and those of you with healthier attention spans will think me a fool for being the least bit surprised, so forgive me -- but how wonderful, how glorious, how … viscerally energizing it was to see these names hold up over time. Rose and Cobb and their angry, cantankerous 4,000-plus hit careers. The classy Hammerin' Hank and Stan the Man holding strong in third and fourth. The classic old-timers -- Speaker, Cap Anson, Honus Wagner -- in the meat of the lineup at 5-7. At eight and nine, Yaz and Molitor, young whippersnappers even as they court the AARP demographic.
And then … this was my favorite. No. 10, with 3,315 hits: Eddie Collins. To my utter shame, I haven't given Eddie Collins a nanosecond of thought in years. My mind has been too polluted by extraneous, worthless details like work and family to give Collins the time of day -- and yet there he sits, steady as granite. Mays couldn't catch him. Murray and Ripken couldn't catch him. Yount and Gwynn, Winfield and Biggio, Henderson and Carew, Brock and Palmeiro and Boggs … all playing in the 162-game era, many with the designated hitter rule in their right pocket, and none could touch Collins, born in 1887, christened in 1906, retired by 1930. When he passed away in 1951, he was fifth all-time in hits. Sixty years later, he's lost only five spots.
Soon, Collins might finally face his top-10 eviction notice.
Derek Jeter
has 2,926 career hits, more than any ballplayer at age 36 since Yount, two decades ago. By July, Jeter will probably break 3,000 and (with all the subtle media coverage of a moon landing) become the 28th man to reach that milestone, leaving him perhaps no more than two years away from Collins. Behind Jeter looms
Alex Rodriguez
, barely 600 hits from Collins and Molitor at age 34.
After that? Maybe 36-year-old
Ichiro Suzuki
has more than 1,000 hits left in him to catch Yastrzemski. Quite possibly, 30-year-old
Albert Pujols
, who has 1,900 hits in his first decade, picks up close to the same in his second, knocking out Wagner.
And so maybe that stability on the all-time hits list is headed by the wayside. Hours ago, I wouldn't have known what I missed. But now I wonder … I miss Walter Johnson in that No. 1 spot. Is it that crazy that I might miss Eddie Collins at No. 10?
If it is, all I can say is that's the same kind of crazy that made me the baseball fan I am today.
Jon Weisman writes about the Dodgers at Dodger Thoughts for ESPNLosAngeles.com. Follow him on Twitter.