SweetSpot:

Tsuyoshi Nishioka
November, 11, 2011
11/11/11
10:00
PM ET
By
Christina Kahrl
| ESPN.com
The Minnesota Twins'
rumored agreement
with
Jamey Carroll
for two years and $7 million is another one of those nice developments (if you're Jamey Carroll), while simultaneously proving to be yet another cause for frustration for Twins fans still wondering how they got here.
[+] Enlarge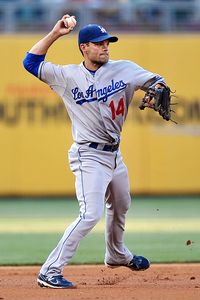 Drew Hallowell/Getty ImagesJamey Carroll might not be as effective a defensive shortstop as the Twins pitching staff needs.
Keep in mind, the Twins haven't let the position become a scar over the years. After
Cristian Guzman
left as a free agent, they replaced him with
Jason Bartlett
, who they'd stolen from the Padres in a minor deal for
Brian Buchanan
years before. Even before Bartlett got expensive, they bundled him with
Matt Garza
to get
Delmon Young
from the Rays. The Twins didn't effectively replace Bartlett for two years (mucking around with
Nick Punto
,
Orlando Cabrera
,
Brendan Harris
,
Adam Everett
and more), but finally dealt
Carlos Gomez
-- one of the keys to the
Johan Santana
trade -- to get
J.J. Hardy
. Yet a year later, with Hardy still a year removed from free agency, he was deemed too expensive, and Minnesota dealt him to the Orioles.
In all of these trades -- dealing away Garza plus Bartlett, Gomez, Hardy and Young -- the Twins have ended up on the short end, at least on every scoreboard that doesn't have a dollar sign on it. Worse yet, they lost talent that other teams have either dealt to better effect or happily retained. And all of those trades belonged to then-general manager Bill Smith. So did signing
Tsuyoshi Nishioka
and finding he was
another Japanese import who couldn't handle shortstop
in the major leagues. And the decision to move
Alexi Casilla
to short last year, despite a spotty track record there in the minors, without ever spending an entire season at the position? Another Smith move, for which you can blame penury, optimism or madness, whatever your inclination might be.
The question is whether this inaugural move for Terry Ryan's second (non-consecutive) term running the show in Minny is really that much better, or if it isn't just the latest patch slapped on a self-inflicted wound. There's no reason to believe that Carroll can play short adequately on an everyday basis. His Total Zone Fielding Runs or Defensive Runs Saved marks this year were dreadful; they were dreadful in 2005. And this is the man joining a Twins team that needs good fielding behind its pitchers, who routinely rank low in the majors in strikeout rate, touching bottom with last season's 30th-place finish.
Even if Carroll's track record as a shortstop wasn't poor, that's without getting into the number of shortstops playing the position effectively into their late 30s. Carroll will be 38 by next season, and only 25 teams have ever played a shortstop that old or older; of them, only one, the 1984 Cubs with Larry Bowa, ever made the postseason. The Yankees will be giving it a shot next year with
Derek Jeter
. Suffice to say Jamey Carroll ain't the Captain, whatever your position on Jeter's defensive performance.
It's possible that Carroll winds up at second instead of short, and that the Twins continue to employ Nishioka and Casilla and
Trevor Plouffe
at shortstop. However, a four-headed middle-infield monster where nobody can play shortstop effectively simply sounds more monstrous. Add in
Danny Valencia
's brand of relative immobility at third, and it sounds like a tough season to come for the Twins' especially defense-dependent pitching -- unless Carroll replaces Valencia, and the Twins find a shortstop.
Which leaves Minnesota with ... what? Beyond the unfortunate legacy and throwing money at the middle-infield problem, the Twins do get something for their troubles. The good news is that Carroll's perhaps Punto-plus at the plate -- his lowest OBP mark in the past four seasons was .355. And given that he's a negligible extra-base threat, Target Field's slugging-suppressing powers won't matter to him. Placed in one of the two top slots in Minnesota's order, he ought to be an offensive asset, creating plenty of run-scoring opportunities for
Joe Mauer
and … well, other people, because on the long list of problems that Ryan is going to have to fix this winter, staffing next year's lineup has to rank right at the top. Carroll's a useful part, and one who can be moved around, but if he's locked in at short, the Twins have locked in on a non-solution to their problems there.
Christina Kahrl covers baseball for ESPN.com. You can follow her on Twitter.
April, 8, 2011
4/08/11
2:07
PM ET
Eric and Mark go around the diamond on Friday's
Baseball Today podcast

with:
Twins have a big hole to fill after Tsuyoshi Nishioka breaks his leg.
Mark explains how he jinxed the Royals and Pirates.
Brad Lidge out until the All-Star break.
Studies on good and bad starts to a season.
How many baseballs are used in a game?
Greatest rivalry in sports, fun facts about ESPN anchors and more.
April, 8, 2011
4/08/11
12:08
PM ET
The Red Sox are 0-6, but things could be worse: the 1988 Braves started 0-10, the 2002 Tigers started 0-11, the 1997 Cubs started 0-14 and the 1988 Orioles lost an amazing 21 in a row to begin the season. The Cubs finished 68-94, the best record of the four teams. Thomas Neumann at Page 2 digs into the archives to see what was being said about those teams.
Take his quiz
to see where the Red Sox fit in.
Nishioka out with broken leg
Nick Swisher's hard slide breaking up a double play took out Tsuyoshi Nishioka, the Twins' rookie second baseman from Japan. Swisher sought out Nishioka after the game to apologize and nobody on the Twins complained that Swisher was out of bounds with the slide. I thought it was a little rougher than you usually see, as Swisher kind of kicked his legs out and up to get Nishioka.
Nick Nelson over at Nick's Twins blog
makes a good point
that in Japan takeout slides aren't really part of the game and the Twins worked with Nishioka on this during spring training. Matt Tolbert presumably steps in at second base. Considering his career .246/.305/.345 line, the Twins won't be getting much offense up the middle. The Twins have hit just two homers in their first six games and anxiously await Justin Morneau launching his first long ball.
Yankees-Red Sox: Friday's big game
You may have heard about the afternoon tilt at Fenway. It's not just the Red Sox with the spotlight on them, however. Phil Hughes struggled in his first start for the Yankees, topping at about 88 mph with his fastball. Dave Cameron writes that his
velocity drop isn't a cause for concern

right now.
Other links of the day
Follow David Schoenfield on Twitter at @dschoenfield. Follow the SweetSpot blog at @espn_sweet_spot.
March, 17, 2011
3/17/11
1:30
PM ET
By
Charlie Saponara
| ESPN.com
It's that time of year again. We can almost feel the buzz of Opening Day and, for some, it's time to bear down on some last-minute fantasy baseball draft preparation. Whether in fantasy or reality, fans are always looking to find that breakout player, someone they can tout in the spring and brag about come fall. Who will those breakout players be in 2011? Here's one man's humble opinion...
Catcher
:
Carlos Santana
-- CLE
I'll spare you the "Oye Como Va" cliche (wait, I just went there, didn't I?). Santana, the young Indians catcher, has all the makings of a great hitter. As a prospect, Santana showed incredible plate discipline and contact skills, drawing 332 walks to 322 strikeouts in 2,171 career minor league plate appearances. It was no surprise to see him walk 37 times and strike out only 29 times in 192 plate appearances with the Indians last season. Santana was in the midst of a slump when he fell to a season-ending knee injury. Between Triple-A and the majors in 2010, Santana hit .292/.529/.540 (no, that OBP is not a typo!) with 19 home runs in 438 plate appearances.
[+] Enlarge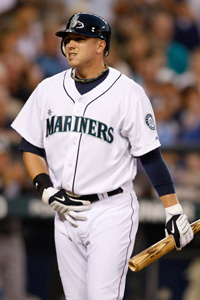 AP Photo/John FroschauerJustin Smoak hit .340 with 3 HRs over the last 14 games of his rookie season.
First Base
:
Justin Smoak
-- SEA
Smoak has the pedigree of an excellent hitter with a track record of good plate discipline and raw power. Despite hitting line drives at a well-above average rate (23 percent) in his rookie season, Smoak only managed a .218 AVG with a .255 BABIP. It would seem like bad luck at first, but he also managed to rank fifth-worst in baseball (minimum 300 plate appearances) in infield pop-ups (18.6 percent). In 2009,
Chris Young
of the Diamondbacks held a 22.4 percent infield pop-up rate. He lowered that rate to 12.4 percent in 2010 and raised his average 45 points while blasting 27 home runs. The bottom line is that Smoak is just a couple of adjustments away from coming into his own. His 397 major league plate appearances are far too few to judge him on.
Second Base
: Tsuyoshi Nishioka -- MIN
Not all Japanese stars find success in the big leagues, but in a lot of those cases a loss of power production is the culprit. It's fairly clear that power numbers don't tend to translate very well from the Japanese leagues to the big leagues, but speed, on the other hand, does. Ichiro is one example of that and even Kaz Mastui, injury plagued throughout his MLB career, stole 32 bases with the Rockies in 2007. Nishioka is known more for his contact, skill and speed than power, so there is a good chance his game translates to the big leagues fairly well. Nishioka hit .346/.423/.482 with 22 stolen bases in 144 games at age 25 in 2010. He's hitting .320 with two stolen bases in nine games this spring.
Third Base
:
Pedro Alvarez
-- PIT
While Pedro Alvarez didn't set the world on fire upon his major league debut, he did give Pirates fans a taste of his potential. Alvarez only managed a .256 average, but he did hit 16 home runs in 347 at-bats, an AB/HR rate that would prorate to about 25 homers in 550 at-bats. While it may take a couple years for the AVG to come around (he has some contact issues), the power has a chance to progress even further in 2011. Hitting in the middle of an improved Pittsburgh lineup, Alvarez has a real shot at 30-plus home runs and 100-plus RBI.
Shortstop
:
Cliff Pennington
-- OAK
As any fantasy baseball nut will tell you, shortstop is not the deepest position in 2011. However, there is a group of players that have a chance to surprise and Pennington is one of them. Pennington has good speed and was successful in 85 percent of his stolen base attempts in 2010 (29-for-34), which should earn him more green lights in Oakland this season. He makes good contact (86 percent contact rate and a 21.5 percent line drive rate in 2010) and doesn't chase an abundance of bad pitches. If he can lower his fly-ball rate in 2011, he could see a spike in AVG to go along with 30-plus stolen bases.
Outfield
:
Jay Bruce
- CIN
In his rookie season, Bruce averaged one home run every 19.7 at-bats. The following season, Bruce was sitting on an even better AB/HR rate (15.7) when he fractured his wrist trying to make a play in right field. After hitting only 10 homers through July of 2010, Bruce went on a power binge hitting eight home runs in August, about a year removed from the wrist injury -- it's normal for a wrist injury to sap power for about one full year. He followed up his torrid August with seven homers in September. I guess the wrist was feeling better.
If Bruce can come close to matching his AB/HR rate from 2009, he'll be a lock for 30 homers with plenty of upside for even more.
Designated Hitter
:
Edwin Encarnacion
-- TOR
Speaking of AB/HR rates, Encarnacion averaged one home run every 15.8 at-bats in 2010 and he already has a 26 home run campaign on his résumé. He's E-5, as some lovingly call him, -- well, maybe not Blue Jays fans -- committed 18 errors in only 95 games played at the hot corner last season. The good thing about that? He will see most of his time at designated hitter this year. Not only does this take the pressure and mental strain of his defensive woes away, but it allows him to do what he does best -- hit the ball a long way.
In many ways, Encarnacion profiles similarly to teammate
Jose Bautista
(and, no, I'm not calling for 50 homers!). While Encarnacion isn't as patient a hitter as Bautista is, he does make very good contact for a slugger and tends to hit the ball in the air far more often than he puts it on the ground, both traits displayed by Joey Bats.
Health may be the only thing between Encarnacion and 30-plus homers in 2011. The last time EDH had over 500 at-bats in a season (506) he hit 26 home runs. Being a full time designated hitter could help him in the health department and lead to his first 550-plus at-bat season.
Starting Pitcher
:
Brandon Morrow
-- TOR
In April and May of last season, Morrow pitched 57 innings, posting a great 10.42 K/9, but a poor 5.37 BB/9. From June 1 on, once he began to use his splitter more often and began to trust his fastball, Morrow pitched 89.1 innings the rest of the way and posted an even better 11.31 K/9 to go along with a greatly improved 3.23 BB/9. Not only did he gain confidence in his splitter, but he gained confidence in his other pitches as well, which helped him drastically improve his walk rate. He no longer felt the need to try and blow fastballs by opposing hitters.
If he continues to be the pitcher that showed up in the second half of 2010, then Toronto may have found a new ace.
Who are your breakout picks for 2011?
Charlie Saponara writes for the SweetSpot Red Sox blog at Fire Brand of the American League, which is part of the SweetSpot blog network. You can follow him on Twitter.