SweetSpot:

Tyler Clippard
April, 13, 2013
4/13/13
12:15
AM ET
Friday was just one of those nights when we give thanks for the existence of the MLB cable package.
Everywhere you turned there was something significant, bizarre, or significant
and
bizarre going on. Some of these events could define the season, or at the very least will help tell its story.
Let's break them down, starting with the most significant.
Reyes' injury
Is the
Toronto Blue Jays
' dream season over before it could really get going? The star-studded Jays were already off to an uneven start, and then
Jose Reyes
had to be
carted off
the field after an awkward slide while stealing second base in Kansas City. Last season,
Mariano Rivera
was a casualty of the Kauffman Stadium turf; this year, it's Reyes.
The Jays
did manage to win
, but losing a major asset will only make their path to the playoffs that much tougher. And as Paul Swydan pointed out earlier this week,
they have a brutal first-half schedule
.
Blue Jays GM Alex Anthopoulos is saying Reyes will be
out at least one month
, and it could be as many as three. Ouch.
The Nationals' collapse
On paper, the
Washington Nationals
are still baseball's best team. But if you want to nitpick, there are these: They have used
Tyler Clippard
-- one of the game's best relievers -- an alarming amount in recent years
Drew Storen
might still be dealing with confidence issues after blowing the 2013 NLDS, and every
Ryan Zimmerman
throw is an adventure.
So what happened on Friday? Clippard entered in the eighth with the Nationals leading 4-1. He wasn't sharp, walking three men and allowing a run without being able to get through the inning. Storen relieved him and got out of the jam, only to surrender two runs in the ninth. (
Rafael Soriano
was given the night off after working a lot the past few days.)
Storen wasn't hit hard, but one would imagine his confidence is still fragile, and this blown save against the Nats' main division rival won't help. And the tying runs? Those came when
Justin Upton
hit a slow chopper to Zimmerman with the bases loaded and two outs. Zimmerman fielded it cleanly but made an awkward sidearm throw that went into right field and allowed
Ramiro Pena
to score from second. Injuries have forced Zimmerman to change his arm angle, and he never looks comfortable when making a throw. The Braves took a 6-4 lead in the 10th on a two-run homer from Pena, and the Nats went quietly in the bottom of the frame.
Again, we're nitpicking on the Nats here, and this is a stacked team. But if you were looking for weaknesses, you could find them on Friday.
The Orioles' bad luck
It's been well documented that the
Baltimore Orioles
had some good mojo last year; look no further than their 29-9 record in one-run games. Friday's events suggested that their luck has turned.
With the score tied at two with two outs and the bases loaded in the bottom of the seventh,
Vernon Wells
hit a deep drive to center field.
Adam Jones
had a bead on it and was even blowing a bubble (as he's known to do) just as he was about to catch it. Not so fast, my friend. The ball bounced off his glove and three runs scored. It's a drop you never see a player like Jones make. Well, almost never.
Then, in the top of the eighth inning, the Orioles got the first two runners on before
Manny Machado
hit a soft one-hopper to
Robinson Cano
at second. And so began the strangest triple play you will ever see.
Just watch for yourself
.
Quentin's suspension
While all of this weirdness was going on, it was announced that
Carlos Quentin
would be
suspended for eight games
for igniting Thursday's brawl with the Dodgers'
Zack Greinke
. Earlier in the day, word got out that Greinke would miss at least two months with a broken collarbone, and it's easy to wonder if Quentin's suspension should have been heavier considering the severity of Greinke's injury.
I'm inclined to say yes. When you go after someone with the intent to harm, you must be prepared to face the consequences of your damage.
The suggestion that Quentin should have to sit out for as long as Greinke is injured is a bit harsh, but if the precedent for similar instances in which the pitcher was not hurt is eight games, then 15 games would be fair in this instance.
Other weird stuff
In Seattle, two Japanese pitchers squared off for just the 10th time in MLB history, with Yu Darvish going against Hisashi Iwakuma.
It was snowing when the New York Mets and Minnesota Twins got started at Target Field, with the kind of weather that usually makes it pretty hard to drive the ball. The Mets didn't get the memo, pounding out 16 runs while trouncing the Twins. John Buck hit a grand slam in the second inning and set a Mets record for most RBIs through 10 games with 19.
So yeah, wild night. Thank goodness we live in a world in which we could watch all of it while sitting on one sofa.
January, 15, 2013
1/15/13
5:00
PM ET
You can call it an overreaction to one blown save ... but it was one big blown save.
Sources told ESPN.com's Jerry Crasnick
that the
Washington Nationals
signed free-agent closer
Rafael Soriano
to a two-year, $28 million contract, with a third-year vesting option. Soriano presumably replaces
Drew Storen
-- he of the ninth-inning meltdown against the Cardinals in Game 5 of the Division Series -- and takes over the closer role.
I like the move. You can argue that closers aren't worth $14 million, you can argue that Storen is a quality closer who just had one bad inning at the wrong moment and you can argue that Soriano isn't an upgrade, but from the Nationals' perspective, I see their thinking like this:
1. The goal isn't to build the best team on dollars spent per win but to build the best team possible. Soriano is a good pitcher (Saw this tweet: since 1920, he has the third-lowest WHIP among pitchers with at least 500 innings) and he helps the Nationals.
2. While Storen has a career 2.96 ERA and saved 43 games in 48 chances in 2011 (he was injured part of last season and saved just four games), when you have a championship-caliber team you would prefer to go into the season with certainty at closer. You don't want to spend all season wondering how Storen can handle a playoff game, when there is no margin for error. Plus, he's a guy with an injury history.
3. The Nationals needed depth in the pen anyway with the loss of
Sean Burnett
. Plus,
Tyler Clippard
, who closed until Storen returned last season, has carried a heavy workload the past three seasons, pitching 252 innings, the most of any major league reliever. He looked worn by the end of the season, when he allowed 21 hits in 13.1 innings in the final month. So this gives Davey Johnson a dynamite back end of the pen and allows him to spread the work around.
With
Craig Stammen
,
Ryan Mattheus
,
Christian Garcia
and
Henry Rodriguez
, the Nats have one of the best pens in the league (although Zach Duke is the lone lefty), meaning the club can also monitor the innings of starters
Stephen Strasburg
,
Jordan Zimmermann
and
Ross Detwiler
. It's a long season, and keeping your pitching staff strong and healthy into October is just as important as getting to October.
(The signing also means the Nats don't have to trade Mike Morse for a reliever, as has been speculated. They can keep and use him as depth/injury insurance for the outfield and first base.)
The Nationals will lose their first-round draft pick and the money allocated for that pick, but for a team that can win it all, it's a worthy gamble. Late first-round picks rarely pan out anyway. The Yankees will also gain an additional pick at the end of the first round.
And Scott Boras' own gamble paid off. Soriano turned down his option with the Yankees and ended up getting a contract bigger than many expected ... and a chance to be somebody's closer.
October, 13, 2012
10/13/12
1:38
AM ET
We just witnessed one of the most amazing games in postseason history. Whether this game will eventually earn itself a place alongside other legendary games remains to be seen -- after all, Cardinals-Nationals doesn't quite have the same buzz to it as Red Sox-Yankees or Dodgers-Giants -- but I can assure you this: None of us has ever seen this before.
No team had ever rallied from more than four runs down to win a sudden-death postseason game, and only two teams had done that -- the
Pittsburgh Pirates
in Game 7 of the 1925 World Series against the, yes, Washington Senators, and the
New York Yankees
in Game 7 of the 2003 American League Championship Series.
The
St. Louis Cardinals
made history in remarkable fashion.
Of course, that means, with the
9-7 loss
, the
Washington Nationals
made history in the most heartbreaking fashion possible.
I had an entire post written, telling Nationals fans that winning in the postseason isn't easy, that even holding a six-run lead is never easy, that playoff baseball makes your stomach churn and all that.
I wrote that assuming they would hold on to the lead. Even after
Gio Gonzalez
once again lost the ability to throw a ball over home plate and the Cardinals scored three runs. Even after
Edwin Jackson
was for some reason summoned from the bullpen to pitch an inning and allowed a run. Even after
Daniel Descalso
homered in the eighth off
Tyler Clippard
to make the score 6-5. But when the Nationals added an insurance run in eighth, it felt like Nationals fans could finally breathe.
[+] Enlarge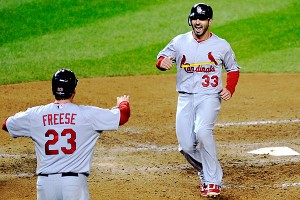 AP Photo/Nick WassDaniel Descalso, right, drove home the tying runs, then scored the final one of the Cards' comeback.
On the other hand, as Cardinals shortstop
Pete Kozma
-- a man apparently of few words -- said after delivering the go-ahead two-run single: "Never give up."
Damn.
* * * *
Friend of mine after the game, not a Cardinals fan or Nationals fan: "If the Mariners ever lost a game like this, I'd be in a hospital."
Postseason baseball is the most exhilarating ride in sports.
Postseason baseball is the cruelest of sports.
* * * *
Carlos Beltran
is awesome. He singled in the first, walked and scored in the fourth, walked in the fifth when the Cardinals scored twice off Gonzalez, doubled in the seventh to move
Jon Jay
to third (Jay would score), doubled to deep right-center off
Drew Storen
leading off the ninth. What a game. Five plate appearances, five times on base. One of the great sudden-death game performances a hitter has had.
* * * *
Calvin Schiraldi, Bill Buckner, Donnie Moore, Grady Little and company, Jose Mesa, the guy pitching in the Francisco Cabrera game (actually it was two, Doug Drabek and Stan Belinda), David Cone and Black Jack McDowell … and, yes, even
Mariano Rivera
. And now Drew Storen.
* * * *
Yadier Molina
had a terrific at-bat in the ninth inning with two outs and Beltran on second. He was 2-for-18 in the series when he stepped in and had left the bases loaded in the fifth, flying out to right field on a 2-0 fastball from Gonzalez. The pitch sequence:
Slider low.
Fastball fouled back. (Fans standing, cheering, mustering strength to wave their red towels, two strikes away!)
Fastball outside.
A 96-mph fastball fouled away. (One strike away!)
A slider that dipped low. I don't know how Molina held up. Tremendous pitch awareness and bat control.
Fastball high.
From the moment that
Allen Craig
struck out, Storen threw 12 pitches, any of which could have ended the game. Six pitches to Molina. Six more to
David Freese
, who also walked. The 13th pitch was a 94 mph fastball that Descalso ripped hard up the middle, off the glove of
Ian Desmond
, the ball bounding far enough into center field to easily score pinch runner
Adron Chambers
with the tying run.
* * * *
Kozma, a guy who hit .232 in Triple-A, playing only because of the September injury to starting shortstop
Rafael Furcal
, then lined a 2-2 fastball into right field to score two more runs. (Descalso had smartly stolen second base).
Washington manager Davey Johnson could have walked Kozma once Descalso stole second base. Cardinals closer
Jason Motte
, who had pitched the eighth inning, was due up next, although Cardinals manager Mike Matheny had sent backup catcher
Tony Cruz
, the last player left on the bench, to the on-deck circle as a decoy. He'd be entering the game anyway for Molina, who had been run for. Kozma has been pretty hot, hitting .333 for the Cardinals during his September call-up and homering earlier in this season.
Johnson could have put Kozma on and pitched to Cruz, which would have served two purposes: Force Matheny to bat Cruz, a guy who hit .254/.267/.365 in 126 at-bats, but also a guy without an at-bat in nine days. More importantly, it would have likely forced Matheny to pull Motte. Matheny already used
Joe Kelly
,
Trevor Rosenthal
,
Edward Mujica
and
Mitchell Boggs
, so that would have meant the Cardinals would be using, at best, their fifth-best reliever in the ninth.
Huge mistake by Johnson and I can only guess he was in such a state of shock he didn't have time to think the situation through properly.
* * * *
Yes, the Nationals could have used
Stephen Strasburg
. That's obvious. Whether that lost the series for them is debatable. But I'm pretty sure he would have helped somewhere along the line.
October, 4, 2012
10/04/12
9:07
PM ET
With help from the blog network writers, here are reasons each team can win the World Series.
St. Louis Cardinals

1. A potent, balanced lineup. The Cardinals had the best on-base percentage in baseball, including four starters --
Matt Holliday
,
Jon Jay
,
David Freese
and
Yadier Molina
-- with a .370 OBP or better, and that doesn't even include two of their most dangerous sluggers,
Carlos Beltran
and
Allen Craig
.
2. Deep and solid starting rotation. Cardinals starters featured the second-best fielding-independent pitching in the majors, and
Chris Carpenter
has rejoined the staff just in time for the playoffs.
3. Playoff experience. If there's an advantage to be gained from experience, the Cardinals have it, with nearly three-quarters of their championship team returning to the tournament.
4. "The postseason is a crapshoot." As a wild-card team, the Cardinals proved this last year by beating a dominant regular-season team in the Phillies in a short series, then the powerful Rangers in the World Series.
5. They're saving their best ball for last -- again. As with the 2011 squad, the Cardinals are coming together at the right time. They won their last two series of the season against potential playoff foes Washington and Cincinnati and their regulars are generally healthy.
--Matt Philip, Fungoes.net
Atlanta Braves

The biggest thing the Braves need to do this postseason is hit left-handed pitching. For the year, they have an 85 wRC+ compared to the league average of 100 against left-handed pitching, the lowest of any of the playoff teams. If they win the play-in game against the Cardinals on Friday, they could face three left-handed starting pitchers in the first round in
Gio Gonzalez
,
Ross Detwiler
and
John Lannan
.
On the pitching front,
Kris Medlen
has taken the ace role of the staff, but the Braves will specifically need
Mike Minor
and
Tim Hudson
to perform at a high level to compete with the other National League teams. Defensively the Braves have been stellar, so the key for all of their starters will be to avoid free passes and long balls. They do not have an overpowering or star-filled staff as other rotations do, meaning their starters will need to rely on command and pitch sequencing to perform well against upper-tier offenses.
If the Braves get solid pitching performances from Medlen and Minor, and manage to scrape enough runs across against left-handed starters and relievers, they should be able to advance through the playoffs and potentially win their first World Series since 1995.
--Ben Duronio, Capitol Avenue Club
Cincinnati Reds

Here are five reasons that there will be a celebration in Fountain Square the first weekend in November:
1. The bullpen. This is the Reds' most obvious advantage. Their bullpen ERA ranks first in baseball at 2.65. How deep is this bullpen? One of these pitchers probably isn't going to make the postseason roster:
Logan Ondrusek
(3.46 ERA),
Alfredo Simon
(2.66) or
J.J. Hoover
(2.05).
2.
Jay Bruce
. The Reds' right fielder is one of the streakiest hitters in the game. If he gets hot, the Reds will be tough to beat. Bruce was twice named National League Player of the Week this year. In those two weeks, Bruce hit .488 AVG/.542 OBP/1.186 SLG (1.728 OPS). If Bruce gets on a hot streak like that, he could carry the Reds to the 11 wins they need.
3. The defense. Defensive metrics are flaky, but when you look at all of them, you start to learn something. The Reds rank near the top of almost every leaderboard. Seven of their eight starters are plus defenders, and three-quarters of the infielders have Gold Gloves on their shelves.
4.
Ryan Hanigan
. One of the things I'm most excited about this postseason is the broader baseball world discovering Ryan Hanigan. He does a lot well. His .365 OBP is better than any Red but
Joey Votto
. He walked more than he struck out. He threw out 48.5 percent of would-be base stealers -- the best in baseball -- and his handling of the pitching staff has the Reds' coaching staff speaking about him in hushed tones.
5. Luck, or something like it. The Reds outperformed their Pythagorean W-L by 7 games. Since Sept. 1, they have an 8-3 record in one-run games. This could mean they're due for a reversion to the mean. I like to think it means they're destined to win the Series.
--Chris Garber, Redleg Nation
Washington Nationals

1. The one-two punch of Gio Gonzalez and
Jordan Zimmermann
. Few teams could lose a starter like
Stephen Strasburg
and still claim that starting pitching is a strength, but the Nats can. Cy Young candidate Gonzalez leads the NL in strikeouts per 9 innings and is second in hits per 9. Zimmermann rarely allows a walk, and has an ERA under 3.00. I'd match Gonzalez and him up with any team's one-two.
2. The infield defense. Each position is manned by someone you could argue is one of the majors' top 10 fielders at his spot. The staff throws a lot of ground balls. Put them together and you get a lot of outs.
3. The re-emergence of
Drew Storen
.
Tyler Clippard
had been manning the closer role effectively but has recently looked very shaky. No matter. Storen returned to the 'pen and has been dominant, allowing just one run in his past 16 appearances. He'll be closing games going forward.
4. The offense with no holes. While there is no individual superstar, six of the Nats' eight regulars had an OPS+ between 112 and 128 for the season. A seventh,
Danny Espinosa
, would have been right there as well if not for a hideous April. The weak link is
Kurt Suzuki
-- and he hit over .300 in September.
5. Davey Johnson. Outside of
Jayson Werth
, this team has little postseason experience, but this is the fourth team Davey has led to the playoffs, and he's won five postseason series. You have to expect that he can guide this team through the highs and lows of October baseball.
--Harper Gordek, Nats Baseball
San Francisco Giants

1.
Buster Posey
. His second half was off-the-charts awesome, hitting .385/.456/.646. He was the best hitter in the majors after the All-Star break -- even better than
Miguel Cabrera
.
2. The rest of the Giants' offense. Even though they ranked last in the NL in home runs in the second half, they still managed to rank second in runs per game.
Marco Scutaro
proved to be a huge acquisition, hitting .362 with the Giants.
3.
Matt Cain
. Remember his dominant postseason performance in 2010? In three starts, he allowed just one unearned run. This time around he's the Giants' No. 1 guy.
4.
Sergio Romo
. The Giants rode
Brian Wilson
a lot in 2010, but this time they'll have Romo, who could be just as dominant closing games. He allowed just 37 hits and 10 walks in 55.1 innings while striking out 63. He was equally crushing against lefties (.491 OPS allowed) and righties (.537).
5. Bruce Bochy. He's considered by many to be the best manager in the game. If a series comes down to in-game tactics, most evaluators would rate Bochy superior to Dusty Baker, Fredi Gonzalez and Mike Matheny.
--David Schoenfield
Baltimore Orioles

1. No. 1 -- and, you could certainly argue Nos. 2-5 as well -- is the bullpen. The O's went 73-0 when leading after the seventh inning. As relievers,
Tommy Hunter
is touching 100 mph and
Brian Matusz
has struck out 19 batters in 13 innings. Then there's
Troy Patton
(2.43 ERA),
Pedro Strop
(2.44),
Darren O'Day
(2.28) and
Jim Johnson
(2.49, 51 saves) to finish things out. While it might not be the best bullpen ever -- or even the best bullpen in the league this year -- it may have been the most "effective" 'pen in history, as noted by its record-setting (record-obliterating, really) +14 win probability added. Maybe 16 consecutive extra-inning wins and a 29-9 record in one-run games (the best since the 1800s) is partially a fluke, but having a quality bullpen certainly doesn't hurt in keeping that going.
2. Buck Showalter. Aside from bullpen management that's been so effective, Buck seems to just make all the right moves, putting guys in positions to succeed and making in-game decisions that seem to work even when they probably shouldn't. Sac bunt? You get the run you need. Hit and run? Batted ball goes right to where the second baseman was. Bring in
Chris Davis
to pitch? Two shutout innings, a pair of strikeouts (including
Adrian Gonzalez
!), and a win. Judging managers is tricky, but it would be mighty hard to argue that Buck isn't a net plus.
3. A surging offense. Overall, the O's were a little below average, but since the beginning of September they've actually been one of the league's better hitting teams (with an AL-best 50 home runs). It's mostly been the Davis show recently (.320/.397/.660, 10 home runs), but
Matt Wieters
(.296/.389/.541),
Adam Jones
(.295/.343/.504) and
Nate McLouth
(!) (.280/.355/.456) haven't been slouches either.
4. An improved defense. The glove work was often sloppy early in the year, all around the diamond, but not so much lately (largely since
Manny Machado
was called up). Machado is a shortstop (with the range that implies) playing third base, and adjusting both well and quickly to it.
J.J. Hardy
is one of the game's better shortstops. Whoever is playing second is decent (
Robert Andino
or
Ryan Flaherty
).
Mark Reynolds
may have found a home at first base, even if he's not a Gold Glover there (yet). The O's fielding (via FanGraphs) for the first four months: -20 runs. Fielding since: +0.
5. Orioles magic. Even if you count the O's as underdogs in each playoff series -- and really, you probably should -- they still have a 3-5 percent chance of winning it all (those chances double if they knock off Texas, by the way).
--Daniel Moroz, Camden Depot
Texas Rangers

1. An obvious on-paper advantage in the wild-card game.
Yu Darvish
has been dominant down the stretch with a 2.13 ERA and just 10 walks over his final seven starts. He's a strikeout pitcher against a lineup that strikes out a lot. Meanwhile,
Joe Saunders
is 0-6 with a 9.38 ERA in six career starts in Arlington.
2. Big-game experience.
Matt Harrison
had a terrific season, and having started a Game 7 of the World Series won't be fazed by the postseason.
Derek Holland
has had an inconsistent season but, as he showed in the World Series last year, is certainly capable of huge performances.
Ryan Dempster
also has playoff experience with the Cubs.
3. Defense. The infield defense with
Adrian Beltre
,
Elvis Andrus
and
Ian Kinsler
is arguably the best in baseball and was a key component to the Rangers' World Series run a year ago.
4.
Josh Hamilton
. If these are his final days with the Rangers, you get the feeling he'll be focused to go out with a bang, especially after his disastrous game in the regular-season finale. After his hot start, Hamilton recovered from his slump in June and July to hit 14 home runs over the final two months.
5. One game equals momentum. OK, the series sweep in Oakland was a disaster, but all it takes is one win over Baltimore and the Rangers can forget what happened down the stretch. Do that and this team is still the scary opponent everyone figured it was a few days ago.
--David Schoenfield
Oakland Athletics

1. Sometimes a very good overall team matches up poorly against a playoff opponent. As far as lefty-righty goes, the A's won't have that issue. General manager Billy Beane gave manager Bob Melvin the pieces to construct platoons, including at first base (
Brandon Moss
/
Chris Carter
), designated hitter (
Seth Smith
/
Jonny Gomes
) and catcher (
Derek Norris
/
George Kottaras
). Further, the top two everyday hitters,
Josh Reddick
and
Yoenis Cespedes
, bat from opposite sides of the plate, and leadoff man
Coco Crisp
, a switch-hitter, has very similar career splits from both sides of the plate.
2. The top three relievers,
Grant Balfour
,
Ryan Cook
and
Sean Doolittle
, have pitched remarkably well. All three bring gas. Cook can struggle with his command and Doolittle might hit a rookie wall any minute, but Balfour's 3.01 FIP is the highest of the group.
3. The A's are third in baseball in runs scored after the All-Star break. Ahead of the Yankees. Ahead of the Rangers. Well ahead of the Tigers. The current roster has been legitimately excellent on offense.
4. Defensive efficiency is a very simple metric: It is the rate at which a team turns balls in play into outs. It doesn't account for everything, but it does measure the core skill of a team's run-prevention unit. The A's are third in baseball in this number. Either the pitching staff doesn't give up hard-hit balls, the defense catches everything in sight, or both. Regardless of the why, the what is indisputable: Hits don't happen against the A's.
5. By record, the Tigers are the worst squad in the playoffs, yet the A's, the No. 2 AL team, play them in the first round because of the structure of playoff seeding. It likely isn't a huge advantage (the A's did just sweep Texas, after all), but every little bit counts on the way to a trophy.
--Jason Wojciechowski, Beaneball
Detroit Tigers

1. Miguel Cabrera. MVP or not, the Triple Crown speaks for itself. He is the best pure hitter in baseball and, unlike last year, is healthy heading into the postseason.
2.
Prince Fielder
was the American League's only .300/.400/.500 hitter, and he's not even the best player on his own team. He isn't completely helpless against LOOGYs either, posting an OPS of .808 against left-handed pitchers this season.
3.
Justin Verlander
, who has been just as good as he was in 2011. If Mother Nature cooperates this year, he will put a serious dent in that career 5.57 postseason ERA.
4. The rest of the rotation. With
Doug Fister
finally healthy,
Max Scherzer
's breakout second half, and the acquisition of
Anibal Sanchez
, the Tigers have the best playoff rotation in the big leagues. The four starters (Verlander included) combined for a 2.27 ERA in September and October.
5. Jim Leyland. The Tigers' skipper has been ridiculed by the fan base for most of the year for the team's lackluster performance, most of which was a mirage created by its early struggles. He has had his finger on this team's pulse all season and deserves credit for managing the outrageous expectations for a team with more flaws than people realized. Now he has the Tigers playing their best baseball heading into October and is the biggest reason why they could be parading down Woodward Avenue in early November.
--Rob Rogacki, Walkoff Woodward
New York Yankees

1. The rotation. This looks like the strongest playoff rotation the Yankees have had in years, even better than 2009, when Joe Girardi rode three starters (
CC Sabathia
,
Andy Pettitte
,
A.J. Burnett
) to the World Series title. Sabathia has battled a sore elbow but looked good down the stretch, including eight-inning efforts in his final two starts. Pettitte is 40 years old but still looks like Andy Pettitte.
Hiroki Kuroda
had a quietly excellent season, finishing eighth in the AL in ERA and 10th in OBP allowed among starters.
Phil Hughes
is a solid No. 4.
2. Home-field advantage. While this generally isn't a big factor in baseball, the Yankees' power comes into play with the short porch at Yankee Stadium. Earning the No. 1 seed was probably more important to the Yankees than any other team.
3.
Robinson Cano
. He's locked in right now, going 24-for-39 in his final nine games, all multihit games. Don't be surprised if he has a monster postseason.
4. Lineup depth and versatility. In this age of bullpen matchups, the Yankees are difficult to match up with. They can run out a lineup that goes right-left-right-left-switch-switch-left-left/right-right. You'd better have a deep bullpen to beat this team in the late innings.
5. Health. While
Mark Teixeira
may not be 100 percent, at least he's back in the lineup, meaning the Yankees finally have all their position players available (even
Brett Gardner
may make the postseason roster as a pinch runner/defensive replacement). They've been dinged up all season, but Sabathia and Pettitte should be strong. The only question: The Yankees haven't won a World Series without
Mariano Rivera
since 1978.
--David Schoenfield
September, 20, 2012
9/20/12
1:23
AM ET

"I mean, guys, I know how to hit. I promise you, I know how to hit. It's just right now, it's been pretty tough."
-- Matt Kemp to reporters a few days ago
Kemp has not had a good September. He's been mired in such a terrible slump that Cardinals manager Mike Matheny intentionally walked
Andre Ethier
the other day with runners at second and third and two out in the bottom of the 10th inning. And it worked. Kemp flied out, and the Cardinals eventually won the game in 12 innings.
The 2011 MVP runner-up entered Wednesday's doubleheader in Washington hitting .122 in September, with one walk and 14 strikeouts, an approach conjuring up memories of Kemp's lackluster 2010 season. Going back to Aug. 10, he had one home run and 12 RBIs in 31 games. "The Bison"? This was more like "T-Bone" Shelby.
Kemp went 1-for-4 in the first game as the
Nationals won 3-1
, dropping the Dodgers to 9-17 since an Aug. 19 victory had left them a half-game up on the Giants in the National League West. They were now two games behind the Cardinals in the crawl to the second wild-card spot. I wouldn't quite label the nightcap a must-win game, but there was at least a certain urgency.
How did this happen? How did the Dodgers get here? On Aug. 20, they lost to the Giants, when
Madison Bumgarner
outdueled
Clayton Kershaw
2-1 (both starters went eight innings, and combined for 20 strikeouts and no walks). The Giants won the next day and the next. A sweep at Dodger Stadium. The Dodgers then had an off day, and general manager Ned Colletti spent it finalizing the blockbuster deal to acquire
Adrian Gonzalez
and
Josh Beckett
. This would right the ship. It would be a battle to the end against their hated rivals, and in a perfect alignment of the schedule, the teams would finish the season against each other at Dodger Stadium.
Instead, the blockbuster became blockbusted. Gonzalez has been awful since joining the Dodgers, and his batting line stood at .233/.286/.378 (BA/OBP/SLG). Those would be described in the greater L.A. area as "
James Loney
numbers." Beckett had been inconsistent in four starts with the Dodgers, posting a 3.38 ERA but allowing 27 hits in 24 innings. He'd start the second game.
* * * *
The Dodgers scored three runs in the third inning. Kemp and Gonzalez drew key walks, and
Hanley Ramirez
and Ethier knocked in runs. They scored three more in the fourth. Kemp had an RBI single. He later scored a controversial run (replays showed he hadn't crossed the plate before a tag was made on Gonzalez). It was just the second time the Dodgers had scored at least six runs in 18 games. They'd scored two or fewer in nine of those games.
* * * *
The Nationals scored six runs in the bottom of the eighth. The home crowd went crazy.
* * * *
The Dodgers were staring down the barrel of one of the season's most bitter defeats that any team had suffered, an absolutely crushing blow considering the timing and circumstances.
Kemp led off the ninth against Nationals closer
Tyler Clippard
, and fell behind on a called strike for a cutter and two foul balls on a changeup and fastball. Kemp had entered the day hitting .200 on 0-2 counts, with 32 strikeouts in 63 plate appearances. Over the past three seasons, batters were hitting .128 off Clippard when he reached an 0-2 count.
Clippard wanted to elevate a fastball; he didn't elevate enough. Kemp belted a towering fly ball to center field that reached the third row of bleachers.
Brandon League
had an easy, 12-pitch bottom of the ninth, and the Dodgers had the win
7-6
. If the Dodgers somehow find a way to gather up some steam and catch the Cardinals to make the postseason, this will be the game Dodgers fans remember. From nearly falling off the edge of the cliff to catching a branch on the way down. Still hanging in there.
* * * *
This isn't a good team right now, not with Kemp and Gonzalez struggling at the plate. Not with Kershaw indefinitely sidelined -- maybe for the rest of the season -- with his sore hip. The Dodgers haven't been good since that amazing 30-13 start. In truth, the Dodgers' season peaked May 22, when
Ivan DeJesus Jr.
doubled in two runs in the ninth inning to give the Dodgers an 8-7 victory over the Diamondbacks. They seemed unstoppable at that time, a miracle season in the works. Cue highlights of Orel Hershiser and Kirk Gibson on the big screen.
The Gonzalez trade was a sign of desperation, a sign of a new ownership group with deep pockets being played the fool. Take on our fading stars! Take on these mammoth contracts! Win back your fans! It will work out for you, trust us!
You know, the funny thing about the Frank McCourt era is that the Dodgers made the playoffs four times in his eight seasons as owner. They even won their first two playoff series since 1988.
I have a feeling they will be 0-for-1 in the Magic Johnson era.
PHOTO OF THE DAY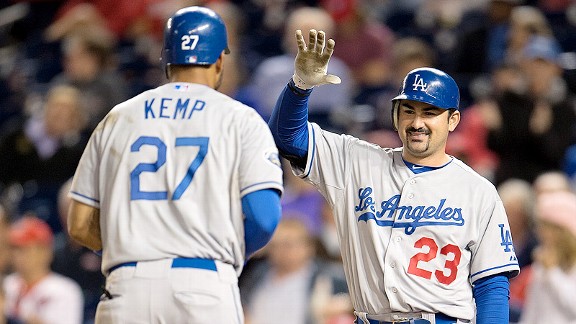 Harry E. Walker/Getty ImagesMatt Kemp gets his due for taking the pressure off everyone else with his winning homer in the nightcap.
April, 12, 2012
4/12/12
2:14
PM ET
Will the
Boston Red Sox
win another game this season? This was one of the debates on Thursday's
Baseball Today podcast
as I was joined by SweetSpot blogger/editor David Schoenfield. We also heard from producer Jay Soderberg and the awesome bias cat!
1. The Red Sox are struggling, but didn't this happen last year as well? Dave and I preach patience.
2. Former Boston star
Johnny Damon
is back in the news, and he might have found a new home. Is it a good fit?
3.
Josh Johnson
and
Tim Lincecum
each struggled on Wednesday, but which ace worries us more?
4. Speaking of aces,
Jamie Moyer
is on the mound Thursday against a foe that wasn't born when Jamie made his big league debut. I love stats like that. What are realistic expectations for Moyer?
5. Our emailers need answers about
Ruben Tejada
,
Joe Nathan
and why an RBI groundout can hurt a player's batting average.
So download and listen to Thursday's memorable Baseball Today podcast, because this Schoenfield kid and me, we've got synergy.
April, 12, 2012
4/12/12
1:52
AM ET
By
Christina Kahrl
| ESPN.com
At first blush,
Stephen Strasburg
's overpowering start for the Washington Nationals might seem like good news for a club trying to get itself taken every bit as seriously as the Miami Marlins in the National League East's "Division of Death" this season. But two outstanding starts into the season, Strasburg's work brings up a couple of interesting things about this Nats club that bear watching as we head deeper into the 2012 season.
First, there's the question of his workload. In the broad strokes, worrying about this now would definitely qualify as a case of too much, too soon. Even if Strasburg is limited to starting in a five-man rotation, in which nobody's turn gets skipped because of scheduled days off, his total starts and innings are going to pile up. Even if Strasburg gets the odd extra day of rest between turns, he's going to have around 17 starts by the All-Star break. As a 23-year-old. Coming back from elbow surgery. With the second half to look forward to. If he fends off a (perhaps unwanted) All-Star Game invite, he'd be on turn to lead off the rotation in the second half, same as the first.
That might not seem like a big deal. Davey Johnson probably isn't going to overwork his young stud starter in individual ballgames, after all. But as dominating as Strasburg was Wednesday against the New York Mets, he still racked up 108 pitches against 24 batters in just six innings. Eighteen pitches facing just four guys per inning? That's life when you're striking people out, and that's going to get you run out of games early, even when you're going well.
But the real problem about the ideal of watching the kid's workload and giving all due care to the logistical tedium of managing top talent carefully is where it might run up against the Nats' bid for contention. That might sound silly to talk about in April, but various projection tools have the Nationals winning 80 to 82 games, and perhaps nobody in the NL East reaches 90. That makes the Nats a contender, on paper or in projections, admittedly, but a team that will be in the running.
Now, what does that mean for how they manage their best starter's workload down the stretch? Is a buzzer going to go off when Strasburg makes his 24th start at the end of August, and general manager Mike Rizzo rings up Davey in the dugout and says, "Bad news, skip, the kid's got just two starts left this year"? An incredulous Johnson might look at the standings and see that his team's just four out and wonder what the point of the first five months was if you have to pull up and watch the Braves or Phillies or Marlins race on ahead.
That becomes even more difficult to swallow with the new two-wild-card setup for the postseason -- if you're the Nats, and you might squeak into a one-game playoff to move into the NL Division Series, wouldn't you feel pretty confident about your chances if you've got Strasburg in the fold?
Happily for the Nats, Johnson has a roster set up with more than a few compensations to deal with a young ace who's going to have to be handled carefully early in the season, so maybe the issue becomes academic. First, you can skip worrying about who's getting saves for the Nats, whether it's
Drew Storen
or
Brad Lidge
at whatever point of the season. The real relief the Nats can look forward to comes from the relative no-names who will be pitching in the sixth, seventh and eighth innings, starting with
Tyler Clippard
-- the NL's most valuable non-Braves reliever last year, according to WAR -- and
Henry Rodriguez
's triple-digit gas, and
Craig Stammen
's ground-pounding sinker. That's the kind of talent that will keep hard-hit balls from happening, usually with strikeouts. They won't notch saves, but they'll allow Johnson to hook Strasburg earlier than a previous generation's skipper might have, and that might help keep the kid in the mix to the very end of the season.
Second, Johnson's an old hand at getting the best from his lineups, to the point that he'll eke out runs by cheating on defense. Witness Wednesday's lineup behind Strasburg: With lefty
Johan Santana
on the mound, it becomes relatively affordable to put the towering
Jayson Werth
out in center field. Why? Because Strasburg generates so many outs at home plate that Johnson can risk a few adequate (or worse) defenders on the field. Against the Mets, Strasburg got half of his outs at home with those nine K's, got three ground-ball outs, and got a fly-ball out per inning.
There's nothing very newfangled about this: Back in the 1980s, Johnson was willing to play sluggers such as Howard Johnson or a young Kevin Mitchell at shortstop when he had an extreme fly-ball/strikeout pitcher such as Sid Fernandez on the mound. And with more strikeouts happening today than ever, it makes even more sense now.
So maybe that's the formula that gets Strasburg deep into the season: Better run support thanks to tailored lineups, a bullpen that can cover three or four frames per game, and not just pitch counts. If the Nats stay in this thing the way you could think they might, we'll see what they decide about Strasburg's workload then.
PHOTO OF THE DAY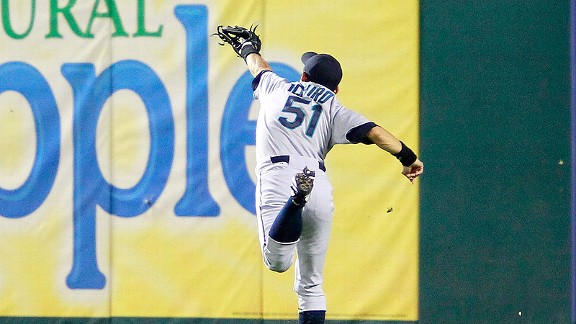 Rick Yeatts/Getty ImagesIchiro might be getting up there, but he can still get on his horse and ride.
Christina Kahrl covers baseball for ESPN.com. You can follow her on Twitter.
March, 26, 2012
3/26/12
4:10
PM ET
With
Washington Nationals
closer
Drew Storen
battling elbow inflammation and possibly not ready by Opening Day,
Davey Johnson said
Brad Lidge
or
Henry Rodriguez
would serve as closer -- and not setup man extraordinaire
Tyler Clippard
.

"It's hard to replace what he does," Johnson said. "What he did last year is at least as important, if not more important, than your closer. You want to avoid weakening two positions."
Let's pause and give Johnson a quick round of applause for subtly acknowledging this. In absence of a team's regular closer, most managers simply move their main setup guy to the ninth.
Storen and Clippard were both excellent a year ago. Here's a breakdown of their overall percentages of batters faced in various situations described as high, medium and low leverage (via Baseball-Reference.com).
Storen
High leverage: 163 PAs (53.4 percent)
Medium leverage: 73 (24.1 percent)
Low leverage: 67 (22.1 percent)
Games entered with runners on base: 6
Games entered with score tied or +1: 36
Clippard
High leverage: 145 PAs (44.1 percent)
Medium leverage: 113 PAs (34.3 percent)
Low leverage: 71 PAs (21.6 percent)
Games entered with runners on base: 26
Games entered with score tied or +1: 35
So while they were used similarly as far as the score of the game, there was a big difference: Clippard entered more often with runners on base. Storen entered 29 times with a two- or three-run lead, with most of those coming with the bases empty. Johnson would prefer to keep Clippard entering in those tight situations with runners on base and leaving those bases-empty, three-run leads to a lesser pitcher like Lidge or Rodriguez. Granted, those two are good options since Lidge has closing experience and Rodriguez throws 98 mph, making Johnson's decision a little easier.
Still, he made the right one. Other managers would be wise to heed Johnson's thought process.
March, 26, 2012
3/26/12
1:34
PM ET
On Monday's
Baseball Today podcast
Mark Simon and I revealed our thoughts on many pertinent topics dealing with this great game:
1. As part of our homework assignment we predicted win totals for each and every team, made them clear on the show and compared results. Very interesting!
2. Should we feel sorry for injured Reds closer
Ryan Madson
? One of us rants a bit on this one, as well as the Phillies missing
Wilson Valdez
.
3. What's Davey Johnson doing with his closer situation in D.C.? Again, an interesting topic with surprising results.
4. Who is most likely to have a four-triple game? It has happened before, and while it wasn't the awesome Doug Flynn, he came close.
5. Lots of emails today! Among the topics were
Johnny Damon
, contenders for a long hitting streak, what to do at Citi Field, and keeping an eye on Shlobotnicks when they leave your favorite team!
So download and listen to Monday's Baseball Today podcast, as ridiculous isn't merely a word that defines some of our emails ...
September, 27, 2011
9/27/11
10:00
AM ET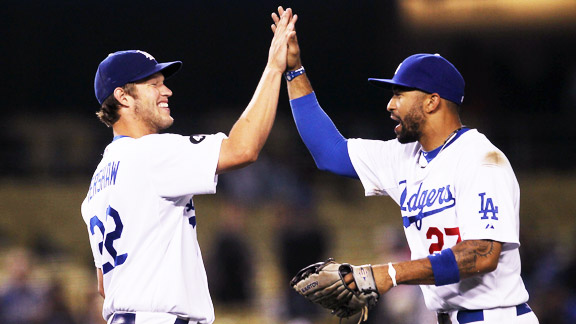 Stephen Dunn/Getty ImagesClayton Kershaw and Matt Kemp have been the bright spots in a tough year for Dodger fans.
Yesterday, I presented my
American League 2011 All-Stars
. Now I give you the National League.
Catcher: Miguel Montero, Diamondbacks
(.283/.353/.471, 18 HR, 86 RBI). Atlanta's
Brian McCann
seemed the favorite here most of the season, but he hasn't been the same since straining an oblique in late July. He hit .146 in August and he's hitting .192 in September. Montero has a .969 OPS with runners on base and has thrown out 40 percent of runners on the bases.
First base: Joey Votto, Reds
(.312/.418/.532, 28 HR, 102 RBI). A pretty easy choice over
Prince Fielder
and
Albert Pujols
. Fielder and Votto have similar numbers at the plate, but Votto gets a big edge in the field and on the bases.
Second base: Brandon Phillips, Reds
(.300/.353/.458, 18 HR, 82 RBI). He's had his best all-around season, batting nearly 30 points over his career mark, posting a career-best on-base percentage and playing his usual excellent defense.
Third base: Pablo Sandoval, Giants
(.314/.357/.553, 23 HR, 70 RBI). It wasn't a great year for NL third basemen, with
Ryan Zimmerman
and
David Wright
battling injuries and others having poor seasons. Sandoval gets the edge over the Cubs'
Aramis Ramirez
despite missing more than 40 games himself. But his overall batting line is superb in a tougher pitcher's park and his defense has been excellent, a big advantage over the cement-footed Ramirez.
Shortstop: Troy Tulowitzki, Rockies
(.302/.372/.544, 30 HR, 105 RBI). Mets fans aren't going to like this with the season
Jose Reyes
had, but Tulo has 25 more home runs, more walks, is better with the glove and has played 20 more games. For those who label him only a Coors Field hitter, he's hit .292/.362/.519 on the road.
Outfield: Matt Kemp, Dodgers
(.324/.399/.593, 38 HR, 123 RBI, 113 R). Here's a consideration: Is this greatest season ever by a
Los Angeles Dodgers
' position player? According to Baseball-Reference WAR, his season ranks only behind
Adrian Beltre
's 48-homer season in 2004, and just ahead of
Mike Piazza
's 1997. In fact, forget limiting it to just Los Angeles. The only Brooklyn Dodger seasons that rate higher are two from Jackie Robinson, in 1949 and 1951.
Outfield: Ryan Braun, Brewers
(.334/.398/.601, 33 HR, 111 RBI, 107 R). In so-called High Leverage situations, he's hit .367/.408/.667. Yes, he's been awesome
and
clutch.
Outfield: Justin Upton, Diamondbacks
(.291/.372/.533, 31 HR, 88 RBI, 105 R).
Matt Holliday
and
Lance Berkman
have had slightly better years with the bat, but Holliday missed too much time and Berkman can't match Upton in right field. And remember: He just turned 24.
Starting pitcher: Clayton Kershaw, Dodgers
(21-5, 2.28 ERA, 233.1 IP, 174 H, 54 BB, 248 SO). He leads the NL in wins, ERA and strikeouts as well as opponents' batting average, OBP and slugging percentage. It's called The Leap.
Starting pitcher: Roy Halladay, Phillies
(19-6, 2.35 ERA, 233.2 IP, 208 H, 35 BB, 220 SO). Yeah, he's still pretty good.
Starting pitcher: Cliff Lee, Phillies
(17-8, 2.40 ERA, 232.2 IP, 197 H, 42 BB, 238 SO). He had six shutouts (the first pitcher since
Randy Johnson
in 1998 with that many) and 11 starts where he allowed no runs. If he gets hot in the playoffs like he was in June (0.21 ERA) or August (0.45 ERA), watch out.
Starting pitcher: Ian Kennedy, Diamondbacks
(21-4, 2.88 ERA, 222 IP, 186 H, 55 BB, 198 SO). He went 12-1 with a 2.11 ERA in the second half to lead Arizona to the NL West title. Also went 10-0 against the NL West.
Starting pitcher: Cole Hamels, Phillies
(14-9. 2.75 ERA, 213 IP, 165 H, 44 BB, 193 SO). Has allowed two runs or fewer in 21 of his 31 starts. Not bad for a No. 3 starter.
Setup: Tyler Clippard, Nationals
(3-0, 37 holds, 1.85 ERA). He flew under the radar all season, but he leads the NL in holds, has more strikeouts (103 in 87.1 innings) and a lower WHIP than
Jonny Venters
. In a year with several outstanding setup men, he's been a dominant workhorse.
Closer: John Axford, Brewers
(2-2, 45 saves, 2.01 ERA). Over
Craig Kimbrel
? Yes, Kimbrel owns an off-the-chart strikeout rate, but the closer's job is to preserve leads, not just strike batters out. Kimbrel has blown seven saves -- that's actually a lot for a modern closer. Axford is 45-for-47, including 42 in a row.
Player of the Year: Kemp.
Braun may win the MVP Award and he'd be a deserving honoree, but I'm giving Kemp my mythical Player of the Year award. His big edge, of course, is that he plays center field. Given similar stats, you have to rate the center fielder over the left fielder.
September, 2, 2011
9/02/11
10:00
AM ET
By
Christina Kahrl
| ESPN.com
So who are the real firemen? You know who leads the majors in saves, but ninth-inning save opportunities aren't distributed especially equally. And in the age of Eck-style three-out saves, it isn't like the guys getting saves are the ones charged with putting fires out with the game on the line. They're fulfilling the job of protecting ninth-inning leads, and they get the glory stat and the big-time money for their troubles. Not that there's anything wrong with that, but the ninth inning isn't often the point in time when a game's outcome hangs in the balance.
Instead, let's take a look at the guys who have made the biggest impact on outcomes because of the situations they get thrown into, which often involves handing off that lead to the closer. Using what Baseball-Reference.com refers to as "High Leverage" situations, who are the non-closers who have been put into the most key situations this season? Here's the list of the guys with the highest number of High Leverage games without notching 20 or more saves. For good measure, let's toss in innings pitched, games, their average leverage index (aLI), their tally of Holds + Saves and their total save situations (rarely in the ninth inning), their inherited runners, inherited runners who scored (IS), and the percentage of inherited runners who scored (IS%):
As much as we've already gotten to hear about Venters this season, it's worth noting that he and Adams have come into more high-leverage situations than anybody in the game today, even after you include the closers. It's also nice to see O'Flaherty show up, because Spuds has to live with being the third wheel in the Braves' outstanding late-game trio, and not everyone gives him his due. The Cubs' Marshall makes an appearance as a pitcher very similar to Venters, in that he's earned a rubber-armed reputation while killing people with sinkers. And as former starting pitchers, they're not the sort of southpaw set-up men who get chased by the first sign of a right-handed bat in the on-deck circle.
In Clippard and Veras, you get a pair of mid-game workhorses on non-contenders. More so than the others here, they're also relievers who rank high among those who've had to pitch with the most runners on base. The MLB average for inherited runners scoring is 29 percent, and Clippard's 19 percent clip puts him among the most effective at stranding other people's problems. For the curious, the man with the mixed fortune of pitching with the most inherited baserunners has been
Jason Motte
with 56, but he's also allowed a slightly worse-than-average 32 percent to score. Beyond Motte are a gaggle of situational guys: lefties
Bill Bray
of the Reds and
Tim Byrdak
of the Mets, plus submariner
Brad Ziegler
.
Which leaves Mike Adams, who's interesting in that he's almost the antithesis of a mid-game fireman: He almost never gets put into situations with men on. Instead, he's entrusted with eighth-inning leads that are save opportunities -- they just don't happen to lead to him notching many saves. Between San Diego and Texas this year, Adams has been handed 28 eighth-inning leads of three runs or fewer, and appeared in 16 eighth-inning ties. Between an injury-marred career that argues against him being asked to pitch multiple innings and a long delivery that makes him a poor choice to pitch with runners aboard, but leave him alone in this sort of role and he'll strike out a man an inning and pitch his own innings. As set-up heroes go, he's fairly unusual, but handled carefully, he's an asset who belongs on this sort of list.
Christina Kahrl covers baseball for ESPN.com. You can follow her on Twitter.
June, 20, 2011
6/20/11
11:45
AM ET
I like the Nationals. I like their Expos origins and I appreciate the way they embraced Washington, D.C.'s baseball past by resurrecting the Senators' old curly W logo. I think their ballpark is quite nice and underrated, actually. The president's race is a fun idea and at some point we have to see relief pitcher
Todd Coffey
, all 6-foot-4, 240 pounds of him, apply his trademark full sprint from the bullpen in a race with the Mount Rushmore four. When the Nationals put eight straight "curly Ws" in the books to get within a game of .500, it seemed like the latest brief hint of progress. Then the Nats committed three errors in Sunday's 7-4 loss to the Orioles. The streak was over, but it did confirm that the compass may at last be pointing north.
The Nationals are still two games under .500 and tied with the Mets for third in the NL East. I get it. Remember, however, that the franchise is in its seventh year in D.C. and has finished last in all but one of its previous six seasons, so third place on June 20 is tangible evidence of improvement. Washington is 12-6 in June and there is more to do than simply wait for
Stephen Strasburg
and Bryce Harper.
[+] Enlarge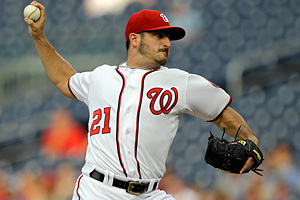 Rob Carr/Getty ImagesJason Marquis has posted a 7-2 record so far this season.
The rotation has held together while Strasburg recovers from Tommy John surgery. To begin with, it's a durable bunch: the Nationals have had only six pitchers start games this season. Twenty-five-year-old Jordan Zimmermann, himself a Tommy John patient, has emerged as the leading candidate to become Strasburg's rotation wingman next season. Zimmermann's record over his past nine starts is 4-2 with a 2.33 ERA and he's allowed two or fewer earned runs in eight of those nine starts. He's 3-0, 1.32 in four starts this month.
Washington is second-to-last in the National League in strikeouts, ahead of only the Pirates, but
Jason Marquis
and
John Lannan
have been effective. Marquis turns 33 in August and at 4-1 in his last eight starts could yield some prospects at the trade deadline. At 26, Lannan is likely next season's No. 3 starter in Washington. The Nats have won six of Lannan's last eight starts and he's put up a 2-1, 2.44 record over that span while allowing 43 hits in 51 2/3 innings.
The bullpen can light up radar guns.
Drew Storen
, the Nationals' "other" first-round pick in 2009, is 17 for 19 in save opportunities after making some mechanical changes this spring.
Tyler Clippard
has allowed only 23 hits in 41 2/3 innings with a 53 to 15 strikeout-to-walk ratio.
Henry Rodriguez
has been more unheralded than
Aroldis Chapman
, but more effective: routinely throwing 100 mph and averaging better than a strikeout per inning.
Yes, giving
Jayson Werth
, who turned 32 last month, a seven-year, $126 million contract was a poor decision. In 47 games hitting third in the order, Werth batted only .241/.340/.391. On June 11, manager Jim Riggleman put Werth in the leadoff spot, where in eight games he's gone 5-for-33 with two home runs, four RBIs and four runs scored. Sunday's loss was the Nationals' first since Werth began hitting leadoff -- with the pitcher batting eighth -- but Werth was handed all that money to hit homers and drive in runs, not bat .152 as a leadoff man.
"He works very hard on his offense and puts the time in," Riggleman said. "I think he's gonna get it together here. He's too good an athlete to not, so I think we're gonna see a lot of good things from him here soon."
With Werth slumping
Michael Morse
has provided the power. Acquired in June 2009 in a trade with Seattle for
Ryan Langerhans
, Morse is 29, but his 293 plate appearances last season were a career high. This year, he's already had 224 PAs and has batted .309/.357/.564 with a .921 OPS. Morse has 13 home runs, just two shy of his career high, and with
Adam LaRoche
lost for the season after shoulder surgery, Morse has taken over first base, despite only 12 career starts there prior to this season. Since becoming Washington's starting first baseman on May 22, Morse has been one of baseball's best hitters, batting .355 with 11 HR, 32 RBI and a 1.193 OPS.
All-Star
Ryan Zimmerman
has hit safely in all six games since his return from abdominal surgery, going 7-for-28 with a home run and four RBIs. Zimmerman had been out since April 9 and has had to alter his throwing mechanics from third base to avoid another injury to his midsection. His wild throw in Sunday's loss to Baltimore was the first of three Nationals' errors, and when asked if the changes were still a work in progress, Riggleman answered, "He's changing some mechanics of his throwing so, I guess you can use that terminology but Zim's doing fine."
Despite Sunday's miscues, the Nationals are third in the National League in fielding percentage.
Danny Espinosa
has become a defensive star at second base and could potentially move to shortstop in the future, should Washington need to find an infield spot for this year's sixth overall draft pick, Rice third baseman Anthony Rendon. Regarded as the best collegiate hitter available in this year's draft, Rendon could be on the 25-man roster as early as next season. Last year's deadline trade of
Matt Capps
to the Twins for catching prospect
Wilson Ramos
may go down as one of the best in Nationals' history. Ramos turns 24 in August and looks like he'll be one of baseball's best catchers for the next decade, having won the job from future Hall of Famer
Ivan Rodriguez
.
Morse could just be a late bloomer. Jayson Werth has been too good a player not to improve. Ryan Zimmerman is a proven star and Ramos, Espinosa and Storen are stars in the making. Strasburg, Harper and Rendon are coming soon. Soon, too, will come the day when third place for the Nationals will be a disappointment.
Follow Steve Berthiaume on Twitter: @SBerthiaumeESPN.