December, 9, 2011
12/09/11
1:40
AM ET
By
Christina Kahrl
| ESPN.com
Third base and the Cubs? It's as if
Aramis Ramirez
hadn't already definitively ended the sad litany of aspirants since Ron Santo's reign at the hot corner almost 40 years ago. But with A-Ram outbound as a free agent, finding something better than resorting to a
Blake DeWitt
-
Jeff Baker
platoon seemed like a must-do this winter. And the market isn't exactly stuffed with alternatives.
So it came as no surprise that, after weeks of speculation, Team Theo finally consummated a deal with the Rockies to acquire third baseman
Ian Stewart
. They also picked up righty
Casey Weathers
, while sending outfielder
Tyler Colvin
and infielder
D.J. LeMahieu
to Denver.
After weeks of the Cubs working up to a deal for Stewart, you might wonder if sometimes you need to be careful what you wish for. Stewart's issue with the strike zone has been a career-long blight in the minors and majors, something that has reliably tripped up someone who once seemed like a top prospect. To be fair, he's had to deal with inconsistent usage patterns from an organization that didn't always have much faith in him. For a brief while, it seemed as if Jim Tracy's arrival in 2009 would be the best thing to happen to Stewart, because it wasn't soon after that the Rockies stopped playing him at second base. But between a slow start and the Rockies' unfortunate fascination with
Ty Wigginton
, Stewart's 2011 season went off the rails before an injured wrist effectively ended it.
[+] Enlarge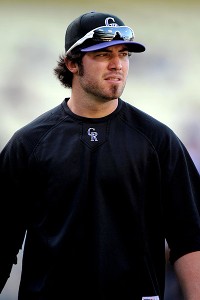 Kirby Lee/US PRESSWIREThe Cubs acquired Ian Stewart from Colorado to be their answer at third base.
Despite all that, for the Cubs there's plenty of potential good that comes from getting Stewart. He's a decent enough defender, and he'll turn 27 right around Opening Day. The Cubs have him under their control for the next three seasons, or what figures to be the tail end of the most productive part of his career.
However, the thing to keep in mind in evaluating this deal is that playing at altitude depresses strikeout rates for everybody, by roughly 15 percent as Joe Sheehan noted in Baseball Prospectus. That fact has helped given us breakthroughs such as
Preston Wilson
-- the more strikeout-prone hitters who struggle with breaking stuff get an outsized benefit from playing in a park where big benders bend less and all pitches lose a bit of wiggle. In his brief big-league career, Stewart has struck out in 32 percent of his at-bats everywhere but Denver, but "just" 24 percent of the time when he's been batting in Denver. Guess where Stewart won't get to call home any more?
In contrast, this is great for Colvin, for exactly this reason. He's a hitter who has always struggled with his command of the strike zone, whiffing a quarter of the time in both Triple-A and the majors. Getting to call Denver home half the time will give him a significant chunk of at-bats where he's more likely to make contact instead of whiffing, in a park that rewards people who can hit balls hard when they make contact. If he gets a shot at regular playing time, Colvin's shot at becoming a mile-high hero should come as a surprise to no one. You shouldn't be harsh on the Cubs for that, though -- this was a benefit only the Rockies can reap, and having signed up
David DeJesus
, Theo Epstein and Jed Hoyer have already picked their right fielder,
come what may
.
The other guy who will automatically profit from this is LeMahieu, simply because he's a hitter going to a hitter's park. However, his core offensive skill is making contact and plinking singles, as reflected in a career line of .317/.353/.399 in the minors. Walking five percent of the time and an ISO below .100 aren't positives, especially if he's playing third base instead of second. Fortunately for him, the Rockies don't have an established answer at the keystone. If LeMahieu can prove he can handle the position to their satisfaction, he might have a shot at living up the "poor man's Freddy Sanchez" fantasies his best-case scenarios always entailed -- thanks to the park as well as his gifts for bat control. That might sound like something -- Sanchez won a batting title, after all -- but he's a fairly mediocre commodity, and that's the upside. The downside is that the Rockies might get the guy the Cubs gave up: A singles hitter who can't play second.
The other player coming over to the Cubs, Casey Weathers, is your basic hard-throwing maybe. The eighth overall selection of the 2008 draft, Weathers has struggled with command, especially since blowing out his elbow and having Tommy John surgery. That's an unhappy reminder that not everybody comes back from the procedure, but if Weathers pans out with a change of scenery, he'll yield outsized rewards. If not, there are other hard-throwing fish in the sea. This is an old Epstein/Hoyer standby, because with the Red Sox they'd snap up "maybe" pitchers for the bullpen like they were so many Skittles. Maybe he turns into something, maybe not, but as a ballast to even out a trade goes, you can do worse.
If it sounds like the Cubs gave up more than they got, that's because they're the ones taking a big risk, even with Stewart possessing the most extensive credentials in the major leagues. The risk is whether or not Stewart will hit enough to stick in the lineup now that he'll be playing closer to sea level. If he does, they'll have gotten a regular third baseman instead of overpaying for one on the market. Giving up a corner outfielder who might do well in Denver (but not star) and an infielder who might be a filler option at second base to take that chance? That's a risk well worth taking. If Stewart works out, the Cubs will have a three-year answer to their age-old Santo question. Weathers is a flyer on the off-chance that live-armed relievers have a way of going from nobody to somebody overnight.
Christina Kahrl covers baseball for ESPN.com. You can follow her on Twitter.
November, 30, 2011
11/30/11
6:40
PM ET
By
Christina Kahrl
| ESPN.com
Can't go wrong with a
Big Lebowski
reference, right?
Anyway, no sooner does it get noted the
Chicago Cubs
could
use people who draw a walk now and again
than Theo Epstein's band of merry front-office mercs signed a guy who… draws a walk now and again, inking transient Athletics/former Royals outfielder
David DeJesus
to
a two-year-plus-option contract
. DeJesus will cost either $10 million to employ over two seasons (counting a buyout of the club option of 2014) or $15 million over three years.
My first reaction was superficial and positive -- after all, David DeJesus was once a heck of a player, if a bit fragile, and if he's in demand first in Oakland and then in Wrigleyville, it means he's getting the stamp of approval from both Billy Beane and Theo Epstein. And there are a few quick and easy takeaways from this, but upon reflection, not all of them are positive.
First, DeJesus had an awful 2011. You can blame that on the BABIP fairy if such is your inclination: He put up a career-low .274 average on balls in play, against his career average of .316. You can try to blame the always-tough Coliseum a little bit, although he had an equally miserable season on the road, with a .701 OPS away from Oakland against his .695 OPS at home. Whatever Oakland's rep, he also wasn't fouling out at a more prodigious rate.
What's really troubling is that DeJesus was striking out at a career-worst 17 percent clip in 2011, more than three points worse than his next-worst campaign in the last six seasons. Dig into the data, and he was proving increasingly susceptible to off-speed stuff from right-handers while simply being owned by lefties. Maybe the Cubs see something they can fix, instead of just banking that $10-15 million on mere regression.
Second, DeJesus doesn't actually walk that much. He's patient, and he will be patient --
for a Cub
. He'll be the walk-iest Cub this side of
Geovany Soto
, but his career walk rate of 8.3 percent is just a hair below the MLB average (8.5).
Third, having DeJesus in the fold certainly frees the Cubs up to explore their outfield options, which is perhaps the best news the deal represents. He'll be in right field unless/until Epstein's crew somehow makes
Alfonso Soriano
and his monster contract and his no-trade clause go away. That's highly unlikely, though.
An outfield of Soriano,
Marlon Byrd
in center and DeJesus in right is better than counting on
Tyler Colvin
or eventually top outfield prospect Brett Jackson, but not a whole lot better. But with Jackson nearing the majors and with DeJesus signed, Jed Hoyer and Epstein can that much more easily shop Byrd around. He's in the last year of his deal and due $6.5 million, and everyday center fielders with good defense and a bat that won't hurt you can have value on a contender unhappy with the market's slim pickings. However, that's a decision that can wait until one of a few things happen: The Cubs get an offer they can't refuse, and/or Jackson looks great in spring training, and/or they hold Byrd until the deadline to try and land the best deal.
Finally, DeJesus' deal reflects another economic reality that upsets a free peoples' applecarts, which is that the inflationary pressure of salary arbitration rewarded DeJesus more than the open market did. Via arbitration, DeJesus made more in both 2010 ($4.7 million) and 2011 ($6 million) than he will in 2012 or 2013 ($4.25 million each year). That's without adjusting for inflation, which would only make his new deal look worse. You can chalk this development up to a couple of things: DeJesus' lousy 2011 season, or perhaps his quest for multi-year security instead of a single-season payday.
Or, perhaps most fundamentally, there's the expanding gap between what the best players will get via free agency and what everyone else can expect. There's next to no doubt that had the A's suffered temporary madness and offered DeJesus arbitration and he'd accepted, he would have gotten a raise -- the last guy who was even at risk for a pay cut within arbitration was
Steve Avery
with the Braves in 1996, and he won his case, getting a $200K raise from $4 million instead of the $400,000 pay cut that John Schuerholz and company asked for. The market is not the liberated remunerative paradise that it might seem to be in the abstract, and DeJesus just joined guys like
Jack Cust
in finding out about that unhappy fact of life.
Christina Kahrl covers baseball for ESPN.com. You can follow her on Twitter.
August, 6, 2011
8/06/11
3:00
PM ET
By
Dustin Godsey
| ESPN.com
As the curtain begins to fallon his second year of ownership of the
Chicago Cubs
, team chairman Tom Ricketts has surely seen enough at Wrigley Field to know what he
does not
want this franchise to look like moving forward. So, while the Cubs took to the road and earned their first series sweep of the season against the suddenly struggling Pirates, Ricketts took the opportunity to take a road trip of his own.
Speaking at a news conference on Wednesday in Peoria, Ill., home of the Cubs' Low-A affiliate, Ricketts outlined a future for the franchise that would rely heavily on developing players from within their system. He stated quite simply, "We want to be known as a team that drafts and develops players better than the other teams."
On the surface, this announcement would appear to be good news for current general manager Jim Hendry. Hendry made a name for himself as the Cubs' director of player personnel in the late '90s when he built the team's system into one of the best in baseball. However, in the decade since taking over as GM in July of 2002, the Cubs' player development system has taken a dive. Few players brought into the organization in the past 10 years have made an impact at the big-league level.
[+] Enlarge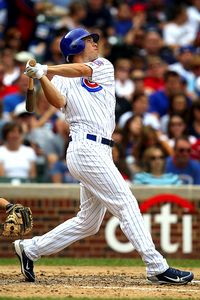 Jonathan Daniel/Getty Images2006 first-rounder Tyler Colvin showed potential last season, but he's hit just .129 in 2011.
When Hendry took the reins of the Cubs, the minor league organization that he had spent the previous seven years developing was heralded by Baseball America as the top system in all of baseball. The publication has been much less bullish in the time since. The Baseball America preseason rankings for the past 10 years show that a once-strong foundation has tumbled to middle of the pack, at best, during Hendry's time as GM:
" 2002: #1
" 2003: #3
" 2004: #7
" 2005: #10
" 2006: #15
" 2007: #18
" 2008: #20
" 2009: #27
" 2010: #15
" 2011: #16
The decline reflected in the Cubs' organizational rankings during Hendry's run as GM has been mirrored by an inability to identify superstar talent at the top of the draft. From 2002 onward, the Cubs have drafted 13 players in the first round (including supplemental first-rounders). Each of the four players selected by the team in the first round of the 2002 draft are out of professional baseball.
Of Hendry's more recent first-round selections, only
Tyler Colvin
(first round, '06) and
Andrew Cashner
(first round, '08) have made it to Chicago. Both made great impressions while seeing their first extended action in the bigs in 2010: Colvin hit .254/.316/.500 with 20 home runs in 358 at-bats, but has been awful in '11 (.129/.190/.276). Cashner looked impressive at times a season ago, but pitched just 5 1/3 innings this season before being shut down with shoulder pain. Of the remaining top picks, the highlights are Josh Vitters (first round, '07), who is still touted as the heir-apparent to
Aramis Ramirez
at third base but has yet to ascend past Double-A, and center fielder Brett Jackson (1st round, '09) who has looked strong in his first 20 games in Triple-A.
Including Colvin, just nine home-grown players who entered the system since Hendry's first season as GM are currently on the Cubs' active 25-man roster. Of these players, only
Starlin Castro
,
Geovany Soto
and possibly
Darwin Barney
appear to have a starting position locked up for the foreseeable future.
In short, during Hendry's tenure he has overseen a near complete erosion of the system that he was so instrumental in building up as the organization's director of player personnel. If the Cubs are truly going to be a team that becomes successful through developing talent from within as Ricketts has declared, perhaps the owner's best move would be to recall his GM back to the minors in a role where he's best suited for success.
Dustin Godsey writes for the View From the Bleachers blog of the SweetSpot network.
September, 20, 2010
9/20/10
5:00
PM ET
Upon hearing the
news about Tyler Colvin
, I immediately
Tweeted
this:
Report: MLBPA concerned about Tyler Colvin, but will wait for fatality before seriously addressing issue of shattered bats.
Of course, a few people thought the
report
was real.
It was, of course, not.
My sentiment regarding the MLBPA's sentiment was absolutely real, though.
A few years ago, Major League Baseball took the lead in the study and (ultimately) the regulation of maple bats, which apparently are more shatter- and shard-prone than the more traditional ash bats.
A few people also lamented the fact that we'll just never get the same sound (and presumably batted-ball characteristics) from metal bats that we get from good ol' fashioned wood.
But it must be stressed, as stridently (if logically) as possible, that this is
absolutely a false choice
. It is absolutely possible to construct a bat which behaves
exactly
like a traditional bat, with one exception: It will not come apart in sharp pieces that might kill someone. There's
Extratec
. There's
BatGlove
. I'm sure there are other things.
Why hasn't some real fix been mandated yet? Some will blame Major League Baseball. Some will blame Rawlings and other bat manufacturers. But most of the blame, paradoxically enough, goes to the players. If the Players Association pushed for safer bats, what would Major League Baseball and the bat-makers say?
The exact
moment
players demand action, it's a done deal because none of the other parties would be able to raise any objection that could pass muster with the public or anyone else. Game over.
Why hasn't it happened? Because the players, collectively, care more about their freedom to use any bat they like than about some potentially catastrophic injury. They figure that even if something terrible
does
happen, it won't happen to them.
Which is true. There are more than 1,000 members of the Major League Baseball Players Association, and the odds are greatly against any particular member getting seriously hurt or killed. As a pure calculation, perhaps it really does make sense for each player to resist any measure, no matter how apparently sensible, that might impinge upon his personal freedom.
It'll be funny, though, how fast the calculation will change if somebody's dead.
August, 19, 2010
8/19/10
5:26
PM ET
Who's going to play first base next year for the Cubs? Their
rookie right fielder, maybe
. Paul Sullivan:
Tyler Colvin hasn't played first base since he was a sophomore at Clemson. But with Derrek Lee gone, Colvin could be the heir apparent at first in 2011.

The Cubs said Micah Hoffpauir would be called up Thursday from Triple-A Iowa and will share playing time with Xavier Nady for the time being. However, Hoffpauir was sent down Friday and can't be called up for 10 days. The Cubs maintain Colvin needs a spring training at first under his belt if they decided to move him there go in that direction.

"I'm not sure how long I'd need," Colvin said. "It's been a while since I've done it. Hopefully if they want me to do that, I'll do it. No one has ever said 'Hey, we want you to take ground balls there.' I've got to wait for that first and then we'll see what happens."

Colvin thinks he could handle first, though he didn't sound like he was eager to move there.

"I'm comfortable in the outfield, but if that's what they want me to do, I can't complain," he said. "If it helps out the Chicago Cubs, that's what I'll do."

Obviously (and as
The Friendly Blogfines points out
), the Nady/Hoffpauir combination figures as the answer in September, but that's about it. Minor league third baseman Josh Vitters might be a first baseman someday, but today he's still struggling as a hitter in Double-A. Essentially, there's not a first baseman in the system with an ETA before late 2012. At best.
Meanwhile, the Cubs have four outfielders: Colvin,
Alfonso Soriano
,
Marlon Byrd
, and
Kosuke Fukudome
.
Soriano's not going anywhere because he's still got about $3 billion on his contract. Byrd's not going anywhere because he's one of the Cubs' best players. Fukudome's probably not going anywhere because his salary is $13.5 million next season.
Granted, the Cubs
could
trade Fukudome, but that would almost surely meaning eating most of his contract. Everyone's disappointed with Kosuke, and he certainly hasn't played well enough to justify his salaries, these last three seasons. But they've got him for one more season, so they might as well focus on what he can do rather than what he can't. And he does have a .370 on-base percentage and middling power against right-handed pitchers. The Cubs don't need to dump Kosuke. If they can't find someone who will pay most of his salary (unlikely), they just need to find a righty-hitting platoon partner for him (easy).
Which would leave Tyler Colvin in the cold.
What's not immediately apparent is whether he belongs anywhere else.
Entering this season, Colvin was ranked by Baseball America as the Cubs' 17th most promising prospect. Thanks to a fantastic March, he broke camp with the big club despite having never played any Triple-A ball. Considering those facts, he's been a huge success. Of course, other facts include his .320 on-base percentage in the minors and his .307 on-base percentage in the majors. It's not clear that he's actually a good enough hitter to play first base in the majors. Or right field, for that matter.
Still, the Cubs know Colvin can handle right field, defensively. He's been doing it for years. Why not find out this winter if he can handle first base? Somebody has to play there next year. Otherwise a lot of throws from the shortstop sail into foul territory.