May, 29, 2013
5/29/13
11:15
PM ET
It was 86 degrees in Baltimore on Wednesday night, the ball was flying and we had one of the most exciting games of the season,
a 9-6 Orioles victory
over the
Washington Nationals
and one of the hottest pitchers in baseball, including a six-run rally in the seventh inning.
Here are 30 thoughts/observations/random tidbits on the game ...
1.
Chris Davis
. It was Chris Davis T-shirt night at Camden Yards and he didn't disappoint, slamming his 18th and 19th home runs, going 4-for-4, scoring three runs, driving in three, selling pretzels between innings. After his second home run, the camera panned to him a few moments later in the dugout, his helmet off -- and if you ever want to know the look of a man in the zone, Davis had it. Sort of part-bemused, like he was reliving the moment, part-amazed, like the first time you see the Grand Canyon, eyes wide, soaking it all in.
2. Electric atmosphere. As the Orioles announcer said, it had the feel of a Friday-night college crowd, with a buzz going all game, the fans exploding after each hit during Baltimore's big seventh. Baseball at its best.
3. Last season, it seemed Orioles fans were a little reluctant to jump on the bandwagon, as the support -- at least as shown in attendance figures -- was slow to get going, certainly understandable after years of losing. Looks like the support is getting back to levels we saw in the mid-1990s, when you couldn't get a ticket to an O's game.
4. Davis versus
Miguel Cabrera
. For all the attention that Cabrera has rightfully been generating for chasing the Triple Crown again, Davis is having the better season at the plate:
Davis: .359/.447/.755, 19 HR, 18 2B, 50 RBIs, 1.214 OPS
Cabrera: .368/.444/.656, 15 HR, 13 2B, 59 RBIs, 1.099 OPS
5. Of course, as one Tigers fan tweeted to me the other night, let's see the numbers at the end of the season.
6. Still.
7. Fifteen players have slugged .700 in the first half since 2000, but only two since 2009:
Albert Pujols
in 2009 (.723) and
Jose Bautista
in 2011 (.702).
8. This isn't the same Chris Davis who had a big breakout season last year, when he hit 33 home runs. Last year, he struck out in 30.1 percent of his plate appearances and walked in 6.6. This year, those figures are 21.9 and 13.2. A man with his power
and
better control of the strike zone is a scary proposition. OK, so maybe he's not a .359 hitter, but he's not doing it by accident.
9.
Manny Machado
hit another double. That's 24. He's on pace for 73. The record is 67, set way back in 1931 by Earl Webb.
10. He doesn't turn 21 until July. That's Machado; Webb is dead.
11. Will it upset everyone to suggest that Machado -- with his brilliant defense at third -- has arguably been as valuable as Davis and Cabrera? I mean ... he's hitting .332/.365/.517 and has more range than Meryl Streep. Baseball-Reference wins above replacement leaders, American League, entering Wednesday: Machado 3.4,
Dustin Pedroia
3.0, Cabrera 2.8, Davis 2.7. FanGraphs: Machado 3.1, Davis 2.9, Cabrera 2.9,
Mike Trout
2.9.
12. It's a legitimate argument if you can look beyond RBIs.
13.
Ryan Zimmerman
, have a day. Tough to hit three home runs -- he homered his first three times up -- and get upstaged, but that's what happened. Is it fair to say that Zimmerman is one of the most important players in the National League? With the Nats' offense struggling -- although a little better of late -- it desperately needs a second big bat behind
Bryce Harper
. Zimmerman has to be that guy, or maybe
Adam LaRoche
. Or, preferably, both. Zimmerman's throwing troubles have been an issue all season, although also better of late.
[+] Enlarge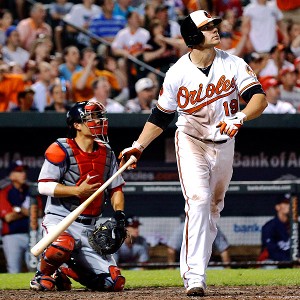 AP Photo/Patrick SemanskyChris Davis' second homer of the night, a two-run blast, gave the Orioles their final margin.
14. Davey Johnson's beard. Google it. Let's hope the Nationals turn this into a promotional event down the road.
15.
Jordan Zimmermann
was due for a bad game, but did make some bad pitches. Davis' first home run was off a slider over the middle of the plate.
Nick Markakis
' home run came off an 0-1 fastball that
Kurt Suzuki
wanted in but was also over the middle of the plate.
16. Both were hit to the almost identical location in right-center -- in fact, you can see the same guy in the white tank T-shirt reaching for both homers.
17.
Steve Pearce
's two-run shot off Zimmermann just cleared the fence in left-center. On another night, with a little more luck, it's maybe three long outs to the warning track.
18. Davis' second home run, off an 0-2 changeup from
Tyler Clippard
, was the most impressive of the night as he showcased his huge raw power, with an easy, almost one-handed swing. How strong is this guy? This one landed near where T-shirt dude was sitting as well, except he must have been off in the beer line this time around.
19. Zimmermann hadn't walked a batter since May 8. So now he has 10 in 11 starts. Terrible.
20. The Orioles can hit. That's 10 or more hits in 27 of their 53 games.
21. The Nationals' bench was supposed to be a big strength heading into the season, but it's been a weak spot.
Roger Bernadina
did homer, but he's hitting .149.
Tyler Moore
is hitting .149.
Chad Tracy
is hitting .170.
Steve Lombardozzi
is hitting an empty .234. And they've had to play a lot, accumulating more than 300 plate appearances among the four of them so far. Along with struggling
Danny Espinosa
, they're a huge reason the Nationals are just a game over .500.
22. Remember when
Nate McLouth
was washed up?
23. He's 17-for-18 in steals. The O's lead the American League in home runs and are tied for the lead in stolen bases. When's the last time that happened?
24. I'm sure Orioles fans were a little nervous when
Jim Johnson
entered for the save in the ninth, considering his last outing in Toronto on Sunday -- his fourth blown save and fifth loss. But he had a 1-2-3 inning with two strikeouts, albeit against the bottom three hitters.
25.
Tommy Hunter
was unfair in the eighth inning. He threw a 100 mph fastball to Moore followed by a two-strike curve that Moore missed. No chance.
26. I still don't know what to make of
Chris Tillman
. Four home runs tonight, 11 over his past five starts. Yes, four of those games came at Camden, but he's going to continue having gopher ball problems with such a low ground-ball rate (37 percent on the season).
27. A Beltway Series would be fun in October. Nearly happened last year, but I think the Orioles will need to make a deal for a starting pitcher. I mean,
Freddy Garcia
goes on Thursday.
28. Buck Showalter can manage my team.
29. I still think second baseman
Ryan Flaherty
can produce some offense. He returned to the Orioles lineup' and had two hits. I'm less confident about Espinosa.
30. How do I get one of those Chris Davis T-shirts?
May, 2, 2013
5/02/13
12:31
AM ET
It has been a nerve-wracking 48 hours or so for the
Washington Nationals
. First,
Stephen Strasburg
pitched through some forearm discomfort in Monday's loss to the Braves, but he
felt fine in a bullpen session
Wednesday and will make his scheduled start Saturday. Then came another loss to the Braves on Tuesday. Then
Bryce Harper
left Wednesday's game in the sixth inning after aggravating his left side, originally hurt slamming into the wall on Tuesday. Luckily, like Strasburg's injury, it doesn't appear serious and he's listed as day-to-day. "Hopefully," he told MLB.com, "I can come in tomorrow, feel like a million bucks and play."
The good news on Wednesday was that
Jordan Zimmermann
was dominant in
a 2-0 victory over the Atlanta Braves
, Washington's first in six games against Atlanta, allowing just two hits with no walks and eight strikeouts.
[+] Enlarge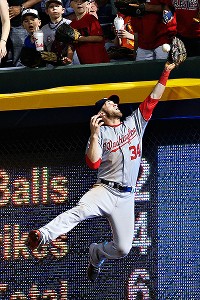 AP Photo/John BazemoreBryce Harper hurt himself going to the wall trying to reel in Tim Hudson's home run Tuesday.
Still, with the Nationals muddling along at 14-14, the injury scares to their young franchise players raises the question: Who is more valuable to the team? Or, to put it another way, if either Harper or Strasburg suffered an injury that did sideline him for a lengthy period of time, which would hurt the team more?
We can start by using projected value for the 2013 season. FanGraphs runs updated ZiPS projections, and Harper's hot start has him now projected to a season line of .281/.366/.511 and 5.3 wins above replacement. If anything, that's probably conservative; we know that among the first aspects of a player's game to stabilize in a small sample size are his walk and strikeout rates, and Harper's rates so far are better than his projected rates, arguably a sign that he'll outperform that triple-slash line.
The ZiPS projection for Strasburg has him posting a 2.96 ERA over 158.1 innings, worth 3.9 WAR. Again, that's probably conservative, since we know if he's healthy he'll pitch more than 158 innings. Projected over 190 innings, we'd get 4.7 WAR. Based on this simple comparison, we'd say Harper is probably more valuable.
However, WAR assumes a generic replacement-level player and not who the Nationals actually have to fill in. In their case, backup outfielders
Roger Bernadina
and
Tyler Moore
could platoon in left field; neither has hit in limited playing time this year but performed well a season ago and would likely be better than replacement-level. On the other hand, there is no obvious candidate to replace Strasburg in the rotation.
Craig Stammen
made 38 starts in 2009 and 2010 but was ineffective (ERA over 5.00) and had a 4.75 ERA starting at Triple-A in 2011. The current rotation at Triple-A Syracuse has been pretty horrific; the best starter has been lefty Daniel Rosenbaum with a 1.14 ERA in four starts, but he has eight walks and just five strikeouts in 23.2 innings, numbers that indicate he'd get lit up in the majors. Veteran
Chris Young
has allowed 11 runs in two starts and
Yunesky Maya
has a 7.45 ERA.
So it's possible that Strasburg's replacement could end up performing
below
replacement level, as well as forcing the bullpen to pitch more innings, something WAR doesn't account for.
Does that make Strasburg more valuable? Not necessarily. For one thing, it's probably easier to acquire a decent pitcher on the trade market than it is a good position player, so that's always a route general manager Mike Rizzo could take. There's also the issue that the Nats' offense has been terrible so far, ranking 12th in the National League in runs scored.
Adam LaRoche
is hitting .129 and has a single hit in his past 35 at-bats,
Danny Espinosa
hasn't hit,
Denard Span
has a .314 slugging percentage,
Ryan Zimmerman
is on the disabled list and
Jayson Werth
has missed a couple games with a sore ankle. Where would the offense be without Harper, their 20-year-old star?

The Nationals are ninth in the NL in runs allowed and behind Strasburg they have Zimmermann,
Gio Gonzalez
and
Ross Detwiler
. Even with Gonzalez and
Dan Haren
struggling so far, it's still a rotation that can you win you games, and on paper the bullpen is deep and strong.
Anecdotal evidence also suggests -- in this era of declining offense -- that perhaps it's more difficult to replace a star position player. The Cardinals won the World Series in 2011 even though
Adam Wainwright
missed the entire season. What if
Albert Pujols
or
Matt Holliday
had gone down instead? The Giants won the NL West and the World Series last year even though
Tim Lincecum
was one of the worst starters in the league -- but missed the playoffs in 2011 when
Buster Posey
went down early in the season. That's not proof, but with the way Harper is hitting, with the way the offense already seems to revolve around him, and with the question marks with some of the other position players, I would say losing Harper would be the bigger blow.
Hey, didn't Babe Ruth eventually move to the outfield?
October, 7, 2012
10/07/12
8:24
PM ET
We'll be doing a lot of quick takes on managerial decisions in this space during the postseason. As always, ultimately it's the players who win and lose games, but it sure is fun to second-guess some of the key moves.
Mike Matheny perfectly executed the first major blunder of the postseason in the eighth inning on Sunday. The situation: The Cardinals leading the Nationals 2-1, two outs, runners on second and third, the pitcher's spot due up. With right-hander
Mitchell Boggs
pitching, Davey Johnson sent up lefty
Chad Tracy
to hit.
Matheny went to his lone lefty in the 'pen,
Marc Rzepczynski
.
Johnson countered with right-handed
Tyler Moore
, who flared a 2-2 fastball down the right-field line for a two-run, go-ahead single.
You can say it was bad luck for the Cardinals since the ball wasn't hit hard. But it was bad process. The main argument here is that Boggs is a better pitcher than Rzepczynski. The second argument is that it should have been obvious Johnson would hit for Tracy once Rzepczynski entered. The third argument is that Moore is a more dangerous hitter than Tracy. So there was really no reason for Matheny to bring in the reliever they call "Scrabble." Boggs versus Tracy or Rzepcynski versus Moore? Easy call. (And that's without even getting into the option of bringing in closer
Jason Motte
for a four-out save.)
Rzepczynski got some big outs in the postseason a year ago for the Cardinals, but wasn't as effective this season. Right-handers hit .259/.323/.459 against him; overall, he allowed seven home runs in just 46.2 innings. Moore hit .247 against left-handers but has big power, hitting 10 home runs on the season in just 156 at-bats. Tracy is a veteran pinch hitter who had only nine plate appearances all season against lefties; Johnson wasn't going to let him hit there.
Matheny's in-game strategy drew a lot of criticism from Cardinals fans this year: too many sacrifice bunts, ill-advised intentional walks and so on. This decision won't alleviate those concerns about the rookie manager.
Johnson, of course, was weaned in the '80s, managing against Hall of Fame skippers such as Whitey Herzog, Tommy Lasorda and Dick Williams. He played under Earl Weaver. Nobody is going to beat Johnson in a chess match. More importantly, the Nationals have multiple weapons off the bench. Like his Mets teams in the '80s, Johnson carries some guys who can hit in Tracy, Moore,
Roger Bernadina
and even Steve Lombardozzi. As I wrote earlier, the Nationals have a big advantage over their NL counterparts in bench strength.
There's a lot more we could write off this game. The Cardinals managed only two runs off
Gio Gonzalez
, despite Gonzalez walking seven in five innings. They later loaded the bases with no outs in the seventh, but the Nationals escaped with a force at home and double play.
The Cardinals will regret missing those scoring opportunities. But Matheny should regret the tactical error he made.