SweetSpot:

Vicente Padilla
December, 3, 2012
12/03/12
4:07
PM ET
NASHVILLE, Tenn. -- The
Minnesota Twins
made a splash last week when they traded center fielder
Denard Span
to the
Washington Nationals
for pitcher Alex Meyer, a 6-foot-9 former first-round draft pick with a 100 mph fastball. Meyer has the potential to be a front-of-the-rotation starter or, in an alternate scenario, a dominant closer. But he might not be ready to contribute to the big league club for a couple of years.
[+] Enlarge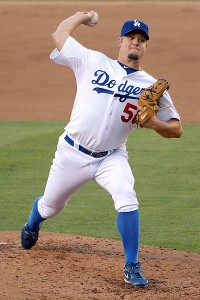 Kirby Lee/Image of Sport/USA TODAY SportsJoe Blanton was 10-13 with a 4.71 ERA in 30 starts combined for the Phillies and Dodgers last season.
With that deal complete, the Twins now turn their attention to acquiring some immediate help for a rotation that went 39-75 with a 5.40 ERA in 2012. It's not a reach to say they're pitching-obsessed.
Free agents
Zack Greinke
,
Anibal Sanchez
,
Ryan Dempster
and (maybe)
Edwin Jackson
might be beyond Minnesota's price range. But when you talk to people at the Gaylord Opryland hotel, they'll tell you the Twins are in on just about every other free agent with a résumé and pulse.
Joe Blanton
, a veteran innings-eater who spent last season with the Phillies and Dodgers, is a prime target for the Twins, sources said. Midrange starters
Kevin Correia
and
Brett Myers
are on general manager Terry Ryan's radar, and the Twins are taking a serious look at the group of non-tendered pitchers who recently became free agents. That list includes former Washington Nationals starter
John Lannan
and erstwhile New York Met
Mike Pelfrey
, who underwent Tommy John surgery in March.
The Twins are also kicking the tires on veteran
Vicente Padilla
. Although some people in the Minnesota organization have concerns about Padilla's makeup, the Twins are intrigued by his ability to both start and relieve.
Minnesota also has been more active than expected in trade talks. Other clubs with excess pitching have approached the Twins to talk about center fielder
Ben Revere
and left fielder
Josh Willingham
, who is a particularly attractive commodity because of his reasonable contract and excellent production.
Willingham hit 35 homers and ranked eighth in the American League with a .524 slugging percentage last season, and he's signed for two more years at a total of $14 million. But unless Ryan is blown away, it's tough to envision him moving an outfielder and putting a major crimp in his offense. In the Twins' quest to bolster their pitching, they would simply be weakening one facet of the team to strengthen another.
April, 26, 2011
4/26/11
6:04
PM ET
By
Christina Kahrl
| ESPN.com
The Dodgers haven't had somebody notch three straight 20-save seasons since
Eric Gagne
's pumped-up performance deflated after 2004. Heck, if you really want to play trivia, nobody has managed to give the Dodgers two 30-save seasons since that fateful year when Gagne cranked out the last of three of the best relief seasons ever.
If today's tug-of-war over who's the club's closer doesn't get resolved to
Jonathan Broxton
's benefit, Broxton may not get to be the pitcher who busts either string this season. At this writing, reports are mixed, with ESPNLosAngeles' Molly Knight
reporting that Ned Colletti says
Broxton's going to split time in the role with
Vicente Padilla
and
Hong-Chih Kuo
, while the
The L.A. Times
' Dylan Hernandez says Don Mattingly is
backing Broxton as his closer
. Drama, in L.A.? Maybe it's a miscommunication, maybe it's a difference of opinion between a GM and his skipper, and maybe it's just unfair to Broxton.
Unfair not just because of the mixed media message, but also because Broxton had notched saves in each of his first five appearances this season. He had gotten just one save opportunity since, and that was in Monday night's blown ballgame. This wasn't because Mattingly was avoiding using him; the Dodgers just hadn't had a ninth-inning save opportunity in two weeks. Broxton might have been a perfect six-for-six in his opportunities if not for shortstop
Jamey Carroll
's two-out error against the Marlins.
The reason why this story has legs, however, is because of Broxton's spectacular second-half collapse last year, when he did lose the job. Good in the early going, he got worked hard by Joe Torre in a short stretch at the end of June, working four times in five days, capped by his implosion on national TV against the Yankees on June 27. After that, he lost two or three ticks on his fastball, walked 23 batters in 29 2/3 IP, and posted a 7.58 ERA.
Command has remained an issue for Broxton in 2011, with five unintentional walks in 10 1/3 IP. However, his velocity has been back up in the mid-90s, and given his sporadic usage while Mattingly tried to find him innings outside of his save opportunities, keeping sharp probably hasn't been easy.
Naturally, this is a situation to monitor, not just for what it says about Broxton's predicament, but also the working relationship between Colletti and Mattingly.
Christina Kahrl helped found Baseball Prospectus in 1996, is a member of the BBWAA and covers baseball for ESPN.com. You can follow her on Twitter.
February, 8, 2011
2/08/11
3:50
PM ET
My
recent interview with Dodgers general manager Ned Colletti
prompted me to reflect on a little-discussed aspect of his tenure.
Colletti has held the management reigns for more than five years now, and some clear patterns have emerged. He values depth. He values veteran leadership. He wants young players to succeed, but he'd much rather do it on his own timetable. One of the funnier revelations I've had is that while Dodger fans think Colletti took too long to commit to then-kids like
Andre Ethier
or
Matt Kemp
, Colletti would tell you that he wishes they could have had more time in the minor leagues to develop. You can imagine that there would be some fun arguments at the imaginary Dodgers dinner table.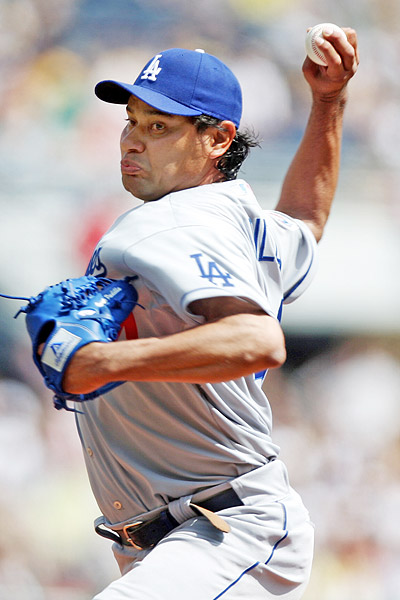 Jason Bridge/US PresswireNed Colletti has signed Vicente Padilla twice after picking him up midway through the 2009 season.
I've long been suspicious of the value placed on so-called clubhouse leaders, for a number of reasons. For one thing, these clubhouse leaders, at times, seemed not all they were cracked up to be. Players like
Nomar Garciaparra
,
Luis Gonzalez
and
Jeff Kent
were supposed to show how this game was played, but often they seemed more concerned with turning up their noses and looking out for themselves.
Then there were the players who would seem to have no other function other than to be clubhouse gents and gems. The Dodgers would give money to players staring retirement right in the face -- last year, it was
Garret Anderson
and
Brad Ausmus
-- and justify it in large part by the examples they set as professionals. Nothing against these guys personally, but there's a word for baseball men who can teach but can no longer play. They're called coaches -- or at least they should be.
All this might be enough to conjure up an image of Colletti's Dodger clubhouse as a local branch of the VFW -- guys hanging out, sharing war stories while hazing the rebellious small-fry. But that wouldn't tell the whole story.
It doesn't get discussed much in a broader context, but Colletti has also taken in guys who have worn problems on their sleeves.
Vicente Padilla
was practically chased out of Texas, but not only did Colletti pick him up from the midseason junkyard in 2009, he has signed him as a free agent twice since, including once shortly after Padilla shot himself in the leg.
In his first year as Dodger GM, Colletti traded away catcher
Dioner Navarro
when he was a 22-year-old with promise, in order to clear the path for
Russell Martin
. This winter, Colletti signed Navarro to a $1 million contract when he was a 26-year-old who packed his bags and left the
Tampa Bay Rays
after they didn't include him on the active postseason roster, rather than stay and support the team.
Ronald Belisario
will be back, visas willing, despite being late to the past two spring trainings and having a DUI arrest and rehab stint on his ledger.
Meanwhile,
Blake DeWitt
, who wowed even the irascible Larry Bowa with his work ethic, and
Juan Pierre
, who was considered the clubhouse MVP at one point, are among the good citizens who have been traded away in the past year.
In other words, the pattern to Colletti's attitude toward the clubhouse is that there isn't exactly a pattern. He's wants a good mix off the field, but he's not afraid to take a chance on a player that would upset that mix if he thinks he can help. Colletti asks the question, "Can they succeed in Los Angeles?" and comes up with an answer. That answer might sometimes perplex fans, but it isn't dependent on the players being angels.
Jon Weisman writes about the Dodgers at Dodger Thoughts for ESPNLosAngeles.com.
March, 25, 2010
3/25/10
1:53
PM ET
It's not official yet, but apparently the Dodgers' Opening Day starter will be ...
Vicente Padilla
?
Yes, and this might rank as one of the biggest surprises of late March.
True Blue LA's reaction
:
Padilla was so hated in Texas that when he was released, other Rangers personally congratulated and thanked general manager Jon Daniels. Yet, given a second chance in Los Angeles, he pitched well in his six weeks as a Dodger, working his way all the way up to playoff savior. Padilla pitched two wonderful games, closing out the Cardinals and allowing one run against the Phillies, before faltering in his final playoff start. He was the only Dodger to start three playoff games.

For the last few weeks, the hot rumor going around camp was that Clayton Kershaw would get the opening day nod. The rumor got so hot that the Dodger PR staff, at the request of some of the beat reporters, sent out a list of youngest opening day starters in MLB history (Kershaw would have been the 33rd youngest in MLB, and the third youngest Dodger). Instead, Kershaw will start the home opener instead.

Yes, it's odd that Joe Torre would choose his fourth-best starter to start the Dodgers' first game. But what's the impact, really? The game's in Pittsburgh, so there's no real letdown for the home fans. Over the course of the season, the "No. 1 starter" won't pitch more innings than the No. 2 or 3 or 4 starter (not so you'd notice, anyway).
I don't know what the reasoning was behind this decision. Maybe Torre likes to start the season with a veteran, or maybe he likes a particular gleam in Padilla's left eye, or maybe he's taking advice from Nancy Reagan's astrologer. Practically speaking, who's designated as the No. 1 starter is far less important than who gets the No. 5 job.
And for that decision, we're still waiting.
October, 15, 2009
10/15/09
4:13
PM ET
Joe Torre has chosen
Vicente Padilla
as his Game 2 starter, and Dave Cameron
thinks that is one big mistake
:

Padilla has pitched better than anyone could have expected since joining the Dodgers, running a 3.40 FIP in seven starts, then shutting out the Cardinals in the first round. However, Padilla has a long track record of having significant problems against left-handed batters.

--snip--



This isn't some small sample fluke. Padilla will always struggle against LHBs with his repertoire. And, wouldn't you know, the Phillies have some pretty good left-handed hitters. Between Shane Victorino, Jimmy Rollins, Chase Utley, Ryan Howard, and Raul Ibanez, Padilla's going to be staring down one of the best collections of left-handed bats in the game.



I understand the desire to play the hot hand, and Padilla is throwing better in LA than he has in years, but this is still a really bad match-up for him. In this case, Torre's simply weighting recent performance far too heavily. Pitching well or not, he's still penciling in Vicente Padilla for two starts in the NLCS, and that's not a good decision.

I can't agree more. There's a tendency for managers, especially when he's got a new and suddenly successful player, to believe that somehow the player has changed. Perhaps due to better coaching, or perhaps due to the proverbial "change of scenery." But as Cameron notes, we're not talking about some kid here. Padilla has been around for a while. In his long and exactly average career, Padilla has struck out roughly six batters per nine innings. In his time with the Dodgers, though -- 46 innings, including his
seven zeroes against the Cardinals
last week -- he's struck out nearly nine per nine innings.


And that's not just because he switched from the American League to the National; Padilla's spent most of his career in the National League.


If the NLCS goes seven games, Padilla will get two starts and Randy Wolf just one. In his career, the left-handed Wolf has limited left-handed hitters to a .222/.293/.377 line. In the right-handed Padilla's career -- roughly the same length as Wolf's -- he's been knocked around by lefties pretty good: .297/.380/.479. Those numbers are dramatic. Against lefties, Padilla's batting average allowed is higher than Wolf's on-base average allowed, and his on-base average allowed higher than Wolf's slugging average.


The Dodgers would seem to have two big advantages in this series: they have many right-handed hitters to counter the Phillies' many left-handed starting pitchers; and they have many left-handed starting pitchers to counter the Phillies' many left-handed hitters. But Torre, based on the grand total of 46 innings, seems willing to give away, to some degree at least, one of those advantages.
June, 5, 2009
6/05/09
2:24
PM ET
Just to recap:
Tuesday night in New York
,
Vicente Padilla
plunked
Mark Teixeira
a couple of times.
A.J. Burnett
retaliated -- or not, depending on whom you believe -- by throwing a fastball that buzzed
Nelson Cruz
. Padilla's been fined for his actions, while Burnett's been suspended for six games (pending his appeal).
Well, Mike Gurnis, a contributor to fan site Bleacher Report, is disgusted by the punishments meted out to the principals ...
Padilla was the one who instigated this whole situation, by hitting Teixiera twice. Whether there was intent or not, when a pitcher hits someone twice, usually there isn't a coincidence. Yet Padilla, only gets a fine (which was undisclosed by Major League Baseball), and did not recieve a suspension.

So let me get this straight. Vincente Padilla hits the same batter twice. A.J. Burnett doesn't even hit Nelson Cruz on one pitch, yet he is the one recieving the suspension?

Explain to me how that's fair.

Burnett threw a pitch that was enough to get warned, but not enough to get thrown out of a game. But, it's apparently enough to get you suspended for six games. Does that make sense to you?

Granted, Vincente Padilla is getting his own form of punishment, as he is having a very bad year for the Rangers, and it was reported yesterday that he was waived by the Rangers, but he is still on target to start on Sunday against Boston.

If Major League Baseball really wanted to be fair, Padilla would have been suspended as well. He hit a batter twice, and obviously instigated a situation, whether he intended to or not. Burnett didn't even hit Cruz. How do you know if there was even intent behind Burnett's up and in fastball? Sometimes, you have to pitch that way, maybe he felt like giving him a brush back pitch, considering he had hit a home run off of him the earlier at-bat. It may have had nothing to do with Teixiera being hit. When a batter gets hit twice, that's when you know there's got to be something on, though.

All in all, MLB really confused me with this suspension. It simply does not make sense and is illogical.
Yes, it's completely illogical for MLB to come down hard on behavior that just might lead to someone being terribly injured, or killed.
Wait, what? It does make sense to send a serious message to pitchers? Something along the lines of, "If we have reason to even suspect that you were aiming at or near a hitter's head, you're in trouble"?
Look, maybe Padilla should have been in bigger trouble, and maybe the umpires should have ejected Burnett. Or maybe they shouldn't have, because maybe he wasn't really throwing at Teixeira. Maybe a six-game suspension isn't fair to Burnett.
You know who it's fair to, though? It's fair to the hundreds and hundreds of hitters who step into the batter's box and face missiles launched from less than 20 yards away, with only their reflexes and a thin layer of plastic -- plus the good efforts of Major League Baseball -- protecting them from massive head trauma.