June, 7, 2011
6/07/11
12:30
PM ET
We're draft heavy on Tuesday's
Baseball Today podcast

, as expert Keith Law and I analyze from the same studio for the first time. Keith breaks down what you need to know after the first round, as well as these other fun tidbits that make your download well worth it.
1. Keith tells us the winners, losers and other interesting facts from the Monday portion of the draft, including why the Tampa Bay Rays couldn't help but succeed, and how the No. 2 overall pick might not have been the correct one.
2. What does the term "over slot" mean and why are so many teams likely to pay their new youngsters well, and likely anger the league office?
3. Bryce Harper gets himself into the news for something he did Monday ... but there might be repercussions. Is the atty-tude warranted?
4. Los Angeles Dodgers right-hander Rubby De La Rosa makes his first start in Philadelphia Tuesday, and Mr. Law tells us why his future is a bright one.
5. There's plenty to watch on Tuesday night, but here's why among the names we're rooting for include Vin Mazzaro and Kyle Drabek. Hey, don't get Mazzaroed!
Plus: Excellent emails, why we fear the worst for Brett Anderson, Milwaukee's haul from Monday, how the Nationals and Royals could be ruling MLB in a few years and congratulations to Chicago White Sox left-hander John Danks, all on a packed Tuesday edition of Baseball Today!
May, 19, 2011
5/19/11
4:39
PM ET
Here are five reasons why
Thursday's ridiculous Baseball Today podcast

-- but ridiculous in a good way -- with me and Mark Simon
must
be listened to:
1. We probably could have talked for hours just about the Yankees-Orioles 15-inning affair,
Hector Noesi
, the umpires, etc. We didn't, but why wasn't
Bartolo Colon
given the same consideration to finish the game as
Jake Peavy
was?
2.
Jose Bautista
had an interesting Wednesday night, not only being bypassed at the plate, but with a wild defensive play. Mark reminisces about the anniversary of another memorable outfield throw.
3. Was Simon like this as a child, in a good way, of course? He harkens back to a 1985 memory with unearned runs galore, and discusses what
Vin Mazzaro
and Al Travers have in common. You think Mazzaro had a bad day?
4. OK,
Charlie Morton
, you've got our attention. But I'd trust the
Cleveland Indians
before I would Morton's ERA, as we delve deeper.
5. With run scoring down, are we watching baseball or soccer? As long as you're winning, does it matter?
Plus, a few excellent emails, why John Russell helped shape my childhood, looking past the box scores for information, how dangerous playing through the rain can be and really, so much more on Thursday's Baseball Today podcast! Don't forget to listen Friday as well!
May, 17, 2011
5/17/11
3:07
PM ET
News broke about the death of Hall of Famer Harmon Killebrew just before we taped Tuesday's
Baseball Today podcast

. In addition to a well-done tribute by Tim Kurkjian, here are other reasons you should listen to the show, co-hosted by myself and Keith Law, or KLaw to his pals:
1. Kansas City Royals pitcher Vin Mazzaro had a really bad Monday, for more than the 14 reasons (the runs he allowed) than you might think. We each feel bad for the kid, but why?
2. The David Wright back injury doesn't only mean the New York Mets will be missing their best player for awhile, but also impacts the moves they might make down the road.
3. I watched Albert Pujols play third base Monday night, and while I know Tony La Russa's flawed reasoning behind it, I still don't really buy it. Luckily, neither does KLaw. We explain.
4. Who really is the top pitching prospect for the Atlanta Braves, and is this really reflected in who they promoted for Wednesday's start?
5. Is Miguel Tejada the reason why Tim Lincecum stunk up the Coors Field joint Monday night? We delve into the Miggy matter.
Plus: Excellent emails, more discussion about rivalries, which Cleveland Indian might be "pulling a Posada" and keeping a close eye on Francisco Liriano and Ubaldo Jimenez. All this and more on Tuesday's Baseball Today!
May, 17, 2011
5/17/11
1:16
AM ET
Every Monday should be like this. All 30 teams in action.
Cliff Lee
,
David Price
,
Josh Johnson
,
Tim Lincecum
,
Tommy Hanson
and
Brett Anderson
among the day's starting pitchers. The Yankees riding a five-game losing streak going in and facing clubhouse turmoil. Tony La Russa returning from treatment for shingles, wearing sunglasses and ... starting
Albert Pujols
at third base?
Indeed. Let's start there, in St. Louis, and watch a night of baseball in our trusty home office setup with our HDTV, MLB.TV and ESPN.com scoreboard operating simultaneously. By the end of the night, I'll feel a little like
Vin Mazzaro
, my head pounding from baseballs flying all around me.
Philadelphia at St. Louis:
The night begins with Pujols playing third base. According to Rick Hummel of the St. Louis Post-Dispatch, La Russa approached Pujols in the batting cage, and Pujols agreed to his first start at the hot corner since 2002. The move helped keep
Allen Craig
's bat in the lineup, but in right field instead of second base (where he started a game last week), with
Nick Punto
playing second and
Lance Berkman
moving to first as La Russa started eight right-handed bats against Lee. (He did, however, have pitcher
Jake Westbrook
batting ninth.) Pujols started 89 games at third his first two seasons, when he moved among third, first and the outfield, before moving permanently to first base in 2003 when the Cards acquired
Scott Rolen
. He actually rated as a good fielder there and would have been more than adequate if he had remained there. Still, a bit of a quirky move by La Russa. (Too soon for a shingles joke?)
Sure enough, in the top of the second, Pujols bobbles a potential double-play ball, getting just one out, which leads to
Ben Francisco
's RBI single. La Russa adjusts his sunglasses.
New York at Tampa Bay:
David Price is not whom you want to face when trying to end a five-game losing skid, but the Yankees score twice in the second and then take a 5-1 lead on
Curtis Granderson
's long three-run homer to right in the fifth. Price tried to fire a 97 mph fastball past the Grandy Man (sorry, John Sterling made me do it), but it was right down the middle and Granderson became the first left-handed hitter to homer off Price since
Chase Utley
in 2009. It was Granderson's 14th home run of 2011 and, amazingly, his seventh off a left-hander. Entering this season, he was a career .211 hitting against lefties, with 20 home runs in 777 at-bats. He has seven in 40 at-bats in 2011.
Meanwhile,
A.J. Burnett
looks good, and hopefully we can all move on from this
Jorge Posada
nonsense if the Yankees win.
Philadelphia at St. Louis:
Lee just walked
Matt Holliday
(looked like he got pinched by plate umpire Gerry Davis on an inside fastball) and Lance Berkman (fastball way outside) back to back for the second time in the game. Craig strikes out, but
Yadier Molina
reaches on an infield single, Punto bloops an RBI single into right and
Ryan Theriot
bloops another RBI single into right. It's not Lee's night. He'd end up walking a career-high six batters -- after entering with seven walks in 52 1/3 innings. Lee hasn't won since shutting out the Nationals on April 14. His other win came against the Astros, and the Phillies have won just four of his nine starts. It's been some bad luck, but his 3.84 ERA just isn't that impressive in 2011 -- that ranks 33rd among National League starters as I type this.
New York at Tampa Bay:
And just like that, Burnett blows up. I blame Posada.
Sam Fuld
, the pride of New Hampshire, belts a two-run homer in the sixth. Actually, "belts" isn't quite the right word, but Fuld got enough to clear the fence near the foul pole. Then with two outs,
Evan Longoria
reaches on an infield single, Burnett throws a wild pitch,
Matt Joyce
singles in Longoria, Burnett uncorks another wild pitch and then throws a junk curveball that
B.J. Upton
appropriately belts -- right word -- for another home run and a 6-5 Tampa Bay lead.
Cleveland at Kansas City:
Somewhere in here, I noticed the Indians are scoring a bunch of runs in the fourth inning. I figured, "Ahh, another bad start by
Kyle Davies
," but it turns out he left the game in the first inning with what the club called "anterior shoulder soreness." The victim was Vin Mazzaro, who turned in maybe the worst relief outing in major league history. I went back and watched his complete fourth inning, which went like this:
Matt LaPorta
: Soft liner into right field.
Jack Hannahan
: Bounces into a 4-6 force play.
Michael Brantley
: Walks on four pitches. Mazzaro walks off the mound, tugs his hat, spits, and I feel sorry for him knowing what's about to happen.
Asdrubal Cabrera
: Bloops an RBI single into left field.
Shin-Soo Choo
: Mazzaro falls behind two balls, and pitching coach Bob McClure visits the mound. The Royals announcers talk about Mazzaro (who entered in the third) needing to suck up the innings in place of Davies. Choo ends up flying out to deep center.
Carlos Santana
: The announcing crew mentions Mazzaro was scheduled to start Tuesday night and wonders whether the Royals knew Davies' health was a question mark. Santana falls behind 0-2 but ends up working a walk.
Travis Hafner
: Slices a double to left-center as
Melky Cabrera
takes a step in and then stumbles going after it. Let's just say
Andruw Jones
in his prime would have caught it.
Orlando Cabrera
: Slices a liner down the right-field line for an 8-0 lead.
Travis Buck
: Mazzaro reaches his 30th pitch of the inning. I think every breaking ball he's thrown has been low and in the dirt. Buck grounds a ball into the hole that
Alcides Escobar
circles ... but double-clutches on the throw, and Buck beats it out.
LaPorta: Drills a double down the left-field line.
Hannahan: Dribbles a single into right.
Brantley: Drills a 91 mph meatball over the fence for a 10-run inning and 13-0 lead.
A. Cabrera: Mercifully, strikes out.
Now, with a little luck, Mazzaro would have been out of the inning much earlier. But he has no knockout pitch, and I don't think he threw an off-speed pitch for a strike the entire inning. And it would get worse: He'd be responsible for four runs the next inning. His final line score: 2.1 IP, 11 H, 14 R, 14 ER, 3 BB, 2 SO, 1 HR. And one likely trip back to Triple-A.
Philadelphia at St. Louis:
Pujols turns a double play and makes a diving stop for an out on another play. La Russa adjusts his sunglasses.
New York at Tampa Bay:
Joel Peralta
throws two perfect innings, and
Kyle Farnsworth
closes it out with a 1-2-3 ninth, Longoria making a nice scoop on a slow chopper for the final out. There's a little irony in Farnsworth, scorned in New York during his years there and signed for $3.25 million by Tampa this offseason, effectively closing games while
Rafael Soriano
, Tampa's departed closer and now the Yankees' $35 million setup man, pitching poorly and battling a sore elbow. I blame Posada.
Philadelphia at St. Louis:
The Cards' bullpen has been shaky, but
Fernando Salas
breezes through a 1-2-3 ninth. Salas doesn't throw hard, but La Russa hasn't been afraid to use closers who don't light up the radar gun as long they throw strikes. I don't know whether he'll hold the job, but on this night, Salas struck out
Raul Ibanez
and got
Ryan Howard
on a medium-deep fly ball to center and
John Mayberry
on a routine fly to center. During this tough stretch that began last week, the Phillies have gone 1-2 against the Braves, 2-1 against the Marlins, 1-2 against the Braves and now 0-1 against the Cardinals. Chase Utley, you are needed.
San Francisco at Colorado:
I flip over to watch some of this one. Gotta watch Lincecum. I see
Nate Schierholtz
give the Giants a 4-2 lead with a one-handed home run off
Clayton Mortensen
. But then I see Timmy come apart in the bottom of the inning, as the Rockies score five, capped by
Carlos Gonzalez
belting -- correct word -- an outside fastball deep into the trees in right-center. The pitch was up, and CarGo seemed to be sitting dead red and yanked it with authority and had an animated home run trot around the bases. I wonder whether Lincecum took note.
Baltimore over at Boston:
Flip over to Fenway Park, where the Red Sox have rallied from a 6-0 deficit to make it 7-6 by the bottom of the ninth. The bespectacled
Kevin Gregg
is on for the save. He's not my favorite closer in the world.
Jacoby Ellsbury
walks with one out.
Dustin Pedroia
steps in, works the count to 2-2, takes a splitter in the dirt as Ellsbury steals second, fouls a liner down the left-field line, fouls off another pitch, and another one, then works a walk on the ninth pitch of the battle. The proverbial "great at-bat." With the red-hot
Adrian Gonzalez
stepping in, you can predict this ending. He doubles off the Monster on the first pitch. Red Sox win 8-7. Yankees fans blame Posada.
Vin Mazzaro postscript:
It turns out 11 relievers have allowed at least 14 runs (since 1919, via Baseball-Reference.com). But they all did it before 1945, and most were in long outings. The worst: Lefty O'Doul allowed 16 runs in a three-inning stint in a 27-3 loss for the Red Sox to the Indians.
But only three of the runs were earned!
The last reliever to give up as many as 11 runs was Mel Rojas, in
a 22-6 loss
for the Tigers to the Mariners in 1999. Rojas pitched just four more games in his major league career.
Florida at New York:
I thought I was done, but then I see the Marlins and Mets are in extra innings. Marlins reliever
Burke Badenhop
comes up in the 11th with two runners on and two outs. Marlins manager Edwin Rodriguez still has
Ozzie Martinez
left on the bench (he has only 13 position players) but leaves in Badenhop, who is 1-for-23 in his career with 12 strikeouts. Starter Josh Johnson lasted only five innings, so Badenhop is already the team's fifth reliever, but it still seems odd to leave him in with two outs. Sure enough,
Ryota Igarashi
throws a first-pitch curveball for a ball, falls behind 2-0 ... and then Badenhop hits a 3-2 fastball up the middle for an RBI single. In the bottom of the inning, the Mets are out of bench players (
David Wright
was unavailable), so pitcher
Jonathon Niese
pinch-hits with two outs ... and hits a triple off the glove off
Emilio Bonifacio
. That brings up
Jose Reyes
, and I'm pretty sure the night is going to go on forever.
Except Reyes strikes out.
And I think Mets fans blame Jorge Posada.
Meanwhile, out on the West Coast,
Michael Pineda
is throwing zeroes, the A's and Angels are tied at 0 ...
PHOTO OF THE DAY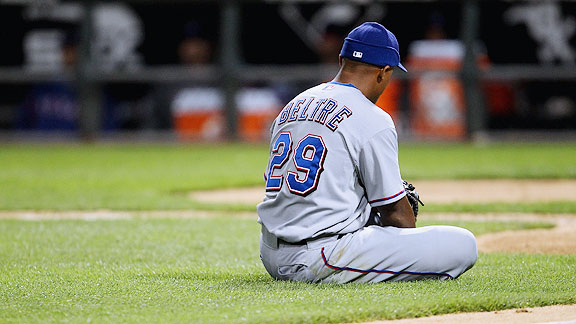 Jonathan Daniel/Getty ImagesPlease, don't disturb Adrian Beltre. He looks pretty comfortable there. Just give him a moment.
Follow Dave on Twitter: @dschoenfield.