SweetSpot:

Vinny Castilla
March, 2, 2011
3/02/11
10:57
AM ET
By
Chris Quick
| ESPN.com
I hate to say it, but when it comes to evaluating baseball players, I'm a slave to power. I love watching batters launch home runs. I love to see players like
Albert Pujols
hit tape-measure shots. Power is seductive. However, hitting for power isn't a guaranteed route to success in the majors. In fact, there have been more than just a few players who have hit for power and, at the same time, have been poor offensive players.
For this post, I wanted to rank those players who struggled while hitting for power. Using Baseball Reference's handy-dandy Play Index Tool, I ran a query with the following parameters: At least 500 plate appearances in a season, at least 25 home runs hit, and ranked by Adjusted OPS (or OPS+). I ran this search from 1950-2010.
Our top 10 list for sluggers who struggled looks as follows:
10. Chris Young
,
Arizona Diamondbacks
, 2007, 32 HR, 88 OPS+
You can probably forgive Chris Young's 2007 season depending on how you view his defense. Like most on this list, Young hit for great power but his OBP checked in at a dreadful .295. You can hit all the home runs in the world, but if you can't get your OBP over .300 you're in trouble.
[+] Enlarge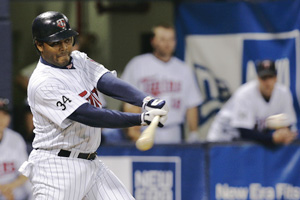 AP Photo/Ann HeisenfeltTony Batista had almost as many home runs (221) in his 11-season career as he did walks (287).
9. Tony Batista
,
Toronto Blue Jays
/
Baltimore Orioles
, 2001, 25 HR, 87 OPS+
The infamous Tony Batista. I have to admit that before I ran this list, I knew I would see a lot of Batista. His batting stance was fun to watch, but all Batista (and I mean all) did in his career was hit home runs. He might be the worst hitter in baseball's history to hit at least 200 career home runs.
8. Jeff Francoeur
,
Atlanta Braves
, 2006, 29 HR, 87 OPS+
This was Francoeur's follow-up season to his promising 2005 rookie year. The homers were nice, the plate discipline (23 walks, 686 PAs) was terrible. Francoeur never met a pitch he didn't like and he's currently set to play 2011 in Kansas City. I'm sorry, Royals fans.
7. Andruw Jones
, Atlanta Braves, 2007, 26 HR, 87 OPS+
Jones' lack of productivity, even with power, is forgivable depending on how you rate his defense in center field. And even in 2007, by most metrics, Jones was still a solid plus in center field. This was, however, the downturn in Jones' career as a hitter.
6. Brandon Inge
,
Detroit Tigers
, 2009, 27 HR, 87 OPS+
You would think that you could at least eke out league average production with 27 homers in your back pocket. Inge only batted .230 in '09 to go with a super low OBP of .314 -- that will wreck anyone's season.
5. Tony Armas
,
Boston Red Sox
, 1983, 36 HR, 85 OPS+
In '83 Armas was second in the AL in homers behind only Jim Rice. He slashed (.218/.254/.453) his way to a below-average season. Armas gets the nod for the hitter with the most homers on our list.
4. Vinny Castilla
,
Colorado Rockies
, 1999, 33 HR, 83 OPS+
I'm kind of surprised that Castilla is the only Coors Field bopper to make our list. Before the Rockies installed the humidor, Coors Field played like some weird trumped-up version of spaceball. Fun fact: Castilla hit 20 of his 33 homers at home.
3. Tony Batista
, Montreal Expos, 2004, 32 HR, 80 OPS+
Holy Batista! I stand firm by my statement that Batista is the worst hitter to ever accrue 200+ career dingers. Yet, in order to hit 200 career homers, you've got to be given the chance. Making it equally frightening is that he played 11 seasons. Ah, such is the alluring power of the homer.
2. Aaron Hill
, Toronto Blue Jays, 2010, 26 HR, 79 OPS+
Coming off a very solid 2009 (114 OPS+), Aaron Hill had a 2010 to forget. The homers mostly carried over from 2009 (36 to 26), but his OBP fell to .271 compared to a career .325. The culprit? A .196 BABIP -- the lowest among all qualified hitters in the majors. Hill seems like a nice rebound candidate next year.
1. Tony Batista
, Baltimore Orioles, 2003, 26 HR, 73 OPS+
Were you really expecting anyone else? Batista's 2003 is a masterful display of hitting for power at all costs. He didn't walk (28 BB, 670 PA), and to make things worse he hit into a career-high 20 double plays.
Tony Batista, incredible baseball player or the most incredible baseball player? You decide.
Chris Quick writes for Bay City Ball, which is part of the SweetSpot blog network.
February, 14, 2011
2/14/11
5:24
PM ET
By
Bill Parker
| ESPN.com
As most people spending time in this space know already, RBIs are a very poor measure of a hitter's actual offensive production. So what are the worst seasons ever turned in by players who topped 100 RBIs? The
Baseball Reference
blog did a list a little like that a while ago using
WAR
, but WAR includes defense and a positional adjustment; what I'm interested in is a list of guys who got RBIs but were in fact poor offensive players. So I've used only the batting component of Baseball Reference's WAR (rbat), the number of runs above or below average the player's bat was worth.
Here's the actual list
. I'm making a few subjective adjustments to the order of the top 10 below:
[+] Enlarge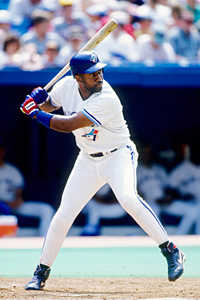 US PresswireFormer Toronto outfielder Joe Carter drove in 102 runs in 1997.
10.
Jeff Francoeur
, 2006 Braves: .260/.293/.449 (-16 rbat), 103 RBIs
This was Francoeur's first full season, when, at age 22, we could still dream about what might happen if he learned to take a pitch every now and then. He generally hit fifth or sixth in a solid lineup, so he had plenty of runners on base.
9. Ray Pepper, 1934 Browns: .298/.333/.399 (-18 rbat), 101 RBIs
The Browns had one above-average hitter get more than 31 PA. As a team, they had a 77 OPS+, last in the AL, so Pepper's 83 was right in line. But it was a hitters' park in a hitter's time, so Pepper knocked in 101 just by banging out a bunch of singles in a bad lineup, topping 100 RBIs with just six homers. This was Pepper's only full season; I guess people just didn't value a proven run producer in those days.
8. Tony Armas, 1983 Red Sox: .218/.254/.453 (-16 rbat), 107 RBI
Armas hit 36 homers in '83, then led the league in homers (43), RBIs (123) and strikeouts (156) in '84. But he was never able to hit for average or draw walks, and in '83, all the non-home-run-hitting aspects of his game were at their very worst.
7. Lou Bierbauer, 1894 Pirates: .303/.337/.407 (-18 rbat), 109 RBI
Bierbauer's raw numbers don't look nearly as bad as they were; the entire Pirates team hit .312/.379/.443, and the league averaged more than seven runs per game. Four Pirates starters had an OBP better than .400 and a ton of batters reached on errors, so Bierbauer had plenty of opportunities despite only three homers.
6. Moose Solters, 1936 Browns: .291/.336/.467 (-15 rbat), 134 RBI
These Browns were better hitters than the ones from two seasons prior, and the park and era helped just as much. Solters' line is no worse than the four others above, but he was that bad and had 134 RBIs! Solters actually surrounded this one with two legitimately good years in 1935 and '37, but here he was just in the right place at the right time.
5.
Ruben Sierra
, 1993 Athletics: .238/.288/.390 (-18 rbat), 101 RBI
As I
wrote a few weeks ago
, in 1994, Bill James thought Sierra was headed to the Hall. That was written just after this atrocious season. With little patience and just OK power, Sierra depended on maintaining a high batting average to be productive. That aspect of his game fell apart in '93. Sierra was never quite this bad again, but also never really recovered, and never drove in 100 again.
4. Lave Cross, 1895 Phillies: .271/.319/.364 (-21 rbat), 101 RBI
See No. 7 above. Cross was one of four Phillies to top 90 RBIs (in just 131 team games). A year before, Cross had played like a star: .387/.424/.528, 132 RBIs. In '95, everything about his game dropped through the floor, and he hit just two home runs, but he still reached 100 ribbies. Safe to say that Hall of Fame teammates Billy Hamilton (.490 OBP) and Ed Delahanty (.500) helped.
3.
Vinny Castilla
, 1999 Rockies: .275/.331/.478 (-20 rbat), 102 RBI
Through his prime, Castilla was a pretty decent hitter who Coors Field made look like a star; this was past that, and he was a very poor hitter who Coors made to look pretty decent. Surprising that Castilla's partner in crime against unadjusted slash lines,
Dante Bichette
, doesn't make this list, but much of Bichette's negative value came from defense, while Castilla was a solid glove man.
2.
Tony Batista
, 2004 Expos: .241/.272/.455 (-22 rbat), 110 RBI
If Castilla had never set foot in Coors and
had an insane stance
, he'd be Batista, whose previous season with Baltimore was one RBI short of No. 1: .235/.270/.393 (-29 rbat), 99 RBI.
1. Joe Carter, 1997 Blue Jays: .234/.284/.399 (-25 rbat), 102 RBI
For Carter, 1997 was his last full season and his worst, but in addition to No. 1, he also occupies spots 11, 15, 47, 105, 129 and 139 on the list. Carter was a more athletic and longer-lasting version of Armas. The Jays plugged Carter into either the number three or four spot in 157 of their 162 games in '97, where he cost them significantly in runs and wins on both sides of the ball despite the RBI.
Each of these 10 guys cost his team runs with his bat, while apparently excelling in the category most people seem to associate with "run production" -- RBI are kind of a fun little thing to look at, but it would be nice if we stopped pretending they mean anything.
Bill writes for The Platoon Advantage on ESPN's SweetSpot Network, and you can follow him on Twitter.