May, 13, 2014
5/13/14
5:24
PM ET
August, 27, 2013
8/27/13
1:02
PM ET
Best seasons by third basemen since 1980, at least according to Baseball-Reference's Wins Above Replacement formula:
1. Adrian Beltre, 2004 Dodgers: 9.6
2. Alex Rodriguez, 2007 Yankees: 9.4
3. Rodriguez, 2005 Yankees: 9.4
4. George Brett, 1980 Royals: 9.4
5. Scott Rolen, 2004 Cardinals: 9.1
6. Wade Boggs, 1985 Red Sox: 9.0
7. Mike Schmidt, 1980 Phillies: 8.8
8. Miguel Cabrera, 2013 Tigers: 8.8 (projected)
9. Wade Boggs, 1989 Red Sox: 8.4
10. David Wright, 2007 Mets: 8.3
Cabrera is certainly having a historic season with the bat. If we look strictly just at hitting by third basemen, the list looks like this in terms of runs produced compared to an average hitter from that season:
1. Cabrera, 2013: 79 (projected)
2. Rodriguez, 2007: 65
3. Rodriguez, 2005: 64
4. Brett, 1980: 61 (in just 117 games!)
5. Jim Thome, 1996 Indians: 60
6. Chipper Jones, 1999 Braves: 59
7. Chipper Jones, 2007 Braves: 58
8. Boggs, 1988 Red Sox: 57
9. Ken Caminiti, 1996 Padres: 56
10. Boggs, 1987 Red Sox: 56
Eric Karabell argues that the first list gives too much credit to defense; he may be right -- Rolen is credited with 3.3 WAR on defense alone in 2004, for example, although he doesn't top 2.0 in any other season. And it's true that none of the players on the first list were bad defensive players in those seasons, except Cabrera, who is credited with minus-1.1 WAR on defense so far. Boggs didn't have a great defensive reputation early in his career, although he later won two Gold Gloves with the Yankees, and Baseball-Reference credits him as a plus defender for most of his career (although not in the class of Rolen or Beltre).
Does Cabrera's offensive output make up for his subpar range at third base? In the video, we discuss Schmidt's 1980 season, when he hit .286/.380/.624. Schmidt posted a 1.004 OPS that year; the only other National Leaguers to reach even .900 were Keith Hernandez at .902 and Jack Clark at .900. Bob Horner and Dale Murphy, both playing in the Launching Pad in Atlanta, were the only other National Leaguers to reach 30 home runs.

As impressive as Schmidt was compared to his peers, Baseball-Reference still credits him with "just" 47 runs produced above average, compared to Cabrera's projected total of 79. As Karabell says in the video, .286 is not the same as .359. But do Schmidt's defense and baserunning advantages make up for Cabrera's edge at the plate? I think it's close. Schmidt was still a very good third baseman in 1980 and B-R credits him with plus-11 runs, compared to Cabrera's minus-15 so far. B-R actually gives Cabrera the minor edge in baserunning, plus-1 to minus-1, although Schmidt did steal 12 bases that year.
Anyway, measuring defense remains imperfect. But in measuring the complete package of a player, it must be considered. Cabrera is having an all-time great offensive season, but it's a good debate whether it's the best all-around season by a third baseman of the past 35 years or so. (And to be fair, WAR isn't going to factor in that Cabrera is hitting an insane .422 with runners in scoring position.)
What do you think?
January, 15, 2012
1/15/12
4:40
PM ET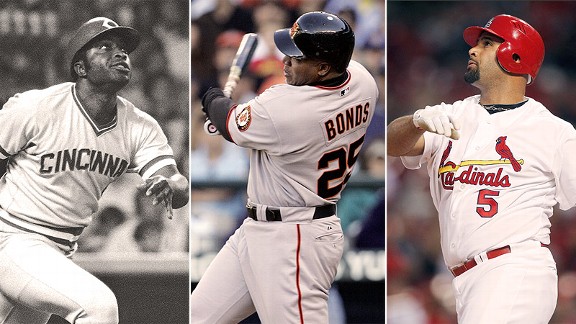 AP PhotoJoe Morgan, Barry Bonds and Albert Pujols all made cases for being the best player in the game during different stages of their career.
The genesis for this article came out of all the recent Hall of Fame discussions. A lot of arguments were along the lines of "Tim Raines was one of the best players in baseball in the mid-'80s," or "You know, Don Mattingly was the best in the game there for a few years," or perhaps "Barry Larkin was as good an all-around player as anybody at his peak."
None of those statements are necessarily incorrect. But are they good Hall of Fame arguments? How many players can you claim were "one of the best in the game" over a period of years? So here's what I did. I went back to 1969 and looked at each five-year span to determine the five best players in baseball, based on cumulative Baseball-Reference wins against replacement over those five years. (For the purposes of this piece, I looked just at position players.)
So here we go, with the usual caveats about WAR. You'll see a lot of the same players and you'll see a lot of Mike Schmidt and
Barry Bonds
and
Albert Pujols
in the top spot. But while the best player may not change all that often, it's interesting to see who pops in some of the top five slots.
1969-1973: Sal Bando (33.6), Joe Morgan (32.7), Reggie Jackson (32.2), Johnny Bench (30.4), Pete Rose (30.1)
Our first entry and we already get a big surprise: Sal Bando, the best player in baseball? It may seem odd now, but Bando was one of the most respected players in the game at the time and finished second, third and fourth in MVP votes in 1971, 1973 and 1974. He hit for power, drew walks and played a solid third base, putting up big numbers for the era in the Oakland Coliseum, a place where batting averages and fly balls often went to die.
1970-1974: Joe Morgan (37.6), Johnny Bench (31.9), Sal Bando (30.0), Reggie Jackson (29.2), Pete Rose (28.8)
No change in the top five, although Morgan takes a big leap ahead of the others, replacing a more mundane 1969 with a monster 1973. You're going to see a lot of Morgan here, as his 1972-76 run was one of the greatest five-year stretches in baseball history.
1971-1975: Joe Morgan (46.2), Reggie Jackson (33.3), Johnny Bench (31.9), Pete Rose (29.6), Willie Stargell (29.5)
Some believe Rose was a compiler, a good player who merely played forever. That's not accurate; while he was never the best player in the game -- although he did win the 1973 MVP Award -- he was clearly one of the best for a period of years. This peak coincides with his years in the outfield; his value started declining once he moved to third base in 1975, where it's fair to say he wasn't exactly Brooks Robinson.
1972-1976: Joe Morgan (51.0), Rod Carew (33.2), Cesar Cedeno (32.5), Johnny Bench (32.1), Bobby Grich (32.0)
Absolutely phenomenal: Morgan was nearly 18 wins better than the No. 2 player over this five-year span. I don't know if any player has ever dominated the game to the extent Morgan did over this stretch (that's another article). Cedeno was a marvelous talent, a power/speed center fielder who hit .298 while averaging 21 home runs and 55 steals per season over these five years. The Astros moved the fences back in 1977 (10 feet at the foul lines, 12 feet in the power alleys), hurting Cedeno's power. He injured his knee in 1978 and then broke his ankle in the 1980 playoffs, sapping his speed and effectively ending his years as a productive player.
January, 5, 2012
1/05/12
8:00
AM ET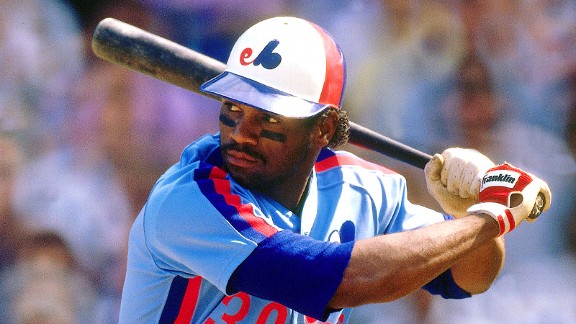 Ronald C. Modra/Sports Imagery/Getty ImagesTim Raines is often cited as the second-greatest leadoff hitter in MLB history.
There are a lot of columns and analysis out there advocating the case for Tim Raines for the Hall of Fame. I probably won't add anything new to the discussion, but let me start here:
Player A is Raines. Player B is Tony Gwynn. That final column is times reached base. Yes, Raines reached base more often in his career than Gwynn, in just slightly more plate appearances. I'm not the first writer to come up with that comparison. Joe Posnanski, among others, is especially fond of this factoid. The point of the statistic isn't to bring down Gwynn, rather to show how potent and devastating an offensive player Raines was. The arc of his game was a little different than Gwynn's but the results are similar: Gwynn got more singles, Raines walked more and had a little more power. He was one of the great base stealers of all time and scored more runs in his career than Gwynn.
That's what Raines did: He scored runs. He's 51st on the all-time list and of the 50 players ahead of him, all eligible candidates are in the Hall of Fame except for Jimmy Ryan and George Van Haltren, two 1890s outfielders; turn-of-the-century shortstop Bill Dahlen; and Rafael Palmeiro.
A common refrain about Raines from his advocates is that he was one of the best players in baseball over a span in the 1980s. This isn't some after-the-fact hocus-pocus going on. It was widely believed at the time. In a 1984 Sports Illustrated piece on Raines, Pete Rose said: "Right now he's the best player in the National League. Mike Schmidt is a tremendous player and so are Dale Murphy and Andre Dawson, but Rock can beat you in more ways than any other player in the league. He can beat you with his glove, his speed and his hitting from either side of the plate." In his annual Baseball Abstracts, Bill James often argued the case of Raines' all-around brilliance. Raines finished fifth, sixth and seventh in MVP votes, despite playing for mediocre Expos teams.
Raines' five-year peak was 1983 to 1987. According to Baseball-Reference's WAR ranking, the top five players during those years were Wade Boggs (39.7), Rickey Henderson (34.1), Cal Ripken (33.3), Schmidt (31.4) and Raines (30.7). Pretty nice company. (The next five were Alan Trammell, Gwynn, Eddie Murray, Murphy and Keith Hernandez.)
To be fair, this alone doesn't make him a Hall of Famer. I checked every five-year period since 1969 (1969 to 1973, 1970 to 1974, etc.) and not all of the names that appear in the top five are Hall of Famers or future Hall of Famers. Heck, Sal Bando rated as the best player in baseball from 1969 to 1973.
Some characterize Raines as having too short of a peak level of dominance. From 1988 to 1995, he averaged .283/.375/.409, with 81 runs and 33 steals per season. Maybe not an MVP candidate anymore, but still a good player, top leadoff hitter and valuable contributor. He's hardly alone in this aspect. He had six seasons with an OPS+ of 130 or higher, the same as Jim Rice, Dawson and Ernie Banks, and more than Kirby Puckett, Roberto Alomar, Johnny Bench, Carlton Fisk, Yogi Berra, Tony Perez or Robin Yount.
Maybe Raines doesn't have a slum-dunk case. But he has a case. Maybe voters have forgotten his great years in Montreal (and they have forgotten; he received only 37 percent of the vote last year). Maybe they remember his final seasons with the Yankees, when he became a part-time player on two World Series champions. Maybe they can't believe he compares favorably with Tony Gwynn.
Believe.
August, 28, 2011
8/28/11
10:00
PM ET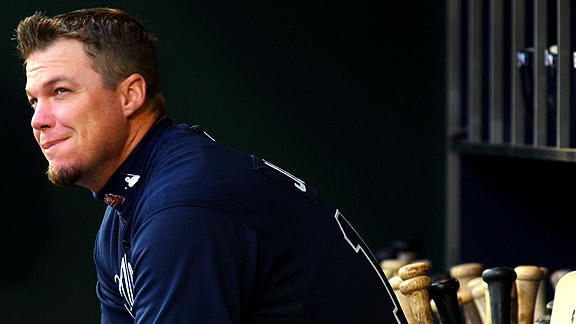 Mike Stobe/US PresswireWhere does future Hall of Famer Chipper Jones rank among the best third basemen of all time?
If you're an
Atlanta Braves
fan, maybe you remember the rookie Bobby Cox entrusted to hit third in the lineup in the 1995 World Series. Or maybe you remember September of 1999, when
Chipper Jones
hit 10 home runs, including two solo shots in a 2-1 victory over the Mets. He followed that performance with one more in each of the next two games as the Braves swept their NL East rivals to turn a one-game division lead to four. Or maybe you recall 2008, when Jones was hitting .400 as late as June 18. Or maybe you just remember that sweet, easy stroke from both sides of the plate that generated more power than you always expected.
Jones recently announced that he'll be returning for a 19th major league season in 2012. I'm sure he found the $13 million salary to his liking, but he's also returning because he's still a productive hitter. Despite undergoing arthroscopic knee surgery on July 9 and then suffering a hamstring strain, Jones is hitting a solid .279/.349/.468, including .386 in August. A line like that will lead a player to believe he has something left.
I would hope everyone recognizes by now that Jones is a first-ballot Hall of Famer. Last week, I exchanged Twitter messages with readers on where Jones ranks among the greatest third basemen of all time. Six names came up in that discussion, and with apologies to Home Run Baker and Ron Santo, here is my ranking of them.
(For the uninitiated, WAR stands for wins above replacement level, an all-encompassing stat that factors in a player's hitting, fielding and baserunning. All WAR numbers used in this story are from Baseball-Reference.com.)
6. BROOKS ROBINSON
"If his feet were slow, his reflexes were the fastest. If his arm was average, his accuracy and quick release were the best. Somehow he always seemed languid, especially as he threw overhand toward first; yet the fastest runners were out by larger margins when Robinson made his syrupy perfectos than when the most kinetic jack-in-the-box third basemen made similar plays as frantically as though they'd just sat on a cattle prod."
--Thomas Boswell
Career:
.267/.322/.401, 2896 G, 268 HR, 1357 RBI, 1232 R, 104 OPS+, 69.1 WAR
Best five seasons (1964, '68, '67, '62, '71):
33.5 WAR
Best 10 consecutive (1962-71):
51.9 WAR
Best 10 hitting seasons:
+142 runs above an average hitter
Robinson was so beloved in Baltimore that his final game with the Orioles drew the largest regular-season crowd up to that date in Memorial Stadium history. Robinson won 16 Gold Gloves and the defensive numbers back up his reputation -- Baseball-Reference rates him as the greatest defensive player ever, ahead of
Andruw Jones
, Roberto Clemente and Ozzie Smith. But I think he's pretty clearly the No. 6 guy on this list, despite his syrupy perfection at the hot corner. His bat is just too far behind the other guys. Not that he was an easy out -- he had enough power to hit 20 or more home runs six times and hit .317 in his 1964 MVP season. That was also the only year he slugged better than .500. He didn't walk much, leaving his on-base percentage nearly 100 points less than Wade Boggs', for example. But he was an amazingly durable player, a great teammate and a key member of some of the greatest teams of all time.
5. WADE BOGGS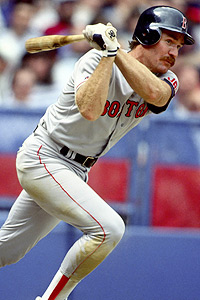 US PresswireWade Boggs may have been helped by the quirks at Fenway.
"There's no question that Boggs hits the ball farther and harder than Jim Rice or Dwight Evans or Don Baylor. He has titanic power that he hasn't shown yet. But he will. He regularly hits the ball onto the roof in Chicago and into the waterfalls in Kansas City. He'll hit 10 home runs in one round of batting practice. He'd win any home run contest he ever entered."
--Red Sox pitching coach Bill Fischer, 1987
Career:
.328/.415/.443, 2440 G, 118 HR, 1014 RBI, 1513 R, 130 OPS+, 89.0 WAR
Best five seasons (1987, '88, '86, '85, '89):
43.1 WAR
Best 10 consecutive (1982-91):
69.3 WAR
Best 10 hitting seasons:
+425 runs above average
Boggs never did hit for power, except for that one season in 1987 -- the rabbit ball season -- when he hit 24. Otherwise, his career high was 11, as he was content to slap doubles off the Green Monster, win batting titles (he won five) and collect his 200 hits per season (he did so seven straight seasons). That Boggs became a Hall of Famer and collected 3,000 hits was pretty remarkable considering his first full season didn't come until he was 25. His great eye at the plate and high batting averages produced some fantastic peak seasons. From 1983 to 1989 he hit .352 with a .446 on-base percentage, leading the AL in OBP in six of those seven years.
And yet I'm always left wondering if Boggs would have been as good anywhere else. During his Red Sox years from 1982 to1992, he hit .369 at Fenway, .307 on the road. On the one hand, Boggs deserves credit for mastering the unique dimensions of his home park; on the other hand, he never developed the power that so many said he possessed. His high on-base percentages made him an incredibly valuable offensive player and he was underrated with the glove, but would he have had a .328 career average if he'd come in a more conventional park? The best players would be stars in any era or any ballpark, and there is just enough of a question with Boggs that I put him fifth on this list.
4. GEORGE BRETT
"Sometimes I think the catcher can hear me, but I try not to let him. I'll say, 'I'm hot,' or 'I'm really swinging the bat good,' or 'I'm going to hit this pitcher.' But, hey, that's where it ends. It's not like I'm always having conversations with myself. I mean, I don't go back to my hotel room and say, 'What do you want to watch on TV, George? Oh, I don't know. Johnny Carson looks pretty good tonight.'"
--George Brett
Career:
.305/.369/.487, 2707 G, 317 HR, 1596 RBI, 1583 R, 135 OPS+, 85.0 WAR
Best five seasons (1980, '79, '76, '85, '77):
41.9 WAR
Best 10 consecutive: (1976-85):
62.2 WAR
Best 10 hitting seasons:
+392 runs above average
Baseball-Reference has a fun tool called the
MLB EloRater
, in which you're given two players and rate which one you think was better. It then converts those choices into a ranking of players. As I write this, Brett is rated 20th all time among position players, two spots ahead of Mike Schmidt, and the highest among third basemen. So the fans think Brett is the best ever. I just don't see it, and I say that as somebody who had a Brett poster on his wall as a kid. (OK, I had a Schmidt poster as well.)
It's easier to compare these two since they were contemporaries -- in fact, they were chosen with consecutive picks in the 1971 draft, the Royals drafting Brett 29th overall, the Phillies selecting Schmidt 30th. Offensively, Brett hit 38 points higher, despite which Schmidt still posted a better career on-base percentage. Schmidt placed in the top 10 in the NL 11 times in OBP, Brett seven times in the AL. Obviously, Schmidt had more power -- 231 more home runs, led his league eight times. Defensively, Brett turned himself into a good fielder after being a bit error-prone early in his career, but he was also shifted to first base at age 34 and played only 15 games at third over his final seven seasons. Schmidt, meanwhile, was a superb third baseman; he may not have deserved all 10 of his Gold Gloves, but he deserved many of them.
As pretty as Brett's swing was, as California cool as he was, as clutch as he was in the postseason (.337/.397/.627 in 43 games), I have to rank Schmidt higher.
3. EDDIE MATHEWS
[+] Enlarge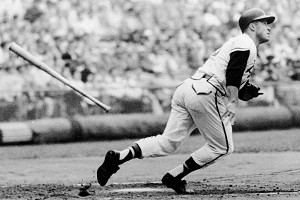 AP PhotoEddie Mathews has the second-best WAR among third baseman in the history of the game.
"He does everything well. He hits, he hits with power, he's a good fielder, he has a good arm, he's a fast runner. Maybe he won't lift a team the way a Mays or a Mantle will, but he's still one of the five or six best players in the game. You talk about Mays, Musial, Mantle, Aaron. He's in that group.
--New York Giants vice president Chub Feeney, 1958
Career:
.271/.376/.509, 2391 G, 512 HR, 1453 RBI, 1509 R, 143 OPS+, 98.3 WAR
Best five seasons (1953, '55, '63, '60, '54):
41.3 WAR
Best 10 consecutive (1953-62):
73.2 WAR
Best 10 hitting seasons:
+483 runs above average
Mathews was one of the best young players in baseball history, hitting .302 with 47 home runs and 135 RBIs at age 21. He never hit 47 again and hit .300 only two more times, and while active some viewed him as a disappointment ... not exactly fair given the numbers he put up. You can see this in the MVP voting: Mathews finished second in 1953 in that age-21 year and second in 1959, when he hit .306 with 46 home runs, but had only two other top-10 finishes (eighth and 10th). In 1954, he hit .290/.423/.603 with 40 home runs, but finished only 19th in the vote. The next season, he hit .289/.413/.601 and finished 18th. Man, those were some tough voters.
During my Twitter discussion, one reader pointed only to Mathews' WAR advantage as evidence that he was the second-greatest third baseman. My issue with using just WAR is that it was "easier" to accumulate WAR during Mathews' time. Here's what I mean: A 7.0 WAR season is an MVP-type season. Factoring in the number of teams per season, here's the ratio of "team seasons" for each 7.0-WAR season:
1950-1959: 1 for every 3.3 team seasons (49 7.0 WAR seasons in the decade, out of 160 team seasons)
1960-1969: 1 for every 2.9 team seasons
1970-1979: 1 for every 5.0 team seasons
1980-1989: 1 for every 5.1 team seasons
1990-1999: 1 for every 4.6 team seasons
2000-2009: 1 for every 4.5 team seasons
To me, this means it was more difficult to achieve a 7.0 season in the '70s and '80s than in the '50s or '60s. I would argue this is because the overall caliber of play improved. Fewer "bad" players means it's harder to excel beyond an average player or replacement player, which is what WAR measures. Now, the other interpretation could be simply that the '50s had more superstar seasons. Anyway, here is the number of 7.0 WAR seasons for the six guys on our list:
Robinson: 3
Boggs: 6
Brett: 5
Mathews: 8
Jones: 3
Schmidt: 9
2. CHIPPER JONES
"It helps that he has some ridiculous gifts. He was in a visiting clubhouse a while back, reading the crawl on a cable channel from about 30 feet away. A teammate said, 'You can read that?' Jones thought, You can't? He can remember hundreds, maybe thousands of at-bats, what he hit off whom. One night last week, after a game in which he saw two dozen pitches, he could remember in detail all but two or three of them: count, pitch, location, result. He watches game tape like a detective, and if a pitcher tends to slightly open his glove before throwing a curve, Jones knows it."
--Michael Bamberger, Sports Illustrated
Career:
.305/.403/.533, 2359 G, 449 HR, 1549 RBI, 1550 R, 142 OPS+, 82.0 WAR
Best five seasons (2007, 1998, '99, '08, '96):
34.9 WAR
Best 10 consecutive (1998-2007):
57.5 WAR
Best 10 hitting seasons:
+444 runs above average
Chipper's game was consistent excellence over a long time. His peak seasons may not quite match those of Brett or Mathews, but he's never had a bad season. He's had some injury issues later in his career, but through age 32 he averaged 153 games per season. Brett, meanwhile, battled injuries throughout his career (the turf in Kansas City didn't help); he played 140-plus games nine times, but four of those came after he moved to first base or DH. Considering Chipper's adjusted OPS is actually greater than Brett's and Brett moved to first base in his mid-30s, I give Chipper the slight edge.
The call over Mathews is a little tougher. Chipper had the weakest glove of the six, while Mathews was regarded a solid glove. (Baseball-Reference gives Mathews a five-win advantage over Chipper for defense over their careers.) Chipper's adjusted OPS is actually nearly identical to Mathews' and right now Baseball-Reference has Mathews as creating 550 runs above an average hitter of his era, Chipper at 549. Yes, Mathews has a good edge in career WAR. I think it's close, and maybe I'm succumbing to era bias here, but I'm going Chipper by the length of a Louisville Slugger.
1. MIKE SCHMIDT
"I don't think I can get into my deep inner thoughts about hitting. It's like talking about religion."
--Mike Schmidt
Career:
.267/.380/.527, 2404 G, 548 HR, 1595 RBI, 1506 R, 147 OPS+, 108.3 WAR
Best five seasons (1974, '77, '80, '76, '82):
45.6 WAR
Best 10 consecutive (1974-83):
81.5 WAR
Best 10 hitting seasons:
+449 runs above average
Schmidt was one of the first players to strike out
a lot
and not really care about it. He struck out 136 times in 132 games as a rookie (when he hit .196). He led the NL in home runs each of the next three seasons, but also led the league each year in strikeouts (138, 180, 149). At a time when batting average was still the primary way to evaluate a hitter, the fact that Schmidt struck out a lot and didn't hit .300 led, I believe, for him to be somewhat under appreciated early in his career. But if you trust the numbers at Baseball-Reference, he was a superstar from his second season: B-R ranks him as the No. 1 or No. 2 position player in the National League every year between 1974 and 1983, and first again in 1986. I believe Schmidt clearly remains the greatest third baseman of all time.
And what about
Alex Rodriguez
, you ask? We'll cross that bridge once he plays more games at third than shortstop.
Follow David Schoenfield on Twitter @dschoenfield.
June, 6, 2011
6/06/11
2:06
PM ET
While the '68 Dodgers have
the greatest draft haul ever
, they aren't the only team to stock up in a single draft. Not including drafts that resulted in one superstar (Barry Bonds, Roger Clemens, etc.), here are six other great drafts.
Detroit Tigers, 1976:
I believe no team has ever selected two future Hall of Famers in one draft (even if a player went unsigned). The Tigers have a chance, with second-rounder Alan Trammell and fifth-rounder Jack Morris both future Veterans Committee candidates if the writers don't elect them. But the draft didn't end there: the Tigers also got Steve Kemp (130 career home runs) and Dan Petry (125 wins). Plus, get this: They drafted Ozzie Smith in the seventh round but didn't sign him.
Kansas City A's, 1965:
In the first round, the A's built the foundation for their three World Series champions of the '70s by selecting Arizona State teammates Rick Monday (first overall pick) and Sal Bando (sixth round) and Gene Tenace (20th round). Monday would later be flipped to the Cubs for Ken Holtzman, who joined Catfish Hunter and Vida Blue in the rotation. (Reggie Jackson and Blue were drafted in 1966 and '67. Hunter, Joe Rudi and Rollie Fingers were all signed in 1964 in the pre-draft era.)
San Francisco Giants, 1968:
The Giants drafted an All-Star outfield in one draft: Garry Maddox and George Foster in the January regular phase, and then Gary Matthews with their first pick in June. Trouble is: They didn't know what to do with all these guys. Foster was traded to the Reds in 1971 for Frank Duffy and Vern Geishert, and there's a reason you haven't heard of those two. Foster ended up winning an MVP Award and leading the NL three seasons in a row in RBIs.
When Maddox -- "Two-thirds of the Earth is covered by water, the other one-third is covered by Garry Maddox" -- reached the majors in 1972, the Giants already had Bobby Bonds and Ken Henderson (a good player) plus an aging Willie Mays and rookie Dave Kingman, who couldn't really play anywhere so they plunked him in left field sometimes. Anyway, they cleared space by trading Mays to the Mets but would eventually trade Maddox a few years later to the Phillies for Willie Montanez. For some reason, teams kept trading for Montanez. (He'd hit 30 home runs as a rookie, but only reached 20 one other time and never walked.) Anyway, the Giants quickly realized Montanez wasn't that good and would trade him to the Braves for Darrell Evans, who was at least a productive player.
Matthews played four seasons for the Giants before signing with the Braves as a free agent. The Giants of the '70s and '80s were churning out ballplayers left and right but kept doing stupid things like trading Maddox for Montanez or Bob Knepper for Enos Cabell or Jack Clark for a pile of landfill or playing Johnnie LeMaster at shortstop year and they never won anything.
Boston Red Sox, 1976:
Bruce Hurst was the team's first-rounder in June while Wade Boggs lasted until the seventh. John Tudor came in the January secondary phase. Mike Smithson would win 76 major league games.
New York Mets, 1982:
All told, the Mets would draft 17 players who would reach the major leagues, including Dwight Gooden, Roger McDowell and Randy Myers. Unsigned, however: eighth-round pick Rafael Palmeiro. (The year before, the Mets had drafted but failed to sign Roger Clemens out of junior college.)
New York Yankees, 1990:
First-rounder Carl Everett never played for the Yankees as he was lost to the Marlins in the expansion draft, but two late-rounders turned out pretty well: Andy Pettitte (22nd round) and Jorge Posada (24th). They also signed a skinny 20-year-old Panamanian pitcher as an amateur free agent that year: You've probably heard of him ... Mariano Rivera.
Honorable mention: Montreal Expos, 1977 (Tim Rainers, Bill Gullickson, Scott Sanderson); Cincinnati Reds, 1983 (Chris Sabo, Rob Dibble, Kurt Stillwell, Jeff Montgomery, Joe Oliver, Lenny Harris); Minnesota Twins, 1989 (Chuck Knoblauch, Denny Neagle, Scott Erickson, Marty Cordova, Mike Trombley); Boston Red Sox, 1989 (Mo Vaughn, Jeff Bagwell, Paul Quantrill). As for more recent drafts, the Red Sox selected Jacoby Ellsbury, Clay Buchholz and Jed Lowrie in 2005; and the Braves' 2007 draft could be a good one: Jason Heyward, Freddie Freeman and Craig Kimbrel (and Brandon Belt went unsigned).
Anyway, I'm sure I missed some good drafts in there. Add to the list if I did!
May, 31, 2011
5/31/11
10:46
PM ET
I love a manager who isn't afraid to think outside the box. In an era when most managers are essentially interchangeable with their styles, Joe Maddon is one guy willing to try different things -- whether it's using
Ben Zobrist
as a multi-position star or a catcher hitting leadoff or
Felipe Lopez
batting cleanup (OK, that one didn't work so well).
[+] Enlarge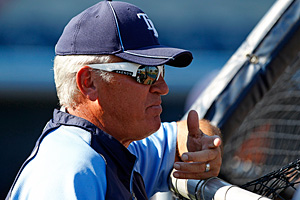 AP Photo/Charles KrupaTampa Bay manager Joe Maddon did some outside-the-box thinking by batting Evan Longoria in the leadoff spot.
Over the weekend, Maddon batted
Evan Longoria
leadoff in three straight games. While it was a tactic used as much to perhaps shake Longoria out of a little slump, it was also an attempt to get the Rays some production from the leadoff spot. Entering Tuesday, Tampa Bay leadoff hitters -- mostly
Sam Fuld
-- were hitting just .223 with a .289 on-base percentage. Maddon was desperate for somebody to get on base. But how many managers would use their best hitter (apologies to
Matt Joyce
) in the leadoff spot?
Anyway, Longoria was back in the cleanup spot Tuesday night (Zobrist hit leadoff) and delivered the game-winning two-run home run off
Arthur Rhodes
in the bottom of the eighth to give Tampa a
5-4 victory
. The towering shot barely cleared the fence, just enough to give the Rays only their sixth win in the past 16 games.
"We haven't really been playing the best baseball, but we have to find a way to win," Longoria said after the game. The Rays won despite walking five batters and committing two errors, including one from Longoria. But a win is a win. "As Joe says," Longoria added, "there is no such thing as an ugly win."
It's that attitude that allows Maddon to make decisions like hitting Longoria leadoff. There are still many managers who just put their fastest guy in the No. 1 spot ... no matter his actual ability to getting on base. Take Dusty Baker, for example. He's managed 17 years in the major leagues and only twice have his leadoff hitters produced an on-base percentage above .350 -- in 1998 (
Darryl Hamilton
and
Marvin Benard
) and 1999 (Benard). In 11 of those 17 seasons, his leadoff guys have produced on OBP below .330. Dusty just picks a fast guy and make him the leadoff hitter. (Even now with the Reds, the fact that
Drew Stubbs
has power is just a bonus. Stubbs is also the fastest guy on the team.)
What I'd like to see are more cases in which a manager tries the unconventional when he lacks the conventional leadoff hitter. A few examples:
Brian Downing, 1982 Angels:
Downing was a former catcher turned bulked-up left fielder. Gene Mauch hit Downing leadoff because he got on base, and even though he had just two stolen bases, Downing scored 109 runs and the Angels won a division title.
Wade Boggs, 1986 Red Sox:
Boggs didn't hit leadoff the entire season, but led the team in games batting leadoff and was in that spot in the order in the playoffs. In 1988 and '89, he hit leadoff most of the time and -- despite his notorious lack of speed -- led the AL in runs scored both seasons.
1950s Yankees:
Casey Stengel never really had a regular leadoff, often using guys without much speed in the spot. But he used guys who got on base, mixing and matching based on the opposing starter. In the 1951 World Series, he used four different leadoff hitters (including a rookie Mickey Mantle twice); in 1952, three different guys; in 1953, two; in 1955, five.
Akinora Iwamura, 2008 Rays:
Maddon had three guys with more speed than Iwamura --
Carl Crawford
,
B.J. Upton
and
Jason Bartlett
-- but he stuck with Iwamura in the No. 1 spot. He drew 70 walks and led the team in runs scored.
Pete Rose, 1975 and 1976 Reds:
Sparky Anderson had two prototypical leadoff hitters in Joe Morgan and Ken Griffey Sr., but he wanted Morgan's bat in the middle of the order and the speedy Griffey in the No. 2 hole. So Rose hit leadoff every game in 1975, posted a .406 OBP and scored 112 runs -- without stealing a single base. In '76, he posted a .404 OBP and scored 130 runs. The Reds won the World Series both years.
March, 5, 2011
3/05/11
11:30
AM ET
One of my baptismal moments as a baseball fan came when I was about 9 or so, and I had a new baseball card that was one of those historical tributes, this one to Walter Johnson. Riding in the back of our '76 Plymouth van, I quizzed my dad on how many career strikeouts the Big Train had, thinking there was no way he would get the exact four-digit number. When Dad said "3,509," I was flabbergasted. How could he possibly have known?
[+] Enlarge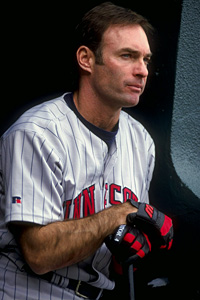 Doug Pensinger /AllsportHall of Famer Paul Molitor, who retired in 1998, is the last player to crack the top 10 in all-time hits.
Soon enough, I learned the joy of losing myself in baseball's career stat leaders. In that long-before-the-Internet era, you would pore over the Baseball Encyclopedia or the Street and Smith's annual preview. We never saw Johnson or Ty Cobb play, but through those numbers (which later proved to be subject to correction by baseball researchers), they began to gain a purpose. They began to gain an identity.
Things change. Johnson, who was No. 1 in career strikeouts when I was a boy (in fact, was the tops from 1921 through 1983), is No. 9 today. Steve Carlton passed him first, then Nolan Ryan leapfrogged Carlton and obliterated the mark, finishing with 5,714. Besides Johnson, just one pre-World War II pitcher is left in the top 20. That's Cy Young, resting in 20th place with 2,803.
With marriage and three children, I'm forced to live much more in the present than maybe I'd like to, especially from a baseball standpoint. It's been years since I've luxuriated in the career tables like I did in the past -- one of life's simple pleasures lost to a much more complex existence. And so when I turned my attention to the career strikeout leaders today, it didn't surprise me much that so much change had occurred.
But when I looked over at the career hit leaders, I was taken aback -- by the utter stability of it all. It was as if it were frozen in time, but the truth is, that top-10 list is a boulder that would not be moved.
It was just as I left it as a single man. The most recent player to break into the top 10 was Paul Molitor, whose major league career began before my 11th birthday and ended back in 1998. Carl Yastrzemski was the only other top-10er to play into my teen years.
I mean, I don't know what I was expecting -- and those of you with healthier attention spans will think me a fool for being the least bit surprised, so forgive me -- but how wonderful, how glorious, how … viscerally energizing it was to see these names hold up over time. Rose and Cobb and their angry, cantankerous 4,000-plus hit careers. The classy Hammerin' Hank and Stan the Man holding strong in third and fourth. The classic old-timers -- Speaker, Cap Anson, Honus Wagner -- in the meat of the lineup at 5-7. At eight and nine, Yaz and Molitor, young whippersnappers even as they court the AARP demographic.
And then … this was my favorite. No. 10, with 3,315 hits: Eddie Collins. To my utter shame, I haven't given Eddie Collins a nanosecond of thought in years. My mind has been too polluted by extraneous, worthless details like work and family to give Collins the time of day -- and yet there he sits, steady as granite. Mays couldn't catch him. Murray and Ripken couldn't catch him. Yount and Gwynn, Winfield and Biggio, Henderson and Carew, Brock and Palmeiro and Boggs … all playing in the 162-game era, many with the designated hitter rule in their right pocket, and none could touch Collins, born in 1887, christened in 1906, retired by 1930. When he passed away in 1951, he was fifth all-time in hits. Sixty years later, he's lost only five spots.
Soon, Collins might finally face his top-10 eviction notice.
Derek Jeter
has 2,926 career hits, more than any ballplayer at age 36 since Yount, two decades ago. By July, Jeter will probably break 3,000 and (with all the subtle media coverage of a moon landing) become the 28th man to reach that milestone, leaving him perhaps no more than two years away from Collins. Behind Jeter looms
Alex Rodriguez
, barely 600 hits from Collins and Molitor at age 34.
After that? Maybe 36-year-old
Ichiro Suzuki
has more than 1,000 hits left in him to catch Yastrzemski. Quite possibly, 30-year-old
Albert Pujols
, who has 1,900 hits in his first decade, picks up close to the same in his second, knocking out Wagner.
And so maybe that stability on the all-time hits list is headed by the wayside. Hours ago, I wouldn't have known what I missed. But now I wonder … I miss Walter Johnson in that No. 1 spot. Is it that crazy that I might miss Eddie Collins at No. 10?
If it is, all I can say is that's the same kind of crazy that made me the baseball fan I am today.
Jon Weisman writes about the Dodgers at Dodger Thoughts for ESPNLosAngeles.com. Follow him on Twitter.