July, 10, 2014
7/10/14
4:08
PM ET
By
Jason Rosenberg
| ESPN.com
Quite a week, eh? We've seen a massive
"go for it"
trade that
paid quick dividends
for the A's, some
unfortunate DL
news for the Yanks' Masahiro Tanaka and
the Reds' Joey Votto
, and a couple of
disappointing
vets
were DFA'd. Although Carlos Beltran's
facial fractures off a BP ricochet
off his own bat and the screen takes the "freak injury" award this week.
Arizona Diamondbacks: Inside the 'Zona
D-backs' slap-hitter offense decent but unusual
: Though good overall, the Diamondbacks offense is among the worst in the majors in walks and "hard-hit average." Ryan P. Morrison draws from a quote from Bill James in wondering whether slap hitters are an inefficiency Arizona could exploit. Follow on Twitter:
@InsidetheZona
.
Wade Miley is the canary in the coal mine
: The D-backs are sellers, but their moves so far have been short-term oriented. Jeff Wiser looks at Miley's value as a trade chip, and makes the case that what the team decides to do with Miley will tell us a lot. Follow on Twitter:
@OutfieldGrass24
.
Atlanta Braves: Chop County
Mississippi Braves game report from 6/24/14
: Photos and scouting reports on several of the Braves top prospects, including speedy second baseman Jose Peraza. Follow on Twitter:
@gondeee
.
Baltimore Orioles: Camden Depot
Examining Steve Pearce's fantastic, unexpected first half
: Matt Kremnitzer dives into the play of Pearce, who has been a major reason why the Orioles currently reside in first place in the AL East. His season has been a wild ride of being designated for assignment as well as delivering outstanding play at the plate. Follow on Twitter:
@CamdenDepot
.
Boston Red Sox: Fire Brand of the American League
It's time for the Red Sox to sell
: Alex Skillin writes that the Red Sox need to consider trading players such as Jake Peavy, Jonny Gomes and Koji Uehara to allow the team an opportunity to evaluate its younger talent, like Jackie Bradley Jr, Mookie Betts, and others who could benefit from full-time work. Follow on Twitter:
@firebrandal
.
Chicago Cubs: View From The Bleachers
Why you should be in favor of the big trade
: Joe Aiello talks about the weekend deal that sent Jeff Samardzija and Jason Hammel to Oakland and why Cubs fans should be happy with the result. Follow on Twitter:
@vftb
.
What the Samardzija and Hammel trade means for the rebuild
: Noah Eisner breaks down the deal further and looks at what it means going forward for the Cubs' farm system. Follow on Twitter:
@Noah_Eisner
.
Chicago White Sox: The Catbird Seat
The White Sox are not a bullpen away from being contenders
: The White Sox bullpen is terrible, yet the team floats around near .500; would they be contenders if they could get some relievers? James Fegan says no. Follow on Twitter
@TheCatbird_Seat
.
Colorado Rockies: Rockies Zingers
The 2014 Colorado Rockies: What went wrong?
: Eric Garcia McKinley looks at the Rockies' first-half performance so far and discusses why the Rockies are doing so badly. It turns out that they weren't that good in the first place. Follow on Twitter:
@garcia_mckinley
.
New York Yankees: It's About The Money
The real Brandon McCarthy
: Katie Sharp gives Yankee fans on primer on their newest starting pitcher. Follow on Twitter:
@ktsharp
.
Power-hitting Brett Gardner
: Katie examines how Gardner's game has changed and power has become a part of it. Follow on Twitter:
@IIATMS
.
St. Louis Cardinals: Fungoes
Matt Adams' secret: Better strike-zone discipline?
: Since returning from the disabled list, Adams has been beating the shift and pretty much everything else that opposing teams have thrown at him. He credits improved strike-zone discipline. But is that really the case? Follow on Twitter:
@fungoes
.
Texas Rangers: One Strike Away
The case for trading Alex Rios
: Brandon Land examines the possibility of the Rangers trading Rios to retool for 2015 or 2016. Follow on Twitter:
@one_strike_away
.
Jason Rosenberg is the founder of It's About the Money, a proud charter member of the SweetSpot Network. IIATMS can be found on Twitter here and here as well as on Facebook.
April, 2, 2014
4/02/14
9:36
AM ET
Some quick thoughts on Tuesday's games and news ...
Here's something you probably didn't know: Marlins right-hander Nathan Eovaldi had the highest fastball velocity last season of any pitcher who threw 100 innings. His 96.2 mph average fastball topped the 96.0 mph of the Pirates' Gerrit Cole. Now, we all know velocity isn't everything if you don't have movement and location, but it does speak to Eovaldi's good arm and his potential. What he needs is to refine his command and develop an offspeed speed as a better strikeout weapon (his slider is OK, the curveball needs work). He had a strong 2014 debut, allowing two runs in six innings against the Rockies with one walk and six strikeouts. He still relied a lot on his fastball -- 65 of his 95 pitches were heaters (average: 95.8 mph) -- but he's a guy to keep an eye on.

For some reason, Braves manager Fredi Gonzalez decided to bat B.J. Upton second after he hit .184 last year. Two games in and Upton is 0-for-8 with four strikeouts. How long will Gonzalez's show of confidence in Upton last? Will moving him back down after three or four games create even more damage? Are Braves fans already in an uproar?

Yasiel Puig did this, taking a 93-mph fastball from Ian Kennedy that was high and inside and out of the strike zone and crushing it to left. Bat speed, my friends, bat speed. The Dodgers won but it wasn't all good news as the team announced Clayton Kershaw will be out two to three more weeks.

Erasmo Ramirez looked very good for the Mariners, throwing 93 pitches in an efficient seven innings as the Mariners beat the Angels. His one mistake was a first-pitch two-seamer that Raul Ibanez smacked for a two-run homer. The location actually wasn't bad -- low and outside corner -- but the pitch didn't run away as much as Ramirez would have liked. He's not overpowering so relies on location and movement and an excellent changeup. Ramirez was the guy who pitched well in eight starts at the end of 2012 but battled a strained triceps last season and struggled in 13 major league starts (4.98). He's a much different pitcher than Eovaldi but he's another guy with a little experience who could break out. Here's a heat map of Ramirez's night and you can see he tries to run that two-seamer away from lefties and into righties: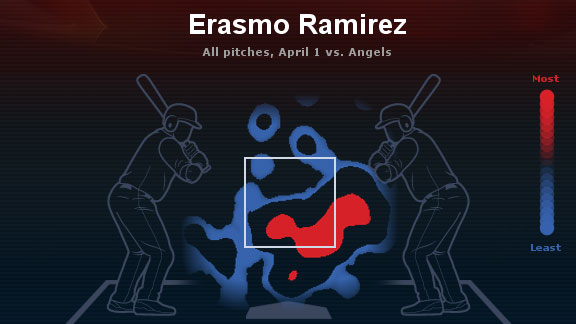 ESPNRamirez struck out six and had no walks in his 2014 debut.
The Phillies lost 3-2 to the Rangers as Ryne Sandberg brought in reliever Mario Hollands for his major league debut with the game tied in the bottom of the ninth. It didn't go well. Bill Baer writes that the new boss looks a lot like the old boss.

CC Sabathia is skinnier but struggled (average fastball velocity: 89.0 mph) and the Astros beat the Yankees 6-2. Stacey Gotsulias wraps up the good and bad for the Bronx Bombers and says the defense already looks bad.

The Giants jumped on D-backs starter Wade Miley with a four-run first inning, including a three-run homer from 2014 NL batting champ Brandon Belt, but Miley settled down and ended up going seven innings and getting the win when the Diamondbacks scored twice in the sixth off Giants reliever Juan Gutierrez (also known as J.C. Gutierrez). I'm a little concerned about the Giants bullpen behind closer Sergio Romo. They've milked a lot of years and innings out of the likes of Santiago Casilla, Javier Lopez and Jeremy Affeldt (currently on the DL). Gutierrez is a 30-year-old journeyman with a 4.65 ERA, pitched for the Royals and Angels last season. Matt Cain scuffled through five innings (99 pitches) so Bruce Bochy had to go early to his pen. (As Buster Olney writes, that game also had a replay controversy when Bochy used up his challenge and then the umps missed a call on a play at the plate that couldn't be challenged because it happened before the seventh inning.

Finally, bad news for Wilson Ramos and the Nationals as he'll miss one to two months. The good news is that Jose Lobaton, who was with the Rays last year, is one of the better backup catchers in the majors.
March, 22, 2014
3/22/14
7:54
AM ET
Welcome to baseball in Australia. MLB's opening series between the
Los Angeles Dodgers
and
Arizona Diamondbacks
at the ancient Sydney Cricket Ground, also known as
Zack Greinke
's least favorite international baseball venue.
It's the first game of the regular season, which seems reason enough to crawl out of bed at 4 a.m. to write a running diary.
Pregame
After a rain delay of nearly an hour, we get to the introductions of the players. Unfortunately, it appears the Diamondbacks' PA announcer is reading off the names instead of Crocodile Dundee. The Dodgers look as if they're lined up for a funeral instead of a baseball game as nobody smiles and only veteran pitcher
Jamey Wright
waves to the crowd. I wonder whether Greinke is up watching in Arizona (he didn't make the trip).
Although each team had to activate 25 players, the teams were allowed to exempt three players who will be eligible to be activated for openers back in the U.S. The Dodgers exempted Greinke,
Dan Haren
and
Brandon League
. And with
Matt Kemp
on the disabled list and
Carl Crawford
on the paternity list, the Dodgers' roster includes
Alex Guerrero
,
Chone Figgins
and
Mike Baxter
. Hold your excitement, Dodgers fans. Both teams decided to go with 12 pitchers and 13 position players, which means 10 relievers for two games. That seems a little excessive, but maybe understandable considering starters
Clayton Kershaw
and
Wade Miley
might not be quite ready to go deep into the game.
First inning
Miley, going with the full beard and long hair, coasts through a 1-2-3 inning, including striking out leadoff hitter
Yasiel Puig
on an 0-2 slider in the dirt. It will be interesting to see how pitchers attack Puig this season. He hit .409 on inside pitches in 2013, but Miley started him off with an inside fastball Puig took for a strike. The Dodgers' lineup includes ex-Met
Justin Turner
batting second. Your most expensive team in baseball, everyone!
[+] Enlarge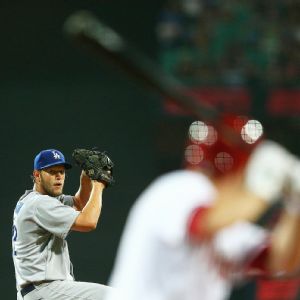 Cameron Spencer/Getty ImagesClayton Kershaw was brilliant in his first start of 2014, allowing one run in 6 2/3 innings.
Kershaw works out of a two-on jam, getting
Mark Trumbo
to ground out to shortstop on a 2-1 inside fastball. The Diamondbacks went
Paul Goldschmidt
-
Martin Prado
-Trumbo in the 3-4-5 spots, mildly interesting in that power-hitting Trumbo is hitting fifth behind Prado. Although Prado is hardly your conventional cleanup hitter, it makes sense to hit Trumbo fifth because of his low OBP.
Second inning
Adrian Gonzalez
walks on four pitches and then
Scott Van Slyke
crushes a pitch to deep left field that Trumbo climbs the fence in an attempt to haul in. Good effort … except the ball lands about six feet to his right and at the base of the fence. I mean, it isn't hard to tell Trumbo is really a first baseman the D-backs are force-feeding into left field. Van Slyke gets a double to move Gonzalez to third. After
Juan Uribe
strikes out, Gonzalez scores on
Andre Ethier
's grounder to second for the season's first run. I half expected a referee to come out and
do this
. (OK, that's Australian Rules Football, not cricket.)
Miley gets
A.J. Ellis
to fly out, so limiting the Dodgers to just one run after runners were at second and third with no outs is a positive. Of course, with Kershaw pitching and the Dodgers having a dynamite bullpen, one run might be all they need, especially when you factor in that the Australian national team just blanked the D-backs 5-0 in their final tuneup game.
Third inning
Kershaw struggled with his fastball command in his spring training appearances and allowed 15 runs in 14⅔ innings while giving up 20 hits and three home runs. He's a little sharper today, although he takes nine pitches to finally retire Miley and has 48 pitches through three innings, so he's not going to get a 94-pitch complete-game shutout on Opening Day the way he did a year ago.
Fourth inning
Scott Van Slyke, have a day! After just missing a home run in his first at-bat, he lines a 1-1 pitch just over the fence and just inside the right-field foul pole for a two-run homer. Van Slyke is in the lineup only because Kemp and Crawford aren't here, but his two hits do point out that Don Mattingly's outfield dilemma will -- or should -- actually go beyond just the Kemp/Crawford/Ethier playing time issue. Considering Crawford and Ethier can't really hit left-handers, you can make the argument that Van Slyke is the best option to start against lefties. We'll see how much playing time he gets when everyone is healthy.
As the MLB Network announcers (Matt Vasgersian and
John Smoltz
) discuss, another reason Kershaw is the best pitcher in baseball: Only nine stolen bases were attempted against him last year, and he picked off seven runners, second most in the National League. Oh, he also drove in 10 runs in 92 plate appearances.
Chris Owings
grounds out with a runner on first to end the inning. Kershaw is at 65 pitches, 41 strikes, with seven ground balls and three strikeouts. I think Dodgers fans can rest easy about those awful spring training numbers.
Fifth inning
Puig strikes out for the second time. Speaking of spring training struggles, Puig had hit .122 in Arizona, 5-for-41, with just one walk (although also with just five strikeouts). He did homer against an Australian league All-Star team Thursday.
Quick aside: The first Australian in the major leagues was a 19th-century second baseman named Joe Quinn, who played 17 seasons and collected 1,800 hits. Quinn was also the unfortunate player-manager for most of the season for the worst team in history, the 1899 Cleveland Spiders, a team that went 20-134 (12-104 under Quinn, including a 1-40 stretch to finish the season). Quinn's family moved to Iowa when he was about 10 years old, so many consider infielder Craig Shipley, who debuted in 1986 and played 11 seasons, the true Australian trailblazer in MLB. Here's a
profile of Quinn
, and here's a
bio on Shipley
, who works in the front office for the Diamondbacks.
Sixth inning
Well, Kershaw won't finish with a 0.00 ERA this season. Goldschmidt doubles to lead off the inning and scores on two groundouts to make the score 3-1.
Seventh inning
Will Harris
tosses two scoreless frames to keep the Diamondbacks close. Meanwhile, Kershaw comes out for the bottom of the seventh at 91 pitches. Can't imagine he'd go much above 100 this early on. Indeed, the TV cameras flash to
Chris Perez
and
J.P. Howell
warming up in the Dodgers' bullpen. With one out,
Gerardo Parra
reaches when Turner bobbles his slow chopper for an error, bringing up pinch hitter
Eric Chavez
. This isn't a great matchup for the D-backs, considering Chavez hasn't homered off a lefty since 2007, but I guess Kirk Gibson is hoping Chavez will get lucky and run into something. He doesn't; Kershaw quickly disposes of him in three pitches. That ends Kershaw's night at 102 pitches. Perez comes in and gets
A.J. Pollock
to fly out to right.
Eighth inning
With two outs, Gonzalez lifts a fly ball to left field that Trumbo "races" after and doesn't get to with a belly flop. Let's put it this way: At least the Diamondbacks are strong defensively in center and right with Pollock and Parra.
Brad Ziegler
gets out of the inning without any damage.
In the bottom half,
Brian Wilson
cruises through a 1-2-3 inning, striking out
Aaron Hill
and Prado. This Dodgers bullpen is going to be a dominant weapon.
Ninth inning
Puig, 0-for-4 with three strikeouts, swings against
J.J. Putz
, makes loud contact, drops his bat as if the ball is going far … and watches Pollock make the catch in reasonably deep right-center. The wind apparently knocked it down, but Puig is going to draw flak for acting as if he had hit one out.
Kenley Jansen
, who fanned 111 in 76⅔ innings last year, comes on for the save. He fans Trumbo on three pitches, Trumbo waving helplessly at an 0-2 high fastball.
Miguel Montero
fists a grounder to shortstop, but Owings walks on a 3-2 pitch that dips low, bringing up Parra as the tying run. But he taps back to the mound and the Dodgers have the first win of 2014.
I guess the script went pretty much as you would have expected: The best pitcher on the planet was very good, and what could be the best bullpen in the majors tossed 2⅓ hitless innings.
The best part: We have another game later today at 10 p.m. ET. You up for a doubleheader?
November, 12, 2012
11/12/12
6:48
PM ET
By
Christina Kahrl
| ESPN.com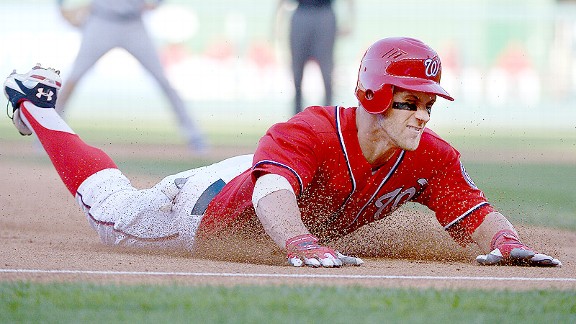 Jonathan Newton/The Washington Post/Getty ImagesBryce Harper's strong debut season helped the Nationals finish with the best record in baseball.
As one of the few entrusted with a National League Rookie of the Year vote this year, there wasn't really that much drama to making a selection, at least not for me. After September, it was clear that
Bryce Harper
should win, and that's who I put atop my ballot.
Of course, Harper made it easy for me, capping his already incredible introduction to the majors with a tremendous final month, hitting .330 AVG/.400 OBP/.643 SLG (with 18 extra-base hits) in September. If the season had run just five months, the choice between Harper, D-backs lefty
Wade Miley
and Reds cornerman
Todd Frazier
would have been much, much more difficult.
As of the last day of August, Harper was at .254/.324/.432 -- respectable for a teenager pushed into a pennant race, but not exactly eye-popping. At that same point, Frazier was hitting .293/.352/.549, and Miley was 14-9 with a 2.85 ERA and 14 quality starts (using runs, not scorer's opinions) in 23 turns. If the race was between anybody, it looked like it would be between those two, with Harper holding the bronze. But Miley had a mediocre September (posting a 5.40 ERA in six starts), while Frazier imploded, hitting just .176/.235/.257. After all Frazier had done to help carry the Reds to the top of the division, it was a shabby way to end an otherwise superb season. Frazier also played a much better third base than he got credit for, which mattered to me in the end for reasons I'll get into later.
Now, admittedly, the trophy is supposed to be Rookie of the
Year
, not rookie of the month of September, but making a judgment based on their performances over the full spread of the season made it easy for me to select Harper over Miley (who I put second) and Frazier.
Harper's sizzling finale also cinched what's already an annual temptation when it comes to picking the Rookie of the Year Award, which is favoring the guy you think has a better future ahead of him. That's very much what you are
not
supposed to do when voting for Rookie of the Year, though, which I suppose helps go a little toward explaining why history and the voters have given us some pretty lamentable selections.
Todd Hollandsworth
, anyone?*
[+] Enlarge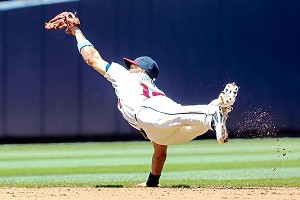 Daniel Shirey/US PresswireAndrelton Simmons played in only 49 games this season, but his defense made him a standout rookie.
The only difficulty I had was with the expectation that you have to vote on the performance within the season in question. Reviewing rookies, it's hard not to vote for the guy you're most excited about. Follow a guy through his touted rise through the minors and then see him deliver on the promise you've been anticipating, and it's hard not to get jazzed by that, as a fan or an analyst.
Which is why I had to spend some time thinking about my third-place vote more than the top of the ballot. Not that Frazier won't have a nice career, but I was tempted to recognize the rookie who was perhaps the most flat-out impressive to watch play, and a guy who figures to be an impact player on offense and defense for years to come: Atlanta shortstop
Andrelton Simmons
.
Because of injury, Simmons played only a third of the season, so there really wasn't much of a case to make. I looked back at Willie McCovey winning the award in 1959 as a precedent for touting a player with so little actual playing time. McCovey played in 52 games for the Giants, notching 219 at-bats but a 3.0 WAR; he was the unanimous selection. Simmons was worth 2.8 WAR in his 49 games for the Braves, so I coulda, I mighta and perhaps I shoulda given him a third-place token vote. Maybe it's a visceral thing, watching him play defense, because it feels like he might be for the Braves what
Elvis Andrus
is for the Rangers.
It's hard to believe Simmons might have generated 54 defensive runs saved over a full season, as Baseball Info Solutions suggests. That's one less than what full-season leaders
Brendan Ryan
of the Mariners (28) and
Darwin Barney
of the Cubs (27) cranked out combined, so it's sort of hard to take seriously. But it does suggest Simmons is going to be one of the biggest impact players on defense for years to come. Add in a much better bat than expected, and he's somebody you won't forget.
In the end, I couldn't overlook Frazier's full season -- including his own fine glove work at third base. As much as I wanted to vote for Simmons, I gave Frazier my third-place vote. But 10 or 15 years from now, we'll be talking about Simmons in contrast to Harper when we debate who's the biggest star from the NL's rookie class of 2012.
*OK, not even that excuses Hollandsworth, still one of the most lamentable selections for any award ever; he had no business beating Edgar Renteria or Jason Kendall. The horror, the horror.
Christina Kahrl covers baseball for ESPN.com. You can follow her on Twitter.
September, 26, 2012
9/26/12
11:40
AM ET
From ESPN Stats & Information, the longest average home run distance in the National League (minimum 15 home runs):
Bryce Harper
, Nationals: 414.1 feet
Justin Upton
, Diamondbacks: 413.8 feet
Carlos Gonzalez
, Rockies: 413.7 feet
Wilin Rosario
, Rockies: 413.3 feet
Harper
Harper's raw power isn't a surprise, of course, although it's still impressive that he edges out guys who play in Arizona and Colorado. D.C. might have plenty of hot air, but not the thin air of those places.
As for the NL Rookie of the Year, I think Harper is now the clear leader, and not just based on his publicity advantage over other top candidates. Since Aug. 17 he's hit .301/.358/.596, with nine home runs and 19 extra-base hits in 136 at-bats, raising his season OPS by 63 points. Reds fans will advocate for
Todd Frazier
, who does have a higher OPS on the season, but the comparison between the two isn't that close. Frazier has been a platoon guy at times, and while Frazier was superb filling in on a regular basis for
Joey Votto
, Harper has scored 92 runs while playing very well in center field on an everyday basis.
My No. 2 guy is actually Diamondbacks left-hander
Wade Miley
, 16-10 with a 3.25 ERA, pitching in a tough home park.
NL rookie WAR leaders (via Baseball-Reference):
Harper: 4.0
Miley: 3.4
Norichika Aoki
, Brewers: 3.0
Zack Cozart
, Reds: 2.7
Lucas Harrell
, Astros: 2.6
Andrelton Simmons
, Braves: 2.5
Frazier: 1.9
Rosario: 1.9
Mike Fiers
, Brewers: 1.9
Aoki's solid season has gone unnoticed, but he was a big reason the Brewers clawed back into the wild-card race. Miley has been terrific. But Harper is the Rookie of the Year in the NL.
July, 13, 2012
7/13/12
2:15
PM ET
As we began the second half, it's a fun time to revisit some predictions. I polled the SweetSpot network bloggers before the season on their
award predictions
. Obviously, not everything has happened as we thought it would. (
Tim Lincecum
for Cy Young? I think not.) Here are some revised picks, and your chance to vote on who you think will win the MVP and Cy Young awards.
American League MVP
Preseason balloting
1.
Miguel Cabrera
2.
Albert Pujols
3.
Evan Longoria
New pick
1.
Mike Trout
(10 votes)
2.
Robinson Cano
(4 votes)
3.
Josh Hamilton
(2 votes)
My pick:
Cano. Working in Trout's favor is that he's new and exciting, which makes for headlines. But Cano is having his best year, and could hit 35 home runs and approach 50 doubles, amazing production for a second baseman. If he matches his first half, I believe Trout can win, but even a little slide opens the door for Cano, Hamilton or Cabrera.
National League MVP
Preseason balloting
1.
Joey Votto
2.
Troy Tulowitzki
3.
Justin Upton
New pick
1. Joey Votto (8 votes)
2.
Andrew McCutchen
(7 votes)
3.
David Wright
(1 vote)
My pick:
Votto. Right now it looks like we have two clear favorites in Votto and McCutchen. If both perform close to what they did in the first half, the deciding factor is likely: Which team makes the playoffs? I'll go with Votto, since the Reds are probably the better bet to make the postseason. Under that thinking, don't count out
Carlos Beltran
. He leads the NL in RBIs, and MVP voters still love themselves some ribbies; if the Cardinals overtake the Reds and Pirates, Beltran becomes a viable candidate.
American League Cy Young
Preseason balloting
1.
Justin Verlander
2.
Felix Hernandez
3.
CC Sabathia
New picks
1. Justin Verlander (11 votes)
2.
David Price
(2 votes)
3.
Jered Weaver
(2 votes)
4. Felix Hernandez (1 vote)
My pick:
Verlander. Price was my preseason pick, and at 11-4, 2.82, he's still a strong candidate. But I think this might come down to Verlander (9-5, 2.58) and Weaver (10-1, 1.96). Verlander's big edge is that he's pitched 36 more innings than Weaver, due to Weaver's stint on the DL. But if the Angels' ace finishes 21-3 or so with an ERA in the low 2s, he could sneak in.
National League Cy Young
Preseason balloting
1.
Roy Halladay
2.
Clayton Kershaw
3. Tim Lincecum
New picks
1.
R.A. Dickey
(5 votes)
2.
Matt Cain
(4 votes)
3.
Gio Gonzalez
(4 votes)
4.
Stephen Strasburg
(2 votes)
5.
Zack Greinke
(1 vote)
My pick:
Dickey. In what appears to be the most wide-open category, this could go in any direction. It wouldn't surprise me to see Kershaw (6-5, 2.91) have a huge second half and get in the running for his second straight Cy Young. Dickey is 12-1, 2.40, he's got the innings (two-third of an inning behind league leader Kershaw) and strikeouts (five behind league leader Strasburg). Dickey's story could help push him over the top in a toss-up vote.
American League rookie
Preseason balloting
1.
Matt Moore
2.
Yu Darvish
3.
Jesus Montero
New picks
1. Mike Trout (16 votes)
My pick:
Trout. Moore and Darvish picked up 31 of the 37 first-place votes in our preseason voting, and Trout finished fourth in the balloting. He did pick up one first-place vote; unfortunately, I didn't keep the ballots, so I can't call out the one blogger who voted for Trout. Whoever you are, take a bow.
National League rookie
Preseason balloting
1.
Devin Mesoraco
2.
Yonder Alonso
3.
Bryce Harper
New picks
1. Bryce Harper (13 votes)
2.
Wilin Rosario
(2 votes)
3.
Wade Miley
(1 vote)
My pick:
Harper. As our Reds blogger Chad Dotson wrote to me, "Harper will win, although he isn't out-hitting fellow rookie
Todd Frazier
." It will be interesting to see what the voters will do if Miley -- 9-5, 3.04 -- ends up with 16 or 17 wins and ERA in the low 3s. But assuming Harper doesn't fall apart in the second half, he should win. Mesoraco, the preseason favorite, is hitting just .214 with five home runs in a part-time role.
American League playoff picks
AL East: Yankees (15 votes)
AL Central: White Sox (7 votes), Tigers (7 votes), Indians (1 vote)
AL West: Rangers (14 votes), Angels (1 vote)
Wild cards: Angels (14 votes), Rays (6 votes), Red Sox (5 votes), White Sox (3 votes), Rangers (1 vote), Orioles (1 vote)
My picks:
Yankees, Tigers, Rangers (division winners); Angels, Red Sox (wild cards). I wasn't as high on the Tigers before the season as most, but the way I see the AL Central: The White Sox got big first halves from
A.J. Pierzynski
,
Paul Konerko
,
Adam Dunn
,
Chris Sale
and
Jake Peavy
-- and they're still only 3.5 up on the Tigers. I was surprised only one blogger picked the Angels to win the AL West even though they're only 4 games behind the Rangers. I, too, will go with Texas. And nobody picks the A's to make the playoffs? They're only 2.5 out of the wild card!
National League playoff picks
NL East: Nationals (13 votes), Braves (2 votes)
NL Central: Reds (8 votes), Cardinals (6 votes), Pirates (1 vote)
NL West: Giants (9 votes), Dodgers (5 votes), Diamondbacks (1 vote)
Wild cards: Braves (9 votes), Pirates (7 votes), Cardinals (5 votes), Reds (4 votes), Giants (3 votes), Nationals (2 votes)
My picks:
Nationals, Cardinals, Giants (division winners); Reds, Diamondbacks (wild cards). Who knows what will happen in the National League. I think we'll end up with a five-way tie for the two wild cards. What are the rules for that? Anyway, there is a lot of belief in the Pirates -- or maybe believing with hearts instead of minds.
July, 6, 2012
7/06/12
12:54
PM ET
Friday represented the final
Baseball Today podcast
before the All-Star break, and Mark Simon and I took it seriously enough to talk award winners, playoff teams, recap Thursday, preview the weekend and much more!
1.
David Wright
continues to make one of us smile, but is he the first-half MVP in the NL? We also name our Cy Young winners, rookies, managers and whether the Red Sox playoff-bound.
2. Who do you want up to the plate with a 3-2 count? We've got numbers, loads of numbers.
3. An emailer wants to debate the value power hitters
Adam Dunn
and
Jose Bautista
bring with their low batting averages. Isn't there a more important statistic those fellas provide?
4. If you could go back in baseball history and witness a game or event that occurred, what would it be?
5. It's a Yankees-Red Sox weekend, but that's hardly the only interesting series to watch!
So download and listen to Friday's fun Baseball Today podcast and have a great weekend! On Monday Keith Law and I will record the show from Kansas City, Mo.!
July, 6, 2012
7/06/12
11:01
AM ET


Eric Karabell and I discuss the best players of the first half. Mike Trout for MVP? Hey, Fred Lynn and Ichiro Suzuki could have company by the end of the season.
June, 29, 2012
6/29/12
11:55
PM ET
It's amazing how quickly storylines can change over the course of just a couple of months.
When the season began, most people had the
Arizona Diamondbacks
pegged as the favorites to win the National League West. Of course, they got off to a brutal start, became somewhat of an afterthought, and the
Los Angeles Dodgers
were everyone's flavor of the month. Then the Dodgers cooled off and the
San Francisco Giants
got going and suddenly
Matt Cain
& Co. were the talk of baseball. Well, the D-backs haven't caught up just yet, but they're making it clear they should not be written off.
On Friday, Arizona second baseman
Aaron Hill
made history by becoming just the
second player of the modern era to hit for the cycle twice in a season
, and the D-backs thrashed the
Milwaukee Brewers
by a score of
9-3
.
Unlike their counterparts in Los Angeles and San Francisco, the D-backs have yet to really hit their stride this year. Sure, Hill (.849 OPS) and left-hander
Wade Miley
(2.19 ERA) are probably playing a bit over their heads, but a lot more has gone wrong than right for Arizona this year, which bodes well for a resurgence. For example:
1.
Stephen Drew
didn't play until this week.
2.
Ian Kennedy
hasn't been himself.
3.
Justin Upton
hasn't hit his stride.
4.
Daniel Hudson
is going to have elbow surgery.
Now, it would be easy to point to Hudson's injury as evidence that the D-backs can't win the NL West, but the one thing this club has is pitching.
Trevor Bauer
made his debut Thursday, and while it was rocky, there is plenty of reason to believe he can be a factor. And if not him, Arizona also has
Patrick Corbin
and Tyler Skaggs ready to step into the rotation. Also, as the Cardinals proved last season when they won the World Series in a year in which
Adam Wainwright
didn't pitch an inning, no pitcher is completely indispensable, and I think we can all agree that Wainwright is better than Hudson.
Now that the likes of Hill and Miley have done their part to keep Arizona alive, it's up to Upton, Kennedy and Drew to pick up the slack. Upton, who was bothered by a thumb injury earlier in the year, has been hitting about .500 over the past 10 days, which is a great sign for Arizona fans. Kennedy has an ERA of 4.20 and a
FIP
of 3.82, which suggests he's actually pitched a lot better than his traditional stats indicate. As for Drew, he'll almost certainly be an upgrade over
Willie Bloomquist
, who has actually been pretty good, but whose career .660 OPS suggests his current line of .297/.327/.407 is unsustainable.
Arizona is just four games behind San Francisco in the loss column, and considering all that has gone wrong thus far, that's a pretty good place to be.
June, 26, 2012
6/26/12
12:11
PM ET
SweetSpot blogger Dave Schoenfield and I met in the bucolic Bristol studios to discuss the great game of baseball, with many ranging topics for Tuesday's
Baseball Today podcast

, including:
1. After hitting
Marco Scutaro
in the head with a pitch, was
Stephen Strasburg
afraid to pitch inside?
2. From fast and young to slow and ... well, you know,
Jamie Moyer
found work, again.
3.
Wade Miley
, NL All-Star? Yep!
4. Why do I want
Derek Jeter
to get more hits than Peter Edward Rose?
5. How are the fans doing for the AL All-Star voting?
6. What should we expect from
Anthony Rizzo
as he's set for his Cubs debut?
7.
David Ortiz
, Hall of Famer? Other than in nickname, how does he compare with
Edgar Martinez
?
8. Ozzie Guillen catches a big mistake and still loses the game.
9. What does the future look like for
Justin Smoak
?
10. Are the Orioles playoff-bound?
It really was a packed Tuesday edition of the Baseball Today podcast, so download and enjoy. Dave and I will return Wednesday!
June, 25, 2012
6/25/12
5:15
PM ET
A look at some of the candidates to start the All-Star Game for the National League:
Umm ... if you get the idea there is a lot of run prevention going on in the National League from starting pitchers, you are correct; we didn't even mention
Clayton Kershaw
,
Cole Hamels
,
Madison Bumgarner
,
Lance Lynn
and others.

Anyway, Dickey and Cain are probably the favorites right now, but I want to focus on Diamondbacks rookie Miley, who is certainly the most surprising name on the list considering he didn't even start the year in the rotation. In his last four starts, he's allowed one run each outing while pitching at least seven innings. And note that even though he didn't draw his first start until April 23 when he replaced
Josh Collmenter
in the rotation, he's still pitched more innings than Strasburg or Gonzalez.
His key pitch over that four-game stretch has been his slider, which ESPN Stats & Information reports has generated 32 outs against right-handed batters and just one hit allowed. For the entire season, right-handers are hitting just .203 off him.
Another note: Unlike Dickey or Cain, Miley pitches in a tough park; impressively his ERA at home is 2.33. Does he deserve to start? Probably not. It's just 12 starts and we certainly want to see more from him before we say he's turned into a legitimate ace. While he throws strikes, his K rate isn't in the category of most elite pitchers and he's allowed just four home runs, a rate which will be difficult to keep up.
But considering the struggles of
Ian Kennedy
and
Daniel Hudson
, who combined for 37 wins in 2011 but have a 5.11 combined ERA this year, Miley has been a staff savior for the Diamondbacks.
And with the more-hyped rookie Trevor Bauer making his major league debut on Thursday, maybe the D-backs will have a one-two punch in their rotation ... just not the two everyone expected.