May, 1, 2014
5/01/14
1:25
PM ET
Eric and myself discuss two of my favorite plays from April -- one involving Andrelton Simmons and another where the Rays recorded a double play with both outs coming at home. You can see the plays in the video.
Here are a few more candidates -- some quirky, some spectacular -- with the link to the video.
April 4: Giancarlo Stanton
blasts a 484-foot homer
, the longest of the month.
April 9: David Ortiz breaks the previous "record" by nearly two seconds
while taking 33.39 seconds
to round the bases after a home run.
April 13: White Sox outfielder Adam Eaton
robs David Murphy of a hit
with a great jump and diving catch.
April 14: Orioles pitcher Wei-Yin Chen fields a swinging bunt down the third-base line and
gets the out
.
April 17:
The Yankees turn a triple play
.
April 18: Brewers catcher Martin Maldonado literally
knocks the cover off the ball
.
April 21: Royals shortstop Alcides Escobar runs a long way to
catch a foul pop
. (Ruben Tejeda and Daniel Murphy of the Mets turn a nice double play in that video as well.)
April 25: The Rays turn
another unusual double play
.
April 27: Orioles left fielder made three diving catches in a week, but
this one was the best
. Look how shallow he was playing.
April 30: A Reds fan
snags a foul ball while holding his son
.
Doug Wachter of Baseball Info Solutions helped with some recommendations on the defensive plays -- we were looking not just for plays that
looked
spectacular but were made where plays usually aren't. The Eaton catch may not look as fancy as some other diving catches, but few plays are made in that area of the field when factoring in the short time the ball was in the air.
In fact, two of the plays Doug recommended weren't even archived on MLB.com: Brett Gardner's diving catch on April 3 against the Astros and Adrian Gonzalez robbing Brandon Belt of a hit with a nice play up the line.
March, 3, 2014
3/03/14
4:30
PM ET
By
Christina Kahrl
| ESPN.com
This is getting talked up on Twitter as very close to happening:
Johan Santana
could be an Oriole.
If so, I love it. I love it even if it subsequently turns out that he has nothing left and that his towering stack of injuries has robbed him of his ability to pitch effectively for any length of time. I love it because you won't know that for sure until you check him out. If the O's take that chance, more power to them.
For most of the last month, Santana has been promoting and throwing bullpen sessions to advertise both that he's still alive -- after missing all of 2013 and 2011, as well as a big chunk of 2012, people start to wonder -- and that his arm is sound. Since he has been touching only 80 on the gun, it's hard to say he's all the way back.
Even so, the Orioles are one of the teams that can't just
afford
to take a flyer on him. They
have
to if they want to take themselves seriously. Not because of what Santana is now, but because of what he might be if he can come back to some fraction of his former self. Think of it as a latter-day John Tudor play: If he's healthy enough to pitch, chances are he'll be good enough to help you win.

Why does that matter for the O's? Because after you get past
Ubaldo Jimenez
and
Chris Tillman
, Baltimore has lunch-bucket types, guys who might make a nice No. 4 in anybody's rotation:
Wei-Yin Chen
,
Miguel Gonzalez
and
Bud Norris
at the least, plus
Zach Britton
and
Brian Matusz
, if you're feeling generous. Top prospect
Kevin Gausman
will eventually pitch his way past that crowd of mediocrity. But over 162 games and especially early on, that mediocrity and depth will have value, keeping games in reach for
Chris Davis
& Co. while giving Buck Showalter enough talent to work with until Santana and Gausman are ready to contribute.
Why them, and why later? Because in a perfect-world, blue-sky scenario where the Orioles contend, you don't want to wind up in the postseason having to start Norris. Gausman might give the Orioles a key front-end starter down the stretch, perhaps playing as large a role for them as
Michael Wacha
,
Sonny Gray
and
Gerrit Cole
did for their teams last year. Running up some combination of Santana and Gausman, Jimenez and Tillman? Now we're talking, not just about a team that might get to the one-game wild-card play-in but a team that might have the starting pitching to win a division series.
So credit the Orioles if they're willing to roll the dice. It isn't like Peter Angelos can take all of his tobacco lawsuit money with him, and for the O's -- and their fans -- there's no time like the present.
If Santana gives us some fraction of that world-beating pitcher who won two Cy Youngs, just call me greedy, because it'll be fun to watch.
Christina Kahrl writes about MLB for ESPN. You can follow her on Twitter.
July, 10, 2013
7/10/13
12:15
AM ET
Hey, it's not like
Adrian Beltre
hasn't been stiffed for the All-Star Game before. Back in 2004 when he was with the Dodgers, he was hitting .315 with 22 home runs and 56 RBIs at the break but didn't make the All-Star team, getting squeezed out at third base by starter
Scott Rolen
and backup
Mike Lowell
. Beltre would put up even bigger numbers in the second half and finish second in the MVP vote. But he wouldn't make his first All-Star Game until 2010 in his one season with the Red Sox after leaving the Safeco Field dungeon.
After putting up big numbers the past two seasons for the Rangers, Beltre finally played his first postseason games since that '04 season and, not coincidentally, finally began escaping the "most underrated" label. Amazing what playing for a playoff team will do for your reputation. People have even started viewing him as a potential Hall of Famer, given his reputation in the field and the possibility he'll reach 500 home runs and 3,000 hits. He's just 34, aging well and on track for another terrific season. He went 4-for-4 with two home runs and five RBIs in Tuesday's
8-4 win
over the Orioles, and suddenly, his season totals are 20 big ones and 52 RBIs to go with his .319 average.
He won't be going to Citi Field next week for the All-Star Game, however, which isn't an insult as much as a matter of the luck of his happening to play the most loaded position in the majors right now: third base, American League, at which
Miguel Cabrera
and
Manny Machado
made the All-Star team. As a result, Beltre,
Evan Longoria
and
Josh Donaldson
will get to spend a few days fishing.
Beltre is in a little different station this season: With
Josh Hamilton
gone, you can make the case that Texas is Beltre's team. Well, not in the sense that he owns the Rangers team, but in the sense that he's the guy of whom opposing pitchers will say -- if they actually say such things -- "We can't let this guy beat us." Beltre never has really had to be "the man" on the Rangers before, but without Hamilton and with this Rangers team scoring half a run per game fewer than last season, it's hardly the same power attack we saw in Texas in recent seasons.
However, Beltre did beat the Orioles on this night. He led off the second with a home run as
Zach Britton
tried to get ahead with a first-pitch, middle-of-the-plate 90 mph fastball. Beltre doesn't miss middle-of-the-plate fastballs, and he crushed this one 411 feet to center field. After surrendering a single to Beltre in the fourth, Britton tried to sneak a 1-0, middle-of-the-plate fastball past Beltre, or maybe figured he'd be taking. Bad idea. Beltre was sitting on that high fastball and tomahawked it on a line to left for a three-run homer. In the seventh, the Orioles had learned their lesson and intentionally walked Beltre. He added an RBI single in the ninth.
Pitchers try to work Beltre outside -- he's pretty much a dead-pull hitter for power, as only two of his 20 home runs have gone to the right of center field (including his first one Tuesday, which went just to the right of center). But he still hits for a good average on pitches on the outside part of the plate, hitting .311 on the season due to his ability to drive the ball to right-center for base hits and doubles. And if you miss over the plate, he can punish you.
Britton's inability to locate those fastballs pinpoints the larger issue with the Orioles: Their rotation remains a big question mark. The Rangers pounded new acquisition
Scott Feldman
on Monday. Britton now owns a 4.76 ERA and, after getting no strikeouts against the Rangers, has just 12 in 34 innings. He's not going to succeed with that ratio, and while his fastball has adequate velocity, he's just not the same promising left-hander of a couple of years ago.
The Baltimore rotation now sports a 4.85 ERA, 27th in the majors, and even the spectacular hitting from
Chris Davis
and all-around brilliance from Machado won't be able to mask that over a full 162 games. Orioles starters allow the most home runs per nine innings, and while some of that is a Camden Yards effect, it's a staff that gives up a lot of fly balls and doesn't register a lot of strikeouts. That can work in the spacious outfields in Seattle or San Francisco, but it's not going to work very well in Baltimore.
Wei-Yin Chen
returns Wednesday for his first start since May 12, and the Orioles are desperate for him pitch as well as he was before straining his oblique.
Chen's return essentially bumps Britton from the rotation, which now looks like Chen,
Miguel Gonzalez
,
Chris Tillman
,
Jason Hammel
and Feldman. If the Orioles can keep those five guys healthy -- they've used 13 different starters -- and Chen pitches well and Hammel starts pitching like he did last season, maybe that's enough, even lacking an ace. But I get the feeling the O's will need Davis to keep hitting a lot of home runs.
April, 12, 2013
4/12/13
11:00
AM ET
Struggling starting pitchers will certainly be on display this weekend as teams -- both real and fantasy -- wonder if their aces will deliver. Of course, it's not even Tax Day yet, so in general it's wise to be patient. By the way, don't forget to pay your taxes on time!
Cy of relief?
The defending Cy Young Award winners each come off brutal outings and both feature ERAs around 9. But who's really worried about
Tampa Bay Rays
lefty
David Price
and
Toronto Blue Jays
knuckleballer
R.A. Dickey
hurling Saturday? Each permitted eight runs their last time out, but they won a combined 40 games last year. Price has performed well at Fenway Park, going 4-1 with a 2.22 ERA over seven starts. Don't worry about him. With Dickey, it's tough to control the knuckleball at times. His career numbers at Kansas City (5.28 ERA) are irrelevant because he was ineffective while with the
Texas Rangers
, but don't be surprised when he needs more time to find his 2012 form.
In a Halladaze:
Of far greater concern is a two-time Cy Young winner in Philly. Do not assume work-in-progress former ace
Roy Halladay
will suddenly dominate the terrible
Miami Marlins
on Sunday. Even struggling offenses have their day. The
Houston Astros
scored 24 runs Tuesday and Wednesday. Halladay can't locate his pitches, his cutter has been ineffective and while the Phillies claim all is well physically, you should know better than to listen to what a team says. If
John Buck
and
Evan Gattis
are taking Halladay deep, what do you think
Giancarlo Stanton
will do? Fantasy owners should bench Halladay, while the Phillies have no choice but to send the $20 million man out there. This might again be painful to watch. The game to check out in this weekend series is Saturday, when exciting rook
Jose Fernandez
takes on
Cole Hamels
.
The real NL East battle:
Early division bragging rights are on the line as the Braves visit the Nationals. Fifth starters
Julio Teheran
and
Ross Detwiler
open the series Friday, but then the Braves have to face
Stephen Strasburg
and
Gio Gonzalez
. Maybe
Tim Hudson
and
Paul Maholm
can match up with them this weekend, but Washington's top starting pitching is a differentiator in this top-notch race. Meanwhile, MVP candidates
Justin Upton
and
Bryce Harper
are always worth watching.
O for offense:
Runs were at a premium when the
Baltimore Orioles
and
New York Yankees
met in the playoffs last season. Baltimore hit .187 in the series, the Yankees .211. Big money ultimately trumped overachieving bullpen, and neither team has distinguished itself in the early going as a team to beat. Sunday night's ESPN game features underrated lefties
Wei-Yin Chen
and
Andy Pettitte
. Chen was Baltimore's top starter a year ago, and figures to deliver a similar performance, while the 40-year-old Pettitte has won both of his starts, giving up only one run in each. Who has the better season? I'll go with Pettitte for 15 wins, and take the minority opinion he avoids the disabled list as well.
A for effort:
The
Detroit Tigers
outlasted the
Oakland Athletics
in the other ALDS last October, with
Justin Verlander
allowing one run in his two victories. Oakland's nominal ace, the oft-injured
Brett Anderson
, didn't allow any runs in his Game 4 win, either. On Saturday afternoon these fellows are scheduled to meet, assuming Anderson's left (pitching) thumb contusion allows him to work. Anderson's upside isn't to the level of Verlander, but his presence in Oakland's rotation is as critical as teammate
Jarrod Parker
's, who doesn't look like the same guy he was in 2012. As always with Anderson, it's not about performance, but health.
Enjoy your weekend!
September, 19, 2012
9/19/12
5:10
PM ET
I'll say the over/under on this game is now 16 innings.

— David Schoenfield (@dschoenfield) September 19, 2012
Yes, I just cited my own tweet. I wrote that last night in the 10th inning of the Orioles-Mariners game and I was only half-joking. After all, the Orioles have a good bullpen, the Mariners have a good bullpen, the Mariners can't hit and the game was at Safeco Field. I made it through 13 innings before calling it a night. When I woke up this morning, I was pleasantly surprised to see the game lasted 18 innings and not at all surprised that the Orioles, once again, pulled out an extra-innings victory.

That's 14 wins in a row in extra frames (including nine on the road), the most since the 1949 Indians won 17 such games in a row. It's really a remarkable achievement. You can say it speaks volumes about Baltimore's grit and determination and clutchiness, but mostly it speaks to a terrific bullpen. Tuesday's win was one of the best considering Mariners rookie
Erasmo Ramirez
had dominated the Orioles for eight innings, taking a two-hit shutout into the ninth inning, showing electric stuff with a 93-95 mph fastball with movement and diving changeup. I had no problem when Mariners manager Eric Wedge left Ramirez in to go for the shutout; he'd thrown just 95 pitches. But the first two batters singled to knock out Ramirez,
J.J. Hardy
put down the sac bunt and
Chris Davis
singled off
Tom Wilhelmsen
to tie it up.
Three hours later,
the Orioles won
as the bullpen threw 12.2 scoreless innings. Because of that heavy workload by the pen, the Orioles recalled top prospect Dylan Bundy and he'll be available tonight as a long reliever, with
Joe Saunders
starting.
Somebody asked me the other day if the Orioles make the playoffs if they'll have the worst ace ever for a playoff team.
Wei-Yin Chen
leads the staff with 2.8 bWAR (
Jason Hammel
, limited to 20 starts, is at 2.7), although his raw numbers don't blow anyone away (12-9, 4.00 ERA). Remarkably, Chen is the only pitcher on the staff who will qualify for the ERA title.
Tommy Hunter
is second on the team with 126 innings and he's now in the bullpen.
As it turns, not having an ace with a WAR above 3.0 isn't all that rare. I checked the past 10 seasons and found the following playoff teams:
There are a lot of steroid-era pitching staffs on there; not sure if that's just a coincidence or a reflection that it was more difficult to post a decent WAR in those seasons. Certainly, the fact that Baltimore has had just one starter remain in the rotation all year is a rare thing for a playoff team, but we have seen that before. Is it worth noting that none of those teams won the World Series, and only the 2002 Giants reached it? Maybe. We found 10 playoff teams out of a total of 40, so the statistical odds would be 2 or 3 World Series winners.
Plus, the Orioles need to get to the playoffs first before we worry about their chances of winning. Needless to say, just getting there would be an amazing accomplishment.
August, 19, 2012
8/19/12
1:00
AM ET
By
Christina Kahrl
| ESPN.com
The Orioles are the team that won't go away. For months now, they've been predicted to, expected to, and they have no end of excuses for why they're
supposed
to be long since out of the expanded wild-card picture already. Injuries, run differential, relative anonymity plus generally underwhelming performances from most of the people you have heard of -- the Orioles are supposed to be goners.
They aren't gone, but they might be going places. On Saturday, it was
Zach Britton
's bend-don't-break stylings that were their latest "that's not really possible, is it?" feat.
Seven shutout innings
against the Tigers make for some sort of Saturday night special, not bad for the latest transient solution in Buck Showalter's constantly fixed-up rotation.
Go by appearances alone, and it seemed like Britton had no business matching zeroes with the Tigers'
Rick Porcello
, allowing nine baserunners to Porcello's four through the first six innings. But three 6-4-3 double plays were enough to keep his head above water. Porcello had retired 11 men in a row heading into the seventh, but so what? A pair of dink singles and
Chris Davis
' three-run shot later, it didn't matter what Porcello had done beforehand or how good he looked doing it, because the O's had a decisive lead thanks to Davis' just-enough bit of bopping, making Britton a winner.
That in itself might be a bit of a surprise, considering that Britton's shot at pitching this year was no sure thing in March, when shoulder surgery seemed likely. But opting for platelet-rich plasma (or PRP) treatments put him on the shorter road to rehab, and he's been the skippable, sometime-fifth starter for a team that barely goes a week without having to change something in its rotation.
The Orioles have managed to keep the identity of their rotation's third or fourth or fifth starter a matter of a near-weekly surprise to everyone, including themselves. Some of that has been a matter of effective roster management by general manager Dan Duquette: Early in the season, the Orioles could afford to flip the optionable
Tommy Hunter
back and forth between Baltimore and Triple-A Norfolk, rostering him only when they had to. Despite that time spent shuttling back and forth, it says something about Baltimore's lot that Hunter is now second on the team in total starts because almost everyone queued up ahead of him has broken down or pitched his way out of a job.
This yo-yo role Britton found himself in on Saturday, as he was called back up into the latest breach in the rotation after already blowing his initial call-up after the All-Star break, getting clobbered in five of six starts. In the Orioles' ad-hoc rotation, he was back up because he was on the 40-man roster and had four days' rest, and little else -- he was four days removed from getting chewed up by Charlotte, pitching through a split nail on his pitching hand.
Britton briefly dealt with the burden of being blown up too soon as a sign of better times to come in the spring of 2011, after he notched a quick eight quality starts in his first 10 turns as a rookie in the big-league rotation. But just like
Brian Matusz
and
Jake Arrieta
, his success didn't last -- Britton managed just five starts of six innings or more and three runs allowed or less in his last 18 turns in 2011, putting him well on his way toward a new entry on the Orioles' list of mound disappointments. But like every other expectation for an Orioles setback, it seemed to merely set the stage for this latest improbable bit of heroics.
Where the rotation woes of the Yankees or the Red Sox get featured prominently, the Orioles have been scrambling all season. Only Chinese import
Wei-Yin Chen
has lasted the season. Chen plus Britton, Hunter, former Mariners prospect
Chris Tillman
and journeyman
Miguel Gonzalez
represent the latest front-five confection in a rotation that has already had to use 10 starters. Every day, the four non-Chens are all pitching for their jobs, because
Jason Hammel
is on the mend and due back in another two weeks.
Contenders aren't supposed to start TBD in three or four rotation slots this late in the season, are they? But this comes on top of their playing TBNL in left field. Davis was briefly their answer there, but so was
Nolan Reimold
,
Endy Chavez
,
Xavier Avery
and
Steve Pearce
. They're down to a
Nate McLouth
-
Lew Ford
platoon that would be entirely plausible if we were talking about a contender -- in the International League.
All of which is part of what makes the Orioles so entertaining. As they scrape to keep pace with the Rays in the wild-card chase, it might be hard to call them the underdog, but that's only if you keep your eyes peeled on payrolls. It's easy to root for the Rays -- every statistically savvy smart kid goes fanboy on sabermetrics' poster team. And they're supposed to beat Baltimore -- they're supposedly smarter, and stocked up on the really good players you already know, like
Evan Longoria
and
David Price
. And yet the Orioles still will not go away. Fun, ain't it?
PHOTO OF THE DAY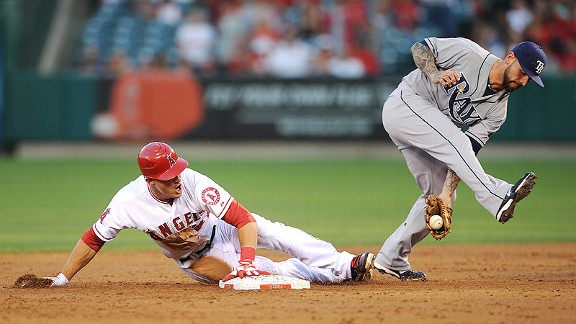 Kelvin Kuo/US PresswireRyan Roberts might do a little dance, but it's Mike Trout who has a steal to celebrate.
Christina Kahrl covers baseball for ESPN.com. You can follow her on Twitter.
July, 27, 2012
7/27/12
10:00
AM ET
This is the final weekend before the non-waiver trade deadline, meaning that it's a pretty important couple of days for a number of teams that might not have figured out whether they are buyers, sellers or somewhere in between. Arizona, Cleveland, Philadelphia and a few American League East teams could certainly be swayed based on weekend results. Anyway, as per our new Friday custom, here's what to watch this weekend.


1. While the eyes of the baseball world seem to be on every Red Sox-Yankees series, and this is again the ESPN Sunday Night matchup, more than 10 games separate these teams in the standings. Meanwhile out West, the Dodgers and Giants renew their long-time rivalry. Unless the Diamondbacks start figuring things out, it will be
Clayton Kershaw
or
Madison Bumgarner
starting a playoff game for the NL West champs -- or perhaps will start a playoff game due to the wild card. The Dodgers avoid Bumgarner this weekend, as well as inconsistent
Tim Lincecum
(you take a guess what he'll do next outing). The last time these teams met the Dodgers did not score a run, quite literally:
Barry Zito
,
Ryan Vogelsong
and Lincecum helped the Giants outscore the
Matt Kemp
-less lineup 13-zip. Kemp is back now,
Hanley Ramirez
is here, too, and it should be more of a fair fight.


2. Say what you will about whether the
Oakland Athletics
and
Baltimore Orioles
will be legitimate contenders in September and therefore
should
be buying at the trade deadline, but naysayers will get a closer look when they meet at Camden Yards, each team firmly in the thick of the wild-card race. This is good for baseball! Oakland's newfound offensive prowess is scheduled to be tested by
Zach Britton
,
Tommy Hunter
and
Wei-Yin Chen
. Yeah, the Orioles could use a rotation upgrade or two.


3. While Oakland is 16-3 in July, the division-leading
Texas Rangers
are 8-10. Only Kansas City, the Mets and, of course, Houston have fewer wins this month. The Rangers host the
Chicago White Sox
, a team that lost all its games last weekend in Detroit, then won all three games when it came home to meet the terrible Twins. Are the White Sox a crew that can stick with the good teams? The White Sox don't see the Tigers again until the last day of August, and this will be a big test against
Yu Darvish
,
Matt Harrison
and, at least for now, a scheduled
Roy Oswalt
on Sunday night. The struggling
Josh Hamilton
, hitting a mere .194 since June 1 (what does Nolan Ryan think of that?), should enjoy Sunday's game against
Gavin Floyd
, who he's 8-for-13 against. Playoff preview, perhaps?
Three more stats to watch:
15-0, 2.89:
Zack Greinke
could be a former Milwaukee Brewer before his scheduled Sunday start against the
Washington Nationals
-- or even by the time you read this -- but those are his
career
numbers at Miller Park. Nothing to worry about for the team that acquires him, right?
4-0, 1.26:
That's the July combined win-loss record and ERA for
Ross Detwiler
and
Jordan Zimmermann
, scheduled to pitch in Milwaukee Friday and Saturday. Then on Sunday it's
Gio Gonzalez
! Good luck to the defending NL Central champ Brewers, on a six-game losing streak. Meanwhile, keep talking about
Stephen Strasburg
and innings limits all you want, but the Nationals have depth.
0-3, 10.42:
And we end with Red Sox-Yankees.
Jon Lester
won two of three starts at Yankee Stadium last season, but with a 9.20 ERA. That ERA is still better than Lester's numbers for this current July. Yeah, he's struggling. The Yankees will also face
Aaron Cook
and
Felix Doubront
.
Have a great weekend!
June, 7, 2012
6/07/12
12:56
AM ET
"Show us some respect," yell Baltimore Orioles fans. Or maybe they're politely demanding. But I've seen the complaints in the Power Rankings comments, read the emails sent to "Baseball Today," been asked the question in my chats: Why doesn't anyone believe in the Orioles?
The Orioles traveled to Fenway Park this week in a precarious situation. They've lost two of three in Tampa. They've been swept in Toronto. They've lost two of three at home to Kansas City. They've lost two of three at home to Boston. They haven't won a series since the big weekend showdown in Washington from May 18-20.
So, yes, the concerns all of us "experts" had been raising -- it's a long season, let's see what happens to the rotation, let's find out if some of the hitters can keep up their hot starts, the bullpen can't keep its ERA under 2.00 all season -- were proving true. The O's were 27-14 after winning the second against the Nationals but had gone 3-10 since, with the staff posting a 4.95 ERA while the offense scored 3.5 runs per game.
These were the Orioles we all expected. And then they beat the Red Sox in extra innings on Tuesday. And then they
beat the Red Sox 2-1
on Wednesday behind a solid effort from
Wei-Yin Chen
and scoreless innings from
Pedro Strop
and
Jim Johnson
. They're 5-0 at Fenway in 2012 and Chen is now 5-2 with a 3.49 ERA. The key moments came in the seventh inning after the Red Sox threatened with a pair of singles to start the frame. But after a sacrifice bunt, Chen struck out
Marlon Byrd
and induced
Mike Aviles
to pop out to first base.
Normally, Buck Showalter might have turned to his stellar bullpen, but after Tuesday's victory, in which the bullpen threw five innings, he left Chen to escape the jam. He set up Byrd with three fastballs and then got him swinging on a beautiful changeup. He threw three more fastballs to Aviles that he couldn't get around on. Don't underestimate Chen. His stuff plays up big, with his four-seamer reaching 94 mph. His last pitch to Aviles was clocked at 93. In 11 starts, he allowed two or fewer runs seven times and I think this outing will give Showalter more confidence to stretch Chen a little deeper into games.
So the Orioles remain in first place for another day, half a game ahead of the Yankees. Is it time to show them a little respect, to give Orioles fans what they crave? Let's do some position-by-position rankings to help sort out this tightly packed division. Rankings are simply listed in order of who I would want the rest of the season.
(Season-to-date Wins Above Replacement from Baseball-Reference.com, before Wednesday's games, listed in parenthesis.)
Catcher
1.
Matt Wieters
, Orioles (1.6 WAR)
2.
Jarrod Saltalamacchia
/
Kelly Shoppach
, Red Sox (1.6)
3.
Russell Martin
, Yankees (0.7)
4.
J.P. Arencibia
, Blue Jays (0.2)
5.
Jose Molina
, Rays (0.1)
There is a case to be made that Boston's duo is more valuable since they've combined for 14 home runs and an OPS over .900. But Wieters brings elite defensive skills and I also don't believe Salty is going to slug .583 all season. For the second consecutive season, the Rays are essentially punting offense at catcher. Rays catchers have the worst OPS in the majors.
First base
1.
Adrian Gonzalez
, Red Sox (0.8)
2.
Mark Teixeira
, Yankees (0.6)
3.
Mark Reynolds
, Orioles (-0.6)
4.
Carlos Pena
, Rays (0.4)
5.
David Cooper
/others, Blue Jays (incomplete)
Gonzalez is still struggling to get his stroke going, but he's the best of a weak group. Yes, I just called Mark Teixeira weak, but at this point he's a low-average guy who pops a few long balls, doesn't draw as many walks as he once did and isn't as great on defense as Yankee fans believe. But in this group that's good enough to rank second. Reynolds has a low WAR but he's missed time and that includes his bad defense at third base, a position we've hopefully seen the last of him playing. The Jays, meanwhile, need to quit fooling around at first base and find a legitimate hitter, or move
Edwin Encarnacion
there and find a designated hitter. You hate to waste a potential playoff season because you can't find a first baseman who can hit. (No, David Cooper is not the answer, although he's hit well so far in 11 games.)
Second base
1.
Robinson Cano
, Yankees (2.1)
2.
Dustin Pedroia
, Red Sox (1.8)
3.
Kelly Johnson
, Blue Jays (2.1)
4.
Ben Zobrist
, Rays (0.7)
5.
Robert Andino
, Orioles (0.6)
I love Ben Zobrist almost as much as two scoops of Vanilla Heath Bar Crunch from Ben & Jerry's, but a .199 average isn't going to cut it in this group, even if you are on pace to draw 100-plus walks. Zobrist has actually play more right field so far, but should be back at second on a regular basis with
Desmond Jennings
back.
Third base
1.
Evan Longoria
, Rays (1.4)
2.
Brett Lawrie
, Blue Jays (3.1)
3.
Alex Rodriguez
, Yankees (1.2)
4.
Kevin Youkilis
/
Will Middlebrooks
, Red Sox (0.5)
5.
Wilson Betemit
/
Steve Tolleson
, Orioles (-0.1)
Lawrie's WAR is boosted by defensive metrics that treat him like he's the second coming of Brooks Robinson. He's a good player but don't I think he's been the second-best position player in the American League. Longoria hopes to
return at the end of the Rays' current road trip
. As for A-Rod, his health is always a question at this stage of his career, but Youkilis has health questions and I'm not a believer in Middlebrooks' ability to hit .321 with power all season. His 29/4 strikeout/walk ratio is something pitchers should learn to exploit. As for the Orioles ... third base is an obvious concern. But don't expect a rare intra-division trade to acquire Youkilis.
Shortstop
1.
J.J. Hardy
, Orioles (2.1)
2. Mike Aviles, Red Sox (2.2)
3.
Derek Jeter
, Yankees (0.9)
4.
Yunel Escobar
, Blue Jays (1.9)
5.
Sean Rodriguez
, Rays (1.9)
Wait ... Jeter has been the
least
valuable of this group so far? The other four all rate as excellent fielders -- in fact, Baseball-Reference rates them all in the top 13 fielders in the AL. Jeter, meanwhile, ranks 310th in the AL on defense -- out of 313 players.
Left field
1. Desmond Jennings, Rays (1.2)
2.
Daniel Nava
/
Carl Crawford
, Red Sox (1.7)
3.
Brett Gardner
/
Raul Ibanez
, Yankees (0.3)
4.
Eric Thames
/
Rajai Davis
, Blue Jays (-0.1)
5.
Endy Chavez
/
Xavier Avery
/
Nolan Reimold
, Orioles (-0.3)
Not to keep picking on the Orioles, but this is another problem position, especially if Reimold's disc problems lingers all season. Nava has quietly been a huge savior for the Red Sox, batting .305 with a .438 OBP. He's drawing walks at a crazy rate. He should slide some but he's provided the kind of depth the Orioles don't have.
Center field
1.
Adam Jones
, Orioles (2.5)
2.
Curtis Granderson
, Yankees (1.3)
3.
B.J. Upton
Rays (0.9)
4.
Jacoby Ellsbury
/
Scott Podsednik
/Marlon Byrd, Red Sox (0.5)
5.
Colby Rasmus
, Blue Jays (1.3)
Ellsbury might be the biggest wild card in this race, because the Red Sox can't survive much longer with the Podsednik/Byrd platoon. When will he return? How will he hit? He just started throwing and could
return by the end of the month
. I've conservatively put him fourth, which seems fair considering the unknown. And please note, Orioles fans, that I believe in Mr. Jones.
Right field
1.
Jose Bautista
, Blue Jays (0.9)
2.
Matt Joyce
, Rays (2.2)
3.
Nick Swisher
, Yankees (-0.1)
4.
Cody Ross
/
Ryan Sweeney
, Red Sox (1.6)
5.
Nick Markakis
/others, Orioles (0.3)
Markakis is out three to four weeks with a broken bone in his wrist, an injury that once again reflects Baltimore's lack of depth. But all five teams are solid in right field. Ross is about to return from his broken foot; we'll see if he pounds the ball like he was before the injury (.534 slugging).
Designated hitter
1.
David Ortiz
, Red Sox (1.4)
2. Edwin Encarnacion, Blue Jays (1.6)
3. Revolving Door, Yankees
4.
Chris Davis
, Orioles (0.3)
5.
Luke Scott
, Rays (0.0)
No respect for Davis? OK, he's hitting .295/.333/.494. And he has 53 strikeouts and eight walks. Sorry, call me skeptical, O's fans. Yankee designated hitters have actually fared well, hitting a combined .279/.354/.467 with 10 home runs.
No. 1 starter
1.
David Price
, Rays (2.2)
2.
CC Sabathia
, Yankees (1.9)
3.
Ricky Romero
, Blue Jays (0.3)
4.
Josh Beckett
, Red Sox (0.5)
5.
Jason Hammel
, Orioles (1.9)
Look, Hammel has been terrific so far thanks to a career-high strikeout rate
and
a career-high ground-ball rate. But this is tough group and the question is who is going to be best moving forward? My biggest concern is that Hammel has never pitched 180 innings in a season. Can he pitched the 210 to 220 that you need from a No. 1?
No. 2 starter
1.
Brandon Morrow
, Blue Jays (1.1)
2.
James Shields
, Rays (-0.4)
3.
Andy Pettitte
, Yankees (1.5)
4. Wei-Yin Chen, Orioles (0.7)
5.
Jon Lester
, Red Sox (-0.4)
I like Chen. Heck, right now I like him better than Jon Lester, which tells you how much I like him. But he averaged just 172 innings in Japan over the past three seasons. Can he hold up over 32 starts?
No. 3 starter
1.
Jeremy Hellickson
, Rays (1.0)
2.
Hiroki Kuroda
, Yankees (1.4)
3.
Felix Doubront
, Red Sox (0.4)
4.
Brian Matusz
, Orioles (0.2)
5.
Henderson Alvarez
, Blue Jays (0.4)
Matusz is holding his own at 5-5, 4.41, but he's still walking a few too many, allowing a few too many hits, a few too many home runs. The velocity is solid, averaging 91 on his fastball. We're talking minor upgrades needed in his command, getting the ball down in the zone more often to get more groundballs. If the Orioles are to have any chance, Matusz's improvement may be the single most important aspect.
No. 4 starter
1.
Matt Moore
, Rays (-0.6)
2.
Ivan Nova
, Yankees (0.3)
3.
Jake Arrieta
, Orioles (-0.4)
4.
Clay Buchholz
, Red Sox (-1.2)
5.
Kyle Drabek
, Blue Jays (-0.1)
Five pitchers who have struggled, but Arrieta's peripheral numbers are actually pretty solid. Like Matusz, there is hope for improvement. On the other hand, he's been awful since pitching eight scoreless innings against the Yankees on May 2, giving up 29 runs in 31.2 innings. His BABIP was .243 through May 2; it's .361 since. The truth is probably right in the middle, leaving Arrieta third on our list of fourth starters.
No. 5 starter
1.
Alex Cobb
/
Jeff Niemann
, Rays (0.3)
2.
Drew Hutchison
, Blue Jays (0.1)
3.
Phil Hughes
, Yankees (0.2)
4.
Daisuke Matsuzaka
/
Aaron Cook
/
Daniel Bard
, Red Sox (-0.3)
5.
Tommy Hunter
, Orioles (-0.5)
Hunter isn't really a major league starter, but I'm not sure
Jamie Moyer
-- just signed to a minor league contract -- is exactly a solution. The Orioles need to upgrade here.
Bullpen
1. Yankees (2.76 ERA)
2. Orioles (2.48 ERA)
3. Red Sox (3.66 ERA)
4. Rays (3.43 ERA)
5. Blue Jays (4.39 ERA)
If you watched Pedro Strop and Jim Johnson close out Wednesday's win, you'll realize the back of the Orioles' end has two guys with filthy stuff.
Darren O'Day
and
Luis Ayala
are strike-throwing machines and
Troy Patton
is a lefty who isn't a LOOGY. It's a good pen and it's deep. But the reliability of the pen ties into the rotation's inability to pitch deep into games -- Orioles relievers have already thrown 39 more innings than Yankees relievers, for example.
OK, let's add it up … one point for ranking first, five points for ranking fifth. Hey, this isn't meant to be scientific, so don't overanalyze this too much. The totals:
Yankees: 36 points
Rays: 40 points
Red Sox: 45 points
Blue Jays: 51 points
Orioles: 53 points
Not the respect Orioles fans are seeking. Sorry about that; it's nothing personal. Look, I don't think the Orioles are going to fade away anytime soon. I worry about the rotation's ability to hold up all summer and the bullpen's workload. They lack depth on offense and have a couple of obvious holes. Hey, you never know, and the Orioles are certainly due for a winning season. I would love to see it happen.
PHOTO OF THE DAY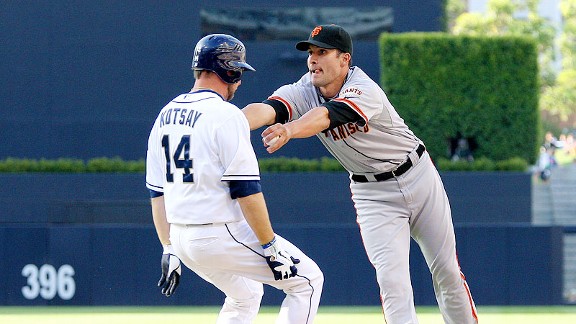 Jake Roth/US PresswireJavier Lopez is sending a message to Mark Kotsay: Tag, you're out!