May, 2, 2013
May 2
11:15
PM ET
I love a good cheating accusation. I mean -- peanuts, hot dogs, hating the Yankees, pitching inside and cheating: Aren't they all a fundamental part of the game we love?
Blue Jays broadcaster Jack Morris thinks Red Sox pitcher
Clay Buchholz
is throwing a spitball
, telling ESPNBoston's Gordon Edes:
"What do you think? Look at the pitches. Fastball at 94 that goes like that," Morris said, his hand darting swiftly down and away. "On a fastball?

"He's not the first guy to ever do it? You can get away with it. Gaylord [Perry] made a nice career out of it."
Blue Jays radio analyst Dirk Hayhurst, who pitched briefly in the majors, also said that Buchholz "absolutely" was cheating during Wednesday's start. First off, Morris has been around the block a few times, so I don't think we can simply dismiss the allegations as sour grapes from the Blue Jays' perspective. Does Morris strike you as the type who would crazily throw something like this out there? What does he have to gain by doing so?
Here are some
highlights of Buchholz pitching
from Wednesday's game. That's some mean stuff there. In particular, check out the fastball to
Jose Bautista
at the 1:00 mark. Ty Cobb couldn't hit that pitch.
You know what the pitch reminds of? Mike Scott in the 1986 playoffs, when the Astros right-hander blew away the Mets in two starts. If you're not familiar with Scott, he won the Cy Young Award that year using a high-powered fastball and lethal split-fingered pitch. A splitter that the Mets suggested was actually a scuffball.
Check out the pitch to Gary Carter at the 1:07 mark
. Don't show that video to Keith Hernandez.
[+] Enlarge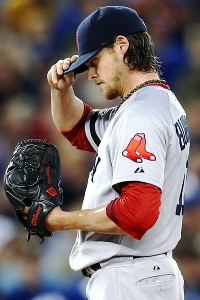 Tom Szczerbowski/Getty ImagesClay Buchholz struck out eight and allowed just two hits in Wednesday's victory in Toronto.
Looks kind of like the Buchholz pitch, doesn't it?
Buchholz, who is 6-0 with a 1.01 ERA, says he's the same pitcher he's always been. Which obviously isn't the case. He's striking out 27.8 percent of the batters he's faced, well above the 16.1 percent rate of last season and his 18 percent career rate. So, let's check into some of the detailed movement on his pitches.
Horizontal break on fastball, 2013: minus-4.7 inches
Vertical break on fastball, 2013: 9.9 inches
Horizontal break on fastball, 2012: minus-4.8 inches
Vertical break on fastball, 2012: 9.1 inches
Those are average totals, of course, suggesting he's getting a little more downward movement on his fastball, but overall, the movement is similar to last season. But his ball was really moving on Wednesday night, averaging minus-5.5 inches of horizontal break. His 16 fastballs thrown with two strikes averaged minus-6.5 inches of horizontal break (although 7.1 inches of vertical break). Some of that variance comes with the different types of fastballs thrown -- two-seamers versus four-seamers -- but that pitch to Bautista was 96 mph, as hard as any pitch Buchholz threw all night. Four-seam fastballs are thrown harder but are also usually straighter than two-seamers.
By the way, there's nothing unusual about Buchholz's average movement on his pitches. He ranks 33rd in average vertical break on his fastball among 110 starters (
Clayton Kershaw
is No. 1). Still, that pitch to Bautista seemed almost unnatural.
Aside from whatever Buchholz is doing, or not doing, cheating is part of the fabric of the game's history. Baseball players will always look for that extra edge. Sometimes, they go a little too far, of course, and start making a mockery of the game (we mean you, Barry Bonds). Or in the 1950s, when the spitball was apparently so prevalent that commissioner Ford Frick actually lobbied to have the pitch
re-legalized
. Whitey Ford was the most famous practitioner; according to "The Baseball Codes" by Jason Turbow and Michael Duca, Ford used a concoction of turpentine, baby oil and rosin that he stored on the dugout bench during games.
Pitchers from Don Sutton to Scott to Greg Maddux and Tom Glavine have been accused of throwing spitballs or scuffing the ball. Perry, of course, went through his famous
pre-pitch routine
in which he may or may not have been applying a foreign substance to the ball. (Once, when asked by a writer what pitch her daddy threw, his young daughter said, "It's a hard slider.")
Turbow writes that Ozzie Guillen said, "Everyone cheats. If you don't get caught, you're a smart player. If you get caught, you're a cheater. It's been part of the game for a long time."
Indeed it has. Morris has simply stirred up an age-old controversy. I have no idea if Buchholz is doing anything illegal. But I'm glad we have something fun to argue about.
June, 19, 2012
6/19/12
11:59
PM ET
Before steroids and HGH and the cream and the clear and other substances of superpower magic, we had old-school baseball: You know, stealing signs from center field, corking the bat, spitting on the ball, using the catcher's belt buckle to cut the ball, nail files, watering the dirt around the basepaths if the visiting team had speedy players, rubbing pine tar or other sticky goo on your glove, maybe a little K-Y jelly on the bill of your cap, pitching from six inches in front of the rubber, using superballs in your bat, taping a thumbtack to your index finger, altering the dimensions of the batter's box, tilting the foul lines, or even just a good ol' first baseman yanking a baserunner off the bag in a key moment of a World Series game.
So, thank you,
Joel Peralta
, for reminding us how baseball was meant to be played, when breaking the rules and cheating were considering a form of art rather than a moral affront against the grand traditions of the game.
Peralta was ejected
in the eighth inning of Tuesday night's game against the Nationals for having a foreign substance on his glove.
That was how you cheated back in the day. If you thought you could get away with it, you tried it. The spitball was banned in 1920? So many pitchers still threw it in the 1950s that former Dodgers pitcher Claude Osteen called it the decade of the spitter. In their book, "The Baseball Codes," Jason Turbow and Michael Duca write how the spitball was so pervasive that in 1955 commissioner Ford Frick lobbied for the relegalization of the pitch.
So, Joel, there is no shame in trying to pull one over on your opponents, the umpires and the fans who paid hard-earned money to witness a contest believed to be on the up and up. After all, Whitey Ford is in the Hall of Fame and he used to mix a concoction of turpentine, baby oil and rosin that he kept in the dugout during games. Gaylord Perry is in the Hall of Fame thanks to his ability in doctoring up the baseball -- or at least, with his swipes and tugs of his cap, deceiving hitters into thinking he was doctoring the baseball (Perry's young daughter once said her daddy just threw a "hard slider"). According to Turbow and Duca, Pete Rose insisted that Angels pitcher Bill Singer threw him four straight spitballs in the 1973 All-Star Game, one which hit catcher Carlton Fisk and bounced away. ("He didn't even tell me the damn thing was coming," Rose quotes Fisk as saying.)
Heck, we all remember
Kenny Rogers
in the 2006 playoffs when he didn't allow a run in three postseason starts. So he had some unknown brown smudge on his hand? Tony La Russa questioned the umpires about Rogers during the World Series and while Rogers was ordered to wash off the foreign substance, he wasn't ejected from the game. Hey, it ain't cheatin' if you don't get caught.
But you did get caught, Joel. Still, your teammate
Carlos Pena
stood up for you. "Someone called him out or betrayed him," Pena said after the game on the Rays' broadcast. "Someone who was his teammate. ... I don't think that's good sportsmanship."
Peralta played for the Nationals in 2010. Washington first-base coach Trent Jewett managed Peralta in Triple-A that year as well. So any number of people could have tipped off manager Davey Johnson to Peralta's grooming habits.
If anything, that's the disappointing thing. Foreign substance on your glove? Boring. Rick Honeycutt once used a thumbtack to cut the ball. Joe Niekro got caught with an emery board in his back pocket. Kevin Gross used sandpaper. Nolan Ryan, in his book "Throwing Heat," admitted to sometimes pitching from in front of the rubber. "On occasion I've pitched from about six inches in front of the rubber when I've needed the big strikeout," Ryan wrote. "And I know I'm not the only one who's done that."
The highlight of all this was after Peralta was ejected from the game and Rays manager Joe Maddon had the umpires check the cap and glove of Nationals reliever
Ryan Mattheus
. Gamesmanship at its best! It's the excitement of beanball wars without the threat of injury.
Plus, you have to appreciate that Peralta respects the traditions of the game. Too many of today's players don't appreciate the game's history. How many even know who Whitey Ford or Gaylord Perry are?
Funny, just today Phillies infielder
Freddy Galvis
sent out a statement apologizing for not using an illegal substance after he was caught with an illegal substance. Just yesterday,
Roger Clemens
was declared a free man when acquitted on all charges that he obstructed and lied to Congress in denying he used performance-enhancing drugs.
But Clemens, I suppose, is still a cheater in the minds of many.
Joel Peralta? He's an artist.
PHOTO OF THE DAY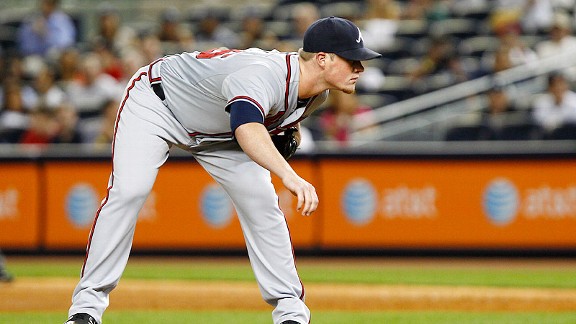 Debby Wong/US PresswireCraig Kimbrel with a lead? You wouldn't want to get between a predator and his prey, would you?
January, 6, 2012
1/06/12
1:21
PM ET
I wrote
about Jack Morris the other day
, but I heard this on TV last night while at the gym: He was the ace on three World Series champions. I think it's at least something to consider that I didn't include in my original analysis.
Now, I would say we use that term loosely. For example, check out the 1984 Tigers:
[+] Enlarge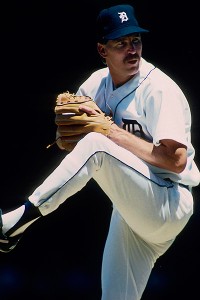 File Photo/US PresswireJack Morris was the ace of three World Series champions.
Morris: 19-11, 3.60 ERA, 240.1 IP, 221 H, 87 BB, 148 SO, 1.28 WHIP
Dan Petry: 18-8, 3.24 ERA, 233.1 IP, 231 H, 66 BB, 144 SO, 1.27 WHIP
You can't get much more identical than that. But Morris was the ace of that team. He started the first game of the playoffs.
Or the 1991 Twins:
Morris: 18-12, 3.43 ERA, 246.2 IP, 226 H, 92 BB, 163 SO, 1.29 WHIP
Kevin Tapani
: 16-9, 2.99 ERA, 244 IP, 225 H, 40 BB, 135 SO, 1.09 WHIP
Scott Erickson
: 20-8, 3.18 ERA, 204 IP, 189, 71 BB, 108 SO, 1.28 WHIP
Tapani was clearly a little better that season and Erickson pretty good as well, but it was Morris who started the first game of the playoffs and the pitcher Tom Kelly lined up to start three times in the World Series. When there was a big game, Morris was the guy his manager believed in. Is that so easily dismissed?
1992 Blue Jays:
Morris: 21-6, 4.04 ERA, 240.2 IP, 222 H, 80 BB, 132 SO, 1.26 WHIP
Jimmy Key: 13-13, 3.53 ERA, 216.2 IP, 205 H, 59 BB, 117 SO, 1.22 WHIP
Juan Guzman: 16-5, 2.64 ERA, 180.2 IP, 135 H, 72 BB, 165 SO, 1.15 WHIP
David Cone
: 4-3, 2.55 ERA, 53 IP, 39 H, 29 BB, 47 SO, 1.28 WHIP
Cito Gaston had several options, including late-season trade acquisition Cone. But Morris, again, was his guy. He started the first game of the playoffs and the World Series (he didn't pitch well that postseason, but the Jays won anyway).
So how many other starters have been the ace of three World Series champions?
Whitey Ford: He started Game 1 of the World Series eight times (let's see that record broken) and the Yankees won four of those World Series.

Allie Reynolds: When the Yankees won five straight championships from 1949-53, Reynolds started the World Series opener four times. The '53 start was most interesting because Reynolds had spend the season alternating between starting (15 starts) and relieving (13 saves). But Reynolds had a strong World Series track record and Casey Stengel gave him the ball over Vic Raschi, Eddie Lopat or a young Ford.

Red Ruffing: He started Game 1 of the World Series six times between 1932 and 1942, with the Yankees winning in '32, '36, '38, '39 and '41. You can argue that Spud Chandler or Marius Russo were just as good in '41, but Ruffing was clearly the ace of the other five teams (which included Hall of Famer Lefty Gomez). By the way, the pitcher in the Hall of Fame with the highest career ERA? Red Ruffing, at 3.80. (He was 39-96, 4.61 with terrible Red Sox teams, got traded to the Yankees and went 231-124, 3.47 with them.)

Waite Hoyt: Started Game 1 for the Yankees in 1923, 1927 and 1928. He's a very marginal Hall of Fame, helped by his "ace" status on three World Series winners.

Chief Bender: The Game 1 starter for three Philadelphia A's World Series winners, Bender wasn't the clear ace (fellow Hall of Famer Eddie Plank was on those teams), but Connie Mack clearly believed in Bender as his No. 1 guy.
And to my accounting, that's it. Ken Holtzman started Game 1 of the World Series for the 1972, '73 and '74 champion A's, but that was after an additional round of playoffs had started. You could argue that Catfish Hunter was the ace of all three of those Oakland teams, but Vida Blue started the first game of the '73 playoffs (and no, not because of end-of-season rotation issues -- the A's had five days off between the end of the season and the first game of the ALCS). When the Yankees won four titles in five seasons from 1996 to 2000, four different starters opened the playoffs: Cone,
David Wells
,
Orlando Hernandez
and
Roger Clemens
. That was a team of aces.
So I believe that's the list: Four Yankees, a guy from 100 years ago and Jack Morris.
Does that help his Hall of Fame case? It's not anything that shows up in the statistics, but it is, I believe, an important factor for his argument. But is it enough to sway voters?
April, 8, 2011
4/08/11
2:15
PM ET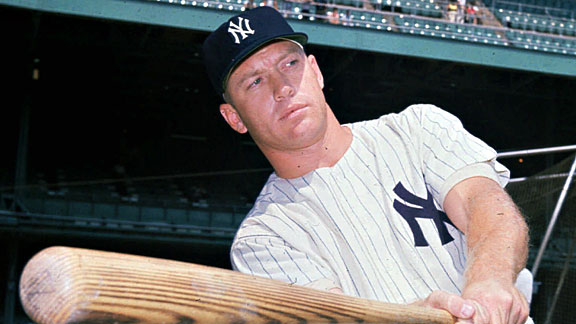 AP PhotoMickey Mantle won three MVP Awards and finished second three other times.
We're back with the much-anticipated final installment of my 50 greatest Yankees of all time. Here's ESPNNewYork's
top 50 and photo gallery
and here are the first two parts of my series,
Nos. 50 through 31
and
30 through 16
. The panel's ranking is in parenthesis.
15. Don Mattingly, 1B (11)
One of the prettiest swings you'll ever see. He was really only a great player for six seasons, before his back started to go, and just kind of hung around for six years after that. Is he more beloved than Jeter among Yankees fans?
14. Andy Pettitte, P (16)
Is he a Hall of Famer? The quick argument against him is that he finished in the top 10 in his league in ERA just three times. Bert Blyleven, who took 14 years to get inducted, finished in the top 10 on 10 occasions, including seven times in the top five. Jack Morris, similar to Pettitte in many regards, finished in the top 10 fives times and has struggled to get over the Hall of Fame hump. I think Pettitte faces the same obstacles, with 240 wins but a mediocre career ERA. Certainly, his 19 career postseason wins (more than any other pitcher) will give him a chance for election.
13. Thurman Munson, C (12)
When did the Yankees institute their no facial hair policy? One of the iconic baseball images of my youth was Munson's mustache and bushy sideburns. He looked tough and gritty and pugnacious, and by all accounts that's exactly what he was. Would he have made the Hall of Fame if he hadn't died? I'm not so sure. His bat had pretty much dried up his final seasons, with a .373 slugging percentage in 1978 and .374 in 1979. He never did walk much, so his on-base percentage was tied to his batting average. He was still a long ways from 2,000 hits and unlikely to make any more All-Star teams (he made seven).
12. Bernie Williams, OF (19)
Yankee most valuable players, according to
Baseball-Reference
's WAR (wins above replacement) statistic:
1995: Bernie Williams, 6.0
1996:
Mariano Rivera
, 5.4; Bernie Williams, 4.8
1997: Andy Pettitte, 7.6;
David Cone
, 6.7; Bernie Williams, 6.4
1998:
Derek Jeter
, 7.8; Bernie Williams, 6.1
1999: Derek Jeter, 8.0; Bernie Williams, 5.0
2000:
Jorge Posada
, 5.7; Bernie Williams, 5.0
2001:
Mike Mussina
, 6.5;
Roger Clemens
, 5.4; Bernie Williams, 4.0
2002:
Jason Giambi
, 7.3;
Alfonso Soriano
, 4.7; Bernie Williams, 4.4
Williams wasn't usually the
best
player on the team, but during his eight-year peak (he topped .300 each season), he was always one of the three most valuable on the team. The advanced fielding metrics actually rate him as a poor center fielder, although he looked smooth out there to me, other than his weak throwing arm (he won four Gold Gloves). He performed well in the postseason (.275/.371/.480) and delivered as many critical playoff hits as Derek Jeter, just without as much fanfare or adoration from the media.
11. Red Ruffing, P (9)
Ruffing began his career with the Red Sox and went 39-96 with their awful teams of the 1920s. Traded to the Yankees for backup outfielder Cedric Durst and $50,000 in 1930, Ruffing apparently changed his motion slightly, became a Hall of Famer by going 231-124 with the Yankees and winning 20 games each season from 1936-39, when the Yankees won four straight World Series. He relied primarily on his fastball and a slider that the "Neyer/James Guide to Pitching" reports that "there's an abundance of evidence suggesting that he was among the first to throw a good one."
10. Bill Dickey, C (10)
One of the best-hitting catchers of all time, Dickey fashioned a .313/.382/.486 career line, impressive even for the high-octane offense of the 1930s. Later, he helped mentor Yogi Berra, who always gave credit to Dickey for helping him develop his catching skills.
9. Mariano Rivera, P (5)
He might have been pretty good if he had ever developed a second pitch.
8. Jorge Posada, C (21)
Posada ahead of Rivera? It's a close call, but I'll take the great-hitting catcher with solid defense (Posada was never great at blocking pitches but his arm was average or slightly above for most of his career) over the legendary closer. Their career value is similar: 52.9 WAR for Rivera, 46.0 for Posada. But generally speaking, the closer position is overrated; Rivera's
most valuable
season was actually 1996, when he served as John Wetteland's setup guy and pitched 107 innings. It's perhaps instructive that the season Posada missed with injury (2008) was the one season the Yankees didn't make the playoffs since the two joined the club.
7. Whitey Ford, P (8)
Ford went 236-106 with the Yankees, but won 20 games just twice -- 25 in 1961 and 24 in 1963. That was primarily because Casey Stengel never believed in Ford's durability (he was 5-foot-10), so didn't work him hard. His career high in starts under Stengel was 33 and he topped 230 innings just once. After Stengel was fired following the 1960 season, Ford averaged 37 starts and 260 innings over the next five seasons. His World Series record was excellent as well -- 10-8 with a 2.71 ERA in 22 starts.
6. Joe DiMaggio, OF (3)
DiMaggio played 13 seasons in the majors, appeared in 10 World Series and won nine of them. Perhaps no player in baseball history has ever been so identified as a "winner" as DiMaggio. So why rank DiMaggio only sixth? I'll admit: Something about him just rubs me the wrong way. He frequently held out, battled injuries and he had a lot of great teammates who chipped in with the winning. Of course, he was a devastating hitter who was severely penalized by the huge dimensions in left-center at Yankee Stadium when he played (he hit 213 home runs on the road in his career, 148 at home). His fielding was probably more average than great and nobody stole bases in his day (he had 30 career steals).
5. Derek Jeter, SS (7)
An amazingly consistent and durable player (his only injury came in 2003), Jeter is less than 300 runs away from passing Babe Ruth for the most runs scored in Yankees history. B-R actually ranks Jeter as the most valuable offensive player in the American League in 1999 and 2006, and that's why I gave him the nod over DiMaggio: A great-hitting shortstop who has played nearly every game for 16-plus seasons is more difficult to find than a great center fielder.
[+] Enlarge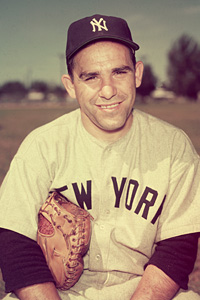 Photo by Hulton Archive/Getty ImagesYogi Berra was a three-time MVP with the Yankees.
4. Yogi Berra, C (6)
Behind the "Yogisms" caricature, it's easy to forget how great he was: A three-time MVP who during his 1950-56 peak caught an average of 142 games per season, hitting .295/.364/.502 with 27 homers and 108 RBIs per season. Yogi's power was underrated: he finished in the top 10 in the AL in homers every season from 1949 through 1957. Casey Stengel loved to fiddle with his lineups, platoon and move players around, but the one constant he had was Yogi behind the plate.
3. Lou Gehrig, 1B (2)
It's often portrayed that Yankee scout Paul Krichell "discovered" Gehrig, a testament to the Yankees digging in haystacks to find their Hall of Famers. Sounds good, but it's not accurate. Gehrig was quite well known by the time the Yankees signed him. As a high school senior, Gehrig hit a grand slam at Wrigley Field, as his School of Commerce team defeated Lane Tech of Chicago. "Gherrig, a 17-year-old boy, who played first base for the easterners and who came here touted as the 'Babe' Ruth of the high schools of New York, lived up to his reputation by driving the ball over the right field wall of Cubs park for a home run with the bases filled," intoned one paper. His exploits at Columbia were well covered by the New York papers. A 1937 AP report says Gehrig was to make $37,000, tops in the majors. The story also indicates the Yankees would have by far the highest payroll, around $368,000 for the "hired hands." Of course, that salary barely pushed Gehrig above his own manager's $35,000 salary.
2. Mickey Mantle, OF (4)
You often read or hear things like, "Just imagine how good Mickey Mantle would have been if he hadn't hurt his knee or drank so much." That might be true, but it also undersells Mantle's dominance. He won three MVP awards and finished second in the voting three other times. Baseball-Reference has Mantle as the AL's best player six times (and its best offensive player nine times). Since 1950, according to B-R, 13 AL players have compiled 10 or more WAR in one season. Mantle's 1956 season ranks No. 1, his 1957 season No. 2 and his 1961 season (when Roger Maris won the MVP award) No. 4. You can make an argument that his 1956 Triple Crown season is the greatest season ever. He hit .353/.464/.705, played a good center field, ran the bases and hit .444 with runners in scoring position. With 52 home runs, he hit 20
more
than any other AL hitter, was one of six to drive in 100 runs (he drove in 130) and one of three to score 100 (132).
1. Babe Ruth, OF (1)
Babe Ruth won only one MVP award in his career, but that of course is misleading. For much of his career there was either (A) no award given, or (B) he was ineligible (for a short time, previous winners couldn't win again). So how many would he have won? And by that, I don't mean how many years was he the best player in the American League (12, according to Baseball-Reference, including once as a pitcher), but how many times would he have likely been voted the winner, keeping in mind voters (by today's standards, at least) are usually reluctant to give it to the same player year after year and players on pennant winners have an advantage. Ruth probably would have won in 1916 (as a pitcher with the Red Sox), 1920, 1921, 1923 (the year he actually won), 1926 and 1928. I have him finishing second in 1919 (to Eddie Cicotte, who won 29 games for the pennant-winning White Sox), 1924 (to Walter Johnson, who led the Senators to the pennant) and 1927 (to Gehrig).
Follow David Schoenfield on Twitter at @dschoenfield. Follow the SweetSpot blog at @espn_sweet_spot.