May, 16, 2013
5/16/13
5:08
PM ET
Hernandez
Watching
Felix Hernandez
the other night prompted me to look up the pitchers with the highest career Wins Above Replacement who never started a postseason game. Hernandez's career WAR is 36.3 and I had no idea if he would top the list or even be near the top, but it seems like most good pitchers eventually find themselves in a playoff game.
So, since 1969 and the divisional era, here are the pitchers who accumulated the most WAR but never started a playoff game:
1. Ferguson Jenkins (67.7 WAR, 16th overall)
His career WAR is actually higher, but we're only counting WAR earned from 1969 and beyond. Anyway, Jenkins played for the Cubs, Rangers and Red Sox and had 284 career wins. Those late 1960s/early 1970s Cubs teams have four Hall of Famers -- Jenkins, Ernie Banks, Billy Williams and Ron Santo -- and had some other good players (Bill Hands, Ken Holtzman, Milt Pappas) but never reached the postseason.
2. Mariano Rivera (54.9 WAR, 30th overall)
Well, he hasn't
started
a postseason game ...
3. Mark Langston (50.2 WAR, 41st overall)
Very underrated pitcher in the '80s and '90s, spending most of his career with the bad Mariners and mediocre Angels. From 1986 to 1993 he averaged 247 innings per season. Did pitch in relief for the Padres in the 1998 postseason.
4. Wilbur Wood (45.9 WAR, 47th overall)
Had 11.7 and 10.7 WAR in in 1971 and 1972 when he pitched 334 and then 376 innings for the White Sox.
5. Goose Gossage (41.9 WAR, 57th overall)
See Rivera. Pitched in four postseasons, including three World Series.
6. Danny Darwin (40.6 WAR, 48th overall)
Won 171 games and an ERA title, but never pitched in the postseason although he played for eight different franchises. He was on the '86 Astros, who made the playoffs, and went 5-2, 2.32 ERA, after they acquired him from Milwaukee, but was injured and missed the playoffs. Also pitched for the '97 Giants, who made the playoffs, but didn't appear in the postseason.
7. Charlie Hough (39.3 WAR, 61st overall)
Pitched in relief for the Dodgers in three World Series, but spent the bulk of his rotation days with the playoff-less Rangers.
8. Felix Hernandez (36.3 WAR, 71st overall)
And now we get to Hernandez, the active leader among starting pitchers in this dubious category. Is he destined to become the Fergie Jenkins of his generation?
March, 1, 2013
3/01/13
12:15
PM ET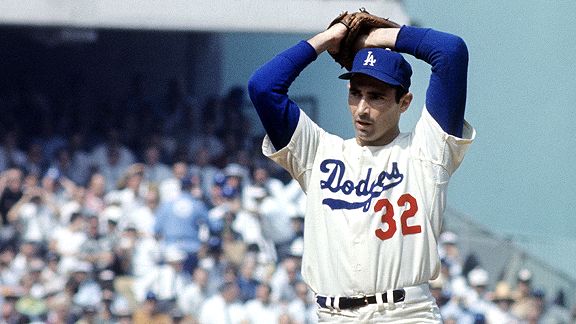 Focus on Sport/Getty ImagesOver his final five seasons, Sandy Koufax went 111-34 with a 1.95 ERA and three Cy Young Awards.
This is another follow-up to a debate that arose in a recent chat session: Which pitcher had the best five-year peak?
With
Sandy Koufax having spent time at Dodgers camp this spring
it seems like a perfect time for a list, doesn't it?
Well, I can never make things easy, so this will be a long list. I started with pitchers since 1950, primarily because I'm not as interested in comparing the peak of dead-ball era pitchers to the more modern game. Plus, we had to make this somewhat manageable. I'm going to use Baseball-Reference Wins Above Replacement to rank the pitchers and we'll have a vote at the end of the story.
The rules: It has to be a five-year consecutive peak -- not necessarily the best five seasons of a pitcher's career, but the best five years in a row. A pitcher can appear only once. That's it. I didn't include postseason results, but maybe should have. I looked at all the Hall of Fame starting pitchers from this era, some current guys and some others I wanted to include. The list is 41 pitchers, but this is
not
the best 41 peaks. I left out some good pitchers, such as Orel Hershiser, Dwight Gooden,
Roy Oswalt
and others. I do think I got all the guys who accumulated at least 30 WAR, however.
Jack Morris, 1983-1987: 20.2 WAR
We have to start somewhere.
Don Sutton, 1971-1975: 21.1
Despite winning 324 games, Sutton was a controversial selection to the Hall of Fame when he made it on his fifth year on the ballot. He was viewed as a compiler -- and, well, he sort of was, as his career-high WAR was 6.3 and he topped 5.0 just three times. From '71 to '75 he went 89-53 with a 2.63 ERA and 25 shutouts. Not bad for a compiler.
Early Wynn, 1952-1956: 22.3
In 1948, Wynn went 8-19 with a 5.82 ERA for the Senators, walking 94 and striking out 49. Bill Veeck of the Indians coveted Wynn anyway because of his good fastball, they got him along with Mickey Vernon in a trade, pitching coach Mel Harder taught Wynn a curve and slider, and he went on to average 18 wins per season in his nine years in Cleveland.
Whitey Ford, 1961-1965: 22.5
Here's a fair question: Is Whitey Ford overrated? Think about it: He pitched in the old Yankee Stadium, with its mammoth left-center power alley, certainly helpful to a left-handed pitcher; he didn't have to face the best team in the league, back when there were only eight teams in the league for much of his career; he won "only" 236 games. Of course, he was the ace of many World Series winners and was certainly clutch in the postseason. Ford's best five years came after Casey Stengel was fired after the Yankees lost the 1960 World Series. Stengel was always cautious with Ford's workload, using him for more than 230 innings only once. But from '61 to '65 Ford averaged 260 innings and went 99-38, a .723 winning percentage.
John Smoltz, 1995-1999: 22.9
When Smoltz shows up on the Hall of Fame ballot, it will be interesting to see how he fares compared to Curt Schilling, two guys with similar career records (Smoltz: 213-155, 3.33; Schilling: 216-146, 3.46) and similar excellence in the postseason. The big difference between the two is Smoltz never had the string of dominant seasons like Schilling did.
Catfish Hunter, 1971-1975: 23.4
Made his mark by winning seven games in the postseason as the A's won three consecutive World Series from 1972 to 1974, but vastly overrated as a pitcher. This five-year peak accounts for two-thirds of his career WAR of 32.1
Tom Glavine, 1995-1999: 24.0
What were the odds that a 22-year-old pitcher who led the league with 17 losses and struck out only 84 batters in 195 innings would turn into a 300-game winner and future Hall of Famer? Lower than slim and none? Glavine's best season via WAR was his breakout campaign in 1991 (8.2) when he won his first Cy Young Award, but in many ways he was similar to Sutton, an amazingly durable pitcher who was very good for a long time.
Felix Hernandez, 2008-2012: 24.1
Working on four straight years of 230-plus innings and doesn't turn 27 until April. With his new contract, the Mariners are banking on many more of those 230-inning seasons in the future.
Nolan Ryan, 1973-1977: 26.0
His first big year came after the Mets traded him to the Angels in 1972 and he won 19 games with a 2.28 ERA, worth 5.8 WAR. Twenty years later he was 44 and posted a 5.0 WAR season for the Rangers. In between, he was a dynamic, often wild, always amazing, and certainly one-of-a-kind. His mid-'70s peak was dragged down by a couple mediocre seasons in '75 and '76 when he posted a 3.40 ERA, only league average for the time once you adjust for his home park.
Mike Mussina, 1999-2003: 26.7
His career WAR of 78.1 is higher than many Hall of Fame pitchers of this era. Best season came in 1992 (7.9 WAR), but he had seven seasons of 5.0 or higher, five of those coming with the Orioles.
Justin Verlander, 2008-2012: 26.7
This stretch includes Verlander's 2008 when he went 11-17 with a 4.84 ERA, worth 1.5 WAR, so the total will jump up with a big 2013. Verlander led the league in losses that year, which prompts the question: How many Hall of Fame pitchers led their league in losses? Well, Phil Niekro managed to do it four straight seasons. Bert Blyleven did it at the end of his career in 1988, and future Hall of Famer Glavine did it the same season at the beginning of his career. Steve Carlton and Robin Roberts each did it twice. Early Wynn and Hal Newhouser. A couple of others. Not necessarily that unusual.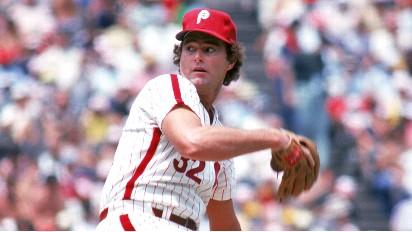 Rich Pilling/Getty ImagesSteve Carlton won four Cy Young Awards, but only one came during his best five-year WAR peak.
Steve Carlton, 1969-1973: 27.9
Maybe the most inconsistent great pitcher ever, this period includes Carlton's all-timer season in 1972 when he went 27-10 with a 1.97 ERA for a Phillies team that won only 59 games. No other pitcher won more than seven games, and he was a reliever. But Carlton followed that up with a 13-20, 3.90 year in 1973 and had some less-than-stellar years. His best stretch of consistent excellence actually came later in his career from 1980-1983, but his 11.7 WAR in '72 helps make this his best five-year stretch.
Don Drysdale, 1960-1964: 28.0
Dodger Stadium: 65-43, 2.19 ERA
L.A. Coliseum: 36-25, 3.14 ERA
Road games: 95-92, 3.41 ERA
Cliff Lee, 2008-2012: 28.9
Sort of the anti-Nolan Ryan. Whereas Ryan would
never
give in to a hitter, preferring to walk a batter rather than just throw something over the middle of the plate, Lee
never
wants to give up a free pass. Over this five-year stretch he has walked 165 batters; Ryan walked that many in a season three times.
Bret Saberhagen, 1985-1989: 29.1
Includes his Cy Young seasons in 1985 (6.9 WAR) and 1989 (9.2 WAR), but he couldn't stay healthy after that. Remember when Dave Stewart whined about not winning the Cy Young in 1989? Yeah, let's not get into that.
Jim Palmer, 1975-1979: 29.2
Palmer won 20 games eight times in nine seasons, but went 7-12 in 1974 right in the middle of that stretch to drag down his five-year peak (we ended up using a mediocre 10-6, 3.30 partial season in 1979 to round out our five years).
Frank Tanana, 1974-1978: 29.3
One of the best young pitchers ever, but hurt his arm in 1978. Returned as a finesse guy to have a long career.
David Cone, 1993-1997: 29.4
Only averaged 184 innings per season over this span thanks to the two strike-shortened seasons and an injury in 1996 that limited him to 11 starts, but went 64-35 with a 3.17 ERA during a high-scoring era and won the Cy Young Award in 1994.
CC Sabathia, 2007-2011: 29.7
Finished in the top five of the Cy Young voting all five seasons.
Rick Reuschel, 1976-1980: 29.8
A favorite of sabermetricians because of a career WAR of 64.6 that ranks 32nd
all time
among pitchers -- just ahead of Palmer, Sutton and Smoltz. Hmm. Reuschel's career record of 214-191 with a 3.37 ERA doesn't blow you away, but he spent his best years with mediocre Cubs teams in a hitter's park with bad defenses behind him. In these five years, he went 77-62 with a 3.33 ERA, topped by a 1977 season (20-10, 2.79 ERA) in which Baseball-Reference rates him not only as the best pitcher in the National League (9.2 WAR), but as the most valuable
player
. In comparing to Palmer, Baseball-Reference estimates Palmer's defense saved him 0.33 runs per nine innings over his career but cost Reuschel 0.18 runs per nine innings (a difference of about 14 runs over 250 innings). Maybe Reuschel would have won three Cy Young Awards if he had Mark Belanger and Paul Blair behind him.
Jim Bunning, 1963-1967: 30.2
After going 12-13 with a 3.88 ERA in 1963, the Tigers traded Bunning to the Phillies (for Don Demeter and Jack Hamilton), figuring at 32 he was past his prime. He wasn't. Instead, Bunning reeled off four magnificent seasons with the Phillies, going 74-46 with a 2.48 ERA while averaging 298 innings per season.
Kevin Appier, 1992-1996: 30.9
Surprise! Went 69-43 with a 3.22 ERA, including a spectacular 9.0-WAR 1993 when he led the AL with a 2.56 ERA and allowed only eight home runs. Should have won the Cy Young Award that year.
Warren Spahn, 1949-1953: 32.2
This stretch includes four of his five highest WAR seasons, the other being his best one -- 9.1 in 1947. Two awesome Spahn stats: (1) From 1947 to 1963, the
fewest
innings he pitched was 245.2; (2) Led the NL in complete games seven consecutive seasons, from ages 36 to 42. Here's a third one: Led or tied for the NL lead in wins eight times.
[+] Enlarge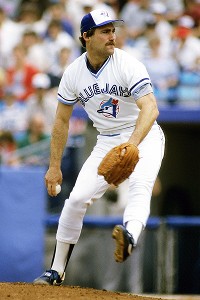 Ronald C. Modra/Getty ImagesToronto ace Dave Stieb should have won a Cy Young Award or two in the early '80s.
Dave Stieb, 1981-1985: 32.4
Underrated in his own time, Baseball-Reference rates Stieb as the first- or second-best pitcher in the AL all five seasons in this stretch, but he never finished higher than fourth in the Cy Young voting because they were giving the awards to guys like Pete Vuckovich and LaMarr Hoyt.
Roy Halladay, 2007-2011: 32.5
Went 93-44 with a 2.80 ERA.
Bert Blyleven, 1971-1975: 33.5
Blyleven's run came from ages 20 to 24 and included a 325-inning season in 1973 when he was 22. Somehow his ligaments and tendons remained attached and didn't turn into soba noodles. You'll notice that Blyleven is the third pitcher with the exact same five-year dates; to a large extent this is because innings totals increased during this period. With more innings comes a higher WAR. In the 1960s, for example, there were 25 300-inning seasons; in the first five years of the '70s, there were 27. Or, really, innings started ramping up in the late '60s, when offense declined, leading to the lowering of the mound after 1968 and the advent of the designated hitter in the American League. To put a more dramatic spin on the increase in workload, from 1955 to 1964, there were seven 300-inning seasons (three by Drysdale); in the next 10 years, there 47 300-inning seasons.
Johan Santana, 2004-2008: 34.2
Won three ERA titles and two Cy Young Awards (and probably should have won a third) in this period.
Ferguson Jenkins, 1968-1972: 34.9
Went 107-71 with a 3.02 ERA, averaging 309 innings and winning the 1971 Cy Young Award. The Cubs were still pretty good in this era, finishing over .500 all five years, so this wasn't just a pitcher excelling despite a bad team behind him.
Curt Schilling, 2000-2004: 35.0
This run includes half a season in Philly, three and a half in Arizona and his first year in Boston, a year that culminated with a bloody sock and the lifting of a curse. Five-year totals: 85-40, 3.24, three Cy Young runner-up finishes, three 20-win seasons, a 300-strikeout season (he had two more in 1997 and 1998) and two World Series championships. Schilling pounded the strike zone -- he averaged only 1.5 walks per nine innings -- and had a remarkable 316/33 strikeout/walk ratio in 2002.
Kevin Brown, 1996-2000: 35.4
Deserved to hang out on the Hall of Fame ballot longer than one year and have his case at least discussed. For a time, Brown was impressive as any pitcher of his generation, throwing that hard, mid-90s sinker. In this stretch he went 82-41 with a 2.51 ERA in the heart of the steroids era, averaging 242 innings, twice leading in ERA and pitching in two World Series. His seasonal WAR totals: 7.7, 6.7, 8.3, 5.9, 6.8.
Juan Marichal, 1962-1966: 35.4
Starting in 1963, he went 25-8, 21-8, 22-13, 25-6, 14-10, 26-9 and 21-11. You know how many Cy Young votes he received those seasons? None. His best five-year peak would be better if not for that 1967 season where he missed some time and made 26 starts. As is, he went 107-45 with a 2.37 ERA.
Wilbur Wood, 1970-1974: 36.7
Another early '70s guy, Wood's knuckleball allowed him to post some of the more freakishly awesome seasons in modern history, including 1971 when he had a 1.91 ERA in 334 innings, and 1972 when he started 49 games and pitched 376.2 innings. Those two seasons were worth 11.5 and 10.3 WAR. (He slacked off in 1973 and started only 48 games and threw 359.1 innings.)
10. Gaylord Perry, 1972-1976: 37.0
OK, we're into the top 10, so we'll start numbering the countdown. If you're getting the idea that the early '70s were to pitching what the late '90s and early aughts were to hitting, then give yourself a gold star. Perry's 1972 with Cleveland was an amazing season: 24-16, 1.92 ERA, 29 complete games, 342 innings, worth 10.4 WAR. From May 6 to Aug. 5 he started 22 games and completed 19, posting a 1.55 ERA. Here's the kicker: He averaged
more than
nine innings per start in that stretch (one of his non-complete games was a
13-inning scoreless effort
).
Five-year totals: 97-79, 2.83 ERA, 313 innings per season.
9. Tom Seaver, 1969-1973: 37.4
Went 103-51 with a 2.35 ERA. Followed this up with another five-year stretch valued at 30.2 WAR.
8. Bob Gibson, 1966-1970: 38.0
This period includes his memorable 1968 season when he went 22-8 with a 1.12 ERA, a year that included a 47-inning scoreless streak and one period where he allowed two earned runs in 92 innings. No wonder baseball lowered the height of the mound from 15 to 10 inches for 1969. That season was worth 11.1 WAR, and he followed that up with two more pretty good ones: 10.3 WAR in 1969 and 8.4 in 1970, when he won another Cy Young Award. If not for a broken leg that forced him to miss two months in 1967, he'd be even higher on the list. (Or if we included hitting; he accumulated 3.3 WAR at the plate as well, and had 19 RBIs in 1970.) Five-year totals: 99-48, 2.30, 27 shutouts.
7. Phil Niekro, 1974-1978: 38.6
This is never mentioned as a great peak since Niekro's record was just 87-77 (pitching for bad Braves teams in the post-Aaron era) and his ERA was 3.16. He even led the league in losses in 1977 and 1978 (and would do so again in 1979 and 1980, joining Pedro Ramos as the only pitchers to do that four consecutive years). His ERA+ of 127, for example, was much lower than Gibson' five-year mark of 153. What Niekro did was throw a lot of innings -- 302.1, 275.2, 270.2, 330.1 and 334.1 -- and that workload led to WAR totals of 7.5, 6.5, 6.4, 8.6 and 9.6.
6. Sandy Koufax, 1962-1966: 39.1
Only sixth? For a pitcher who went 111-34 with a 1.95 ERA, won the NL ERA crown all five years and had seasons of 25-5, 26-8 and 27-9? He won an MVP Award and finished second in the voting two other years, while winning three Cy Young Awards (when they gave it to just one pitcher in all of baseball). So why only sixth? Well, there's no doubting Koufax's domination -- he, Gibson and Wood are the only two pitchers with two seasons of 10+ WAR during their peak runs. But a couple of things: (1) Dodger Stadium was a huge pitcher's park in those days, with a notoriously high mound (Koufax had a 1.37 ERA at home and 2.57 on the road, not that there's anything wrong with 2.57), so his numbers are knocked down a bit to adjust for that; (2) He missed time in 1962 (184 innings) and 1964 (223 innings), so that cuts into his value, at least compared to the other three seasons.
5. Greg Maddux, 1992-1996: 39.2
This is when he won his four consecutive Cy Young Awards. Five-year math: 90-40, 2.13 ERA, 191 ERA+, single-season WAR of 8.9, 5.5, 8.3, 9.5, 7.0 (followed by seasons of 7.6 and 6.3). And remember, his value was held down by the shortened seasons of 1994 and '95, when he had ERAs of 1.56 and 1.63.
[+] Enlarge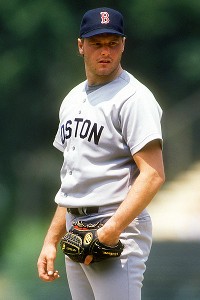 Mitchell Layton/Getty ImagesThe young Roger Clemens wasn't too shabby.
4. Roger Clemens, 1986-1990: 40.1
The numbers: 100-42, 2.71 ERA, 156 ERA+, 256 innings per season, 57 complete games, 23 shutouts, two Cy Young Awards (and was robbed in 1990). Also had 33.7 WAR from 1996 to 2000 and six other seasons of 5+ WAR not included in either of those two stretches.
3. Robin Roberts, 1950-1954: 40.5
Now this is what you call a peak: 115-64, 2.87 ERA, 138 ERA+, 135 complete games, 327 innings per season, seasons of 7.0, 7.6, 7.9, 9.4 and 8.6 WAR. By the 1950s, innings pitched totals had to started to decline, especially compared to the dead-ball guys, but not for Roberts. There were 10 300-inning seasons in the decade and Roberts had six of them. From his autobiography (tip of the cap to the "Neyer/James Guide to Pitchers"): "I was mainly a one-pitch pitcher, although sometimes I mixed in a curveball when I was ahead in the count. I could put my fastball where I wanted it, but I was sometimes criticized for not pitching inside more. ... I just went after people with my best stuff and let the batters hit it if they could."
Roberts threw very hard -- Bill James says he threw about as hard or possibly harder than Bob Feller or Bob Gibson or any of those big guys. Because his control was so good, he relied primarily on that one pitch. (He did give up a lot of home runs.) Outside of this stretch, Roberts had only one more season rated above 5.0 WAR, and one other above 4.0.
2. Pedro Martinez, 1997-2001: 41.4
Let's take these seasons one-by-one:
--1997: 17-8, 1.90 ERA, 8.7 WAR, 241.1 IP, 158 H, 305 SO, won Cy Young Award. Led NL in ERA and complete games (13).
--1998: 19-7, 2.89 ERA, 6.9 WAR, second in Cy Young voting in first year with Red Sox, struck out 251 in 233.2 innings.
--1999: 23-4, 2.07 ERA, 9.5 WAR, won Cy Young, second in MVP voting, 313 SO in 213.1 innings (13.2 per nine).
--2000: 18-6, 1.74 ERA, 11.4 WAR, won Cy Young, somehow only fifth in MVP voting, 284 SO in 217 IP, opponents hit .167 off him --
.167!
This isn't a closer we're talking about here. .167.
--2001: 7-3, 2.39 ERA. Injured, made only 18 starts.
It's too bad we couldn't sub in his 2002 (20-4, 2.26) or 2003 (14-4, 2.22). Great fastball, the best changeup of all time, command, varied his arm angles, mixed in a cut fastball, slider and curveball, and wasn't afraid to deliver some chin music every now and then. Only thing he lacked was the durability to rack up a lot of innings.
Five-year totals: 84-28, 2.18 ERA, 215 ERA+, 1,316 SO in 1,022 innings.
1. Randy Johnson, 1998-2002: 42.2
As awesome as Pedro was, the Unit rates even higher, which tells us something about how good
he
was. Five-year totals: 100-38, 2.63 ERA, 174 ERA+, four Cy Young Awards, three ERA titles, 41 complete games, 17 shutouts, five 300-strikeout seasons, 1,746 SO in 1,274 innings.

Individual seasons: 5.4, 8.8, 7.8, 9.8, 10.4. In fact, his five-year peak could have been higher had he not sulked his way through the first half of 1998 with the Mariners before finally getting traded to the Astros (where he went 10-1 with a 1.28 ERA in 11 starts).
On a rate basis, Pedro was a little better, as reflected in his better ERA+. He also had to face DH lineups for four of his five seasons. But Johnson was dominant
and
durable -- he pitched 252 more innings than Pedro in his five-year peak and that puts him at No. 1.
* * * *
Of course, you don't have to rely on WAR for your own personal rankings. My top five would probably go Johnson, Martinez, Koufax, Maddux, Clemens, with apologies to Bob Gibson.
In the poll, we can only include five names. I apologize to Robin Roberts fans for leaving him out despite his No. 3 ranking above. Like Phil Niekro, his value comes as much from a huge workload as being a great pitcher. But he wasn't dominant in the same sense as some of these other pitchers -- he never led his league in ERA, for example, and his ERA+ during his five-year peak was 138, well below the others. So he got the boot from the poll.
Who do you have?
April, 11, 2011
4/11/11
3:44
PM ET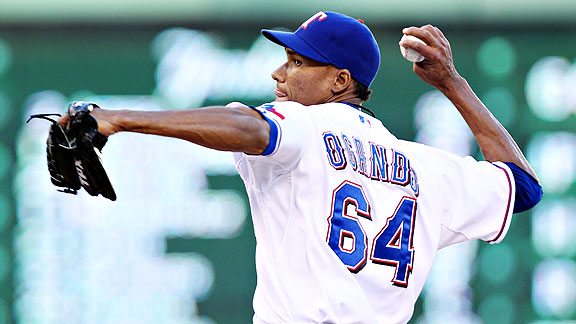 Matthew Emmons/US PresswireSo far, so good: Alexi Ogando hasn't allowed a run in his first two starts.
Alexi Ogando
made his second start for the Rangers on Monday afternoon. Ogando spent his rookie season pitching out of the bullpen (and most of his minor league career as well), but late in spring training the Rangers made the unusual move of trying Ogando into the rotation after deciding to keep
Neftali Feliz
as the team's closer.
It's not a move you see very often. Most relievers are in the bullpen for a reason, primarily because they don't have the stamina to last in the rotation, weren't able to develop the control or deep arsenal of pitches need to start, or lacked the big fastball managers like to see in a starter. Ogando certainly has the fastball needed, but we'll see how he develops on the other fronts.
I like the move and Ogando threw seven scoreless innings against the Tigers, allowing just two hits and walk. Why not take a power arm and see what happens? Kudos to the Rangers brass for taking a risk that really isn't much of a risk. If it doesn't work out, just move him back to the bullpen.
Here are a few reliever-to-starter transitions from major league history. (This isn't meant to be a comprehensive list, but these seem to be the most significant ones, not including many who may have pitched in relief as rookies, such as
Mark Buehrle
.) Many of these guys started in the minor leagues, although they all spent most of their early days in the majors in the bullpen.
David Wells
– Wells was a second-round pick by the Blue Jays but took six years to reach the majors and he spent his first three seasons in the bullpen, making just two starts. Part of that was there just wasn't room. The 1989 Blue Jays, who won the AL East, had a rotation of Dave Stieb, Jimmy Key, John Cerutti, Mike Flanagan and Todd Sottlemyre, all of whom posted ERAs less than 4.00. Wells excelled as a setup guy, with a 2.40 ERA over 86 innings. He got his shot the next year, but even then the Jays never fully entrusted a rotation slot to him as he spent three years alternating starting and relieving, helping the Jays win two World Series, before signing with Detroit as a free agent and becoming a starter the rest of his career.
Derek Lowe
– Lowe started nine games as a rookie with Seattle before getting traded to Boston. From 1998 through 2001, he appeared in 278 games (he did make 13 starts), proving himself as one of the AL's most durable relievers. Grady Little replaced Jimy Williams as manager in 2002 and made Lowe a starter and he won 21 games his first season in the rotation.
Charlie Hough
– It was a long road to the rotation for the knuckleballer. He started in the low minors but switched to relief in Triple-A with the Dodgers in the early '70s. He spent three years there before finally getting a regular job in the major league bullpen. He spent seven seasons there, once pitching 142 innings in relief, but other than 14 starts in 1979, remained stereotyped as a reliever. In 1980, he started out poorly and the Rangers purchased him. In Texas, he languished for two seasons in a mop-up role. Finally, at the end of the 1981 season, he was given a chance to start, won his final four games and became a starter in 1982. He was 34 years old, but would last until 1994, making 417 starts and winning 163 games in that span.
Wilbur Wood
– Before Hough, there was Wilbur Wood. Considering Wood's successful conversion, it's amazing it took so long before Hough got a rotation shot. Wood first reached the majors when he was 19, although he didn't exclusively use the knuckleball. He pitched periodically for the Red Sox and then Pirates for five years but never established himself. The White Sox acquired him and Hoyt Wilhelm advised Wood to stick with the knuckler. He spent four seasons as a workhorse reliever, leading the AL three years in a row in games pitched, before joining the rotation in 1971. Over the next five seasons, he started 42, 49, 48, 42 and 43 games, averaging 336 innings per season and winning 106 games.
Kenny Rogers
– A 39th-round pick out of high school by the Rangers, Rogers started 56 of 169 games in the minors but spent most of his first four years in the majors as a reliever. Like Lowe, it took a new manager to view him as a starter. Kevin Kennedy took over in 1993, put him in the rotation and he last 16 more seasons.
Jeff Fassero
– Like Rogers, Fassero was a low-round pick (22nd) and never a top prospect. Originally drafted by St. Louis, he didn't reach the majors with Montreal until he was 28. Exclusively a reliever his first two-and-a-half seasons, he joined the rotation in July 1993 and was a very good starter for five more seasons with the Expos and Mariners, later returning to the bullpen.
Omar Daal
– Daal had been a reliever for five seasons -- and not a very good one -- with the Dodgers, Expos and Blue Jays when Arizona selected him in the expansion draft and made him a starter. He posted a 2.88 ERA in 1998, won 16 games in 1999 and then was part of the booty that landed
Curt Schilling
from the Phillies.
Danny Darwin
– Darwin was undrafted by the Rangers but took just three seasons to the reach the majors. He spent two years primarily relieving, started in 1981, returned to the bullpen in 1982 and then was back in the rotation in 1983. He'd win 171 games in the majors.
Dave Stewart
– Stewart reached the majors with the Dodgers as a hard-throwing reliever in 1981, and while they did give him 14 starts in 1982, they eventually returned him to the bullpen. Traded to Texas, he bombed out of their rotation and was traded to Philadelphia, where he was released. The A's signed him and he won 20 games in four straight seasons.
Jimmy Key
– A third-round draft pick of the Blue Jays out of Clemson in 1982, Key reached the majors in 1984, appearing in 63 games in relief. Despite underwhelming numbers (44/32 SO/BB ratio, 1.65 WHIP), Bobby Cox put him in the rotation in 1985 and he'd finish his career with 186 wins and a 3.51 ERA.
Goose Gossage
– Here's a famous one that didn't stick. Gossage had led the AL with 26 saves with the White Sox in 1975, pitching 141 innings of dominating relief. Paul Richards replaced Chuck Tanner as manager in 1976 and Richards was an old-school guy from a different era and thought your best pitchers should start. Gossage went 9-17 as a starter, striking out just five more batters than the year before despite pitching 82 more innings. He was traded to Pittsburgh for the 1977 season and never started again.
Follow David Schoenfield on Twitter at @dschoenfield. Follow the SweetSpot blog at @espn_sweet_spot.