August, 13, 2012
8/13/12
5:46
PM ET
Before the Olympics began,
Kobe Bryant
suggested this year's Olympic basketball team would defeat the fabled 1992 Dream Team that featured Michael Jordan, Magic Johnson, Charles Barkley and Larry Bird. Bryant later adjusted his thoughts, saying the Dream Team was better but that the 2012 squad could beat them.
Bryant and company cruised throughout the tournament until Sunday's gold-medal game against Spain,
prevailing 107-100
after leading by just one point heading into the fourth quarter.
Anyway, that's a lead-in to this: What would baseball's dream team from 1992 look like? Let's turn back the clock and imagine we're in the summer of 1992. Let's pick a 25-man team -- 15 position players, seven starting pitchers and three relievers. Just like the '92 hoops Dream Team, legend status should come into play a bit. Since we're imagining an Olympic-type scenario, we're going with U.S. players only.
The Starters
1. 2B Ryne Sandberg, Cubs
(.304/.371/.510, 26 HR, 7.6 WAR)
Made his ninth consecutive All-Star appearance in '92.
2. CF Kirby Puckett, Twins
(.329/.374/.490, 19 HR, 6.8 WAR)
Had led the Twins to a World Series title in 1991; finished second in '92 American League MVP vote.
[+] Enlarge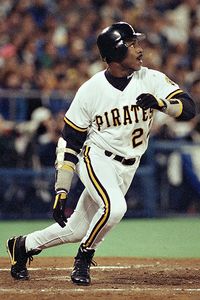 AP Photo/John SwartBarry Bonds led the Pirates to the NLCS in 1992.
3. LF Barry Bonds, Pirates
(.311/.456/.624, 34 HR, 8.9 WAR)
The best player in the game; won his second MVP award in '92.
4. DH Frank Thomas, White Sox
(.323/.439/.536, 24 HR, 6.7 WAR)
In his second full season, but the most feared hitter in the AL. Led the league in OBP and OPS for the second consecutive season.
5. 1B Mark McGwire, A's
(.268/.385/.585, 42 HR, 6.2 WAR)
Had rebounded from a poor 1991 to lead the AL in slugging percentage and the A's to the AL West title.
6. RF Ken Griffey Jr., Mariners
(.308/.361/.535, 27 HR, 5.5 WAR)
At 22 years old, already one of the game's best all-around players. We'll move him to right field with Kirby in center.
7. 3B Terry Pendleton, Braves
(.311/.345/.473, 21 HR, 4.8 WAR)
People remember his 1991 MVP season, but he finished second to Bonds in the '92 vote.
8. C Darren Daulton, Phillies
(.270/.385/.524, 27 HR, 6.7 WAR)
It was a weak year for catchers, but Daulton had a monster season with the fourth-highest WAR among position players.
9. SS Cal Ripken, Orioles
(.251/.323/.366, 14 HR, 3.8 WAR)
Not a good season but a baseball dream team wouldn't have been complete without Ripken.
The Bench
OF Rickey Henderson, A's
(.283/.426/.457, 15 HR, 5.4 WAR)
The best leadoff hitter in the game compiled 5.4 WAR despite playing just 117 games.
OF Andy Van Slyke, Pirates
(.324/.381/.505, 14 HR, 5.9 WAR)
Led the NL in doubles and hits, fourth in the MVP vote, Gold Glove center fielder. His window was small, but a terrific player for a few years.
OF Dave Winfield, Blue Jays
(.290/.377/.491, 26 HR, 3.8 WAR)
Others with a higher WAR, but Winfield gets credit for legend status and helping the Blue Jays win the World Series.
SS Ozzie Smith, Cardinals
(.205/.367/.342, 0 HR, 5.0 WAR)
Tough call here:
Barry Larkin
(.304/.377/.452, 5.5 WAR) or the 37-year-old Ozzie? The Wizard could still pick it and had 43 steals.
3B Gary Sheffield, Padres
(.330/.385/.580, 33 HR, 6.0 WAR)
Challenged for the Triple Crown much of the year before finishing first in batting, third in homers and fifth in RBIs.
C Terry Steinbach, A's
(.279/.345/.411, 3.8 WAR)
Gets the nod over Mickey Tettleton as the backup catcher for his good defense and leadership.
Pitching Staff
Tom Glavine, Braves
(20-8, 2.76 ERA, 3.6 WAR)
The only lefty on our 10-man staff, finished second in the Cy Young vote after winning it the year before.
[+] Enlarge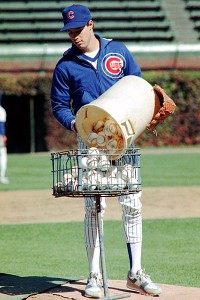 AP Photo/Bill WaughGreg Maddux would win four consecutive Cy Youngs beginning with the 1992 season.
Greg Maddux, Cubs
(20-11, 2.18 ERA, 8.9 WAR)
Won the first of his four consecutive Cy Young Awards.
Roger Clemens, Red Sox
(18-11, 2.41 ERA, 8.4 WAR)
Led the AL in ERA, shutouts, WHIP and SO/BB ratio, but finished just third in Cy Young vote.
Doug Drabek, Pirates
(15-11, 2.77 ERA, 5.1 WAR)
Career went downhill after signing with the Astros in '93, but regarded as one of the toughest competitors in the game at the time.
Jack Morris, Blue Jays
(21-6, 4.04 ERA, 2.5 WAR)
Morris absolutely would have been on a '92 dream team despite the high ERA. He'd just won back-to-back World Series titles and had the 21 wins.
Jack McDowell, White Sox
(20-10, 3.18 ERA, 4.9 WAR)
Kevin Appier
and
Mike Mussina
had better ERAs, but Black Jack had the image at the time. And the league-leading 13 complete games.
Nolan Ryan, Rangers
(5-9, 3.72 ERA, 1.8 WAR)
The numbers don't merit inclusion, but by '92 Ryan was the biggest icon in the game, a 45-year-old flame-throwing legend. Much like Bird, you wouldn't leave him off.
Dennis Eckersley, A's
(7-1, 1.91 ERA, 51 saves, 2.8 WAR)
The last AL reliever to win the Cy Young, Eck also walked away with the MVP trophy. OK, it was a bad vote, but Eck seemed unbeatable back then.
Rob Dibble, Reds
(3-5, 3.07 ERA, 25 saves, 0.9 WAR)
At the time, Dibble had four of the five highest K/9 rates in major league history (minimum 50 innings).
Jeff Montgomery, Royals
(1-6, 2.18 ERA, 39 saves, 3.0 WAR)
From '89 to '93, Montgomery fashioned a 2.22 ERA with 159 saves. What, you expected Mitch Williams?
So, who got Isiah'd? We mentioned Barry Larkin.
Tony Gwynn
was in a bit of a down spell (for him), so he loses out as well. We can't find room for NL home run leader
Fred McGriff
, Will Clark or Paul Molitor. For pitchers, some of the better statistical options would have included the aforementioned Mussina (7.9 WAR) and Appier (7.7 WAR) as well as Frank Viola, Sid Fernandez, Bob Tewksbury and
David Cone
, plus some up-and-coming guys like
John Smoltz
and
Curt Schilling
.
How does this team compare to a 2012 dream team? I'll let you debate who would be on such a 2012 team in the comments section.
April, 16, 2012
4/16/12
5:30
PM ET
If you've seen the video of the
controversial triple play
from the Padres-Dodgers game on Sunday, you'll see umpire Dale Scott initially raise his hands indicating a foul ball on Jesus Guzman's bunt attempt. As the ball then rolled fair, Scott reversed his call and Dodgers catcher A.J. Ellis proceeded to start a triple play, snuffing a potential rally in the ninth inning of a tie game.
Dave Cameron of FanGraphs breaks down the play and calls for the game to be
replayed from the point of Guzman's at-bat
, his argument being that Padres' couldn't have been expected to run once Scott raised his arms, and also pointing out that one game in the expanded playoff system could be the deciding game on one team making the playoffs and another missing them.
At issue: Judgment calls cannot be protested (and thus overturned). Was this just a bad judgment by Scott -- reversing his call in the middle of a play -- or do the Padres have a right to protest based on a rules interpretation (that the play should have been ruled dead once Scott raised his arms)? To confuse matters, it
was
a fair ball. As reader Dave Alden wrote on FanGraphs, "Letting it stand is unfair to the Padres. Pretending it never happened would be unfair to the Dodgers. There is no perfect solution."
There is about zero chance that if the Padres do end up protesting that the call would be reversed and the game replayed from that point on (as what happened with the famous George Brett pine-tar home run game). But Dave raises an interesting point, and if the Dodgers sneak into the playoffs by a game, maybe they can give a playoff share to Mr. Scott.
March, 21, 2012
3/21/12
5:09
PM ET
ESPN Insider Dan Szymborski asks: Is there another Jose Bautista lingering near the bottom of the ESPN 500 list? Dan throws out some interesting names, including Travis Snider and Pedro Alvarez, although both of them were former first-round picks and one-time top prospects. Of course, what makes any Bautista comparison difficult is that he hasn't just had a couple of nice seasons out of nowhere; he's had two seasons that made him one of the best players in baseball. There may be a more systematic way of doing this: Check players who were (A) never top prospects; (B) had some time in the majors before blossoming into an MVP candidate. I have to think Bautista is fairly unique in this regard. Worth looking at during some down time.
Tristan Cockcroft has a list of players he's not excited about. Tristan is writing for a fantasy baseball audience, but I like his support evidence. Names such as Adam Wainwright and Dee Gordon will provide some debate.
Eric Karabell has updated his fantasy top 100. He's sticking with Ryan Braun at No. 1.
One more link from our fantasy department: AJ Mass looks at the Rays and whether the hype surrounding Matt Moore is justified.
Mets Today has a roundup of all the fallout from the court decision regarding the Mets.
Dodger Thoughts author Jon Weisman has a piece on ESPNLosAngeles.com on the Clayton Kershaw-Tim Lincecum rivalry.
How do the Brewers replace Prince Fielder? In Part 1 of a 2012 preview, Disciples of Uecker examines whether Aramis Ramirez will come close to Fielder's 2011 production.
Harper Gordek is worried about a Nationals lineup that may open up with Rick Ankiel hitting fifth. Can the pitching staff prevent enough runs to make the Nationals contenders?
Michael Baumann on Chase Utley, Freddy Galvis and panic (or lack of it) in Philly.
Brenden Lowery breaks down Carlos Santana and his approach from both sides of the plate in 2011. With heat maps!
Craig Brown examines the Royals trade in which they acquired catcher Humberto Quintero to fill in for the injured Salvador Perez and outfielder Jason Bourgeois. If the word "train wreck" is used as descriptive medicine, it may not be a cure.
Here's what the Red Sox's 25-man roster may look like.
One thing the Twins have: Guys who can play center field. With Denard Span, Ben Revere, Joe Benson and prospect Aaron Hicks, should the Twins consider dealing from their surplus?
Chris Quick with an interesting study on Giants infielder Emmanuel Burriss: With his lack of power what are the odds he can be of some value at the plate?
Finally, a fun list of the top 10 final seasons, in honor of Will Clark's 2000.
January, 15, 2012
1/15/12
4:40
PM ET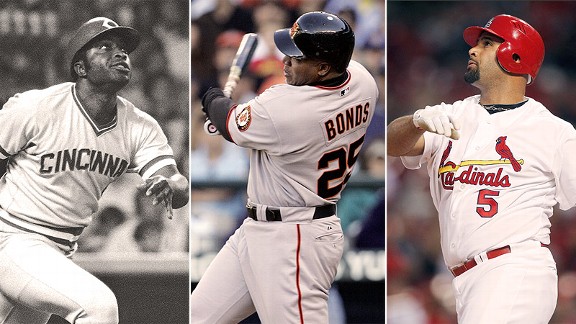 AP PhotoJoe Morgan, Barry Bonds and Albert Pujols all made cases for being the best player in the game during different stages of their career.
The genesis for this article came out of all the recent Hall of Fame discussions. A lot of arguments were along the lines of "Tim Raines was one of the best players in baseball in the mid-'80s," or "You know, Don Mattingly was the best in the game there for a few years," or perhaps "Barry Larkin was as good an all-around player as anybody at his peak."
None of those statements are necessarily incorrect. But are they good Hall of Fame arguments? How many players can you claim were "one of the best in the game" over a period of years? So here's what I did. I went back to 1969 and looked at each five-year span to determine the five best players in baseball, based on cumulative Baseball-Reference wins against replacement over those five years. (For the purposes of this piece, I looked just at position players.)
So here we go, with the usual caveats about WAR. You'll see a lot of the same players and you'll see a lot of Mike Schmidt and
Barry Bonds
and
Albert Pujols
in the top spot. But while the best player may not change all that often, it's interesting to see who pops in some of the top five slots.
1969-1973: Sal Bando (33.6), Joe Morgan (32.7), Reggie Jackson (32.2), Johnny Bench (30.4), Pete Rose (30.1)
Our first entry and we already get a big surprise: Sal Bando, the best player in baseball? It may seem odd now, but Bando was one of the most respected players in the game at the time and finished second, third and fourth in MVP votes in 1971, 1973 and 1974. He hit for power, drew walks and played a solid third base, putting up big numbers for the era in the Oakland Coliseum, a place where batting averages and fly balls often went to die.
1970-1974: Joe Morgan (37.6), Johnny Bench (31.9), Sal Bando (30.0), Reggie Jackson (29.2), Pete Rose (28.8)
No change in the top five, although Morgan takes a big leap ahead of the others, replacing a more mundane 1969 with a monster 1973. You're going to see a lot of Morgan here, as his 1972-76 run was one of the greatest five-year stretches in baseball history.
1971-1975: Joe Morgan (46.2), Reggie Jackson (33.3), Johnny Bench (31.9), Pete Rose (29.6), Willie Stargell (29.5)
Some believe Rose was a compiler, a good player who merely played forever. That's not accurate; while he was never the best player in the game -- although he did win the 1973 MVP Award -- he was clearly one of the best for a period of years. This peak coincides with his years in the outfield; his value started declining once he moved to third base in 1975, where it's fair to say he wasn't exactly Brooks Robinson.
1972-1976: Joe Morgan (51.0), Rod Carew (33.2), Cesar Cedeno (32.5), Johnny Bench (32.1), Bobby Grich (32.0)
Absolutely phenomenal: Morgan was nearly 18 wins better than the No. 2 player over this five-year span. I don't know if any player has ever dominated the game to the extent Morgan did over this stretch (that's another article). Cedeno was a marvelous talent, a power/speed center fielder who hit .298 while averaging 21 home runs and 55 steals per season over these five years. The Astros moved the fences back in 1977 (10 feet at the foul lines, 12 feet in the power alleys), hurting Cedeno's power. He injured his knee in 1978 and then broke his ankle in the 1980 playoffs, sapping his speed and effectively ending his years as a productive player.
October, 4, 2011
10/04/11
6:51
PM ET
Does
Adrian Beltre's three-homer game
rank as one of the top postseason hitting games of all time? After all, he belted three home runs in a slim 4-3 victory. One way to measure this is via something called WPA -- win probability added -- which takes into account the score and inning of the game to determine the change in win probability of the game based upon the outcome of each plate appearance. Under this method, the greatest WPA for one game is Kirk Gibson's two-out, two-run, bottom-of-the-ninth home run for the Dodgers in Game 1 of the 1988 World Series, which scored a WPA of .870.
Just for fun, here is the rest of the top 10 via that method, courtesy of
Baseball-Reference.com
:
2. Steve Garvey, Padres, 1984 NLCS Game 4 (.854 WPA): Went 4-for-5 with five RBIs in a 7-5 win over the Cubs, including a walk-off, two-run homer. The Padres retired Garvey's uniform number because of that game.
3. Charlie Keller, Yankees, 1941 World Series Game 4 (.826): This is the famous game in which Mickey Owen dropped the third strike, leading the Yankees to score four runs in the ninth to win 7-4. Keller hit a two-out, two-run go-ahead double in the ninth, and also had an RBI single in the first during a 4-for-5 game.
4. Cookie Lavagetto, Dodgers, 1947 World Series Game 4 (.822): Lavagetto's pinch-hit two-out, two-run double in the bottom of the ninth broke up Bill Bevens' no-hit bid and gave Brooklyn a 3-2 victory.
5. Michael Tucker, Braves, 1998 NLCS, Game 5 (.812): Don't remember this one? Me neither. Tucker went 3-for-5 with five RBIs, including a three-run homer in the eighth as Atlanta beat the Padres 7-5.
6. Brian Jordan, Braves, 1999 NLDS, Game 3 (.806): It's OK, all those Braves playoff games from the '90 runs together. The Braves won 5-3 with Jordan hitting a three-run homer in the sixth and a two-run, two-out double in the 12th.
7. Stan Hack, Cubs, 1945 World Series Game 6 (.806): The Cubs' leadoff hitter, Hack went 4-for-5 with two walks and three RBIs in a 12-inning 8-7 victory, including the winning double with two outs.
8. Jimmy Rollins, Phillies, 2009 NLCS Game 4 (.754): Rollins' line doesn't seem that impressive -- 2-for-5, double, two RBIs -- but that double came with two outs in the bottom of the ninth to score two runs and give the Phillies a 5-4 win.
9. Francisco Cabrera, Braves, 1992 NLCS Game 7 (.737): Reckon you might know about this one.
10. Gary Carter, Mets, 1988 NLCS Game 1 (.724): Orel Hershiser had finished the season with 59.1 scoreless innings. He took a 2-0 lead into the ninth, but Darryl Strawberry's RBI double knocked out Hershiser and Carter's two-out double off Jay Howell knocked in two runs for a 3-2 lead.
Now ... that's a great list, although probably not what you had in mind for best hitting performances. Those are all late-game clutch performances that snapped victory from the jaws of defeat. Here is another list of six performances that stand out to me for their all-around awesomeness, trying to avoid lines from blowout games
like this one
.
Reggie Jackson, Yankees, 1977 World Series Game 6: Three swings, three home runs. Reggie went 3-for-3 with a walk, four runs and five RBIs as the Yankees wrapped up the World Series with an 8-4 win.
George Brett, Royals, 1985 ALCS Game 3: With the Royals down 2-0 in the series, Brett hit a solo home run in the first; doubled and scored in the third; hit a two run-homer in the sixth to tie the game 5-5; singled to lead off the eighth and came around to score the winning run; 4-for-4, four runs, three RBIs in a 6-5 win. Wow.
Edgar Martinez, Mariners, 1995 ALDS Game 4: Trailing the Yankees 2 games to 1, Edgar hit a three-run homer in the third to cut a 5-0 deficit to 5-3, and then hit a grand slam off John Wetteland in the eighth when the game was tied. He finished 3-for-4 with a walk and postseason-record seven RBIs (also done by Mo Vaughn, Troy O'Leary and John Valentin).
Will Clark, Giants, 1989 NLCS, Game 1: The game turned into an 11-3 blowout over the Cubs, but Clark went 4-for-4 with a walk, two home runs, four runs and six RBIs.
Babe Ruth, Yankees, 1926 World Series 4: The Bambino goes 3-for-3 with three home runs, two walks, four runs and four RBIs in a 10-5 victory.
Kirby Puckett, Twins 1991 World Series 6: Down 3-2 in the series, Puckett hit an RBI triple and scored in the first; hit a sac fly in the fifth; singled in the eighth; hit a walk-off home run in the 11th. To top it off, he also robbed Ron Gant of a home run. (Puckett also went 4-for-4 with four runs in Game 6 of the 1987 World Series.)
Follow David Schoenfield on Twitter @dschoenfield.
March, 18, 2011
3/18/11
9:36
AM ET
By
Bill Parker
| ESPN.com
Our friend Craig Calcaterra had a very interesting post over on Hardball Times the other day, in which he attempted to identify the
greatest living player from each team
. His answer for the Angels really caught my eye:
Angels: Another toughie for me. Jim Edmonds, unless you think he had too much time in St. Louis. Tim Salmon? Yikes.
And it's true that the Angels haven't really had a great player who has stayed with the team for long enough to really jump out as you as their greatest ever, but Edmonds and Salmon? That seems a stretch. Nolan Ryan?
Chuck Finley
?
The answer that came to me right away, though, was Jim Fregosi, a shortstop who made six All-Star teams, won a Gold Glove and was mentioned on MVP ballots in eight different seasons with the team. Fregosi's largely been forgotten today, in part because he was done as a full-time player at just 29 and never came particularly close to compiling a Hall of Fame career, and in part because he wasn't flashy. His .268/.340/.403 Angels line was great for a 1960s shortstop (116 OPS+), but certainly isn't eye-catching, and he didn't have the defensive wizardry or speed of a Luis Aparicio. Fregosi was simply a very good player and for a fairly long time.
[+] Enlarge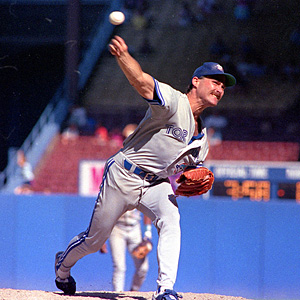 AP Photo/Tony DejakDave Stieb won 175 games for the Blue Jays during his career.
It happens that that's one of my favorite subjects: players who may not be Hall of Famers, but who were very good (sometimes great) players who have been unfairly forgotten by fans. This ignores guys who I think are terribly underrated but SHOULD be in the Hall -- Bobby Grich, Alan Trammell -- but those players are talked about often enough in Hall discussions.
So here's a randomly ordered and by no means exclusive list of players -- all still living and all active at a time when many of us were around to see them -- who, like Fregosi, were very good players who I think should be remembered more than they are:
Dave Stieb
: My personal crusade. In my opinion, Stieb was both the
greatest player in Blue Jay history
and the
greatest pitcher of the 1980s
-- leading the decade (minimum 1,500 innings) with his 127 ERA+ and his 45.2 WAR -- but he never gets credited as either. Stieb had a legitimate case to win the Cy Young Award three different times, but never finished higher than seventh.
Reggie Smith
: One of those guys who did everything pretty well, but nothing exceptionally well. He hit for a high average, but didn't hit .300; had good patience, but didn't post .400 OBPs; had good power, but topped 30 homers only twice and 100 RBIs only once (he did post 90-plus three other times); he played pretty good defense, but wasn't a Gold Glover. That's pretty much the recipe for an underappreciated player.
Jim Wynn
: Much the same story as Smith, but then add in that he was hitting in the Astrodome, which pulled his numbers down across the board. Put him in Enron/Minute Maid over the past decade and he's a superstar.
Robin Ventura
: We haven't "forgotten" him, but his 1.3 percent showing on the 2010 ballot shows how quickly we've forgotten (if we ever really appreciated) how much his on-base ability, power and (especially) defense brought to the table. I wouldn't have voted for him with so many better third basemen on the outside looking in, but he's closer than he's ever been given credit for.
Kevin Appier
: He suffers from having his best years with Kansas City (which was better than it is now, but still not great), and from not being Maddux, Unit, Pedro, Clemens, Mussina or Schilling. But he was brilliant from 1990-97 and was robbed of the '93 Cy Young.
Keith Hernandez, Will Clark and John Olerud
: I consider them as about the same player. All three are underrated because they didn't do much of the one thing first basemen were expected to do: hit home runs. They did almost everything else very well, though, and you could make Hall cases for each (I think they fall just short).
Shane Mack
: Yes, there are much more deserving candidates for this last spot than Mack. Plug in
Eric Davis
or even
Ray Lankford
for the same reasons (similar to the reasons Smith and Wynn get overlooked). But as a Twins fan, it pains me to see how quickly Mack has been forgotten even by my fellow fans. He was a key part of the 1991 champs, and you could make a good argument that he was the team's best player throughout his four-and-a-half seasons with the club.
That's 10 total names (including Fregosi), but doesn't purport to be a top 10 (the exercise is much too subjective for that). Let me know in the comments section if you've got any great non-Hall players YOU think need to be recognized.
Bill Parker blogs at The Platoon Advantage and rants about Dave Stieb and Shane Mack quite regularly on Twitter.