April, 12, 2014
Apr 12
12:18
AM ET
By
Jason Collette
| ESPN.com
When our panel of experts published its team predictions for the 2014 season, not one listed the
Milwaukee Brewers
as their pick. It is hard to blame the panel, as Milwaukee's offseason was rather quiet outside of the surprise signing of
Matt Garza
coming off the heels of a 74-88 season, which saw
Carlos Gomez
break out while
Ryan Braun
broke down physically and the hounds of justice closed in on him and ended his season with a 65-game performance-enhancing drugs suspension.
The rest of the Brewers offseason involved shopping in the free-agent bargain bin as they brought in
Francisco Rodriguez
,
Mark Reynolds
and
Lyle Overbay
and proceeded to trade
Norichika Aoki
to the
Kansas City Royals
to acquire
Will Smith
to give them someone who could work in the bullpen as well as the rotation while freeing up a starting role for
Khris Davis
. The Fangraphs projected standings believed Milwaukee to be a .500 team at 81-81. The PECOTA projections from Baseball Prospectus had the club one game worse than Fangraphs at 80-82.
Ten games into the season, Milwaukee has an early two-game lead in the National League Central and the best record in all of baseball after defeating the
Pittsburgh Pirates
for the team's seventh straight win. That winning streak includes a perfect 6-0 record on the road with stops in Boston and Philadelphia and Friday night's win to pull them even at 2-2 at Miller Park.
[+] Enlarge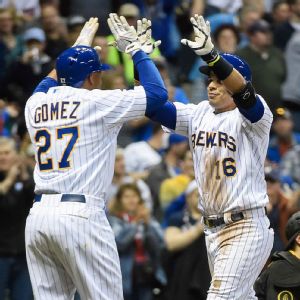 Benny Sieu/USA TODAY SportsAramis Ramirez's two-run homer in the fourth inning on Friday gave the Brewers a lead they never relinquished.
It sounds cliché, but it is truly an all-around team effort that has Milwaukee off to a hot start.
The success begins with the pitching staff. Heading into play Friday night, Milwaukee pitchers had a league-best 1.95 team ERA and had held opposing batters to a .205 batting average. The starting pitchers had a collective 2.44 ERA while holding opposing batters to a .227 batting average.
Wily Peralta
went seven innings in the victory Friday, marking the seventh time in 10 contests this season that a Brewers pitcher worked at least six complete innings in a start. Last season, Milwaukee was in the bottom third of baseball in that area as starters worked at least six innings just 93 of 162 times.
The bullpen has been even more amazing as that group now has a 0.91 ERA with the two shutdown innings provided Friday by
Jim Henderson
and Rodriguez. The bullpen has permitted just three earned runs in 29⅔ innings of work. One reason Rodriguez has the closer role instead of Henderson is that the club was concerned with Henderson's velocity and life on his pitches coming out of spring training. Henderson answered some of that concern Friday by touching 96 mph on the radar gun while working a perfect eighth inning. Getting the ball to Henderson and Rodriguez has been the surprising youthful combination of Smith and
Tyler Thornburg
. The duo has combined to face 50 batters; 11 have reached base, one has scored and 17 have struck out.
Offensively, Milwaukee has been more aggressive on the basepaths to help generate runs. According to Baseball-Reference.com, the league average for teams taking an extra base is 40 percent. Last season, Milwaukee was well below the league average at 35 percent. That was the lowest total in the National League and nearly all of baseball. Heading into play Friday, Milwaukee is well above that league average and has taken the extra base a league-leading 61 percent of the time.
The top six spots of the Brewers lineup have also not been an easy matchup for opposing pitchers. The red-hot Gomez has set the table, while the equally hot
Aramis Ramirez
and
Jonathan Lucroy
have cleaned it up. Only the
Colorado Rockies
have a higher team batting average and OPS in the National League, and the only team to hold the lineup in check this season has been the strong pitching efforts of the
Atlanta Braves
.
The hot start that Milwaukee is off to can be viewed as a precarious one for a couple of reasons. Primarily, the fluid status of Braun's thumb issue is going to be a situation that will most likely linger for the rest of the season. If he does have to take an extended period of time off, it exposes the other issue with the team in its lack of depth. However, the surprising start gives them an early leg up in a division that does have a clear favorite in the
St. Louis Cardinals
St. Louis Cardinals but no clear second. Injury issues to favorite postseason candidates in the other divisions have left a crack open in the door for Milwaukee to kick in and perhaps surprise pundits, just as the
Baltimore Orioles
did in 2012.
Jason Collette writes for The Process Report, a blog on the Tampa Bay Rays, and also contributes to FanGraphs and Rotowire.
December, 11, 2012
12/11/12
12:17
AM ET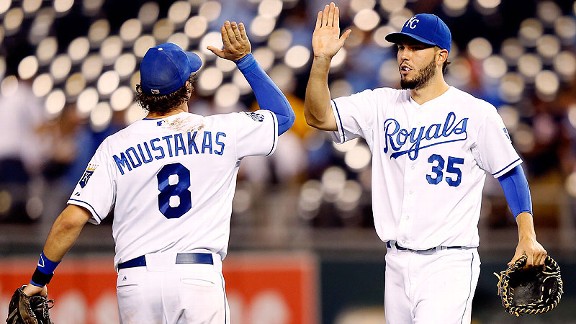 Jamie Squire/Getty ImagesImprovement from Mike Moustakas and Eric Hosmer, right, could lift the Royals into contention.
What would it take for the
Kansas City Royals
to unseat the
Detroit Tigers
, overtake the
Chicago White Sox
and hold off the
Cleveland Indians
and
Minnesota Twins
to win the American Central in 2013?
Over the past three seasons, the AL Central champions finished the season with a roster totaling about 38 wins above replacement.
The 2012 Royals finished the season 25 wins above replacement, so there is a gap to be closed. We're going to see if we can come up with the combination of numbers to close it.
Position players
The chart on the right shows
MLBdepthcharts.com
's projected Royals lineup for 2013 along with 2012 WAR total for those players.
Let's take the youngest players in that group and give them some room to grow. Let's bump Lorenzo Cain, Alcides Escobar, Billy Butler, Mike Moustakas and Salvador Perez up an average of half a win each. And let's work off the idea that Alex Gordon and the
Chris Getz
/
Johnny Giavotella
platoon will match in 2013 what they did in 2012.
Then, let's make two leaps of faith.
1. That Jeff Francoeur goes from being the lowest-valued position player in baseball (minus-2.7 WAR) to borderline-replacement level (minus-0.7 WAR) by getting his defensive game back to something reasonable and by improving slightly as a hitter and baserunner (remember, he'll be only 29 when the season starts).
2. That Eric Hosmer fixes what ailed him during his sophomore slump and gains back the WAR that he lost from 2011 to 2012, pushing him back up to 1.3 for 2013.
If all of that was to happen for the Royals, that lineup would be worth a collective 22.8 WAR, up 6.5 wins from what it was worth in 2012.
The Royals are not projected to have a strong bench in 2013, and most of their top-prospect position players are projected to start the season in Double-A or below.
So we're going to presume that when they do go to reserves, they are hurt by replacement-level-or-less players more often than they are helped by
Jarrod Dyson
and
Irving Falu
.
Let's subtract 2.0 WAR over the course of the season for the time seen by the bench.
That gives the Royals a position-player group worth 20.8 WAR.
Pitchers
The Royals basically have a No. 2 starter (
James Shields
) filling a No. 1 role, a No. 3 starter (
Jeremy Guthrie
) filling a No. 2 role, and a No. 4 starter (
Ervin Santana
) filling a No. 3 role. They have
Wade Davis
as their No. 4, which seems about right, and
Bruce Chen
as the No. 5.
Again, remember that we're creating a scenario in which the Royals win the AL Central. So let's take a rosy view of this fivesome and hand them 140 starts.
Let's peg Shields as a 4-WAR pitcher, Guthrie as a 3-WAR pitcher and Santana as a 2-WAR pitcher.
That's not a horrendous reach. Those numbers would rate as the third-, fourth- and fifth-best seasons for those pitchers, respectively.
Davis was a 1.1-WAR starter in 2010, so let's plug him in for 1.0 in 2013.
With Chen set to turn 36 in June and trending downward, we'll drop him from -0.2 to -1.2.
We'll split up the remaining 22 starts among
Luis Mendoza
,
Luke Hochevar
,
Guillermo Moscoso
,
Will Smith
, Tommy John-recoverees
Felipe Paulino
and
Danny Duffy
and whichever prospects (and they still have a few) emerge from the minors.
The big thing here is that if those top five Royals starters are healthy, their fill-ins can't do too much damage. We'll subtract 1.0 WAR for their work.
Now to the bullpen -- and we know that relief pitching is volatile. But again, we're trying to establish what the Royals need to win, not what they will do.
Among
Greg Holland
,
Kelvin Herrera
,
Aaron Crow
,
Louis Coleman
and
Tim Collins
, two will probably struggle to duplicate their 2012 numbers, and maybe one of the others gets hurt.
As a group, those five guys were worth 6.8 WAR last season. That's pretty good and strikes us as hard to duplicate. But again, this is a young group, so maybe the drop-off isn't so great.
Let's give them 5.0 WAR this time around and take away 1.0 WAR for anyone else who fills in for a time (the starters listed above, and
Everett Teaford
get the first crack).
Let's add it all together. The lineup has a value of 20.8 WAR. The starting rotation is worth 8.0 WAR and the bullpen is worth 5.0 WAR.
That gets us to almost 34 wins above replacement.
Our target was 38.
So we still have four wins to make up.
How do we do that? We change a few numbers.
Let's add a win to Shields and make him a 5-WAR pitcher, something he has done once before in his career. That means he should be getting some Cy Young votes.
Let's make Guthrie a 3.5-WAR pitcher, meaning he basically does what he did in 91 innings for the Royals in 2012 for 200 innings in 2013.
Let's make Davis a 1.5-WAR pitcher, which is better than he has done before, but he's young enough to improve.
That takes care of half of the win gap. Now we need to find two more wins among the position players.
There are a number of ways to do this, such as adding 0.2 WAR to every regular (boring), taking a couple regulars and making them a bit better (also boring), making Francoeur into an almost-average player (meh) or hand all of that WAR to one player (fun!).
I like the last option, even though it's a bit reckless.
I'm going to give those 2 WAR to Hosmer and make him a 3.3 for 2013.
Hosmer rated 26th in WAR among the 30 players with 300 at-bats who played at least half their games at first base last season. Bumping him to a 3.3 would jump him 20 spots, to the point of being viewed among the better first basemen in the game.
So, Royals fans, that's what you're looking at. Unrealistic? Probably.
But here's the key point: No one said this was going to be easy.