February, 13, 2013
2/13/13
7:59
PM ET
2012 in review
Record: 76-86 (75-87 Pythagorean)
651 runs scored (tied for 10th in National League)
710 runs allowed (11th in NL)
Big Offseason Moves
Acquired
Tyson Ross
from the
A's
for
Andrew Werner
and
Andy Parrino
. Re-signed free agent
Jason Marquis
. Signed free agent
Freddy Garcia
.
OK, it's the Padres. They're not sitting on a pile of money like their rivals to the north. Still, when retread veterans Jason Marquis and Freddy Garcia qualify as your big moves, that's an uninspiring offseason even if your projected payroll will be higher only than the
Astros
',
Marlins
' and
Pirates
'.
The Padres gave starts last season to
Kip Wells
,
Jeff Suppan
and
Ross Ohlendorf
after a slew of injuries wiped out much of their rotation, so adding starting pitching options was the offseason priority -- the only requirements being the pitchers be cheap and have a pulse.
Ross has long been an interesting arm, but he was never able to put it together with the A's (they won 94 games even though Ross went 2-11 with a 6.50 ERA). It's a gamble but didn't cost the Padres much.
Position Players
Here's an interesting fact: The Brewers led the NL in runs scored, but the Padres scored more runs on the road than the Brewers. With the Padres, you have to factor in the difficult hitting environment at Petco Park, especially in the power department. The Padres hit 74 home run on the road, but just 47 at home.
The offense starts with NL RBI leader
Chase Headley
, who drove in 115 runs -- even more impressive considering the Padres only had mediocre OBP numbers from their 1 and 2 hitters. Headley had that monster second half, of course, hitting .308/.386/.592 with 23 of his 31 home runs. He had a higher road OPS than
Miguel Cabrera
.
The rest of the lineup shapes up as a middle-of-the-pack offense.
Carlos Quentin
can hit when he actually plays (86 games last year) and
Will Venable
and
Chris Denorfia
make for an excellent platoon in right.
Cameron Maybin
turns 26 in April but it's probably time give up hope for a breakout season; at this point, it's safe to assume he's .250 with an OBP in the low .300s, but makes up for his mediocre offense with above-average defense in center field.
For the Padres to improve, they'll need more power from first baseman
Yonder Alonso
, who homered just nine times as a rookie. Petco or not, he'll have to slug higher than .393 or the Padres will be looking for a replacement. Catcher
Yasmani Grandal
impressed in a 60-game rookie season, but he's been suspended for 50 games for a positive test for performance-enhancing drugs.
The Padres ranked 23rd in Defensive Runs Saved (minus-24), with the biggest liabilities being the statuesque Quentin in left field and
Logan Forsythe
at second. Rookie Jedd Gyorko has a career .319 average in the minors and hit 30 homers in 2012 (24 in Triple-A). A third baseman, the Padres tried him at second and he may have a chance to win the job there at some point.
Overall, the offense is probably a little better than the raw numbers indicate, although I'm dropping the grade a bit since Maybin is really the only plus defender.
Pitching Staff
Where to start? Staff ace
Clayton Richard
led the NL in hits and home runs allowed and struck out just 107 batters in 218.2 innings. No. 2
Edinson Volquez
walked 105 batters. No. 3
Anthony Bass
had a 6.35 ERA on the road. Marquis had been let go by the
Twins
after allowing 33 runs in 34 innings. Anyway ...
OK, so it's a bad rotation, its inadequacies masked somewhat by the Padres' forgiving home park. This isn't the rotation the Padres were hoping for a year ago.
Cory Luebke
and
Joe Wieland
both underwent Tommy John surgery. Top prospect
Casey Kelly
missed three months with a strained elbow ligament, although did return to make six late-season starts for the team.
Andrew Cashner
, acquired from the
Cubs
in the
Anthony Rizzo
trade, started in the bullpen before moving to the rotation to help conserve his innings, and made a couple starts before straining a lat. He then cut his thumb in an offseason hunting accident and will begin the season on the disabled list.
No, the future of the Padres doesn't rest on Bass and Marquis, but on those four guys and younger prospects like Max Fried, Matt Wisler and Joe Ross. It's not a good rotation now, but it should be better in 2014.
Heat Map to Watch
What explains Headley's second half in 2012? For one thing, he started destroying fastballs. As you can see from the heat map, there is a lot of red. After hitting .303 with four homers against fastballs in the first half, he hit .392 with 11 homers against fastballs in the second half. From the numbers, it's hard to see exactly what happened. His swing percentage and chase percentage (on pitches outside the zone) were basically the same, so he didn't become more or less aggressive. He did improve his contact rate -- swinging and missing about 4 percent less often -- but that doesn't explain everything. Maybe he just hit the ball harder. Maybe he just got a little lucky. We'll find out in 2013.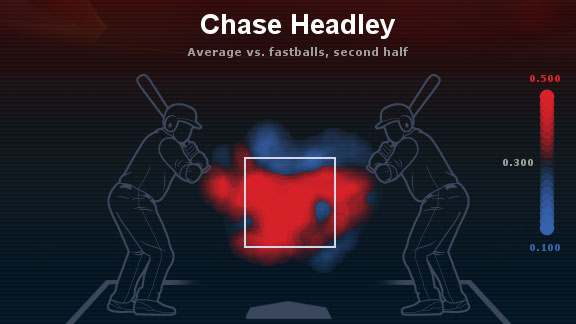 ESPNThe switch-hitting Headley feasted on fastballs in the second half of 2012.
Overall Grade

Some people view the Padres as a sleeper playoff candidate, but I have a hard time seeing it with the current makeup of the rotation. Even if some of the young guys return or suddenly mature, they need a lot of things to go right. The offense could be interesting if Alonso adds some power, Headley does his thing again, Maybin improves and Grandal returns and hits, but, again, that's a lot of ifs.
Factor in that the
Diamondbacks
have improved, the
Dodgers
have added
Zack Greinke
and get full seasons from last year's trade acquisitions, and I'm not sure I see the Padres cracking .500.
Thoughts?
March, 8, 2012
3/08/12
5:55
PM ET
Considering nothing much really happens, spring training is awesome.
Especially when we get days with fun stories like today. So it's time for our first ever "You Weigh In On Crazy Spring Training Stories Of The Day" topics!
1. Jonathan Papelbon says Phillies fans are smarter than Red Sox fans.
After talking about what it was like playing in Boston, Papelbon added, "The Philly fans tend to know the game a little better, being in the National League, you know, the way the game is played." Now, I'm not exactly sure how he knows this. Or why being a National League fan would necessarily make you smarter. Digging into the mind of Jonathan Papelbon is not something even the craftiest of sabermetricians would attempt to do. Unfortunately, there isn't a good way to test out Papelbon's theory. (Actually there is: Create a quiz. Make some of the questions generic, like knowing the infield fly rule or the number of ways to reach first base. Make some of the questions team-specific. Make all quiz takers register as a fan of a specific team. And then tabulate the results.)
What do you think? Both groups of fans are passionate. Both love the game and respect their team's history. But which group knows baseball better? You weigh in.
2. Will Venable says Yu Darvish has no humility.
So here's the story. Venable doubled high off the center-field wall in Darvish's debut on Wednesday. Darvish, via his translator, said something like the wind carried it, plus Arizona has dry air and that "It didn't seem like a ball that was hit that squarely."
Asked about the comment, Venable said he hit the ball about as well as he could hit a ball and that maybe nobody has ever squared up off Darvish. "I would have liked to hear a little more humility from the guy, Venable added. "To each his own. He's a confident guy. Of course I didn't square up a ball because he's Yu Darvish."
So what do you think? Is Darvish just another cocky pitcher with an attitude and a bad dye job? Does he need to show more humility? Weigh in below in the comments section.
3. Yankees bring in a motivational speaker to ... well, motivate.
Manager Joe Girardi brought in motivational speaker Donnie Moore to inspire his club. Moore tore apart a soda can and phone book
with his bare hands!
And then twisted a frying pan into a little ball of metal.
So, will this help the Yankees win more games in 2012? Is the power of motivational speaking going to push
Robinson Cano
to a new level and turn
Michael Pineda
into a Cy Young winner? Will A-Rod break his wrist trying to rip apart a phone book? Or is this simply a sign that spring training has way too many hours with nothing going on?
Weigh in below in the comments section.
June, 4, 2011
6/04/11
12:00
PM ET
By
Christina Kahrl
| ESPN.com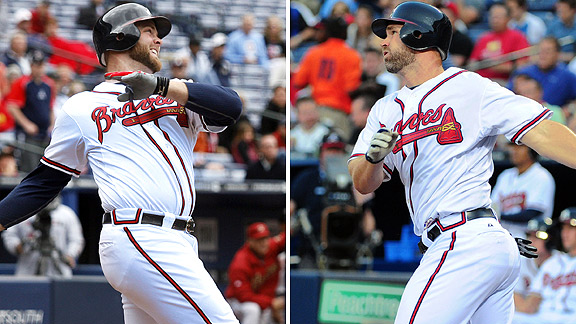 US Presswire/Getty ImagesThe lefty/righty catching platoon of Brian McCann and David Ross has been the NL's best this season.
If the American League has very few stable platoons but a few identifiable platoon players getting work, is the National League any better off? Even with today's bigger bullpens, the absence of a DH gives NL skippers and GMs a little more freedom to carry a player whose primary value is to platoon, since they have five reserves, so even if one is a catcher and another is someone who can play short, that still leaves space for the odd guy. Say, that journeyman who can knock a situational lefty right out of the box, or who can help put up a crooked number against that tiring right-handed starter in the fifth or sixth inning. And it doesn't hurt that these kinds of guys are handy for double-switches.
As in the American League, you find a few catching platoons of convenience, in which the backup backstop bats from the other side and conveniently gets his starts on the days the starter needs a rest. The Braves' setup with
Brian McCann
and
David Ross
is the best of the lot, but when Atlanta afforded itself Ross, it did so knowing it was getting more than a platoon player. The Mets' young/old and lefty/righty combo of
Josh Thole
and
Ronny Paulino
has its virtues. Charlie Manuel has the benefit of a slight inversion of the paradigm when
Brian Schneider
is healthy -- a lefty-batting backup is a lot easier to spot when
Carlos Ruiz
really does need a rest, since most pitching is right-handed -- but he's on the DL.
Stable platoons beyond those behind home plate are surprisingly limited in the Senior Circuit. I'd divide the current group of platoons in the league into three groups: committed, accidental and diffident, reflecting the level of planning and commitment that went into constructing them, and whether or not they're going to last more than a couple weeks.
Among the few we'd call committed, Clint Hurdle's stolidly running out his right-field combo of
Garrett Jones
and
Matt Diaz
. It isn't hitting all that well, but that was the plan, and so far, they're sticking with it. The Phillies anticipated a right-field platoon before the season, but
Domonic Brown
's injury kept that from becoming a reliable feature of Manuel's lineup cards until recently, pressing
Ben Francisco
back into an everyday role he handed back.
[+] Enlarge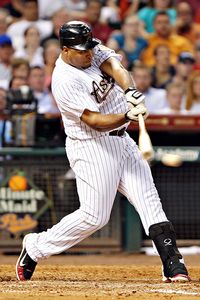 Troy Taormina/US PresswireThe Astros are 10-8 against lefties this season, which could be partly because that matchup allows them to move Carlos Lee out of left field.
In the infield, San Diego manager Bud Black has been reliably sticking with
Brad Hawpe
and
Jorge Cantu
as his first-base arrangement, but there's only so much Can'tu at the plate that even the Padres can endure. The rare multi-position platoon that's a matter of design, but also a certain diffidence is found in Houston, where Brad Mills is moving
Carlos Lee
between left and first base, but not every time out.
Brett Wallace
sits against a few lefties,
Jason Michaels
plays left and Lee moves to first and keeps getting to play every day. The 'Stros might have a 10-8 record vs. lefties, but getting Michaels into the lineup isn't the reason why. But re-potting the increasingly immobile Lee someplace other than left field might be a contributing factor.
Alone among their NL brethren, the Marlins have stuck with an infield platoon someplace other than first base, and they platoon at third without actually finding a set right-handed half of the platoon. Edwin Rodriguez has damned the defensive torpedoes to run
Greg Dobbs
out there every day against right-handers, while leaving his partner du jour as a matter of mystery -- sometimes it's
Wes Helms
, sometimes it was
Donnie Murphy
, and now sometimes it's the roving
Emilio Bonifacio
. Those happy few who root for the Teal Deal are no doubt on their seat's edge when their Fish face a lefty.
Among the accidental platoons, three NL West teams have setups they didn't necessarily expect. To the credit of both Bruce Bochy and Black, they've proven reliably willing to platoon, and they're assembling new ones on the fly after their initial designs broke down. Black got plenty of mileage out of his outfield platooning last year, but
Will Venable
flopped this spring, handing back his half of the right-field job. In his desperation, Black is pairing
Eric Patterson
with
Chris Denorfia
, which isn't helping matters.
While Bochy isn't trying anything quite as inspired as last year's mid-season lineup platoon between
Travis Ishikawa
and
Aaron Rowand
-- with
Aubrey Huff
moving to the outfield against righties and returning to first base against lefties -- he has been aggressive in getting
Nate Schierholtz
into the lineup against right-handers while playing
Cody Ross
daily. Rowand is getting platoon time with
Andres Torres
in center, but
Pat Burrell
hasn't been entirely reduced to Schierholtz's platoon partner.
Then their is the Dodgers' Don Mattingly. Some combination involving
Jay Gibbons
in left field was probably going to be part of the program at the outset, but Gibbons' spotty health, a passing interest in
Tony Gwynn
's speed, and
Marcus Thames
' breakdown opened up an opportunity for first baseman
Jerry Sands
to win the job. But like so many other thundersticks from Albuquerque in Dodgers history, his stick fell still in Chavez Ravine, and now Sands is in an accidental platoon with Gibbons until they decide there's a better alternative.
Injury created the Braves' temporary replacement platoon setup for
Jason Heyward
, as the
Eric Hinske
/
Joe Mather
platoon is working out nicely -- but it's also clear that pair will head back to pine time as soon as Heyward's healthy. In contrast, some managers look like they'd like to platoon more, but injuries have gotten in the way. The Brewers' Ron Roenicke appears committed to a
Nyjer Morgan
/
Carlos Gomez
platoon in center because of the speed 'n defense combo it provides, but Morgan's injury got in the way at the outset. If it sticks, that's the circuit's lone platoon arrangement up the middle someplace other than catcher.
The Pirates' loose platoon at the infield corners reflect what I mean by "diffident platooning." In contrast with his greater faith in his right field platoon, at the infield corners Clint Hurdle's sort of futzing around with
Steven Pearce
at both first and third vs. lefties to give him something to do, and sometimes
Brandon Wood
gets time at third. But it isn't an everyday sort of devotion, and has as much to do with
Pedro Alvarez
's career-stunting slow start and
Lyle Overbay
's offensive indifference than any abiding faith in Pearce or Wood.
I'd also chuck Kirk Gibson's first-base set-up into this category as well --
Xavier Nady
and
Juan Miranda
are platooning, sort of, but Gibson isn't exactly being a stickler about it. Since neither are hitting the people they're supposed to, and since neither plays first base all that well, it's more first base by coin toss at gunpoint than a straight platoon.
Platooning isn't automatically a good idea, after all, and if as Casey Stengel put it, "I could'na dunnit widdout the players," that's just as true today -- skippers can only use what they've got, no matter how clever they might be in how they employ it.
Christina Kahrl covers baseball for ESPN.com. You can follow her on Twitter.