July, 8, 2013
7/08/13
10:30
AM ET
By
Harper Gordek
| ESPN.com
Throughout July we're going to present 30 deals in 30 days: The best trade deadline deal ever made by each team. We've covered the AL East so far and are now on the NL East.
THE TEAM:
Washington Nationals
THE YEAR:
2010

THE SITUATION:
The Nats hadn't been relevant in the playoff race since their inaugural season in D.C. and 2010 was no different. That year, however, they had a decent trade chip in
Matt Capps
. Capps had been closing for the
Pittsburgh Pirates
, but they abandoned him after a terrible 2009 and the Nats promptly scooped him up. Capps bounced back to save 20 games for the Nats with a 2.74 ERA and represented the squad in the All-Star Game. Hidden behind these numbers, however, was a 1.3+ WHIP that suggested there was some smoke and mirrors involved here.
The Twins, meanwhile, were in a dogfight for the AL Central crown, at the time looking up at the
Chicago White Sox
. Their longtime closer,
Joe Nathan
, was out for the year after Tommy John surgery. His replacement,
Jon Rauch
, was doing the job, but was inconsistent and Twins management longed for the "proven closer" to set the bullpen back to being a strength.
THE TRADE:
The Nats traded Capps to the Twins for
Wilson Ramos
and Joe Testa. Even with a well-liked young catcher in their system in
Derek Norris
, the deal was a no-brainer for Washington. At age 22, Ramos was one of the most highly-regarded catching prospects in the minors, putting up .300 lines from Rookie League to Double-A with lauded defense. For the Twins, they rationalized the trade by noting that Ramos would be stuck behind
Joe Mauer
for the foreseeable future and his current struggles in Triple-A made them question whether he had enough bat for another position like designated hitter or first base. Also, Capps was only 26 himself and under team control for another season.
THE AFTERMATH:
Capps would do the job for the Twins, pitching legitimately better while closing 16 games with a 2.00 ERA. He wouldn't make a difference in the playoffs, however, as the Twins would be swept by the Yankees and never carry a lead into the late innings.
Ramos would become the Nats' primary catcher in 2011 and put up a good .267/.334/.445 line in 113 games. Unfortunately, injuries have limited him to just over 40 games played in 2012 and 2013 (he just recently returned from the disabled list). Why is this then their best deadline deal as opposed to say, the deal that brought in
Mike Morse
? First, Ramos, who continues to hit well when healthy (his 114 OPS+ since 2011 is ninth among catchers with at least 150 games played), still hasn't reached arbitration and will be under team control through 2016. He has the remainder of this year and three additional years to provide the Nationals a cheap answer at a hard-to-fill position. Second, his performance in 2011 allowed the Nats to include Norris in the deal for
Gio Gonzalez
. Gonzalez has been one of the best pitchers in the NL since entering the league and was a big reason why the Nats put up their 98-win campaign of 2012.
--Harper Gordek, Nats Baseball
December, 27, 2012
12/27/12
10:00
AM ET
By
Christina Kahrl
| ESPN.com
Say you're a team that has a problem, like losing an everyday player to free agency. Market solutions tend to be expensive, whether in cash spent or prospects dealt. But some teams already have potential solutions for their seeming offseason needs on hand, thanks to the return of players who missed most or all of 2012. As a result, they haven't had to lift a finger to fix what might have appeared to be a problem.
Consider the Cardinals' lot with
Kyle Lohse
headed to parts unknown for whatever the market will bear. Their rotation isn't simply going to be fine, it could be better because former Cy Young winner
Chris Carpenter
should be firing on all cylinders this season. If the Cardinals decide to hold onto fellow Cy-worthy ace
Adam Wainwright
, they'll have that tandem together again for the first time since 2010, a daunting prospect for any NL Central challenger.
So, with a hat-tip to Simple Minds' song, "Don't You Forget About Me," here's a non-comprehensive list of guys who missed most of 2012 who you shouldn't forget will be back in 2013.
[+] Enlarge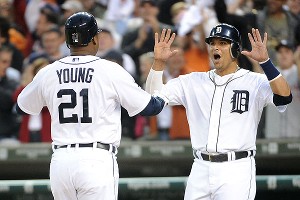 Harry How/Getty ImagesIn 2013, the Tigers will swap the at-bats of Delmon Young for those of Victor Martinez.
It wasn't that long ago that
Victor Martinez
ranked as a premium producer as a catcher, first baseman and DH for the Indians and Red Sox. Certainly, that's what the Tigers signed him up for when they gave him a four-year, $50 million deal after 2010. But after just one season (and an .850 OPS), Martinez missed all of 2012 with a torn ACL in his knee.
Torii Hunter
's addition might have commanded the early-winter headlines, but V-Mart may be the biggest (re)addition to the lineup, filling the at-bat gap left by the unlamented departure of
Delmon Young
while providing an upgrade on offense. If V-Mart and Prince split the playing time across first base and the DH slot, the Tigers would also spare themselves' Prince's leaden glovework as an everyday disaster. Dan Szymborski of ESPN Insider projects Victor Martinez to produce a .770 OPS; not great, but a big improvement on Young's .707 in 2012.
Carl Crawford
is a bit of a gimme for that name outfielder you don't want to forget about. (As if.) Having injured and reinjured himself in Boston trying to make up for an ugly first season with the Red Sox, he was dealt to the Dodgers after already getting shut down. He's expecting to be ready in time for Opening Day. Could he yet prove to be worth the $20 million per year so many sabermetricians confidently accepted as his value when he signed his monster deal with the Red Sox? Well, that's a bit much, especially if he lives up -- or more appropriately down -- to his ZiPS-projected .746 OPS.
Behind the plate, the guy I'm most interested in seeing back in action after a too-long absence is
Wilson Ramos
of the Nationals. His .779 OPS in 2011 makes a great basis for projecting him to be an All-Star catcher. The Nats are publicly going through the rigmarole of saying Ramos will have to come back from his torn ACL and fight
Kurt Suzuki
for playing time, but that's one of those low-threshold challenges -- Ramos should win, and soon thereafter, he'll be a star.
Top prospects on the mend also deserve some mention here, because their absence in 2012 doesn't mean their teams forgot about them for 2013.
Joe Benson
missed most of the season with injuries to his wrist and knee, but he'll head into spring training with a shot at winning the Twins' center-field job outright in head-to-head competition with
Aaron Hicks
. The Rays'
Brandon Guyer
missed most of 2012 with a shoulder injury, but the rose-colored view of his power and contact-hitting skills might make you think he could hit upwards towards .300 and slug in the high .400s from an outfield corner or the DH slot, making it that much easier to leave Wil Myers in Durham to keep the service-time clock of the former top Royals prospect acquired for
James Shields
at zero.
[+] Enlarge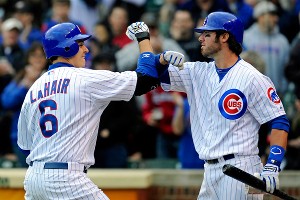 David Banks/US PresswireEven an average season from Ian Stewart, right, would give the Cubs a slash-line bump at third.
Among relievers,
Mariano Rivera
gets pride of place, but there's been plenty said about him already; it isn't like the future Hall of Famer slipped off anyone's radar after a season spent on the shelf. Instead, I'm thinking we shouldn't forget
Sergio Santos
and his importance to the Blue Jays. Santos is expected to be 100 percent by Opening Day in his recovery from surgery on his labrum, and that's a big part of the reason why the hyperactive Jays have yet to make any major moves to repair their 'pen this winter.
I'm also curious about
Nick Masset
of the Reds, and if he can return to be a solid set-up man. Worth a win per year out of the pen in 2009 and 2010, Masset started to melt down in 2011 before getting his torn right shoulder capsule repaired after missing all of 2012. If he's back at full strength, he might be the perfect right-handed foil to
Sean Marshall
for handing off save opportunities to
Jonathan Broxton
. It certainly wouldn't hurt their latest attempt at keeping
Aroldis Chapman
in the rotation.
As I touched on last year
when Theo Epstein signed him
,
Ian Stewart
wasn't necessarily a great bet to thrive at the plate by moving closer to sea level as an ex-Rockie. That said, Stewart's wrist surgery ended his season more than three months early, contributing to the Cubs' woeful .201/.289/.322 cumulative line from their third basemen. Even a dead-cat bounce from Stewart would be better than that. What was good enough to try in 2012 seems worth dialing up a do-over for 2013.
At second base,
Brian Roberts
of the Orioles might seem the name to know: A premium leadoff hitter with career .356 OBP in the top slot, and someone playing at an up-the-middle position? This sounds
exactly
like the guy the O's need considering the .293 OBP they got from the top two slots in 2012. Unfortunately, Roberts hasn't played a full season since 2009, and between his 2011 concussion and his 2012 surgery to repair the labrum in his hip, he's going to be tough to count on. So instead, let's peg
Scott Sizemore
of the Athletics as the second baseman you shouldn't forget about. He's coming back from a torn ACL, once he escaped the Tigers his combination of power and patience produced at .778 OPS for Oakland in 2011, and he's reportedly moving back to the keystone this spring.
Honorable mentions are legion, especially among pitchers: Japan's
Tsuyoshi Wada
might finally make his Orioles debut and win a rotation slot after missing his rookie season with Tommy John surgery;
John Lackey
will have plenty to prove after an ugly 2011 intro to Red Sox Nation (6.41 ERA), but if more closely resembles the mid-rotation workhorse he was with the Angels, their shot at keeping up in the AL East looks much more realistic. And from among the arms expected back for the second half,
Michael Pineda
for the Yankees,
Colby Lewis
and
Neftali Feliz
for the Rangers,
Daniel Hudson
for the D-backs and the Braves'
Brandon Beachy
should all make an impact on the postseason picture.
Christina Kahrl covers baseball for ESPN.com. You can follow her on Twitter.
May, 13, 2012
5/13/12
8:00
PM ET
By
Christina Kahrl
| ESPN.com
Washington placing
Wilson Ramos
on the disabled list has to be seen as the move of the day. First, because he's gone for the season, which makes him the latest big-time loss to risk spoiling the Nationals' coming-out party this season.
The lineup's a mess. They've already had to endure a brief DL stint from
Ryan Zimmerman
, and they're still dealing with roughly two months without Mike Morse. Jayson Werth's comeback from his broken wrist might happen so late in the season it runs up against the end of the minor-league season, which would eliminate his shot at a live-game rehab assignment and endanger his ability to contribute in the last month.
Add all of those losses up, and it doesn't matter if
Bryce Harper
is the best thing since sliced bread: No matter how good he is, he can't be the whole loaf. Is there any reason for hope?
Perhaps surprisingly, yes. The team will get Morse back soon, and adding him to Zimmerman and
Adam LaRoche
gives the Nats a reasonable heart of the order -- not great, but a group you can score runs with.
Danny Espinosa
will come around, and we'll see if Harper's protean talents adapt quickly enough to give Mike Rizzo enough cause to stick with the injury-advanced timetable for having him in the majors.
The interesting immediate question, though, is whether or not Ramos' replacement behind the plate,
Jesus Flores
, could be part of an effective enough Nat attack. Before Flores tore up his shoulder and had to sit out the entirety of the 2010 season, you had reason to believe he'd be every bit the starter people have already come to expect Ramos to be. During the 2009 season, when he was 24, he'd hit .260/.313/.406 -- not shabby for a guy who had to deal with getting nabbed from the Mets straight out of A-ball in the Rule 5 draft after 2006. Despite having to make a three-level jump, he'd become an offensive asset as a catcher.
Where projections are concerned, that year away Flores spent recovering from surgery to repair a SLAP tear to the labrum in his throwing shoulder has seriously cramped the upside he might have had. When Flores came back last year, Ramos was already the organization's new catcher of the future, and
Ivan Rodriguez
was marking time as the primary backup, drawing Flores just 20 starts on the season. But now he's got a shot, and if he can recapture any semblance of his past promise, he'll be a huge source of help for a Nats team that could use it.
The other guy now tasked with the Nats' receiving chores is no slouch either: Sandy Leon isn't a great prospect, but he's a tremendous catch-and-throw receiver with a career 46 percent caught-stealing rate, and he's a switch-hitter with good contact-hitting ability. He isn't just the latest chip off the
Wil Nieves
block as possible backups go.
It might be hard to stay optimistic about the Nats' catching situation or their offense in light of their litany of injuries. Certainly there's an element of tragedy to see a player as promising as Ramos go down. But they're not without weapons, and there's a lot of baseball to come.
Christina Kahrl covers baseball for ESPN.com. You can follow her on Twitter.
March, 1, 2012
3/01/12
12:00
PM ET
January, 11, 2012
1/11/12
11:15
AM ET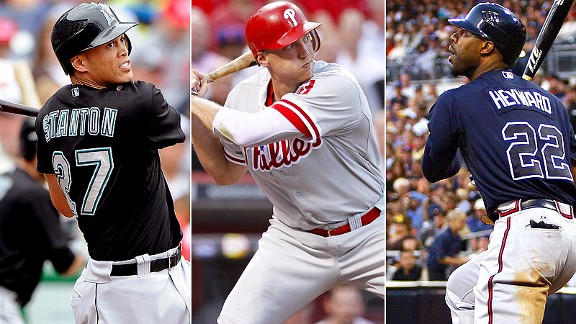 Getty Images/US PresswireThe best right fielder in the NL East? Mike Stanton, Hunter Pence and Jason Heyward have their fans.
This is back-of-the-napkin stuff ... but fun back-of-the-napkin stuff. As we wait to see if
Prince Fielder
does land in Washington, let's check out the state of the NL East. We'll go position by position and rank the players. Then we'll come up with a final tally (five points for first, four for second, etc.)
Catcher
1.
Brian McCann
, Braves
2.
Wilson Ramos
, Nationals
3.
Carlos Ruiz
, Phillies
4.
Josh Thole
, Mets
5.
John Buck
, Marlins
Phillies fans will storm the bastille over this one and say I'm underestimating Ruiz's ability to call a game, but I think Wilson Ramos has a chance to be something special. He hit .267/.334/.445 as a rookie, spending most of the season at just 23 years old. The thing that bodes well is that his walk rate improved from 4 percent in Triple-A in 2010 to 8.7 percent last season. And to think they got him from the Twins for
Matt Capps
. Ruiz is an underrated player -- he's posted a .376 OBP the past three seasons -- but Ramos' power and potential for improvement put him at No. 2 behind McCann.
First base
1.
Freddie Freeman
, Braves
2.
Ryan Howard
/
Jim Thome
, Phillies
3.
Ike Davis
, Mets
4.
Gaby Sanchez
, Marlins
5.
Adam LaRoche
, Nationals
Yes, there's huge value for the Nationals in signing Prince Fielder. With Davis and LaRoche coming off serious injuries and Howard out for at least a couple months, I have to give the top nod to Freeman. Sure, maybe he'll succumb to the dreaded sophomore jinx, but baseball history also tells us that players often make a huge leap from age 21 to age 22. If Davis hits like he did in the 36 games he played last year (.302/.383/.543) then he's an All-Star candidate, but while he
says he's "good to go"
for spring training, we'll have to wait to see how his ankle responds. As for Sanchez, he's a lukewarm cup of coffee on a 32-degree day.
Second base
1.
Chase Utley
, Phillies
2.
Danny Espinosa
, Nationals
3.
Dan Uggla
, Braves
4.
Daniel Murphy
, Mets
5.
Omar Infante
, Marlins
I put Utley first with some hesitation: His OPS totals since 2007 read .976, .915, .905, .832 and .769. Still, that .769 figure is better than Uggla or Espinosa produced in 2011, and Utley still carries a good glove. It's defense and predicted second-season improvement that pushes Espinosa over Uggla. Murphy doesn't hit many home runs or draw many walks, so most of his offensive value resides in his batting average. If he hits .320 again, he's a good player. If he hits .290, then he's still better than Infante.
Third base
1.
Ryan Zimmerman
, Nationals
2.
David Wright
, Mets
3.
Hanley Ramirez
, Marlins
4.
Chipper Jones
, Braves
5.
Placido Polanco
, Phillies
If healthy, Zimmerman is one of the best players in the league. Ramirez and Wright were once part of that discussion, but no longer. Both players had the worst years of their careers in 2011. Will Wright rebound with the fences moved in at Citi Field? Will Ramirez bounce back and handle the transition to third base? Your guess is as good as mine.
Chipper is aging gracefully
, playing through injuries but still putting up respectable numbers. If this is his last season, I hope he goes out in style.
Shortstop
1.
Jose Reyes
, Marlins
2.
Jimmy Rollins
, Phillies
3.
Ruben Tejada
, Mets
4.
Ian Desmond
, Nationals
5. Tyler Pastornicky, Braves
Not much debate here. Tejada posted a .360 OBP in 2011 as a 21-year-old. He doesn't have any power, but I believe the Mets are in good hands at shortstop. The same can't be said about Desmond, who must improve his defense (23 errors) and approach at the plate (139/35 SO/BB ratio). Pastornicky hit .314 in the minors last year, including .365 in 27 games in Triple-A. He puts the ball in play and has some speed, but won't hit for much power or draw many walks, so he'll need to hit for a good average to hold the job.
Left field
1.
Michael Morse
, Nationals
2.
Martin Prado
, Braves
3.
Logan Morrison
, Marlins
4.
Domonic Brown
/John Mayberry, Phillies
5.
Jason Bay
, Mets
We have to consider Morse the real deal by now, don't we? Although he comes with a few caveats: That 126/36 SO/BB ratio is a concern; so is his .344 average on balls in play, which ranked 15th in the majors (can he repeat that figure?); and finally, he plays left field a bit like a fire hydrant. By the way, how bad is this group defensively? Morrison may have even less range than Morse, Brown looked terrible in right field with the Phillies last year and Bay isn't getting paid $16 million because he's adept at running down balls in the gap. Actually, I'm not sure what he's getting paid for.
Center field
1.
Shane Victorino
, Phillies
2.
Michael Bourn
, Braves
3.
Emilio Bonifacio
, Marlins
4.
Andres Torres
, Mets
5.
Roger Bernadina
, Nationals
This seems pretty straightforward other than the ongoing raging debate between Andres Torres fans and Roger Bernadina fans.
Right field
1.
Mike Stanton
, Marlins
2.
Hunter Pence
, Phillies
3.
Jason Heyward
, Braves
4.
Jayson Werth
, Nationals
5.
Lucas Duda
, Mets
Mike Stanton ... 2012 National League MVP? Too soon? I'm just saying don't be surprised if it happens.
No. 1 starter
1.
Roy Halladay
, Phillies
2.
Josh Johnson
, Marlins
3.
Stephen Strasburg
, Nationals
4.
Tim Hudson
, Braves
5.
Johan Santana
, Mets
Is there a more important player in the majors in 2012 than Johnson? The Marlins fancy themselves contenders but they need a healthy Johnson headlining the rotation. After leading the NL with a 2.30 ERA in 2010, he had posted a 1.64 ERA through 10 starts in 2011 before shoulder tendinitis shelved him for the season. He's been throwing and long tossing and is
expected to be 100 percent for spring training
. Strasburg has the ability to be just as dominant as Halladay and Johnson, but the Nationals will likely monitor his innings in his first full season back from Tommy John surgery.
No. 2 starter
1.
Cliff Lee
, Phillies
2.
Gio Gonzalez
, Nationals
3.
Mark Buehrle
, Marlins
4.
Tommy Hanson
, Braves
5.
R.A. Dickey
, Mets
This is a terrific group of No. 2 starters, as even the knuckleballer Dickey posted a 3.28 ERA in 2011 (and 3.08 ERA over the past two seasons). Hanson has Cy Young ability, but his own shoulder issues from late last season raise a red flag.
No. 3 starter
1.
Cole Hamels
, Phillies
2.
Jordan Zimmermann
, Nationals
3.
Anibal Sanchez
, Marlins
4.
Jair Jurrjens
, Braves
5.
Mike Pelfrey
, Mets
Zimmermann is the sleeping giant in the Nationals rotation. His strikeout/walk ratio of 4.0 ranked 11th-best among starters in 2011 and another year beyond his own TJ surgery should help him develop the stamina to improve on his second-half numbers (2.66 ERA before the All-Star break, 4.47 after). I'm not a big Jurrjens fan; he's a good pitcher, but he's now battled injuries two seasons in a row and his strikeout rate took a big dip last season.
No. 4 starter
1.
Brandon Beachy
, Braves
2.
Vance Worley
, Phillies
3.
John Lannan
, Nationals
4.
Jonathon Niese
, Mets
5.
Ricky Nolasco
, Marlins
You could draw this list out of a hat. Beachy and Worley surprised many with their exceptional rookie seasons; I believe both are for real, as both seemed to deliver better-than-advertised fastballs. Now they just have to prove they can become seven-inning pitchers instead of five or six. Niese is an excellent breakout candidate in 2012: He throws hard enough for a lefty (90-91), gets strikeouts, doesn't walk too many, gets groundballs. In fact, his FIP (fielding independent pitching) was 3.36 compared to his actual ERA of 4.40. It wouldn't surprise me to see him win 15 games with a 3.40 ERA. It would surprise me if Nolasco does that; 2008 is starting to look further and further in the rear-view mirror.
No. 5 starter
1.
Mike Minor
, Braves
2.
Carlos Zambrano
, Marlins
3.
Dillon Gee
, Mets
4.
Chien-Ming Wang
, Nationals
5.
Joe Blanton
/
Kyle Kendrick
, Phillies
If you're talking depth, the big edge here goes to the Braves, who also have prospects
Julio Teheran
,
Randall Delgado
and
Arodys Vizcaino
ready to step in. Big Z is a nice gamble by the Marlins as a No. 5 starter, you could do worse.
Closer
1.
Craig Kimbrel
, Braves
2.
Jonathan Papelbon
, Phillies
3.
Drew Storen
, Nationals
4.
Heath Bell
, Marlins
5.
Frank Francisco
, Mets
As dominant as Kimbrel was in winning Rookie of the Year honors (14.8 K's per nine), he did blow eight saves. But Papelbon is just one season removed from his own season of eight blown saves. Factor in Kimbrel's K rate and slightly heavier workload, and I'll give him the slight nod. Bell will have to prove himself away from the friendly confines of Petco Park, so Storen rates the clear No. 3 here.
Bullpen
1. Braves --
Jonny Venters
,
Eric O'Flaherty
,
Kris Medlen
,
Cristhian Martinez
,
Anthony Varvaro
2. Marlins --
Steve Cishek
,
Edward Mujica
,
Mike Dunn
,
Ryan Webb
,
Randy Choate
3. Nationals --
Tyler Clippard
,
Sean Burnett
,
Henry Rodriguez
,
Ryan Perry
,
Tom Gorzelanny
4. Phillies --
Antonio Bastardo
,
Michael Stutes
,
Dontrelle Willis
,
David Herndon
,
Jose Contreras
5. Mets --
Bobby Parnell
,
Jon Rauch
,
Pedro Beato
,
Tim Byrdak
,
Manny Acosta
The top four teams all project to have solid-to-excellent pens. Venters and Clippard are arguably the two best set-up guys in baseball. Cishek is the rare sidearmer who can get lefties out as well as righties and he allowed just one home run in 54 innings as a rookie. The Phillies don't need many innings from their pen and while Willis could be a terrific lefty killer (lefties hit .127 off him in 2011), Bastardo must rebound from his late-season fatigue.
Intangibles
1. Marlins
2. Phillies
3. Braves
4. Nationals
5. Mets
New stadium, new free agents, new manager, new uniforms -- I view all of that as a plus for the Marlins. The playoffs left a sour taste for the Phillies' veteran-heavy squad and those guys will want nothing more than to win a sixth straight division title. The Braves have plenty of incentive after their late-season collapse. The Nationals are young but have no chip on their shoulder. But if they sign Prince ...
The final tally
1. Phillies, 58 points
2. Braves, 56 points
3. Marlins, 49 points
4. Nationals, 48 points
5. Mets, 29 points
And the napkin says the Phillies are still the division favorite. What, you want to bet against Roy Halladay, Cliff Lee and Cole Hamels?
November, 14, 2011
11/14/11
12:55
AM ET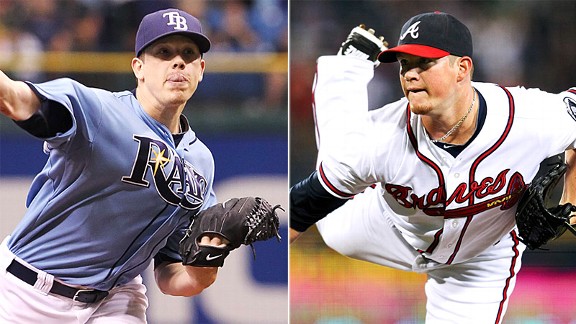 US PresswireTampa Bay's Jeremy Hellickson, left, and Atlanta's Craig Kimbrel led the SweetSpot rookie balloting.
The American League rookie crop has a chance to be one of the deepest, most exciting groups of rookies one league has produced in a long time (although the 2010 NL group with
Buster Posey
,
Jason Heyward
,
Mike Stanton
,
Starlin Castro
and
Jaime Garcia
was an excellent one as well).
On the hitting side,
Dustin Ackley
,
Eric Hosmer
,
Desmond Jennings
and
Brett Lawrie
all have All-Star potential, and guys like
Mark Trumbo
,
Jemile Weeks
,
Jason Kipnis
,
Mike Moustakas
,
Lonnie Chisenhall
,
J.P. Arencibia
and
Salvador Perez
aren't far behind or showcased plenty of potential. Pitchers included
Jeremy Hellickson
,
Ivan Nova
,
Michael Pineda
,
Zach Britton
and
Jordan Walden
. Those lists don't even include prospect studs
Mike Trout
and
Jesus Montero
, who will both remain rookies next season.
It makes for a crowded rookie race, especially since several of the hitters excelled after in-season promotions, which limited their overall numbers. Here are the voting results from the SweetSpot network (based on the same structure as the real voting: five points for first, three for second and one for third):
1. Michael Pineda, Mariners: 77 points (13 first-place votes)
2. Jeremy Hellickson, Rays: 51 points (6)
3. Eric Hosmer, Royals: 25 points (3)
4. Dustin Ackley, Mariners: 23 points (1)
5. Ivan Nova, Yankees: 11 points
(tie) Mark Trumbo, Angels: 11 points (1)
7. Brett Lawrie, Blue Jays: 8 points
8. Desmond Jennings, Rays: 5 points
9. Zach Britton, Orioles: 1 point
In our vote, it was essentially a two-player race; I suspect that in the actual vote, Nova will receive much more support. Let's start by looking at the three starting pitchers, all three of whom were regulars in their team's rotations most of the season.
Hellickson: 13-10, 2.95 ERA, 189 IP, 146 H, 117 SO, 72 BB, 21 HR, 1.15 WHIP
Pineda: 9-10, 3.74 ERA, 171 IP, 133 H, 173 SO, 55 BB, 18 HR, 1.10 WHIP
Nova: 16-4, 3.70 ERA, 165.1 IP, 163 H, 98 SO, 57 BB, 13 HR, 1.33 WHIP
Despite that glossy record, I think it's pretty easy to dismiss Nova. He doesn't have Hellickson's ERA or Pineda's peripherals; he pitched 24 fewer innings than Hellickson; he pitched in the AL East, but so did Hellickson. (We can ignore win-loss record, right? We all learned that last year when
Felix Hernandez
won the Cy Young Award, correct?) As important as Nova was to the Yankees, I think he's pretty clearly No. 3 here.
So let's compare Hellickson and Pineda.
Baseball-Reference WAR
Hellickson: 4.2
Nova: 3.6
Lawrie 2.8
Pineda 2.8
Ackley 2.5
Jennings 2.3
Trumbo 2.1
Hosmer 1.3
FanGraphs WAR
Pineda: 3.4
Lawrie: 2.7
Ackley: 2.7
Nova: 2.7
Jennings: 2.4
Trumbo: 2.3
Hosmer: 1.6
Hellickson: 1.4
Hellickson's season was an anomaly in one important regard: He allowed just 7.0 hits per nine innings while striking out 5.6 batters per nine. How odd is that combo? Since 2000, only six other pitchers have thrown at least 150 innings while allowing 7.5 hits or less per nine innings
and
fewer than six strikeouts per nine. The others:
Johnny Cueto
(2011),
Tim Hudson
(2010),
Trevor Cahill
(2010),
Barry Zito
(2003),
Derek Lowe
(2002) and
Damian Moss
(2002).
Hellickson succeeded because his BABIP (batting average on balls in play) was .223, the lowest among major league starters. That explains the difference in his WAR total between the two sites. FanGraphs' WAR is based upon FIP (fielding independent pitching), which attempts to remove defensive support from a pitcher's performance and assesses "a pitcher's talent level by looking at things a pitcher can control: strikeouts, walks, hit by pitches, and home runs."
So while Hellickson's ERA was 2.95, FIP looks at his mediocre 117-72 strikeout/walk ratio and 21 home runs allowed and projects a 4.44 run average. Pineda, meanwhile, had a 173/55 strikeout/walk ratio and 18 home runs allowed, and his FIP comes in at 3.42 -- lower than his actual ERA.
Basically, FIP regards Hellickson as being hit lucky; indeed, if you were projecting which pitcher will have the lower ERA next season, Pineda is the obvious choice (assuming Hellickson doesn't ramp up his strikeout rate). As a projection system, FIP is much better than simply looking at ERA.
But when evaluating a current season, do you simply dismiss Hellickson's results and say he wasn't that good? Personally, I think that's a big leap. Hellickson's run prevention may have involved a degree of luck -- it's worth pointing out that Pineda also allowed a low .258 BABIP, ninth-lowest among MLB starters (both were also extreme flyball pitchers, which can lower a pitcher's BABIP) -- but he
did
allow a 2.95 ERA over 29 starts, pitching in the tough AL East. He made eight starts against the Red Sox and Yankees (3-2, 3.73 ERA in 48.1 innings). Pineda only had to make one start each against the Red Sox and Yankees. Yes, Hellickson benefited from him his home park and an excellent Tampa Bay defense; but Pineda also benefited from a pitcher-friendly home park and good defense.
Hellickson had a left-on-base percentage of 82 percent -- second-best in the majors behind Jered Weaver's 82.6 percent. He allowed a .167 average with runners in scoring position, with just three home runs in 144 at-bats. Again, there is some good fortune involved here -- a .167 average allowed is not a repeatable skill -- but it
did
happen. It was a real result that helped the Rays win games and I can't so easily dismiss what happened on the field.
In some aspects, while last year's AL Cy Young debate was billed as the battle of new numbers (win-loss record for pitchers is overrated), it wasn't really the battle of new numbers: King Felix excelled in all the other conventional statistics like ERA, strikeouts and innings pitched. To deny Hellickson the rookie award would be the real shout-out to sabermetrics, ignoring his ERA and attributing his numbers completely to luck and defense. I don't think that will happen in the real vote; in fact, I'll be surprised if Pineda finishes in the top three, since -- let's face it -- win-loss record still means something to a lot of voters.
I'm a Mariners fan. I watched Pineda pitch 10-12 times this season and he and Ackley provided two bright hopes in a miserable season. If he stays healthy, the big right-hander is going to be a Cy Young contender in the future. But I put Hellickson No. 1. As for the rest of my ballot, Lawrie and Jennings were great in short stints (Lawrie's WAR includes a positive rating for his defense, which goes against the scouting reports as he came up through the minors), Ackley in a little longer stint, Hosmer over 128 games. Both B-R and FanGraphs hate Hosmer's defense (going against the general scouting reviews of his glovework), and thus affecting his WAR rating. Trumbo's 29 home runs and 87 RBIs led all rookies, but that .291 on-base percentage is damaging. Trumbo had some big hits for the Angels, but I can't put a guy with a .291 OBP in the top three.
My ballot
1. Jeremy Hellickson
2. Michael Pineda
3. Eric Hosmer
Predicted results
1. Jeremy Hellickson
2. Ivan Nova
3. Mark Trumbo
* * * *
In the National League, Braves closer
Craig Kimbrel
is expected to cruise to the award after leading the NL with 46 saves, posting a 2.10 ERA and striking out 127 batters in 77 innings, the sixth-highest strikeout rate ever with at least 50 innings pitched. (By the way, fellow rookie
Kenley Jansen
had the best rate ever, with 16.10 per nine innings.)
Here is the SweetSpot network voting results:
1. Craig Kimbrel, Braves: 108 points (18 first-place votes)
2.
Freddie Freeman
, Braves: 35 points (3)
3.
Danny Espinosa
, Nationals: 26 points (3)
4.
Vance Worley
, Phillies: 16 points
5.
Brandon Beachy
, Braves: 14 points
6.
Wilson Ramos
, Nationals: 13 points
7. Kenley Jansen, Dodgers: 2 points
8.
Josh Collmenter
, Diamondbacks: 1 point
(tie)
Lucas Duda
, Mets: 1 point
I suspect the actual voting results will follow a similar pattern, with Kimbrel possibly emerging as the unanimous winner. Espinosa flew under the radar all season, but hit for power (21 home runs) and played a very good second base. Like Hosmer, Freeman's glovework doesn't rate well by the fielding metrics. Overall, Espinosa's package of power and defense at a premium position makes him more valuable than Freeman. Worley and Beachy were terrific in partial seasons and Ramos gave the Nationals a second foundation piece for the future.
My ballot
1. Craig Kimbrel
2. Danny Espinosa
3. Freddie Freeman
Predicted results
1. Craig Kimbrel
2. Freddie Freeman
3. Danny Espinosa
November, 11, 2011
11/11/11
1:53
PM ET
Keith Law and Joe Sheehan of Sports Illustrated joined forces for Friday's
Baseball Today podcast
. Among the topics:
1. The scary story of
Wilson Ramos
getting kidnapped in Venezuela.
2. Are the Marlins serious about going after
Jose Reyes
and
Albert Pujols
? Plus more on Pujols versus
Prince Fielder
.
3.
C.J. Wilson
is a No. 2 starter in a market without a No. 1 and that's when mistakes are made.
4. Terry Ryan replaces Bill Smith as GM of the Twins.
5. Special guest Michael Ruhlman talks about ... how to cook an egg. And his career as a journalist-turned-cookbook author.
Plus: Emails, thoughts on Gerrit Cole and Danny Hultzen and much more!
July, 23, 2011
7/23/11
3:00
PM ET
By
Charlie Saponara
| ESPN.com
With trade rumors hitting us in full force as the deadline approaches, let's take a look back at some of what happened at the 2010 trade deadline and see how many of those players are making an impact for their new teams.
Cliff Lee traded to the Rangers; Mariners acquired Justin Smoak, Blake Beavan, Matthew Lawson and Josh Lueke
Despite a solid BB/K rate, Smoak continues to struggle with consistency at the big league level. He's still only 24, so there is time for him to improve, but he's not the instant impact bat that the Mariners were hoping for. Both Beavan and Lueke have pitched in spots for the Mariners this season. The Rangers rode Lee's contributions to the World Series and have since moved on from Smoak seamlessly, relying instead on the likes of postseason hero
Mitch Moreland
,
Michael Young
and
Mike Napoli
.
[+] Enlarge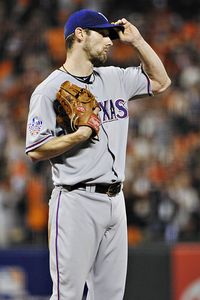 Scott Rovak/US PresswireThe Rangers acquired Cliff Lee in a 2010 deadline deal and rode his arm to a World Series appearance.
Dan Haren traded to the Angels; Diamondbacks received Joe Saunders, Tyler Skaggs, Patrick Corbin and Rafael Rodriguez
Haren has thrived for the Angels this season, and Saunders has held his own with the surprise contenders in Arizona. However, the big score for the D-Back may not arrive until late next season or 2013, as Skaggs has continued to impress all those who have seen him pitch. Recently, he earned a promotion to Double-A after posting a 3.22 ERA, 2.65
FIP
and 3.7 K/BB rate at High-A Visalia in the hitter-friendly California League. Corbin has had his struggles at Double-A, but he has posted an impressive 4.5 K/BB rate and should see the big leagues one day.
Edwin Jackson traded to the White Sox; Diamondbacks received Daniel Hudson and David Holmberg
This move was sort of a head-scratcher at the time, and the way Hudson has pitched for the D'backs ever since confirms that confusion. The Snakes have Hudson under team control through 2016 while Jackson will hit the free-agent market this winter.
Roy Oswalt traded to the Phillies; Astros acquired J.A. Happ, Anthony Gose and Jonathan Villar
Oswalt pitched brilliantly for the Phils in the 2010 postseason. However, career-long back problems may have finally caught up to him. On the Astros' side, Happ was plugged right into the rotation, but his struggles with command and allowing the long ball have led to an ERA nearing six. Gose never played a game in the Astros' system as he was flipped to the Blue Jays for first baseman
Brett Wallace
; the 24-year-old Wallace has been unimpressive in his young major league career, though he does sport an above-average OBP. Villar continues to struggle with strikeouts in the minor leagues.
Lance Berkman traded to the Yankees; Astros received Mark Melancon and Jimmy Paredes
While Berkman is in the midst of a late-career renaissance with the Cardinals, Melancon has taken over as the Astros' closer with a 2.91 ERA, 3.33 FIP and ground-ball rate of 60 percent. Jimmy Paredes is now in Double-A and continues to steal bases, but he also continues to struggle with his lack of plate discipline.
Matt Capps traded to the Twins; Nationals received Wilson Ramos and Joe Testa
Capps pitched well for the Twins down the stretch in 2010, but his huge regression in strikeout rate has hurt him big-time this season. In the meantime, despite some ups and downs in his first full big-league season, Ramos has established himself as the Nationals' catcher of the now and the immediate future.
Jhonny Peralta traded to the Tigers; Indians received Giovanni Soto
Peralta re-signed with the Tigers last offseason and has been worth every penny of the $5.25M he is making this season. Over the past two seasons, Peralta has improved his contact rate, which has helped to lower his strikeout rate. Meanwhile, the 20-year-old Soto continues to show good strikeout ability at the lower minor-league levels of the Indians' organization.
Ted Lilly and Ryan Theriot traded to the Dodgers; Cubs received Blake DeWitt, Brett Wallach and Kyle Smit
Lilly pitched well for the Dodgers down the stretch in 2010, but his issues with the gopher-ball have hurt him this season. With the Dodger's financial situation in shambles, the three-year $33 million deal Lilly signed last offseason only makes things worse. Overall, this deal has helped no one, though the Dodgers did at least acquire league-average reliever
Blake Hawksworth
in exchange for Theriot this past offseason.
Octavio Dotel traded to the Dodgers; Pirates acquired James McDonald and Andrew Lambo
After being acquired by Los Angeles, Dotel appeared in 19 games, allowed seven earned runs and was then traded to the Rockies in September. The Pirates landed the high-upside, inconsistent McDonald, who has been once again inconsistent. However, his 4.15 ERA (4.57 FIP) have at least contributed as a back-end rotation piece to the surprising Pirates. Lambo was once a top-end prospect with the Dodgers, but his prospect status is all but gone now. He's hitting .206/.278/.326 between Double- and Triple-A this season.
Kyle Farnsworth and Rick Ankiel traded to the Braves; Royals received Tim Collins, Jesse Chavez and Gregor Blanco
Both Farnsworth and Ankiel moved on from the Braves in the offseason, and Blanco was traded to the Nationals this past May. Collins made the Royals out of spring training and has continued to prove that he can miss bats (24.3 percent whiff rate), but his control has really tailed off at the big-league level. Collins is only 21 years old, so his future may still be as a consistent late-inning reliever someday.
Charlie Saponara writes for SweetSpot blog, "Fire Brand of the AL." You can find all of his writing adventures by following on Twitter.
April, 29, 2011
4/29/11
12:05
PM ET
The SweetSpot blog network weighs in with April's best surprises ...

Beachy
Atlanta Braves
Simply put, the Braves' most pleasant surprise has been
Brandon Beachy
. At this time last year, Beachy was a virtually unknown prospect at Double-A Mississippi. Now he's leading the Atlanta starting staff in strikeout per nine innings (9.51) and is a prime candidate for the NL Rookie of the Month award for April. At this pace, it's going to be impossible for
Mike Minor
to unseat him for the fifth-starter role, regardless of his dominance in Triple-A.
--Kevin Orris. Capitol Avenue Club
Florida Marlins
It is absolutely amazing that the Marlins are just a half-game out of first place, especially considering the rough start of
Hanley Ramirez
(.197/.299/.250). In another amazing twist, given the shaky outfield defense that was expected of them, the Fish have the best defensive efficiency in the National League, turning almost 73 percent of balls in play into outs, and understandably have given up the fewest runs in the Senior Circuit.
--The Common Man, The Platoon Advantage
New York Mets
Though the hot starts of
Ike Davis
and
Jose Reyes
have been greatly appreciated by Mets fans, they are not necessarily surprises -- at least, not compared to
Pedro Beato
. A Rule 5 pick, the hard-throwing Beato began the season as the last man out of the bullpen but has quickly emerged as arguably the Mets' most reliable reliever. Through 12 innings, Beato has yet to allow an earned run, has struck out eight and boasts a 0.75 WHIP. Perhaps most impressive, the youngster is now being called upon in high-leverage, late-inning situations.
--Joe Janish,
Mets Today

Bastardo
Philadelphia Phillies
The Phillies' most pleasant surprise has been
Antonio Bastardo
. As
Brad Lidge
,
J.C. Romero
and
Jose Contreras
succumbed to injury, Bastardo emerged as a legitimate late-innings option, striking out 15 and allowing just one run in 10 1/3 innings.
--Bill Baer, Crashburn Alley
Washington Nationals
Wilson Ramos
has been the Nats' pleasant (yet probably unsustainable) surprise. He is hitting a cool .375/.426/.563, while playing acceptably behind the plate, gunning down three of eight attempted base stealers. Given that he has a batting average on balls in play of around .450, he's sure to cool off a lot, but we're grateful for each additional day he keeps the corpse of Pudge Rodriguez from getting up to bat.
--Harper Gordek, Nationals Baseball
Chicago Cubs
Darwin Barney
came into spring training fighting to make the roster. One month into the season, he's a viable No. 2 hitter in the lineup and deserving of the spot on the All-Star ballot
Blake DeWitt
is hoarding.
--Joe Aiello, View from the Bleachers

Gomes
Cincinnati Reds
The plate discipline shown by
Jonny Gomes
has been the most pleasant surprise, by far. Gomes has drawn 19 walks in the first month (second in the league, behind teammate
Joey Votto
), after walking only 39 times in the entire 2010 season. Because of Gomes' patience, his OPS remains over .900, despite a batting average hovering around the Mendoza line.
--Chad Dotson, Redleg Nation
Houston Astros
As the last-place team in the NL Central, there's been very little for the Astros to be pleasantly surprised about. But for the team that won one series in April (a distinction the Mets would rather forget), its lone pleasant surprise is
Brett Wallace
, who is hitting great despite having the unfortunate situation of being sandwiched between
Carlos Lee
and
Bill Hall
. He leads the team in batting average (.373), on-base percentage (.441) and slugging (.518).
--Austin Swafford, Austin's Astros 290 Blog
Milwaukee Brewers
The best surprise for the Brewers is they're 12-12 despite
Zack Greinke
not making a start,
Corey Hart
missing nearly the entire month and the bullpen leading the majors with seven losses. They can thank the hot starts of
Ryan Braun
(.356/.454/.689),
Prince Fielder
(leading the NL with 23 RBIs) and
Rickie Weeks
(21 runs scored).
--David Schoenfield

Morton
Pittsburgh Pirates
In five starts,
Charlie Morton
already has as many wins as he did in 2010, and his ERA is 60 percent lower. Don't buy into it, though. His 18:18 strikeout-to-walk ratio is highly troubling, and his .253 BABIP is completely unsustainable, even though he's getting 2.25 grounders for every fly ball so far. The Pirates will have to hope the coming regression is accompanied by a return to form for
James McDonald
, who has been terrible.
--The Common Man, The Platoon Advantage
St. Louis Cardinals
When the Cardinals lost ace
Adam Wainwright
for the season, the pressure suddenly shifted to their starting rotation. In particular, to
Kyle Lohse
, the righty who made only 40 starts in the two seasons since signing a hefty 4-year, $41 million contract extension. Given that from 2009-10 his ERA was indistinguishable from his strikeout rate (though, to be fair, his expected Fielding Independent Pitching was much lower), expectations were tempered. So his 2011 campaign thus far -- five Wainwright-like starts with an ERA of 1.64 -- has been the most pleasant surprise for the Cardinals. He is inducing ground balls like never before (48.6 percent) and limiting self-inflicted damage with a walk rate (1.17 walks per nine innings) that
Cliff Lee
would be proud of. And he's tied for fourth among NL pitchers in Wins Above Replacement.
--Matt Philip, Fungoes.net
Arizona Diamondbacks
Bright spots are fairly few and far between for the D-backs. The starting pitching has been atrocious, but the hitters have proven solid. The most shocking performance has been from
Ryan Roberts
, a minor league lifer who has seemingly taken over the third-base job by hitting .311/.408/.607 through 20 games. It's not a mirage. Roberts is a legitimate hitter, and as long as his defense holds up, he'll be a very productive and cheap option for the near future.
--The Common Man, The Platoon Advantage
Colorado Rockies
Where in the world did
Jonathan Herrera
(.317/.442/.429) come from? The 26-year-old has never really done anything like this before and is a good bet to regress. Still, he's done a terrific job of making up for the disappointing, but totally predictable, performances of
Ty Wigginton
(.233/.309/.383) and
Jose Lopez
(.143/.169/.254).
--The Common Man, The Platoon Advantage

Kemp
Los Angeles Dodgers
The return -- and then some -- of
Matt Kemp
has been the biggest surprise. Even though he has tapered off in his past 10 games, going 10-for-41 with 15 strikeouts, he still has walked six times in that stretch and has had a superb start overall (1.072 OPS). One question is whether his walks reflect better plate discipline or the horrors of the Dodgers lineup after his spot in the order.
--Jon Weisman, Dodger Thoughts
San Diego Padres
In a month of unpleasant surprises, one exception for San Diego has been the performance of catcher
Nick Hundley
. After splitting duties with veterans
Henry Blanco
and
Yorvit Torrealba
the past two seasons, Hundley has assumed a larger role this year and responded. He is hitting .286/.356/.481 and providing the bulk of what little offense the Padres have been able to muster.
--Geoff Young, Ducksnorts
San Francisco Giants
The Giants' most pleasant surprise is this: They're still around .500 despite going through a month bereft of actual pleasant surprises. That's not to say the Giants haven't had good performances, but what's been good hasn't been surprising and what's been surprising hasn't been good.
Pablo Sandoval
shouldn't surprise anyone when he hits .330 in a month; he'll do that.
Buster Posey
and
Tim Lincecum
have played well, yes. They're good, you know. The bad surprises on the other hand: a bushel of injuries, month-long slumps from key regulars and defense that has had fans saying to each other, "You know, I don't think that fellow can really play that position."
--Otis Anderson, Bay City Ball
July, 30, 2010
7/30/10
12:54
PM ET
Twins have "extra" catcher,
Wilson Ramos
. Twins have closer,
Jon Rauch
, who's given up 43 hits in 38 innings. Twins trade Ramos for Nationals closer,
Matt Capps
, who's having a fine season. Aaron Gleeman's
head explodes
:
No one would ever suggest that trading Ramos for a reliever who's slightly better than Rauch is a sound idea, yet by focusing on the save statistic the Twins have done just that and many fans will instinctively be on board with the move for an "established closer." Now, don't get me wrong: Capps is a quality reliever and represents a clear upgrade to the bullpen. What he's not is an elite reliever or enough of an upgrade to part with Ramos.

--snip--

Capps makes the Twins better for the final two months of this season and all of next year, but the improvement isn't nearly as large as the "All-Star closer" label would have you believe and the cost involved is significant in terms of both players and money. Next season the Twins will pay a premium for a quality setup man they perceive as something more because of a reliance on a flawed statistic and they gave up a good catching prospect for the right do that.
Two Questions for Bill Smith:
1. If you didn't have
Joe Mauer
, would you trade Wilson Ramos for Matt Capps?
2. If Matt Capps had posted his
exact
statistics this season -- 2.74 ERA in 46 innings -- but as a setup man rather than closer, would you have traded Wilson Ramos for him?
I'm pretty sure the answers are "No way." and "Of course not, you pointy-headed nerd."
The Twins do a lot of things well.
Carl Pavano
, to name just one thing. But Gleeman's right. This apparent obsession with saves hasn't served them well this week, and there's an excellent chance they're going to regret this trade for the next five or six years.
May, 4, 2010
5/04/10
3:46
AM ET
Jason Heyward
, you say? Hardly. The hottest rookie in the majors
catches for the Twins
. Aaron Gleeman:
Sunday afternoon Wilson Ramos went 4-for-5 against the Indians to become the 12th player in baseball history and the first since 1998 to have four hits in his MLB debut. For an encore he went 3-for-4 with two doubles last night versus the Tigers, becoming the eighth player to ever collect three or more hits in each of his first two games. The other seven: Joe DiMaggio, Enos Slaughter, Hub Walker, Preston Wilson, Guy Sturdy, Charlie Bates, Coaker Triplett.

--snip--

And all after he hit .179 at Triple-A before the call-up, including 0-for-8 in his final two games.
As Aaron points out, DiMaggio and Slaughter are Hall of Famers, Wilson enjoyed a fine career, and
the other guys ... well, not so much. As Aaron also points out, no player in major league history has collected at least three hits in each of his first three games. So you might want to keep an eye on
this game
tonight.
What does it all mean? Mostly, it all means that this young man has been exceptionally fortunate. Yes, he's exceptionally talented. But how many exceptionally talented young men haven't collected seven hits in their first two games? Depending on how you define "exceptionally talented," the figures ranges from several hundred to several thousands.
Granted, Ramos is an excellent prospect. Once you get past the Catching Prospect Trinity --
Buster Posey
, Jesus Montero, and Carlos Santana -- Ramos is somewhere among the five or six catchers fighting for the No. 4 spot on the list. He got called up
after
Drew Butera
only because (frankly) Butera's not a real prospect and the Twins didn't want Ramos sitting on the bench six days every week. But once Mauer really went down, Ramos was the logical choice to take his place.
Which isn't to say he's going to be great right now.
Here's Nick Nelson
after Ramos' sparkling debut (but before his splendid second appearance):
While he has about as much raw power as anyone in the organization, Ramos has very poor plate discipline, which helps explain why he was hitting .179 with a .214 OBP in Rochester prior to his call-up. He is undoubtedly a significant upgrade over Butera while Mauer is out, particularly because he appears to be a better defender, but the 22-year-old Ramos will go through his own growing pains. Count on it.
Ramos missed most of last season with a couple of injuries, but in 59 games he drew six walks. In 16 Triple-A games this season, he drew three walks and struck out 15 times. Doesn't mean he's not a fine prospect. It does mean Nick's quite probably right about those growing pains. Let's just hope they don't start until Ramos'
fourth
game.