May, 27, 2011
5/27/11
1:59
PM ET
Here are five reasons to listen to Friday's packed -- and I mean
packed
--
Baseball Today podcast

with myself and partner in statistical crime Mark Simon:
1. Mark interviews former pitcher/idol
David Cone
, who not only played baseball at a high level, but understands the game better now than one might think: He's a fan of the new stats like WAR.
2. More on the unfortunate
Buster Posey
injury, focusing on the good
Brandon Belt
can bring to the champs, more debate on what catchers go through and Mark compares backstops to a football position.
3. Do you have Baseball ESP? No, not ESPN, but ESP? Do you call out what the next hitter will do before it happens? We do!
4. Mark tells the story of something Rocky Colavito did when he wasn't smacking home runs at the plate, and its significance in the wake of Wilson Valdez's feat.
5. Memorial Day weekend starts off the summer, but when it ends it's time to take a closer look at the standings. We explain while discussing the most critical matchups of the weekend.
Plus: Excellent emails, extra innings in the minor leagues, how
R.A. Dickey
can blame his injury on
Daniel Murphy
,
Micah Owings
comes up big, a
Nick Markakis
record that might not be a record, the most letters from pitcher to hitter in one at-bat, who is Harry Danning and why I will never forget Steve Jeltz. Have a safe, healthy and happy Memorial Day weekend, and we'll be back talking baseball on Tuesday!
May, 26, 2011
5/26/11
4:10
PM ET
Here are the top five reasons why Thursday's Coffee Talk, um,
Baseball Today podcast

with myself and Keith Law had all the emotions, from serious to silly and all between, and why you should listen:
1. It's a shame
Buster Posey
's season ended Wednesday night, but would there be calls to change the rules if it was someone else? We attack all angles of this situation.
2
Wilson Valdez
saves the Phillies in the 19th inning! We discuss a very long game, the good, bad and unfortunate.
3. How can we avoid the Brewers being on fire? Well, we have reasons, but we deal with them today.
4. European baseball players and the "Big Whack": discuss. No, I can't discuss but this is right up Law's alley, and I learned something.
5. There will be much fun at Coors Field today. There generally is when
Micah Owings
is pitching ... and hitting!
Plus: Excellent emails, Oakland's offensive help in the minors, taking advantage of defensive shifts (or not) and even a little Mets talk in a Yankees-free but still crazy and wild Baseball Today podcast for Thursday!
May, 26, 2011
5/26/11
3:41
AM ET
By
Stephanie Liscio
| ESPN.com
The Phillies' victory in the early hours of Thursday morning was initially remarkable for how it started, with
Roy Halladay
on the mound against a Reds team he'd no-hit in the National League Division Series last year. But people won't easily forget how it finished, 19 innings later.
When infielder
Wilson Valdez
stepped onto the mound for the Phillies in the top of the 19th inning, he wasn't just being asked to do something out of the ordinary. True, Valdez was coming into a tie ballgame, which was unusual enough for a position player. But he was also facing as formidable a group of sluggers as the
Cincinnati Reds
possess, a trio that any full-time reliever would be worried about: reigning National League MVP
Joey Votto
, frequent All-Star
Scott Rolen
and
Jay Bruce
, who had hit his 13th home run of the 2011 season in the 10th inning.
Even though Valdez hit Rolen with a pitch after getting Votto to fly out to center, he managed to retire the side because he got to face Reds pitcher
Carlos Fisher
with two outs and that one man aboard. As a result, when the Phillies scored in the bottom of the 19th on Raul Ibanez's bases-loaded sacrifice fly, Valdez had earned his first win as a pitcher.
Valdez was not the first position player called upon to pitch in a bind, nor will he be the last. In fact, there are a number of memorable pitching performances by position players, but many of them took place in the midst of blowouts, rather than long extra-innings affairs. Of all of these, Valdez was the only player to earn a W for his efforts:
After Valdez's success in the top half of the 19th, perhaps the Reds might have envied the Phillies for using a position player to pitch when their half of the inning rolled around. However, Dusty Baker had already emptied his bench of position players, although he had a pair of swingmen,
Sam LeCure
and
Matt Maloney
, still potentially available instead of sending out Fisher for a sixth inning of very long relief.
However, the last time Baker sent a position player to the mound for the Reds, nobody involved enjoyed any success: Shortstop
Paul Janish
came into a blowout against the
Milwaukee Brewers
on May 6, 2009, and allowed five additional runs to add an exclamation point to a 15-3 loss.
PHOTO OF THE DAY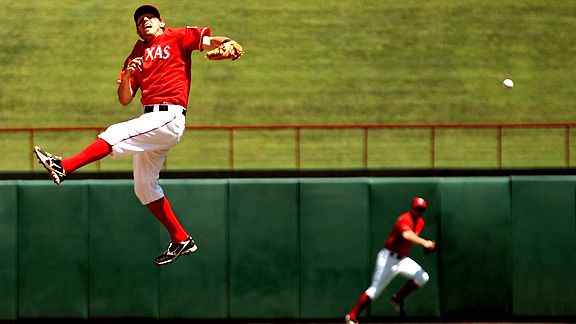 Kevin Jairaj/US PresswireSometimes your reach exceeds your grasp, but Ian Kinsler gave it his best shot.
Stephanie Liscio is an obsessive Cleveland Indians fan and blogs about them at It's Pronounced "Lajaway," part of the SweetSpot network. She is also the author of "Integrating Cleveland Baseball."
March, 21, 2011
3/21/11
10:47
AM ET
By
Chad Dotson
| ESPN.com
After being officially released yesterday by the Mets, second baseman
Luis Castillo
was
quickly signed
to a minor league deal by the
Philadelphia Phillies
. New York still owes Castillo $6 million, but Philadelphia will only be responsible for the major league minimum.
Given the fact that Castillo is 35 years old and "hit" .235 with no homers and 17 RBIs last season (a horrendous 68 OPS+), many are mocking the deal. Sure, Castillo is no
Chase Utley
(few are), but since we have no idea when Utley is going to return to the Phils' lineup, they have to put someone out there to play second base. (Don't they? I need to go check the rulebook.)
Frankly, this is a no-lose proposition for Philadelphia. As it were, the incumbent in Utley's absence is
Wilson Valdez
, and no one is excited about that proposition. Castillo may not have many skills remaining, but he can still take a walk and get on base; even in his miserable 2010, he got on base at a .337 clip (a mark that Valdez has never reached). There is some value there,
as Dave Cameron noted
:
Castillo's patience and ability to still make contact should be enough to let him rebound as something like a +1 win player.

Right now, with Utley's health up in the air, the Phillies could really use a +1 win second baseman. Valdez is miscast as anything other than a utility player, and bringing in Castillo would allow them to keep him in the reserve role that his skills are better suited for.

Castillo isn't a long term answer, of course, but he's capable of holding down the second base job until they figure out what Utley's time frame for return actually is.
Indeed. There's no risk for the Phillies here. If Castillo doesn't work out, well, the contract is non-guaranteed and GM Ruben Amaro can just cut bait. No, Castillo isn't worth the money that Omar Minaya threw at him a few years ago, but Philadelphia is basically getting him for free. It's a shrewd move.
Chad Dotson writes Redleg Nation, a blog about the Cincinnati Reds and a part of the SweetSpot blog network. Follow him on Twitter.