April, 19, 2014
Apr 19
11:38
AM ET
By
Christina Kahrl
| ESPN.com
Starting with the standard "just a 10th of the way into the season" caveat, one of the things that's been interesting to check out about the Indians is how much
Carlos Santana
has been inked into the lineup at the hot corner. That's because the big offseason experiment with getting Santana in gear to be their in-house answer at third base was one of those things where it would really last.
So far, the Indians have put him out there only 50 percent of the time, giving him eight starts. Five starts at DH and another three behind the plate as the backup catcher have kept him in the lineup every day.
[+] Enlarge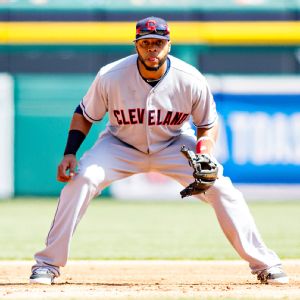 Scott W. Grau/Icon SMIEarly on, it looks like Carlos Santana has adapted to life at the hot corner.
How does that happen? Making every roster spot work for you, even in the reliever-crowded rosters of the present. The rest of the playing time at third has been spread between
Lonnie Chisenhall
(when he isn't the DH) and superutilityman
Mike Aviles
(when he isn't spot-starting at second, short or left field). There are a lot of moving parts, plus the need to spot lefty-killer
Ryan Raburn
wherever he fits in any given day (either outfield corner, DH and maybe second base in a pinch).
It's the natural outgrowth of a playing-time plan where, instead of marooning one guy in the regular DH role, Terry Francona is keeping his 11 best bats rotating through his lineup, with seven-position reserve
Elliot Johnson
representing his lone true bench player. That will change when
Jason Giambi
reprises his gray eminence gig once he's activated from the DL (reportedly Monday), but the G-man won't get more than 200 at-bats this year.
Now that the games count, Santana hasn't looked too shabby at third. A lone error, a league-average rate of plays made, nothing too appalling in terms of the early returns from Baseball Info Solutions' Plus-Minus, Baseball-Reference.com's Total Zone or FanGraphs' Ultimate Zone Rating. Yes, it's only eight games, but none of the interpretive metrics have gone Russian judge on us when evaluating Santana's performance.
So, so far so good. As one AL insider put it to me this spring, "Can he really be worse than [
Miguel Cabrera
]?" Even if Santana turns out that badly playing just half the time, he still will likely do more than enough damage at the plate to make up for it. His homer Friday got him off the schneid in that department, and the experiment's looking good early on.
Making the comparison to Miggy makes sense, because just as Cabrera's move to third base in 2012 was about adding Prince Fielder's bat to the Tigers' lineup, the Indians' decision to give Santana a shot at third is about getting their best bats into the mix. You can see it as comparable to the decisions about where to put
Bobby Bonilla
in the lineup in the 1990s: No, he wasn't a great third baseman, but if you found a right fielder who hit better than your alternatives at third base, you could still contend with Bobby Bo at the hot corner -- as the Pirates did -- or win it all, as the Marlins did.
Making a defensive sacrifice at one of the corners is more affordable than ever today, thanks to the game's offensive environment: More strikeouts than ever mean that the positions that get the fewest chances have even less of an opportunity to affect outcomes on the field. The Giants won in 2010 with a DH (
Aubrey Huff
) in the corners, the Cardinals won in 2011 with a DH on the field (
Lance Berkman
), and the Giants won again in 2012 despite Pablo Sandoval's immobility at third base. Santana? He's just the latest example of an adaptive strategy to get runs from your lineup while runs are getting more scarce.
The other half of the proposition was that
Yan Gomes
had to show he could handle playing regularly as the club's catcher. Here again, the answer's a happy one, echoing Gomes' second-half breakout for the Indians last year. At the plate, he's hitting for the same kind of power, with an Isolated Power clip in the .180s. Behind it, he's an asset, according to the new catcher framing metrics, plus he's deterring the running game, with less than one steal being attempted every nine innings, while he has thrown out 4 of 11 attempts already.
The Indians might have other issues as they try to repeat last season's success, but Carlos Santana at third base? So far, that ain't one of them.
Christina Kahrl writes about MLB for ESPN. You can follow her on Twitter.
June, 2, 2013
6/02/13
12:40
AM ET
By
Christina Kahrl
| ESPN.com
When it comes to this year's rookies, as fans I think we sort of came into this season like the kid at Christmas the year after you got the bike
and
the pony, or the new car
and
the Red Ryder BB gun. Because, let's face it, the year after
Mike Trout
and
Bryce Harper
arrived on the scene had to be something of a letdown, right?
Turns out, not so much, at least not in the National League. The difference is that this year the kids are all right on the mound.
Hyun-Jin Ryu
has been one of the few bright spots on a Dodgers team desperate for something worth bragging about beyond its price tag. But the Cardinals'
Shelby Miller
just got his ERA down to 1.82, almost a full run lower than Ryu's, while catching the Korean southpaw in the win column for at least a day, what with Ryu set to take the mound Sunday.
It's a showdown between a pair of outstanding candidates who press many of the hot-button issues about Rookie of the Year voting every season. Some fans -- and perhaps more than a few voters -- might favor the future value they anticipate when they see Miller. Some might have qualms about voting for a foreign leagues veteran, MLB-rookie status or no. But as long as Miller keeps pitching like a man who belongs with teammate
Adam Wainwright
in the conversation on who the best pitcher in the league might be, two months into the season it's Miller's race to win -- if he pitches all year.
[+] Enlarge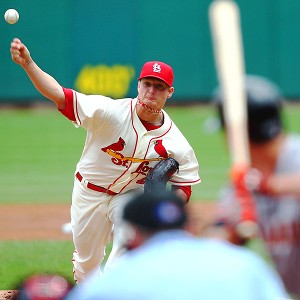 Dilip Vishwanat/Getty ImagesShelby Miller improved to 6-3, and lowered his ERA to 1.82, in the Cardinals' win over the Giants.
That said, it
is
a long season, and as the Nationals' decision to shut down
Stephen Strasburg
in 2012 reflected, pitchers might be excused for factors that have nothing to do with performance.
Happily, the NL field for first-year talent is wider than that tandem, even as Miller and Ryu contend for headlines. Just from among the hurlers,
Jose Fernandez
might have to labor in relative obscurity with the Marlins, marooned in the depths of a new-park hangover that has many Miami fans and voters asking themselves the coyote-ugly question about their franchise a year or two too late. But that has nothing to do with Fernandez's talent, on full display as he mowed down Mets on Saturday. Like Miller, he's striking out more than a man per inning, good enough to put him in the top 10 among NL starters in K/9. If it weren't for Ryu
and
Miller, even in the spring of
Matt Harvey
, we'd be talking about Fernandez a lot more. So you can imagine how
Julio Teheran
, doing well as a rotation regular on a first-place Braves team, feels.
This year, you can really only say one NL rookie position player is generating anything like the same buzz. Atlanta's
Evan Gattis
deserves the love he's getting, not for the backstory but for the production. This is not
Chris Coste
2.0 -- not that a guy like Coste wasn't as easy to root for as Gattis, but when you're slugging north of .600 two months into the season, you're not a passing fancy, you're somebody hitting so well that demoting an eight-figure salary becomes
something more than merely speculative
.
Gattis is doing for position players what Miller and Ryu have done for the pitchers in terms of sucking all the oxygen out of the room. As a result,
Jedd Gyorko
of the Padres might not merit more than a courtesy mention now, but I wouldn't count him out over the next four months. Gyorko has the power to slug .450 or better despite having to call Petco Park home as a rookie; if he cranks 60 extra-base hits while helping the Padres finish around .500, that's an amazing season.
You could say much the same for the pair of rookies starting up the middle for the Diamondbacks. However overmuch attention has been given to Kirk Gibson's clubhouse makeover or the likely big-picture penalties for trading away
Justin Upton
, the work Arizona is getting from
Didi Gregorius
at shortstop (and
A.J. Pollock
in center field) has helped propel the Snakes to first place in the NL West. As easy as it might be to say Gregorius has been helped by the D-backs' bandbox ballpark, three of his four homers have come on the road. If he starts slugging at home, too, how do you count out a slick-fielding shortstop with power on a first-place team?
Even with their delayed call-ups, by this time last year Trout and Harper had already been strutting their stuff. Trout was putting up an .887 OPS for an Angels lineup that needed all the help it could get overcoming
Albert Pujols
' slow start. Harper was hitting .274/.357/.504 in a little more than a month. They might not have been brought up until the end of April, but you already knew we were in for something special. But this year's class? Its players might not compare directly, but they're doing more than enough to pay attention to, now and down the stretch.
The American League, on the other hand ... well, you have to give the Rangers some unexpected due. I don't know if anyone really expects
Justin Grimm
or
Nick Tepesch
to still be in this conversation at the end of June, let alone September, but their contributions have clearly helped keep the Rangers' riding to the league's best record. But
Conor Gillaspie
?
Yan Gomes
? That they're among the top WAR-generating rookies in the AL so far just means that nobody has shown enough, for long enough, with the expectation that he'll still have a job at the All-Star break. I wouldn't rule out
Nick Franklin
or
Jurickson Profar
in partial seasons. I also wouldn't rule out that the eventual AL Rookie of the Year hasn't been called up yet. Or possibly even drafted yet -- who said Christmas comes just once per year?
Christina Kahrl covers baseball for ESPN.com. You can follow her on Twitter.
May, 31, 2013
5/31/13
10:45
AM ET
Haven't done one of these all week, so some quick thoughts on Thursday's games ...
May, 20, 2013
5/20/13
5:35
PM ET
This is one of those stretches that makes you happy to be a baseball fan. Or a baseball fan in Cleveland, at least. If you're a baseball fan in Seattle you may be starting to look ahead to football season.

The Indians just completed a four-game sweep of the Mariners, with three wins coming in walk-off fashion, two of those in extra innings, and the fourth win a 6-0 shutout over
Felix Hernandez
.
Monday's win featured a game-tying rally in the bottom of the ninth, and then after
Justin Smoak
homered in the 10th for Seattle, a walk-off, three-run homer from
Yan Gomes
, his second of the game. The tying run scored in the ninth when Mariners closer
Tom Wilhelmsen
dropped a throw at first base with two outs. In the 10th, the Indians were playing for a tie when
Drew Stubbs
sacrificed with nobody out, but Smoak's throwing error put two on with nobody out. Gomes followed with his blast to left off a 3-2 fastball from
Charlie Furbush
.
But it wasn't just Seattle's errors that created this latest bit of magic for Cleveland, now 18-4 since April 28 and 27-18 overall. The rally in the ninth included an infield single by
Jason Kipnis
on a 3-1 pitch that
Robert Andino
fielded and short-hopped Smoak, who should have made the scoop, and then a
Nick Swisher
blooper to right, just out of the reach of Andino. Home-plate ump Laz Diaz, who was terrible all game, had also missed a 2-1 pitch to Kipnis, which changed the structure of that at-bat.
Michael Brantley
began the 10th with another blooper to right just beyond Andino.
Hit 'em where they ain't.
So, good luck, good fortune and timely hitting. A pretty good combo.
Of course, the Indians have been here before. They were 33-20 on June 1 in 2011, five games up, and were still in first place as late as July 18. Last year's club was 26-18 in May and held first place on June 23 before collapsing to a 24-53 record in the second half.
But I think this is a better team, with a deeper lineup and, so far, better starting pitching. It's still early, but things are looking bright in Cleveland.
May, 18, 2012
5/18/12
8:00
AM ET
First base: Home-field disadvantage.
Owners added the one-game wild-card game in part to reward teams that won a division title. However, they've just taken away some of that advantage by
changing the layout of the Division Series
from 2-2-1 to 2-3. Instead of starting at home, the higher seed will play the first two games on the road before heading. Look, it's not
huge
deal and might revert back to 2-2-1 next year, when the regular season begins earlier, thus providing more potential off days in October. Still, I don't see why 2-2-1 would have been an issue, even with the need to have fewer off days this season. But why do we need so many off days anyway? Obviously, teams play in different cities on back-to-back days all the time.
Also buried in that story is something that will get fans much more upset: Two Division Series games will shift from TBS to MLB Network, which is available in about 30 million fewer homes.
Second base: Reddick-hot.
Josh Reddick
plays for the Oakland A's, so he's not exactly going to be leading the SportsCenter highlights. But he's quietly putting together a nice season, hitting .283 with 10 home runs. His big home run off
Alexi Ogando
tied the game in the seventh inning Thursday and the
A's then beat the Rangers in the 10th
. The A's are a game over .500 at 20-19 and another key to their surprising success has been reliever
Ryan Cook
, who threw two hitless innings to get the win. Cook has yet to allow run and has allowed just four hits in 19.2 innings.
Third base: Feel-good stories.
A couple of nice stories to highlight. The Blue Jays sent down former 35-homer man
Adam Lind
and called up
Yan Gomes,
who became the first Brazilian-born player to reach the majors. Gomes went 2-for-3 in
Toronto's win
over the Yankees. Gomes is a catcher/third baseman and not a top prospect, although he was hitting .359 for Las Vegas (of course, everyone hits .359 at Las Vegas). Gomes moved to the U.S. with his family when he was 12 and was drafted out of Barry University in Florida.
Rich Thompson
is a 33-year-old outfielder who had one at-bat with the Royals back in 2004. He's been in the minor leagues ever since, including the past five seasons with Lehigh Valley, the Phillies' Triple-A club, where he became a fan favorite. Earlier this week, the Phillies traded him to the Rays, who
called up him to the big leagues
. On Thursday, he started in left field and picked up his first major league hit and RBI. Dreams do come true.
Home plate: Tweet of the day.
Ahh, good ol' Jim Tracy.
As a #SFGiants fan, I'd like to see Jim Tracy stick around as #Rockies manager. As a sane person, I don't see how he does.

— Wendy Thurm (@hangingsliders) May 18, 2012