SweetSpot:

Yasmani Grandal
June, 22, 2014
Jun 22
7:16
PM ET
By
Christina Kahrl
| ESPN.com
Just like that, the San Diego Padres have canned Josh Byrnes, their general manager for less than three seasons. That's noteworthy because honchos get handed their heads so infrequently these days. Byrnes is the first GM to be canned since the Houston Astros axed Ed Wade after the 2011 season.
But firing your general manager after less than three full seasons is especially extraordinary in this day and age because of how much gets invested in picking the right guy and then anticipating that he'll have five or six years to show you something. Usually, the people who own and operate franchises can also afford to take the long view, and want to see what a GM has achieved on the player development side of the slate before you write him off altogether. And considering that the Padres ranked in the top 10 in Keith Law's
farm system rankings
, you can't really blame Byrnes for anything amiss on that front.
Instead, firing a guy inside of three seasons speaks to something else, something more than a fundamental disagreement over goals and means or something similarly antiseptic and corporate. It's a "Boss" move taken from the pages of George Steinbrenner's ugly 1980s because you expected big results fast. Or it's a somewhat embarrassing public admission that you might have hired the wrong guy. Which would be incorrect: Byrnes was promoted from within when the Padres lost GM Jed Hoyer to the Cubs, having hired already Byrnes as assistant GM the year before. They knew who they had.
The question you have to ask yourself is what stakes Byrnes was playing for at the major league level, and what the people he was collecting paychecks from thought he might win. The Padres added nearly $23 million to their payroll this offseason, moving up to an effective tie with the Royals for the 21st-largest payroll in the game -- still in the bottom third, but obviously an expense made with a sense that, even in a division with the Dodgers and Giants in it, that extra wild-card slot might be in reach if a few things broke the Padres' way. Byrnes spent $15.5 million on
Joaquin Benoit
-- money you spend on a set-up man if you think you're going places. The Padres are paying people more money than the Rays or A's are, but to less point. They're spending more than the Indians and Pirates are shelling out on their paydays, and those two teams both went to the postseason last year.
In the broadest strokes, you can see where Byrnes thought he might have been breaking that cycle of small goals narrowly missed, but that's because there was usually some plausible amount of upside in many of his moves. Trading for
Ian Kennedy
,
Tyson Ross
and even
Andrew Cashner
-- despite giving up
Anthony Rizzo
-- could all be understood at the time as bets that this was a young pitcher who could do better with a change of scenery. Then again, taking young, talented arms from other organizations and setting them loose in the best pitcher's park in baseball often has a way of working out.
But in his days with the Pad people, Byrnes seemed to reliably lose on his biggest bets. Like banking on the idea that reliably fragile slugger
Carlos Quentin
was worthy of a four-year, $37 million deal. Or risking $8 million on the proposition that
Josh Johnson
would be healthy this year. And in the deal that he will perhaps never be allowed to forget in San Diego, two months into his tenure he dealt
Mat Latos
to the Reds for four guys who won't add up to any amount of time spent employing Mat Latos -- equally disappointing prospects
Yasmani Grandal
and
Yonder Alonso
, reliever
Brad Boxberger
and
Edinson Volquez
. That wasn't a money-driven deal, but a bet that they'd added franchise-level talents. Instead, it wound up becoming
a classic blunder to rank with going up against a Sicilian when death is on the line
: Overvaluing other people's prospects.
On some level, you can sympathize with Byrnes. He was operating a franchise that hasn't built up and fielded a real contender since the late '90s, when they made their last World Series appearance (and got squashed by the Yankees in the most boring Series ever). The back-to-back division titles they eked out in 2005-06 were the product of a weak division, with the Padres making the most out of their limited talent and opportunity -- they played .500 baseball and earned the right to be somebody else's first-round speed bump. Two short-season squashings later, and skipper Bruce Bochy skipped town to play for real money and real stakes in San Francisco.
For Byrnes' sake, you can hope he'll find better fortune elsewhere as well. But having already gotten opportunities with the Diamondbacks and the Padres, he may well join fellow former wunderkind GM Paul DePodesta on the list of smart guys in the game who don't get another top job soon.
As for the Padres, the question they'll have to confront is whether or not to double down on the expectations they came into this season with, or whether they'll want to start from scratch. Having Omar Minaya in the mix in the search for finding a replacement strikes me as telling -- the same man who was a wheeler-dealer with the Expos and Mets might have an opportunity to pull the trigger on some of the same kinds of moves to fulfill those expectations in San Diego.
Christina Kahrl writes about MLB for ESPN. You can follow her on Twitter.
February, 13, 2013
2/13/13
7:59
PM ET
2012 in review
Record: 76-86 (75-87 Pythagorean)
651 runs scored (tied for 10th in National League)
710 runs allowed (11th in NL)
Big Offseason Moves
Acquired
Tyson Ross
from the
A's
for
Andrew Werner
and
Andy Parrino
. Re-signed free agent
Jason Marquis
. Signed free agent
Freddy Garcia
.
OK, it's the Padres. They're not sitting on a pile of money like their rivals to the north. Still, when retread veterans Jason Marquis and Freddy Garcia qualify as your big moves, that's an uninspiring offseason even if your projected payroll will be higher only than the
Astros
',
Marlins
' and
Pirates
'.
The Padres gave starts last season to
Kip Wells
,
Jeff Suppan
and
Ross Ohlendorf
after a slew of injuries wiped out much of their rotation, so adding starting pitching options was the offseason priority -- the only requirements being the pitchers be cheap and have a pulse.
Ross has long been an interesting arm, but he was never able to put it together with the A's (they won 94 games even though Ross went 2-11 with a 6.50 ERA). It's a gamble but didn't cost the Padres much.
Position Players
Here's an interesting fact: The Brewers led the NL in runs scored, but the Padres scored more runs on the road than the Brewers. With the Padres, you have to factor in the difficult hitting environment at Petco Park, especially in the power department. The Padres hit 74 home run on the road, but just 47 at home.
The offense starts with NL RBI leader
Chase Headley
, who drove in 115 runs -- even more impressive considering the Padres only had mediocre OBP numbers from their 1 and 2 hitters. Headley had that monster second half, of course, hitting .308/.386/.592 with 23 of his 31 home runs. He had a higher road OPS than
Miguel Cabrera
.
The rest of the lineup shapes up as a middle-of-the-pack offense.
Carlos Quentin
can hit when he actually plays (86 games last year) and
Will Venable
and
Chris Denorfia
make for an excellent platoon in right.
Cameron Maybin
turns 26 in April but it's probably time give up hope for a breakout season; at this point, it's safe to assume he's .250 with an OBP in the low .300s, but makes up for his mediocre offense with above-average defense in center field.
For the Padres to improve, they'll need more power from first baseman
Yonder Alonso
, who homered just nine times as a rookie. Petco or not, he'll have to slug higher than .393 or the Padres will be looking for a replacement. Catcher
Yasmani Grandal
impressed in a 60-game rookie season, but he's been suspended for 50 games for a positive test for performance-enhancing drugs.
The Padres ranked 23rd in Defensive Runs Saved (minus-24), with the biggest liabilities being the statuesque Quentin in left field and
Logan Forsythe
at second. Rookie Jedd Gyorko has a career .319 average in the minors and hit 30 homers in 2012 (24 in Triple-A). A third baseman, the Padres tried him at second and he may have a chance to win the job there at some point.
Overall, the offense is probably a little better than the raw numbers indicate, although I'm dropping the grade a bit since Maybin is really the only plus defender.
Pitching Staff
Where to start? Staff ace
Clayton Richard
led the NL in hits and home runs allowed and struck out just 107 batters in 218.2 innings. No. 2
Edinson Volquez
walked 105 batters. No. 3
Anthony Bass
had a 6.35 ERA on the road. Marquis had been let go by the
Twins
after allowing 33 runs in 34 innings. Anyway ...
OK, so it's a bad rotation, its inadequacies masked somewhat by the Padres' forgiving home park. This isn't the rotation the Padres were hoping for a year ago.
Cory Luebke
and
Joe Wieland
both underwent Tommy John surgery. Top prospect
Casey Kelly
missed three months with a strained elbow ligament, although did return to make six late-season starts for the team.
Andrew Cashner
, acquired from the
Cubs
in the
Anthony Rizzo
trade, started in the bullpen before moving to the rotation to help conserve his innings, and made a couple starts before straining a lat. He then cut his thumb in an offseason hunting accident and will begin the season on the disabled list.
No, the future of the Padres doesn't rest on Bass and Marquis, but on those four guys and younger prospects like Max Fried, Matt Wisler and Joe Ross. It's not a good rotation now, but it should be better in 2014.
Heat Map to Watch
What explains Headley's second half in 2012? For one thing, he started destroying fastballs. As you can see from the heat map, there is a lot of red. After hitting .303 with four homers against fastballs in the first half, he hit .392 with 11 homers against fastballs in the second half. From the numbers, it's hard to see exactly what happened. His swing percentage and chase percentage (on pitches outside the zone) were basically the same, so he didn't become more or less aggressive. He did improve his contact rate -- swinging and missing about 4 percent less often -- but that doesn't explain everything. Maybe he just hit the ball harder. Maybe he just got a little lucky. We'll find out in 2013.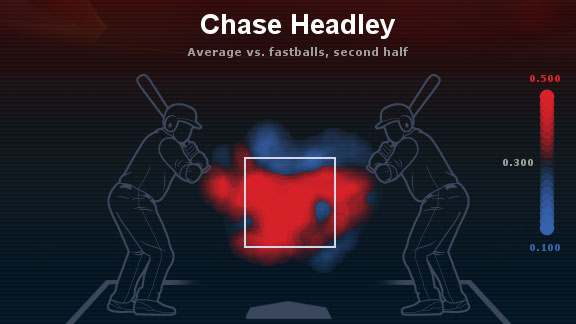 ESPNThe switch-hitting Headley feasted on fastballs in the second half of 2012.
Overall Grade

Some people view the Padres as a sleeper playoff candidate, but I have a hard time seeing it with the current makeup of the rotation. Even if some of the young guys return or suddenly mature, they need a lot of things to go right. The offense could be interesting if Alonso adds some power, Headley does his thing again, Maybin improves and Grandal returns and hits, but, again, that's a lot of ifs.
Factor in that the
Diamondbacks
have improved, the
Dodgers
have added
Zack Greinke
and get full seasons from last year's trade acquisitions, and I'm not sure I see the Padres cracking .500.
Thoughts?
August, 3, 2012
8/03/12
11:10
PM ET
This past winter, when the
Cincinnati Reds
traded for
Mat Latos
, I remember there being a lot of talk that he would really suffer without having spacious Petco Park as his home field.
Of course, there obviously were going to be some difficulties for a pitcher moving from Petco to Great American Ballpark, and the big righty already has allowed 20 homers, a career high. But when you see Latos throw like he did Friday night, it doesn't matter what park he is in.
The 24-year-old dominated the
Pittsburgh Pirates
, shutting them out over 7 1/3 innings while allowing just seven baserunners and striking out five in
Cincinnati's 3-0 victory
. Most importantly, he was working down in the zone, and induced 13 grounders and just three fly balls. (As you well know, ground balls never leave the park.) Latos added a two-run home run for good measure and helped the Reds extend their National League Central lead to 4 1/2 games.
Latos definitely struggled a bit early on this season in his new digs, but in his past eight starts, he has a 2.13 ERA with 52 K's in 55 innings, and his talent is really starting to shine through. And while
Johnny Cueto
has better overall numbers, Latos is much better at missing bats and has the kind of stuff to thrive in the postseason, which is where the Reds appear to be heading. Long story short, if I'm Dusty Baker, I try to set my rotation to make Latos my Game 1 starter.
However, it should be noted that I might have a bit of a Latos bias.
Back in August 2005, I was working for Baseball America, and I was sent to Aberdeen, Md., to cover the Aflac All-American game. For those who are unfamiliar, it's a showcase of the best high school players in the country who are about to enter their senior year, and it is now known as the Perfect Game All-American Classic and takes place in San Diego.
Showcases like that are a lot of fun to cover because you know there are a bunch of future big leaguers there; you're just not sure who they will be. And as you can see at the
bottom of this link
, the 2005 class -- which featured
Brett Anderson
,
Jordan Walden
and
Kyle Drabek
, among others -- did not disappoint.
But as talented as those pitchers were, the guy who was generating the most buzz among scouts was Mat Latos. Given his 6-foot-6 frame and fastball that could then scrape 98 mph, it was easy to envision a 2006 first-round pick and a possible No. 1 starter. But there were murmurs about attitude problems, and Latos fell to the 11th round of the 2006 draft and signed with the
San Diego Padres
the following spring as part of the now-defunct draft-and-follow process for $1.25 million.
He looked like an immediate bargain and cruised through the minors in just two years, posting a 2.49 ERA and 10.5 K's per nine along the way. He finished eighth in the Cy Young Award vote in 2010, his first full season, and looked like he'd be in San Diego for a long time. But then the Padres decided to use Latos to rebuild, and traded him to the Reds this past winter for a package that included
Yonder Alonso
and
Yasmani Grandal
.
It was easy to predict a drop in numbers for Latos since he was moving out of baseball's most pitcher-friendly park, but he is showing that his home park was just part of the reason for his success. (It reminds me of how people once thought
Matt Holliday
was a product of Coors Field until he proved he wasn't.) And while the Reds gave up a lot for Latos, they are in position to win their division -- and possibly a World Series -- because of his talent.
And those championship chances will only increase if he keeps pitching like he did Friday.
July, 3, 2012
7/03/12
11:08
AM ET
First base: Romero rocked again.
Considering all the injuries to the Blue Jays' rotation, another issue of concern is the struggles of ace
Ricky Romero
, who allowed eight runs in six-plus innings -- including a grand slam to
Mike Moustakas
-- in Monday's
11-3 loss to the Royals
. Romero is 8-3 thanks to great run support, but his ERA is 5.35. He's allowed four runs or more in 11 of 17 starts, a figure topped only by
Jake Arrieta
's 12 such starts. But he's allowed four-plus runs in his last eight starts and 17 over his past two. The Jays are now 40-40 and without Romero at the top of his game, their playoff chances are dimming.
Second base: Maybin's monster mash.
After a breakout season in 2011 for the Padres,
Cameron Maybin
has been a big disappointment, with a .206/.287/.307 line, but he did belt the
season's longest home run on Monday
, a 485-foot bash off
Trevor Cahill
. According to ESPN Stats & Info, that tops
Nelson Cruz
's 484-foot blast on June 3.
Yasmani Grandal
also homered for the Padres, making his first three career hits all home runs. That would seem like like a first-player-to-do-it type of feat, but he's the seventh player to do so since 1900, joining
Keith McDonald
(2000),
Alfonso Soriano
(1999-2000), Mike Greenwell (1985), Billy Conigliaro (1969), Ed Sanicki (1949) and Chick Fullis (1929). The amazing thing about McDonald: Those were the only three hits of his career.
Third base: Weaving zeroes.
Jered Weaver
improved to 9-1 with a 2.13 ERA with
seven scoreless innings
against the Indians and could be in line to start the All-Star Game for the second straight season. According to ESPN Stats & Info, Weaver threw a season-high 20 curveballs, 14 for strikes. Since 2009, Weaver now has 23 scoreless starts, second in the majors to
Clayton Kershaw
's 28. I still expect
Justin Verlander
to get the start, but Weaver could be the first to start consecutive All-Star Games since
Randy Johnson
started for the NL in 2000 and 2001.
Home plate: Tweet of the day.
The
A's beat the Red Sox 6-1
as they scored five runs in two innings off
Daisuke Matsuzaka
.
Josh Reddick
didn't make the All-Star team, but he hit his 19th home run, and former Red Sox prospect
Brandon Moss
hit his ninth to raise his slugging percentage to .658. Leading to this tweet from Peter Gammons:
Josh Reddick and Brandon Moss 28 HR. Red Sox OFs 20 HR



Josh Reddick and Brandon Moss 28 HR. Red Sox OFs 20 HR

— Peter Gammons (@pgammo) July 3, 2012
December, 31, 2011
12/31/11
6:25
PM ET
By
Christina Kahrl
| ESPN.com
With the
Carlos Quentin
trade, it was fairly clear what one of the teams wanted. The Chicago White Sox were looking to clear salary, even before they got power lefty
John Danks
nailed down with a multi-year extension
. You can add in the motivating factor of wanting to create an opportunity for hefty former third baseman
Dayan Viciedo
in the outfield -- not unlike their replacing Albert Belle with hefty former third-base prospect
Carlos Lee
in 1999.
[+] Enlarge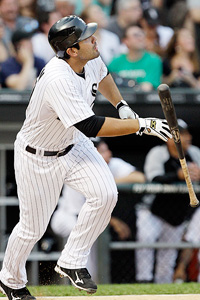 AP Photo/Nam Y. Huh)The Padres hope Carlos Quentin provides some sock in their lineup, but will he be a Padre after the 2012 season?
But for the Padres, things might not seem quite so clear-cut. Adding a player with Quentin's track record as a power hitter might seem like exactly what they needed after finishing last in the major leagues in power with a .112 isolated power. However, the deal might seem a bit incongruous with some of their other actions this winter. They did just deal their nominal ace,
Mat Latos,
to the Reds for a package of goodies that, besides wild man
Edinson Volquez
, was prospect-heavy. That wasn't a move made to win the NL West right away, but it did provide an already deep Padres organization with blue-chip prospects like
Yonder Alonso
and Yasmani Grandal.
That same organizational depth provided Josh Byrnes with the excess talent to trade for Quentin, but why go get Quentin in particular? He's only going to be under club control for a single season -- and he's due a raise via arbitration -- before he reaches free agency. So this is a one-year rental, even less control than they have over their other major trade pickup this winter, Rockies closer
Huston Street
, who at least came over from Colorado already inked to a club option for 2013.
So where's the pattern, or is there one? The Pads' other big-ticket veterans, second baseman
Orlando Hudson
and shortstop
Jason Bartlett
, are similarly locked up for 2012 with club options for 2013. Put that collection of veterans together, and that
might
sound like a club more geared towards trying to win now. After the Diamondacks' Lazarus act last season, four different teams have made the playoffs from the NL West in the last four years. With Quentin in the middle of the order, you might hope for another Padres run at relevance, like 2010. Using their Pythagorean projected record, they should have been much better last year; with a stronger lineup they might be better equipped to make up ground after they finished 71-91, eight wins below their expected 79 last year.
After Quentin slugged .505 over four seasons for the White Sox, he would certainly appear to have the power to contribute to a contender. However, Quentin is an extreme fly-ball hitter, having just tied for 10th in the majors in 2011 for batted balls hit into the air. And now he's moving from the Cell and its inviting short porch in left, to the most punishing environment for fly-ball hitters in baseball.
The Padres have been here before with extreme right-handed fly-ball hitters. Can Quentin power a Padres bid any better than
Ryan Ludwick
did? Ludwick had slugged .507 for the Cardinals over four seasons when
he
was traded to San Diego at the end of 2010. Upon introduction to Petco Park, Ludwick promptly stopped slugging.
You might hope that Quentin's poor season in the Cell in 2011 suggested he was overcompensating -- he hit 17 of his 24 homers on the road with a .616 SLG to his .381 clip in Chicago -- but skepticism of what Quentin will do in San Diego is warranted, even with his two-year advantage of relative youth over Ludwick.
Dan Szymborski of
ESPN Insider

projects Quentin to hit .254/.344/.458 in Petco, good for a park-adjusted 123 OPS+. That would have led all Padres outfielders in 2011, but that's setting the bar low; it would have also ranked third among Pads regulars behind journeyman
Jesus Guzman
and catcher
Nick Hundley
. That's a fairly modest season to project for an All-Star outfielder in his age-29 season, or what's supposed to be the tail end of a normal career peak.
Keeping that kind of projection in mind, if you can set aside any expectations of a 36-homer season, getting Quentin puts the Padres in a nice position for the time being. They've added better power than they had on hand -- or were likely to find on the market -- for prospects they might never really miss. That's a nice deal for them in the near term, just as it's nice for Quentin to get a shot to return to his SoCal roots in San Diego.
But if Quentin's a one-year rental, it's hard to see what this does for them in the big picture. If the Pads aren't knocking around .500 three or four months into the season, Byrnes might just end up dealing Quentin at the deadline. After all, that was Ludwick's ultimate fate last summer -- after Petco had sapped him of any real value. However, by virtue of the new CBA, free agents-to-be no longer generate picks for the teams acquiring them in-season, diminishing any value they'd get back in a trade. So the Padres might get 2013 draft-pick compensation, but that's if they keep Quentin all year and then offer him arbitration -- which he might accept, after getting his arbitration-generated raise past $6 million this winter, and after a season in Petco that's likely to hurt his prospects for better offers on the open market.
Not every trade turns into some spectacular feat of genius, or needs to be. In the end, credit Byrnes with making a worthwhile deal for the time being. Ultimately, it might just give them better power in just this one season, and make them a slightly better team -- for now.
Christina Kahrl covers baseball for ESPN.com. You can follow her on Twitter.