SweetSpot:

Yordano Ventura
April, 9, 2014
Apr 9
11:22
AM ET
For some reason, players just can't help themselves.
Yasiel Puig
has missed the past two Dodgers games after suffering a thumb injury while sliding headfirst into first base. On Tuesday night,
Josh Hamilton
slid headfirst into first base in the seventh inning and was removed in a crucial situation in the ninth inning because he injured his thumb.
The Angels trailed 5-3 but
Fernando Rodney
had walked the first two batters, bringing up Hamilton's spot in the lineup. Mind you, this is a hot Hamilton, hitting .444 in the early going. Instead,
Ian Stewart
pinch hit and struck out, as did
Howie Kendrick
, and when
Raul Ibanez
flew out the Angels had lost for the fourth straight time this season to the Mariners.
Studies have shown runners do
not
get to first base faster by sliding headfirst, so runners, please stop.
Other thoughts on Tuesday's games:
February, 19, 2014
Feb 19
11:50
AM ET


Eric and myself discuss a few of the more interesting position battles going on this spring.
January, 24, 2014
Jan 24
10:00
AM ET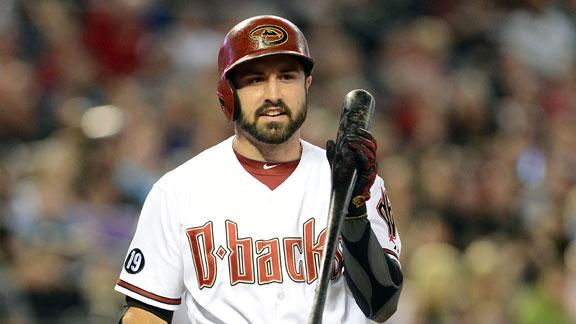 These are 10 players I like heading into the season, five position players and five pitchers. I'm calling them breakout candidates, although if you're a fantasy player, you already know about them. You always have to be wary about projecting too much growth in a young player -- many fantasy owners have been ruined by falling prey to prospect hype -- but these are 10 young players I'd love to have in 2014.
Jedd Gyorko, 2B, San Diego Padres:
He had an impressive rookie season with 23 home runs in 125 games, although a .249 average and .301 on-base percentage leaves room for improvement. Still, his season went pretty unrecognized for several reasons: (1) He plays for the Padres, and (2) it was such a strong rookie class in the National League that there wasn't much attention left over after
Jose Fernandez
,
Yasiel Puig
,
Shelby Miller
and
Julio Teheran
; (3) His splits made for an odd season, as he hit .272 with eight home runs in the first half, .226 with 15 home runs in the second half.
Gyorko needs to consolidate those two approaches. Some of that difference came from a big split in BABIP -- .325 in the first half and .245 in the second half, but he did start chasing more pitches out of the strike zone in the second half (34 percent compared to 30 percent). He was a .321 hitter in the minors, so if he can reign in the over-aggressiveness just a bit I think his average and OBP will come up. He hit 13 of his 23 home runs at Petco and hit 30 in the minors in 2012, so the power is definitely legit.
Didi Gregorius, SS, Arizona Diamondbacks:
When Kevin Towers acquired Gregorius from the Reds last offseason in a three-team deal, the trade was widely criticized since Arizona surrendered
Trevor Bauer
, the third overall pick in the 2011 draft. But Towers loved Gregorius' defense and Bauer had worn out his welcome in Arizona. Gregorius missed some time with injuries as a rookie but showed more potential with the bat than many expected, hitting .252/.332/.372, and showing the ability to turn on some pitches with seven home runs.
He's never going to be an offensive star, but he puts the ball in play, and if he can improve against left-handers (.200/267/.245), his numbers will look pretty good for a shortstop. If his defensive proves to be as strong as Towers sold us on them (the defensive runs saved metric had him at minus-1 run in 2013), he has a chance to be a very good player. His fantasy value may be limited by his lack of offensive skills, but I believe Gregorius can turn into a championship-caliber shortstop.
Kole Calhoun, RF, Los Angeles Angels:
A big reason the Angels felt they could trade
Mark Trumbo
for pitching depth was the emergence of Calhoun, who hit .282/.347/.462 in 222 plate appearances. He's older (26), so his star potential is limited. He has a decent approach at the plate and could hit 15 to 20 home runs. A left-handed batter, he has handled lefties well enough that he doesn't necessarily have to be platooned.
Josmil Pinto, C, Minnesota Twins:
You never want to count too much on a young catcher -- we've seen top hitting prospects like
Devin Mesoraco
and
Jesus Montero
struggle mightily at the big league level -- but the Twins are moving
Joe Mauer
to first base due to their confidence in Pinto. His 21-game stint in the majors was obviously impressive (.342, five doubles and four home runs in 83 plate appearances) but he has hit very well the past two seasons in the minors, including a .309/.400/.482 line between Double-A and Triple-A in 2013. I like his discipline -- 66 walks, 83 strikeouts in the minors -- and his arm is solid (threw out five of 11 basestealers with the Twins). The Twins brought in veteran
Kurt Suzuki
, but playing him would be a mistake. Pinto needs to get 450 to 500 plate appearances as the regular catcher. I think he'll hit enough and play well enough behind the plate to give manager Ron Gardenhire little option but to do just that.
Anthony Rendon, 2B, Washington Nationals:
No surprise here. Everyone has expected Rendon to hit since his college days at Rice. The big question with him has always been staying on the field. Injuries limited him to 43 games in the minors in 2012, but he stayed relatively healthy last season, playing 134 games between the minors and the majors. He may end up being more of a doubles guy with a good average than a big power hitter, but either way he's going to provide value at the plate. Rendon has good balance, quick wrists and he walked more than he struck out in the minors, an approach that should help him improve on the .265 average he hit as a rookie. His defensive transition to second base still needs work, but he's athletic enough to be acceptable.
With Rendon and
Bryce Harper
-- heck, I could have put Harper on the list except he's already such a big name -- the Nationals should score more than the 656 runs they tallied a season ago.
Nate Eovaldi, P, Miami Marlins:
Among pitchers who threw at least 100 innings in 2013, guess who had the highest average velocity on the fastball? Yep, this guy. Eovaldi averaged 96.2 mph on his heater, one of just four starters to average 95-plus, along with
Gerrit Cole
,
Matt Harvey
and
Stephen Strasburg
. It's a good weapon and proved to be a fairly effective pitch for him; he allowed a lower OPS on his fastball than
Zack Greinke
,
Julio Teheran
,
Anibal Sanchez
,
Adam Wainwright
and
Felix Hernandez
. Eovaldi still needs to improve his command, but more importantly needs to refine his secondary pitches. He threw his fastball 1,189 times out of 1,696 total pitches, relying little on his slider or curveball. He needs to turn one of those pitches into more of a strikeout pitch. He did have some shoulder problems at the start of 2013 but was fine after that. He turns 24 in February, and with 46 career starts under his belt, he's young enough to put everything together.
James Paxton, P, Seattle Mariners:
Taijuan Walker
is the Mariners' rookie starter who has received most of the attention on prospect lists, but Paxton may be more ready for the majors. A lefty with good size at 6-foot-4, Paxton brings a good fastball (he averaged 94.8 mph in his four-start stint in September in which he held batters to a .172 average) along with a curve and changeup, although with a history of shaky command. His Triple-A numbers aren't impressive -- 4.45 ERA, 158 hits in 145.2 innings -- but were better in the second half. The Mariners were a terrible defensive team last year and could be again this year, especially if they end up adding
Nelson Cruz
in the outfield alongside
Corey Hart
or
Logan Morrison
, so keep that in mind. A shaky defense can hurt a young pitcher's confidence and force him to start nibbling at the corners too much.
Corey Kluber, P, Cleveland Indians:
Kluber was pretty good in 2013 -- 3.85 ERA in 147 innings -- so this is confirmation bias as much as anything. Originally a fourth-round pick of the Padres way back in 2007, Kluber came to Cleveland in the three-way trade that sent
Jake Westbrook
to the Cardinals. He finally put everything together in 2013, improving his command and cutting his walks way down. He finished with 136 strikeouts and 33 walks, a 4.1-to-1 ratio, the sixth best in the American League behind guys named
David Price
,
Chris Sale
,
Felix Hernandez
,
Hisashi Iwakuma
and
Max Scherzer
. I'm not saying he's as good as those guys, but he's not just a finesse guy who lucked into a good year, as he owns a solid fastball (93.1 mph average velocity) and terrific curve. Batters hit .196 off it with just two home runs, 50 strikeouts and no walks.
Here's an examination
of Kluber's improvement, which even spawned the Corey Kluber Society.
Yordano Ventura, P, Kansas City Royals:
He'll rank high on prospect lists heading into the season with his high-octane heater. The Royals believed enough to give him three starts down the stretch with the club battling for a wild-card spot. Ventura isn't a lock for the rotation --
James Shields
,
Jeremy Guthrie
and
Jason Vargas
are locks, with
Danny Duffy
and
Wade Davis
also in the mix -- but the Royals should go with the potential upside of Ventura over Duffy or Davis. Ventura struck out 155 in 134.2 innings between Double-A and Triple-A and while the curveball and changeup are still works in progress, it's the fastball, which hit 101.9 mph with the Royals, that should make him an effective starter as a rookie.
Erik Johnson, P, Chicago White Sox:
A second-round pick out of Cal in 2011, Johnson dominated the high minors, posting a 1.96 ERA and allowing just 100 hits in 142 innings. He mixes in a four-seamer and two-seamer with an upper-80s slider that neutralizes right-handed batters. He needs to improve his curveball and/or changeup to become more effective against lefties and pitching in The Cell, where the ball flies, isn't easy, so don't expect a low ERA from him. But he could develop into a middle-rotation type of starter, part of a suddenly interesting young core in Chicago that includes
Jose Abreu
,
Adam Eaton
and
Avisail Garcia
.
September, 18, 2013
9/18/13
12:20
AM ET
Yordano Ventura
is one of the
Kansas City Royals
' top prospects and possesses a 100-mph fastball that has made him one of the more intriguing prospects in the minors. He fanned 155 in 134 2/3 innings across two levels in the minors and when the Royals need a starter to fill in for
Danny Duffy
, they decided to give Ventura his first major league start.
It was a gutsy decision by the Royals, but what's the quote, "Fortune befriends the bold"? Emily Dickinson, according to Google. For five innings, Ventura was brilliant, reaching 100 on the gun a couple times, allowing just two hits and taking a 3-0 lead into the sixth inning. It appeared Ned Yost and Dayton Moore would be rewarded.
Yost probably should have been happy that Ventura had given him five great innings and turned the game over to one of the game's best bullpens -- Kansas City's 2.54 bullpen ERA is second in the majors to the Braves.
[+] Enlarge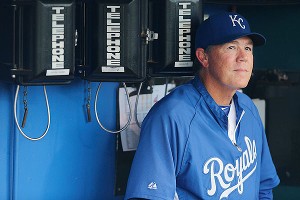 Ed Zurga/Getty ImagesNed Yost sat through another brutal September loss that left the Royals' chances badly hurt.
But this is Ned Yost we're talking about here, and he's not exactly pulling an Earl Weaver from the dugout this year. Go back to Sunday's game against Detroit, 2-2 in the eighth.
Jeremy Guthrie
had allowed 12 hits but just two runs. Yet there he was pitching in the eighth, well past 100 pitches. No offense to Guthrie, but he'd done his job; this isn't
James Shields
or
Kevin Appier
or
Bret Saberhagen
here.
Alex Avila
hit a home run and the Tigers won 3-2.
It's not like the Royals pen been has overused either -- it ranks just 28th in the majors in innings pitched. If anything, it has been
underused
. So take your five innings from Ventura and turn it over to the pen. Instead,
Nick Swisher
reached on an infield single and with two outs
Carlos Santana
singled sharply to right and
Michael Brantley
singled in Swisher. The Royals escaped after allowing just the one run but the inning gave the Indians life.
Look, I'm not completely blaming this loss on Yost. He still got the game to the seventh inning with a 3-1 lead and a slew of relievers available. Give Cleveland credit for rallying for two runs off
Kelvin Herrera
in the seventh, one off
Wade Davis
in the eighth and a final run in the ninth to win 5-3. Even then, however, did Yost use the right guys?
Why take out
Louis Coleman
after he had escaped the jam in the sixth? Coleman has allowed one run in 25 innings with a 27-to-4 strikeout-to-walk ratio. Herrera has actually been the most inconsistent of Royals relievers, with seven losses and a 3.70 ERA entering the game. Coleman has been hot.
And then why go to Davis in the eighth? He had struggled all season in the rotation before the Royals finally sent him to the pen. Sure, he was great as a reliever with Tampa Bay last year, but he'd only pitched in four games in relief for Kansas City. Where was
Luke Hochevar
and his 1.64 ERA and .164 average allowed? He'd thrown 18 pitches on Monday and nine on Saturday -- hardly reason to hold him back. Of course, Yost wouldn't use closer
Greg Holland
and his 1-point something ERA in a tie game in the eighth. Why waste your closer in such a high-leverage situation?
Asdrubal Cabrera
doubled in the go-ahead on a fly ball over
Alex Gordon
's head in left, a play that Gordon appeared to be in good position to make but somehow didn't make.
The Royals are in must-win mode in every game and Yost blew a lead while using his three best relievers for one batter. (After Davis gave up a run in the eighth, he did finally use Hochevar, who allowed a home run to
Michael Bourn
.)
The relievers didn't do the job. Gordon didn't make the catch. I don't believe Yost utilized his best options, however. It was a brutal loss for the Royals, now 3.5 behind Texas and Tampa Bay and needing to jump three teams in the standings (plus the Yankees, who are tied with the Royals).
I've probably short-changed the Indians here. Their bullpen did a terrific job in relief of
Corey Kluber
, as six relievers combined to toss 5.1 scoreless frames. Unlike Yost, Francona pulled Kluber very quickly. Already down 3-0, there were two outs and a runner on first and Kluber was at just 79 pitches but Francona was willing to use all those September relievers and not let the game slip away. How many managers would have that quick of a hook?
There isn't much separating the Royals from the Indians, but this game showed how and why one team has a huge edge in the dugout.
July, 8, 2012
7/08/12
8:35
PM ET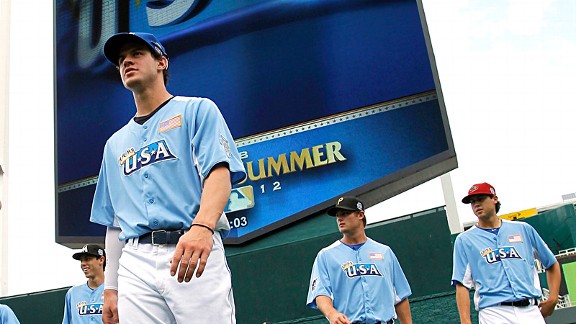 John Sleezer/Kansas City Star/MCTWil Myers and the U.S. team trounced the World team 17-5 in the Futures Game.
KANSAS CITY, Mo. -- In 13 previous Futures Game matchups before Sunday the USA team had scored 51 runs, the World team 46, so let's just say games didn't play like they had been held regularly at Coors Field. On Sunday, however, the USA team had little trouble setting records as they exploded for a lopsided 17-5 victory in front of a loud, sellout crowd of 40,095 at steamy Kauffman Stadium.
Offensive heroics clearly weren't hard to find, as hometown hero Wil Myers of the
Kansas City Royals
knocked in three runs and played the entire game. (Can you imagine that Tuesday night in the All-Star game?)
Detroit Tigers
third base prospect Nick Castellanos launched a majestic three-run homer to center field to cap a nine-run sixth inning and Billy Hamilton, perhaps the fastest player in organized baseball today, tripled in one of his at-bats, though fans were deprived the opportunity to see a record-breaking base stealer do just that.
Of course, few might remember early on the story was the U.S. pitchers struggling to keep the World hitters off the board. Royals prospect Jake Odorizzi, likely an upgrade on anyone the big league team has in its current rotation, started and allowed a home run to Jurickson Profar, the
Texas Rangers'
exciting shortstop prospect. In the second inning
Pittsburgh Pirates
flamethrower Gerrit Cole entered and lit up the radar gun, but also permitted a long two-run blast to
Chicago Cubs
outfield prospect Jae-Hoon Ha. Polished
Seattle Mariners
lefty Danny Hultzen allowed a run on three hits in his inning, and then
Baltimore Orioles
right-hander Dylan Bundy threw a scoreless fourth inning, but allowed three more hits.
Ultimately the USA team had little trouble making up the 4-0 deficit in easily the highest-scoring game in Futures history. (The previous high for
combined
runs scored was 13). And this was fun, too. In general Futures Game crowds are small and disinterested, the first event of a three-day stretch that gets overlooked by the prime-time Home Run Derby and Tuesday's All-Star game. But fans filled the Kansas City stadium and flocked to see Myers, Odorizzi, as well as World team starting pitcher Yordano Ventura, who tossed a scoreless inning. Congrats to the crowd for showing up, mostly staying until the end and making a lot of noise despite triple-digit temperatures. And you bet they want to chance to keep on cheering on Myers, he of the 27 home runs at two minor league levels already, when he finally gets the call to the Royals. It's coming, definitely.
As for Hamilton, the
Cincinnati Reds
shortstop that has famously registered 104 stolen bases in 82 games so far, and is scheduled to make his Double-A Pensacola debut this coming week, it would have been nice to see him attempt to steal a base against strong-armed
Atlanta Braves
catching prospect Christian Bethancourt. Hamilton grounded out in the first inning to second base -- though he nearly beat it out -- and then launched a two-run triple over the center fielder in the third. In his final at-bat he grounded into a double play. It's hard to believe that happened because Hamilton is so fast, like
really, really fast.
By the way, current Reds leadoff men, mostly shortstop
Zack Cozart
, entered Sunday hitting .201 with a .246 on-base percentage.
Quite a few players made an impression in this game on the offensive side, but the same cannot be said about the young arms. Perhaps the relative struggles of the more notable U.S. pitchers -- the team did win by 12, after all -- is a gentle reminder that there are no sure things with minor league hurlers, even the top prospects with the highest pedigree.
Arizona Diamondbacks
right-hander
Trevor Bauer
is an example. He would have been in this game, perhaps in a leading role, had he not been called up to the majors a few weeks ago. Bauer's first two big league starts featured 11 hits, eight runs and seven walks in only 7 1/3 innings, but Sunday went a lot better for Bauer against a Double-A caliber
Los Angeles Dodgers
lineup with six shutout innings of two-hit ball. Odorizzi, Cole and Hultzen are likely to see big league time in 2012, but initial domination is far from assured.
As for what else was notable from this game, the future of the left side of the Texas Rangers infield appears to be in good hands. Profar homered to right field to lead off the game, and then, against the lefty Hultzen, turned to bat right-handed and lined a single to right field. Third base prospect Mike Olt has 22 home runs in the minors, and he contributed a mammoth double off the center-field wall in five at-bats. There's no room currently in the Texas infield, but Profar has a better long-term prognosis than
Elvis Andrus
and it's certainly possible Olt is called up soon to handle first base, with
Adrian Beltre
entrenched at the hot corner.
Castellanos was awarded the MVP award for his home run and two singles, plus he scored three runs. Tigers fans can't complain about current third baseman
Miguel Cabrera
-- well, they can
defensively
-- but Castellanos is 20 years old and not close to the big leagues, not like Myers and some of the U.S. pitchers.