SweetSpot:

Yordano Ventura
October, 1, 2014
Oct 1
2:03
AM ET
This is supposed to about the five key things that decided this game. There were about 20 of those. Or 50. Or 100. I lost track somewhere there in the 10th or 11th inning of one of the craziest, wildest, most improbable baseball games I can remember watching.
This was supposed to be a pitcher's duel between
Jon Lester
and
James Shields
. It wasn't.
It was supposed to be about the
Kansas City Royals
getting the ball to their dominant bullpen trio with a lead. It wasn't.
It was supposed to be about
Oakland Athletics
manager Bob Melvin matching wits with the Royals' Ned Yost, and Melvin winning in a landslide. OK, Yost did make one of the worst tactical decisions in recent playoff history.
The Royals won anyway.
Right. Because this all makes sense.

— Mike Ferrin (@MikeFerrinSXM) October 1, 2014
Baseball > (name any sport)

— AJ Ellis (@AJEllis17) October 1, 2014
The best awful game of all time.

— Dustin Parkes (@dustinparkes) October 1, 2014
This game ties Game 7 of the 1924 World Series for the longest winner-take-all postseason game ever played. Walter Johnson won that one.
Jason Frasor
, the seventh Royals pitcher of the game, won this one, after helping to give up the lead in the 12th inning. The Royals were down 7-3 in the eighth inning and won. They were down 8-7 in that 12th inning and won. The heroes were guys such as
Brandon Finnegan
and
Christian Colon
. It was small ball over Moneyball, at least for a day. It was baseball, not always beautiful, but still baseball at its most entertaining, at October intensity.
OK. Doug Padilla has the Royals angle. Here are five reasons the A's lost.
1. Bob Melvin stuck too long with Jon Lester.
Down 7-3, the Royals rallied in the bottom of the eighth inning. Melvin, determined to apparently ride starter Lester straight to closer
Sean Doolittle
, left him in for 111 pitches, and maybe one batter too many. A
Jed Lowrie
error, a stolen base and a single made the score 7-4 and then Lester walked
Eric Hosmer
with one out (after
Lorenzo Cain
had stolen second). Melvin finally brought in
Luke Gregerson
, but
Billy Butler
's RBI single made it 7-5. Pinch-runner
Terrance Gore
stole second and a wild pitch made it 7-6 and put Gore on third with one out. Gregerson pitched carefully to
Alex Gordon
, who walked and then stole second with
Salvador Perez
up. A base hit puts the Royals up, a sac fly at least ties it up ...
Does anyone remember how to breathe air?

— Beyond the Box Score (@BtBScore) October 1, 2014
Salvador Perez takes three helpless swings to make the second out. It will be up to Omar Infante.

— Andy McCullough (@McCulloughStar) October 1, 2014
There are cars parked on the side of I-70, watching the crowd from the highway.

— Sam Mellinger (@mellinger) October 1, 2014
That is a grown man's slider. Wow.

— Troy Renck (@TroyRenck) October 1, 2014
Gregerson fanned Perez on three sliders, the third one a good foot off the plate. Yes, the Royals drew the fewest walks in the majors and Perez drew just 22 in 606 plate appearances. Gregerson exposed his free-swinging ways and it was a terrible at-bat. He threw four sliders to Infante, the fourth swung and miss on a pitch in the dirt. Gregerson, a sneaky offseason pickup from the Padres, does have a nasty slider, as batters hit .212 against this season. But it's not the nastiest in the game -- they also hit four home runs and nine doubles (all four home runs by right-handed batters). What makes it impressive is how often he throws it -- 48 percent of the time. Among pitchers with at least 50 innings, only five threw their slider a higher percentage of the time.
The Royals were 90 feet from tying the game. Assuming the A's would close it, I had written, "Royals fans will have all offseason to think about those seven sliders."
Instead the postscript will read: How do you leave in a starter to give up six runs in a do-or-die game? (Actually, I was surprised that it has happened 14 times out of 182 sudden-death games, the last in 2012, when
Adam Wainwright
and
Mat Latos
both allowed six runs in Game 5 of the division series.
The difference is those guys weren't still in there in the eighth inning with a four-run lead. The last comparable game was Nolan Ryan in Game 5 of the NLCS for the Astros, when he took a 5-2 lead into the eighth and coughed up the lead. Melvin let the game slip out of his hands even though the A's bullpen -- despite a couple notable tough losses -- had actually pitched well. Obviously, if Lowrie doesn't make the error the inning probably unfolds differently, but in this day of dominant pens, Melvin waited too long to go it.
2. Geovany Soto leaves with a thumb injury.
When you think about potential critical moments, you really aren't thinking about the loss of Geovany Soto. And yet...

— Joe Sheehan (@joe_sheehan) October 1, 2014
Soto says his thumb was jammed, it's not broken. But it was brutal catching. Crisp strained his hamstring.

— Susan Slusser (@susanslusser) October 1, 2014
Soto was a controversial starter at catcher over
Derek Norris
, in part because he had never caught Lester. But he's the best defensive catcher on the A's, with the best arm. When he left in the third inning, unable to catch, it allowed the Royals to take advantage on the bases against Norris. They stole seven bases, with five of those thieves eventually scoring.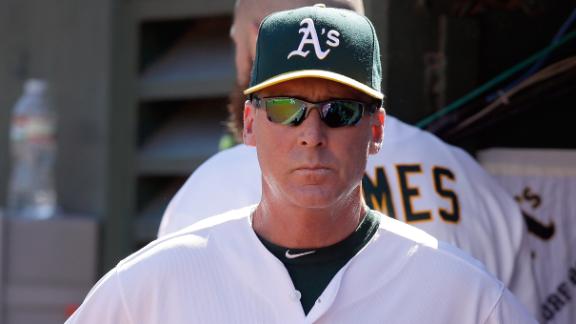 3. Royals' bunting finally pays off!
OK, the sabermetrically inclined folks on Twitter were having a fun time with Yost and his bunts -- the Royals had four sacrifice bunts in the game. But in the ninth inning, the Royals tied the game off Sean Doolittle on a
Josh Willingham
flare to right, with
Jarrod Dyson
pinch-running (Willingham had hit for
Mike Moustakas
); Dyson was bunted to second and then, in maybe the most important play of the game, stole third, the first steal of third Doolittle had given up in his career. Dyson then scored on
Norichika Aoki
's sac fly.
4. The dropped pitchout.
In the bottom of the 12th inning, after Hosmer tripled and Colon scored him on a high hopper of an infield hit to third base, Colon was running against
Jason Hammel
, who had just entered the game. The A's had called a pitchout, but Norris dropped the ball.
5. Oakland's No. 5 starter gave up the winning hit.
Huge for @SalvadorPerez15 a great player who gets biggest hit of classic game. Now, get her that puppy! #BeRoyalKC pic.twitter.com/vLptxexr4z

— Steve Berthiaume (@BertDbacks) October 1, 2014
What the hell did I just witness? No words tonight. Only amazement. #Royals

— Craig Brown (@royalsauthority) October 1, 2014
To be fair, Hammel pitched very well in September, with a 2.20 ERA and .198 average allowed. He was one of eight pitchers on the Oakland roster, kind of the designated long man.
Sonny Gray
had started Sunday and
Jeff Samardzija
on Saturday, so the choice probably came down to Hammel to
Scott Kazmir
(although Kansas City put Ventura on its roster, despite his starting on Sunday). This wasn't a bad call by the A's so much as you just hate to lose a game with a guy pitching in an unconventional situation. Hammel actually threw Perez -- who had had awful at-bats all game -- a pretty good 2-2 slider that was off the plate, knowing Perez will chase any pitch within the vicinity of Kauffman Stadium. Perez was just able to pull it inches past a diving
Josh Donaldson
-- a Gold Glove-caliber third baseman -- for the winning hit.
September, 30, 2014
Sep 30
10:39
PM ET
I'm all for thinking outside the box in the postseason, especially in a one-game situation like a wild-card game. But it's another thing to think so far outside the box and pull off one of the worst managerial decisions in recent history.
The
Kansas City Royals
led the
Oakland Athletics
3-2 in the top of the sixth inning when
James Shields
, who had cruised through the previous two innings, gave up a broken-bat bloop single to
Sam Fuld
and then walked
Josh Donaldson
on a borderline 3-2 fastball. Up stepped
Brandon Moss
, who had homered in the first inning.
Yost has three of the best relievers in baseball in
Kelvin Herrera
,
Wade Davis
and
Greg Holland
, who usually pitch the seventh, eighth and ninth innings. He pulled Shields and could have stretched those guys out for 12 instead of nine, or even used lefty reliever
Brandon Finnegan
to pitch to the lefty-swinging Moss (who was unlikely to be pinch-hit for after his earlier home runs)..
Always disliked bringing starters who have rarely relieved into a playoff game in the middle of inning with runners on base.

— CJ Nitkowski (@CJNitkowski) October 1, 2014
Ventura threw 73 pitches on Sunday. Despite his great ERA down the stretch, was still walking a lot of guys. Tough situation here.

— David Schoenfield (@dschoenfield) October 1, 2014
Brandon Moss had two home runs over his final 52 games during the regular season, so of course he has hit two of them tonight.

— D.J. Short (@djshort) October 1, 2014
Factions of fans booing Ned Yost as he comes with the hook for Yordano Ventura.

— Dave Brown (@AnswerDave) October 1, 2014
Ventura threw a 99-mph fastball up high for ball one. A 98-mph fastball was up and out of the zone. Moss hit the next pitch up and out over the center-field fence for a game-turning three-run home run. The A's went on to score two more runs in the inning -- one run charged to Ventura, the second to Herrera, who finally entered with one out.
The Royals got a prime position, leading in the sixth inning with the game's most dominant bullpen trio available. Instead, they used a pitcher who had thrown 70-something pitches two days prior. They got #Yosted.
September, 24, 2014
Sep 24
1:00
PM ET
With the news that
Jacob deGrom
has been shut down by the
New York Mets
and after watching
Yordano Ventura
deliver another impressive performance Tuesday night for the
Kansas City Royals
, it seems like a good time to review the 2014 rookie class. Here's my all-rookie team, based on 2014 performance, not future value.
Catcher: Travis d'Arnaud, Mets (.242/.302/.416, 0.4 WAR)
His overall batting numbers aren't great, but he flashed some of the potential prospect analysts had long seen at the plate, including a .265/.313/.474 line in the second half. More importantly, he stayed relatively healthy, always a problem for him in the minors. The defense is still an issue: His 19 percent caught stealing rate is well below league average -- teammate
Anthony Recker
was at 41 percent -- and he allowed 12 passed balls and 39 wild pitches, also well above Recker's rates. D'Arnaud is 25, so I'm not sure how much growth there is in him, but if he can match his second-half production over a full season and clean up the defense, he is going to be a solid role player.
Others:
Caleb Joseph
, Orioles;
Christian Vazquez
, Red Sox;
Christian Bethancourt
, Braves;
Josmil Pinto
, Twins. Joseph has been a huge bonus for the Orioles, filling in for
Matt Wieters
. Vazquez and Bethancourt are defense-first guys with questionable bats. Pinto allowed 19 steals in 19 attempts and ended up going back to Triple-A for a couple months.
First base: Jose Abreu, White Sox (.316/.382/.582, 5.3 WAR)
Yeah, he can hit big league pitching. Abreu is leading the American League in slugging percentage and ranks sixth in on-base percentage. He's not the MVP of the league -- that's
Mike Trout
-- but he should finish high in the voting even though he doesn't have much value on defense. Here's one thing I love most about his season: In the first half, Abreu hit .292 with 29 home runs but had an 82-22 strikeout-walk ratio. In the second half, he has hit .352 with six home runs and has a 45-27 strikeout-walk ratio. Should we be concerned about the drop in power? I don't think so. His fly ball rate has dropped about 5 percent from the first half, which could be some fatigue or pitchers just working him a little more carefully, but I like that he has improved his control of the strike zone, showing he's a hitter and not just a slugger.
Others:
Jonathan Singleton
of the Astros has hit .168 in 356 plate appearances with 133 strikeouts. He walks, has shown power and just turned 23, but .168 is .168.

Second base: Kolten Wong, Cardinals (.252/.295/.396, 2.1 WAR)
The most impressive season, however, may be from
Rougned Odor
of the Rangers, who has essentially the same batting line as Wong but is three years younger. Wong rates higher due to better defense and baserunning, but Odor is the guy I'd take for the future.
Others:
Javier Baez
, Cubs;
Jonathan Schoop
, Orioles;
Joe Panik
, Giants;
Tommy La Stella
, Braves. Would you rather have Baez or Odor? Baez is a year older and has hit .164. Odor was rushed to the majors due to all the injuries in Texas with just 62 games above Class A, whereas Baez had 158 games above Class A. Like Baez, Odor is an aggressive swinger at the plate, although with better contact skills. It will be interesting to see how these two develop.
Third base: Nick Castellanos, Tigers (.264/.310/.397, -1.5 WAR)
Wait, negative WAR? That's because he has rated as the worst defensive player in the majors via defensive runs saved, with minus-31. In looking at the numbers from Baseball Info Solutions, Castellanos has been credited with 30 good fielding plays and 37 defensive misplays and errors. The misplays and errors aren't out of line with the best defenders, but the good plays are near the bottom of the list.
Josh Donaldson
, for example, leads with 75. Castellanos' raw range factor is half a play per game lower than league average. It just looks a guy who doesn't have the range and reaction time to be a good defensive third baseman (not that he can't improve). Anyway, the bat hasn't been anything special, but he's just 22 and has popped 45 extra-base hits.
Others:
Yangervis Solarte
, Padres;
Jake Lamb
, Diamondbacks. Lamb should retain rookie eligibility for next season if he sits a couple more games this final week.
Shortstop: Xander Bogaerts, Red Sox (.237/.297/.362, 0.3 WAR)
He didn't have the year everyone expected, but he's going to be an excellent player.
Outfield: Billy Hamilton, Reds (.251/.293/.357, 2.5 WAR); George Springer, Astros (.231/.336/,468, 2.0 WAR); Danny Santana, Twins (.314/.351/.469, 3.5 WAR)
Hamilton has plummeted to a .202/.256/.259 line in the second half after showing some surprising pop in the first half. His base stealing hasn't been that electric as he has 56 stolen bases but has a league-leading 23 caught stealings. There have been reports he has had some leg issues, but regardless, he is going to have to improve that percentage and get stronger to get through an entire season. Springer's season was cut short by injury while Santana has been the big surprise as he never hit like this in the minors.
Others:
Gregory Polanco
, Pirates;
Oscar Taveras
, Cardinals;
Mookie Betts
, Red Sox;
Arismendy Alcantara
, Cubs;
Ender Inciarte
, Diamondbacks;
Kevin Kiermaier
, Rays. Those players all used up their rookie eligibility, with mixed results. Inciarte has the highest WAR of any rookie outfielder at 3.6 thanks to a terrific defensive rating.
SP: Collin McHugh, Astros (11-9, 2.73 ERA, 4.3 WAR); Masahiro Tanaka, Yankees (13-4, 2.47 ERA, 4.0 WAR); Yordano Ventura, Royals (14-10, 3.07 ERA, 3.5 WAR); Jacob deGrom, Mets (9-6, 2.63 ERA, 3.0 WAR); Matt Shoemaker, Angels (16-4, 3.04 ERA, 2.3 WAR)
It's an interesting group. McHugh was plucked off waivers from the Rockies; Shoemaker was basically a nonprospect who got a chance due to injuries in the Angels' rotation; deGrom was a second-tier prospect, but nobody expected
this
; Ventura was a highly rated prospect due to that explosive fastball; and Tanaka, of course, was the prized free agent from Japan. Lesson: Good pitchers can come from anywhere.
Others:
Kyle Hendricks
, Cubs;
Marcus Stroman
, Blue Jays;
Jake Odorizzi
, Rays;
Tyler Matzek
, Rockies;
James Paxton
, Mariners;
Trevor Bauer
, Indians;
Shane Greene
, Yankees;
Roenis Elias
, Mariners;
Kevin Gausman
, Orioles. Many others, of course, but those are some I like.
Reliever: Dellin Betances, Yankees (5-0, 1.40 ERA, 3.7 WAR)
With 135 strikeouts and just 46 hits allowed in 90 innings, he's had maybe the best relief season of any pitcher in the majors -- tied with
Wade Davis
of the Royals in WAR. With
David Robertson
a free agent, it will be interesting to see what the Yankees do. Betances is probably more valuable as a 90-inning setup guy than a 70-inning closer.
Overall, I'd rate this rookie class as average in production -- good on the pitching side, weak on the hitting side once you get past Abreu -- but with the potential to be better over the long haul with guys like Bogaerts, Polanco, Taveras, Baez, Odor and Springer having star potential.
My rookies of the year: Jose Abreu and Jacob deGrom.
September, 24, 2014
Sep 24
1:31
AM ET
The main thing we learned was clarity: With Kansas City winning and Seattle losing, we basically know the 10 playoff teams now, barring some sort of miracle as the Royals (and Athletics) are three up on the Mariners with five games remaining. The Dodgers beat the Giants to clinch a tie for the NL West. The Pirates officially are in after beating the Braves.
On the other hand, the AL Central remains close and the Pirates are breathing some hot September breath on the necks of the Cardinals in the NL Central.
1. The Pirates clinched a playoff spot.
If momentum means anything heading into the postseason, the Pirates are the team to watch as they've won 15 of 18, blowing past the Brewers and the other wild-card contenders to clinch their second straight playoff berth.
Gerrit Cole
allowed runs in the first and second innings to the Braves and then settled down and dominated, retiring the final 17 batters he faced. Cole was still humming late in the game: His final fastball was 97 mph. OK, it was the Braves and the Braves are horrible, but this was the Cole that Pirates fans hope to see in the playoffs. That may be in the wild-card game -- him or
Francisco Liriano
. Or maybe it's in the Division Series, because the Cardinals lost in extra innings to the Cubs, so now Pittsburgh is just 1.5 games behind St. Louis. The Cardinals have one more game against the Cubs before finishing with three in Arizona, with
Adam Wainwright
scheduled to go Sunday, if needed. The Pirates have two more in Atlanta, then three in Cincinnati.
2. Yordano Ventura is not tired.
The rookie right-hander made his 29th start of the season and threw 117 pitches over seven shutout innings in Kansas City's 7-1 victory over Cleveland. His 104th pitch was clocked at 100 mph. The final batter he faced was
Jose Ramirez
with the bases loaded. He threw fastballs of 98, 97, 97 and 99 before pulling the string
with an 88 mph changeup
that Ramirez swung at and missed. How are you supposed to hit that pitch after fighting off high-octane gas in the upper 90s? Over his past 10 starts, Ventura is 7-2 with a 2.08 ERA. The control hasn't always been there -- he's averaged 4.4 walks per nine innings over that stretch -- but that fastball/changeup/curve combo has been tough to hit, with opponents hitting just .195 in those 10 games. He hasn't allowed a home run since July. (Ventura threw 79 percent fastballs Tuesday, his highest single-game percentage all season.)
OK, that's the good news, a huge win for the Royals, a huge performance from Ventura. They haven't clinched anything yet, but things are looking good. The questionable news: Why was he allowed to throw 117 pitches when the Royals were up 7-0? He was pitching on five days' rest, and I know we can overreact to pitch counts that aren't necessarily that extreme (we've become so conservative, thinking 100 pitches is some magical number when it's probably not). Still, with a young pitcher in his first season -- having thrown 30 more innings than last year and a guy you're going to possibly need in the playoffs -- why leave him for his season-high in pitches in late September? This didn't seem like the game, or the moment, for manager Ned Yost to do this, even if Ventura was throwing 100 in the seventh.
3. Felix Hernandez looked very tired.
This was the saddest of possible scenes for Mariners fans: Hernandez, trying to get into the playoffs for the first time in his wonderful career, essentially pitching the Mariners out of the playoffs by throwing 43 painful, heart-wrenching pitches in the fifth inning against the Blue Jays, leaving when he was unable to even get that third out. It was the first time all season he hadn't gone five innings and just the second time in two seasons. The inning began with
Dalton Pompey
, a kid barely out of A-ball, homering on a flat 92 mph fastball over the middle of the plate and ended with Felix walking Pompey on a 3-2 curveball in the dirt.
A few days ago the Mariners had a 3.01 staff ERA and a chance to become the first team since the 1989 Dodgers to post an ERA under 3.00. Now the Nationals may do that with a 3.01 ERA, while Seattle's has jumped to 3.23 after allowing 42 runs their past four games. The Mariners have gone 5-11 over their past 16 games. If they'd simply gone 8-8, they'd be tied with the Royals and A's.
4. The Orioles named Chris Tillman their Game 1 starter.
No surprise there, as Tillman owns a 2.21 ERA since June 10. He hasn't allowed more than three runs in any of his 10 previous starts and has held opponents to a .197/.240/.303 slash line over those 10 games. In other words, Tillman has been pitching like the ace everyone says the Orioles don't have. The Orioles beat the Yankees 5-4 as
Nelson Cruz
hit his 40th home run. But they remain three games behind the Angels for the best record, meaning the Orioles likely will face the AL Central winner while the Angels will face the wild-card game winner.
5. The Dodgers are going to win the NL West.
The late game on the West Coast featured plenty of fireworks, including
a benches-clearing meet-and-greet in the first inning
after
Madison Bumgarner
hit
Yasiel Puig
in the foot. Puig had been hit on the elbow Monday, but he may have been thinking back to May 9, when
he homered off Bumgarner
, flipped his bat and Bumgarner greeted him at home plate with some choice words that didn't include inviting Puig to dinner. Anyway, score this one for Puig, because two batters later
Matt Kemp
hit a two-run homer to center for a 3-0 lead. Bumgarner would hit a two-run homer himself, but that was all
Zack Greinke
gave up as the Dodgers held on 4-2.
The Dodgers have clinched a tie for the division, and
Clayton Kershaw
goes Wednesday. I'm thinking there may be some champagne popped at Dodger Stadium then.
June, 11, 2014
Jun 11
11:13
PM ET

While a lot of pitchers are making headlines this season for the worst possible reason -- a visit to Dr. James Andrews -- elbow-related attrition hasn't claimed every promising young arm with a chance of contributing. Madison Bumgarner, Sonny Gray and Julio Teheran are among the talented under-25 starters doing their part for contending teams without a trace of ulnar collateral ligament-related drama.

For fans of the Giants, Athletics and Braves, I'll throw in the obligatory "knock on wood" as a safeguard against bad news and a flood of angry emails.

Kansas City right-hander Yordano Ventura qualifies as an escape artist. A little more than two weeks ago, Ventura left a start against Houston in the third inning with lateral elbow discomfort. Although the Royals claimed the injury was nothing major, the recent spate of Tommy John surgery-mania and the defeatism borne of 28 straight playoff-free seasons prompted Kansas City diehards to dust off their jump-to-conclusions mats and assume the worst.

Rany Jazayerli, dermatologist by day and accomplished baseball writer, historian and Royals watcher by night, reflected the sense of desperation and foreboding in Kansas City with a series of Tweets that made him seem like a man badly in need of a hug:
The good news is I can now defend my proposal of Ventura for Howie Kendrick last year. Now if you'll excuse me, I need to vomit violently.

— Rany Jazayerli (@jazayerli) May 27, 2014

The storm quickly passed when tests revealed that Ventura's injury was, indeed, minor, and that he would only miss one turn through the rotation. Two weeks and one clean MRI later, Ventura is back on the mound as the embodiment of two baseball clichés: He's a 23-year-old prodigy with an "electric arm" and the talent to develop into something "special."

In a Wednesday matinee matchup with fellow prospect Trevor Bauer, Ventura lit up radar guns and imaginations on the way to a 4-1 victory over the Cleveland Indians. He stifled a predominantly left-handed-hitting lineup, giving up six hits, while striking out three and walking none. Ventura also displayed admirable pitch efficiency, throwing 61 strikes and 24 balls before giving way to Wade Davis in the eighth inning.

Let's put it this way: He was a whole lot more exciting than Kansas City's franchise-record-tying four sacrifice flies.

In hindsight, general manager Dayton Moore insists the Royals never hyperventilated or felt a sense of doom when Ventura complained of discomfort in his right elbow and the velocity on his fastball dipped into the low 90s against the Astros. Even as Ventura's teammates betrayed some signs of edginess over his fate, the Kansas City braintrust was confident that the episode was just a blip.
[+] Enlarge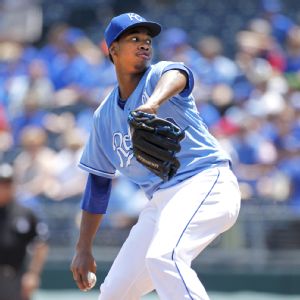 AP Photo/Colin E. BraleyYordano Ventura looked good to everybody except the Indians on Wednesday.

"We have a good trusting relationship with Yordano," Moore said by phone Wednesday. "He wasn't hiding anything from us. He's grown up in the system, so we can read his body language pretty good, and he wanted to stay in that game.

"I knew within 10 minutes after seeing him in the clubhouse and talking to him and our medical team that it wasn't an issue. We've seen enough of these in the past that you get a feeling almost immediately when someone is hurt. You can't paralyze yourself with those types of thoughts."

Moore tries his best to downplay the impact that Ventura can have on the Kansas City staff this season. The Royals have their resident horse in James Shields, a couple of solid veterans in Jason Vargas and Jeremy Guthrie and two young homegrown products in Ventura and Danny Duffy in the rotation, and two major weapons at the back end of the bullpen in Davis and closer Greg Holland. It's going to take a group effort for them to overcome an offense that ranks 28th in the big leagues with a .665 OPS and last in homers with 31.

Nevertheless, it's a wondrous sight to behold when triple-digit velocity, pitching acumen and charisma coalesce in a 6-foot, 180-pound package. Those Pedro Martinez comparisons in the minors were a tad onerous, but Ventura is flashing signs that bode well for long-term success. Some numbers courtesy of ESPN Stats & Information:
Opponents are hitting .177 against Ventura's changeup in his 11 starts this season. Among qualifying AL starters, only Felix Hernandez and John Danks have been stingier with the change.
He's spending enough time in the strike zone that he ranks sixth in the American League with a swing percentage of 48.6.
After throwing the ball down in the zone 38 percent of the time in April and May, Ventura has done it 44 percent of the time in two June starts. In Wednesday's outing, he tied his season high with 12 ground-ball outs.

The Royals will continue to watch him closely because industry protocol demands it. Like all teams, the Royals monitor pitch counts for their starters, pick their spots on when to push and when to back off the kids, and are readily aware of the recent position statement released by the American Sports Medicine Institute.

But the reality says it's all a crapshoot in the end. Pitchers with high-stress deliveries get hurt and those with fluid mechanics have blowouts. Some go down with arm injuries after being treated with tender loving care while others remain healthy despite heavy workloads.

And it's not just elbow injuries. In spring training, the Royals had reason to hope that 2012 first-round pick Kyle Zimmer might be their version of Michael Wacha this season. He suffered a lat injury in May, and he's not expected to pick up a baseball for another six weeks. If he arrives by September, that'll probably be a bonus.

"There's no pitcher I've ever been around who's more physical than Kyle Zimmer, or in better shape, or repeats his delivery the way he does," Moore said. "Mechanically he's flawless, and he's had some issues. It's hard to predict."

So in a season marked by an avalanche of bad news, it was both heartening and entertaining to see Yordano Ventura notching the occasional 100 on the radar gun and living up to his "Ace'' nickname Wednesday. Even if the Cleveland hitters might not share this opinion, it was a good day for baseball.
May, 16, 2014
May 16
12:25
PM ET
Jose Fernandez
is having
his Tommy John surgery Friday
, but if you're a fan of pitching and low-scoring baseball, the good news is there are more young guns on the way. Here are five starters making big impressions so far as breakout pitchers for 2014.
1. Garrett Richards, Angels
I'll admit: This one has caught me by surprise. Richards has always had a terrific arm but never put up good strikeout rates in the high minors or majors because of lack of command and quality secondary pitches. Last year, splitting time between the bullpen and rotation, he fanned 101 in 145, a nice total for 1989, but not so great for 2013. But he's put it all together through eight starts as Keith Law and Eric Wedge discuss in the video above, holding batters to a .186 average with just one home run allowed and striking out 54 in 52 innings. When he gets ahead in the count, his slider has become a wipeout pitch as batters have struck out 25 times in 44 plate appearances ending with that pitch (with just four hits for a .095 average).
2. Nate Eovaldi, Marlins
One of my top breakout candidates entering the season because of his explosive fastball, Eovaldi has averaged 96 mph with his heater, second-highest among qualified starters (just ahead of Richards' 95.8). Like Richards, however, Eovaldi had a mediocre strikeout rate in 2013. He's still primarily a fastball/slider guy, mixing in an occasional curve and changeup, but improved fastball command has resulted in a big drop in his walk rate and a higher K rate on his fastball (from 12.5 percent to 20.1 percent). He got roughed up Thursday night, raising his ERA from 2.86 to 3.62, but if he can develop a third pitch and keep throwing strikes (12 walks in nine starts), watch out.
3. Yordano Ventura, Royals
This is the guy with the best fastball velocity among starters at 96.5 mph (and touching 100 more than once). He's 2-3 with a 2.40 ERA and a 53/16 SO/BB ratio in 48 ⅔ innings. Unlike Richards and Eovaldi, Ventura doesn't throw a slider, instead relying on a changeup and curveball; that's helped him limit left-handers to a .217 average. Listed at 6-feet, 180 pounds, Ventura doesn't have your classic power pitcher's build, so the concern is whether he has the durability to hold up as a starter. But that may not be a legitimate issue beyond the usual concerns about a 22-year-old rookie who throws in the upper 90s. A
2010 study
by Glenn P. Greenberg in the SABR Fall 2010 Baseball Research Journal found:
Height was not correlated to durability in seasons in which players were healthy, but that fact does not end the analysis. For us to be able to say that height does not correlate to durability at all, short pitchers would have to throw as much and stay off the disabled list as much as taller pitchers. The data for players on the disabled list at any time during 1994 through 2007 can be seen in table 5. There is no statistically significant correlation for games started or innings pitched; the highest r-square being .002 and the lowest p-value being .096. However, there is a correlation between height and games -- a negative one: greater height correlates to fewer games pitched.

4. Sonny Gray, A's
Gray burst on to the scene late last season with 10 regular-season starts and then that 1-0 win over the Tigers in the ALDS, so his rise has been perhaps a little more predictable. Still, as primarily a fastball/curveball pitcher, I wondered how the league would adjust against him, having seen him once or twice. So far, it's Gray who has made the adjustments, as he's 4-1 with a 2.17 ERA in eight starts, including a .222 average allowed and just 11 extra-base hits (three home runs). Batters are hitting .152 with no extra-base hits against the curveball, but he's also mixing in about eight changeups and eight sliders a game, just enough to keep those pitches as potential weapons.
5. Wily Peralta, Brewers
Another right-hander with a big arm, Peralta has averaged 95.2 mph with his fastball -- placing him fifth in average fastball velocity (
Gerrit Cole
is fourth; Fernandez sixth). As a rookie in 2013, Peralta found that the fastball alone wasn't enough as he went 11-15 with a 4.37 ERA and 129 strikeouts in 183 ⅓ innings. His strikeout rate hasn't jumped up, but he's cut his free passes in half -- from a 10.5 percent walk rate to 5.3 percent. Pounding the strike has worked as he's 4-2 with a 2.05 ERA (although that's helped by five unearned runs). His slider is his knockout pitch and batters are hitting .204 against it without an extra-base hit.
Which one do you like best? I'd probably put Gray and Ventura 1-2 because of a deeper arsenal of pitches. Gray seems to have that classic feel for pitching and knowing how to set up hitters. Richards and Eovaldi would be next; both have shown tremendous strides this year. Peralta's strikeout rate is the worst rate of the group, so I'd put him fifth. But all have the ability to develop into aces.
April, 26, 2014
Apr 26
12:20
AM ET
By
Tommy Rancel
| ESPN.com
Signed by the
Kansas City Royals
as a 17-year-old amateur from the Dominican Republic in the fall of 2008, the rise of now 22-year-old
Yordano Ventura
has been as meteoric as the triple-digit fastball that is released from his right hand. A two-time veteran of the Futures Game -- minor league baseball's showcase event during the major league All-Star break -- Ventura is showing that the future is now in Kansas City.
Ventura broke camp with the Royals as the club's fifth starter this spring. After inclement weather delayed his 2014 debut by a few days, the youngster has done nothing but impress with high-octane velocity and strike-throwing ability that is atypical for a pitcher of his ilk.
Through his first three starts, Ventura collected 19 strikeouts and issued seven walks in 17 innings. His average fastball registers at a cool 97 mph while maxing out near 103. If velocity is not your cup of tea, his upper-80s changeup and lower-80s breaking ball excel at freezing hitters or giving the illusion they are swinging palm trees through peanut butter to borrow a phrase from former minor league catcher and manager Chad Epperson.
While Ventura showed flashes of brilliance against the
Tampa Bay Rays
,
Houston Astros
and
Minnesota Twins
this season, his best effort to date came against the
Baltimore Orioles
on Friday night. Entering the game, the Orioles owned the second-highest team batting average in the majors (.274) while scoring the sixth-most runs (102). They have also been the most aggressive team in the American League, pacing the junior circuit in both swing and chase rate.
[+] Enlarge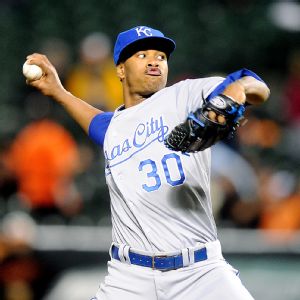 Greg Fiume/Getty ImagesRoyals rookie Yordano Ventura pitched eight scoreless innings, scattering seven hits while striking out eight, on Friday.
Ventura spun eight shutout innings against the Orioles in Baltimore. He scattered seven hits while walking two and adding eight punchouts to his season total. The 113 pitches he threw represented a career high, but so did his strike rate of 66 percent.
Despite his youth, Ventura executed a veteran-savvy game plan. Preying on the O's aggressive style, he had Baltimore swinging and chasing for most of the night. Of his 113 pitches, 47 were non-fastballs representing the lowest fastball usage (by percentage) of his young career. Though his heater was mighty -- clocking in at 99 mph at its apex -- it was the changeup and curveball that kept Baltimore off the board. Thus far the off-speed pitch has been Ventura's better secondary option, however, it was the breaking ball that won best supporting role versus Baltimore.
The curveball Ventura used on Friday was thrown on average about 15 mph slower than his heater. It resulted in a strike on 16 of the 22 times it was thrown including five to complete strikeouts. He used another five hooks to induce ground ball outs. While Venture worked the upper reaches of the strike zone with his fastball, the curveball was typically thrown arm-side and down.
Though Ventura's changeup did not result in many outs, it did serve a purpose. The right-hander used it generously in traditional fastball counts -- eight times on the first pitch of a plate appearance -- to disrupt Baltimore's timing.
A pitcher in his early 20s with premium velocity, a swing-and-miss changeup, a nifty curveball and an idea of where each one is going is an extremely tough matchup for any offense. Ventura will surely hit some pot holes along the way. However, with velocity to make up for mistakes and a pair of quality contingency plans, his road to stardom should be relatively smooth.
Tommy Rancel writes for The Process Report, a blog on the Tampa Bay Rays.
April, 9, 2014
Apr 9
11:22
AM ET
For some reason, players just can't help themselves.
Yasiel Puig
has missed the past two Dodgers games after suffering a thumb injury while sliding headfirst into first base. On Tuesday night,
Josh Hamilton
slid headfirst into first base in the seventh inning and was removed in a crucial situation in the ninth inning because he injured his thumb.
The Angels trailed 5-3 but
Fernando Rodney
had walked the first two batters, bringing up Hamilton's spot in the lineup. Mind you, this is a hot Hamilton, hitting .444 in the early going. Instead,
Ian Stewart
pinch hit and struck out, as did
Howie Kendrick
, and when
Raul Ibanez
flew out the Angels had lost for the fourth straight time this season to the Mariners.
Studies have shown runners do
not
get to first base faster by sliding headfirst, so runners, please stop.
Other thoughts on Tuesday's games:
February, 19, 2014
Feb 19
11:50
AM ET


Eric and myself discuss a few of the more interesting position battles going on this spring.
January, 24, 2014
Jan 24
10:00
AM ET
These are 10 players I like heading into the season, five position players and five pitchers. I'm calling them breakout candidates, although if you're a fantasy player, you already know about them. You always have to be wary about projecting too much growth in a young player -- many fantasy owners have been ruined by falling prey to prospect hype -- but these are 10 young players I'd love to have in 2014.
Jedd Gyorko, 2B, San Diego Padres:
He had an impressive rookie season with 23 home runs in 125 games, although a .249 average and .301 on-base percentage leaves room for improvement. Still, his season went pretty unrecognized for several reasons: (1) He plays for the Padres, and (2) it was such a strong rookie class in the National League that there wasn't much attention left over after
Jose Fernandez
,
Yasiel Puig
,
Shelby Miller
and
Julio Teheran
; (3) His splits made for an odd season, as he hit .272 with eight home runs in the first half, .226 with 15 home runs in the second half.
Gyorko needs to consolidate those two approaches. Some of that difference came from a big split in BABIP -- .325 in the first half and .245 in the second half, but he did start chasing more pitches out of the strike zone in the second half (34 percent compared to 30 percent). He was a .321 hitter in the minors, so if he can reign in the over-aggressiveness just a bit I think his average and OBP will come up. He hit 13 of his 23 home runs at Petco and hit 30 in the minors in 2012, so the power is definitely legit.
Didi Gregorius, SS, Arizona Diamondbacks:
When Kevin Towers acquired Gregorius from the Reds last offseason in a three-team deal, the trade was widely criticized since Arizona surrendered
Trevor Bauer
, the third overall pick in the 2011 draft. But Towers loved Gregorius' defense and Bauer had worn out his welcome in Arizona. Gregorius missed some time with injuries as a rookie but showed more potential with the bat than many expected, hitting .252/.332/.372, and showing the ability to turn on some pitches with seven home runs.
He's never going to be an offensive star, but he puts the ball in play, and if he can improve against left-handers (.200/267/.245), his numbers will look pretty good for a shortstop. If his defensive proves to be as strong as Towers sold us on them (the defensive runs saved metric had him at minus-1 run in 2013), he has a chance to be a very good player. His fantasy value may be limited by his lack of offensive skills, but I believe Gregorius can turn into a championship-caliber shortstop.
Kole Calhoun, RF, Los Angeles Angels:
A big reason the Angels felt they could trade
Mark Trumbo
for pitching depth was the emergence of Calhoun, who hit .282/.347/.462 in 222 plate appearances. He's older (26), so his star potential is limited. He has a decent approach at the plate and could hit 15 to 20 home runs. A left-handed batter, he has handled lefties well enough that he doesn't necessarily have to be platooned.
Josmil Pinto, C, Minnesota Twins:
You never want to count too much on a young catcher -- we've seen top hitting prospects like
Devin Mesoraco
and
Jesus Montero
struggle mightily at the big league level -- but the Twins are moving
Joe Mauer
to first base due to their confidence in Pinto. His 21-game stint in the majors was obviously impressive (.342, five doubles and four home runs in 83 plate appearances) but he has hit very well the past two seasons in the minors, including a .309/.400/.482 line between Double-A and Triple-A in 2013. I like his discipline -- 66 walks, 83 strikeouts in the minors -- and his arm is solid (threw out five of 11 basestealers with the Twins). The Twins brought in veteran
Kurt Suzuki
, but playing him would be a mistake. Pinto needs to get 450 to 500 plate appearances as the regular catcher. I think he'll hit enough and play well enough behind the plate to give manager Ron Gardenhire little option but to do just that.
Anthony Rendon, 2B, Washington Nationals:
No surprise here. Everyone has expected Rendon to hit since his college days at Rice. The big question with him has always been staying on the field. Injuries limited him to 43 games in the minors in 2012, but he stayed relatively healthy last season, playing 134 games between the minors and the majors. He may end up being more of a doubles guy with a good average than a big power hitter, but either way he's going to provide value at the plate. Rendon has good balance, quick wrists and he walked more than he struck out in the minors, an approach that should help him improve on the .265 average he hit as a rookie. His defensive transition to second base still needs work, but he's athletic enough to be acceptable.
With Rendon and
Bryce Harper
-- heck, I could have put Harper on the list except he's already such a big name -- the Nationals should score more than the 656 runs they tallied a season ago.
Nate Eovaldi, P, Miami Marlins:
Among pitchers who threw at least 100 innings in 2013, guess who had the highest average velocity on the fastball? Yep, this guy. Eovaldi averaged 96.2 mph on his heater, one of just four starters to average 95-plus, along with
Gerrit Cole
,
Matt Harvey
and
Stephen Strasburg
. It's a good weapon and proved to be a fairly effective pitch for him; he allowed a lower OPS on his fastball than
Zack Greinke
,
Julio Teheran
,
Anibal Sanchez
,
Adam Wainwright
and
Felix Hernandez
. Eovaldi still needs to improve his command, but more importantly needs to refine his secondary pitches. He threw his fastball 1,189 times out of 1,696 total pitches, relying little on his slider or curveball. He needs to turn one of those pitches into more of a strikeout pitch. He did have some shoulder problems at the start of 2013 but was fine after that. He turns 24 in February, and with 46 career starts under his belt, he's young enough to put everything together.
James Paxton, P, Seattle Mariners:
Taijuan Walker
is the Mariners' rookie starter who has received most of the attention on prospect lists, but Paxton may be more ready for the majors. A lefty with good size at 6-foot-4, Paxton brings a good fastball (he averaged 94.8 mph in his four-start stint in September in which he held batters to a .172 average) along with a curve and changeup, although with a history of shaky command. His Triple-A numbers aren't impressive -- 4.45 ERA, 158 hits in 145.2 innings -- but were better in the second half. The Mariners were a terrible defensive team last year and could be again this year, especially if they end up adding
Nelson Cruz
in the outfield alongside
Corey Hart
or
Logan Morrison
, so keep that in mind. A shaky defense can hurt a young pitcher's confidence and force him to start nibbling at the corners too much.
Corey Kluber, P, Cleveland Indians:
Kluber was pretty good in 2013 -- 3.85 ERA in 147 innings -- so this is confirmation bias as much as anything. Originally a fourth-round pick of the Padres way back in 2007, Kluber came to Cleveland in the three-way trade that sent
Jake Westbrook
to the Cardinals. He finally put everything together in 2013, improving his command and cutting his walks way down. He finished with 136 strikeouts and 33 walks, a 4.1-to-1 ratio, the sixth best in the American League behind guys named
David Price
,
Chris Sale
,
Felix Hernandez
,
Hisashi Iwakuma
and
Max Scherzer
. I'm not saying he's as good as those guys, but he's not just a finesse guy who lucked into a good year, as he owns a solid fastball (93.1 mph average velocity) and terrific curve. Batters hit .196 off it with just two home runs, 50 strikeouts and no walks.
Here's an examination
of Kluber's improvement, which even spawned the Corey Kluber Society.
Yordano Ventura, P, Kansas City Royals:
He'll rank high on prospect lists heading into the season with his high-octane heater. The Royals believed enough to give him three starts down the stretch with the club battling for a wild-card spot. Ventura isn't a lock for the rotation --
James Shields
,
Jeremy Guthrie
and
Jason Vargas
are locks, with
Danny Duffy
and
Wade Davis
also in the mix -- but the Royals should go with the potential upside of Ventura over Duffy or Davis. Ventura struck out 155 in 134.2 innings between Double-A and Triple-A and while the curveball and changeup are still works in progress, it's the fastball, which hit 101.9 mph with the Royals, that should make him an effective starter as a rookie.
Erik Johnson, P, Chicago White Sox:
A second-round pick out of Cal in 2011, Johnson dominated the high minors, posting a 1.96 ERA and allowing just 100 hits in 142 innings. He mixes in a four-seamer and two-seamer with an upper-80s slider that neutralizes right-handed batters. He needs to improve his curveball and/or changeup to become more effective against lefties and pitching in The Cell, where the ball flies, isn't easy, so don't expect a low ERA from him. But he could develop into a middle-rotation type of starter, part of a suddenly interesting young core in Chicago that includes
Jose Abreu
,
Adam Eaton
and
Avisail Garcia
.
September, 18, 2013
9/18/13
12:20
AM ET
Yordano Ventura
is one of the
Kansas City Royals
' top prospects and possesses a 100-mph fastball that has made him one of the more intriguing prospects in the minors. He fanned 155 in 134 2/3 innings across two levels in the minors and when the Royals need a starter to fill in for
Danny Duffy
, they decided to give Ventura his first major league start.
It was a gutsy decision by the Royals, but what's the quote, "Fortune befriends the bold"? Emily Dickinson, according to Google. For five innings, Ventura was brilliant, reaching 100 on the gun a couple times, allowing just two hits and taking a 3-0 lead into the sixth inning. It appeared Ned Yost and Dayton Moore would be rewarded.
Yost probably should have been happy that Ventura had given him five great innings and turned the game over to one of the game's best bullpens -- Kansas City's 2.54 bullpen ERA is second in the majors to the Braves.
[+] Enlarge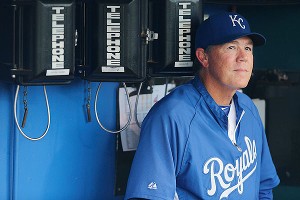 Ed Zurga/Getty ImagesNed Yost sat through another brutal September loss that left the Royals' chances badly hurt.
But this is Ned Yost we're talking about here, and he's not exactly pulling an Earl Weaver from the dugout this year. Go back to Sunday's game against Detroit, 2-2 in the eighth.
Jeremy Guthrie
had allowed 12 hits but just two runs. Yet there he was pitching in the eighth, well past 100 pitches. No offense to Guthrie, but he'd done his job; this isn't
James Shields
or
Kevin Appier
or
Bret Saberhagen
here.
Alex Avila
hit a home run and the Tigers won 3-2.
It's not like the Royals pen been has overused either -- it ranks just 28th in the majors in innings pitched. If anything, it has been
underused
. So take your five innings from Ventura and turn it over to the pen. Instead,
Nick Swisher
reached on an infield single and with two outs
Carlos Santana
singled sharply to right and
Michael Brantley
singled in Swisher. The Royals escaped after allowing just the one run but the inning gave the Indians life.
Look, I'm not completely blaming this loss on Yost. He still got the game to the seventh inning with a 3-1 lead and a slew of relievers available. Give Cleveland credit for rallying for two runs off
Kelvin Herrera
in the seventh, one off
Wade Davis
in the eighth and a final run in the ninth to win 5-3. Even then, however, did Yost use the right guys?
Why take out
Louis Coleman
after he had escaped the jam in the sixth? Coleman has allowed one run in 25 innings with a 27-to-4 strikeout-to-walk ratio. Herrera has actually been the most inconsistent of Royals relievers, with seven losses and a 3.70 ERA entering the game. Coleman has been hot.
And then why go to Davis in the eighth? He had struggled all season in the rotation before the Royals finally sent him to the pen. Sure, he was great as a reliever with Tampa Bay last year, but he'd only pitched in four games in relief for Kansas City. Where was
Luke Hochevar
and his 1.64 ERA and .164 average allowed? He'd thrown 18 pitches on Monday and nine on Saturday -- hardly reason to hold him back. Of course, Yost wouldn't use closer
Greg Holland
and his 1-point something ERA in a tie game in the eighth. Why waste your closer in such a high-leverage situation?
Asdrubal Cabrera
doubled in the go-ahead on a fly ball over
Alex Gordon
's head in left, a play that Gordon appeared to be in good position to make but somehow didn't make.
The Royals are in must-win mode in every game and Yost blew a lead while using his three best relievers for one batter. (After Davis gave up a run in the eighth, he did finally use Hochevar, who allowed a home run to
Michael Bourn
.)
The relievers didn't do the job. Gordon didn't make the catch. I don't believe Yost utilized his best options, however. It was a brutal loss for the Royals, now 3.5 behind Texas and Tampa Bay and needing to jump three teams in the standings (plus the Yankees, who are tied with the Royals).
I've probably short-changed the Indians here. Their bullpen did a terrific job in relief of
Corey Kluber
, as six relievers combined to toss 5.1 scoreless frames. Unlike Yost, Francona pulled Kluber very quickly. Already down 3-0, there were two outs and a runner on first and Kluber was at just 79 pitches but Francona was willing to use all those September relievers and not let the game slip away. How many managers would have that quick of a hook?
There isn't much separating the Royals from the Indians, but this game showed how and why one team has a huge edge in the dugout.
July, 8, 2012
7/08/12
8:35
PM ET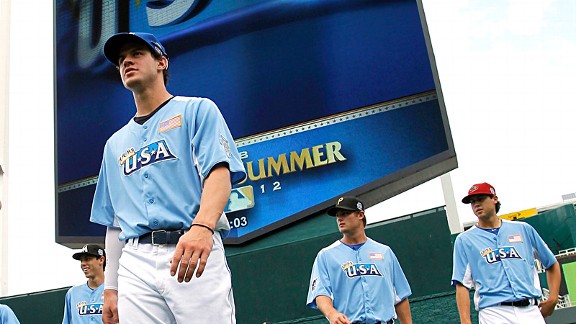 John Sleezer/Kansas City Star/MCTWil Myers and the U.S. team trounced the World team 17-5 in the Futures Game.
KANSAS CITY, Mo. -- In 13 previous Futures Game matchups before Sunday the USA team had scored 51 runs, the World team 46, so let's just say games didn't play like they had been held regularly at Coors Field. On Sunday, however, the USA team had little trouble setting records as they exploded for a lopsided 17-5 victory in front of a loud, sellout crowd of 40,095 at steamy Kauffman Stadium.
Offensive heroics clearly weren't hard to find, as hometown hero Wil Myers of the
Kansas City Royals
knocked in three runs and played the entire game. (Can you imagine that Tuesday night in the All-Star game?)
Detroit Tigers
third base prospect Nick Castellanos launched a majestic three-run homer to center field to cap a nine-run sixth inning and Billy Hamilton, perhaps the fastest player in organized baseball today, tripled in one of his at-bats, though fans were deprived the opportunity to see a record-breaking base stealer do just that.
Of course, few might remember early on the story was the U.S. pitchers struggling to keep the World hitters off the board. Royals prospect Jake Odorizzi, likely an upgrade on anyone the big league team has in its current rotation, started and allowed a home run to Jurickson Profar, the
Texas Rangers'
exciting shortstop prospect. In the second inning
Pittsburgh Pirates
flamethrower Gerrit Cole entered and lit up the radar gun, but also permitted a long two-run blast to
Chicago Cubs
outfield prospect Jae-Hoon Ha. Polished
Seattle Mariners
lefty Danny Hultzen allowed a run on three hits in his inning, and then
Baltimore Orioles
right-hander Dylan Bundy threw a scoreless fourth inning, but allowed three more hits.
Ultimately the USA team had little trouble making up the 4-0 deficit in easily the highest-scoring game in Futures history. (The previous high for
combined
runs scored was 13). And this was fun, too. In general Futures Game crowds are small and disinterested, the first event of a three-day stretch that gets overlooked by the prime-time Home Run Derby and Tuesday's All-Star game. But fans filled the Kansas City stadium and flocked to see Myers, Odorizzi, as well as World team starting pitcher Yordano Ventura, who tossed a scoreless inning. Congrats to the crowd for showing up, mostly staying until the end and making a lot of noise despite triple-digit temperatures. And you bet they want to chance to keep on cheering on Myers, he of the 27 home runs at two minor league levels already, when he finally gets the call to the Royals. It's coming, definitely.
As for Hamilton, the
Cincinnati Reds
shortstop that has famously registered 104 stolen bases in 82 games so far, and is scheduled to make his Double-A Pensacola debut this coming week, it would have been nice to see him attempt to steal a base against strong-armed
Atlanta Braves
catching prospect Christian Bethancourt. Hamilton grounded out in the first inning to second base -- though he nearly beat it out -- and then launched a two-run triple over the center fielder in the third. In his final at-bat he grounded into a double play. It's hard to believe that happened because Hamilton is so fast, like
really, really fast.
By the way, current Reds leadoff men, mostly shortstop
Zack Cozart
, entered Sunday hitting .201 with a .246 on-base percentage.
Quite a few players made an impression in this game on the offensive side, but the same cannot be said about the young arms. Perhaps the relative struggles of the more notable U.S. pitchers -- the team did win by 12, after all -- is a gentle reminder that there are no sure things with minor league hurlers, even the top prospects with the highest pedigree.
Arizona Diamondbacks
right-hander
Trevor Bauer
is an example. He would have been in this game, perhaps in a leading role, had he not been called up to the majors a few weeks ago. Bauer's first two big league starts featured 11 hits, eight runs and seven walks in only 7 1/3 innings, but Sunday went a lot better for Bauer against a Double-A caliber
Los Angeles Dodgers
lineup with six shutout innings of two-hit ball. Odorizzi, Cole and Hultzen are likely to see big league time in 2012, but initial domination is far from assured.
As for what else was notable from this game, the future of the left side of the Texas Rangers infield appears to be in good hands. Profar homered to right field to lead off the game, and then, against the lefty Hultzen, turned to bat right-handed and lined a single to right field. Third base prospect Mike Olt has 22 home runs in the minors, and he contributed a mammoth double off the center-field wall in five at-bats. There's no room currently in the Texas infield, but Profar has a better long-term prognosis than
Elvis Andrus
and it's certainly possible Olt is called up soon to handle first base, with
Adrian Beltre
entrenched at the hot corner.
Castellanos was awarded the MVP award for his home run and two singles, plus he scored three runs. Tigers fans can't complain about current third baseman
Miguel Cabrera
-- well, they can
defensively
-- but Castellanos is 20 years old and not close to the big leagues, not like Myers and some of the U.S. pitchers.