September, 25, 2013
9/25/13
9:31
PM ET
Let's take a break from these hectic final days of the season and look back at the 10 best decisions of the season. To me, these were decisions based on good analysis or good scouting or both, with a reasonable chance of working out. Signing
Zack Greinke
is easy. Having
Scott Kazmir
work out is good luck. These were calculated decisions that paid off.
10. Tigers don't overpay for a closer.
Throughout the offseason, during spring training and into April and May, there were cries for the Tigers to go out and acquire a Proven Closer. General manager Dave Dombrowski resisted and eventually veteran setup man
Joaquin Benoit
took over as closer ... and has been perfectly great, going 4-1 with a 1.94 ERA and 23 saves and just one blown save. Why give up a good prospect for a closer when one isn't that hard to find?
9. Rays acquire Yunel Escobar.
Last year, the Rays got so desperate for
some
offense at shorstop that Joe Maddon eventually had to move
Ben Zobrist
there. Escobar went from Toronto to Miami in the big
Jose Reyes
-
Josh Johnson
-
Mark Buehrle
trade, and then Tampa Bay got him for marginal prospect
Derek Dietrich
. Escobar wore out his welcome in Atlanta and Toronto, but hasn't had any issues in Tampa. The Rays didn't panic when Escobar was hitting under .200 in mid-May. He turned things around and has had a solid .258/.333/.370 season. These days, that's good offense from a shortstop.
8. Dodgers sign Hyun-Jin Ryu.
For all the talk about the Dodgers' enormous payroll, they brought Ryu over from Korea with a $25.7 million bid and a reasonable six-year, $36 million contract. That's about $10 million a year for a pitcher who has gone 14-7 with a 2.97 ERA. That's only $8 million more than the Cubs gave for four years of
Edwin Jackson
, who has a 4.74 ERA. Chalk it up to good scouting.
7. A's trade for Jed Lowrie.
Oakland had terrible production from its shortstops in 2012 and only had to give up platoon first baseman/DH
Chris Carter
to acquire the injury-prone Lowrie. It was a trade with little risk for the A's but high upside: Yes, Carter had power but he was never going to be a star with all of his strikeouts. Lowrie has stayed healthy and been one of the top hitting shortstops in the majors.
6. Reds trade for Shin-Soo Choo.
This was a perfect example of a team identifying an obvious need -- the Reds needed a leadoff hitter -- and going out and solving the problem. Even though he struggles against left-handers, Choo is second in the National League in on-base percentage, walks and runs. His defense in center field has been a minor liability instead of a major one and the Reds are heading back to the playoffs.
5. Red Sox acquire good clubhouse guys.
More importantly,
Shane Victorino
,
Mike Napoli
and
Jonny Gomes
also produced on the field. Victorino was a signing I liked even though it was widely panned -- I liked the idea of having a second center fielder in right field and a good option in case
Jacoby Ellsbury
got injured. Victorino's offense has been a bonus and his defense has been terrific.
4. Marlins give Jose Fernandez a job out of spring training.
Fernandez didn't pitch above A-ball last year, so when he broke camp with the Marlins everybody wondered why the desire to rush him and start his service time when the Marlins weren't going to be any good. But sometimes you have to do the obvious thing: Like Dwight Gooden in 1984, Fernandez
had
to be in the major leagues because he was that good. All Fernandez did was post a 2.19 ERA and hold batters to a .522 OPS, the lowest for a starter since
Pedro Martinez
in 2000.
3. Pirates sign Russell Martin.
The Pirates made several smart moves -- trading for
Mark Melancon
, giving the closer job to
Jason Grilli
, signing
Francisco Liriano
(although that one produced more upside than anyone could have imagined) -- but Martin was an under-the-radar move that solved a huge problem for the Pirates. Last year, the Pirates allowed 154 stolen bases while catching just 19 basestealers, an abysmal 11 percent caught stealing rate. Thanks to Martin, they've cut that total to 93 steals and 43 caught stealing, a 32 percent rate (Martin has caught 40 percent). Martin is also one of the better pitch framers around and his offense has been about league average. With what he's meant behind the plate, he could see some down-ballot MVP support.
2. Dodgers call up Yasiel Puig.
It looks like an easy decision in retrospect, but this was still a 22-year-old kid with just 67 games of minor league experience, 40 of them above A ball. It took some guts to call him up in early June, even if the move was born out of a little desperation. Give credit to the Dodgers correctly analyzing the raw ability and believing he would hold his own in the majors.
1. Cardinals move Matt Carpenter to second.
You can probably count the number of successful third base-to-second base conversions on one hand; players rarely move up the defensive spectrum to a tougher position, which is why many expected that Carpenter would soon return to a utility role. But in Carpenter the Cardinals had the perfect pupil: A player in his second season who wanted to break into the starting lineup, but also a 27-year-old with more maturity than most second-year players. He's a smart player with a good ethic. Plus, the Cardinals
knew
he could hit, not that they expected a .324 average and 55 doubles.
September, 19, 2012
9/19/12
3:05
PM ET
Chip Buck writes for our Red Sox blog, Fire Brand of the AL. I recommend reading
Chip's column he published today
on the
Yunel Escobar
situation. At the end of the piece, Chip writes:
If you want to know why we haven't seen a gay Jackie Robinson, this is why. Pressure, prejudice, malicious threats. It's a brutal road to walk. Many consider closeted players to be cowards. Perhaps, but who can really blame them. When players like Escobar are cryptically spreading homophobic slurs, I can't imagine many feel comfortable coming out to even their closest friends on their team.

I don't want it to seem like I'm saying Escobar is *the* problem. He's not, but he's definitely a symptom of a larger problem. We place too much focus on sexuality and the erroneous and overblown stereotypes associated with homosexuals like myself. We're really no different than our heterosexual brethren. Until we learn to move past these forms of prejudice, we'll continue to deal with situations such as this one. It's sad state of affairs. Hopefully, baseball and its players will learn from Escobar's mistake, so this doesn't have to happen again.
September, 18, 2012
9/18/12
1:21
PM ET
Chat day! We talked the Orioles, the playoff races, Mike Trout versus Rickey Henderson (and Darin Erstad), where Josh Hamilton could end up, the Tigers, the NL Cy Young race and more more!
Click here to read the wrap
.
June, 7, 2012
6/07/12
12:56
AM ET
"Show us some respect," yell Baltimore Orioles fans. Or maybe they're politely demanding. But I've seen the complaints in the Power Rankings comments, read the emails sent to "Baseball Today," been asked the question in my chats: Why doesn't anyone believe in the Orioles?
The Orioles traveled to Fenway Park this week in a precarious situation. They've lost two of three in Tampa. They've been swept in Toronto. They've lost two of three at home to Kansas City. They've lost two of three at home to Boston. They haven't won a series since the big weekend showdown in Washington from May 18-20.
So, yes, the concerns all of us "experts" had been raising -- it's a long season, let's see what happens to the rotation, let's find out if some of the hitters can keep up their hot starts, the bullpen can't keep its ERA under 2.00 all season -- were proving true. The O's were 27-14 after winning the second against the Nationals but had gone 3-10 since, with the staff posting a 4.95 ERA while the offense scored 3.5 runs per game.
These were the Orioles we all expected. And then they beat the Red Sox in extra innings on Tuesday. And then they
beat the Red Sox 2-1
on Wednesday behind a solid effort from
Wei-Yin Chen
and scoreless innings from
Pedro Strop
and
Jim Johnson
. They're 5-0 at Fenway in 2012 and Chen is now 5-2 with a 3.49 ERA. The key moments came in the seventh inning after the Red Sox threatened with a pair of singles to start the frame. But after a sacrifice bunt, Chen struck out
Marlon Byrd
and induced
Mike Aviles
to pop out to first base.
Normally, Buck Showalter might have turned to his stellar bullpen, but after Tuesday's victory, in which the bullpen threw five innings, he left Chen to escape the jam. He set up Byrd with three fastballs and then got him swinging on a beautiful changeup. He threw three more fastballs to Aviles that he couldn't get around on. Don't underestimate Chen. His stuff plays up big, with his four-seamer reaching 94 mph. His last pitch to Aviles was clocked at 93. In 11 starts, he allowed two or fewer runs seven times and I think this outing will give Showalter more confidence to stretch Chen a little deeper into games.
So the Orioles remain in first place for another day, half a game ahead of the Yankees. Is it time to show them a little respect, to give Orioles fans what they crave? Let's do some position-by-position rankings to help sort out this tightly packed division. Rankings are simply listed in order of who I would want the rest of the season.
(Season-to-date Wins Above Replacement from Baseball-Reference.com, before Wednesday's games, listed in parenthesis.)
Catcher
1.
Matt Wieters
, Orioles (1.6 WAR)
2.
Jarrod Saltalamacchia
/
Kelly Shoppach
, Red Sox (1.6)
3.
Russell Martin
, Yankees (0.7)
4.
J.P. Arencibia
, Blue Jays (0.2)
5.
Jose Molina
, Rays (0.1)
There is a case to be made that Boston's duo is more valuable since they've combined for 14 home runs and an OPS over .900. But Wieters brings elite defensive skills and I also don't believe Salty is going to slug .583 all season. For the second consecutive season, the Rays are essentially punting offense at catcher. Rays catchers have the worst OPS in the majors.
First base
1.
Adrian Gonzalez
, Red Sox (0.8)
2.
Mark Teixeira
, Yankees (0.6)
3.
Mark Reynolds
, Orioles (-0.6)
4.
Carlos Pena
, Rays (0.4)
5.
David Cooper
/others, Blue Jays (incomplete)
Gonzalez is still struggling to get his stroke going, but he's the best of a weak group. Yes, I just called Mark Teixeira weak, but at this point he's a low-average guy who pops a few long balls, doesn't draw as many walks as he once did and isn't as great on defense as Yankee fans believe. But in this group that's good enough to rank second. Reynolds has a low WAR but he's missed time and that includes his bad defense at third base, a position we've hopefully seen the last of him playing. The Jays, meanwhile, need to quit fooling around at first base and find a legitimate hitter, or move
Edwin Encarnacion
there and find a designated hitter. You hate to waste a potential playoff season because you can't find a first baseman who can hit. (No, David Cooper is not the answer, although he's hit well so far in 11 games.)
Second base
1.
Robinson Cano
, Yankees (2.1)
2.
Dustin Pedroia
, Red Sox (1.8)
3.
Kelly Johnson
, Blue Jays (2.1)
4.
Ben Zobrist
, Rays (0.7)
5.
Robert Andino
, Orioles (0.6)
I love Ben Zobrist almost as much as two scoops of Vanilla Heath Bar Crunch from Ben & Jerry's, but a .199 average isn't going to cut it in this group, even if you are on pace to draw 100-plus walks. Zobrist has actually play more right field so far, but should be back at second on a regular basis with
Desmond Jennings
back.
Third base
1.
Evan Longoria
, Rays (1.4)
2.
Brett Lawrie
, Blue Jays (3.1)
3.
Alex Rodriguez
, Yankees (1.2)
4.
Kevin Youkilis
/
Will Middlebrooks
, Red Sox (0.5)
5.
Wilson Betemit
/
Steve Tolleson
, Orioles (-0.1)
Lawrie's WAR is boosted by defensive metrics that treat him like he's the second coming of Brooks Robinson. He's a good player but don't I think he's been the second-best position player in the American League. Longoria hopes to
return at the end of the Rays' current road trip
. As for A-Rod, his health is always a question at this stage of his career, but Youkilis has health questions and I'm not a believer in Middlebrooks' ability to hit .321 with power all season. His 29/4 strikeout/walk ratio is something pitchers should learn to exploit. As for the Orioles ... third base is an obvious concern. But don't expect a rare intra-division trade to acquire Youkilis.
Shortstop
1.
J.J. Hardy
, Orioles (2.1)
2. Mike Aviles, Red Sox (2.2)
3.
Derek Jeter
, Yankees (0.9)
4.
Yunel Escobar
, Blue Jays (1.9)
5.
Sean Rodriguez
, Rays (1.9)
Wait ... Jeter has been the
least
valuable of this group so far? The other four all rate as excellent fielders -- in fact, Baseball-Reference rates them all in the top 13 fielders in the AL. Jeter, meanwhile, ranks 310th in the AL on defense -- out of 313 players.
Left field
1. Desmond Jennings, Rays (1.2)
2.
Daniel Nava
/
Carl Crawford
, Red Sox (1.7)
3.
Brett Gardner
/
Raul Ibanez
, Yankees (0.3)
4.
Eric Thames
/
Rajai Davis
, Blue Jays (-0.1)
5.
Endy Chavez
/
Xavier Avery
/
Nolan Reimold
, Orioles (-0.3)
Not to keep picking on the Orioles, but this is another problem position, especially if Reimold's disc problems lingers all season. Nava has quietly been a huge savior for the Red Sox, batting .305 with a .438 OBP. He's drawing walks at a crazy rate. He should slide some but he's provided the kind of depth the Orioles don't have.
Center field
1.
Adam Jones
, Orioles (2.5)
2.
Curtis Granderson
, Yankees (1.3)
3.
B.J. Upton
Rays (0.9)
4.
Jacoby Ellsbury
/
Scott Podsednik
/Marlon Byrd, Red Sox (0.5)
5.
Colby Rasmus
, Blue Jays (1.3)
Ellsbury might be the biggest wild card in this race, because the Red Sox can't survive much longer with the Podsednik/Byrd platoon. When will he return? How will he hit? He just started throwing and could
return by the end of the month
. I've conservatively put him fourth, which seems fair considering the unknown. And please note, Orioles fans, that I believe in Mr. Jones.
Right field
1.
Jose Bautista
, Blue Jays (0.9)
2.
Matt Joyce
, Rays (2.2)
3.
Nick Swisher
, Yankees (-0.1)
4.
Cody Ross
/
Ryan Sweeney
, Red Sox (1.6)
5.
Nick Markakis
/others, Orioles (0.3)
Markakis is out three to four weeks with a broken bone in his wrist, an injury that once again reflects Baltimore's lack of depth. But all five teams are solid in right field. Ross is about to return from his broken foot; we'll see if he pounds the ball like he was before the injury (.534 slugging).
Designated hitter
1.
David Ortiz
, Red Sox (1.4)
2. Edwin Encarnacion, Blue Jays (1.6)
3. Revolving Door, Yankees
4.
Chris Davis
, Orioles (0.3)
5.
Luke Scott
, Rays (0.0)
No respect for Davis? OK, he's hitting .295/.333/.494. And he has 53 strikeouts and eight walks. Sorry, call me skeptical, O's fans. Yankee designated hitters have actually fared well, hitting a combined .279/.354/.467 with 10 home runs.
No. 1 starter
1.
David Price
, Rays (2.2)
2.
CC Sabathia
, Yankees (1.9)
3.
Ricky Romero
, Blue Jays (0.3)
4.
Josh Beckett
, Red Sox (0.5)
5.
Jason Hammel
, Orioles (1.9)
Look, Hammel has been terrific so far thanks to a career-high strikeout rate
and
a career-high ground-ball rate. But this is tough group and the question is who is going to be best moving forward? My biggest concern is that Hammel has never pitched 180 innings in a season. Can he pitched the 210 to 220 that you need from a No. 1?
No. 2 starter
1.
Brandon Morrow
, Blue Jays (1.1)
2.
James Shields
, Rays (-0.4)
3.
Andy Pettitte
, Yankees (1.5)
4. Wei-Yin Chen, Orioles (0.7)
5.
Jon Lester
, Red Sox (-0.4)
I like Chen. Heck, right now I like him better than Jon Lester, which tells you how much I like him. But he averaged just 172 innings in Japan over the past three seasons. Can he hold up over 32 starts?
No. 3 starter
1.
Jeremy Hellickson
, Rays (1.0)
2.
Hiroki Kuroda
, Yankees (1.4)
3.
Felix Doubront
, Red Sox (0.4)
4.
Brian Matusz
, Orioles (0.2)
5.
Henderson Alvarez
, Blue Jays (0.4)
Matusz is holding his own at 5-5, 4.41, but he's still walking a few too many, allowing a few too many hits, a few too many home runs. The velocity is solid, averaging 91 on his fastball. We're talking minor upgrades needed in his command, getting the ball down in the zone more often to get more groundballs. If the Orioles are to have any chance, Matusz's improvement may be the single most important aspect.
No. 4 starter
1.
Matt Moore
, Rays (-0.6)
2.
Ivan Nova
, Yankees (0.3)
3.
Jake Arrieta
, Orioles (-0.4)
4.
Clay Buchholz
, Red Sox (-1.2)
5.
Kyle Drabek
, Blue Jays (-0.1)
Five pitchers who have struggled, but Arrieta's peripheral numbers are actually pretty solid. Like Matusz, there is hope for improvement. On the other hand, he's been awful since pitching eight scoreless innings against the Yankees on May 2, giving up 29 runs in 31.2 innings. His BABIP was .243 through May 2; it's .361 since. The truth is probably right in the middle, leaving Arrieta third on our list of fourth starters.
No. 5 starter
1.
Alex Cobb
/
Jeff Niemann
, Rays (0.3)
2.
Drew Hutchison
, Blue Jays (0.1)
3.
Phil Hughes
, Yankees (0.2)
4.
Daisuke Matsuzaka
/
Aaron Cook
/
Daniel Bard
, Red Sox (-0.3)
5.
Tommy Hunter
, Orioles (-0.5)
Hunter isn't really a major league starter, but I'm not sure
Jamie Moyer
-- just signed to a minor league contract -- is exactly a solution. The Orioles need to upgrade here.
Bullpen
1. Yankees (2.76 ERA)
2. Orioles (2.48 ERA)
3. Red Sox (3.66 ERA)
4. Rays (3.43 ERA)
5. Blue Jays (4.39 ERA)
If you watched Pedro Strop and Jim Johnson close out Wednesday's win, you'll realize the back of the Orioles' end has two guys with filthy stuff.
Darren O'Day
and
Luis Ayala
are strike-throwing machines and
Troy Patton
is a lefty who isn't a LOOGY. It's a good pen and it's deep. But the reliability of the pen ties into the rotation's inability to pitch deep into games -- Orioles relievers have already thrown 39 more innings than Yankees relievers, for example.
OK, let's add it up … one point for ranking first, five points for ranking fifth. Hey, this isn't meant to be scientific, so don't overanalyze this too much. The totals:
Yankees: 36 points
Rays: 40 points
Red Sox: 45 points
Blue Jays: 51 points
Orioles: 53 points
Not the respect Orioles fans are seeking. Sorry about that; it's nothing personal. Look, I don't think the Orioles are going to fade away anytime soon. I worry about the rotation's ability to hold up all summer and the bullpen's workload. They lack depth on offense and have a couple of obvious holes. Hey, you never know, and the Orioles are certainly due for a winning season. I would love to see it happen.
PHOTO OF THE DAY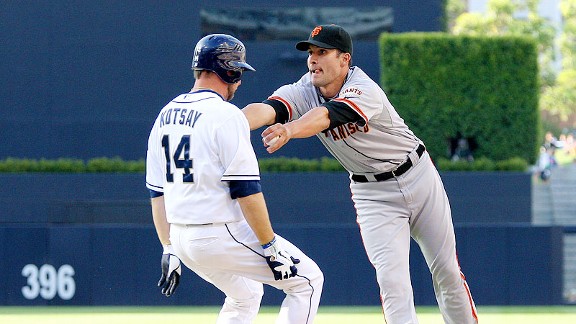 Jake Roth/US PresswireJavier Lopez is sending a message to Mark Kotsay: Tag, you're out!
August, 8, 2011
8/08/11
12:29
PM ET
Here's my weekly look ahead, because I didn't get to it in Sunday night's Yankees-Red Sox diary.
SERIES OF THE WEEK
Milwaukee at St. Louis, Tuesday through Thursday
Tuesday:
Shaun Marcum
(10-3, 3.58 ERA) vs.
Edwin Jackson
(8-8, 4.11)
Wednesday:
Randy Wolf
(8-8, 3.61) vs.
Kyle Lohse
(9-7, 3.45)
Thursday:
Yovani Gallardo
(13-7, 3.56) vs.
Jake Westbrook
(9-5, 4.83)
Dayn Perry documents the
Brewers' road woes
in an ESPN Insider story, although they are coming off a three-game sweep in Houston. OK, that doesn't tell us anything. They are 8-6 in their past 14 road games, though.
Jackson will make his third start for the Cardinals. His outing last week against the Brewers was a disaster, as he allowed 14 hits, 10 runs and four home runs in seven innings. Lohse was 7-2 with a 2.13 ERA through May but has won just two of 11 starts since. He has pitched more than six innings just twice and has posted a 5.25 ERA in 60 innings with just 25 strikeouts in that span. Look for another quick hook on Wednesday.
For the Brewers, Gallardo has lowered his ERA from 4.08 to 3.56 in his past four starts, but two of those came against Houston and one against San Francisco.
Ryan Braun
has been more aggressive at the plate lately, hitting .373 in his past 16 games with eight doubles and four home runs but only two walks. Let's see whether the Cardinals attack him and whether he'll chase pitches out of the strike zone.
PITCHING MATCHUP OF THE WEEK
Wednesday:
Rick Porcello
vs.
Ubaldo Jimenez
, Detroit at Cleveland (Wednesday)
It's not a battle of Cy Young contenders but an interesting showdown in the AL Central. The Indians are four games back of the Tigers and could use a sweep of their three-game series in Cleveland. Unfortunately, they'll face
Justin Verlander
on Thursday, putting pressure on Jimenez and
Justin Masterson
to pitch well. Porcello has been a little better of late, as he's allowed three runs or fewer in six straight starts, although they've been more of the quality start-variety (six innings, three runs) and include several starts against weak offenses -- two against Kansas City and one each against Oakland, San Francisco, Minnesota and the Angels. Jimenez allowed five runs in five innings in his first start for Cleveland against the Rangers.
THREE SWINGS
1.
Tim Lincecum
stopped the Phillies' nine-game win streak on Sunday, but what a roll the Phillies have been on. With a 74-40 record, they're on pace for 105 wins, and ESPN Stats & Info reports that AccuScore's simulation of 10,000 seasons gives the Phillies a 22 percent chance of winning 108 games. Why is that significant? Only two NL teams have won 108 games since 1910 -- the legendary 1975
Cincinnati Reds
and almost-as-legendary 1986
New York Mets
, both of whom won 108. With a 3.06 team ERA, the Phillies have a shot to become the first team since the 1989 Dodgers to finish under 3.00. We'll wait a few weeks before comparing the Phillies to other great clubs, but it's worth noting that the '86 Mets finished first in the NL in runs and second in runs allowed; the '75 Reds were first in runs and third in runs allowed. The Phillies are first in runs allowed but seventh in runs scored.
2. It's great to see
Stephen Strasburg
back in action in a rehab start in Class A. How about this 2013 lineup for the Nationals?
2B Anthony Rendon
RF
Jayson Werth
3B
Ryan Zimmerman
1B
Prince Fielder
LF Mike Morse
CF Bryce Harper
SS
Danny Espinosa
C
Wilson Ramos
Rotation: Stephen Strasburg,
Jordan Zimmermann
,
John Lannan
, Brad Peacock (124 IP, 81 H, 38 BB, 152 SO in Double-A/Triple-A this year), and Veteran Free Agent To Be Named.
OK, I stretched all the position players defensively, but Espinosa should be able to handle shortstop without a hitch (he played there in the minors), and Harper has the speed and tools to handle center field. Prince Fielder? Nats fans can dream, right?
3. Since 1990, only 21 starting pitchers have allowed an on-base percentage of .260 or less. But four pitchers are doing it this season: Justin Verlander (.233),
Jered Weaver
(.247),
Cole Hamels
(.253) and
Dan Haren
(.255). Verlander's total would be the third-best since '90, trailing only
Pedro Martinez
in 2000 (.213) and
Greg Maddux
in 1995 (.224). Martinez owns five of the 21 seasons on the list, Maddux four.
Johan Santana
with three and
Curt Schilling
with two also appear multiple times.
RANT OF THE WEEK
I'm stealing this great note from our Stats & Information department, which compares
Asdrubal Cabrera
to
Jhonny Peralta
:
Cabrera: .289, .832 OPS, plus+1 defensive runs saved, 3.9 WAR (FanGraphs)
Peralta: .314, .873 OPS, minus-10 defensive runs saved, 3.8 WAR (FanGraphs)
Peralta has received about zero media attention for his great year, especially in comparison to Cabrera. Although Cabrera routinely shows up on Web Gems highlights, his overall defense is more league-average than spectacular. Peralta's stick has been slightly more valuable, however, with a .314/.357/.516 line compared to Cabrera's .289/.344/.488. The Tigers are in first place, and Verlander and
Miguel Cabrera
aren't the only reasons why.
Oh, and the best shortstop in the American League might actually be
Yunel Escobar
.
May, 3, 2011
5/03/11
2:40
PM ET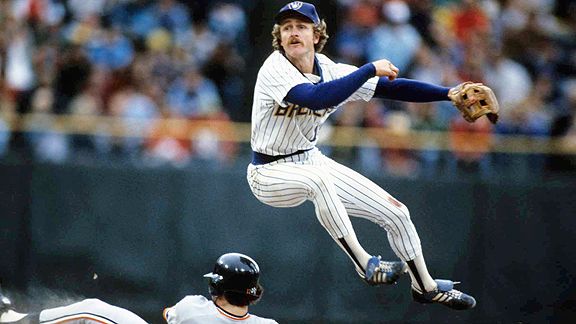 Ronald C. Modra/Sports Imagery/Getty ImagesRobin Yount won the 1982 AL MVP Award while playing shortstop for the Brewers.
In 1980, Robin Yount, then 24, had his first big season for the Brewers, hitting .293 with 82 extra-base hits and scoring 121 runs. The same year, 22-year-old Alan Trammell hit .300, scored 107 runs and won a Gold Glove for the Tigers. In 1982, a rookie third baseman named
Cal Ripken
would slide over to shortstop for the Orioles.
And so began a long run of the American League at the shortstop position. From 1980 through 2006, there were 115 shortstop seasons in the majors of 4.0 WAR or higher, from
Baseball-Reference
; 75 of those were from AL shortstops, 39 from NL shortstops (and one who split time in both leagues). The top 15 seasons were all from AL players and 27 of the top 30 were from AL players.
Now, that's not surprising when you see the list of shortstops with the most 4.0 WAR seasons during that span:
Cal Ripken 10
Barry Larkin
9
Ozzie Smith 9
Derek Jeter
8
Alex Rodriguez
8
Alan Trammell 8
Miguel Tejada
6
Nomar Garciaparra
5
Robin Yount 5
John Valentin
3
Larkin and Ozzie were NLers, but the rest were all ALers, and the AL guys put up a lot of monster numbers. The list doesn't even include
Omar Vizquel
, who had just one 4.0 WAR season. Since 2007, however, the tide has swung -- of the 18 shortstop seasons of 4.0 WAR or better, only five have come from AL players: two from Jeter and one apiece from
Marco Scutaro
,
Erick Aybar
and
Jason Bartlett
.
But with Jeter in decline, Aybar unable to replicate his fine 2009 and Bartlett now with the Padres, the American League seems devoid of a topflight shortstop. In 2010, the only two with a WAR of 3.0 or higher were
Cliff Pennington
and
Alexei Ramirez
. This season's
group isn't doing much better
, unless you count
Jed Lowrie
and
Maicer Izturis
, two utility guys who have filled in at short (or, in the case of Lowrie, potentially winning the job from Scutaro).
Maybe Jeter and Ramirez will start hitting. Maybe Toronto's
Yunel Escobar
will regain his 2009 batting stroke. There's not even an obvious Gold Glove candidate -- Jeter has won the last two as much by default as skill. So who is the best right now? Place your vote!
Follow David Schoenfield on Twitter at @dschoenfield. Follow the SweetSpot blog at @espn_sweet_spot.
February, 12, 2011
2/12/11
1:00
PM ET
By
Drew Fairservice
| ESPN.com
To call general manager Alex Anthopoulos a folk hero in Toronto does him a disservice. Sources tell me plans for a statue in his honor are already under way, a tribute to the Great Unloading (also known as the
Vernon Wells
trade). Despite not sniffing the playoffs in 18 years, an incredible amount of good will and buzz surrounds this
Toronto Blue Jays
team. The minor league system underwent a complete overhaul and the team hired a fleet of scouts. It is hard to argue the future isn't bright in Toronto.
[+] Enlarge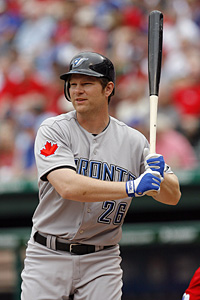 Tom Pennington/Getty ImagesThe Blue Jays are counting on a productive season from slugger Adam Lind.
Until we consider 2011, that is. The 2010 Blue Jays won a surprising 85 games, never competing seriously for a playoff spot but making a good show of themselves in the process. The young pitching staff excelled in the absence of
Roy Halladay
with
Ricky Romero
and
Brandon Morrow
jostling for the Opening Day starter role for years to come. Free-agent acquisitions
John Buck
and
Alex Gonzalez
provided best-case scenario contributions: huge power numbers for cheap before giving way to draft pick compensation (in Buck's case) and sell high/buy low trade opportunities (i.e. Gonzalez traded for
Yunel Escobar
.)
While the Jays brass keep their eyes firmly on the prize -- with 2012 pegged as the earliest possible season to make a playoff run -- the expectations of many fans jumped ahead of the intricate plan laid out by the brain trust. Fans clamber for big-name signings, hoping the elusive final piece falls into their collective lap.
For Blue Jays fans, the immediate future might be a little rockier than they expect. None of the losses suffered by the Blue Jays figure to torpedo the season. For the team to win 85 games again, far too many things must go right.
The rotation must stay healthy. While the No. 5 starter spot saw more than its share of pretenders; the top four Blue Jays hurlers toed the rubber at least 25 times apiece. A figure that would be higher had the team not shut down Morrow early in September. While replacing
Shaun Marcum
's 200 innings is tough, it won't be the first time this team filled a gaping rotation hole. Young
Kyle Drabek
has the makeup and stuff to slot into the rotation directly, but he, too, comes with innings limits.
Staying healthy is vital for every team, rebuilding or otherwise. The Jays racked up the third-most days spent on the disabled list in all of baseball,
according to Fangraphs research
. A closer look at those numbers reveals the true impact of these maladies wasn't quite so severe.
Dirk Hayhurst
,
Jesse Litsch
,
Scott Richmond
and
Dustin McGowan
spent much of or all of 2010 on the shelf. Only McGowan at his peak had an honest shot of making the rotation or any discernable impact.
The bullpen underwent a complete rebuild as well. A virtual parade of competent right-handed pitchers now lurk in the 'pen, hoping to scoop up whatever stray saves come their way. Losing versatile "setup" man
Scott Downs
is a huge blow for any team. Downs was long the team's best reliever and the man generally tasked with the highest-leveraged work.
Adam Lind
and
Aaron Hill
need to decide which season was a fluke: Was it 2009, when they powered the middle of the lineup, or their ugly 2010 seasons?
Jose Bautista
is not going to hit 54 home runs again, so the Jays need these two key players to produce runs in bunches. Maybe throw a walk in there for good measure.
The future is bright for the Blue Jays. Financial agility coupled with a renewed pipeline churning out major league-ready talent positions the Jays perfectly to make multiple runs at the playoffs. Be prepared for some growing pains in 2011.
Drew Fairservice writes the Blue Jays blog Ghostrunner on First. Follow him on Twitter.
February, 3, 2011
2/03/11
2:28
PM ET
By
Peter W Hjort III
| ESPN.com
Back in December, Sports Illustrated's Tim Marchman had an
interesting idea
about how a creative GM could leverage a talent drought at shortstop into an opportunity:
Stop and think about this question for a moment: How many really good shortstops are there in baseball right now? Troy Tulowitzki is pretty great. So is Hanley Ramirez. Who is the best in the game after those two? Derek Jeter and Marco Scutaro are good, and also old. Yunel Escobar has nice numbers, but was traded for a 33-year-old Alex Gonzalez who struggled to slug .330 in the middle of a pennant race last year. Stephen Drew and Alexei Ramirez are nice players, and not quite stars. Elvis Andrus and Starlin Castro are years from their primes; Jose Reyes has been injured during his.

The point here is just that while good, sound, solid, harmless shortstops would seem to have some value these days, they apparently don't. The Minnesota Twins, by anyone's reckoning a strong contender, rid themselves of J.J. Hardy in exchange for the oft-traded "live arms," the same types that are also involved in a deal (which may or may not ever happen) that would move Jason Bartlett from the Tampa Bay Rays to the San Diego Padres. From this one can infer that we're just in a bit of a positional drought right now. Everyone other than the greats is part of a drab gray mass.

Here lies opportunity! You'll often hear it said of this or that infielder --Washington's Ryan Zimmerman, say, or free agent Adrian Beltre -- that he could handle shortstop. Someone should put the theory into practice. There just aren't a lot of top shortstops around right now. Make one of your own and you'll have one.
[+] Enlarge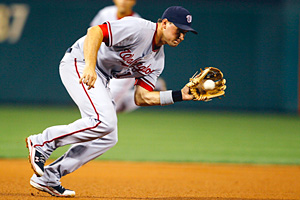 AP Photo/Matt SlocumNationals third baseman Ryan Zimmerman likely has the skills to play shortstop.
Historically, teams have done their best to put a good defensive player at shortstop. Professional baseball's recently rediscovered interest in improving defensively means there's some discounted talent to be had if you're willing to sacrifice a bit in that department.
Looking at second and third basemen who could potentially make a shift down the defensive spectrum to shortstop,
Mark Ellis
is the second-highest rated second baseman over the past three years according to Dewan, but -- in addition to the fact that the 34-year old Mark Ellis wouldn't be much of a star anywhere on the diamond -- he probably doesn't have the arm strength required to play shortstop every day.
Chase Utley
,
Aaron Hill
, and
Dustin Pedroia
also rate highly according to Dewan, but there isn't a whole lot to be gained by moving one of those players to shortstop, considering how their respective rosters are constructed.
At third base, the aforementioned Zimmerman and Beltre lead the way. With
Ian Desmond
at shortstop and
Danny Espinosa
at second base, the Nationals have their infield set. Beltre is no longer a free agent, having signed with the Rangers to play third base. I wonder how Beltre and his agent Scott Boras would have responded if a team approached them about Beltre moving to short.
Another interesting note: Boras originally shopped one of his other high-profile clients,
Jayson Werth
, as a player capable of
shifting down the defensive spectrum
to center field.
Though there isn't much of a tangible opportunity to see Marchman's idea immediately put into action, it's an interesting thing to monitor. Zigging while others are zagging can lead to an undervalued asset, and I'll be watching for teams to shift a player down the defensive spectrum in the future, especially if teams continue to emphasize defense.
-- Peter W Hjort III writes the Capitol Avenue Club, a blog about the Atlanta Braves.
July, 14, 2010
7/14/10
3:21
PM ET
Another
trade nobody saw coming
, this one essentially a swap of two shortstops. One's fairly young and one's fairly old, and what's odd is that the fairly young shortstop (
Yunel Escobar
) might actually be better than the fairly old shortstop (
Alex Gonzalez
). Are the Braves getting ripped off? Joe Pawlikowski
isn't so sure
. Joe's big finish:
After further examination, this trade doesn't seem nearly as bad for the Braves as it did at first glance. Toronto still won their end, but that doesn't preclude the Braves from claiming victory as well. They've gotten rid of a player whom they clearly do not like, and replaced him with a player who, if nothing else, will provide value on defense. The prospects also help out, and while neither projects as a future star both can be useful pieces in a year or two. Maybe it's a win, though I wouldn't go so far as to say that. But it doesn't look like the clear loss I had imagined when digging into the topic.
For me, the obvious takeaway is the Braves have become really, really, really disenchanted with Escobar, who for three seasons was considered one of the game's best young shortstops. Has he suddenly forgotten how to hit? He hasn't forgotten how to field. Or at least his numbers are solid, which mildly suggests he's not playing (badly) hurt.
We've got a mystery on our hands. The Braves think they've already got it figured out. The Blue Jays must think so, too. They can't really both be right. While it's a five-player deal and we're all optimistic about
Tim Collins
, essentially this is a classic "challenge trade": our shortstop for your shortstop and next year we'll figure who was right.
My money's on the Jays. But as Pawlikowski points out elsewhere, the Braves have done this sort of thing before and they've usually been right.