SweetSpot:

Zach McAllister
May, 20, 2014
May 20
12:55
AM ET
By
Christina Kahrl
| ESPN.com
Is it too soon to count out the Tribe? After Monday's walk-off win at the Tigers' expense ended their recent losing streak, it's worth looking at what has to happen to get last year's wild-card surprise back in the running in the AL wild-card race. Here's a quick look at what has to happen for the Indians to become relevant again.
1. This new-look
Michael Brantley
has to keep doing what he's been doing. His game-winning blast on Monday was just the latest happy development for him. Almost like clockwork, he's having a big year as a 27-year-old, right when you'd expect, and you can worry that a lot of it is a big early spike in his homers per fly ball, more than triple his previous career best. But you also can't help but wonder if this is the payoff for a guy who's significantly better than average at putting balls in play. Brantley's .250 Isolated Power against off-speed stuff ranks in the top 20 among major league regulars, so when he got an
Al Alburquerque
slider over the plate in the 10th, he got an opportunity to add to that impressive clip.
2. Several slow starts in the lineup have to end.
Michael Bourn
has missed time to injury, but the bigger worry is his career-low walk rate so far (5.5 percent), which is crippling for a team counting on him to get on base in the leadoff slot.
Nick Swisher
has the seventh-lowest OPS among AL qualifiers, and he's slugging just .317.
Carlos Santana
's been even worse, below .600. While you might ascribe some of that to his troubles adjusting to life as a third baseman, and you can blame some of it on an unusually awful .167 BABIP through Sunday, he is at least walking. Santana and Swisher are supposed to be the stable middle of the order, and their poor performance is part of the reason why the Indians are among the worst at cashing in their baserunners, scoring just 13 percent of them, bettering only the Astros in the AL.
3. This is sort of a subset of the slow starts already mentioned, but the other thing the Indians have to do is start hitting lefties. As far as their record, the Indians were an MLB-worst 4-11 versus left-handed starters coming into their game against
Drew Smyly
on Monday. The average MLB OPS versus southpaws is .720, but through Sunday the Indians were at .608. You can deposit only so much of the blame for this at situational hero
Ryan Raburn
's doorstep. Last year, Raburn went from scrapheap find to lefty-killer, mashing against them for a 1.020 OPS; this year, he was scrapping at less than half that clip at .508 before Monday's action. Raburn is merely representative of a lineup-wide problem, because outside of Brantley and
Asdrubal Cabrera
, all of the lineup regulars were putting up a .635 OPS or worse. Start hitting southpaws, and the wins will come.
4. The Indians have to play better defense. A .660 Defensive Efficiency isn't just the worst in the league or in the majors this year, if that's what the Indians' leather men do all season it would be the worst-ever DE posted by a team going back through the 1950 season. (Earlier than that, and we're less certain about the data.) So that's epically bad, and to put it another way, 34 percent of all balls put into play against the Indians become baserunners. Not counting walks, not counting homers. The big league average is .689, the AL-leading Athletics are at .722, while the Reds are baseball's best at .732.
Switch to Defensive Runs Saved, and you get a sense of the damage: According to Baseball Info Solutions, the Indians' infielders had cost them 16 runs, while the outfield had cost them 26 runs. If you use the old sabermetric yardstick that 10 runs equals a win, that's four wins the Indians' defense has already cost them. It's especially interesting that the outfield has been such a problem: As Rangers fans might have warned Cleveland,
David Murphy
is a left fielder stretched to handle right, but Bourn and Brantley are both athletic players you'd anticipate better results from afield.
The Indians' pitching staff is doing what it can to control the damage by keeping balls out of play, striking out 22.7 percent of all batters through Sunday, good for the fourth-best rate in baseball. But even whiffing 2.5 percent more people than the average staff for near-automatic outs doesn't compensate for being three percent worse than average at letting balls in play become baserunners.
5. The rotation needs to take shape. Yes, we just blamed the fielding for making life hard for the Indians' men on the mound, but
Danny Salazar
and
Carlos Carrasco
have to own some portion of losing their jobs in the rotation.
Zach McAllister
has managed just four quality starts in nine turns, while presumed ace
Justin Masterson
has just five in 10, right at the league average.
Corey Kluber
is the lone bright spot.
To help fix this issue,
Trevor Bauer
returns to a major league mound on Tuesday night with high expectations for him as well as for his strikeout rate. Facing
Justin Verlander
, he will get anything but a soft landing, but the big-picture problem is that if he doesn't cut down on the freebies that have undermined him in every one of his previous extended stints in the majors, he'll just be putting that much more pressure on that defense, and he'll pay a high penalty no matter how many people he overpowers.
If there's a silver lining, it's that it looks like Terry Francona once again has a deep bullpen used to good effect. Last year, Francona's pen made an MLB-leading 540 appearances, and it's leading the AL this year with 150 appearances through Sunday. Last year's crew was a little better than average, stranding 73 percent of baserunners (against 70 percent for all MLB). This year's unit is doing even better, stranding 79 percent of baserunners (with MLB averaging 71 percent). Using
Fair Run Average
, and the bullpen has improved from last year's 4.09 to 4.01.
So Francona's pen men are once again better than most when it comes to preventing runs, and they'll need to keep that going forward. The down note is
John Axford
's perhaps predictable failure to hold onto the closer's role, but as last year's Red Sox proved, taking a few months to figure out who your team's designated saves generator is supposed to be doesn't necessarily keep you from doing big things.
Can the Indians get it turned around? It would be unusual for Santana and Swisher to remain this terrible, or for Bourn to post his worst season. It would be unusual to see them be the worst defense in history or even recent history, and if (or when) that starts turning around, life will get easier for the men in the rotation. The question is whether it's going to happen in time for the Tribe to get back into the AL wild-card race, but considering they're just 3.5 games out now -- after all that's gone wrong for them already -- there is no reason to give up on them before the season even reaches the one-third mark.
Christina Kahrl writes about MLB for ESPN. You can follow her on Twitter.
May, 13, 2013
5/13/13
1:55
AM ET
In April,
Jose Bautista
had turned into a three true outcomes type of player: home run, walk or strikeout. He hit seven home runs and had a slugging percentage over .500, but was hitting just .200.
Was he just finding his stroke as he returned from last year's injury problems? Or was he no longer the MVP-caliber hitter of 2010 and 2011, when he hit 54 and 43 home runs, drew walks, and hit .260 and then .302?
He hit his first two home runs of May on Sunday in a
12-4 pasting of the Red Sox
to raise his overall batting to .246/.360/.544 -- respectable, if not quite 2011-level Bautista. And the Blue Jays need 2011-level Bautista if they have any hope of recovering from their awful start.
I'm not quite sure he's there yet. While Bautista can crush any fastball -- he's hitting .333 with six home runs in 51 at-bats ending with a fastball this season -- it was his production against "soft" stuff that allowed him to hit above .300 in 2011. Check out these two charts on his batting average against soft stuff in 2011, and then the past two seasons: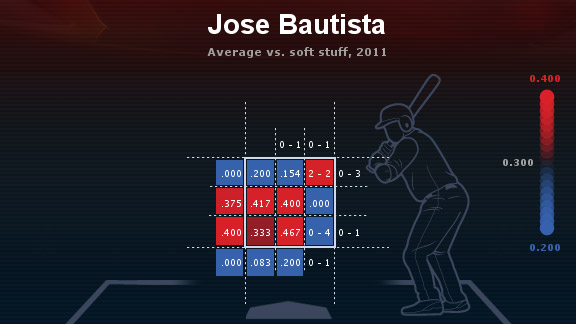 ESPN Stats & InformationIn 2011, Bautista hit .291/.415/.591 with 16 home runs against soft stuff.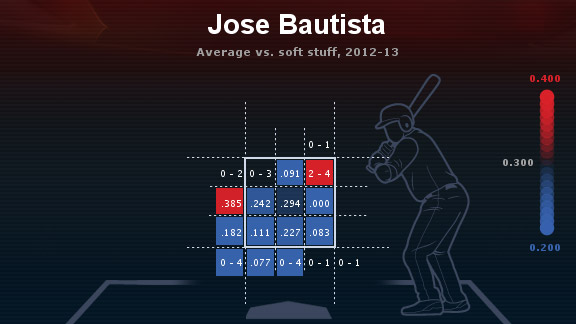 ESPN Stats & Information Over the past two seasons, Bautista has hit just .180/.326/.365 against soft stuff.
As you can see, that's a lot of red (hot) in 2011 and a lot of blue (cold) since. This year, he's 7-for-51 (.137) with three home runs against soft stuff. He split his home runs on Sunday -- one came off a first-pitch
Ryan Dempster
fastball, the other off an 0-1 83 mph slider from
Clayton Mortensen
. Bautista is a dead pull hitter -- only one home run to center and one to right-center over the past two seasons -- which can leave him vulnerable to breaking stuff on the outside part of the plate.
I haven't seen enough evidence that he's going to punish those pitches like he did a couple years ago, so I would guess he'll be prone to ups and downs throughout the season. He's still a huge threat at the plate, but not the MVP bat of 2011.
REST OF THE WEEKEND

Three stars
1. Shelby Miller, Cardinals.
One hit. Twenty-seven down. In a
3-0 win over the Rockies
on Friday, the St. Louis rookie became the fifth pitcher since 1961 to allow the first batter to reach base and then retire 27 in a row, joining
John Lackey
(2006 Angels), Jerry Reuss (1982 Dodgers), Jim Bibby (1981 Pirates) and Woodie Fryman (1966 Pirates). Miller had the Rockies guessing wrong -- or merely looking -- all night long, as he got 30 called strikes, the second-most by a starter this season. Eight of those closed out Miller's 13 strikeouts. Just a dominant performance. In fact, for all the attention given to
Matt Harvey
this year, compare the two young right-handers:
Miller: 5-2, 1.58 ERA, 45.2 IP, 29 H, 3 HR, 11 BB, 51 SO, .179 AVG
Harvey: 4-0, 1.44 ERA, 56.1 IP, 27 H, 3 HR, 14 BB, 62 SO, .142 AVG
2. Adam Wainwright, Cardinals.
Not to be outdone, Wainwright took a no-hitter into the eighth inning on Saturday, finishing with a two-hit shutout in
another 3-0 win
for the Cards. Wainwright improved to 5-2 with a 2.30 ERA and had strong words about his rookie teammate: "You follow
Roger Clemens
a couple times like I have been, it makes you focus a little bit more," he said. "Once you see Shelby mow through a lineup like he has all year, you want to go out there and do it, too." Kudos also to Cards manager Mike Matheny for leaving in Miller to throw 113 pitches, and Wainwright to throw 120. In this day when managers are too willing to yank starters at 100 pitches, it is good to see a manager let his guys go the distance.
3. Chris Sale, White Sox, and Jon Lester, Red Sox.
Two more one-hit shutouts,
Lester on Friday
,
Sale on Sunday
. Can't anyone here hit anymore? Lester got 12 ground-ball outs as he joined
Pedro Martinez
(2000),
Hideo Nomo
(2001),
Curt Schilling
(2007) and
Josh Beckett
(2011) as Red Sox pitchers to throw a one-hit, no-walk shutout in the live ball era. But Sale threw his wearing the so-ugly-they're-cool 1983 throwback uniforms.
Clutch performance of the weekend
Evan Longoria
, for his two-out, two-run,
bottom-of-the-ninth home run
to give the Rays a dramatic 8-7 win over the Padres on Saturday. My favorite part: There's some sort of picnic area in left-center (yes, "picnic area" and "domed stadium" is kind of an oxymoron) where the ball landed, and it looks like half the fans out there didn't realize it was a game-winning home run.
First off, credit
Ben Zobrist
for a drawing the two-out walk on a 3-2 pitch from
Huston Street
, working back from a 1-2 count. Street knew that was the batter he had to get. "You get him 1-2, you've got to make a pitch," he said. "I'm frustrated about that just as much as leaving a pitch to Longoria in the middle of the plate." The Rays had led 6-2 before the Padres scored five in the seventh, leading Joe Maddon to say it would have been one of Tampa's worst three losses of the year. "But you can't go to the dance playing like that. When you get leads, you've got to put the other team away. I'm not happy with that. That's inappropriate. That's got to stop," he said.
The Rays finished the sweep on Sunday, however -- their fifth win in a row -- and clawed a game over .500.
Best game
Well, that Padres-Rays game was pretty good. Miller's game was mesmerizing. Toronto's win over Boston on Saturday featured
Adam Lind
's
go-ahead home run
in the ninth off
Junichi Tazawa
, after the Red Sox had tied it in the bottom of the eighth. But I'll go with
Cleveland's 7-6 win
over
Justin Verlander
and the Tigers on Saturday. Or Cleveland's
4-3 win
on Sunday, in which the Indians tied it in the ninth and won it in the 10th, leading to this quote from
Mark Reynolds
, who delivered the go-ahead single: "With two strikes, I'm just trying to shorten up my swing and get something into play," he said. Wait ... since when does Reynolds shorten up his swing? Gotta love baseball.
The Indians took two of three from the Tigers to move into a first-place tie with Detroit.
Hitter on the rise: Anthony Rizzo, Cubs
He had six home runs through April 21, but his average fell to .173 after a three-strikeout game on April 25. In 16 games, he's hit .419/.478/.694, with three more home runs, eight doubles and nearly as many walks (six) as strikeouts (eight). He has six three-hit games in that stretch, and he's showing he's more than just an all-or-nothing slugger. He's showing he's a guy who is going to be the Cubs' cleanup hitter for a long time.
Pitcher on the rise: Zach McAllister, Indians
Don't believe in the Indians? Don't believe in the rotation? McAllister is starting to look like another solid option alongside
Justin Masterson
. He didn't get a decision in Sunday's game but pitched a solid six innings. He's 3-3 with a 2.68 ERA and a decent 33/13 SO/BB ratio in 43.2 innings. He's a fly ball pitcher but has allowed just five home runs in seven starts. If he keeps the ball on the right side of the fence he has a chance to be successful.
Brandon Phillips play of the week
This one was pretty
.
Happy Mother's Day
Pablo Sandoval
uses his pink bat to
launch one into McCovey Cove
.
Tim Lincecum
backed up Sandoval with his best outing of the year as the Giants took the final three of four from the Braves. Tough stretch coming up for the Giants, however: 20 of their next 30 on the road, including series in Toronto, Colorado, St. Louis, Arizona, Pittsburgh and Atlanta.
Team on the rise: Indians
They're 12-2 over the past 14, hitting .305 with 24 home runs -- and that stretch does not include that 19-6 win over Houston earlier in the season. The pitching staff has a 2.98 ERA with 13 home runs allowed. The Indians lead the majors in home runs and OPS, and guys like
Jason Kipnis
,
Asdrubal Cabrera
and
Lonnie Chisenhall
have room to do better.
Team on the fall: A's
Awful week, losing four to Cleveland and then two of three to Seattle. They scored more than three runs just once in seven games as injuries to outfielders
Coco Crisp
,
Chris Young
and
Josh Reddick
have left them playing
Michael Taylor
and
Brandon Moss
in the outfield (with
Daric Barton
or
Nate Freiman
replacing Moss at first base).
Jarrod Parker
is still scuffling (6.86 ERA, four walks in 6.1 innings on Saturday). The A's just need to get healthy, and they didn't hit their stride last year until July (they were 37-42 and 13 games out on July 1), so they may be down now, but hardly out.