November, 21, 2012
11/21/12
2:15
PM ET
Adrian Beltre
suffered through an injury-plagued campaign with the Mariners in 2009 -- including a shoulder injury and a severely bruised testicle -- and hit .265 with eight home runs in 111 games. The Mariners made a halfhearted attempt to re-sign Beltre by offering him arbitration, but instead signed
Chone Figgins
to a four-year, $36 million deal.
It proved, of course, to be a disastrous decision. Beltre sought a multiyear deal but ended up going to Boston for one season before signing a five-year deal with the Rangers. Not to pound home the obvious, but look at their production over the past three seasons:
Figgins: .227/.302/.283, four home runs, $28 million in salary
Beltre: .314/.353/.558, 96 home runs, two top-10 MVP finishes, $38 million in salary
OK, so Beltre doesn't put up those numbers in Safeco Field. Still ... those are the decisions that cost people jobs. The Mariners mercifully
designated Figgins for assignment
, eating the final $8 million of his contract. He will end his tenure as perhaps the least popular Mariners player ever. Am I wrong, Mariners fans? It will be a happy Thanksgiving in Seattle.
GM Jack Zduriencik, who signed Figgins but has kept his job, said, "At the time of the signing it looked like it was going to be the right thing for all of us. He was excited about coming here. ... It just never worked out like he thought and sometimes you just never know why."
Figgins had posted a .386 OBP with the Angels from 2007 to 2009, but was entering his age-32 season. It wasn't a bad signing at the time, but Figgins just fell off the table.
A few other notable names designated for assignment, outrighted to the minors or released as teams added players to their 40-man rosters on Tuesday night:
December, 26, 2011
12/26/11
9:00
AM ET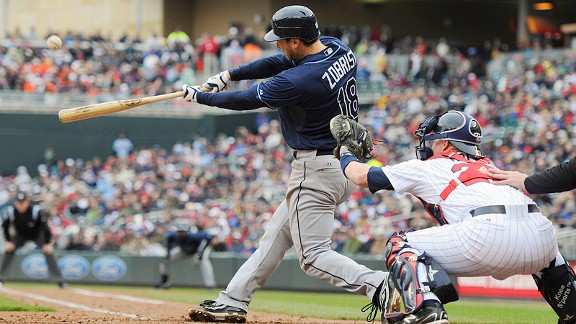 Hannah Foslien/Getty ImagesBen Zobrist had one of the biggest days in baseball history on April 28 with seven hits and 10 RBIs.
On April 22,
Ben Zobrist
went 0-for-5 in Tampa Bay's 11-inning loss to the Blue Jays, dropping his average to .183. The Rays were struggling at 9-11,
Evan Longoria
was out with an injury,
Manny Ramirez
had been suspended for a positive drug test and
Felipe Lopez
was hitting cleanup. The little team that could was looking more like the team that couldn't hit.
On April 23, Zobrist batted in the cleanup spot and hit a big three-run homer in Tampa's 6-4 victory in Toronto. The next night, Zobrist's two-run homer off
Ricky Romero
accounted for the only two runs in a 2-0 victory. On April 27, after a day off and a rainout in Minnesota, Zobrist tripled in two runs and added a sac fly in an 8-2 victory over the Twins.
That set the stage for my selection of the top single-game performance of the 2011 season. OK, I admit ... I cheated slightly, as you'll see.
On April 28, in the top of the first inning, Zobrist singled in two runs off Minnesota's
Nick Blackburn
. In the sixth inning, he blasted a three-run home run to right field off
Jim Hoey
. In the seventh, Zobrist moved over to the right-side of the plate and drilled a two-run double to deep left field. In the ninth, he hit another two-run double, capping an eight-RBI game.
But Zobrist wasn't done. In the second game of the doubleheader, he went 3-for-4 with a double and a two-run home run. All told, he went 7-for-10 with three doubles, two home runs and 10 RBIs in the doubleheader, joining Jim Bottomley (1929 Cardinals), Pete Fox (1935 Tigers) and Nate Colbert (1972 Padres) as the only players with at least seven hits and 10 RBIs in a single day.
"I really had no idea what was happening," Zobrist said after the second game. "I just was kind of in the zone. Just trying not to think about it too much. I just felt real comfortable, obviously, in the box. The ball was big. I saw the ball big today and put good swings on it. I felt like when I swung the bat, good things were going to happen every time."
The outburst capped an amazing five-game stretch for Zobrist in which he hit four home runs and drove in 18 runs. The Rays won all five games, a key point in their season as they climbed over .500 after starting the season with six consecutive losses.
Zobrist has been one of baseball's underrated stars the past three seasons, a versatile player who excels defensively at second base or right field. He was one of only 16 players in the majors in 2011 with at least 90 RBIs and 90 runs scored. He ranked tied for 10th in the majors in extra-base hits. He might not be widely recognized as a star, but one day he shined brightest.
Honorable mention
September, 6, 2011
9/06/11
2:48
PM ET
With the holiday weekend over and a lack of pennant races to watch, Keith Law and I still found plenty to discuss on Tuesday's
Baseball Today podcast
, including these topics:
1. Merry Stras-mass! Weather permitting, we'll see Washington Nationals right-hander Stephen Strasburg today. What should we expect?
2. Meanwhile, who is this Zach Stewart who nearly tossed a perfect game against the Twins? Klaw explains.
3. Cliff Lee is looking dominant and we try to place his odd season in some perspective.
4. An emailer wonders about the Pirates, from draft picks to Pedro Alvarez, but perhaps things aren't so bad.
5. Was instant replay used correctly in the Phillies-Marlins game Sunday? We debate the issue.
Plus: Excellent emails, Curtis Granderson versus Brett Gardner in center field, the minor leaguer who swiped 100 bases and much more on Tuesday's Baseball Today podcast!
September, 6, 2011
9/06/11
10:06
AM ET
I turned on Zach Stewart's game in the bottom of the sixth inning, and I'll be honest: My first response was, "Wow, that's one terrible lineup from the Twins." Trevor Plouffe? Rene Tosoni? Luke Hughes? Jason Repko? Somebody named Brian Dinkelman? The execrable Drew Butera? It sounds like the roll call of Cub Scout Pack 529, not a major league batting order.
But give Stewart credit: It was a major league game and he took a perfect game into the eighth inning, spoiled when Danny Valencia, after fouling off three pitches with two strikes, lined a double down the right-field line. It would be Minnesota's only baserunner of the game, making Stewart the first rookie to throw a shutout in his first 10 major league starts while allowing one or fewer baserunners since Jimmy Jones of the 1986 Padres.
With a big mop of curly hair sticking out from the back of his cap, Stewart resembled a guy like Mark Fidrych, and like Fidrych, he's not overpowering. Stewart was throwing 90, 91 late in this game, but had good movement on his fastball and threw some nice breaking pitches that dove sharply down and away from right-handed hitters. Still, he doesn't register a lot of strikeouts and some think he's a better option for the bullpen.
The White Sox acquired him from the Blue Jays in the Edwin Jackson three-way trade with St. Louis. He spent most of the season repeating Double-A New Hampshire for the Jays, where he posted a 4.26 ERA in 17 starts. In order to succeed he has to throw strikes and keep the ball down. With Mark Buehrle potentially leaving as a free agent, Stewart could be battling a guy like Chris Sale for a rotation spot in 2012.
As for Jones, his near-perfecto came in his major league debut on Sept. 21, against the first-place Astros. The only baserunner he allowed was opposing starter Bob Knepper's third-inning triple over the head of right fielder Kevin McReynolds. Jones had been the third pick of the 1982 draft, out of Jefferson High School in Dallas, taken two picks ahead of Dwight Gooden. The story following his one-hitter reported that his wife wore pink -- apparently the couple's lucky color. "The funny thing about it, I'm color blind," Jones said.
Jones also hinted at why his minor league had been mediocre and why his major league career never took off after that stunning debut. "This is the first year I haven't been hurt. I hope I proved I can pitch on the major-league level today."
Jones' Wikipedia page, if accurate, indicates why he may have battled arm injuries. It says he struck out 28 batters in a 16-inning playoff game in high school, throwing 251 pitches. Jones survived eight seasons in the majors, but he lacked the big fastball he had in high school and finished his career 43-39.