June, 2, 2014
6/02/14
11:54
PM ET
By
Christina Kahrl
| ESPN.com
We're a little more than a third of the way through the season, but let's relish this tidbit as we head into the season's middle months, when moves get made and buyers and sellers are supposed to start sorting themselves out: After beating the Yankees in a mismatch between
Felix Hernandez
and
David Phelps
, the Mariners are just a half-game back in the AL wild-card race. And a game over .500. Which means while there's a whole lot of sorting left to be done, there's no reason to take the Mariners any less seriously than they no doubt take themselves.

It shouldn't come as a surprise that the Mariners are getting the most value out of King Felix and Robinson Cano and a very few others -- Kyle Seager and Michael Saunders in the lineup, Chris Young in the rotation. Use WAR as a quick cheat, and that's the extent of the guys who've been worth a win so far, several fewer than the A's or Angels have to talk about. Not that WAR is the ultimate answer to anything, but it does give you the suggestion that there are more than a few people playing for the Mariners whose value is harder to define than what statistical words of praise might provide.

That's in large part because the core of young talent in the Mariners lineup, which was supposed to have been ready to shine by now, has provided the statistical equivalent of dark matter: We know they're there, we know they're supposed to be important. But defining what Justin Smoak or Dustin Ackley or the shortstop tandem of Brad Miller and Nick Franklin or the center fielder du jour -- it's James Jones this month -- have added challenges easy explanation.



[+] Enlarge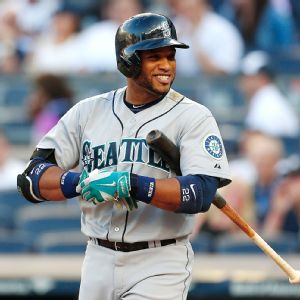 Mike Stobe/Getty ImagesEven without getting much help from the Mariners' lineup, Robinson Cano has reason to smile: They're contenders!

The Mariners are getting less than a .700 OPS not just from defense-first positions such as short and center, where they've been testing their prospects, but also at power positions such as first base, left field and DH. That's no way to back up a bid to contend, and it will be on Ackley and Smoak -- and also veterans Logan Morrison and Corey Hart when they come back from the DL -- to improve upon it.

But the time for excusing youth should be over. Smoak is in his fifth season and Ackley his fourth. They aren't kids -- they're long since young veterans. What you see is what you get. You can at least credit Smoak for hitting away from Safeco this season, with a .765 OPS on the road so far. That's almost exactly the average production for an AL first baseman this season (.764). Average is the new up, at least where Mariners prospects are concerned.

Now, it might seem a bit unfair to pile on the Mariners' bevvy of prospects for what they haven't been and might never be. The only teams running younger lineups than the Mariners' 27.3-year-old average are the Astros and Cubs, both of whom have unapologetically touched bottom in their comprehensive rebuilds. On the other hand, that same average age ties with the homegrown talent-laden Braves, who labor under all sorts of expectations of right-now contention -- and seem to be doing just fine. Guys such as Smoak and Ackley were mentioned in the same breath as prospects such as Freddie Freeman (a consensus top-20 prospect) or Jason Heyward (a consensus top 10). And while we're on the subject of young and disappointing, keep in mind that Ackley is only a few months younger than Justin Upton and was the second overall pick in 2009 to Upton's first overall selection in 2005. As frustrating as Upton has been for those expecting reliable greatness from one of baseball's best streak hitters, you won't confuse that for Ackley's exasperating inability to come close to his rookie season .766 OPS in any of the past three seasons.

Which is why, for as young as these Mariners might seem to be right now, their time is now. Everything can be forgiven, if not forgotten, if the Mariners make this season's September meaningful. That would be a first for a franchise that has yet to top the 85 wins they got in Jack Zduriencik's first season as GM back in 2009. This is essentially his team, a compilation of players he inherited and chose to keep (such as Erasmo Ramirez), guys he drafted (such as Ackley, both shortstops and James Paxton) or guys he signed (Cano, Young and Fernando Rodney). If it's going to add up to anything, ever, there's no time like now to find out.

For the Mariners to deliver on the opportunity of their present, their best hopes might rest on what Paxton and Taijuan Walker can add on the mound behind Hernandez and Hisashi Iwakuma. It makes for that much more of a pitching-and-defense formula, while praying for Cano and Seager to plate enough runs, for Zunino to develop unlike all the other top touts of prospect lists past. Not to mention hoping against hope that Ackley or Smoak or Franklin or Miller finally turn into something. Realistically, what alternative is there? Trade them away to surround Cano with better goodies? No matter how much club control a team might have left over Ackley or Smoak or Franklin, whatever dollar figure you assign doesn't amount to any value in trade if it doesn't amount to anything on the field now. Guys who can't play at 26 or 27 aren't likely to play ever.

It's easy to mock Zduriencik's zipping from one master plan to another with all the hyperactive schemes for world domination of a Bond villain: He's tried building a winner just about every way imaginable in his six seasons in Seattle, flitting from pitching and defense to a lineup overstuffed with veteran DHs, to trusting in his farm system, to finally, in that classic sign of late-stage, go-for-broke desperation, throwing boatloads of cash at somebody with star power when he inked Cano. In short, there is no tack he hasn't tried. The irony is the Mariners might contend for at least a wild-card slot this season, after the former player-development guy made the big-market move and signed the superstar for a budget-busting $240 million. If it works, and if the kids contribute anything, you can bet he'll be congratulated for it.

Christina Kahrl writes about MLB for ESPN. You can follow her on Twitter.