SweetSpot:

Jake Westbrook
August, 7, 2013
8/07/13
10:26
PM ET
Shelby Miller
threw two pitches in his national TV start against the Dodgers, was struck with a line drive on his right elbow on the second pitch and left the game. If it was your first time to see Miller pitch other than in highlights, you missed an exciting young pitcher with a big fastball. His rookie season has exceeded any reasonable expectations as he has grown into the Cardinals' No. 2 starter behind
Adam Wainwright
.
He was diagnosed with a right elbow contusion, so presumably he'll be OK. As I write this, I won't speculate on whether he'll miss a start or not, but maybe missing a couple starts will be a blessing in disguise, as the Cardinals were already facing the dilemma of
watching his innings
in his rookie season, as Jerry Crasnick wrote on Wednesday.
[+] Enlarge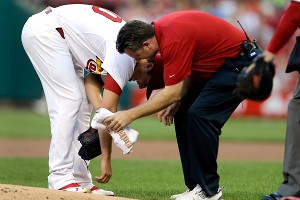 AP Photo/Jeff RobersonThe Cardinals can't afford to lose Shelby Miller for too long, but does his early exit have a silver lining?
Miller is already at 121 1/3 innings pitched, after totaling 150 1/3 IP last season between Triple-A and the majors. The Cardinals expected him to come in at around 175 innings -- with that total potentially affected by a deep October playoff run.
To complicate matters, the Cardinals are locked up with the Pirates in a tight race in the NL Central, making it a more difficult decision to back off on his innings. The Cardinals also have to be a little concerned about the state of the rotation behind Wainwright. No. 3 starter
Lance Lynn
is certainly a solid innings eater with 143 innings and a 3.78 ERA, although his 13-5 record is a product of good run support. Lynn also tired down the stretch last year in his first full year starting, concluding with two poor starts in the National League Championship Series, so that's worth monitoring.
Jake Westbrook
and
Joe Kelly
have OK ERAs but poor peripherals. Westbrook entered in relief of Miller and the Dodgers pounded him for six runs in the second inning, raising his ERA to 4.11. Westbrook does get ground balls, but he has more walks than strikeouts on the season and that's a tough way to make a living. Kelly recently entered the rotation and has a 2.98 ERA, including 1.82 in six starts. He's relied on a lot of at-'em balls as a starter as he has just 18 strikeouts in 34 2/3 innings. The results have been good so far but the deeper analysis suggest a pitcher living on the line.
The Cardinals do have other options in rookies
Tyler Lyons
, who may now get called up to start Thursday in place of Westbrook, or
Michael Wacha
, who was up earlier.
But this is a team that is heavily counting on Miller. The Cards will fall three games behind after Wednesday's results. They host the Pirates next week for three games, a chance for some revenge after losing four of five in Pittsburgh last week. Even if Miller misses that series, he'll get his opportunity to get after
Andrew McCutchen
& Co. -- the Cardinals and Pirates meet two more times after that series. But with the Pittsburgh rotation continuing to roll, the pressure is on the St. Louis rotation to match that production. Let's hope Miller is OK and back on the mound soon at 100 percent.
June, 4, 2012
6/04/12
8:48
PM ET

Eric Karabell and myself discuss the Mets and whether or not they can hang in the NL East race, the slumping Cardinals and the MVP of the National League so far.
April, 25, 2012
4/25/12
2:16
PM ET
Mark Simon and I delivered a hard-hitting Wednesday episode of the
Baseball Today podcast

, focusing on the good, the bad and the Jake Westbrook.
1. Yu Darvish was magnificent against the Yankees, showing better command than in earlier starts. Can anything stop the Rangers?
2. Can anything stop the Washington Nationals? Have they actually become the team to beat in the NL East?
3. Mark tells us the pitchers with the lowest hard-hit average so far, including Westbrook and quite a few lefties with aberrant numbers.
4. Our emailers want answers about the Minnesota Twins/ future, resources for looking up advanced stats, and on the ridiculous side, the oldest players to homer on their birthday.
5. Wednesday's schedule features quite a few pitchers potentially at a crossroads, including Kyle Drabek, Joe Wieland and Phil Hughes.
So download and listen to Wednesday's Baseball Today podcast and learn more about Omar Moreno and Frankie Crosetti.
March, 23, 2012
3/23/12
10:00
PM ET
By
Christina Kahrl
| ESPN.com
The news that
Chris Carpenter
is
"out indefinitely"
is an ominous development for the
St. Louis Cardinals
, but should the reigning champs hit the panic button? With their rotation's strength -- even without Carpenter -- they don't have to.
This is not to say losing Carpenter is something the Cardinals can shrug off easily. If the weakness in his shoulder is akin to what shut him down early in 2004 and helped him miss almost all of 2008, there's cause for concern. But because of a strong farm system, they're not without quality options.
[+] Enlarge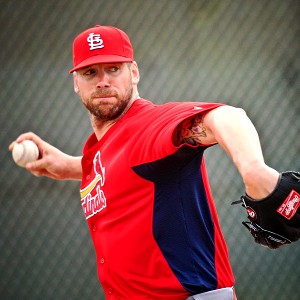 Ronald C. Modra/Sports Imagery/Getty ImagesThe Cardinals have the depth in their staff and in their farm to weather Chris Carpenter's injury.
The nicest way to think about the Cardinals' predicament is that with Carpenter out, they're essentially putting one ace on the shelf as their other ace is coming back from his own injury.
Adam Wainwright
's back in action from Tommy John surgery and looking good as he gets in gear for the regular season. Wainwright spun five shutout innings against the Marlins on Friday afternoon -- striking out five. The lone walk he surrendered suggests the command troubles that so often afflict pitchers coming back from the procedure might be less of a problem for him.
Of course, spring stats don't really mean all that much beyond the warm fuzzies they generate. The numbers that Wainwright will really have to replace are the 230-plus innings, 34 starts, and 21 quality starts Carpenter gave the Cardinals last season. That's not the biggest challenge for Wainwright if he's all the way back to full health and dealing the way he used to: He did manage 25 quality starts in 33 turns in 2010, after all.
The question is not whether Wainwright is good enough to replicate Carpenter's 2011 season, but what other question marks does the team have?
First, can
Kyle Lohse
keep doing what he did? Last year's 3.39 ERA and 14 wins were a considerable improvement from the injury-marred 2009-2010 seasons. Projection systems like ZiPS (from Dan Szymborski of ESPN Insider) and PECOTA from Baseball Prospectus are both forecasting baseline projections with an ERA a full run higher. The good news? Well, he's healthy, his 2011 FIP of 3.64 suggests he wasn't that much outside of his possible range, and the Cardinals might boast stronger interior defense this year than last.
That brings us to
Jake Westbrook
, who's coming off a fairly poor season by his standards. Here again, FIP suggests he was ill-served by ball-in-play outcomes. His 2011 ERQ was 4.66, his FIP 4.22. Give him the benefit of
Rafael Furcal
at shortstop and
Daniel Descalso
or
Tyler Greene
at second, and his ground-ball repertoire might lead to more outs in
Lance Berkman
's glove at first base.
But most importantly, there's
Lance Lynn
, the still-promising prospect taking Carpenter's spot in the rotation. Lynn isn't just some kid being thrown into the deep end -- according to Baseball America he was the organization's sixth-best prospect before 2011, and his blend of a consistent low-90s fastball, hard sinker and power curve is the stuff good big-league starters are made of. Projections for Lynn suggest ERAs in the 3.80-4.10 range, and if that's your last man, you've got a pretty good rotation.
It's also worth remembering that last year's Cardinals didn't get everything right at first, even as they struggled to replace Wainwright. They indulged a long, and ultimately unsuccessful, experiment with
Kyle McClellan
in the rotation before trading for
Edwin Jackson
for the stretch run. It might be reductionist to say Lynn + an eventually healthy Carpenter is better than McClellan + Jackson, but it also has the advantage of being probably true.
Finally, there's always the option of bringing up top prospect Shelby Miller who had a tremendous half season at Double-A last year. Miller already figures into the Cardinals long-term plans beyond 2012 -- after Lohse's and perhaps Westbrook's (the club has an option) contracts end.
While the Cardinals initially have to deal with the unfulfilled promise of having Wainwright and Carpenter in the rotation at the same time, they have the talent to succeed in the meantime. This is bad news for the champs, but it's not the worst news. As they proved last year, they've survived this kind of setback as well as the failure of a Plan B. It won't make things any easier, but there's no reason to count them out.
Christina Kahrl covers baseball for ESPN.com. You can follow her on Twitter.
February, 2, 2012
2/02/12
6:45
PM ET
Diane over at the Value Over Replacement Grit blog needs your help: She's putting together a bracket of the 64 best names in major league history.
Click here for details on submitting your suggestions to her
. Great idea, Diane. Can't wait to see the bracket.
OK, some other good stuff from the network:
October, 27, 2011
10/27/11
3:05
PM ET
The one big ramification of the initial Game 6 rainout is it gives Tony La Russa the option of starting
Chris Carpenter
on three days' rest in Game 7 if St. Louis wins on Thursday.
The Cardinals haven't announced a starter and that's not just a tactical decision. They need to win Game 6 first, and
Jake Westbrook
,
Kyle Lohse
and even Carpenter could be options out of the bullpen.
Assuming none of them appear in Game 6, who would you start? Here's a quick rundown to check out and then you can vote in the poll.
Chris Carpenter:
As Buster Olney writes
, Carpenter is 36 years old and has already thrown a career-high 267.1 innings. While Carpenter says his elbow is fine right now, he did have treatment earlier in the playoffs. He started Game 2 of the NLDS against the Phillies on three days' rest and lasted just three innings, allowing five hits and three walks. Overall, the recent outlook of guys starting on three days' rest in the postseason -- something they never do in the regular season -- is not good.
Kyle Lohse:
He's made three postseason starts this year and has lasted just 12.2 innings, giving up 18 hits, 12 runs and four home runs. Opponents are hitting .321 against him. He struggled in July and August (5.71 ERA), but did pitch well in four September starts. The positive is that he's a good bet to throw strikes; the negative is he hasn't had a good start since Sept. 24.
Jake Westbrook:
He's pitched just one inning in the postseason, a mop-up effort in Game 4 in which he threw one scoreless inning, giving up a hit and a walk. He hasn't started since Sept. 27, a game in which the Astros knocked him out in the third inning. Right-handers hit .316 off him this season. The Rangers would have six right-handers in their lineup. Seems like a long shot to me.
The wild-card option is La Russa not trusting
any
of the three and going with a bullpen game ... say,
Fernando Salas
to start, followed by
Lance Lynn
. Those guys could get you four or five innings between the two of them if they pitch well. Then you turn things over to
Octavio Dotel
,
Marc Rzepczynski
,
Mitchell Boggs
and
Jason Motte
. It's a possibility and one that I kind of like, but my bet is Lohse gets the start with Salas the first guy out of the pen (depending on Game 6 usage, of course).
Update:
It's also possible, of course, that Edwin Jackson could start. The rainout would push him back to regular rest. Jackson walked seven in his Game 4 start, although escaped with just three runs over five innings. His starts in the NLCS were poor, as he he lasted a total 6.1 innings and allowed four home runs. He probably has more potential for a good start than Lohse, but also more risk for a disaster start.
February, 27, 2011
2/27/11
3:36
PM ET
In 2010, the NL Central finished the season with only six of the top 40 starting pitchers based on ERA. Three of those pitchers belonged to one team, the
St. Louis Cardinals
(
Adam Wainwright
,
Chris Carpenter
,
Jaime Garcia
.) The other three were
Brett Myers
,
Wandy Rodriguez
(
Houston Astros
) and
Johnny Cueto
(Reds). This means the Cubs, Pirates and Brewers were without a starter in the top 40 ERA's in the league by the end of 2010. The potential was there, but it was never realized. Fast forward to 2011 …
[+] Enlarge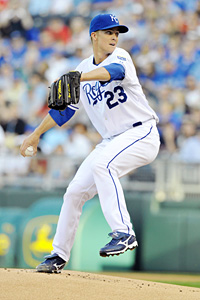 John Rieger/US PresswireThe Brewers added former Kansas City ace Zack Greinke to the top of their rotation in the offseason.
The Brewers made the first move this offseason when they picked up
Zack Greinke
in a trade with the Royals. They gave up little for what will be their staff ace.
FanGraphs
projects Greinke's 2011 stats to be about 14-15 wins and an ERA in the mid 3.00's. The Brew Crew did not stop there, acquiring Shawn Marcum, who cobbled together a nice 2010 for Toronto in the tough AL East after missing all of 2009. These two additions, along with future Cy Young candidate
Yovani Gallardo
make the Brewers a contender for the NL Central crown in 2011.
The Cubs' offseason answer to their pitching staff questions came in a trade with Tampa Bay.
Matt Garza
was acquired in exchange for a slew of prospects. While the big question is how Garza will fair in Wrigley, it goes without saying he is an upgrade, and makes a fine middle-of-the-rotation addition. FanGraphs projects something like 11 wins and a high 3.00 to low 4.00 ERA. He gives the Cubs a very solid top three along with
Ryan Dempster
and a "newly cured"
Carlos Zambrano
. What if
Randy Wells
can get his 2009 form back? Any Cubs fan can tell you that 2010's failure came from a lack of offense. If this staff gets even a hint of support, the NL Central is well within reach.
We can't discuss the Cubs without touching on the Cardinals. Year in and year out the Cardinals seem to have pitching, or at least starting pitching. Yes, Wainwright is gone for the 2011 season, and while this is a big blow, I don't see it being the end of their 2011 season. Tony La Russa and Dave Duncan are unbelievable at squeezing water from a stone. Duncan got production from
Todd Wellemeyer
for crying out loud. Every year the duo of La Russa and Duncan seems to pull a starting pitcher out of a hat. I am sure somebody will fall in place to pick up at least some of the wreckage left behind by Wainwright's injury. They still have Carpenter and Garcia to lean on. Let's also not forget the sinkerball pitcher,
Jake Westbrook
, who I am sure Duncan will turn into a Cy Young candidate before long. Oh yes, the Cardinals are still in the hunt … even when they lose their best pitcher.
The sneakiest staff might be Houston's. Rodriguez and Myers will once again anchor this staff. Don't count out
J.A. Happ
, as he fit in nicely coming over from the Phillies in a trade last season. While I don't see the Astros contending this year, mostly because of their offensive woes and bullpen, these three guys make for a nice base to a starting staff. Rodriguez and Myers were both in the top 40 ERA's for starting pitchers last year, and Happ has the stuff to be included in that conversation someday, too.
Alongside these teams sit the
Cincinnati Reds
. Youth would be the operative word here. The potential in this starting rotation is enormous for 2011 and beyond. Yes,
Bronson Arroyo
is 33, but after that you have Edison Volquez (28), Cueto (25) ,
Homer Bailey
(25) and a fifth starter in
Travis Wood
(24) or
Mike Leake
(23). There is also the tease that Cuban fireballer
Aroldis Chapman
(22) might one day become a starter. With the exception of Chapman and possibly Wood, all of these pitchers have seen significant success at the major league level in a starting role. The only thing keeping the Reds from a return to the playoffs is the fact that every team in the division upgraded with exception to the
Pittsburgh Pirates
.
The NL Central has always had a few good pitchers sprinkled about its rosters. What's new to the past decade is the depth of each team's starting staff, not to mention the potential for more in the future. While the Astros, and more so the Pirates, have some ground to make up in this category, the remaining four teams are finding strength and depth from their starters.
Chet West writes for The View From the Bleachers blog, which is part of the SweetSpot network.
February, 26, 2011
2/26/11
10:26
AM ET
By
Steve Buffum
| ESPN.com
If I were to tell the story of the
Cleveland Indians
' 2010 season, I would probably start with the three-run error.
[+] Enlarge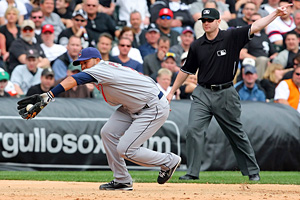 Dennis Wierzbicki/US PresswireCleveland won't miss the defensive mishaps of former third baseman Jhonny Peralta.
Every team makes errors. It's unreasonable to expect any team to make it through a season defensively unscathed. The very best Gold Glove-winning infielders make errors.
This was not one of those errors.
Tribe fans were excited to start the season with perceived defensive whiz
Asdrubal Cabrera
at short: He had played well at both middle infield positions in 2009, and was considered a sizable defensive upgrade to the rather plodding, spherically-headed
Jhonny Peralta
. Peralta slid over to third, a position that could potentially hide his below-average range while still taking advantage of his strong arm. His slow first step was not seen as an asset of comparable size.
When you think about a three-run error, you think about a diving outfielder and a ball rolling to the wall. You might think of Jose Canseco's innovative cranial fielding technique, or perhaps a marauding band of highly agitated Pennsylvania Outfield Badgers. But the outfield is involved in some way, no?
No.
With the bases loaded, the Tigers' hitter bounced a ball to Peralta's left, which he managed to knock down with a grace normally accompanied by an eyeless Muppet singing, "Bork, bork, bork!"
Thousands of Cleveland fans momentarily lost consciousness as they forgot to breathe while giving Peralta the telepathic signal
not
to rush the throw.
In my experience as a Cleveland fan, the Cleveland Fan Long-Distance Telepathic Network needs work.
Peralta's throw to ersatz first baseman
Andy Marte
was … look, it was not a good throw. Not many first basemen would have caught that throw. My point is, not many first basemen would have approached the play as Marte did, either, which is to say, to stand like a grandfather clock and … again, I cannot tell you what Marte's thought process was here, but it appeared to combine equal parts Zen, terror, and petit mal seizure. The ball rolled away. Detroit's baserunners continued to run. Right fielder
Shin-Soo Choo
, roughly 19 times the distance from the ball, ran toward the ball. The sun changed position perceptibly in the sky. Detroit baserunners continued to run.
Did I mention that Cleveland lost by three runs?
After Peralta was traded, which was
after
he broke Cabrera's arm in a collision, Cleveland fans were "treated" to the sight of
Jason Donald
playing short and waiver pickup
Jayson Nix
sliding from his natural position of second to third. As a shortstop, Donald is a perfectly adequate second baseman. As a third baseman, Nix is a perfectly adequate second baseman.
If the Indians face a lineup of
Adam Dunn
,
Jim Thome
,
Ryan Howard
and
Travis Hafner
, their innovative three-second-basemen defense will serve them well. Until this team is constructed, they will still require someone to stand closer to third base than any other player. Right now, this is likely Nix. Or Donald. Possibly
Luis Valbuena
, a man who is not quite as good as Donald, or Nix, or a sack of iguanas.
Compounding this is the fact that the two best Cleveland starting pitchers are groundball pitchers
Fausto Carmona
and
Justin Masterson
.
Other amusing anecdotes from the 2010 infield include the walk-off bunt, the four-wild-pitch opener (as least partly due to rookie catcher Tofu
Lou Marson
's inexperience with
Jake Westbrook
's sinker), the walk-off wild pitch, and the game with six infield hits.
Is there room for hope here? Of course. For one thing, the Indians are placing an increased emphasis on infield defense this season. They recognize the issue. But plenty of potential improvement can come from simple experience: Marson became much more accomplished behind the plate over the season and has a terrific arm. Nix and Donald will likely play better just by virtue of repetition. A healthy
Matt LaPorta
, if such a thing actually exists in non-theoretical space, should be fine at first. And the future of the Cleveland infield is probably Jason Kipnis, Lonnie Chisenhall, and possibly Cord Phelps, although none of them is ready to open 2011 with the Tribe.
The offensive contributions of these players (besides LaPorta) are almost irrelevant: The Indians did a decent job of scoring runs in 2010 and will likely do so again. A full season of
Carlos Santana
, any contribution better than what
Grady Sizemore
was able to struggle through, and a fully-recovered Cabrera will go a long way toward boosting the offense.
In Cleveland, the watchword is "infield defense." It will be better in 2011 … axiomatically.
Steve Buffum writes The B-List, a blog about the Cleveland Indians.
August, 6, 2010
8/06/10
6:22
PM ET
By Jack Moore, Disciples of Uecker | ESPN.com
Why will the Brewers contend in 2011?
1. The Brewers have already patched up their bullpen.
On opening day, the Brewers' bullpen contained (among others)
Trevor Hoffman
and
Claudio Vargas
. After two awful starts,
Jeff Suppan
joined this awful duo. Those three all had ERAs above 6.90 in April and May, and they combined for a stunning minus-2.96 WPA – mostly via Hoffman and his five blown saves, but also from the general incompetence of the trio. That means that this group was three wins worse than merely average relievers.
Since then, Hoffman has been replaced as closer by
John Axford
, Suppan has been replaced in the rotation by
Chris Narveson
and in the bullpen by
Kameron Loe
.
Zach Braddock
has taken the role of top lefty from
Mitch Stetter
(a middling-at-best LOOGY who was utterly incompetent against RHB). Vargas's low-leverage innings have been split between players like
Chris Capuano
, who is an interesting project if nothing else, and
David Riske
, who is merely biding the time until his contract expires.
Axford, Braddock, and Loe have been fantastic since joining the Brewers, combining for plus-2.22 WPA in their time on the team, largely coming after Jeff Suppan's June 7 release. All three will be under team control next year, making them near locks to be important bullpen pieces next season, added to relievers
Carlos Villanueva
and
Todd Coffey
.
2. The Brewers have a favorable payroll situation.
With the toxic contracts of Jeff Suppan,
Bill Hall
, and others coming off the books, the Brewers will shed roughly $45 million in contracts after this season. After arbitration raises, I estimate that the Brewers will be about $25 million below the 2010 opening day payroll, even if
Prince Fielder
remains a Brewer. That means they'll have some money to play with.
The Brewers aren't losing much, either. The only important player from 2010 who's on his way out is
Jim Edmonds
, but he can be replaced in-house by either
Carlos Gomez
or
Lorenzo Cain
. At every other position, the Brewers are solid. CHONE's August update projects the Brewers with one above-average player (+2.0 WAR per 150 games) at each position.
That means the Brewers can spend most, if not all, of that "extra" $25 million on their weakness: starting pitching. The market this winter isn't great, but
Javier Vazquez
,
Brandon Webb
,
Ted Lilly
,
Jon Garland
(likely to decline his mutual option),
Jake Westbrook
, and
Kevin Millwood
, among others, are all interesting options. Perhaps a better move would be to use some of that cash to deal with a team like the Marlins, who might attempt to move
Ricky Nolasco
's high arbitration award in the offseason. They could also trade Prince Fielder for pitching, as
Mat Gamel
could step in and likely be an average first baseman. For the right pitcher, trading Fielder could actually make the Brewers better in 2011.
The roster certainly isn't perfect, but much of it is returning and there's money to fix the holes.
3. The NL Central is weak.
St. Louis has a good team this year, certainly, but it's not without its holes. Perennial All-Stars
Albert Pujols
,
Adam Wainwright
,
Chris Carpenter
, and
Matt Holliday
form an excellent core, but there are question marks after those four players. The back of the rotation has struggled mightily, as the Cardinals have attempted patches with
Blake Hawksworth
and Jeff Suppan, eventually trading
Ryan Ludwick
away for Jake Westbrook. Losing Ludwick, one of the better right fielders in the NL, will hurt next year, and Westbrook will be a free agent. They also lose
Brad Penny
, who has been injured much of the year, and
Felipe Lopez
, who was an absolute steal in last year's free-agent market. The Cardinals have played like an 89-win team this season according to
Beyond the Box Score's power rankings
(looking at cW%). They have a modest amount of money to spend this year, but they are losing enough to the point where I wouldn't feel comfortable projecting any sort of major increase, especially given that St. Louis's top financial priority will be locking up Albert Pujols past 2011, the last year of his current contract.
The
Cincinnati Reds
have played about as well as the Cardinals so far this year, but there's really only one word to describe why I'm not super high on this team heading into next year:
regression
. Will
Scott Rolen
continue to be a power threat in his mid 30s? Is
Mike Leake
a sub-4.00 ERA pitcher despite skipping the minor leagues? Is
Arthur Rhodes
really one of the best left-handed relief pitchers in baseball? I'm inclined to say "no" to all of these questions. There's enough young talent on this Reds team to still be solid next season, and they might add Aroldis Chapman to the mix as well, and they won't have
Edinson Volquez
recovering from Tommy John surgery for half a season. That said, there's no reason to believe that the Reds are anything more than an 89-win team themselves, and simple regression says that we should expect something closer to 86 or 87.
4. "Contending" doesn't mean favorites.
The favorites to win the division next year will be, barring the unforeseen, Cincinnati and St. Louis, in some order and for good reason. However, they're not elite teams, and given the crazy things that can happen during the course of the season, they could each just as easily end up as .500 squads as 95-win teams. The Brewers look like a true talent 81-win team right now. They've played .519 baseball since releasing Suppan, and that's just above what the Beyond the Boxscore rankings expect (a .505 cW percent). I would feel pretty confident calling the roster on hand an 81-win team for next season.
The Brewers had a similar projection opening the season last year, and were given playoff odds of about 17 percent by
Baseball Prospectus
prior to the season. With the money available to plug holes in the rotation, the Brewers can definitely make themselves a preseason contender (say, 30-40 percent playoff odds) prior to the season, even if they're not favorites.
Jack Moore writes about the Brewers at Disciples of Uecker, a member of ESPN.com's SweetSpot Network
.