SweetSpot:

Kosuke Fukudome
July, 29, 2011
7/29/11
5:45
PM ET
I'm from Seattle,
where the wave was invented
. It was a fun thing in the '80s at Seahawks games, when the decibel level in the Kingdome would reach near-unbearable levels. But at baseball games? In 2011? I was at a Red Sox game last night when the crowd in the right-field bleachers attempted to get a wave going. It never made its around the ballpark, despite repeated efforts.
Anyway, Page 2 has a story saying the Texas Rangers have sort of unofficially banned the wave.
Check out that story
and a few other links:
July, 29, 2011
7/29/11
2:24
PM ET
We finished up a fine week on the
Baseball Today podcast
with Mark Simon and I recapping, previewing and telling stories, among them from these topics:
1. Mark's trip to Cincinnati has ended and while he obviously enjoyed his team winning each game, he shares with us tales from the interesting trip.
2. Are the
San Francisco Giants
the team to beat in the National League? Let's just say there's ample evidence after the past few days.
3. Are the
Tampa Bay Rays
contenders? Let's just say there's ample evidence here as well ...
4.
Hunter Pence
may or may not be on the trade market, but I've got some pretty strong opinions on what the team with the best record in baseball needs.
5. If you could watch one series this weekend, while all the trade deadline stuff is going on, which one would it be? We discuss the options.
Plus: Excellent emails, other players on the trade block, buying a championship, why "The Naked Gun" remains an awesome baseball movie and so much more on Friday's Baseball Today! Enjoy and have a great weekend!
July, 28, 2011
7/28/11
2:35
PM ET
The news never stops in baseball and for
Thursday's edition
of the Baseball Today podcast Keith Law and I had plenty to discuss, including the following topics:
1. The
Carlos Beltran
trade clearly helps the defending champs, but the Giants could be doing more to improve the team just by using the proper personnel.
2. The
Cleveland Indians
picked up an outfielder as well, and even though the price was lower, so will the return.
3. Speaking of the Tribe, perhaps Ervin Santana's no-hitter shouldn't have been that surprising.
4. Who really has been the most valuable player on the
Boston Red Sox
this season? You might be surprised!
5. The
Houston Astros
continue to amaze, and not in a good way, but should they go further into the depths of losing?
Plus: Excellent emails, new Mets farmhand Zack Wheeler, more on
Colby Rasmus
, ground ball pitchers versus fly ball ones,
Jonathan Sanchez
and more on Thursday's schedule all on a packed Baseball Today, ready for you to download!
May, 11, 2011
5/11/11
10:00
AM ET
By
Christina Kahrl
| ESPN.com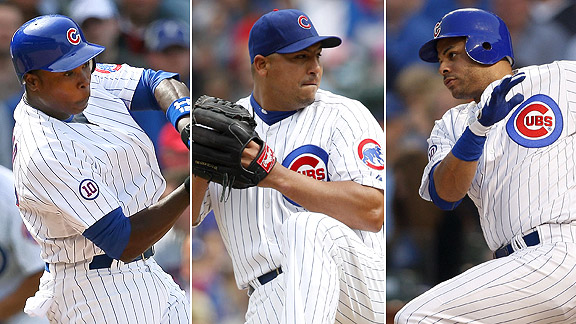 US PresswireThe Cubs inked Alfonso Soriano, Carlos Zambrano and Aramis Ramirez to deals worth over $300M.
"Hurry up and wait" usually gets applied to a different high-expense enterprise, but you can understand how it could be applied to those wondering about the expenditures of the Cubs. For a third straight season, the Cubs will cost more than $130 million to employ, and the 2011 team is no more guaranteed to win anything this year than did the teams in 2009 or 2010, the seasons that followed their "streak" of two first-place finishes in the NL Central.
A critical problem in terms of payroll and performance is that the Cubs don't have a ton of wiggle room in terms of who they employ. If timing is everything in playing the market, the Cubs' timing was terrible, which may be the kindest thing you can say about some of their investments. That's the legacy of the commitments made by general manager Jim Hendry during the team's 2007-08 run and its immediate aftermath. Hendry was dealing with a caretaker owner and operating on short time and a win-now window. This is just the latest hangover season. The Cubs shelled out eight large per annum deals to
Alfonso Soriano
,
Aramis Ramirez
and
Kosuke Fukudome
in the lineup and to
Carlos Zambrano
and
Ryan Dempster
in the rotation. What little maneuvering room Hendry has had on his payroll the last couple of years has involved trying to work around those initial, unmovable investments.
Not that Hendry hasn't tried. Turning
Milton Bradley
into
Carlos Silva,
dispensing with
Ted Lilly
and
Derrek Lee
, renting
Carlos Pena
, and trading away farm-generated depth to get
Matt Garza
to replace Lilly all boils down to trying to work around and endure the unmovable expenses in the meantime: Sori and A-Ram, Fukudome and the Big Z. That quartet is costing the Cubs almost $67 million this year, but you'd be hard-pressed to rank any of them among the top performers at their positions. All four are imperfect players, useful in isolation if you don't bring up their price tags, but their value has taken a turn for the worse while the Cubs remain mired around .500 or worse. Hendry's wriggling has brought no joy to Wrigleyville.
Can much be done with this lot as far as moving them? Not at these prices. Say you want to be generous, and offer the Cubs wholesale mulligans for 2010 -- for Zambrano's squabbles and needless role changes or for Ramirez's slow start and injury-ruined campaign. Play make-believe, and pretend those two are who they were before 2010. That still doesn't make any of them easily swappable commodities because they're no closer to being the star players their salaries suggest. There is still the inverse relationship between Zambrano's bulk and performance over the previous five or six years to explain away; he's a mid-rotation talent making an ace's wages.
Skip the make-believe and consider the outfield duo. Soriano has degenerated into a latter-day Dave Kingman clone, a fragile bop-or-drop slugger who has posted a below league average OBP (for non-pitchers) since 2008, and someone whose defensive limitations turn every fly ball into an adventure. Fukudome's little better, saddled with an inaccurate arm and little power for a corner, so his contributions can be measured by his excellent OBP and little else. That's useful, but is it $13.5 million worth of useful? Between no-trade protection in the last year of his deal and a contract larded with an especially generous helping of a Japanese import's perks, he's no more swappable than Soriano.
[+] Enlarge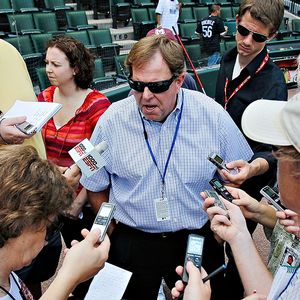 Jonathan Daniel/Getty ImagesThe hefty contracts Cubs GM Jim Hendry handed out in 2007 and 2008 have limited the club's options for updating the roster.
As a result, the Cubs' roster is larded up with players they can't coax anyone else to be interested in. It would be easy to get frustrated and say Hendry needs to trade these vets away, but that would produce little benefit beyond the pennies on every dollar the Cubs would get back -- nobody will be giving up major talent in terms of prospects to get the next four months of Fukudome, let alone the next four years of Soriano.
So how far can the Cubs be left alone as is? The easy answer is "until they're out of it," and in the NL Central, that may not be until September. The agony of this particular Cubs season is that with two-fifths of the rotation down they can reasonably complain that they don't know quite what they're capable of doing within this division. The Cubs have gone 2-7 in the starts taken by
Casey Coleman
and
James Russell
during the absences of
Randy Wells
and
Andrew Cashner
, with only one quality start to show for those nine turns.
Asking what could be can obscure the main point, though: The Cubs are stuck. Stuck with a lineup without patience or power -- or, as Mike Quade mused last night after 13 singles, without speed -- and a shallow team besides. The only thing top-shelf about the Cubs du jour is the expense of employing them.
Whatever the Cubs are capable of doing in the Central won't be up to them indefinitely -- the Cardinals and Reds are much better prepared to go off on tears and more closely resemble 90-win ballclubs than these Cubs are. For the Cubs to get into this thing, they not only have to hurry up and wait on their own limited possibilities, they need bad things to start happening to other teams. It beats disassembling the team out of mere disgust, but if they're closer to mattering come July, disgust might inspire a long-awaited teardown.
Christina Kahrl covers baseball for ESPN.com. You can follow her on Twitter.
August, 19, 2010
8/19/10
5:26
PM ET
Who's going to play first base next year for the Cubs? Their
rookie right fielder, maybe
. Paul Sullivan:
Tyler Colvin hasn't played first base since he was a sophomore at Clemson. But with Derrek Lee gone, Colvin could be the heir apparent at first in 2011.

The Cubs said Micah Hoffpauir would be called up Thursday from Triple-A Iowa and will share playing time with Xavier Nady for the time being. However, Hoffpauir was sent down Friday and can't be called up for 10 days. The Cubs maintain Colvin needs a spring training at first under his belt if they decided to move him there go in that direction.

"I'm not sure how long I'd need," Colvin said. "It's been a while since I've done it. Hopefully if they want me to do that, I'll do it. No one has ever said 'Hey, we want you to take ground balls there.' I've got to wait for that first and then we'll see what happens."

Colvin thinks he could handle first, though he didn't sound like he was eager to move there.

"I'm comfortable in the outfield, but if that's what they want me to do, I can't complain," he said. "If it helps out the Chicago Cubs, that's what I'll do."

Obviously (and as
The Friendly Blogfines points out
), the Nady/Hoffpauir combination figures as the answer in September, but that's about it. Minor league third baseman Josh Vitters might be a first baseman someday, but today he's still struggling as a hitter in Double-A. Essentially, there's not a first baseman in the system with an ETA before late 2012. At best.
Meanwhile, the Cubs have four outfielders: Colvin,
Alfonso Soriano
,
Marlon Byrd
, and
Kosuke Fukudome
.
Soriano's not going anywhere because he's still got about $3 billion on his contract. Byrd's not going anywhere because he's one of the Cubs' best players. Fukudome's probably not going anywhere because his salary is $13.5 million next season.
Granted, the Cubs
could
trade Fukudome, but that would almost surely meaning eating most of his contract. Everyone's disappointed with Kosuke, and he certainly hasn't played well enough to justify his salaries, these last three seasons. But they've got him for one more season, so they might as well focus on what he can do rather than what he can't. And he does have a .370 on-base percentage and middling power against right-handed pitchers. The Cubs don't need to dump Kosuke. If they can't find someone who will pay most of his salary (unlikely), they just need to find a righty-hitting platoon partner for him (easy).
Which would leave Tyler Colvin in the cold.
What's not immediately apparent is whether he belongs anywhere else.
Entering this season, Colvin was ranked by Baseball America as the Cubs' 17th most promising prospect. Thanks to a fantastic March, he broke camp with the big club despite having never played any Triple-A ball. Considering those facts, he's been a huge success. Of course, other facts include his .320 on-base percentage in the minors and his .307 on-base percentage in the majors. It's not clear that he's actually a good enough hitter to play first base in the majors. Or right field, for that matter.
Still, the Cubs know Colvin can handle right field, defensively. He's been doing it for years. Why not find out this winter if he can handle first base? Somebody has to play there next year. Otherwise a lot of throws from the shortstop sail into foul territory.
April, 9, 2009
4/09/09
1:56
PM ET
Rob Neyer joins Nate Ravitz on the Fantasy Focus podcast to talk about the launch of his
new baseball blog

as well as key players in the AL and NL like Carl Pavano and Kosuke Fukudome. Also, has the Rangers' ballpark become the new Coors Field?
April, 8, 2009
4/08/09
4:43
PM ET
Continuing my groundbreaking series of posts, I present the key players in the National League.
Mets: Carlos Delgado. It's hard to win if you don't get much offense from your first baseman. In 2007 the Mets didn't get much from Delgado, and they didn't win (enough).
| | |
| --- | --- |
| | |
| | AP Photo/Tom Mihalek |
| | Brad Lidge doesn't have to repeat his perfect performance from 2008, but he needs to be close for the Phillies to contend again. |
In 2008 the Mets didn't get much from Delgado in the first half of the season, but they took off in the second half when Delgado was doing the same.
David Wright
,
Jose Reyes
and
Carlos Beltran
all rank among the best players in the National League. If Delgado merely complements those three, the Mets will score enough runs to win.
Phillies: Brad Lidge. Last year, Lidge somewhat famously was perfect: 41 save opportunities, 41 saves. Elite closers typically blow five or six saves per season; if Lidge had done that, the Phillies wouldn't have qualified for the playoffs, let alone won the World Series. Lidge won't be perfect again this season. But for the Phillies to have any chance at all, he's got to be closer to perfect than usual.
Braves: Jeff Francoeur. The obvious answer, I guess. We might also choose rookie Jordan Schafer, but I don't think he's much of a question mark; he's going to struggle with the bat, and the Braves will live with those struggles if he catches the ball. But they have to get some production from their outfielders, and Francoeur -- coming off a dreadful 2008 -- is the only candidate in right field.
Cubs: Kosuke Fukudome. Speaking of dreadful 2008s, you have to admit it took some guts for the Cubs to trade Felix Pie and spurn Jim Edmonds, with only Fukudome left as a viable candidate for center field. The Cubs are probably the best team in the league, and that's without assuming their center fielder gives them much at all.
Cardinals: Chris Carpenter. I can't see the Cards making much noise without an ace, and I don't see any aces except for maybe this guy.
Brewers: Yovani Gallardo. Another obvious answer, especially since he seems to be a dark-horse candidate for the Cy Young Award (not saying I buy that, but still). Nobody on the current staff won more than 10 games in 2008 (except Braden Looper, who won 12 but lost 14). Yes, I know there's more to life than wins and losses ... but wins are nice when you're trying to, you know, win.
Dodgers: Manny Ramirez. Duh.
Diamondbacks: Chris Young. Justin Upton, too. In terms of supposed talent, the Diamondbacks can match the Dodgers player for player (with the exception of Manny). But they can't match them in projected performance, and the chief culprits are Young and Upton, neither of whom have yet met our expectations. If both do this season, though? Watch out for the D'backs.