May, 14, 2014
May 14
2:01
PM ET
Is it perhaps a coincidence that the two National League teams currently playing at a 100-win pace, the
Milwaukee Brewers
and
San Francisco Giants
, are the two rated to have fared the best at using defensive shifts?
Perhaps. But it strikes us as worth noting.
That the Brewers are getting good value from their infield shifts is not surprising, as shifting has been a staple since Ron Roenicke became their manager in 2011.
That the Giants are also getting good value is also intriguing. Their infield has been credited with 7 Defensive Runs Saved, a year after finishing with -6. They are turning 78 percent of groundballs into outs, a rate that ranks third-best in the majors behind the Athletics and Rockies.
Think that might have something to do with why
Tim Hudson
has pitched so well?
A couple of weeks ago,
Andrew Baggarly of CSNBayArea.com talked with Giants coach Ron Wotus
about the Giants' use of shifts this season.
The Giants have taken a reasoned approach to shifts, in contrast to a team like the Astros that is using shifts in abundance. The Giants are tied for 13th in shifts used with 110, on pace to nearly triple last season's total of 449. Baseball Info Solutions has credited them with saving the Giants six runs, based on how effective the Giants have been at getting outs with the shifts.
"It's a game of percentages," Wotus told Baggarly. "That's the thing. The percentages might (favor) the shift, but using good judgment on how you're approaching the hitter, sometimes that's better than going with the percentages.
"All of it, the charts and information, it's all valuable. But the instinct of the player is still your most tremendous asset when it comes to defending hitters."
The combination thus far seems to have allowed Wotus' team to take a (pardon the pun) Giant step forward.
Baseball Tonight takes: Boone on Arenado; Perez on improved defenders
I wanted to get the thoughts of a third baseman on the defensive play of
Nolan Arenado
, the runaway leader in Web Gems this season and the reigning NL Gold Glove third baseman, so I turned to "Baseball Tonight" analyst
Aaron Boone
.
Boone saw Arenado in spring training 2013 and liked what he saw then. He likes what he sees now even more.
"There is a recklessness to the way he plays and that's a compliment," Boone said. "He can make the most difficult athletic plays, and he doesn't have to stop to gather himself when doing so. He's reckless, but completely under control."
I asked Boone what Arenado could improve upon, noting that he is the leader among third basemen in both video-reviewed Good Fielding Plays and Defensive Misplays & Errors. Boone had a one-word response:
"Consistency."
I also asked
Eduardo Perez
the same question I asked a couple of our analysts last week: Name a defender who you think has improved the most from last year to this year. He gave me two.
"Josh Donaldson. I like him a lot. He expects every ball to be hit to him and he's really good from side to side."
"Alexei Ramirez: I don't know that there is anyone who is as good at making the routine play as he is now."
Who's best at handling tough throws?
In writing about the
key defensive play made by
Lucas Duda
to end the first Mets-Yankees meeting this season, I came across a note showing that Duda had good numbers on handling what are termed "difficult throws" by those who do video review for Baseball Info Solutions.
As of that day, Duda ranked third in the majors at the rate in which he was turning difficult throws into outs.
The standard setters at handling difficult throws in terms of quantity since the start of last season are
Paul Goldschmidt
(83) and
Eric Hosmer
(70).
On a per-inning basis, looking at the 30 first basemen who have played the most innings over the last two seasons,
Todd Helton
and
Gaby Sanchez
rate highest, with Goldschmidt third and Hosmer sixth, behind
Edwin Encarnacion
and
Justin Morneau
.
This data, by the way, is one of the hidden gems on FanGraphs. You can find it
here under "Scp."
We can add another wrinkle to the data by factoring in mishandled throws (a stat provided to ESPN by BIS).
Helton rated best there as well, as his ratio of difficult throws handled to ones he misplayed was 46 to 1. The rest of the leaderboard is noted in the chart on the right.
Mark Simon evalutates defensive stats for the Sweet Spot blog each week. He can be found on Twitter at @msimonespn
May, 7, 2014
May 7
11:50
PM ET
Hey, throw out your WAR and BABIP and OBP for a moment. Hitting streaks are
fun
. Kids don't grow up dreaming of taking that 3-and-2 slider just off the plate for ball four, as valuable as that skill might be. They dream of hitting the ball.
That's why
Nolan Arenado
's hitting streak, now at 27 games, is starting to get interesting. It's reached the point -- nearly halfway to Joe DiMaggio's 56 -- where it's generating buzz, where we all, Rockies fans or not, are checking those Rockies box scores throughout the night to see if Arenado has hit safely.

The 23-year-old third baseman wasted no time on Wednesday, drilling a 3-1 first-inning hanging slider from
Colby Lewis
into the left-field corner for a two-run double. He would add a soft single in the third and another double in the fourth for a three-hit night as the Rockies pounded the Rangers 9-2 to continue their hard-hitting ways.
Arenado, now tied with
Michael Cuddyer
for the franchise record streak, at first glance doesn't seem like a strong candidate for a long hitting streak, considering he hit .267 last year as a rookie. But he has some other traits that help: He plays his home games at Coors Field, he doesn't walk much and he doesn't strike out much. When you're not walking and not striking out, you're putting balls in play, and balls in play lead to hits.
As you can see in his hot zone below, during his hitting streak he's been attacking pitches in the zone, out of the zone, inside and outside. Unless you get up and on him, he finds a way to put the ball in play. Right now those balls are falling, as he's hitting .364 during his streak.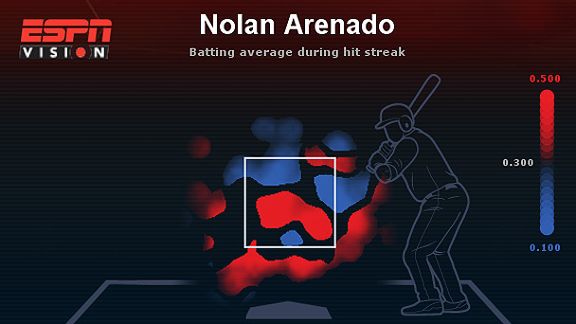 ESPN Stats & InfoNolan Arenado's plate coverage during his hitting streak has been outstanding.
Arenado's aggressive approach at the plate isn't necessarily a surprise considering he's still kind of a hyperactive kid. When I visited the Rockies in spring training, it was the day the players were filling out their NCAA tournament brackets, and Arenado was bouncing around the clubhouse like a 12-year-old who had just downed a Big Gulp and a package of gummi worms.
A second-round pick out of El Toro High School in Lake Forest, California, in 2009, Arenado had a big year in Class A ball in 2011 and an impressive spring training in 2012, causing some to speculate that Arenado would break camp with the Rockies. Instead, the Rockies wisely sent him to Double-A, where he spent the entire season and hit a disappointing .285 with 12 home runs.
That July, general manager Dan O'Dowd said Arenado's "maturity level still hasn't caught up with his ability level." He sulked at times as teammates like
Josh Rutledge
got promoted to the majors.
[+] Enlarge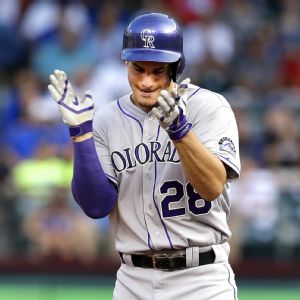 AP Photo/Tony GutierrezMore than the rest of us, Nolan Arenado is enjoying his hitting streak -- and he should!
He spent all of 2013 in the majors, and while the bat was a work in progress -- he hit .267/.301/.405 -- his defense was exceptional, with
many highlight-reel plays like these
. While fellow rookie third baseman
Manny Machado
was getting most of the attention for his great defense, Arenado ranked fifth in the majors in Defensive Runs Saved at +30 and matched Machado as a rare rookie Gold Glove winner. Not bad for a guy who the Rockies once considered moving from third base to first base after his first full season in the minors.
"You can't teach what he does over there," Cuddyer told me in spring training. "He has great instincts and makes all the plays in both directions and can make that long throw as well. He's tremendous. With [him and shortstop
Troy Tulowitzki
] we feel like we have the best left-side defense in the league."
The metrics say Arenado is off to another great year in the field, as his +6 DRS heading into Wednesday is tied for fifth-best in the majors. One of the guys ahead of him? Tulowitzki. Good luck getting the ball through those two.
Can Arenado keep this streak going? While his low strikeout rate means he has good contact skills -- 11.5 percent, which ranks 23rd among 188 qualified regulars -- it also leads to chasing pitches out of the strike zone, and you have to figure that will bite him one of these days. His line-drive rate is actually the same as last year, although he is chasing about 4 percent fewer pitches that aren't in the zone.
Interestingly enough, 30 seems to be the barrier at which these things are snapped. Four of the last five guys to reach 30 stopped there, with only
Dan Uggla
, who had a 33-game streak in 2011, going beyond.
Chase Utley
was the last guy to get to 35 (2006) and his teammate
Jimmy Rollins
had a 38-game streak in 2005-06.
That's still a ways off. For now, let's enjoy it. Hits, after all,
are
more fun than walks.
May, 7, 2014
May 7
11:09
AM ET
Tuesday was a great night of baseball. At various times, I watched parts of Reds-Red Sox, Mets-Marlins, Astros-Tigers, Dodgers-Nationals, Blue Jays-Phillies, Yankees-Angels and Mariners-A's, making it through to the final out on the West Coast.
Thoughts on those games and others ...
Checked in on Robbie Ray's major league debut for the Tigers. Ray was the centerpiece of the controversial Doug Fister trade with the Nationals, with most analysts believing the Tigers should have done better. Ray, making a spot start in place of Anibal Sanchez, had a 1.53 ERA at Triple-A Toledo, with 21 strikeouts and five walks in 29.1 innings. Against the Astros -- admittedly, not the toughest test -- he looked pretty good, pitching with poise and confidence and showing the good fastball command that Tigers pitching coach Jeff Jones talked about before the game. He's not overpowering -- he averaged 90.8 mph on his fastball -- but moved his fastball around the zone. He gave up five hits in 5.1 innings and two of those were infield singles and a third was a bloop double. His changeup is his best offspeed pitch (he threw it 29 times) while his curveball, which he threw just nine times, remains a work in progress according to Jones.
"You hear them talking -- not to your face, but you hear them talking," Ray told MLB.com about critics of the Fister trade. "You just have to push it aside, and they have to wait and see. With runners at the corners and no outs in the first, Ray worked out of the jam, getting two strikeouts and a groundout and cruised from there into the sixth, retiring 10 in a row at one point.
Sanchez, out with a lacerated right middle finger, threw a bullpen session on Tuesday. Ray may make another start on Sunday before Sanchez is ready. The other good news for the Tigers, now winners of seven in a row, was the four-hit game and 419-foot home run from Miguel Cabrera. The home run, his third, came off a meaty 80-mph changeup from Brett Oberholtzer but he also doubled deep to left-center. He''s still not driving the ball to the opposite field like he does when he's locked, but he's up to .293/.339/.466 after his slow start.
Homer Bailey scuffled through six innings for the Reds, walking five and allowing three runs as he battled his fastball command. "I just didn't have the right feel tonight," Bailey said. "It was one of those games that I had to grind out." Bailey has a 5.36 ERA and has allowed 52 hits and 14 walks in 40.1 innings, a sharp decline from his production the past two seasons that garnered him that $105 million extension. His velocity is fine, but he's allowed a .372 BABIP. That could be some bad luck, but could also be a location issue. In checking his heat maps, he's leaving a lot more pitches to right-handers inside and over the plate and righties are hitting .260 against him, after hitting .205 last year. Lefties, meanwhile, are tagging him for a .403 average, including .465 against his fastball. Again, a lot of red right in the middle of the plate. You wonder how much he misses Ryan Hanigan (not that Hanigan caught all his games last year).
The Red Sox ended up with a 4-3 win in 12 innings as Grady Sizemore -- who nearly signed with the Reds in the offseason before going to Boston -- delivered the game-winning hit. With Jay Bruce out a month or so after knee surgery, this is an important stretch for the Reds, now 15-17. Joey Votto is getting on base, but is slugging well below .500. Brandon Phillips has a .308 OBP. Tuesday's lineup featured Skip Schumaker hitting sixth and Zack Cozart seventh. The Reds are fortunate the Cardinals have also gotten off to a lackluster start, but they have just one division series (against St. Louis) until June 13 so it may be hard to make up much ground on the Brewers before then.
The Rockies continue to pound the ball at home, smashing the Rangers 12-1. The unstoppable Troy Tulowitzki went 3-for-4 and was hit by a pitch to raise his season line to .421/.522/.794. Carlos Gonzalez went 5-for-5. Nolan Arenado doubled in his final at-bat -- the ball landing right on the left-field foul line -- to extend his hitting streak to 26 games. When things are going good, they're going good. It's a fun team and their +48 run differential is now best in the majors. They're 13-5 at home and 8-9 on the road, so like many Rockies teams of the past, the test will be to play better away from Coors Field. Even last year's team went 45-36 at home while stumbling to a 29-52 mark on the road.
The Marlins are another fun team to watch. Henderson Alvarez spun his second shutout of the season and third in eight starts going back to his no-hitter last September. A 1-2-3 of Jose Fernandez, Nate Eovaldi and Alvarez is looking pretty solid, but the big reason for the Marlins' 18-15 start and +28 run differential has been an improved offense -- they were last (and historically bad) in runs scored last year, but rank second to the Rockies in the NL this year. Yes, it probably isn't sustainable -- they're riding a .334 BABIP, second to the Rockies in the majors -- but they're not doing anything special with runners in scoring position (.267 versus .271 overall) and Giancarlo Stanton gives them a monster in the middle.
Nice win for the Mariners in that Roenis Elias had another solid outing and the Mariners put the game away with four runs in the ninth off Jim Johnson. The key play in that rally was Corey Hart beating out a double-play ball with the bases loaded to score the first run -- helped out by Robinson Cano hustling into second with a hard slide. In light of Mariano Rivera's comments that he'd take Dustin Pedroia over Cano, it's easy to pick on those times when Cano doesn't run out a groundball. But in watching the Mariners a lot this year I haven't seen many instances (if any) of Cano not hustling or taking a play off. Maybe his uniform doesn't get as dirty as Pedroia's, but there are many ways to play the game.
Despite all their pitching injuries, the Mariners are fourth in the AL in ERA. Elias has been a big part of that with a 3.27 mark and he's been much better his past three outings with a combined 22-8 strikeout/walk ratio. Hisashi Iwakuma returned over the weekend as well. The Mariners can't really hit, but they're 16-15 and in the AL it looks like anything is possible.
The power went out in Tampa so the Rays outfielders watched cartoons.
OK, maybe I was wrong in dissing instant replay over the overturned call that gave the Pirates the win over the Giants. If there's any reason for instant replay, it's for a game-deciding play like that one. My larger point: One good (and important) call doesn't take away from my replay likeability, and my gut feeling right now is it hasn't won me over.
May, 6, 2014
May 6
10:46
AM ET
During Monday's
Power Rankings video chat
, Eric Karabell mentioned that this would be an important week for the Pirates as they entered the week at 12-19 with two big series at home against the Giants and Cardinals. That's a tough week and it's followed by a road trip to Milwaukee and New York to face the Yankees and then six home games against the Orioles and Nationals.
This stretch got off to brutal start on Monday with an 11-10 loss to the Giants in a game that ended at 12:36 a.m. local time, featured
ducks on the field
, two pitchers pinch-hitting, two replay challenges and an umpire getting hit by a throw. The Pirates had an 8-2 lead after five innings. The Giants scored five in the sixth as Jeff Locke and Bryan Morris couldn't stop the damage. The Giants tied it the seventh but the Pirates re-took the lead, only to see the Giants tie it again with a run off Mark Melancon in the ninth. At that point, it seemed inevitable that the Giants would eventually pull it out and they did, scoring in the 13th when the Giants, out of position players, had to let reliever Jean Machi bat with two on and one out. Jared Hughes threw away Machi's bunt for an error and Hunter Pence scored from second. The Giants' rally that inning: Walk, hit by pitch, throwing error. Ouch.
Needless to say, it's not surprising that the Pirates didn't blow any six-run leads last year. Here's a stat that shows how well the Pirates played when they grabbed an early lead in 2013: They were 64-9 when leading entering the sixth inning; this year, they're just 6-6. Pirates starters are last in the majors in FanGraphs' WAR. The magic and good karma of 2013 is quickly fading and they're already 9.5 games behind the Brewers. It's going to be a tough climb back.
Other thoughts on Monday's wild night of action:
Machi has become the Giants' secret weapon or good-luck charm. He's now 5-0 with a 0.53 ERA, part of a Giants' bullpen that is second in the majors with a 1.88 ERA and has held opponents to a .198 average. Due to some struggles in the rotation, Giants' relievers are averaging 3.4 innings per game, fourth-highest in the majors, so that's something to watch. Machi is a great story, a 32-year-old Venezuelan first signed by the Phillies in 2000. He didn't reach the majors until 2012, after spending time in the minors with the Phillies, Rays, Blue Jays and Pirates. He's a bad-body guy who primarily throws a fastball/splitter combo. He didn't really refine his control until last season, which began in Triple-A, but he's walked just 15 and allowed two home runs in 70 innings with the Giants in 2013-2014. And his bunt last night? It was first as a professional, as he was batting for the just the fourth time in his professional career.
The Rockies continue to roll at home, where Troy Tulowitzki is unstoppable. They beat the Rangers 8-2 as Jordan Lyles improved to 4-0 with a 2.62 ERA, pitching eight strong innings. The Rockies had just three starts at home all last season where the starter went at least eight innings and allowed two runs or fewer (all by Jhoulys Chacin). As for Tulo, he hit two home runs and is now hitting .596 at home and a 1941 Ted Williams-like .408/.512/.786 overall. Nolan Arenado extended his hit streak to 25 games so that's starting to get interesting. I like what I'm seeing from this club. Sure, some of the offense is Coors infused -- they're hitting .344 at home, .254 on the road -- but they're also outslugging opponents .587 to .423 at Coors. They're going to hang around if Tulowitzki stays healthy. Mark Simon has more on the Rockies.
Another team that may hang around: The Miami Marlins, owners of another walk-off victory, 4-3 over the Mets after scoring three in the eighth and once in the ninth. Nathan Eovaldi had another good start and he's developing into a solid No. 2 behind Jose Fernandez. After giving up two first-inning home runs, he settled down and went seven innings, allowing three runs and striking out 10. He was a guy I pinpointed before the season as somebody who could take a big leap forward due to his big fastball. He's walked just six batters in 45 innings and after having a poor 78/40 strikeout/walk ratio last year is at 45/6 in 2014. Neil Paine of FiveThirtyEight wrote about the Marlins yesterday.
Oh, Max Scherzer is still good. He's won four starts in a row and hasn't allowed a run his past two. OK, Monday's game was against the Astros but the three previous came against the White Sox (twice) and Angels, two of the best-hitting teams so far. He won the Cy Young last year and he's looking like the leading candidate in the AL once again.
April, 24, 2014
Apr 24
12:30
PM ET
Perhaps you caught regular Insider contributor
Mike Petriello's article
on the Indians defensive struggles on FanGraphs.
It's worth a read (and a watching of the videos within the piece) and it also served as inspiration for a look at some of the season's early defensive notes.
Many people say it's dangerous to make observations from a small sample of defensive data, but I think there are some things that can be gleaned already. Here are a few thoughts.
Tulo and Arenado look like best in the business
A healthy
Troy Tulowitzki
could have a big impact on the left side of the infield for the Rockies in tandem with one of the the most impressive rookie defenders from 2013,
Nolan Arenado
.
The Rockies are converting groundballs hit to the left of the second base bag into outs at the highest rate in baseball (78 percent). Tulowitzki has six Defensive Runs Saved already. He's had as many as 31 in a season and his presence could make a big difference for Rockies pitchers. (Eric Garcia McKinley has a piece on the
Rockies' infield shifting
-- or rather, the lack of it.)
Yankees/Twins have it right
In terms of right sides of infields, the ones doing best at converting groundballs hit to the right of second base into outs are the Yankees and Twins, both doing so at about an 83 percent rate.
The story here is that the Yankees haven't missed a beat with the departure of
Robinson Cano
and temporary absence of
Mark Teixeira
(and perhaps the increase in shifting has something to do with it), and Joe Mauer's move to first base hasn't yet set off any alarms for the Twins.
Heyward not taking his offensive struggles into the field
Jason Heyward
isn't hitting yet (we've
written about that
already), but he's making up for it with defense.
Heyward already has 10 Defensive Runs Saved, the most among right fielders.
The Braves have the third-most outs recorded on balls hit to right and right center by our computing (76, using a pre-designed field grid), and have allowed the fewest fly ball/line drive doubles and triples (eight).
The Braves outfield defense is off to a great start this season, with a combined 19 Defensive Runs Saved.
Torii Hunter may be getting old
If you thought that Torii Hunter's Defensive Runs Saved total from last season (he cost his team 10 runs) was a fluke, given that he'd ranked second and third in that stat the previous two years, you might reconsider.
Hunter is already a worst-in-baseball -7 Defensive Runs Saved in right field for the Tigers.
The Tigers have the fewest outs recorded on fly balls and line drives hit to right field and right-center (38), but are tied for eighth in most doubles and fly ball/line-drive triples allowed to that same area (18).
White Sox shift their stance
What team has most shifted positions with regards to the shift? How about the
Chicago White Sox
, who have already shifted more times this season (84 shifts on balls in play) than they did all of 2013 (73).
Perhaps it's no coincidence that the White Sox lead the majors in "Out of Zone plays," a stat charted at FanGraphs.com that measures how often players are converting outs on balls outside of the areas in which they typically turn batted balls into outs.
Of course, given that the team's ERA is hovering around 5, we'll see how patient Robin Ventura and his pitching staff are with this new philosophy.
Is anyone worthy of a reverse shift?
Lastly, one thing I've been wondering about with the emphasis on shifting is whether any players would be worthy of a "reverse shift" -- in other words, a right-handed hitter for whom the defense tilts its infield to the right, rather than the left.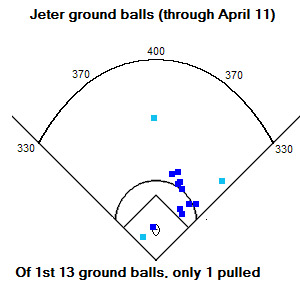 Derek Jeter took his opposite-field hitting to extremes earlier this season.
There was a hitter who was worthy of this for a bit, but he's since balanced things out a little.
Derek Jeter
leads the majors in percentage of groundballs hit to the opposite field.
It's not quite as extreme now as it was in the image on the right (he's pulled five of 29 ground balls), which comes from the first two weeks of the season, but it's still notable.
Maybe Joe Maddon will have the guts to try something like a reverse shift on Jeter. Stay tuned.
September, 2, 2013
9/02/13
11:12
AM ET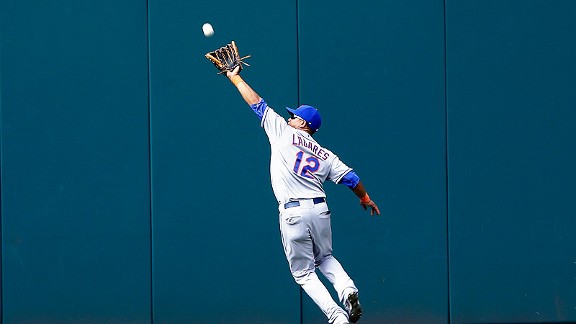 AP Photo/Alex Brandon
Juan Lagares has made tough catches look routine since being recalled by the Mets.
New York Mets
rookie outfielder
Juan Lagares
had to beat out the best of the best to win the Defensive Player of the Month award for August.
Lagares topped two-time 2013 winner
Andrelton Simmons
and impressive
Colorado Rockies
rookie
Nolan Arenado
to take the award this month.
It was well-earned. Lagares led the majors with 12 defensive runs saved in August (one more than Simmons, three more than Arenado). That value came both from his ability to range far outside his position to catch balls and from a throwing arm that has ranked among the best in the sport since his arrival.
Lagares was credited with 22 "Out of Zone" putouts by Baseball Info Solutions in August, with an Out of Zone catch defined as one made in an area in which center fielders turn batted balls into outs less than 50 percent of the time.
Lagares had 67 Out of Zone plays in 663 2/3 innings in center field through the end of August. His rate of one Out of Zone catch for every 9.9 innings (basically one per game) played ranks best in the majors at that position.
Good examples of his glove work include these two plays,
one in which he came in
to rob
Jedd Gyorko
of the
San Diego Padres
and this one in which he went all the way back to the fence to
steal a hit
from Twins outfielder
Josh Willingham
.
Lagares, a converted infielder, didn't even figure to be the team's top defender coming through their farm system. That honor belonged to recent call-up
Matt den Dekker
, who made ESPN's Top 10 plays a couple of times before even making the majors. But when den Dekker got hurt this spring, and the Mets needed a lift from their outfield reserves after
Collin Cowgill
fizzled in an initial tryout, Lagares took advantage of his opportunity.
"His confidence is sky high as far as going to get balls," Mets outfield coach
Tom Goodwin
told ESPNNewYork.com's Adam Rubin prior to Sunday night's game against the
Washington Nationals
. "You lose that instant excitement when you first get here, and the jitters, and he doesn't have that anymore. He just goes out there and plays the game. That's the biggest compliment I can give him. He's really matured beyond his years."
Lagares leads the National League and ranks second in the majors in outfield assists with 12, trailing only
Kansas City Royals
left fielder
Alex Gordon
. He's become a deterrent to baserunners both due to his positioning (he likes to play shallow) and his instincts (he gets to balls quickly).
"You'll see him get to some balls where they're line drives and he's getting to them on the first hop, instead of two or three hops later," Goodwin said. "His routes are outstanding. His reads are outstanding. And when he comes in, he makes good, strong, accurate throws."
Simmons had what has become a typical Simmons month with his 11 defensive runs saved. He has 39 defensive runs saved and will break the record for most defensive runs saved in a season, which was set by
New York Yankees
outfielder
Brett Gardner
with 35 in 2010. Arenado (30 defensive runs saved) and Manny Machado (31) are neck-and-neck for the lead for third basemen.
Also impressive this month were
Minnesota Twins
second baseman
Brian Dozier
, who led the majors with 25 "good fielding plays" (think plays that would be Web Gem nominees), and
Los Angeles Angels
outfielder
Mike Trout
, who despite
the struggles we noted last week
had seven defensive runs saved.
June, 3, 2013
6/03/13
5:02
PM ET
Andrelton Simmons
won the Defensive Player of the Month award in our voting for May.
We've done the
gushfest
on
Simmons' defense
already a few times in this space, so we're going to keep the synopsis on his month brief and focus on a couple of the runners-up.
Simmons had five Defensive Runs Saved in May, tied for the most among shortstops with
Stephen Drew
, and ended May with 11 Defensive Runs Saved, second-most for any player at any position behind Diamondbacks outfielder Gerardo Parra's 12.
On the highlight reel for Simmons this month are a
couple
throws
that Braves analyst Joe Simpson unofficially clocked at 97 mph. They're great plays, ones we've gotten used to at this point.
But let's give some props to two newcomers in our balloting, who finished second and third in our poll of 11 ESPN.com contributors.
Roger Bernadina, Nationals OF
Bernadina finished the month with eight Defensive Runs Saved, most among outfielders and one shy of Chase Headley's major-league leading total of nine.
What made Bernadina so good in May was his ability to stretch his range beyond that of a normal outfielder (and he plays all three positions).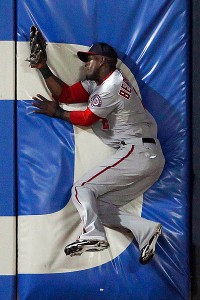 AP Photo/John BazemoreThis is how Roger Bernadina catches baseballs.
Bernadina excelled in making what Fangraphs.com charts as "Out of Zone" plays -- plays made in areas of the field in which outfielders are converting less than 50 percent of balls hit into outs.
Bernadina had 14 in only 153 1/3 innings in May, a rate of about one every 11 innings. The average major league outfielder makes one every 15 innings, so from that Bernadina netted about four more balls turned into outs than an average outfielder would.
Bernadina also garnered two Defensive Runs Saved from his throwing arm for plays like throwing out
Russell Martin
trying to stretch a single into a double, which helped preserve a one-run lead in the ninth inning.
Bernadina has done the game-saving thing before, which might be why the Nationals keep using him, despite paltry offensive numbers. He hasn't made any plays quite like last Aug. 7,
the one that won a game against the Astros
but we wouldn't be surprised if there are a few more like that in his future.
Nolan Arenado, Rockies 3B
Christina Kahrl wrote about Arenado's start
to his major-league career two weeks ago and defense has been integral to that throughout the month.
He led the majors in Web Gems with four in May, and finished with five Defensive Runs Saved.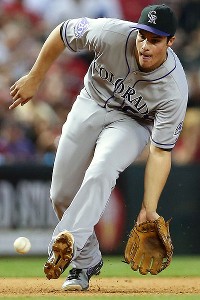 Getty Images/Christian PetersenNolan Arenado has been steady at the hot corner.
It's worth noting on Arenado's value that he was a replacement at a position at which the Rockies needed a better glove. Consider this stat:
Prior to Arenado's arrival on April 28, Rockies pitchers allowed opponents to reach base 51 times on 188 groundballs that were hit in a spot to the left of a straight line placed over the second-base bag. That's a 27 percent reached-base rate.
Since Arenado became the everyday third baseman, that rate dropped to 23 percent, saving the Rockies about nine hits in the process. Whether that value converts to long-term success, we'll see. But one person we talked to is optimistic.
"He's all-out on defense," said one longtime major-league scout. "His first-step quickness and instincts compensate for his lack of speed. He has an above-average arm, footwork and hands. He's improved from being below-average a couple years ago and I think he will settle in as an above-average defender as he learns the league. He reminds me of (former Twins third baseman) Gary Gaetti, possibly better."
May, 18, 2013
5/18/13
10:00
PM ET
By
Christina Kahrl
| ESPN.com
CHICAGO -- As
Anna McDonald noted
, there are plenty of reasons to question why anyone would move
Troy Tulowitzki
from shortstop anytime soon. Despite his checkered injury history, only one of Tulo's injuries came while fielding. The Yankees have done pretty well for themselves with
Derek Jeter
at short despite the Captain's repeatedly low ranking via just about every fielding metric available -- but Tulo's a fine shortstop.
But, perhaps most fundamentally, any logical impetus to shift Tulo over to third base would trip over a true blue-chip stumbling block: top Rockies prospect
Nolan Arenado
. After years of anticipation for Colorado fans looking forward to his arrival, Arenado is showing that the future of third base in Denver might already be his.
"Everything's going good so far. I'm enjoying my time. It's nice being up. It's a blessing from God, and I'm very fortunate to be here," Arenado said earlier this week in Wrigley Field.
Arenado's arrival was big and splashy. At a time when pitchers have made most of the early headlines, Arenado ripped three home runs in his first seven games. Inevitably, though, the league started adjusting, and he's hit .170/.200/.508 in the two weeks since.
"They're throwing different pitches in different counts," Arenado said. "It's an adjustment, but I believe when I'm feeling alright, I'll be alright," he said with a smile.
[+] Enlarge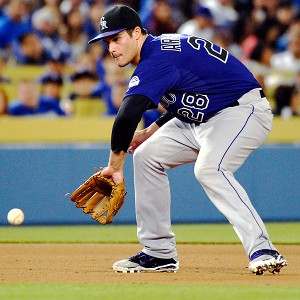 Richard Mackson/USA TODAY SportsColorado rookie third baseman Nolan Arenado is taking advantage both of big-league scouting reports and advice from neighbor Troy Tulowitzki.
If Arenado comes across as confident, that's because he's earned the right. A top prospect from the moment he was selected out of a California high school in 2009, Arenado's just 22 and in his fifth season as a pro. He was the Arizona Fall League MVP in 2011 without having first advanced beyond Class-A ball. And in terms of his gifts, there's no doubt he'll stick at the hot corner. He was involved in 36 double plays at Double-A Tulsa last season with an eye-popping range factor of 3.40 plays per game;
Mike Moustakas
led the majors last season with a 2.95 RF/G and 41 double plays. Not that Range Factor's the final word; like more recent defensive metrics, it's suggestive, not definitive, and the data simply echoes what observers have been saying about Arenado's glove work.
Rockies infield coach Stu Cole reflected, "I've had both of those guys. I had Tulo earlier in his career just after he got drafted. I had Nolan in the Arizona Fall League couple of years ago. I'll tell you what: This guy made some exciting plays. You just knew once this guy was ready to go to the big leagues and be consistent with what he's able to do, he was going to make some plays. To have those two guys on the left side, it's nothing but a plus. You've good gloves over there, good arms, and both those guys are going to save a lot of hits for us."
Cole is one of several familiar faces helping make sure that Arenado settles in. "Stu helps me out big time," Arenado said. "He always tells me where to go and where to play. It also helps being on major league fields -- they're really nice, so you're really fortunate on hops. Starting double plays,
Josh Rutledge
, I trust him, I've been playing with him for a while. I've been playing a while with a lot of these guys. As far as positioning, we're always going hitter by hitter and making adjustments."
One of the concerns about Arenado as he came up was that he was trying to do too much in the field, something that will have to change as he settles in alongside Tulo on the left side. As Cole noted, "Both of those guys are in that mode of trying to get every ball that's hit their way. I think Nolan just has that instinct of breaking to the ball whenever it's hit in his direction."
"A lot of balls that are going to be hit short, where Tulo might have had to come up and make a one-handed grab, now Nolan's going to be there to get to some of those balls. In the past, we might have had a few third basemen who wouldn't have been able to get to some of those balls. I think that's going to take some pressure off Tulo," Cole said.
Arenado takes it as a challenge to be part of an effective team with Tulo. "We always communicate about where we need to play," Arenado said. "I know if he's playing left, I can still move over a little to the right, because we know we can still cover the hole. We're definitely good and have a lot of range, so we're able to split it out in different ways. It's been fun."
"

To have those two guys on the left side, it's nothing but a plus. You've good gloves over there, good arms, and both those guys are going to save a lot of hits for us.

"

-- Rockies infield coach Stu Cole,
on Nolan Arenado and Troy Tulowitzki
"Communication between those two guys, that's something that's going to get better down the road: Nolan's going to know where Tulo's playing, and Tulo's going to know that there are balls Nolan's going to get to when he's coming in," Cole predicted. "Those things will only get better, because two guys will be able to complement each other."
One of the other advantages is that at the big league level, Arenado plays with the advantage of better data and scouting info, as well as the benefit of playing alongside one of the best players in baseball at short.
Of the Rockies' deployment of advanced metrics on defense, Cole said, "That's something we've been using pretty much all season. We use the scouting reports to position these guys, and that's something Nolan's still getting used to, but he's adjusted to it well. He's not only asking questions, he's also paying attention, looking into the dugout to see if there's a place he needs to be moved to and making sure he's in the right spot. He's a great student of the game."
Which is where Arenado has plenty of additional homework to look forward to as he adjusts to pitchers who are already developing a big league book on him.
"There's a lot more stuff going on up here," Arenado said. "It's a lot better in terms of scouting reports. In the minors, it's still word of mouth: This is what this guy has. But here, we get to see a lot of film of all the different pitchers. We had no video projection screen in the minors and no video of anybody, but here you get everything."
And here again, he's getting the benefit of his new teammates. "Tulo and CarGo [left fielder
Carlos Gonzalez
] add a lot of insight about hitting," Arenado said. "They've seen a lot of these pitchers, but it's the first time I'm facing them -- they give me a lot of insight from their experience."
With that sort of assistance on top of his talent, Arenado's a big part of the Rockies' future. And now that the future is now, that should leave them well covered for years to come -- at third base
and
at shortstop.
Christina Kahrl covers baseball for ESPN.com. You can follow her on Twitter.
May, 7, 2013
5/07/13
11:40
PM ET
I'm not a
Colorado Rockies
fan so I can't profess to know how they feel about
Todd Helton
returning from the disabled list and into the starting lineup a couple days ago. He's the greatest player in Rockies history, a guy who will have an interesting Hall of Fame case in a few years, a respected veteran who has played in nearly two-thirds of the games the franchise has ever contested.
He's also a first baseman who has been a below-average park-adjusted hitter in three of the past five seasons, a hitter whose injuries have sapped his power. He can't run and, while he's still regarded as a good fielder, he's not Keith Hernandez-in-his-prime good, and not many teams win pennants with a slick-fielding, bad-hitting first baseman anyway.
More importantly, the Rockies don't necessarily need him. His stint on the DL with a left forearm strain allowed the Rockies to give more playing time in the outfield to
Eric Young Jr.
, who has played well, and slide right fielder
Michael Cuddyer
to first base on occasion (or play
Jordan Pacheco
at first). Playing Young in the outfield instead of the slow-footed Cuddyer improves the defense, and playing Cuddyer over Helton likely improves the offense, even if Cuddyer cools down from his hot start.
It's the first big test of rookie manager Walt Weiss' season and it's not an easy decision, one perhaps clouded by the fact that Weiss and Helton were briefly teammates during Helton's call-up to the majors in 1997. It's never easy knowing what to do with a player of Helton's stature; they don't all go out on top like
Chipper Jones
did a year ago. It's also unclear whether Helton's offseason arrest for driving under the influence (he
pleaded guilty Tuesday
to driving while impaired) affected his standing in an organization that has made public overtures through the years about acquiring "good guys."
[+] Enlarge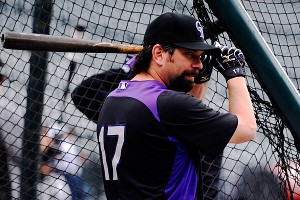 AP Photo/Jack DempseyFitting Todd Helton into a Rockies lineup that's gotten along OK without him presents a dilemma.
All this was on my mind as I watched the Yankees and Rockies face off in a rare Coors Field pitchers' duel.
Carlos Gonzalez
's two-run homer in the sixth off
Hiroki Kuroda
was it for the scoring as
Jorge De La Rosa
tossed six scoreless frames (the Yankees can't hit lefties at all, even in Coors Field) in a
2-0 Colorado victory
. Helton went 1-for-3, singling to right in the sixth.
"He has been driving us crazy," Weiss told MLB.com when Helton, who turns 40 in August, was activated. "At some point about halfway through his DL stint here in the dugout, I tried to get [head trainer Keith Dugger] to hit him with a tranquilizing dart. But it's good to have him back out there. It'll be nice watching him take [at-bats] again, doing his thing."
The Rockies don't need Helton's value -- if it even exists -- as the "face of the franchise." For one thing, he's not that guy anymore.
Troy Tulowitzki
, when healthy, is one of the 10 best players in baseball and right now he's healthy and mashing. Gonzalez is playing his best baseball since 2010 and
Dexter Fowler
may finally be developing into the star player

many once projected he would be. Second-year catcher
Wilin Rosario
looks like he'll improve on the 28 home runs he hit as a rookie. Plus, rookie third baseman
Nolan Arenado
has made a huge impact in just eight games in the majors.
In other words, this isn't a case of the 2009
Seattle Mariners
bringing back Ken Griffey Jr. in an attempt to draw a few extra fans to see a bad team (and then making the mistake of re-signing him for 2010). But Helton should have to
earn
his spot in the lineup. If he hits like he did in 2012 -- .238/.343/.400 -- it's hard to justify a regular spot. Maybe Weiss develops a Helton/Young platoon, with Helton sitting against left-handers and Cuddyer moving back and forth between right field and first base. Helton certainly deserves the leash to prove there's something left in the bat; knowing how long of a leash is what can turn competent managers into great ones.
I'm not quite sure what to make of the Rockies. They're probably better than I projected, and definitely
interesting
and exciting, especially with Tulo playing so well. Unlike pretty much every Rockies team ever, they're actually hitting well on the road (so far), as their .800 OPS led the National League entering Tuesday's action.
Arenado just adds another dimension. He was a highly rated prospect before 2012 after a big season in Class A, and nearly made the big league club out of spring training. Some of his shine was lost after a mediocre season at Double-A Tulsa (.285, 12 home runs), but a hot start at Triple-A and
Chris Nelson
's struggles led to Nelson getting traded to the Yankees and the quick call-up for Arenado.
He's a high-contact guy with power potential, and a contact hitter who can spray the ball around can do a lot of damage in Coors Field. He's just 22 but he doesn't have to be a star just yet; he just has to be a solid contributor.
That's also all the Rockies want from Helton at this point. Who knows, maybe his body will hold up and he can put together one last .300 season. That would be a nice way to head off into his retirement years -- with maybe a surprising playoff appearance to boot.
Speaking of: Now, about the pitching ...
March, 30, 2013
3/30/13
10:00
AM ET
Though the vast majority of roster spots are already won before spring training even begins, it is worth following every game in March down to the wire to see how teams handle those few remaining slots. Will the veteran trying to resuscitate his career beat out the up-and-coming rookie? Does the prospect with the fallen star have enough to beat out the hordes of veteran retreads known as non-roster invitees?
Now at the end of March, many of those roster questions have been answered, and some will surprise you. Here are a few that shocked me.
Rangers name Nick Tepesch as fifth starter
Nick Tepesch is 24 years old and has thrown exactly 90.1 innings above Single-A ball, yet he will be the Rangers' No. 5 starter when the regular season begins. It wasn't like the Rangers were bereft of options -- they auditioned
Robbie Ross
,
Randy Wells
,
Derek Lowe
and
Justin Grimm
, but ultimately landed on Tepesch, who posted a 6.50 ERA in 18 spring innings. The Rangers, arguably the favorite in the AL West anyway, might have given themselves some more certainty by going after
Kyle Lohse
.
Twins give the Opening Day nod to Vance Worley
If Vance Worley were still with the Phillies, he would likely start their home opener, the fourth game of the season. Now with the Twins, he is the ace of the rotation and will get the honor of pitching on Opening Day. With a rotation that includes
Mike Pelfrey
,
Kevin Correia
,
Liam Hendriks
and
Cole De Vries
(
Scott Diamond
starts the year on the DL), Worley pretty much wins by default. Still, it's shocking to see a guy who had never even been a No. 3 ascend all the way to No. 1 in a rotation, even if it is the Twins.
[+] Enlarge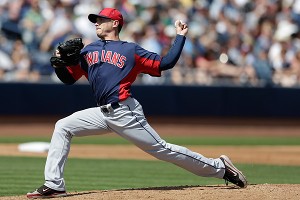 AP Photo/Gregory BullScott Kazmir, once considered an elite prospect, has won the No. 5 spot in Cleveland's rotation.
Scott Kazmir wins Indians' fifth starter job
As a can't-miss prospect with the Mets, then as part of the Rays' rotation from 2005-08, the sky was the limit for the left-handed Kazmir. A slow start with the Rays in 2009 and his pending free agency led to a trade with the Angels and Kazmir simply hasn't been the same since. Since 2009, Kazmir has a 5.54 ERA in 299 innings. He spent all of 2012 with the Sugar Land Skeeters, an independent league team, hoping to mount a comeback, but he finished with a 5.34 ERA. The Indians, though, without much to write home about in the starting rotation, were enthused by his 3.46 spring ERA and named him the fifth starter ahead of
Carlos Carrasco
. Some guys in baseball you can't help but pull for, and Kazmir is one of them. Here's hoping all of his hard work has paid off.
Padres will platoon rookie Jedd Gyorko at second and third base
Over the past two seasons in the minors, Gyorko has hit 55 home runs and posted an OPS well above .900. There was a distinct possibility, as spring training began in late February, that Gyorko could have owned the everyday job at second base. Unfortunately for the Padres, they suffered injuries at both second base (
Logan Forsythe
, plantar fasciitis) and third base (
Chase Headley
, fractured left thumb). Their solution was, surprisingly, not to put Gyorko at second or third (he's played both positions). Instead, they will shift Gyorko between second and third depending on the pitching matchups. When a left-handed starter is on the hill, as there will be on Opening Day against the Mets,
Cody Ransom
will start at third base and Gyorko will start at second. When a right-handed starter is on the hill, Gyorko will move to third and the left-handed hitter
Alexi Amarista
will start at second. Though Gyorko should get regular at-bats, the back-and-forth nature of this platoon might only slow his development on defense. For example, the Phillies over the years shifted
Domonic Brown
back and forth between left and right field -- ostensibly, two easier positions to transition between -- and his defense has lagged behind his other skills. Maybe it works out in the end for the Padres, but it would make more sense to put their prize prospect at one position, then deal with the other position with what's left.
Rockies give third base job to Chris Nelson, send Nolan Arenado to Triple-A
Nelson was impressive in a half-season's worth of plate appearances last year. He posted an .810 OPS, which included a .310 batting average, but his defensive metrics at third were terrible (-18 Defensive Runs Saved in 647 innings). Arenado is more of a power threat, but his defense still needs work, which is one reason the Rockies decided to have him start the season with Colorado Springs in Triple-A. The Rockies also don't want to start his arbitration clock earlier than is necessary. Though a left side of the infield that includes
Troy Tulowitzki
and Arenado is fun to think about, the Rockies likely aren't competing for a playoff spot this year, so there is no reason to rush Arenado.
Tigers option Bruce Rondon to Triple-A
A common claim from the numbers-savvy is that paying lots of money for an established closer is inefficient since the most important moments in the ballgame can and often do occur earlier, in the seventh and eighth innings. The Tigers were breaking from normative baseball philosophy in naming Rondon, a 22-year-old who has pitched eight innings above Double-A, their closer going into 2013. They said no to
Jose Valverde
and a host of other closers. However, early in spring, manager Jim Leyland wasn't impressed with Rondon's erratic control, which led to his being sent down on Thursday. Now the Tigers will be using a closer-by-committee -- a combination of
Phil Coke
,
Joaquin Benoit
and
Al Alburquerque
. Despite Leyland's traditional approach to game strategy, the closer-by-committee is probably the best and most efficient way the Tigers could have wound up utilizing the bullpen.
Blue Jays name JA Happ their fifth starter
The squeaky wheel gets the grease. Happ, who has the fifth-worst ERA (5.08) among starters over the
p
ast two seasons, was not happy with the Blue Jays when he found out his job in the starting rotation wasn't guaranteed. GM Alex Anthopoulos responded by not only giving him the fifth spot (thanks to
Ricky Romero
's awful spring that led to a demotion to Class A), but a two-year, $8.9 million contract extension as well. While giving Happ the rotation spot isn't by itself outrageous, the combination of the two makes me wonder what the Jays see in the lefty.
May, 29, 2012
5/29/12
3:07
PM ET
Keith Law and I emerged from the long and happy Memorial Day weekend ready to talk baseball, so here's what is in store for Tuesday's
Baseball Today

podcast!
1.
Chicago White Sox
lefty
Chris Sale
piles on the strikeouts Monday, and we discuss this resurgent team and its potential new ace for the long term.
2. We should find out more on Tuesday about the injuries affecting
Jered Weaver
and
Roy Halladay
, but how critical would their absences be to their slow-starting teams?
3.
Manny Ramirez
plies his trade in the minor leagues, but should anyone care? Also, his potential new teammate
Josh Reddick
continues his power assault. Is it legit?
4. As draft day approaches, what are the
Chicago Cubs
thinking and why should we trust the organization is on the right track?
5. We also take your emails, discussing minor leaguers like Nolan Arenado, pitch recognition and take a glance at Tuesday's big league schedule.
So download and listen to Tuesday's excellent Baseball Today podcast and come back with us on Wednesday!
February, 21, 2012
2/21/12
1:15
PM ET
Recommended reading for Tuesday ...
December, 2, 2011
12/02/11
12:18
PM ET

Welcome to the National League West, baseball's most unpredictable division. I wouldn't be surprised if all five teams finished 81-81 in 2012.
Here are three fixes or action items for each club.
Arizona Diamondbacks
1. Rotation (
Joe Saunders
, eligible for arbitration)
Arizona's rotation posted a 3.84 ERA, only ninth in the NL, but a strong figure considering it had to pitch half its games in the desert. Most impressive, only the Phillies received more innings from their starters. If there's a red flag, it's that the rotation ranked 14th in the NL in strikeouts per nine innings. Saunders is in his final year before free agency, after posting a solid 3.69 ERA over 212 innings, and Arizona might not want to pay him the big increase he'll get from his 2011 salary of $5.5 million. The back of the rotation has an opening as well.
Likely solution: Look for the D-backs to re-sign Saunders to a two-year deal. He doesn't strike out many guys, but Arizona's outfield of
Justin Upton
,
Chris Young
and
Gerardo Parra
might cover the most ground in baseball. Rookies
Jarrod Parker
,
Wade Miley
and 2011 No. 1 pick Trevor Bauer should battle for the No. 5 spot out of spring training.

2. Find a leadoff hitter
Arizona's starting eight looks set, but nobody on the roster profiles as a quality leadoff hitter. Arizona leadoff hitters compiled a .314 OBP, with light-hitting
Willie Bloomquist
leading off most often, 75 times.
Likely solution: Kirk Gibson needs to think outside the box here, with a lefty/righty platoon perhaps necessary. How about Young leading off against lefties? He posted a .392 OBP against them in 2011, and Justin Upton and
Paul Goldschmidt
can provide power lower in the order. Parra might be the best option against right-handers.
3. Bullpen depth
The bullpen ERA improved from 5.74 in 2010 (worst in the NL) to 3.71 (10th). It helped that it didn't have to throw many innings, but there's no guarantee the rotation will carry such a heavy workload again. Plus, closer
J.J. Putz
has been injury-prone in his career and guys like
Micah Owings
and
Bryan Shaw
were surprising contributors.
Likely solution: Arizona won't spend big here, although a guy like
Jonathan Broxton
would have been a nice gamble. Look for them to troll for a veteran lefty or make a minor deal.
San Francisco Giants

1. Finder another bat -- one who can hit
The Giants' offensive woes were well-documented, of course -- last in the NL in runs scored, with the lowest on-base percentage. Some of that is the ballpark, some of it was injuries, but there's no denying it was a terrible offensive team.
Likely solution: No,
Melky Cabrera
is not the only answer. Or shouldn't be. While he had a career year with the Royals, his .339 OBP is hardly star level, and he hit 30 points above his career average. The other outfielders on the roster are
Andres Torres
and
Nate Schierholtz
. That's not a division-winning outfield. Brian Sabean: You need
Carlos Beltran
back. How many more years can you get out of that great young rotation before somebody gets hurt or leaves via free agency? You have to win now. Sign Beltran.
2. Shortstop (
Brandon Crawford
)
The ill-advised idea to sign
Miguel Tejada
last season predictably didn't work out. Crawford has the goods on defense, but his .204 batting average is an accurate indicator of his offensive abilities. Crawford remains the default option right now, and while the Giants got into a bizarre bidding war for Bloomquist, Giants fans would love to see a different free-agent shortstop in the Bay Area.
Likely solution: You never know, but there are no signs the Giants are pursuing
Jose Reyes
or Bay Area native
Jimmy Rollins
. The Giants signed
Javier Lopez
to a two-year, $8.5 million deal and picked up
Jeremy Affeldt
's $5 million option. Why not use some of that money for a shortstop? In the end, unless the Giants sneak in for a second-tier shorstop like
Rafael Furcal
, it looks like Crawford will be the guy.
3. No. 5 spot in the rotation
The two candidates on the roster right now are
Barry Zito
(5.87 ERA in 53 innings) and
Eric Surkamp
(5.74 ERA in six starts as a rookie). As good as
Tim Lincecum
,
Matt Cain
and
Madison Bumgarner
are, and as good as
Ryan Vogelsong
was in 2011, the rotation is one major injury and Vogelsong regression from looking a little shaky.
Likely solution: Surkamp had great numbers at Double-A -- 142.1 IP, 110 hits, 44 BB, 165 SO -- and the Giants skipped him past Triple-A in promoting him to the majors. He's a lefty who isn't overpowering with a fastball that averaged just 87.9 mph in his stint in the majors. Look for Zito to get the job out of spring training: "I'm not gonna hide from it: Barry Zito is our fifth starter next year," Bruce Bochy told KNBR radio station in November.
Los Angeles Dodgers

1. Find a new owner
While the Dodgers were allowed to sign
Matt Kemp
to a $160 extension, until Frank McCourt sells the club, the bankrupt Dodgers will be hamstrung on moves. McCourt has agreed to sell the team by April 30.
Likely solution: The bidding process starts next week and
Mark Cuban says he'll participate
. Dodgers fans should love that idea, but baseball previously balked when Cuban looking into buying the Cubs and Rangers. A team of investors fronted by ex-Dodgers Orel Hershiser and Steve Garvey is one possibility. Former agent Dennis Gilbert, who also pursued the Rangers, fronts another group of partners.
2. Infield
Here's how bad the Dodgers' offense was in 2011:
First base: 27th in majors in OPS
Second base: 28th in majors in OPS
Third base: 24th in majors in OPS
Shortstop: 19th in majors in OPS
Likely solution: The Dodgers have already signed
Mark Ellis
to play second base and
Adam Kennedy
to help at third, low-cost fixes but hardly great solutions. It looks like another year of
James Loney
at first base, but maybe it's time to punt on him and try prospect
Jerry Sands
. Loney has hit just 48 homers over the past four seasons and doesn't walk much. He's a .281 hitter without anything to go with it, and he's due a raise in arbitration over the $4.88 million he made in 2011. The lone bright spot is speed demon shortstop
Dee Gordon
, who looks to show his .304 rookie season wasn't a fluke. (
Juan Uribe
is also still around, at $16 million over the next two seasons. Yay.)
3. Rotation (
Hiroki Kuroda
, free agent)
GM Ned Colletti has indicated the club can't afford to re-sign Kuroda, unless he's willing to take a big cut. (Kuroda has said he'll either sign with the Dodgers or return to Japan). After
Clayton Kershaw
,
Ted Lilly
and
Chad Billingsley
, there are two spots to fill.
Likely solution: Cheaper free agent veterans like
Aaron Harang
or
Chris Capuano
are possibilities. Trading
Andre Ethier
for a starter is another option. Look for the No. 5 spot to be filled from within -- somebody like Nathan Eovaldi, Allen Webster or Chris Withrow.
Colorado Rockies

1. Third base (
Ian Stewart
)
Rockies third basemen hit a combined .222/.281/.348, among the worst production from the position in the majors, as
Ty Wigginton
earned the majority off the playing time after Stewart collapsed. Stewart hit .156 with zero home runs in 122 at-bats, although he found his stroke at Colorado Springs (of course, everyone finds their stroke at Colorado Springs). Here's the thing about Stewart: Even when he was good, he wasn't that good -- his park-adjusted OPS from 2008 to 2010 still places him as a below-average hitter.
Likely solution: It's possible Stewart gets non-tendered; there's also rumors off a Stewart-for-
Blake DeWitt
deal with the Cubs (your abscess for our canker sore). Top prospect Nolan Arenado, the Arizona Fall League MVP, hit .298 with 20 home runs at Class A Modesto, but he's just 21 in April and probably needs another season in the minors. The Rockies have also asked about Atlanta's
Martin Prado
, reportedly offering outfielder
Seth Smith
.
2. Starting pitcher (
Jorge De La Rosa
out for at least half the season)
As 2011 proved, it's still difficult to build a consistent rotation in Colorado. The Rockies' rotation compiled a 4.73 ERA, ranking 15th in the NL. Yes, Coors Field is a hitter's park, but it's no longer the Coors Field of old. It was a bad rotation. Right now,
Jhoulys Chacin
is the only starter who looks like a reliable option for 2012.
Likely solution: What the Rockies have done is collect young, power arms. They got
Drew Pomeranz
and
Alex White
for
Ubaldo Jimenez
; they just picked up
Tyler Chatwood
from the Angels for
Chris Iannetta
.
Esmil Rogers
is still around, and still very raw. A veteran starter acquired via trade is a possibility to line up behind Chacin and
Jason Hammel
; one guy the Rockies have pursued is
Jeremy Guthrie
, offering closer
Huston Street
.
3. Second base (Mark Ellis signed with the Dodgers)
Jonathan Herrera
is still around, but the .300 average he posted in April looked more and more like a fluke as the season progressed. He finished at .242, and considering he has no power, isn't a viable short-term or long-term solution.
Likely solution: Look for the Rockies to make a trade pitch for Padres second baseman
Orlando Hudson
. There isn't much left on the free-agent market, although
Kelly Johnson
would make for an interesting risk in the thin air if he doesn't re-sign with the Blue Jays.
San Diego Padres

1. Bullpen/closer (
Heath Bell
, signed with Marlins;
Chad Qualls
, free agent)
Welcome to San Diego, Josh Byrnes. The new GM will have to figure out how to build a winning club on a payroll of $53-55 million. But you know what? The Padres aren't
that
far behind the Diamondbacks. The Padres had a run differential of minus-18; the Diamondbacks had a run differential of plus-69. The Padres would have been expected to win 79 games based on their differential; the D-backs 88. With the departure of Bell and last season's trade of
Mike Adams
, the Padres will be looking for bullpen depth.
Likely solution: Ernest Frieri and
Luke Gregerson
are the best internal candidates, but Frieri needs to improve his control and Gregerson is more of a righty specialist. Rookie
Brad Brach
, a one-time 42nd-round draft pick who signed for $1,000 has dominated in the minors but probably needs time in middle relief. The Padres won't spend big on a free agent, so look for a trade.
2. Power (empty)
Ryan Ludwick
led the team with 11 home runs. Nobody else reached double digits. And don't blame the deep canyons of Petco Park -- the Padres hit 45 home runs on the road, fewest in the majors.
Likely solution: None. The Padres' "big" moves have to been bolster the bench with
Mark Kotsay
and
John Baker
. Prospect
Anthony Rizzo
, who hit 26 home runs in 93 games at Triple-A Reno, will be given another shot at first base after hitting .141 with one home run in 128 at-bats with San Diego.
Kyle Blanks
is still around, but at 270 pounds, his lack of range in the outfield is a problem. Third-base prospects Jedd Gyorko and
James Darnell
are both close to big-league ready and provide some hope for punch down the road.
3. Starter (Aaron Harang, free agent)
Mat Latos
,
Cory Luebke
and
Tim Stauffer
are a solid top three, with Luebke's season in particular flying under the radar (154 strikeouts in 139.2 innings). The Padres got good work out of
Dustin Moseley
and
Clayton Richard
over 38 combined starts, but both guys delivered just 4.8 strikeouts per nine innings and are good bets to regress, even pitching in Petco.
Likely solution: The Padres have offered Harang arbitration, but he'll probably get a two-year offer from another team. Otherwise, it's hoping that Moseley and Richard hold their own and that prospects Casey Kelly and Robbie Erlin (acquired in the Adams trade) are ready by midseason.